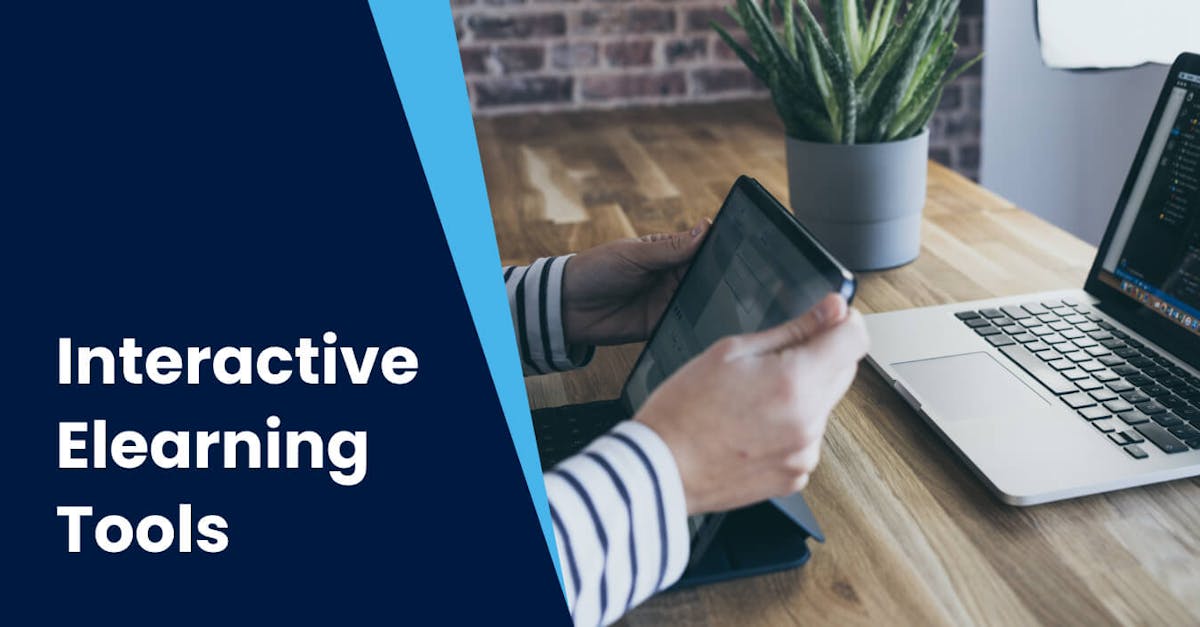 When learners get to actively interact with their learning, they're more likely to remember key concepts, complete their lessons, and apply their learning. Interactions can be built through quizzes, surveys, forms, and even games. Find out how you can boost your own learning content with some of the best interactive learning tools out there. 
1. EdApp
EdApp is an all-in-one interactive elearning tool that you can use to create courses, track performance, reward top performers, store certificates, and more. It also supports a course library with over 800 interactive courses covering topics ranging from retail, safety, leadership, sales, and more. High-quality responsive training can now be found either within your pocket or on your computer thanks to EdApp's cross-platform functionality.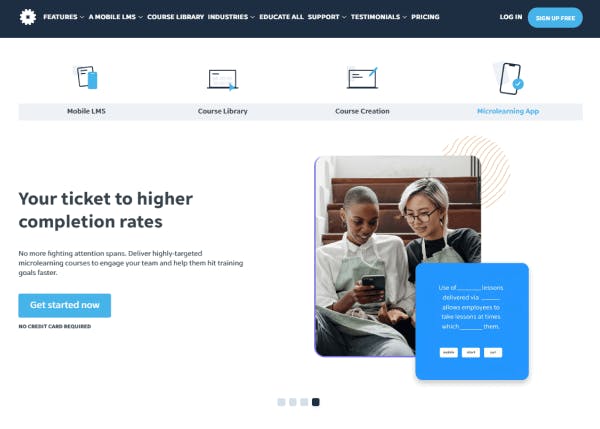 Creating your own courses is easy as well with their built-in creator tool. Here, you'll have access to a library full of pre-made templates that you can edit in minutes. Your learners can interact with their courses with actions like drag-and-drop, scratch-to-reveal, and slide-to-compare. By actively interacting with their learning, they're more likely to remember key concepts and other important information. 
EdApp also applies gamification to its courses and templates. With gamification, lessons don't have to be mundane. Instead, they can be fun, engaging, and memorable. Quizzes can also be delivered instantly with Rapid Refresh, EdApp's built-in quiz maker. Delivers questions to learners after any learning intervention in minutes. Just fill out the spreadsheet with your questions and answers, and the app will do the rest of the work for you.
With their managed plan, you can let EdApp build your courses for you. You can work with designers that built courses for leading brands and give your teams the training they deserve.
Check Edapp for free and train your teams using the best interactive elearning tool
2. Hoopla
Hoopla is a sales gamification software and engagement elearning solution designed to motivate sales teams to increase performance through contests, leaderboards, and real-time recognition. Through this mobile-enabled eLearning platform, you can identify sales goals and create tournament-style or race-style contests for friendly competition between employees and accelerate overall team productivity. Team members can even track their individual performance through the tool's built-in leaderboards system.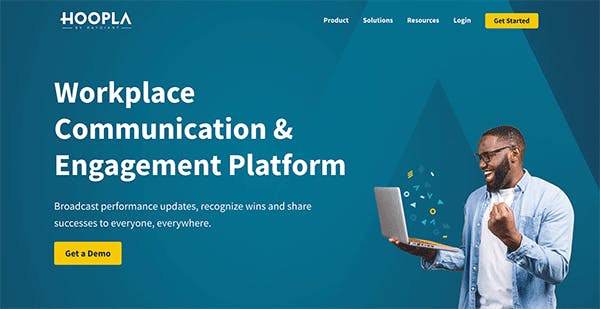 You can also deliver recognition instantly through the Newsflash feature with no manual intervention needed. Every time an employee reaches their target, Hoopla automatically sends a live news update to fellow team members so that everyone can celebrate their win. By fostering a competitive and encouraging atmosphere, your teams can have fun while hitting their targets. If you're thinking of using this platform for your own training needs, just take note that aside from their 14-day free trial, they do not have a free plan option available.
Highlights: Sales gamification, contests, leaderboards, real-time recognition

Best used for: Sales motivation and recognition

Cost:

14-day free trial, get a

quote
3. AdaptiveU
AdaptiveU allows you to create highly responsive web-page-like courses through their cloud-based authoring tool and LMS platform. Designing your own course is easy, intuitive, and requires no advanced tech skills. Just copy and paste your lesson's text, add links to relevant articles, and attach images or videos. To help learners retain the material better, you can even add multiple choice and true or false knowledge checks throughout the course. Although one notable downside of the authoring software is that there's no capability for design customization.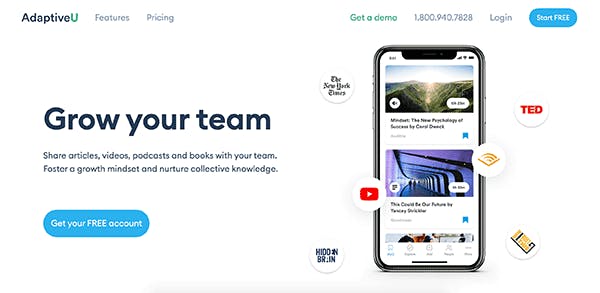 Through this tool, learners can track their peer's course progress and share relevant learning content with one another. Teachers or trainers can also generate reports because of AdaptiveU's powerful analytics and learning management functionality.
Highlights: Web-page style courses, content sharing, progress reports

Best used for: Employee training and onboarding, online classroom for students

Cost: Free basic plan and 5 USD starter plan
4. Wistia
Wistia is a video marketing software that provides organizations with a highly customizable video player and a cloud-based content management system (CMS) that they can use to host, edit, and organize eLearning content. Some ways you can maximize this learning platform include hosting video training content for your employees, creating onboarding materials for your new hires, or making product tutorials for your customers.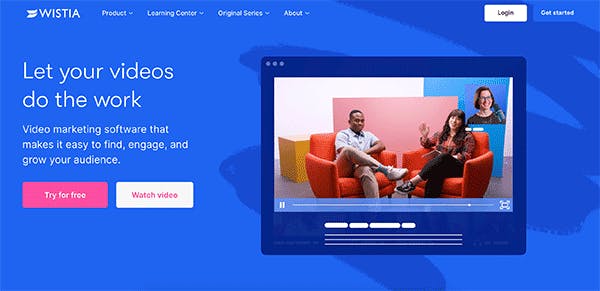 Another great feature that you can expect to find on the platform is the video collaboration tool. This allows you to edit videos in real-time with your peers, get feedback, and set permission levels so that your video drafts are shared securely.
Although this tool has top-notch video hosting and collaboration features, this tool might not be a good fit if you're looking for an eLearning tool with authoring capabilities or LMS functionality.
Highlights: Video hosting, video collaboration, cloud-based video CMS

Best used for: Employee training and onboarding, customer learning

Cost: Free standard plan and 9 USD pro plan
5. isEazy
Build professional eLearning courses with isEazy's powerful cloud-based authoring tool. With its simple interface and intuitive editing system, you'll be quickly able to design polished learning materials without needing technical and instructional design skills. The platform enables you to choose from a range of well-designed slide templates and course layouts, personalize your images, and translate courses with ease. You can also customize your course by adding interactive elements like quizzes, catalogs, and timelines. But do take note that with the free version, courses are published with an isEazy watermark.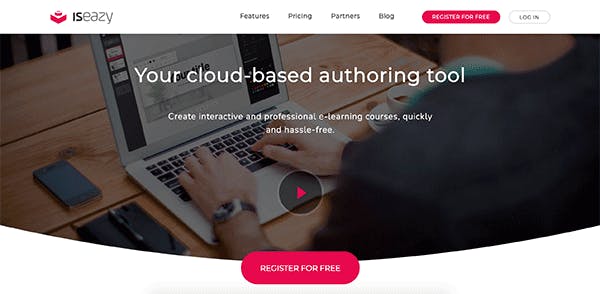 If you want to deploy a course more efficiently and save time, the collaborative tool is a handy feature that allows different users to simultaneously edit a single course.
Highlights: Slide templates, collaborative tool, course translation

Best used for: Employee training, student learning

Cost: Free basic plan, 9 USD pro plan, and 00 USD business plan
6. Qstream
Qstream is a microlearning platform that can help different organizations scale employee training efforts, onboard new hires, track teams' performance, or measure learners' product knowledge. Increase your learner's knowledge retention and productivity by implementing Qstream's knowledge reinforcement features like micro-explanations, challenges, scenario-based Q&A, spaced repetition, and gamification.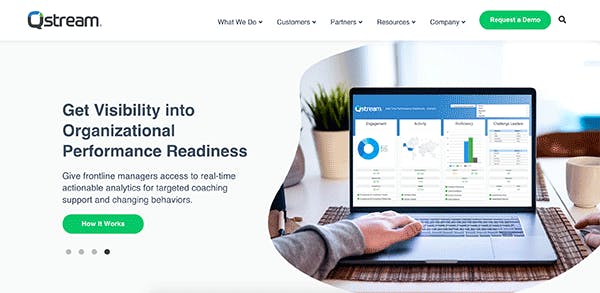 Managers can determine training efficacy, address knowledge gaps, and track overall employee performance in real-time with useful tool components like proficiency heat maps, team comparisons, and employee activity reports. With the help of the coaching hub feature, they can also engage with learners who need additional assistance.
If you want to try out the platform before making a decision, you'll have to book a demo first and get a proper quotation.
Highlights: Knowledge reinforcement, coaching Hub, real-time heat maps

Best used for: Employee training and onboarding, performance tracking, sales and customer service training
7. aNewSpring
aNewSpring integrates the core concepts of blended learning, adaptive learning, and social learning into their powerful eLearning tool. With blended learning in mind, they've provided trainers a diverse list of learning activities to choose from. Some of these activities include webinars, randomized tests, reflection tools, surveys, video conferences, and a unique learning solution called MemoTrainer retention training.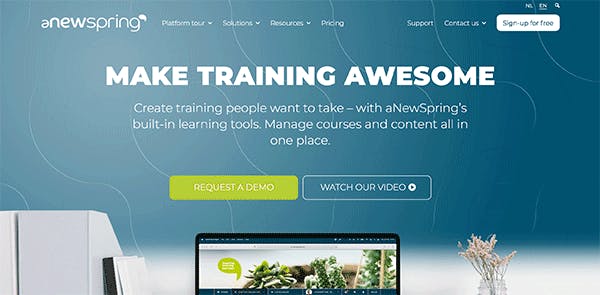 As a reinforcement feature, MemoTrainer adapts to each learner, provides them with smart exercises, and repeats information based on their knowledge gaps. Through this adaptive learning technique, learners can better retain new information in their long-term memory. 
To incorporate social learning in the platform, they've also added a variety of collaborative features, which include instructor and learner profile pages, course discussions, and peer review capabilities. 
At first, it might be a bit difficult to start a course because of the tool's complicated features and interface but once you get the hang of it, you'll be able to utilize it for your training.
Highlights: MemoTrainer retention training, course discussions, peer review

Best used for: Employee training, student learning

Cost:

7 USD per learner per year, custom

quote
8. Raptivity
Design visually engaging and stimulating online learning experiences with Raptivity's interactive eLearning tool. It features a growing library of pre-made responsive interactions that include parallax displays, panning slides, and 360 interactions. Even with no design expertise, anyone can customize interactive quizzes, games, simulations, flashcards, and brainteasers through the tool's user-friendly interface. Whether you're a teacher or an instructional designer, you can maximize the tool's many capabilities to keep your learners engaged and motivated throughout their learning journey. But it is important to note that the tool has a few feature limitations and you might need to download additional tools to design a well-rounded eLearning course.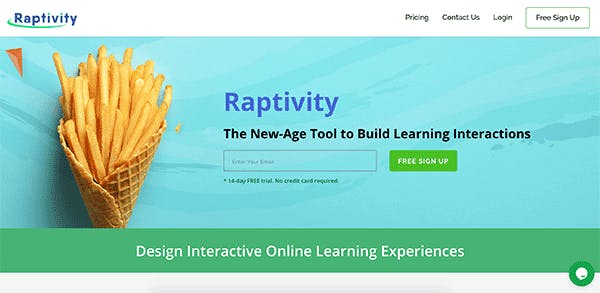 Highlights: Interactive displays, quizzes, and games

Best used for: Student learning, customer learning, employee training

Cost: 0 USD per user per month
9. Mural
As a digital workspace and brainstorming tool, Mural allows team members to visually collaborate with one another. With its flexibility, teams can easily use the platform to share knowledge, plan projects, organize data, conduct workshops, outline content, and so much more. Project facilitators can also create icebreakers and customize elearning templates from the template library to enjoy a fun and interactive engagement activity with the team. Mural is also a great tool for remote collaboration and team members can take advantage of multiple communication features like voice calling, commenting, and text chat to work with peers more efficiently. One drawback, though, is that the mobile version of this software can be a bit difficult to use.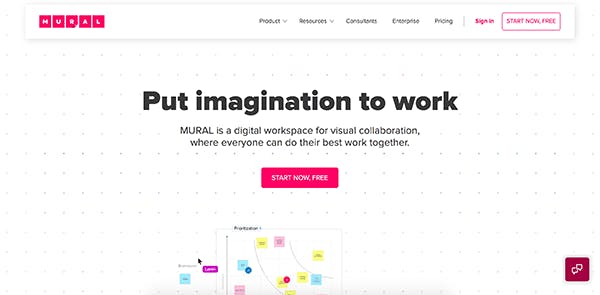 Highlights: Visual collaboration, remote collaboration, pre-built templates 

Best used for: Employee project planning and management, student learning

Cost: 2 USD per month for starter plan, 0 USD per month for the plus plan
10. domiKnow
domiKnow is an all-in-one cloud-based eLearning LMS that comes complete with an elearning authoring tool and a content management system. The web-based software has been used for more than a decade by both small and large organizations to meet their training and collaboration needs. The system is designed to help you collaborate as a team in real-time and create well-optimized learning and development content with just one tool. Design interactive content on any device using a range of templates and digital assets and deploy completed learning materials on any device.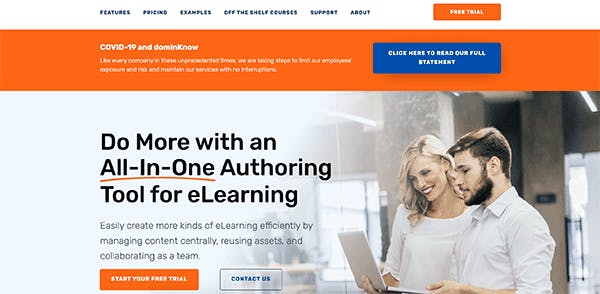 One awesome feature of this platform is its translation and localization capabilities, which allow you to choose from over 50 languages to translate learning content for learners from a specific region. 
As with other web-based software, you do need internet connectivity if you want to work on your courses. Editing learning content on the go might prove difficult if you have an unstable internet connection while traveling.
Highlights: Mobile learning, real-time collaboration, translation, and localization 

Best used for: Employee training and collaboration

Cost: 97 USD per year for solo plan, ,497 USD per year for team plan
11. Kahoot!
As an interactive eLearning tool, Kahoot! uses visually appealing gamification elements to maximize engagement and ensure higher completion rates among learners. The platform's template-based games and quizzes, which are uniquely called "Kahoots", can be accessed via a web browser or a mobile app. The best part is that they can also be presented on a shared screen and answered by a group of "players" all at the same time through any video conferencing platform. Alternatively, you can set Kahoots as a self-paced challenge to be completed by each team member asynchronously. This platform also provides trainers with reporting and analytics so that knowledge gaps can be addressed and feedback can be provided.

Highlights: 
Gamified quizzes

Live Kahoots

Asynchronous Kahoots

Multiple game templates
Cost: Free, Paid plans start at 7 USD per month
12. Arlo
With Arlo, it's easy to run and manage face-to-face courses and e-learning training activities. In this training platform, you can create self-paced modules and quizzes that your team can complete anywhere and anytime at their convenience. It also helps you provide your team with a blended learning experience through live online sessions and activities, discussion forums, recorded videos, and more. To recognize their achievements or acknowledge their training attendance, you can generate automated certificates through its certificate management service. Learners can access their certificates manually or automatically via email.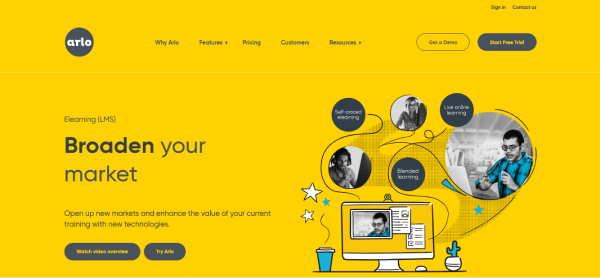 Highlights: 
Certificate management

Self-paced module and quiz design

Private course management

Blended learning
Cost: Starts at 9 – 85 USD
13. LearnWorlds
LearnWorlds specializes in creating and designing interactive training courses, a perfect tool for trainers who want to engage their learners further in their training topics. Take advantage of its drag and drop course builder and eye-catching themes and styles to bring life to otherwise dull and monotonous learning material. If needed, you can even add self-improvement quizzes, tests, and assignments in your training courses to boost knowledge retention among your learners. This interactive eLearning solution can also be used to design video training content for a better learning experience. To improve your team's focus and understanding of the training content, feel free to include transcripts and subtitles, overlay photos, questions, and pointers.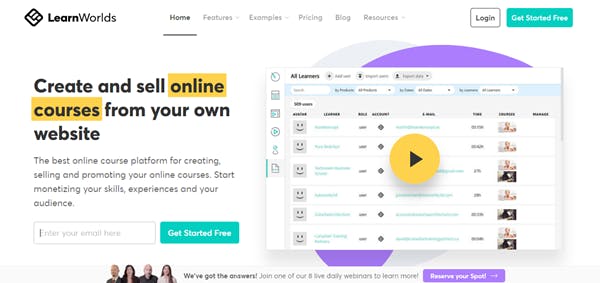 Highlights: 
Drag and drop course builder

Eye-catching themes and styles

Quizzes, tests, assignments

Interactive video 
Cost: Free for 30 days; Paid plans start at 4 USD per month
14. Rockstar Learning
Rockstar Learning is another interactive eLearning tool that promises to deliver interactive learning experiences on any device. It gives you the ability to create on-demand courses where you can add videos, audio, interactive modules, documents, and quizzes. If you want to get more creative, you can also create advanced interactions, virtual reality, and gaming into your courses with their authoring tools, such as Lectora, CenarioVR, and The Training Arcade. Users can also share text, images, and videos uploaded or captured with their devices through sharing boards that everyone can interact with.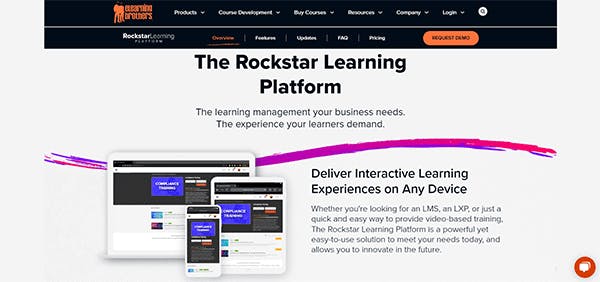 If you're handling multilingual teams, you're gonna love Rockstar Learning's automatic video translation for close captions and voiceover, which ensures that no one gets left behind no matter what language they speak. This interactive eLearning tool can be used for free to create unlimited courses, but take note that it can only accommodate 5 learners and 1 admin. 
Highlights: 
Cost: Free, Paid plans start at 9 USD per month
15. CourseLab
CourseLab is a great place to build highly engaging online courses that you can publish through the web or an LMS. Using its e-training module creation tool, simply drag and drop your training content to create slide-based courses. You can even make the lessons more interactive by adding images, videos, animations, and quizzes. These are perfect for motivating learners into taking and completing the course. Sadly, this interactive elearning tool has no ready-made courses for learning and development professionals, and unlike some of the best online learning tools on the market, the platform isn't as interactive. But it does make up for it with features like elearning templates and built-in test creation capability, allowing users to customize quizzes and learning exercises of any type and format. You can even use this feature to monitor your employees' learning progress and ensure that your training materials are fully understood.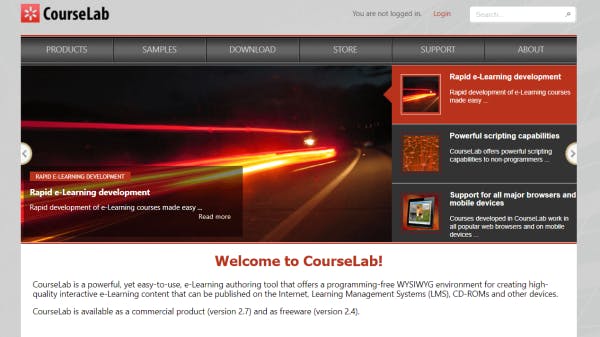 Highlights:
e-training module creation tool

built-in test creation capability

Available eLearning templates
Cost: Starts at 49 USD per year