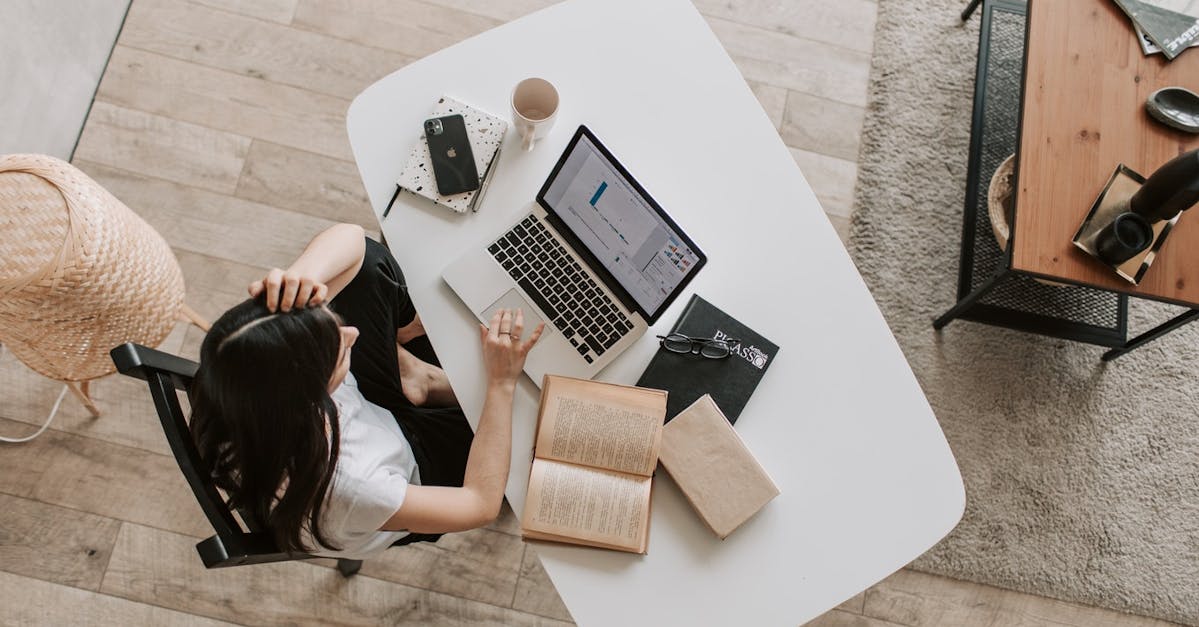 As an organization, it's important to keep your employees up-to-date with the latest knowledge in their respective fields. This can help them provide quality output and increase their productivity. Nowadays, many web-based training platforms offer free and paid tools to make training easier to execute. Through these tools, you can leverage features such as learning management systems and authoring tools to improve your team's training process. Investing in these types of software can also boost the overall performance of your business in the long run.
1. EdApp
If you're looking for a user-friendly web-based training platform, then EdApp is right for you! This open-source LMS platform specializes in microlearning and mobile learning and boasts hundreds of self-paced microlearning courses in its editable course library. Whatever topic you may think of, EdApp has got you covered. They touch on a wide range of topics for different industries, like healthcare training courses, food safety courses, corporate training courses, and many more. These bite-sized training programs promote increased knowledge retention as well as higher completion rates for learners with short attention spans.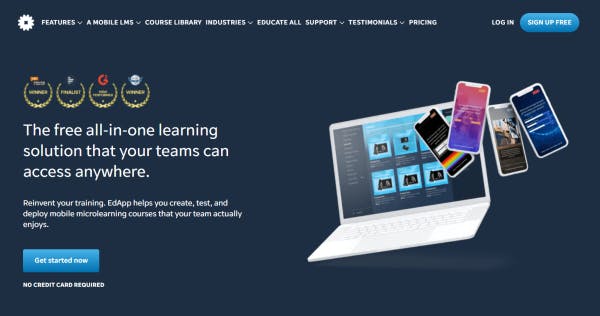 Not only is this platform ideal for learners, but also instructors who want to make their own engaging content. EdApp has a user-friendly authoring tool and microlearning content templates for the rapid creation of interactive course content and quizzes. Should your learners want to take courses on the go, they can access training materials on their mobile devices from virtually anywhere as long as they have internet access. And if you want to increase your employees' level of engagement, award good learning behaviors, and amplify positive training habits, you can also set up features such as rewards, leaderboards, and Custom Achievements. This cloud-based elearning platform also gives you the ability to send out push notifications for important reminders like course updates and completion prompts. 
2. Coursera
Coursera is a web-based training platform that offers courses by subject matter experts from over 200 reputable educational institutions and companies, such as The Wharton School, Stanford University, Google, and IBM. You can earn industry-recognized course certificate with their vast selection of courses, which you can take at your own pace. They focus on a vast range of course topics, like marketing and cyber security, construction safety, chemical spill training courses, and more.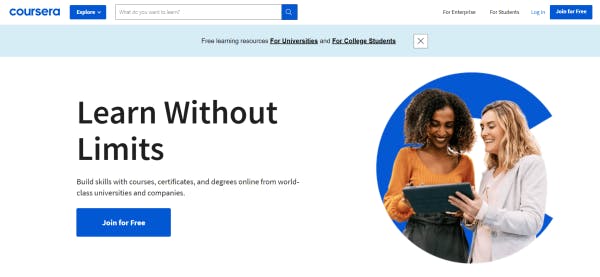 You can join Coursera for free and check its free and paid courses. There are different online learning programs you can choose from, depending on what you're looking for. Courses can be completed in weeks or months, depending on the pace and course offer.
Features:
Courses by 200+ leading universities and companies

5100+ courses and specializations

Course certificates and degrees
Cost: Free, paid plans
3. Khan Academy
Khan Academy is a free educational web-based learning platform with thousands of videos made by experts. The platform has a flexible selection of course materials from primary school topics up to college and professional levels. There are different topics to personalize your own learning and each subject matter has a practice exercise and a handout included. Some topics covered are math, science, arts & humanities, computer science, economics, and life skills.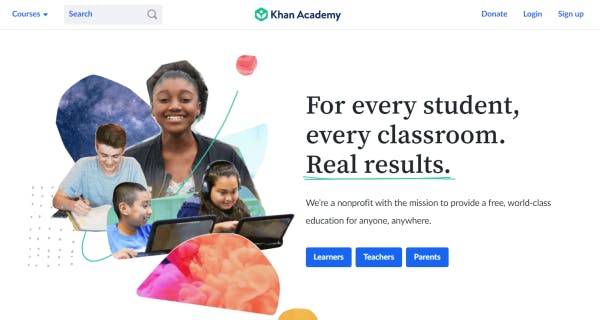 They primarily use video courses so it is best to sit and learn rather than take it on the go.
Features:
Thousands of courses in the library

Personalized learning

Assessments every course

Practice exercises and supplementary documents
Cost: Free
4. eDX
eDX is an online training platform that provides courses by top partner organizations and academic institutions, namely Harvard University, the University of Oxford, and MIT. They offer certificates widely recognized by renowned universities and companies. There are different programs to choose from, such as MicroBachelors for undergraduate-level, MicroMasters, and Masters for graduate-level.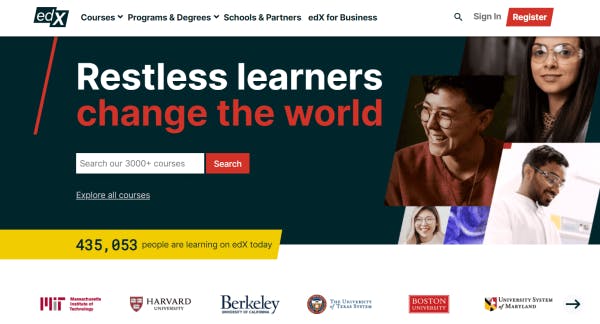 For enterprise use, you can customize your plan with their eDX business solution that offers corporate learning content.
Features:
1000+ courses tailored according to the subject matter

Quizzed after lessons

Verified professional certificate

MicroMasters, Masters Degree, and MicroBachelors Program
Cost: Free, paid plans
5. GoSkills
GoSkills is a web-based training platform that specializes in corporate skills and compliance training. The course topics they offer are lean six sigma, finance, development, soft skills, design, data analysis, Microsoft Office, project management, office productivity, and Microsoft Excel. Gamification  They also have a feature for analytic reports to track your progress.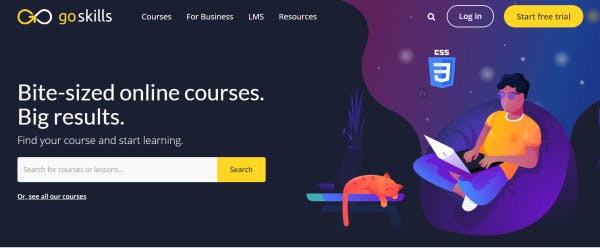 Features:
Cost: Free demo, paid plans
6. SkillShare
SkillShare is a web-based training platform where your employees can upskill in different areas of interest such as in creatives, business, technology, and lifestyle categories. There are 35,000 classes by experts with bite-sized lessons you can choose from. Here, you can deliver training via video format. There is also an engagement tracker to see the progress of learners.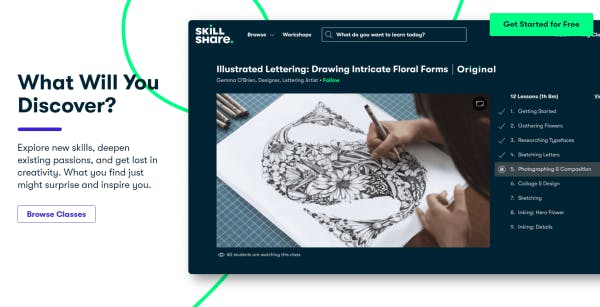 As of the moment, SkillShare doesn't offer certificate management software. For team plans, you can get a free demo and a quotation for the pricing.
Features:
Cost: Free, paid plans
7. Gyrus
Gyrus is a web-based learning management system that focuses on skill management. Its mission is to give LMS solutions to help with the development of employees, as well as compliance. Its features include webinars and a skills assessment tool that will enable the system to determine the competency rating based on employee performance. Feedback and evaluations are also included for added data in gap analysis and reporting.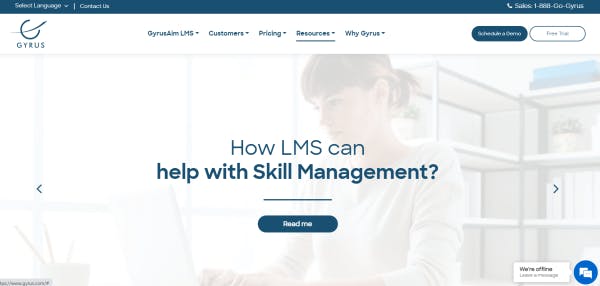 Gyrus has 3 plans for starters, enhanced, and enterprise needs. Free trials and demos are available.
Features:
Cost: Free trial, paid plans
8. AdaptiveU
If you're looking for custom training resources, AdaptiveU offers curated articles, videos, books, and podcasts that you can add to your team's training. You can book a demo to tailor your training for your organization. Their features include an online course creation software for your training, multiple content sharing options for collaborative learning, and progress trackers and reports.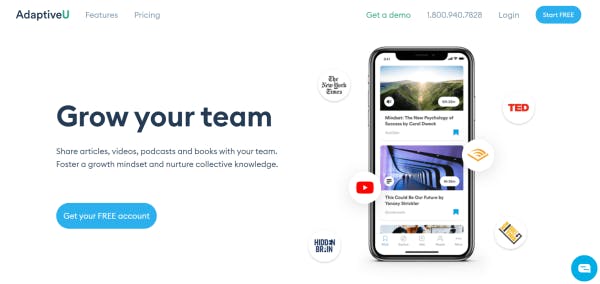 You can start with their free sign-up that allows up to 5 users, 2 courses, and 1GB storage. Paid plans are also available for upgraded features.
Features:
Course creation tool

Multiple content sharing options

Progress tracker & reports
Cost: Free, paid plans
9. 360Learning
360Learning is a web-based collaborative training platform best suited for peer learning. They take pride in their collaborative authoring tool that allows you to create content as fast as 11 minutes. Its features include a collaborative authoring tool and gamification for creating a more engaging course. Collaborative learning is also promoted through the use of collaborative hubs, group pages, and forums.
This platform has a 14-day free trial and should you want to upgrade, you can request a free demo and a list of their pricing.
Features:
Collaborative authoring tool

Gamification

Peer-based learning, group pages

Collaborative hub, forums
Cost: Free trial, paid plans
10. Agylia
Agylia is a web-based management and training platform designed for digital and blended learning. They have eLearning content that covers onboarding, leadership, compliance, and sales training programs. You can manage on-site or online training with Agylia, and be issued a certificate of compliance at the end. To make the training courses interactive for learners, Agylia uses gamification. There is also an added security feature to protect your data.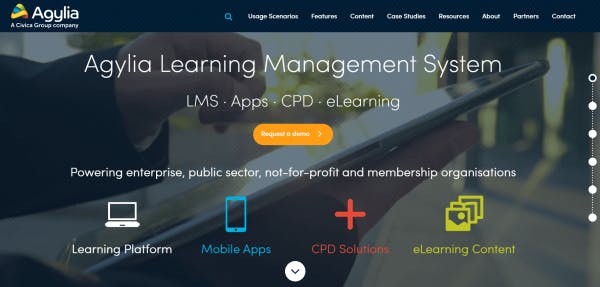 You can request a demo for more information about upgraded features for extended enterprise use.
Features:
Classroom and online training

Compliance and certificate

Gamification

Extended enterprise

Security
Cost: Paid plans