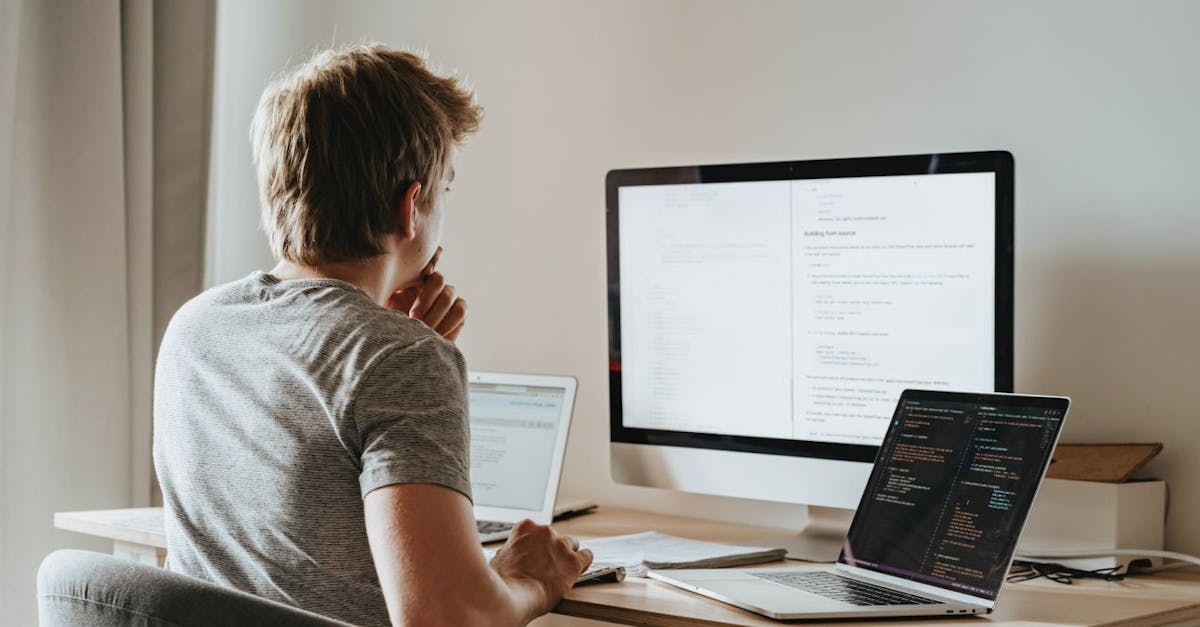 Remote training has been a trending topic in the corporate world for years, with training managers and L&D leaders seeing it as the most ideal and practical solution to reach and train their geographically dispersed and scattered teams. Its popularity has soared even more due to the COVID-19 global pandemic, which has pushed hundreds, if not thousands, of businesses to shift to remote training to sustain a culture of growth and learning, despite their teams being forced to stay at home and work remotely. 
But, just like any other corporate training method, remote training has its own set of challenges, such as:
Lack of engagement and participation

Absence of close supervision

The feeling of social isolation

Several digital distractions, like social media

Technical problems, like unstable internet connection or unresponsive training tool
So what can you do to overcome these challenges? Here, we'll delve into some of the most effective remote training ideas that can help set your remote training up for success. 
1. Explore microlearning courses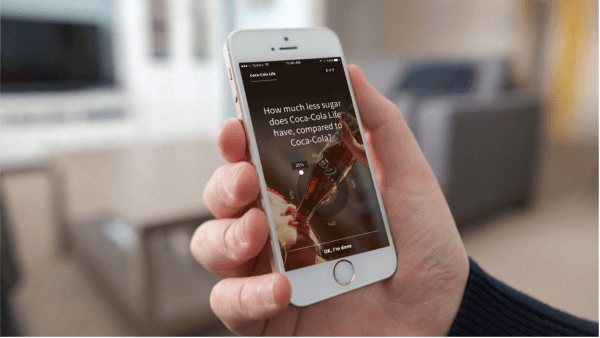 Achieving 100% focus is a far cry with remote training. So, if you don't want to lose your learners in the process, keep your training materials short, simple, and easy to complete. Here's where microlearning comes into the picture. 
As its name suggests, microlearning is the practice of teaching short but highly focused lessons that normally won't take more than 20 minutes to complete. This strategy has been shown to improve focus and long-term retention among learners by up to 80%, rather than simply leaving them with a series of PDF modules and long PowerPoint training sessions. 
Adopting this remote training idea doesn't only benefit the learners but also training managers. Since these microlearning courses are reduced into smaller portions, they are quicker and easier to produce, saving you an incredible amount of time and effort in building and managing your remote training initiatives. 
Learning management systems (LMS) like EdApp can automatically transform them into interactive mini-courses within seconds. If you don't have the time or resources to start from scratch, this platform also offers hundreds of ready-made microlearning courses that tap into different training topics, like sales, healthcare, construction, food facility management training courses, and more.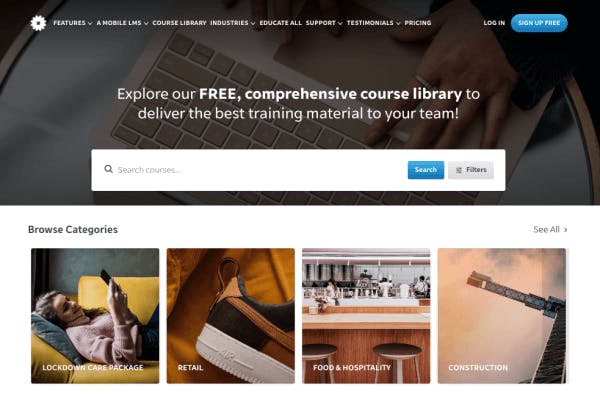 2. Increase employee engagement
Remote training isn't as easy as converting your modules into e-learning courses and sending them to your employees. Even if you've invested in the most expensive training tools and corporate learning materials, your remote training will still fail if your learners aren't fully involved, engaged, and motivated to learn.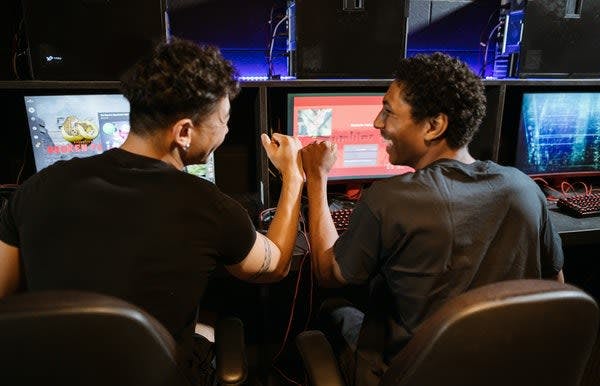 To increase employee engagement, the trick here is to give your learners something to do. Why not include quizzes and games between or after lessons to excite your learners? Online test makers like Google Form, Quizlet, and Typeform can help you set up your tests with ease, regardless of your coding expertise. Advanced tools like EdApp's Rapid Refresh even allow you to apply your personal and branding touch, so your assessment slides will never look plain and boring. If needed, you can also set a schedule of when the quizzes will be deployed and the number of questions that will be delivered at a given time.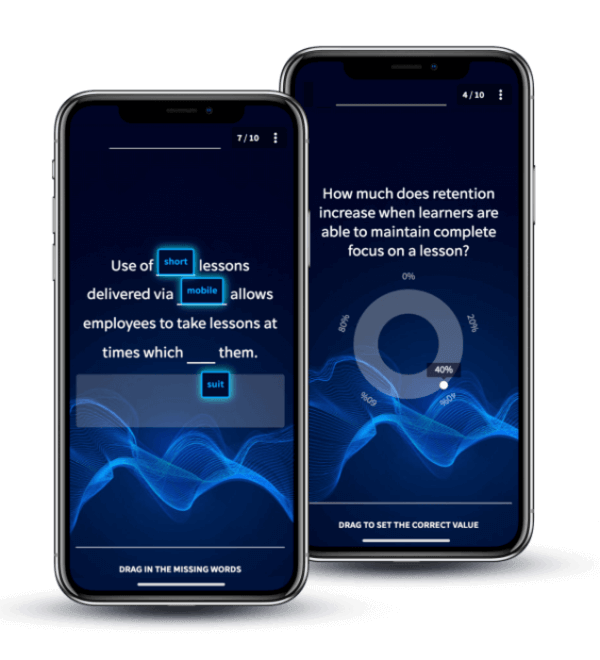 Opening a discussion forum is also a good opportunity to increase your employees' engagement. Like with EdApp's Discussion feature, which allows learners to freely step in to share their insights and suggestions, making way for peer learning or social learning to take place. Learning activities, in a way, can also help your learners overcome the feelings of social isolation and increase their sense of belonging despite not being able to meet physically.
3. Include video lectures and demonstrations
Video lectures and demonstrations are another great technique to capture your learners' attention and improve the effectiveness of your remote training. It is even backed by a study published in Psychology Today, which found that the human brain processes and retains video information 60,000 times faster than text. Since your information is delivered through moving visuals, music, and text, your learners will be encouraged to use their multiple senses to understand topics better and think critically.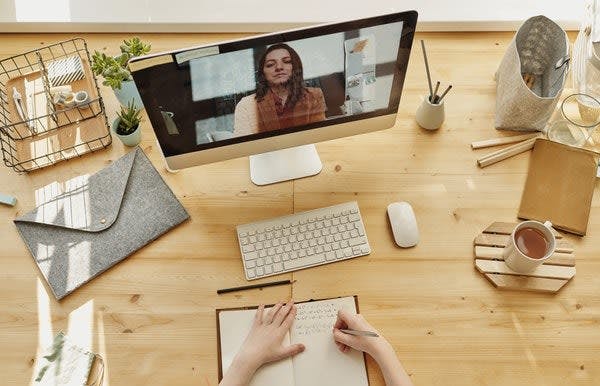 This remote training strategy is also your best option if your training requires you to explain or demonstrate how a particular process, task, or situation must be done. Primarily because this method can help you get the message across your team in a similar way as to how you would in a typical face-to-face training session. But, unlike discussing the process in person, learners can watch and refer back to their video training again and again until they are finally confident of doing their assigned tasks on their own. 
4. Incorporate podcasts
Simple, convenient, and most of all, low-cost — podcasts are also increasingly becoming an effective tool for remote training and engaging remote employees. For context, podcasts are structured like radio shows, where the information is delivered through digital audio files and can be accessed through iPods and mobile devices. They are the best training solution for learners who can retain information better through listening than reading modules or watching long videos. They also fit well into most employees' busy schedules as they can be taken while eating, walking, driving, or virtually anytime to their best convenience.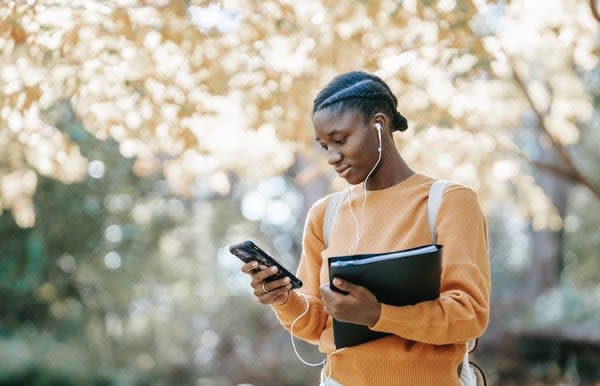 5. Adopt self-paced learning
Self-paced learning, also called asynchronous learning, is a self-directed learning method where learners are given the chance to learn new content at their own pace and according to their learning style and preferences. It's a good option for remote employees who are struggling to find a balance between work and training, especially teams who share different locations and time zones.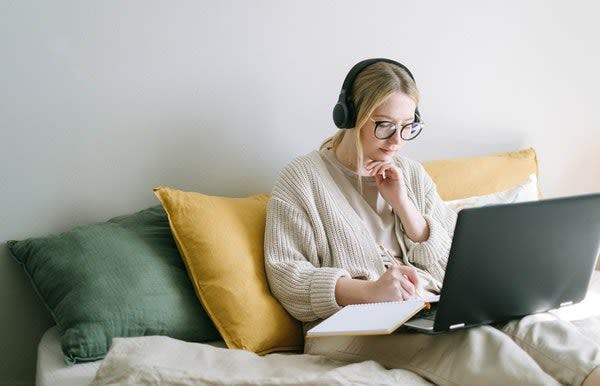 But apart from its convenience, self-paced training is also a powerful way to embed new skills and knowledge into the memory of your learners. Since they're in control of how they will meet their learning objectives, they're free to spend more time learning and focusing on certain topics that they find difficult, without being rushed by those who can get it done fast. Likewise, they can easily skip those areas that they already know without the need to drag others. 
6. Ensure mobile accessibility
While remote learning usually takes place through desktops and laptops, making your microlearning courses, videos, and podcasts mobile-accessible opens up a whole new plethora of benefits. For starters, mobile learning increases learner participation and completion rates because they can access their training materials via their smartphones, which they already spend a lot of time using. M learning also offers the ultimate flexibility by allowing the learners to take their training courses whenever and wherever they want, even while on the move. And the best part? Microcourse examples can be made more mobile-friendly by using features like push notifications to remind students of deadlines or new lessons.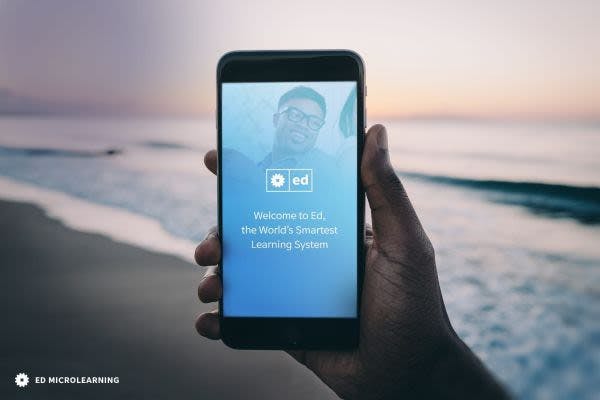 There are multiple tools that can help you create and set up your mobile-friendly remote training materials – like EdApp's intuitive authoring tool. Here, all you need to do is drag and drop your content into their mobile-responsive slides, and rebrand and personalize them as needed. There's also a preview button that will allow you to see how your lessons will look on a wide variety of mobile devices, like iPhone, Samsung, LG, and HTC. This way, you can rest at ease knowing that your online instructional learning materials will appear accordingly on your learners' mobile devices.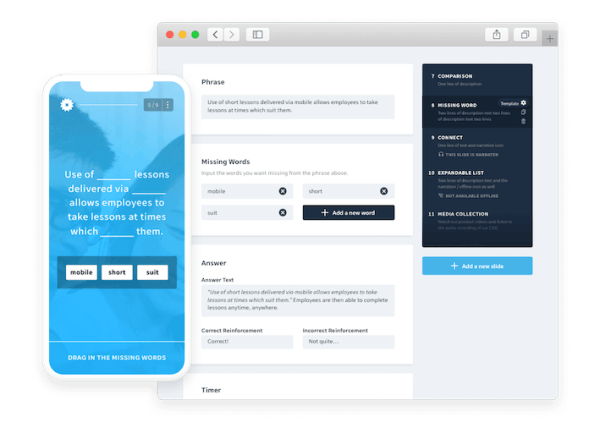 7. Translate course content
If you're handling remote workforces that are dispersed all over the world, it's crucial that you translate your course content into the language that they are most comfortable with. Translating your eLearning materials breaks the barrier that hinders some employees from absorbing your training's message and information due to the culture and language differences. It also boosts the success rate of your remote training since your learners will be more comfortable and responsive to the learning and will not struggle to comprehend and apply newly learned skills or knowledge. More often than not, it also increases their morale and job satisfaction, which will result in better performance and employee retention for your company.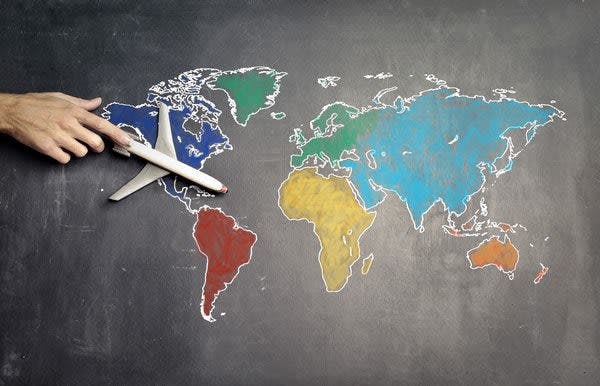 You don't necessarily need to overspend or even spend extra hours translating your course content into their native language. There are now hundreds of Artificial Intelligence (AI) translations that can do the hard work for you, such as EdApp. Combined with their rapid authoring tool, trainers can create or import training courses in this platform, and instantly translate them into dozens of languages without the need to jump from one tool to another.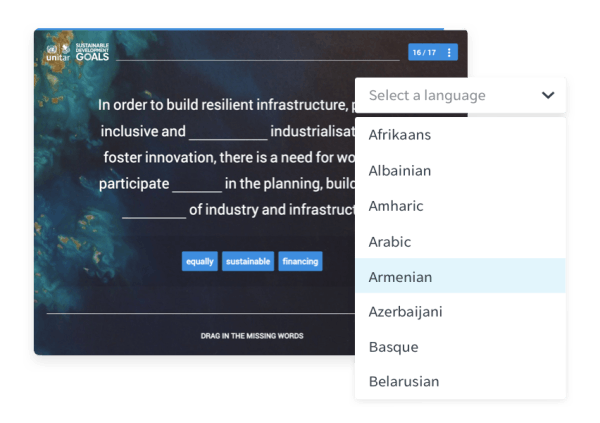 8. Adhere to a consistent training schedule
Whether you're hosting a webinar, deploying a series of online courses, or rolling out weekly assessments or activities, implementing a consistent remote training schedule and deadlines is an effective way to ensure training participation and attendance from your employees. It can help them prepare and plan their schedules and identify training tasks that need to be prioritized and projects or tests that are already due for completion.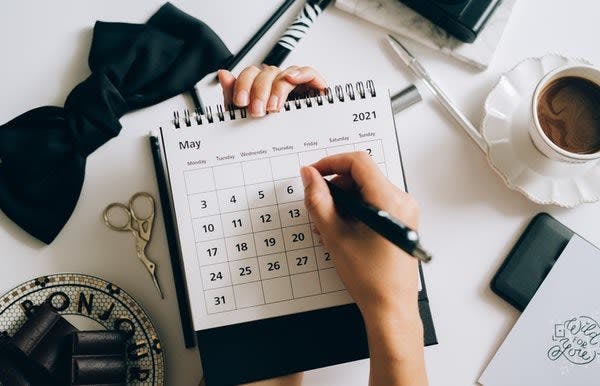 Many platforms can lend you a hand in creating and managing a clear and transparent training schedule and also track the progress of your employees, like Schedule It, Training Orchestra, Appointy, and more. Automated training tools like EdApp, domiKnow, Accessplanit also allow users to set a schedule for online courses and automatically deploy them to assigned learners. 
9. Create healthy competition
Fostering a healthy competition can motivate your learners to complete their training courses or classes, and perform better in general. It can also inspire your weaker performers to level up their skills and talents and also pick up the pace of your stronger team members.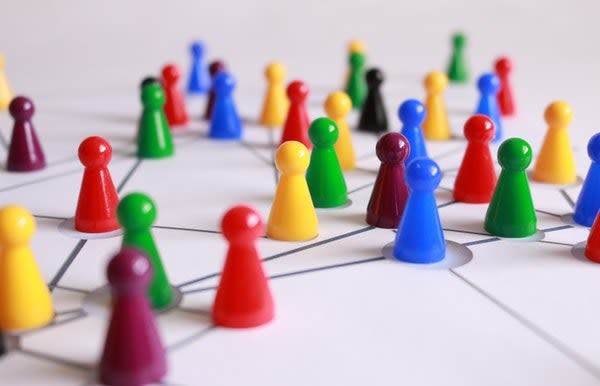 There are many ways to facilitate friendly competition, like incorporating gamification elements such as leaderboards, point systems, and real prizes and awards. You can tie your leaderboard to your online training and determine your employees' rank status based on the points they've earned from their course quizzes or games. If your training budget allows, you can also reinforce employee rewards and real prizes like free Starbucks coffee or IKEA shopping vouchers. If executed correctly, this remote training idea will drive your employees to improve their performance to get better scores and even encourage other teammates to participate and compete as well.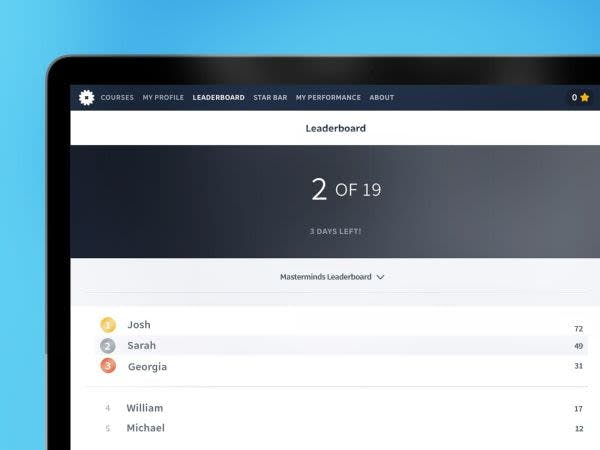 10. Establish regular check-ins
With the lack of face-to-face interaction, you can help your employees overcome the feeling of isolation by regularly checking in with them. You can set weekly or biweekly virtual sessions to review their training progress personally or even discuss any insights or feedback they may have. It is also the perfect opportunity to address any knowledge and competency gaps within your team and align their future goals across the organization. If you're jam-packed with meetings with little-to-no spare time for regular video chat or call, a quick check-in through Slack, Gmail, or even instant messaging will suffice.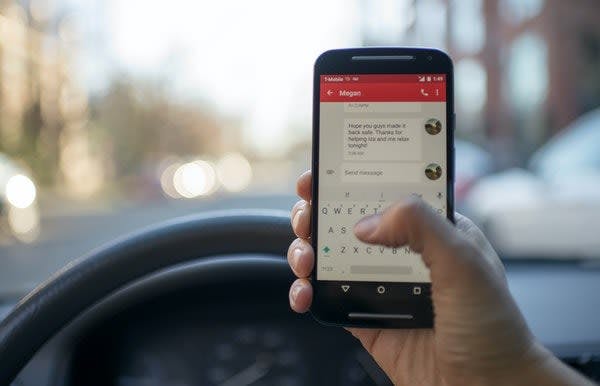 Conclusion
In this article, we've presented some of the best remote training ideas and practices that you and your team can adopt to boost the success and engagement of your training initiatives, such as incorporating microlearning courses, videos, webinars, and gamification elements, translating course content, adhering to a consistent schedule, and more. We've also included some tools that you can use to build courses for employee training, set up tests and quizzes, and organize your training schedule, like EdApp. This learning and development platform currently ranks as one of the best remote training tools in the market due to its advanced tools and features, especially its intuitive authoring tool, Rapid Refresh, and discussion and assignment features. To know more about their features, you may book a demo with their team, or visit them at www.edapp.com. 
You may also be interested in: