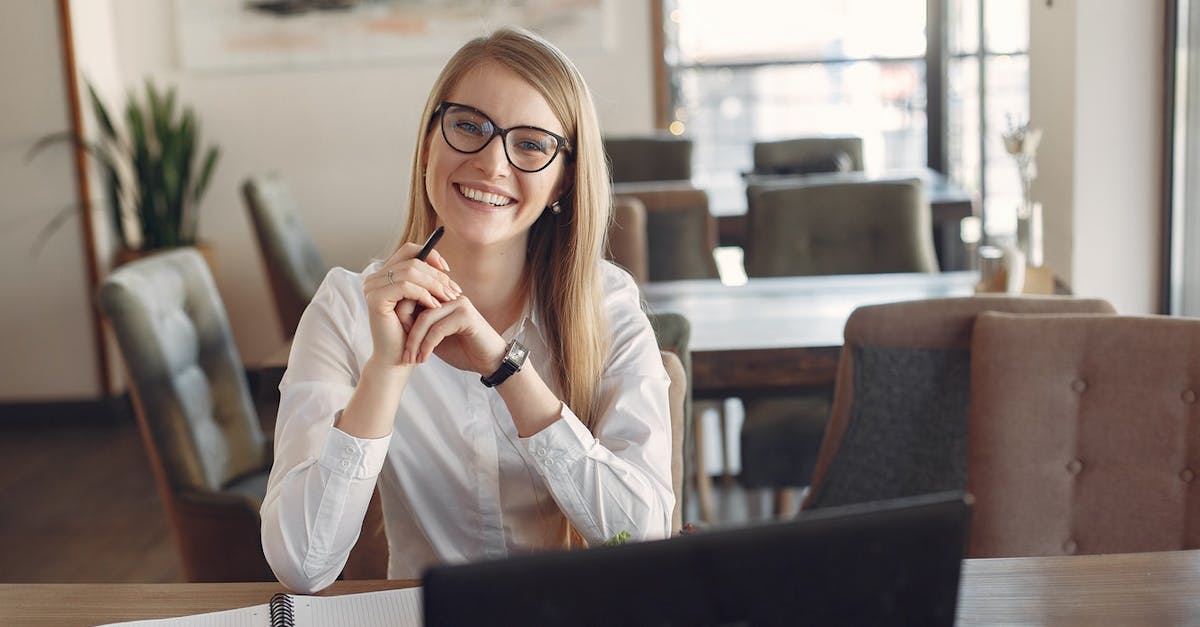 Continuous employee training and development are key drivers of a high-performance workforce. However, each individual in an organization has different learning needs. Simply distributing learning content is not enough to equip employees with new knowledge and skills. It's equally important that your training strategy also considers various factors that can help improve the learning experience of your employees, such as their learning preferences, nature of work, and location. 
To help you in building more effective training programs, we've listed 10 employee training ideas that can help improve knowledge retention, increase engagement among your learners, and ensure better learning outcomes. 
1. Transform traditional training into microlearning
Microlearning is a learning strategy that breaks down bulks of content into bite-sized modules, focusing only on key elements or messages of a subject. It is an effective way to prevent overwhelming learners with abundant information all at once. This approach also allows learners to easily store the information in their long term memory. And unlike traditional modules that can take hours to get completed, micro-lessons can be completed only within just a couple of minutes. This employee training idea makes your training easier to understand, more engaging, and at the same time, less time-consuming.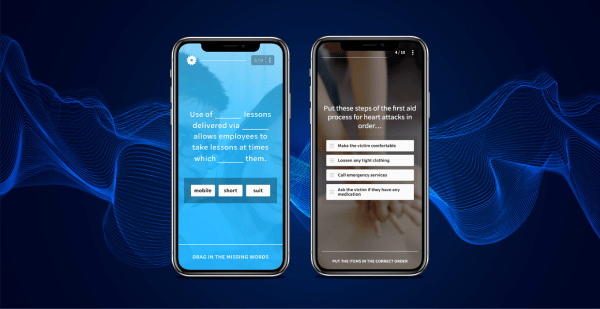 To help you incorporate this solution into your training program, you can leverage employee training tools like EdApp. This Learning Management System (LMS)  features an intuitive authoring tool with 80+ microlearning templates, allowing you to easily create microlessons.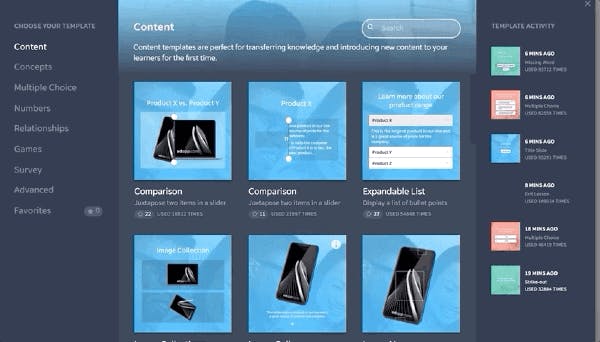 You don't have to always start from scratch – its free, editable course library offers hundreds of ready-made microlearning courses designed by experts and industry leaders, which you can tailor with your own expertise or standards specific to your company. To get a headstart, you can deploy corporate compliance training courses by EdApp to start training your team with microlearning!
With this LMS, you can simplify and accelerate the process of developing courses so you can deploy relevant training programs in a timely manner. 
Sign Up for Free to start using the #1 microlearning platform!
2. Increase engagement through gamified microlessons
When learning doesn't feel like another mundane work task, learners are more engaged with their training. Gamified microlearning courses are proven to increase productivity and engagement, resulting in 80% (or higher) completion rates compared to typical eLearning courses.
For context, gamification is a training strategy that transforms regular learning materials into casual or competitive smartphone games. It uses gaming elements like drag-and-drop, sequencing, and word matching to make the learning experience interactive and engaging for your learners. This employee training idea combats the boredom associated with training, especially in self-paced learning environments where there is a lack of physical interaction with colleagues.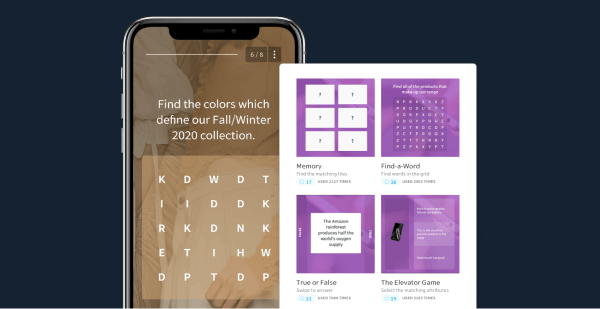 To apply this strategy to your training program, you can leverage EdApp's gamification templates that are readily available in its user-friendly authoring tool. It includes game concepts like elevator games, letter jumble, true or false, image/word match, and many more. Just like a real smartphone game, it also has a scoring system and a gamification-based reward system where learners can earn Stars and win real prizes (like Amazon gift cards or discount coupons). 
3. Improve knowledge retention through spaced repetition
Another employee training idea to enhance the memory retention of your employees is by incorporating a spaced repetition strategy. It uses a training approach where key learning concepts, such as product knowledge or best practices, are reinforced through repetition. Basically, quizzes are delivered in revised format at regular intervals until knowledge is fully embedded in the long-term memory of your employees.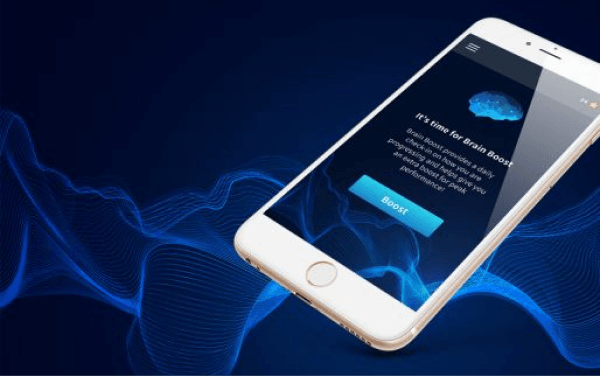 To include spaced repetition in your training strategy, EdApp can help you frequently test the knowledge of your employees through a personalized, system-automated quiz called Brain Boost. This feature automatically sends out personalized questions from your microlessons to monitor the learning progress of your learners and check what information they've retained. The more answers they get right, the less frequently they are given quizzes on a particular lesson.
4. Evaluate employee learning progress through quizzes
Administering quizzes is an ideal training strategy that can efficiently assess your employees' level of knowledge and expertise, knowledge gaps, and learning progress. Insights from quizzes allow you to evaluate the effectiveness of your training program and tailor it for improvement according to the needs of your learners. This employee training idea also enables you to reinforce key information after a training session or a company general meeting. 
By leveraging online quiz creators like EdApp's Rapid Refresh, you can easily create quizzes and surveys that can be conveniently accessed by your employees.  It serves as an efficient tool for creating interactive quizzes to assess and reinforce learner knowledge for , c suite training courses, and basic rigging training courses, even without any prior existing content in EdApp. Questions are set up using an easy-to-complete template, and quizzes are deployed for single or multiple sessions, delivered at regular intervals, whether daily or weekly. To help you understand the performance of learners or user groups, Edapp can instantly deliver granular reports once a quiz is completed.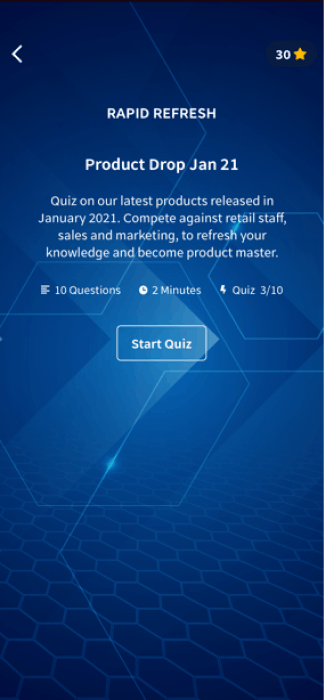 5. Localize training content by translating your courses
Translating learning materials according to the native language of your global teams breaks the barrier that hinders some employees from absorbing information due to culture and language differences. When your training content is localized for different groups of learners across the world, it makes their learning experience more comfortable and relatable. Thankfully, you no longer have to take extra weeks or even months translating eLearning courses for your learners. Instead, you can utilize Artificial Intelligence (AI) tools that can automate this process for you.
EdApp features a built-in LMS translation tool that uses Google's Machine Learning Cloud Translation Engine, providing you with the ability to translate courses into over 100 languages in just a few clicks. Whether you're creating lessons or quizzes from scratch, importing existing courses. or deploying courses from its course library,  you can easily deploy courses in multiple languages at scale.
6. Foster a healthy competition and recognize achievements
Stimulating friendly competition among your employees can help boost their productivity and learning performance. Incorporating a leaderboards ranking system is a great employee training idea—it motivates learners to improve their performance by earning points in online learning activities and completing courses to move up the rank and stay on top of their game. For training managers, leaderboards can also be used to track the performance of your learners such as with basic rigging training courses. You can also give instant recognition to top-ranking individuals to further boost competence and inspire learners to achieve better learning results.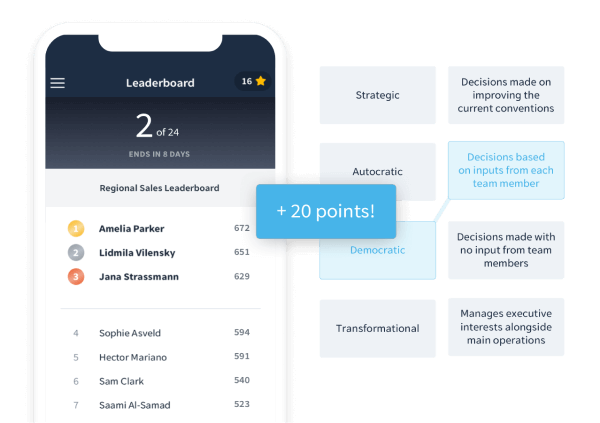 EdApp promotes these training strategies through its Leaderboards feature that's available for courses and even Rapid Refresh quizzes. This platform also offers the world's first-ever customizable Achievements feature, which allows you to congratulate, motivate, and inspire learners with customizable banners and badges. You're also given the option to export each learner's Achievements to internally shout out top achievers and learner's milestones. This creates intrinsic motivation for learners, as well as an internal buzz between employees, leading to higher engagement and better learning behaviors.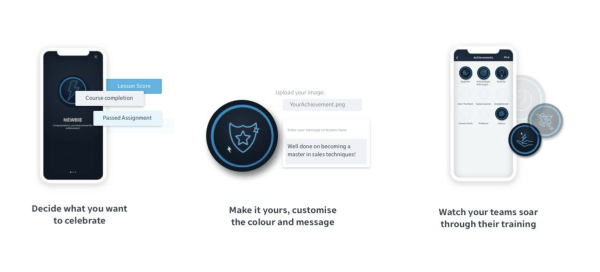 7. Enable social learning
Promoting social learning for your employees enables them to interact with and learn from peers, even without physical interactions. This employee training idea enables employees to discuss coursework or share expertise on various topics. It makes information more relatable for the employees and improves the likelihood of knowledge retention.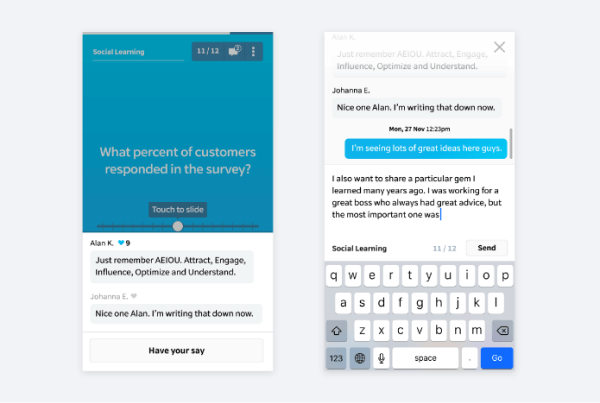 Social learning in EdApp is practiced through its Assignments and Discussions features that support instant coaching and mentoring. EdApp's Discussions is a forum-like feature designed to give the opportunity for the learners to lead course discussions when necessary, and provide real-time feedback to peers. Coaches can even step in to provide insight into key responses. Meanwhile, Assignments is a question-and-response feature that enables you to assign a self-test to reinforce key concepts and assess knowledge retention. It also allows learners to provide instructor feedback and submit responses. 
8. Boost learning with images 
Learners are more likely to understand training concepts and embed information in their long-term memory when their visual thinking is stimulated through visual elements like pictures, graphics, and diagrams. This amplifies the importance of leveraging well-designed and visually informative learning content in improving comprehension and retention of the learners. But, this process can be challenging and time-consuming for training managers with little to no knowledge or experience of graphic design.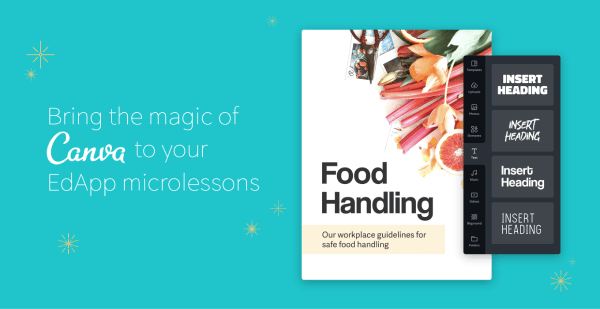 EdApp integrates Canva in its authoring tool to help you incorporate visual learning strategies. Canva is a user-friendly design platform that allows users to easily design visually engaging content using a simple drag-and-drop tool. While designing your microlessons in EdApp, you can use Canva's free and paid stock photography, fonts, illustrations, and templates, making the process of creating great visual content easier for training managers.
9. Make learning convenient with mobile learning
Mobile learning, also called mLearning, is a training approach that allows learners to access and complete their courses on any mobile device, anytime and anywhere. This employee training idea gives deskless workers and office-based and remote employees the ability to decide on when and where they are most available for learning. For employees who don't have immediate access to desktops or barely have enough time to spare for long training sessions, mLearning can provide them with accurate information at their fingertips such as basic rigging training courses and crisis management training courses. For training managers, it also serves as an efficient way to onboard and train different teams at scale, no matter what size or location.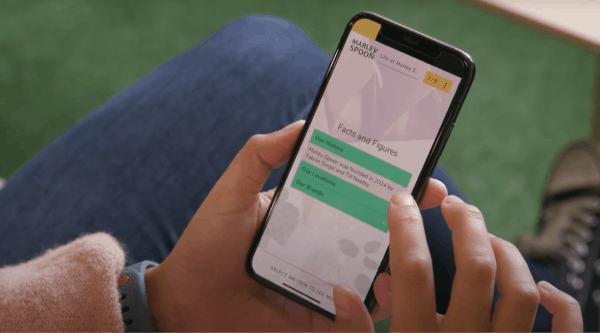 EdApp is a mobile learning solution with a mobile learning app, allowing learners to access their mandatory courses, or further develop their knowledge and skills through their smartphones. You can even enable their custom notification feature to remind learners of necessary actions to take upon deploying courses or quizzes. 
10. Create an immersive training experience through virtual training simulations
A virtual training simulation is a method that replicates scenarios that are typically demonstrated in traditional training through in-person demos. It allows your learners to apply their knowledge and skills through virtual exercises. With this employee training idea, learners are more likely to improve knowledge retention and skills when they are able to receive instant assessments and put their learnings into practice before stepping into real work scenarios. While there are available training software that provide virtual training and simulations, you can also take advantage of video conference platforms for virtual demonstrations and immersive training activities (such as cybersecurity awareness programs, basic rigging training courses, and c suite training courses).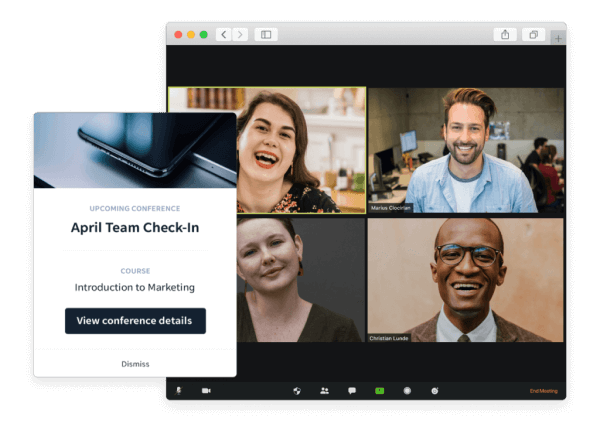 To enable your teams to connect virtually as part of training, EdApp features a Virtual Classroom that gives you the ability to schedule in-app video conferencing through Zoom and Microsoft Teams, which you can set as a lesson within your course. Through this feature, you can present conversation-based scenarios or demonstrate procedures in real-time to create an interactive learning experience for learners.