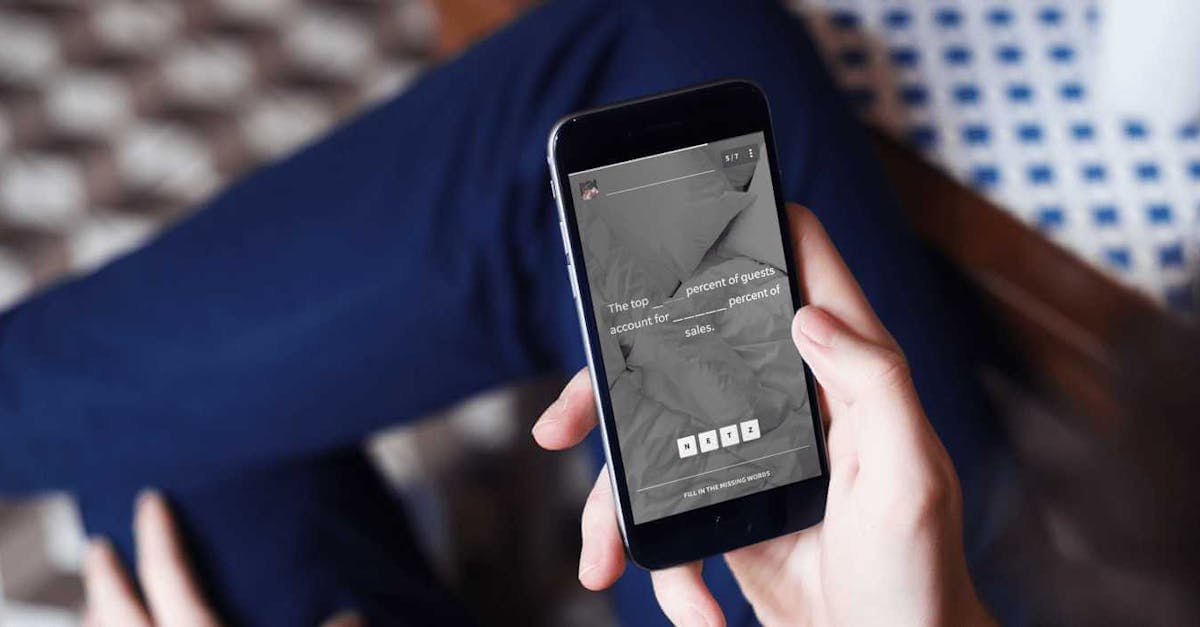 Administering quizzes using online test makers is an important aspect of employee learning and development. Below are the key benefits of using quizzes:
You'll be able to understand the employees' scope and level of knowledge and expertise so you can better address the employees' learning needs. 
You'll be able to evaluate the learning progress of the learners, determine the knowledge gaps, and obtain feedback that is helpful in improving training programs.
You'll be able to reinforce key information across a wide reach of learners
Through learning tools such as online test makers, you can conveniently reach your teams and efficiently deliver assessments. Check out below the free online test maker tools that vary in functionality from simple forms to those with courses, testing, and advanced analytics.
1. EdApp
EdApp is free learning management software & online test maker designed with the digital learner in mind. EdApp takes pride in its free course library, authoring tool, test builder, and Rapid Refresh quiz maker, all in one learning platform. Training and learning have never been easier or more fun with this intuitive, award-winning platform.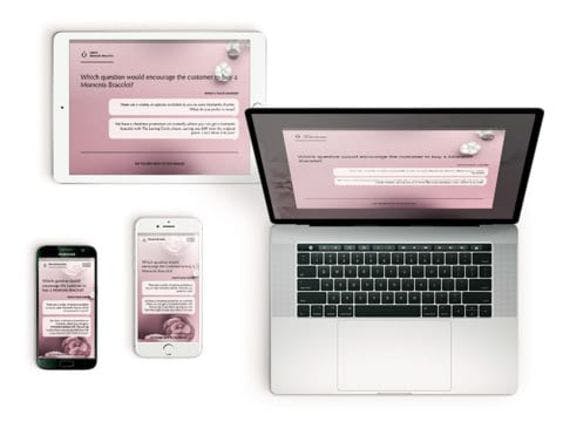 Its feature called Rapid Refresh is EdApp's very own spreadsheet-based in-app quiz maker software. To create a quiz, all you have to do is input your questions and answers through the training tool's user-friendly spreadsheet template. From there, Rapid Refresh will automatically transform your content into well-designed gamified tests, which you can then deploy directly to your learners' mobile devices on a daily or weekly basis. You can even choose to send all the quizzes in a single burst.
Feature list:
50+ authoring & testing templates (no coding required)

Gamification with real prizes built into the learning process

Automatic grading, scoring, and advanced dashboard analytics

Easy in-app branding and customization

Responsive SCORM 1.2 LMS

Setup, create and launch quizzes in a few clicks with

Rapid Refresh

Translate your test into 100+ languages with our cloud-based translation tool

Diverse question templates: multiple-choice (carousel, chat simulation, circle the answer, images), games (find-a-word, jeopardy, letter jumble, true or false), and more!
Cost: Free, forever. See other pricing options here. 
2. Nearpod

Nearpod is an online test maker, a student engagement platform, and online course software with lesson authoring, formative assessment, and free courses.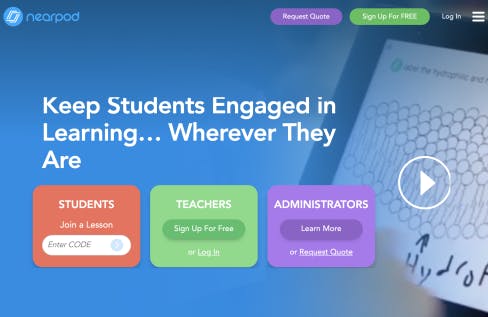 Features:
Author interactive lessons 

Access standards-aligned lessons from ELA to Social Studies for K-12

Run live lessons and get assessment data instantly

Support 100% student participation

Integrate with Google Classroom
Cost: Free and paid plans
Free courses include:
3. Udemy

Udemy is a large, open course marketplace for instructors and students alike and it is also an online quiz maker. Author video, text, and audio lessons with built-in testing capabilities. While Udemy does not allow you to create a single test or quiz, it is a great platform to create an entire course with included testing.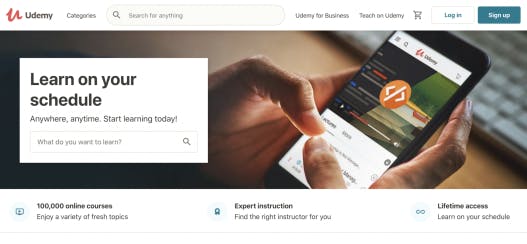 Features:
Free online courses with certificate of completion included

Learn from experts on a variety of topics

Publish content as an instructor and get paid

Multiple-choice tests
Cost: Free and paid courses
Free courses include:
Digital Marketing
-Email Marketing Made Easy for Beginners
-Copywriting: Fundamentals For Beginners
-Organic Search And Keywords

Business Management
-Knowledge Management Tools for SMEs
-Start Improving Customer Service

Coding
-Learn HTML5 and CSS3 By Coding Your First Website
-Code a 'Coming Soon' Landing Page in Bootstrap 4
Simple Test Tools
If you're looking for a simple, straightforward way to create quizzes and tests without free courses or advanced functionality, we have 2 options for you. 
4. Google Forms
Google Forms is an easy-to-use Google application that can be used as an online test maker and that allows anyone to create a survey, test, or quiz for students or employees. This program easily integrates with spreadsheets and other Google products, making data collection seamless and straightforward. 
Features:
Author tests, surveys, sign-in sheets, order forms, job applications, and more

Export collected information to an auto-populated Google Sheet

Customization and personalization: change anything from the background to question types to advanced settings

Embed images and videos

Incorporate add-on's like notifications, FormLimiter, and Certify 'Em with competition certificates
Cost: Free
5. HubSpot Forms

HubSpot Forms is designed primarily for marketers looking to gather customer data; however, it is also a powerful online test maker. Similar to Google Forms, it has drag-and-drop questions, and the settings are highly customizable.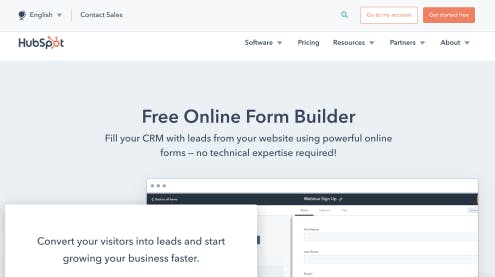 Features:
Easily integrate with WordPress and HubSpot's CRM system

Unlimited forms and submissions 

Up to 1,000 form fields
Cost: Free
6. Kahoot!
Kahoot is an online test maker and a digital assessment tool where users answer questions in real-time through online learning games. While many teachers use Kahoot, it can also be used in the workplace as an excellent way to take polls, engage employees in training content, and ask open-ended questions.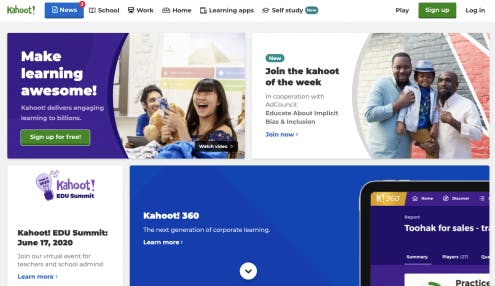 Features:
Create quizzes in minutes or access an extensive quiz database 

Assign students or employees self-paced game challenges

Access reports with critical stats and download them to a spreadsheet

Customize point values, question types, and other game settings

Duplicate Kahoots again and again
Cost: Free and paid plans
7. Quizlet
Quizlet is a learning platform where students, teachers, and trainers can author quizzes in a flashcard format. You can create flashcards or access a vast library of pre-made flashcard stacks.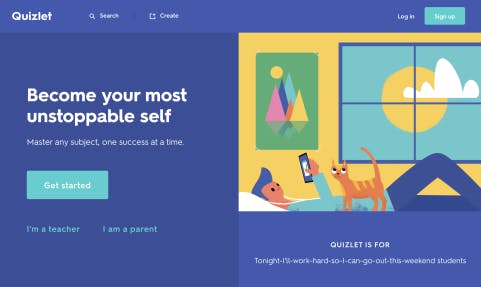 Features:
Duplicate and customize existing flashcard stacks

Assign flashcards to students in a test format

Access pre-made flashcards for Professional & Careers and Standardized Tests

Utilize various study modes to support spaced repetition and gamify learning
Cost: Free
8. EasyTestMaker
EasyTestMaker is a free quiz maker that helps you author a variety of tests and manage your learners. Either administer your test online (where it is graded automatically) or print it out for users to do on paper.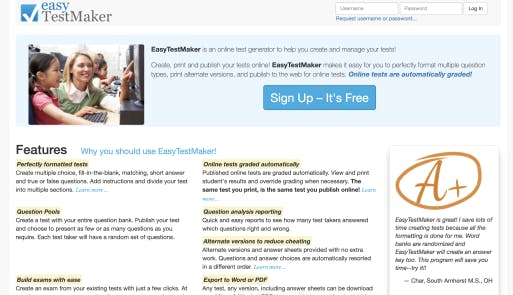 Features:
Variety of question formats: multiple-choice, fill-in-the-blank, matching, T/F, and short answer

Export all tests to PDF or Word

Create alternate test versions to limit cheating

Print analytics and student test results

Question pools
Cost: Free and paid plans
9. ClassMarker

ClassMarker is a digital testing system that can be used in a classroom or business setting. ClassMarker's interface makes it easy to create, distribute, and grade tests.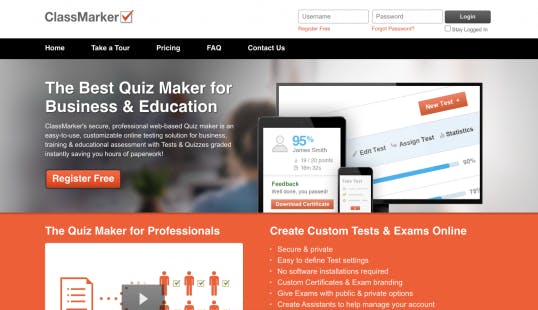 Features:
Branding options

Certificates of completion offered

Automatic analytics and results

Do everything online: no software needed

Make exams public or private
Cost: Free and paid plans
You may also be interested in free learning tools or learning how to create an online course.
10. FreeOnlineSurveys
FreeOnlineSurveys is a free survey and test maker that can be used in small or large-scale online assessments. You can create unlimited quizzes using this platform.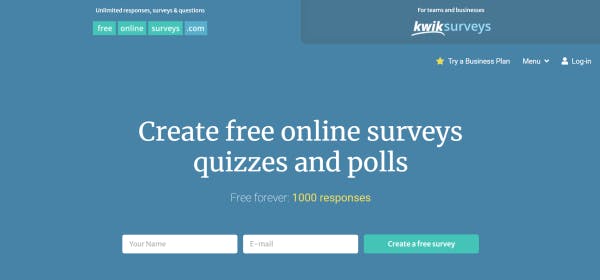 Features:
1000+ responses supported

Customizable templates and test samples

Different test formats available (multiple choice, open-ended, rank,  etc.)
Cost: Free
11. Kahoot
Kahoot! is game-based online quiz software that uses colorful visuals and gamification elements to boost engagement. It offers quizzes with multiple-choice questions, as well as "type answer" questions wherein participants will have to type in their answers to show a deeper understanding of a certain topic.

Features:
Interactive game-based format

Multiple game templates

Real-time group participation or self-paced 
Cost: Free, Paid
12. ProProfs
ProProfs's free quiz maker allows for complete customization by adding images, themes, and backgrounds to make your quizzes visually appealing. You can also choose from hundreds of their templates that you can copy, edit as needed, or use right away.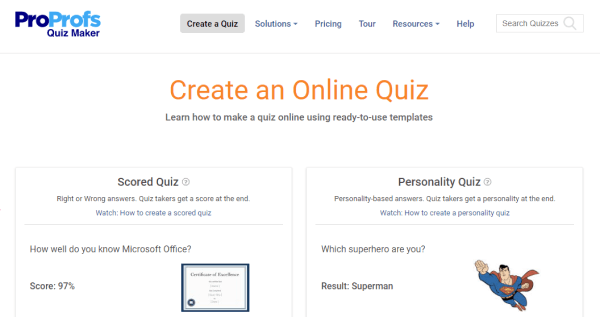 Features: 
Custom completion certificates

Huge selection of templates

Drag and drop interface
Cost: Free, Paid
13. Interact
With Interact's online free elearning creator software, you can create an unlimited number of quizzes. You can choose among Personality, Scored, and Assessment quiz types, with over 800 pre-made quizzes that you can edit and customize to your liking.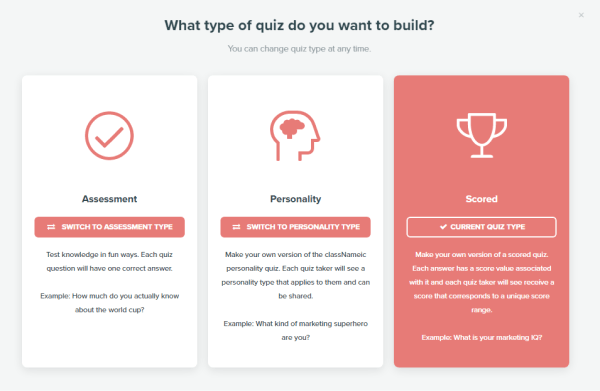 Features: 
Cost: Free, Paid 
14. Typeforms
Typeform is a free quiz maker that uses a drag-and-drop tool to help you quickly build great-looking online quizzes. It allows you to make interactive quizzes through the use of images, GIFS, and videos. Your quizzes are fully customizable, so you can adjust the color schemes, add background images and change the text.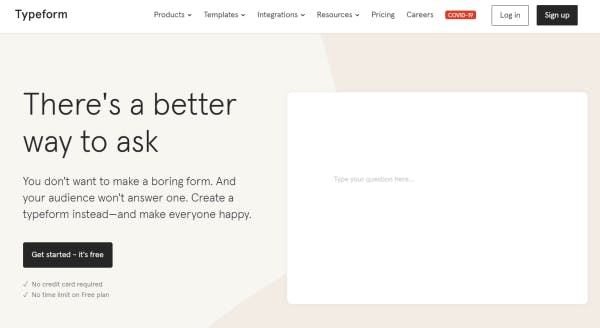 Features:
Cost: Free, Paid
15. Riddle
Riddle is an online quiz creator best utilized for lead generation but can be used by any organization for their online quiz needs. It has 15 different types of quizzes to choose from and has a template library to select from as guidance when making your quizzes.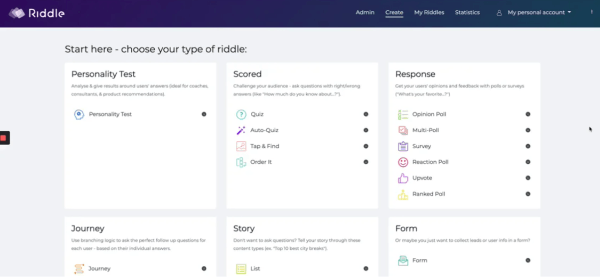 Features: 
Cost: Free, Paid
16. PaperShala
PaperShala is a powerful test maker software that will allow you to create tests, reuse questions, and check results immediately. There's no need to worry about any power interruptions or connectivity issues when your learners take their tests as answers are saved immediately and can be resumed anytime. It also has a question bank that houses all your test questions. Aside from this, it also gives visibility to more details, such as total attempts and total correct & incorrect answers. PaperShala also has a dedicated student dashboard where learners can check the exams they need to take, their current progress, and their overall performance.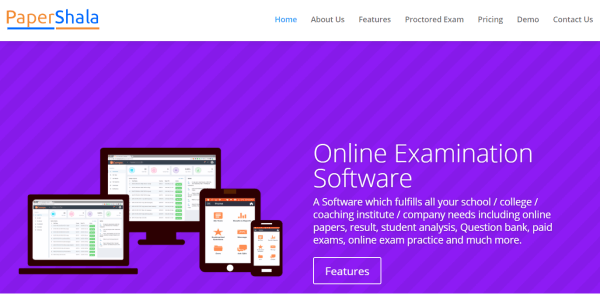 Features:
Cost: Free, Paid
17. SpeedExam
SpeedExam is a unique test maker software geared towards assisting learners with self-study. It offers 10 types of questions to provide diverse types of challenges to your learners. Your training team can create a question bank and tests can be created by learners from your pool of questions. You can also create tests that can be taken at the same time, either on the same location or even in different regions, perfect for organizations that operate globally. You can even monitor your learners while they take their tests with SpeedExams' exam monitor. With its free version, you'll get 25 exam attempts per month with up to 5000 questions.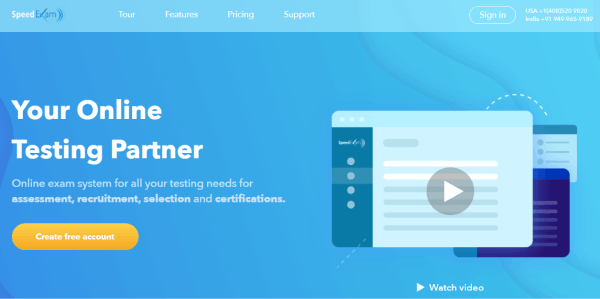 Features:
Question bank

Concurrent tests

Automated proctoring
Cost: Free, Paid
18. Typeform
With Typeform, creating clean and professional tests is as easy as dragging and dropping content. Just choose your preferred question types, input your questions and answers, modify & customize them to your heart's content, and finally publish and share them with your team. If you're unsure where and how to start, Typeform also offers 400+ visually appealing e-learning templates that won't disappoint your learners. For the free version, it allows 10 questions per typeform, with 10 responses per month. Reports can only be exported using an Excel file, which is very limiting when reviewing results.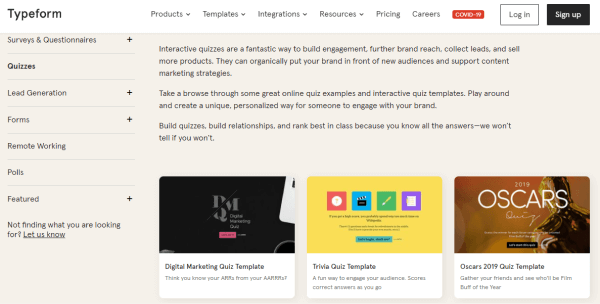 Features:
Drag-and-drop quiz builder tool

400+ visually appealing templates

Shareable reports & analytics
Cost: Free, Paid
19. Quiz Maker
If you're looking to create attractive tests with just a few clicks, Quiz Maker is a great option for you. You can copy and edit the existing quizzes they have or create one from scratch on their straightforward editor with its simple point and click feature. Quiz Maker has 38 question types that you can mix and match or you can also import questions you've already made. The free version is ad-supported so this means that you'll also see ads on your tests. Also, bear in mind that you're limited to only 1 quiz with 25 responses.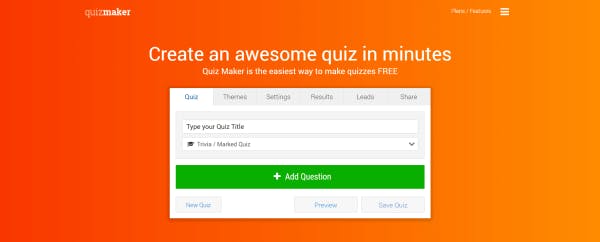 Features:
Cost: Free, Paid
20. QuestionPro
QuestionPro is mostly used to create surveys but it's also a great tool for creating tests as they have over 25 standard question types available on the free version. It also provides you with unlimited surveys and responses which is great considering the very small number that other free tools provide. QuestionPro helps establish your brand by allowing you to add your company's logo to your survey and change the survey colors to match it. You can even customize the 'thank you' page of your respondents when they've completed a test to give them a personalized experience. While QuestionPro's free version undeniably includes the essentials, it still lacks intuitive features that can be found on other free tools, such as scheduled email reminders & push notifications, and cross-app integrations.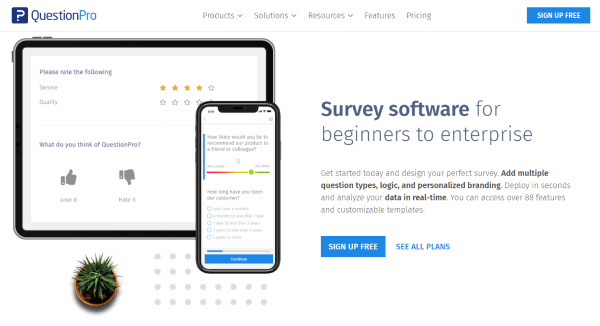 Features:
Cost: Free, Paid
21. TestMoz
Testmoz is a simpler test maker software compared to most but it makes sure that you have all the features you need. You can choose from the different question types they have available and also create question banks/pools. You can also import questions through their provided Excel file which contains a set of easy-to-follow instructions. Tests are autosaved during creation so you don't have to worry about losing your work during sudden power interruptions or technical issues. With their free version, you're limited to 50 questions and 100 results per test. Also, uploading your own images isn't possible and you can only use images available online.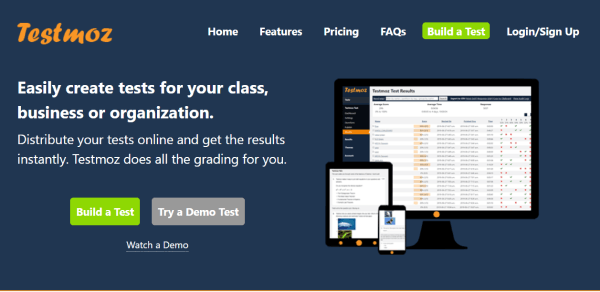 Features:
Question bank

Autosave

Import questions
Cost: Free, Paid
22. Slido
Slido aims to make learning interactive and dynamic with its live quizzes that are perfect to conduct after a training session. Participants can join in using their mobile devices through a link or QR code with no sign-up needed. To make it more fun and engaging, you can set time limits for each question and also display a leaderboard showing the scores and topnotchers at the end. You can even reveal the most difficult questions and show who answered them correctly. With Slido's free version, you can host an unlimited number of quizzes with a 100-person limit. You'll be able to view, share, and analyze results for each event. One thing to take note of is that it can only run multiple-choice quizzes.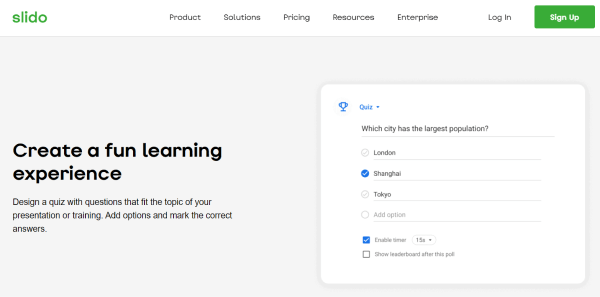 Features:
Leaderboards

Timer

Event analytics
Cost: Free, Paid
23. Survey Monkey
Survey Monkey is another well-known online test maker that can help you create basic surveys, quizzes, and polls for free. Through this tool, you can access hundreds of ready-to-use quiz templates to produce quizzes more efficiently, saving you time and energy that would have otherwise been spent on planning and designing. This quiz creator tool can also help you track the training progress of your learners and identify those who have and haven't taken their quizzes. You can even send automated email reminders for those who are yet to unlock their tests. Although the tool has a lot of cool features, its free plan only allows users to ask a maximum of 10 questions per survey.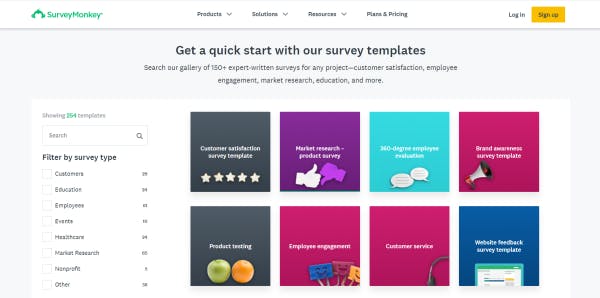 Features: 
Ready-to-use quiz templates

Progress tracker

Automated email reminders
Cost: Free, Paid plans start at 7.60 USD per month
24. QuizGame
QuizGame is an online test maker that uses gamification elements to create fun and interactive quizzes that learners will enjoy. It offers a variety of pre-made templates and quiz modes like duels, group trivia, and stock-market-like structures, to encourage learners to engage with their training materials and complete their tests. Other popular gamification examples that you can also use for your assessment include Tic, Toc, Prison Break, Do or Die, and The Big Escape. This platform also allows you to access analytics data based on 85 metrics to track your workers' overall performance and address their training needs. QuizGame has a free trial that you can opt for to test the waters. You can even book a demo with them to get a broader idea of how all the features work.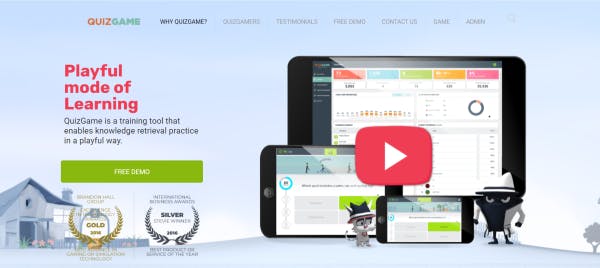 Features:
Cost: Paid plan but with free trial and demo; prices available upon request
25. 123 Form Builder
123 Form Builder is another online test maker that allows you to design online assessments without a hitch. As its name suggests, you can create quizzes in just three easy steps: choosing a template, adding content, and publishing your test. You can also add images, graphics, and other branding elements to engage your learners. There's even an option to set up a countdown timer that automatically submits the quiz after the elapsed time. Another cool highlight of this tool is its conditional logic feature, where a field can be triggered when a certain action is done. For example, if a learner chooses the wrong answer, you can show the correct one instead.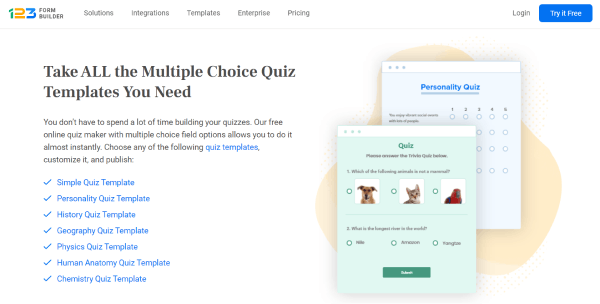 Features:
Customizing and branding

Countdown timer

Easy to use interface

Conditional logic
Cost: Free and paid plans
Online Test Maker #26 – Opinion Stage
With Opinion Stage, you can create visually stimulating and highly interactive online tests. If you don't want to start making your tests from scratch, you can easily choose from the over 100 quiz templates that they offer. On the other hand, if you want full customization capabilities, they also allow you to edit the text, images, and colors of your entire quiz content. Once you've created your tests, they are automatically stored and secured on the cloud. This online quiz maker also ensures that your assessments will perform well on both mobile or PC devices, and it even automatically optimizes image content depending on the device being used.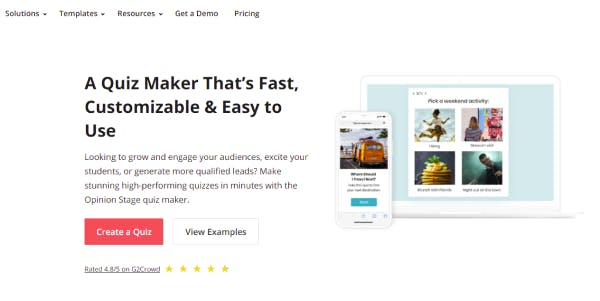 Features:
Over 100 quiz templates

Customization

Cloud storage and security

Mobile and PC compatibility

Image optimization
Cost: Free and paid plans