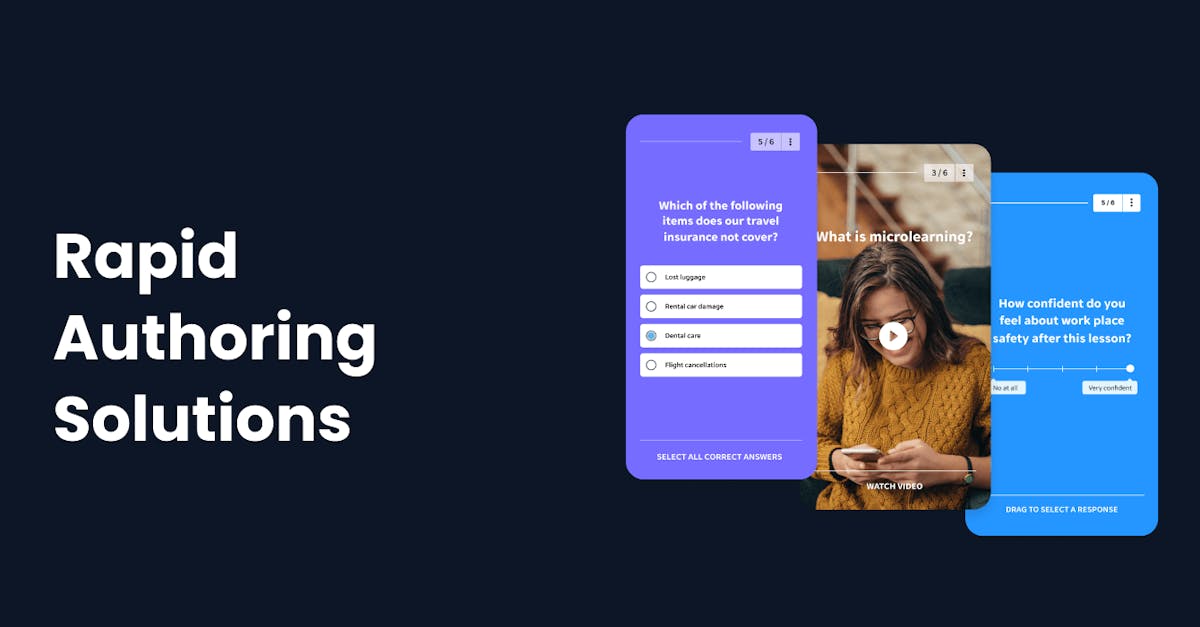 Rapid authoring solutions are tools that allow learning and development (L&D) or training professionals to quickly author lessons and apply changes with immediate results. In this article, we'll look at ten rapid authoring solutions to help you create quality training content in a short span of time.
1. EdApp
EdApp is not only a mobile-first LMS but a state-of-the-art rapid authoring solution that can produce quality microlearning in minutes. It allows you to drag and drop different elements and move, copy, and duplicate slides with ease. EdApp's intuitive authoring tool features three sections: the Template panel, Content panel, and Review panel which allows for effortless course creation that can go live within minutes. 
The Template panel is where you can select from a wide range of fully customizable microlearning templates suited to a diverse set of learning methodologies that gives admins the flexibility to create all sorts of content. The Content panel is where you can edit your templates and add text along with all sorts of media, such as images, GIFs, videos, which is made easier with its Canva integration. The Preview panel then shows you what the user would be seeing on their end and any changes you make are applied in real-time.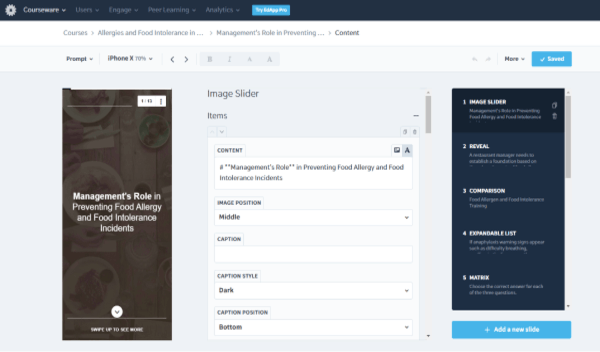 EdApp can also include a custom-made course suited to your training needs at a minimal cost. With their team of expert instructional designers, you can give your teams engaging and interactive mobile courses.
To top it all off, EdApp has Google's Cloud Translation technology built into its authoring tool which allows for near-instant translation into more than 100 languages (and counting) – perfect for your multilingual teams. You can even use its built-in PowerPoint converter and turn existing slides into visually appealing and interactive lessons in just one click! How's that for fast? The best part is that the lessons you create are responsive and perfectly formatted for any device so you don't have to worry about your layout as it adapts to whatever screen size is being used. With EdApp, no coding knowledge is required to create beautiful and relatable microlessons which gives you time to focus more on your lesson's content.
Overall, this platform is very helpful for making courses like interpersonal skills training courses, onboarding courses, and more.
Cost: Free
Key features: 
Sign up for Free and Start Using The Best Rapid Authoring Solution
2. Chameleon Creator
Chameleon Creator is another rapid authoring solution that you can use to create fully-responsive learning content quickly, easily, and beautifully. This training software has a simple and intuitive user interface (UI) that allows you to choose dynamic interactions, where you can enter text, videos, animations, and more. You can even customize each interaction to match your branding by choosing different color themes. If you want to recycle or edit any assets you've previously used, Chameleon Creator features a built-in library to store your content safely in the cloud. Lessons that you create can be used in a different LMS since they're SCORM-compliant but you can also rely on their native platform to deliver your training. Chameleon Creator isn't free to use but they offer a 14-day trial.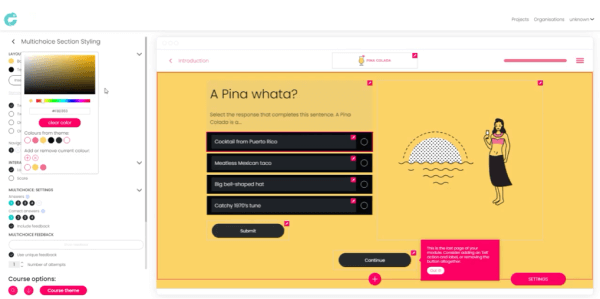 Cost: Starts at 5 USD/month
Key features:
Simple and intuitive UI

Interaction library

SCORM compatibility

Built-in asset library
3. dominKnow
dominKnow prides itself on its two powerful authoring modes: Claro and Flow. With these two modes, you'll be able to build more kinds of eLearning faster through rapid authoring without relying on any other external platforms. Claro is the go-to for more traditional eLearning content with set dimensions, while Flow is better utilized for lessons to be delivered to different devices. Whatever mode you choose, you can take advantage of multiple customizable content types, themes, templates, and layouts. To complete your projects faster, dominKnow has built-in collaborative workflows and review tools so you can work simultaneously with other team members in real-time.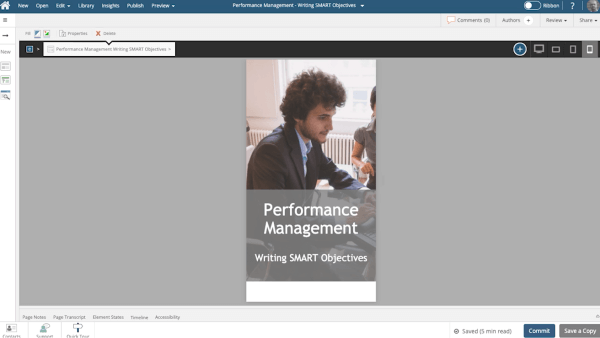 Cost: 7 USD/author/month
Key features:
4. Lectora
With Lectora, you don't have to choose between fast or powerful – you can get both with this rapid authoring solution. To quickly build learning content, just choose from their starter templates, which include course frameworks, themes, style packs, and more. To enhance the look of your lessons, you can rely on Lectora's built-in asset library where you can find a plethora of icons, characters, stock images, audio clips, or videos. Working in teams is also made simple and easy with their collaborative authoring feature which tracks any revisions and automatically communicates them to all members so you won't miss a beat. If you're on a tight budget, we suggest getting Lectora's free trial first since their plans can get quite steep. Additionally, their lowest tier only offers an online version and is marketed for individual use and not for enterprise.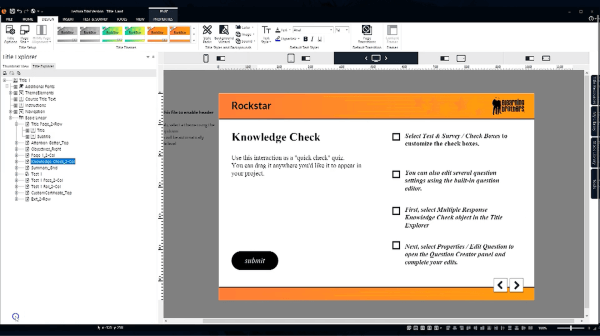 Cost: Starts at 99 USD/year
Key features:
Template library

Built-in asset library

Collaborative authoring
5. Thinkific
Thinkific enables you to quickly develop professional-looking learning content for any kind of audience. Its user-friendly rapid authoring doesn't need any coding knowledge or technical expertise as Thinkific provides ready-to-use templates at your disposal. Courses can include live lessons, quizzes, assignments, certificates, and more so you'll have plenty of options to lay out your content. Like other rapid authoring solutions, Thinkific offers a variety of media you can add to your courses, such as video, audio, images, PDFs, or presentations. One unique selling point about this platform is that you can sell the courses you've created and they don't take a cut off the sales you make.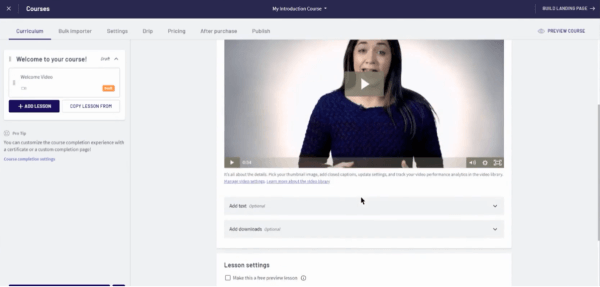 Cost: Free, Paid plans (starts at 9 USD/month)
Key features:
6. CourseLab
CourseLab is one of the rapid training solutions for building eLearning courses that can be published on the web or in an LMS. You can make slide-based courses by dragging and dropping images, videos, complex multi-object interactions, and quizzes. It comes with a set of eLearning templates, though learning how to use and customize them may have a steep learning curve. One major thing to take note of in this authoring tool is that the interface isn't as intuitive as others and may even feel a little outdated. This means it can feel quite complicated to those who are just beginning to work with authoring tools for eLearning. That being said, Courselab is better suited to more experienced developers who have an idea of how LMS authoring tools work and are more comfortable navigating the platform. CourseLab 2.4 is free for everyone to use with no time limits but has some restrictions in comparison with the commercial CourseLab 2.7 version.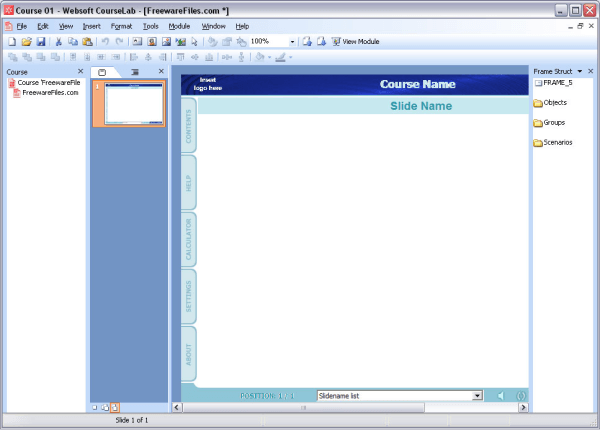 Cost: Free, Paid (starts at 99 USD)
Key features:
PowerPoint-like authoring environment

Drag-and-drop object placement

eLearning templates
7. 360Learning
360Learning is an authoring solution that promises a course creation time of as little as 17 minutes. Thanks to their course templates and cheat sheets, you can speed up course creation and make editing a breeze. Their intuitive course authoring suite requires no technical skills and is user-friendly for those who are just starting to build their own courses. To keep training content relevant and entertaining, you can incorporate learning resources such as videos, photos, blog pieces, and research into your course. 360Learning also includes a collaborative authoring tool and gamification for creating a more engaging course. While they don't have any free plan, they have a 30-day free trial which is longer than what other tools offer.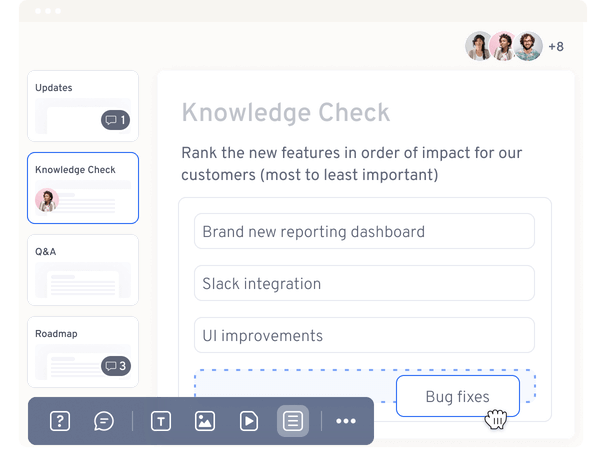 Cost: Starts at USD per user per month
Key features: 
8. isEazy
isEazy is another rapid authoring solution that allows simple, intuitive, and dynamic course design even without any technical expertise. Just choose from their interactive slide templates and layout system to get started, then simply click, drag, drop, and type to edit your courses. You can also make your training content more dynamic by adding personalized images, audio, videos, and even quizzes, and flashcards. Backed by cloud technology, you can have peace of mind that your work will never get lost in the process, ensuring maximum productivity. To make course creation even faster, you can duplicate and reuse projects when needed. isEazy has a free version but isn't suited for creating courses at scale due to its 3-project limitation, image watermark, and 0.3 GB of media storage, among others.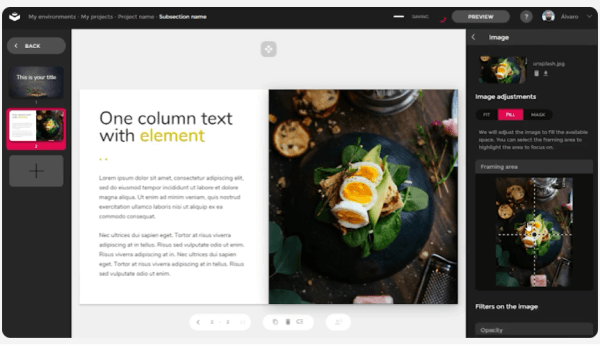 Cost: Free, Paid (starts at 6 USD/month)
Key features:
9. AdaptiveU
As a rapid authoring solution, AdaptiveU enables you to create responsive web-page-like courses through their all-in-one cloud-based authoring software and LMS platform. Designing your own course is easy, intuitive, and requires no advanced tech skills. Create a course in seconds by just copying and pasting your lesson's text, adding links to relevant articles, and attaching documents, images, or videos. While AdaptiveU has a free plan, you can only create 2 courses for 5 users. It also has a 1 GB storage limitation which may not be enough for courses with many assets.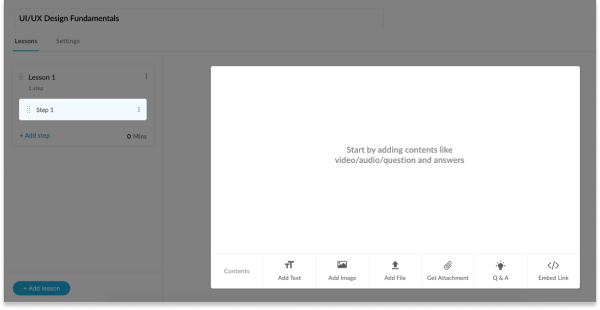 Cost: Free, Paid (starts at 5 USD/month)
Key features:
Cloud-based authoring

Responsive design

Simple user interface
10. Adapt
Courses built with Adapt provide a webpage-like experience regardless of any device – they scroll vertically, not flipped like slides. This open-source rapid authoring solution is designed for rapid content development that works with a web server or a SCORM-compliant learning management system. It stands distinctly apart from other content developing tools that have evolved from a 'PowerPoint' format design and are suited only to those who want to create long read courses with 'linear navigation.' Additionally, you can enhance the learner experience by installing additional Adapt plug-ins that will allow you to custom design your content.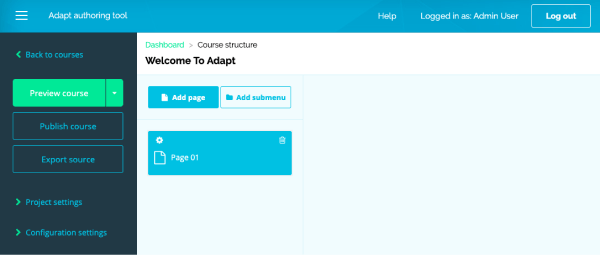 Cost: Available upon request
Key features: