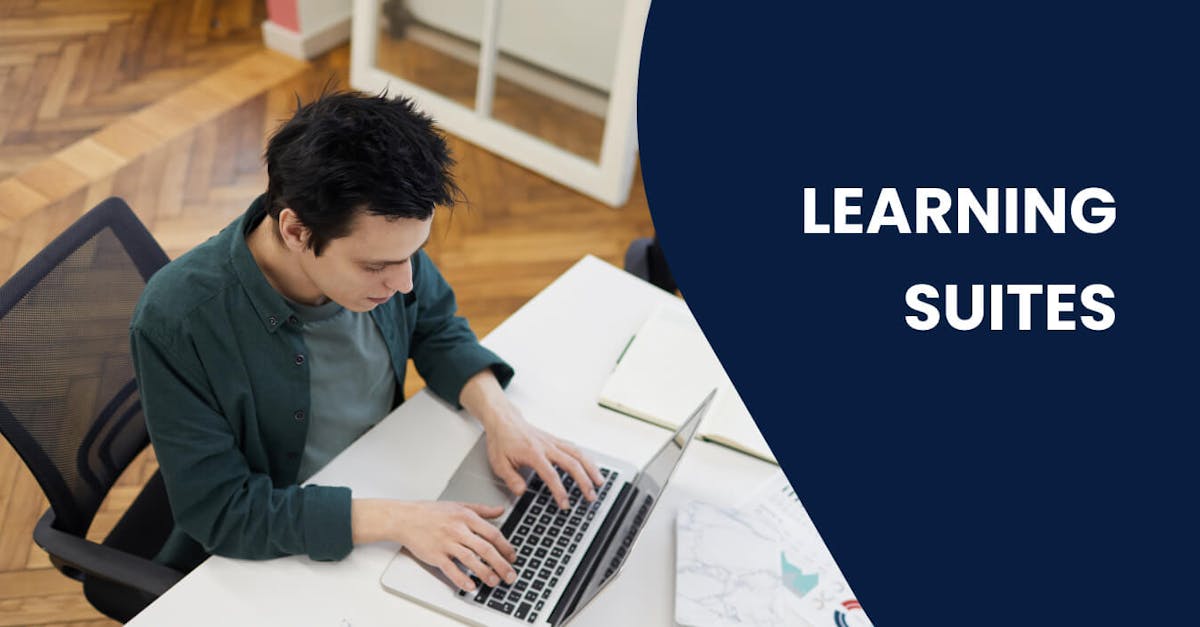 When we think of a learning suite, we think of an all-in-one LCMS platform from which to train and test our employees, and it should also make learning easy, engaging, and accessible to learners. These platforms offer so much more, but they are not all the same, nor are they all beneficial to everyone, not even close. Let's analyze the top 10 learning suites so you can understand what we mean.
1. EdApp
EdApp, an LMS software, is top of its class when it comes to the way information is presented to learners. It is mobile-first, so your learners will be able to access their courses anytime and anywhere. Through its course maker tools, training managers and instructional designers can easily create courses using its interactive templates.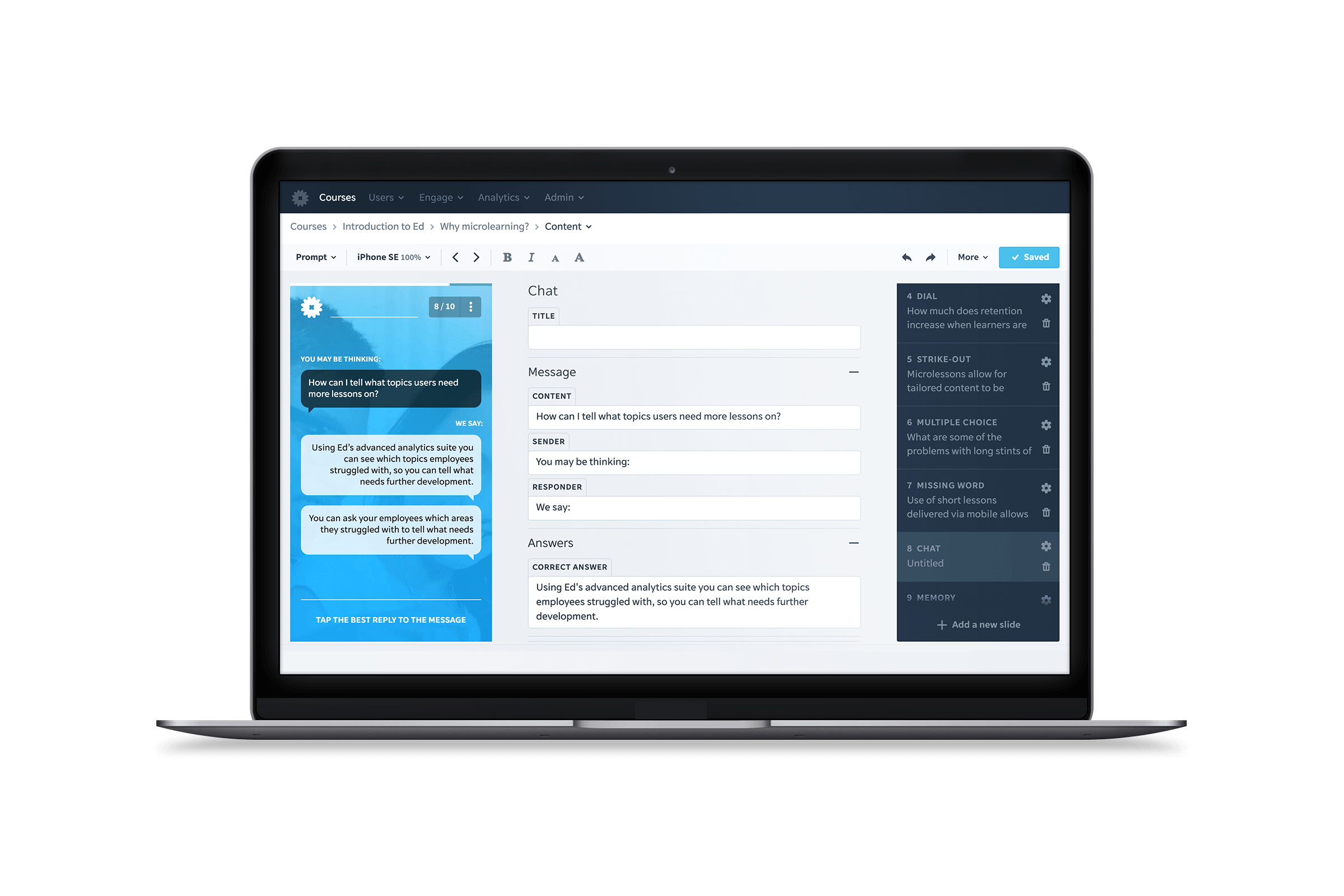 Many learning suites aren't effective because they can't seem to keep learners engaged, but EdApp utilizes gamification techniques to improve the online learning experience of users and couples that with spaced repetition throughout microlearning courses to boost retention of materials without overwhelming your staff with excessive presentations. Additionally, with EdApp you can work with an expert team, every step of the way. EdApp has a team of instructional designers that can get you started on your mobile training journey.
Create better learning experiences with EdApp today.
2. Edmodo
Edmodo is a learning suite geared towards facilitating distance learning for schools and districts. This learning software is an all-in-one communication, Zoom video conferencing, and collaboration platform that fosters community learning.

Teachers who use the Edmodo learning suit can engage their community of students and set up classrooms in a safe and free environment. In these classrooms, teachers can share materials and send messages to their students who can learn from anywhere.
3. JollyDeck
This LMS platform is somewhat unique in its approach to eLearning development. It offers support materials that companies can provide their employees returning to work after the coronavirus pandemic. These materials include guidelines that need to be observed when it comes to the procedures essential to keep everyone in the office safe.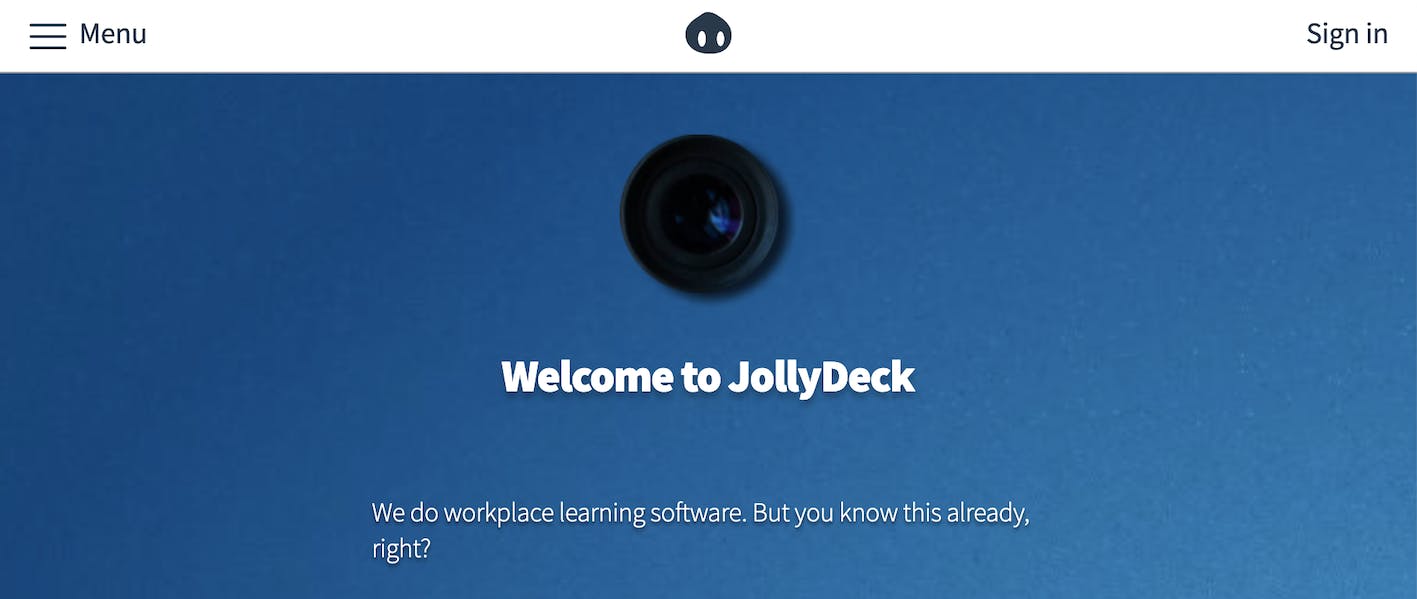 JollyDeck will also help your company with onboarding and compliance training so that you can train your employees faster and help them avoid risks and stay focused. Even though it offers authoring option competencies, course creators who need results-driven templates to easily create useful online courses for their workforce may have to look elsewhere as JollyDeck does not provide these.
4. Mintbook
Mintbook is a very comprehensive learning suite that is results-driven and is a great option for teachers, schools, and parents interested in an LCMS for their students. Mintbook offers comprehensive content from the primary level up to the upper secondary level.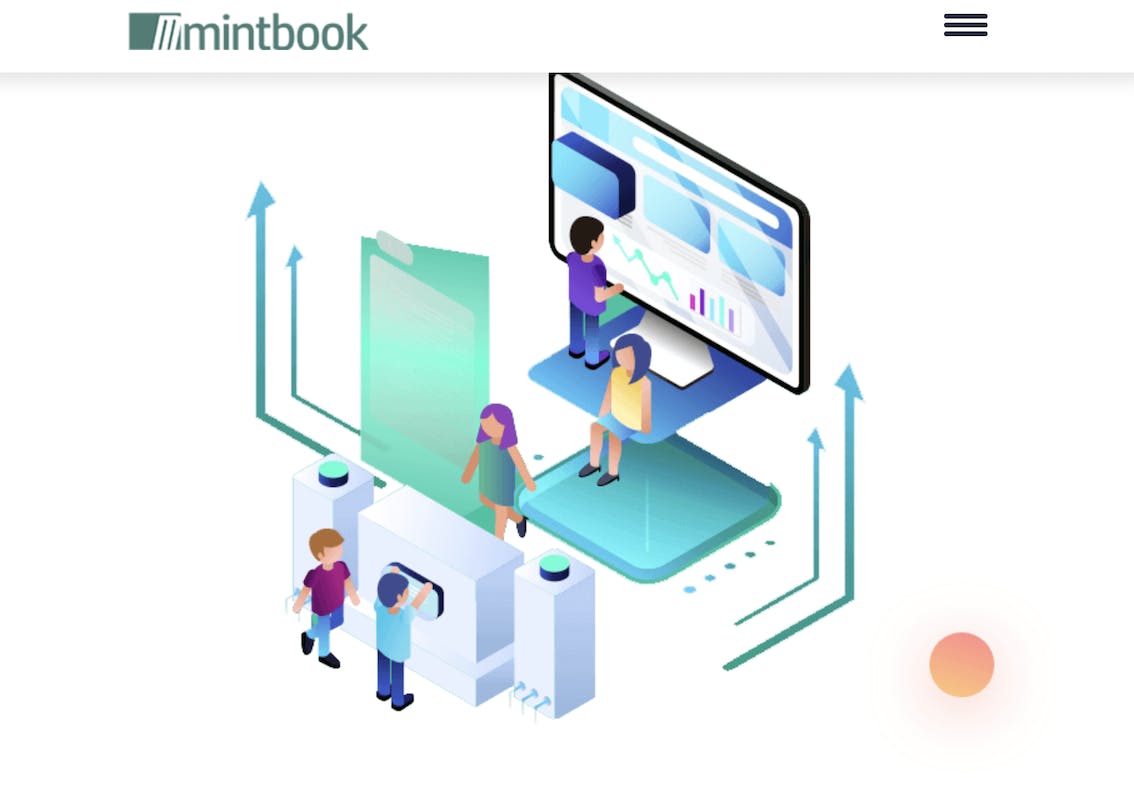 These contents are available on an easy-to-use interface that has a gamified approach to learning. The content offered by Mintbook ranges from academic to vocational content. Even though the platform is really good, it's just not in the workforce training business, so let's move on to something that is.
5. MagicBox
The magic box platform is a digital publishing platform that also distributes through mobile channels. Content providers, authors, and publishers can create, sell, manage and deliver their mobile training content through this platform under custom-branded mobile applications and web pages.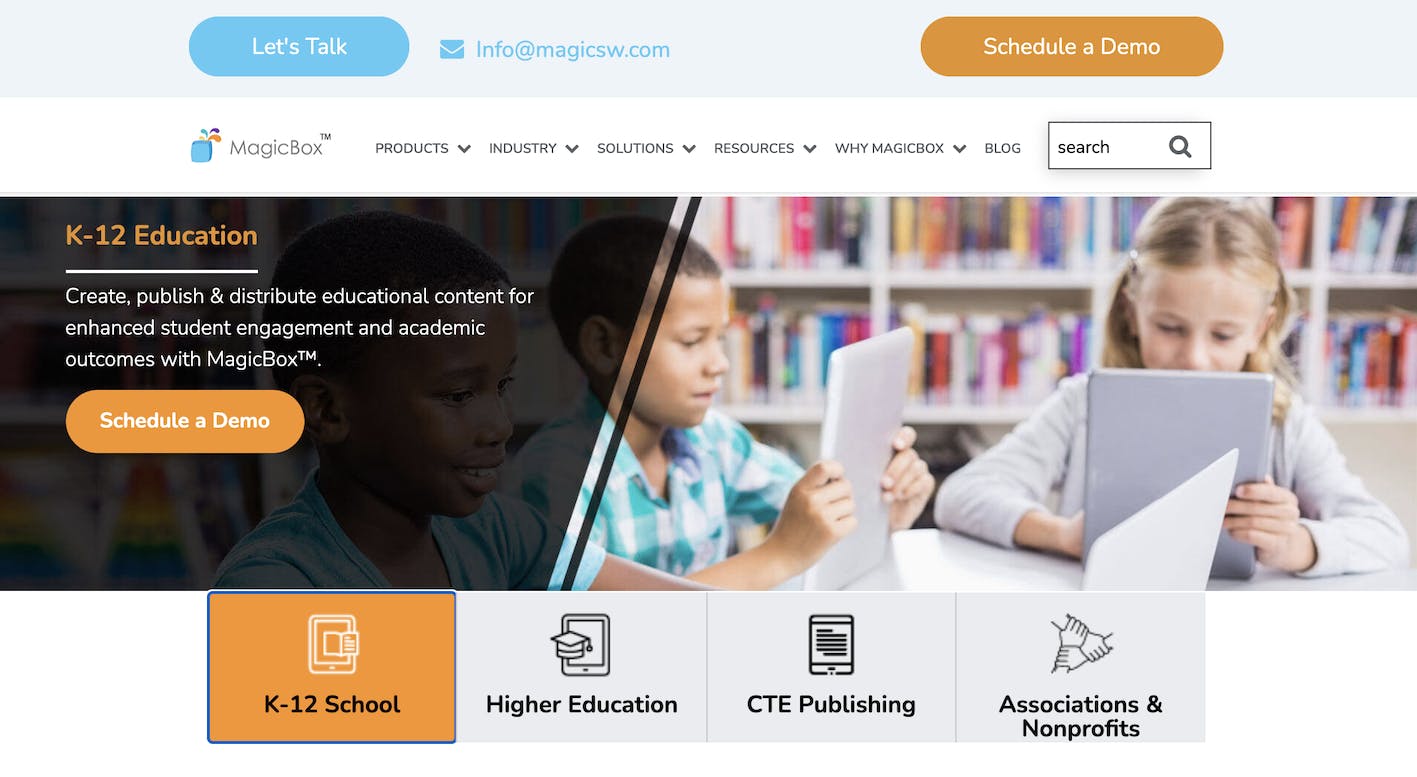 The creators of MagicBox made the platform with the intention to make the creation and distribution of digital content easier while providing digital rights and compliance management in line with industry standards. All of this learning tools sound very good, doesn't it? Bet it would sound better if it were free.
6. Innform
Customization is very important in e-learning, and the Innform LCMS mobile workforce management software allows course creators to build an unlimited number of training courses, and that can include images and videos. SCORM courses are also supported, so you can upload them to the platform if needs be. After you have created your courses or uploaded the ones you want, the next step would be to create quizzes of varying types to ensure that your earners grasped the information, and you can do this here.

Innform also gives you the option to certify your learners with customizable certificates. What if you didn't have to create all your courses? Wouldn't it be great if they also had a world-class editable library from which you could choose courses? Someone needs to speak with them about this.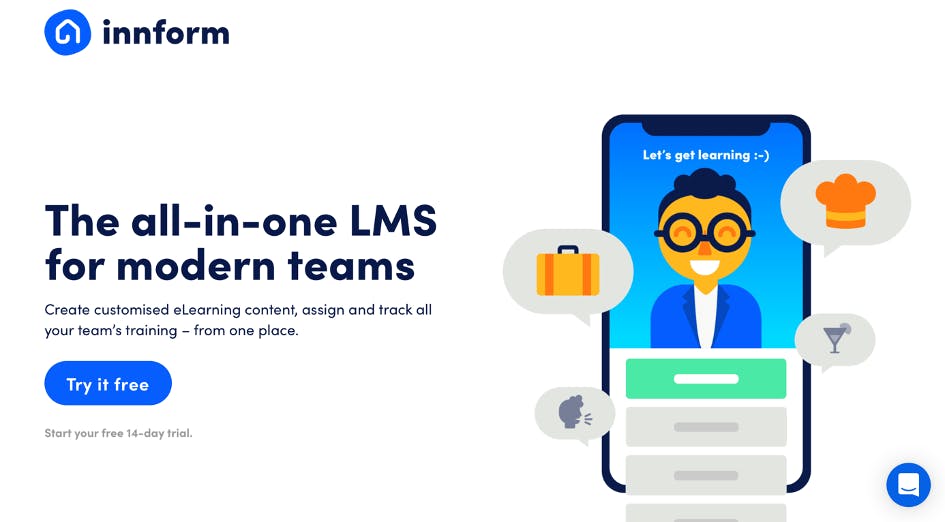 7. NEO LMS
Let's start by letting you know one important thing. Chances are, you are here looking for a blended learning solution for your workforce, so we should let you know that this one is not going to help because it is for schools and universities. It made our list because it has a free plan available, and it allows course creators to create and manage all activities related to learning, such as building online classes, financing collaborations, assessing students, and checking achievement all in one place.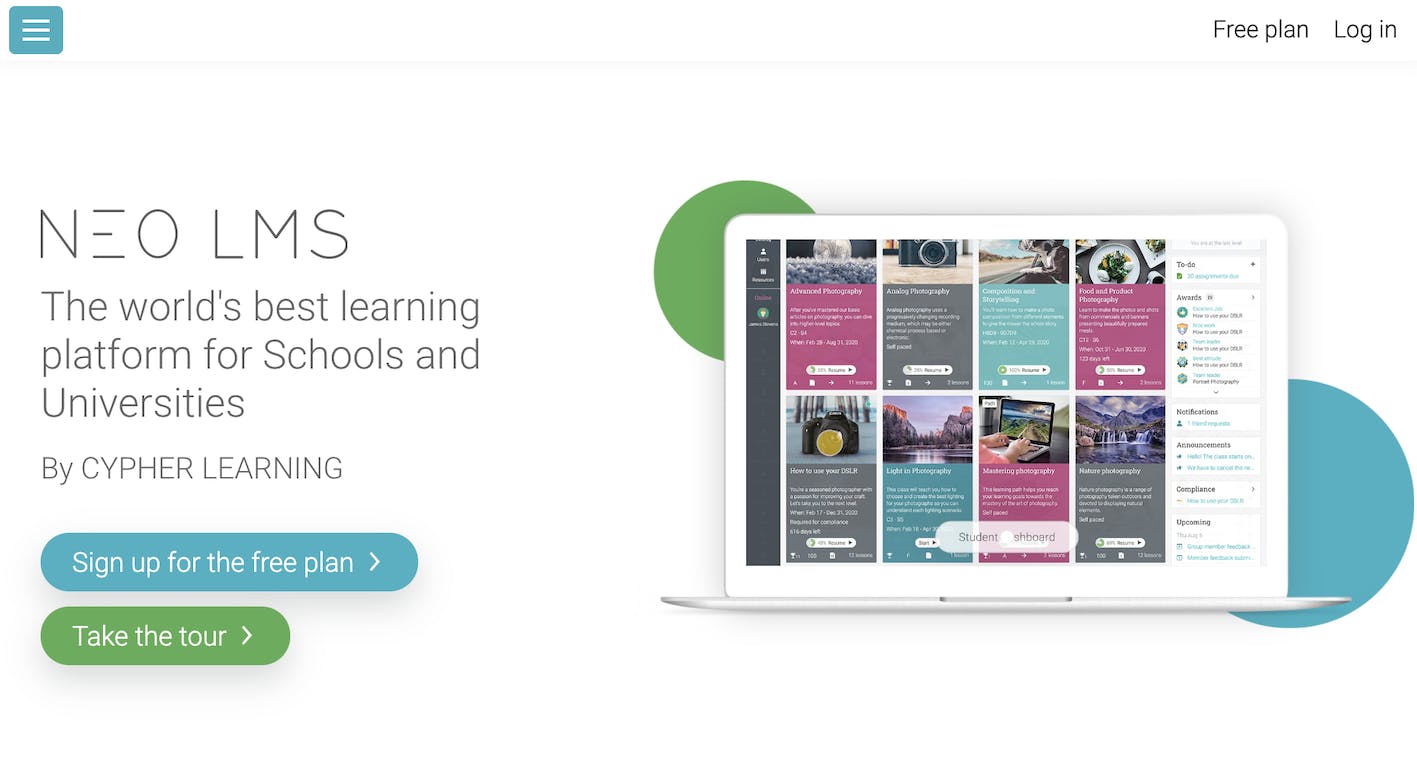 In addition to all the features it has available, NEO LMS is utilized by schools worldwide, ranging from K-12 to higher indication institutions, because of its flexibility.
8. Forma LMS
If you had trouble getting your previous learning management systems to work with your company's intranet software, Forma LMS might be a suitable option for you. Forma LMS easily integrates with your existing intranet software, so that's at least one headache out of the way.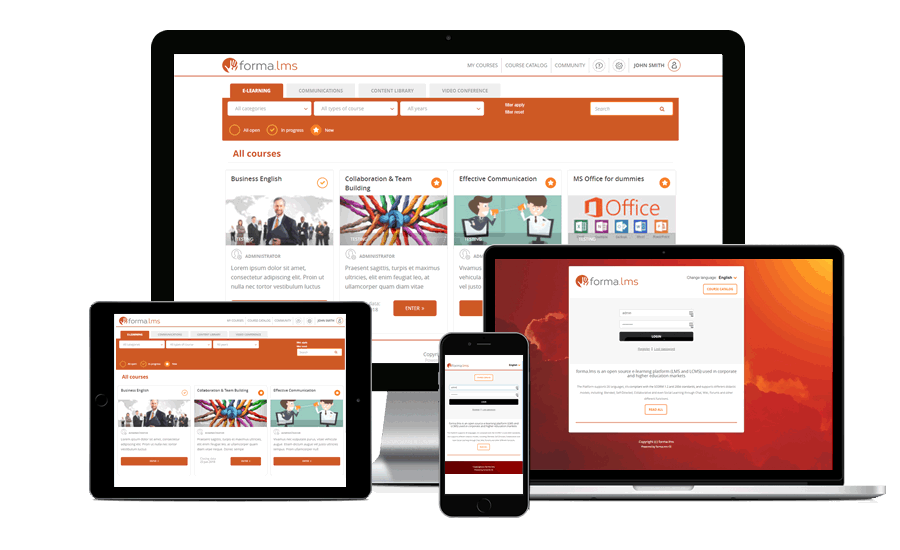 This open-source LMS has a modern and responsive layout that your employees may not get bored of easily, and in addition to that, you can create engaging courses because the Forma platform supports SCORM multimedia, embedded videos, and HTML pages. Forma LMS even allows you to create webinars to inform and train your employees by integrating your current video conferencing system with the LMS solution. We must say, this platform has a lot of useful features, but the fact that it isn't mobile-first is a huge drawback. Our employees want to train anytime, anywhere and we're sure yours will too.
9. Schoology
As you may have guessed from the name, this learning suite is used by schools to reach children who are engaged in distance learning. Schoology is used for students from kindergarten through to the 12th grade because the learning engagement platform was designed with their learning needs in mind.

Different school districts are offered customization options based on district specifications, and the platform offers a communication collaboration option for teachers, coaches, administrators, parents, and students to all stay in touch.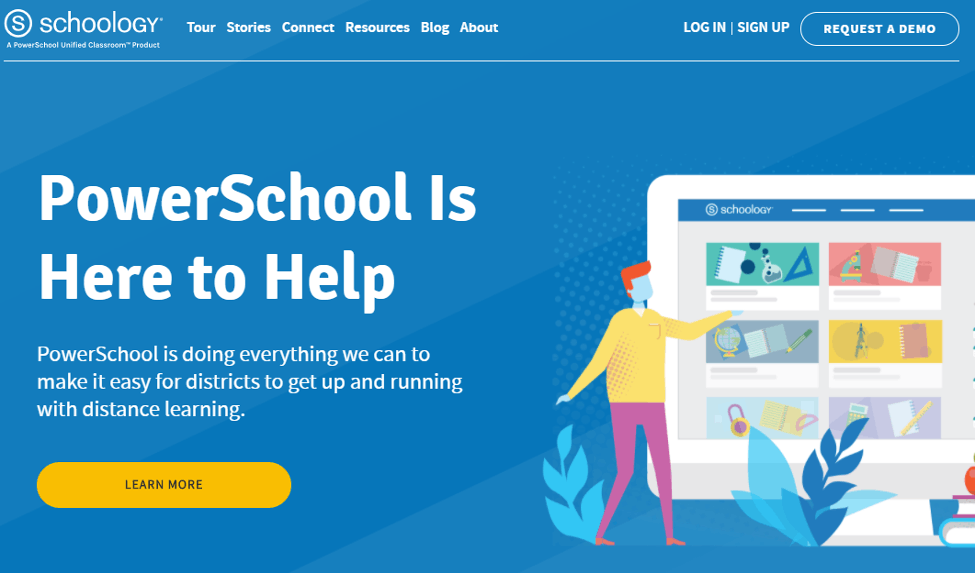 10. ProProfs
As you are aware by now, there are many learning Suites out there, but not all are offered as SaaS. ProProfs is one of the few that are. It is a cloud-based LCMS that companies can use to easily create courses for individuals, groups, and teams.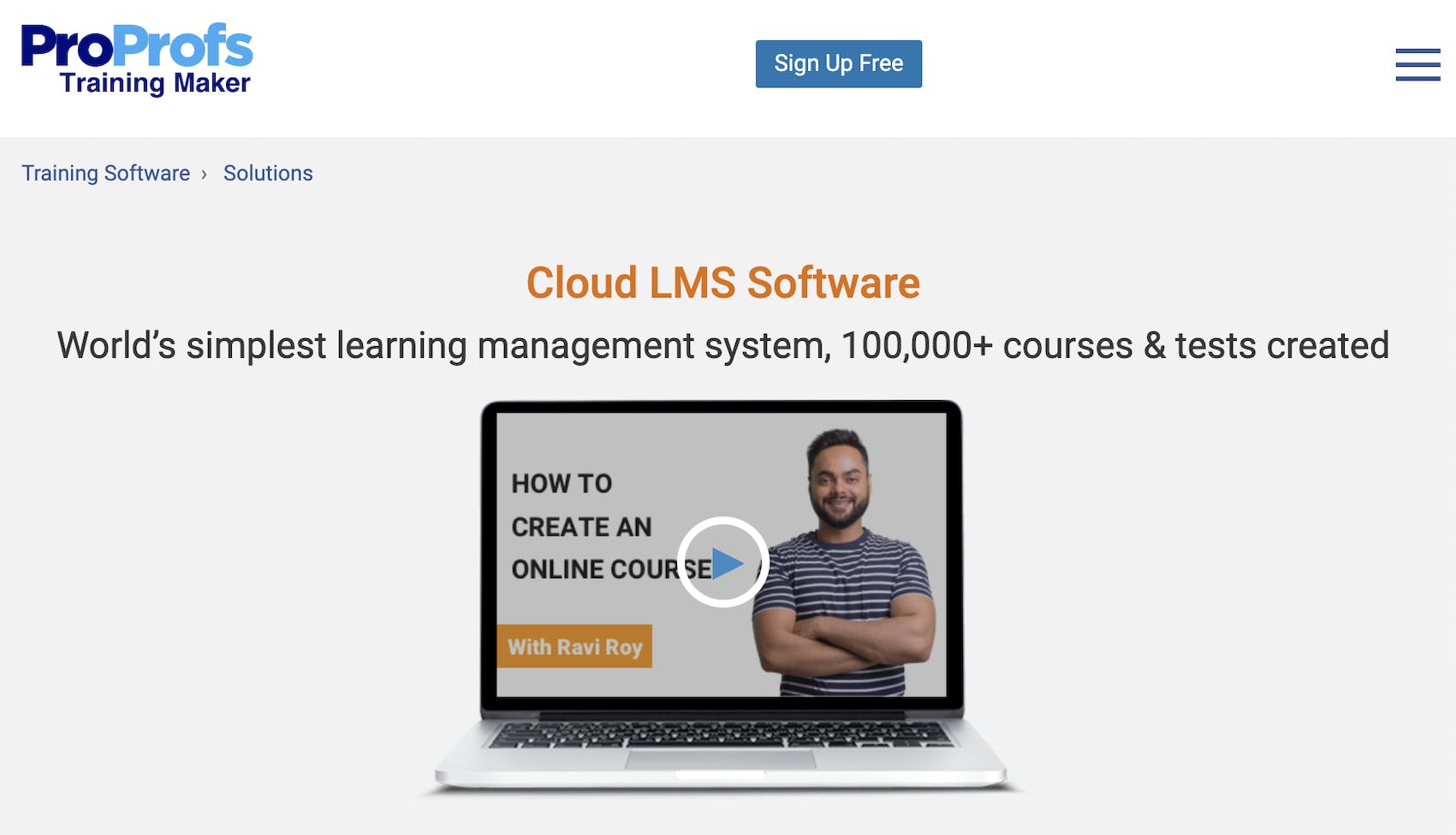 ProProfs course creator software courses support SCORM, HRIS, 50+ and Tin Can integration. After you have built and dispersed your courses among the workforce, you can access reports and analytics to assess your team. ProProfs isn't free though, so you should consider this before making a decision.
11. 360Learning
360Learning is a training LMS and corporate learning suite designed with an authoring tool, a content integration system, and an analytics dashboard. Their intuitive course authoring requires no technical skills and enables anyone to create courses in just a few minutes. You can also include learning resources like videos, images, blog articles, and research into your course to keep training content up-to-date and engaging. With 360Learning, your workers also have access to collaborative learning features like discussion boards and group pages that allow them to participate in meetings with both you and their fellow employees.
12. Tovuti LMS
Tovuti LMS is a versatile corporate learning suite that allows you to streamline your entire employee training process with ease. It consists of several built-in features, including a course authoring suite, virtual classroom, personalized learner portal, and custom reports, all designed to help you provide your employees with engaging learning experiences. Using the authoring suite, you can design courses from scratch, import existing content from other learning management systems, and add gamification elements like badges, certificates, and leaderboards. Learners also have quick access to a personalized learner portal that displays their assigned courses, upcoming training sessions, leaderboard ranks, and certificates. You can even customize and automate notifications to remind employees of completion due dates or course updates.
13. Zoho Showtime
Zoho Showtime is a comprehensive training software that can help you run and manage your employee training programs more efficiently. Using this tool, you can provide your employees with self-paced courses and facilitate collaborative learning through peer interaction. It provides managers with an Admin Console, which can be used to track campaigns, customize forms, and assign courses. You can also upload content like videos and recordings so that employees can learn at their own convenience. For synchronous online training sessions, you can maximize its virtual classroom. Within this feature, your employees can access additional tools like whiteboards, polls, and in-app messaging where they can discuss their learnings and share their knowledge with fellow team members.
14. Gototraining
GoToTraining is another well-known corporate learning suite that can help you take your training to the next level. Its registration management is undoubtedly one of its standout features, allowing you to create custom registration forms and learn more about your audience. The information gathered in your registration can be used to better prepare your corporate training programs and build courses that match their learning needs and preferences. This platform is also jam-packed with a range of course management tools that can help you manage training materials and share public courses without a fuss. You can even throw some in-session activities and breakout sessions to boost your learners' engagement and knowledge retention. After your training, a detailed reporting on attendance, exam results, and evaluations can be provided to determine how successful your training was.
15. Bridge
Bridge is a mobile-friendly corporate learning suite focused on alignment, growth, and connections. This LMS aims to enrich the employee development experience and not just merely make employees learn new things. With Bridge, anyone can go straight to creating courses in minutes without reading any manuals with its native authoring tool. Tracking your employees' progress is as easy as checking your Analytics and Insights dashboards wherein you'll be able to export the data and even set a scheduled data delivery.
If you are interested in a learning suite for your workforce, it would be best if you use one that allows them to access targeted courses anywhere they are. It will also be useful if your learning suite utilizes gamification techniques to capture their focus and spaced repetition techniques to boost their retention of the information provided. The one SaaS LMS platform on our list that does all of these and more is EdApp. Check it out. You can thank us later. By utilizing these platforms, you can ensure that your employees are always compliant and up-to-date with vital information.