A comprehensive onboarding experience and continuous training and development are key aspects of a well-performing workforce. However, managing training programs can be challenging for training managers and L&D professionals due to different factors, such as the size of an organization, location of employees, nature of work, and many more. 
With the varying learning needs of each team and individual in your organization, having a training LMS can help you automate the process of administering and managing training programs, and ensure that the training approach is effective for your employees. It's important to not use just any LMS, but choose the right training LMS which provides features that best address your needs and efficiently support your objectives so you can ensure better learning outcomes from your employees. 
To assist you in your search for training tools, we've picked 10 training LMS to help you understand their modern solutions like authoring tools, engagement elements, and dashboards. Read further so you can assess the software that's perfectly relevant to you and your learners.
1. EdApp
EdApp is an all-in-one training LMS with a built-in administration suite that provides you with flexible, customizable, and adaptive tools for easier management. Its free editable course library gives you access to hundreds of readily deployable courses that you can edit and customize with your own expertise or with company-specific information. Or, you can easily create your own elearning courses with EdApp's built-in authoring tool that contains ready-to-use interactive templates. This LMS also gives you full control over user and course management through its analytics dashboard, actionable reports, and push notifications. It serves as a catalytic training tool that helps you streamline processes in building and deploying onboarding training and employee training programs.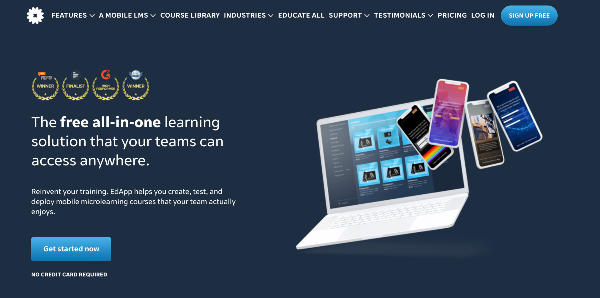 This mobile-first training LMS  also improves the learning process of your employees through its microlearning feature that converts overwhelming training content into bite-sized modules. It's an effective solution in reinforcing key knowledge and preventing cognitive overload among your learners. To further increase engagement rate, you can combine microlessons with gamification elements to transform dull lessons into interactive games. Through this app, training becomes a convenient and enjoyable learning experience that does not only result in higher course completion rates but also better performance. 
To get started, you can deploy courses about compliance training or any subject-matter by EdApp to train your teams with microlearning!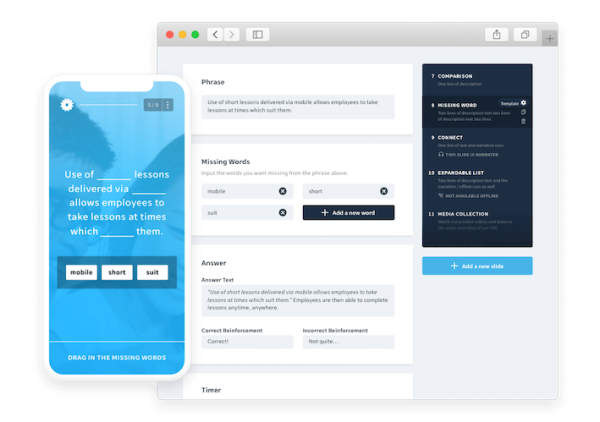 Highlights:
Built-in scorm authoring tool

Free editable course library

Microlearning

Gamification

m learning

Analytics suite
Cost: Free
2. WorkRamp
WorkRamp is a training LMS that serves as an all-in-one corporate digital learning platform for your personnel, especially those in sales, support, retail, marketing, and HR. This centralized LMS gives you a streamlined process in creating customized learning pathways for your personnel based on their role, teams, skills, or seniority. It provides a specialized onboarding software process, advanced training content creation, and learning progress tracking through dashboards and analytics. It also gives a blended learning experience with support for virtual instructor-led sessions. Through its modern technological features, you're able to transform the learning experience in your organization. In return, your employees are able to perform their roles better,  improve relationships with customers, and deliver desired business outcomes.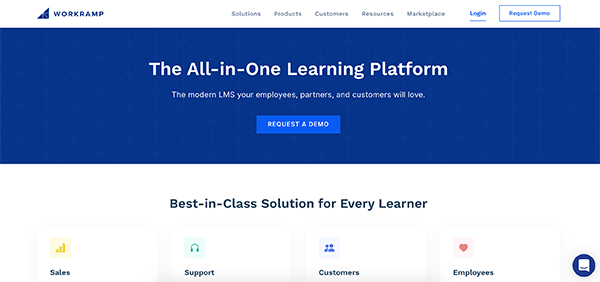 Highlights:
Streamlined onboarding 

Authoring tool

Virtual instructor-led training

Robust analytics
Cost: Price available through a quote request
3. TopClass LMS
TopClass LMS is an award-winning learning platform that serves as a technology partner in providing a comprehensive and flexible learning experience for employees. It helps organizations provide skills development and career advancement opportunities for learners through a wide range of educational programs such as mini-courses, learning pathways, apprentice programs, certification programs, discussion forums, interactive videos, and many more. With this training LMS and quiz software, you can integrate a blended learning approach to your training program wherein your employees can access online learning materials before a conference event, and explore more content in the LMS after the synchronous learning session to extend their learning experience.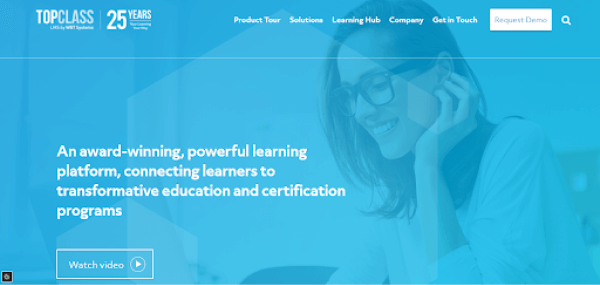 Highlights: 
Virtual conference events

Online testing tools

Social learning tools
Cost: Price available through a quote request
4. Learn Amp
Learn Amp is an all-in-one learning management system and engagement platform focused on helping businesses develop and retain their employees. With this eLearning software, your employees can develop their professional skills through social learning and peer-to-peer features like in-app messaging, self-generated content, discussion threads, event management, and group assignments. You can access performance reports easily through Learn Amp's built-in visual dashboard and use these stats to design learning pathways and further each employee's growth. Do note that if you want to try out this tool, you'll have to get a price quote from their site.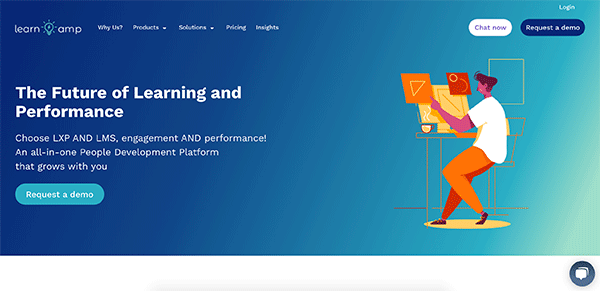 Highlights: 
Social learning, learning pathways, 

Visual dashboards
Cost: Price available through a quote request
5. Tovuti LMS
Tovuti LMS is an employee training tool that incorporates features dedicated to an efficient training process for managers and an effective learning experience for your personnel. It integrates a course management tool that enables you to build and deploy interactive courses, as well as track interactions with your course content. This training LMS supports a blended learning strategy through its virtual classroom that allows you to set up synchronous training sessions where your personnel can discuss with groups or have one-on-one interaction with an instructor. Learners also have access to a personalized portal that shows their badges, certificates, leaderboard rank, checklists, assigned courses, and upcoming training sessions.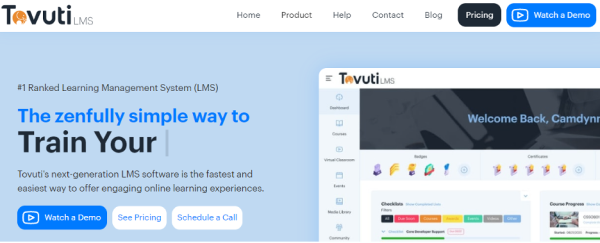 Highlights:
Course authoring tool

Analytics tool

Virtual classroom

Personalized learner portal
Cost: Price available through a quote request
6. Looop
As an advanced learning management system, Looop helps you create online learning resources and automate training processes for your employees. With their simple yet visually appealing UX design, you can create engaging learning materials and access features like campaigns, and automate the delivery of training content through channels like Slack, Teams, and even SMS. Other features like user insights and analytics dashboards give you visibility on your teams' completion rates, learning gaps, and overall performance. Through these enhanced reporting features, you'll be able to gauge the effectiveness of your training and address your workers' learning challenges. To access all of Looop's products, you can sign up for a monthly subscription that starts at $299 per month for a maximum of 50 users.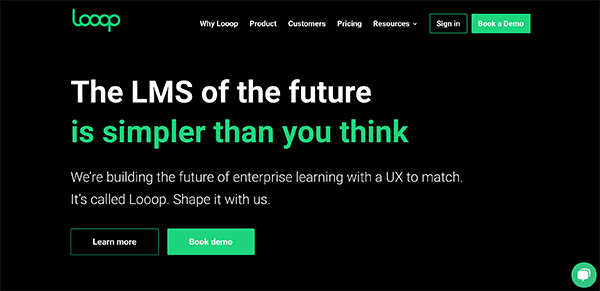 Highlights: 
Campaigns

User insights

Dashboards
Cost: $299 USD/month for 50 users, $699 USD/month for 250 users, $1,199 USD/month for 500 users, get a custom quote for more than 500 users
7. Arlo
Arlo is an LMS built specifically for training providers that focus on empowering learners through self-paced learning, live online learning, and blended learning. This online training website enables a blended learning solution by extending training through live and interactive webinars, eLearning modules, discussion forums, recorded videos, assignments, and quizzes. Its innovative training management system design streamlines processes and simplifies tasks enabling training providers to save time while still effectively increasing course registrations.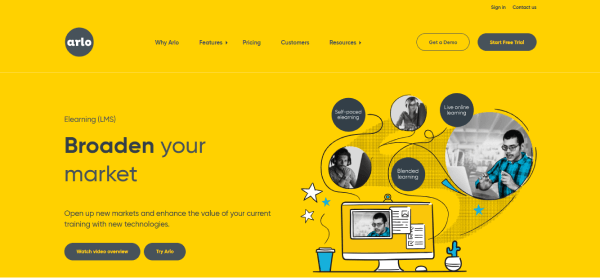 Highlights: 
Self-paced eLearning

Live online session 

Blended learning strategy
Cost: Price available through a quote request 
8. 360 Learning
360Learning is a training LMS and collaborative learning software designed with an authoring tool, a content integration system, and an analytics dashboard. Their intuitive course authoring & learning suite requires no technical skills and enables anyone to create courses in just a few minutes. You can also include learning resources like videos, images, blog articles, and research into your course to keep training content up-to-date and engaging. With 360Learning, your workers also have access to collaborative learning features like discussion boards and group pages that allow them to participate in meetings with both you and their fellow employees.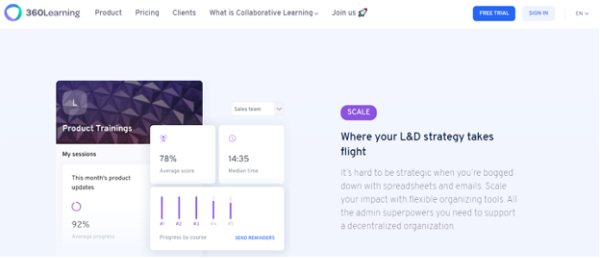 Highlights: 
Authoring tool

Integrations

Dashboard

Collaborative learning
Cost: 14-day free trial, paid subscription available through a quote request 
9. ProProfs
As a SaaS LMS platform, ProProfs is designed to help training managers ease up the process of creating training content. This training LMS allows you to create courses and quizzes with hundreds of available templates and media content. It provides a premium course library with pre-made courses on topics such as compliance, and customer service that you can easily deploy to your personnel. A collaborative learning environment is also promoted through features like discussion forums and virtual classrooms. Through its training management system, you're able to efficiently streamline processes in developing training materials, as well as track the progress of each employee.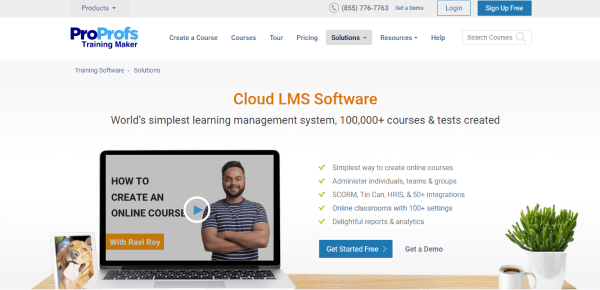 Highlights:
Authoring templates

Premium course library

Virtual classroom
Cost: Free (within a 15-day trial), paid subscription starts at $74.96 (per feature monthly) 
10. Gyrus
Gyrus is a cloud-based LMS that assists training consultants in effectively meeting the learning needs of their employees and equally creating a meaningful learning experience for their learners. Its AI-driven features like e-learning and skills management tools and are designed for developing personalized learning programs for various groups of employees. In Gyrus, training content can be delivered through file-based courses, videos, webinars, simulations, documents, and virtual classrooms, which give you more flexibility in planning an adaptable training strategy. You're also able to instantly monitor the effectiveness of your training programs with its real-time data visualization and reporting.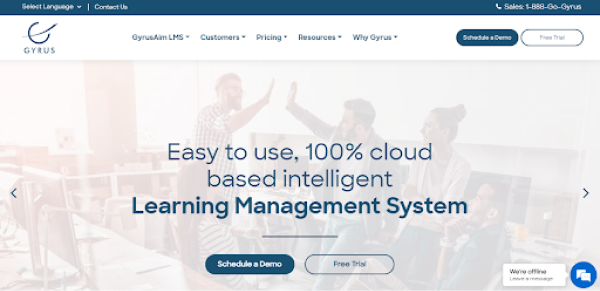 Highlights: 
Seamless training management

Various eLearning formats

Real-time analytics and insights  
Cost: Paid subscription starts at $300 USD (monthly) and $3000 USD (annually)