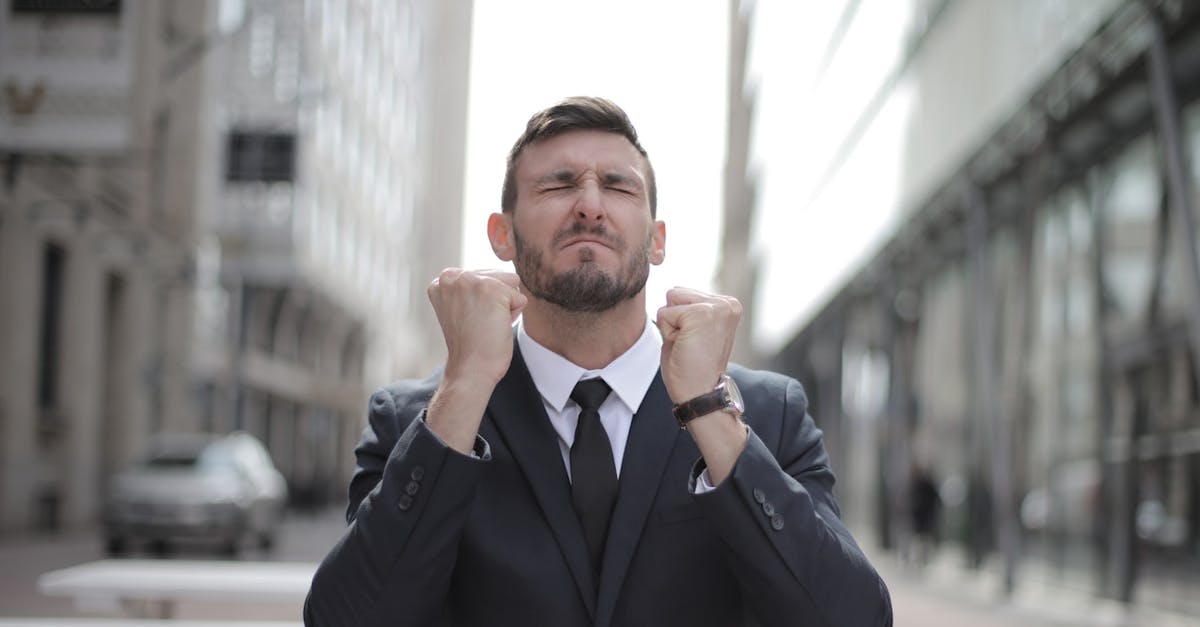 One way to give employees instant recognition for their time, effort, and hard work in completing their online courses is by granting them course completion certificates. By acknowledging them through certificates, they become more engaged and motivated to keep track of their training progress. While this is an ideal strategy for engaging learners, the process of manually designing and deploying certificates can be time-consuming, especially for training managers in organizations with huge, diverse teams. By leveraging a tool like certificate management software, you're able to easily customize certificates and assign them to respective user groups in an automated process. To narrow down your search, we've curated a list of 10 certificate management software to help you simplify the process of editing and deploying certificates for your learners.
1. EdApp
EdApp is a free learning management system (LMS) designed to serve as an all-in-one learning solution for your organization. This remote training software offers features that allow training managers to easily develop training materials with its intuitive authoring tool that provides 80+ interactive and engaging templates. It uses a microlearning strategy where information is transformed into bite-sized modules that focus only on key elements of a topic. With its learner mobile app, microlessons are easily accessible and can be conveniently completed any time and anywhere in just a couple of minutes.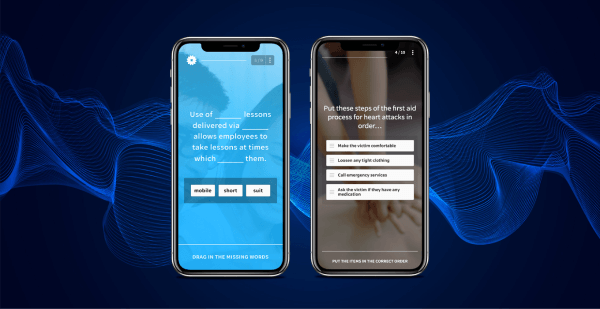 As a software certificate platform, it allows training managers to reward learners with course completion certificates that they can easily save and download. This LMS enables you to easily customize certificates with your company name, badge, logo, and cover image. It simplifies the process of making certificates and ensures that they are readily available for any course. And with EdApp's localization feature, certificates can also be translated into the learner's native language.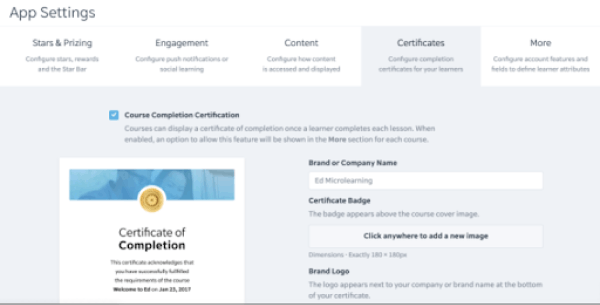 This LMS also offers a gamification-based reward system, which is another way to motivate learners and give them direct recognition of their performance and course completion. Through this system, learners can earn stars that are redeemable for real rewards, like Amazon gift cards or discount coupons. By recognizing the time and effort of learners, whether through EdApp's course completion certificates or real rewards, they become more engaged in completing their microlearning courses.
Highlights:
Certificate management

User and course management system

Translated certificates

Microlearning courses

Mobile-first approach

Free editable course library curated by thought leaders and industry experts

Built-in authoring tool that includes 50+ intuitively designed interactive templates, such as multiple-choice, in-app gamification, conceptual formats, surveys, etc.

Gamification & leaderboards

Learning metrics dashboard & reporting
Cost: Free
2. TopClass LMS
TopClass LMS is an award-winning learning platform that serves as a technology partner in providing a comprehensive and flexible learning experience for employees. It helps organizations provide skills development and career advancement opportunities for learners through a wide range of educational programs such as mini-courses, learning pathways, apprentice programs, discussion forums, interactive videos, and more. With its certificate management, you can easily administer and manage certificate programs for courses like project management courses, basic first aid training, and electrical fire training courses. Through its built-in tool, you can customize competency-based certificates for learners who have completed elearning activities, such as webinars/conferences and learning pathways.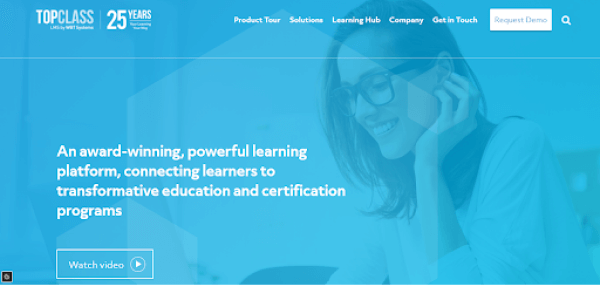 Highlights: 
Certificate management

Educational programs
Cost: Price available through a quote request
3. ProProfs
ProProfs LMS is an employee training software that easily combines online and offline training, providing a blended learning solution. This LMS enables training managers to provide new educational content made from scratch through its authoring tool. You can also readily deploy existing courses from its online training course library. It helps learners improve knowledge retention through gamification and quizzes. As a certificate management software, it also provides learners with course completion certificates to increase the course completion rate.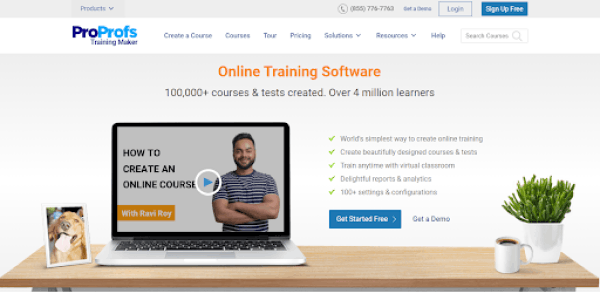 Highlights:
Cost: Free (within a 15-day trial), paid subscription starts at 4.96 (per feature monthly) 
4. Tovuti LMS
Tovuti LMS is an employee training tool that can help ensure a more efficient training process for managers and a more effective learning experience for employees. It integrates a course management tool that enables you to build and deploy interactive , as well as track interactions with your course content. It also serves as certificate management software by providing you tools for designing, managing, and assigning certificates for learners. For your learners, they'll have access to a personalized portal that shows their badges, certificates, leaderboard rank, checklists, assigned courses, and upcoming training sessions.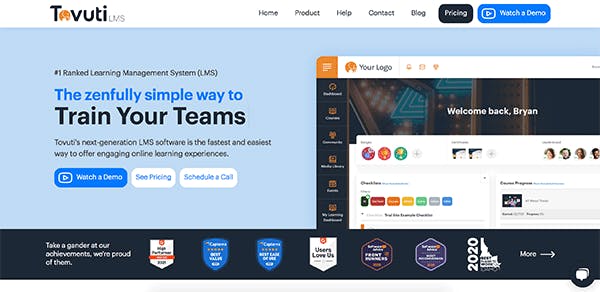 Highlights:
Cost: Price available through a quote request
5. Inquisiq
Inquisiq is a collaborative learning platform managed by both the training managers and employees themselves. It provides tools that support a blended learning environment, such as lessons that include task assignments, on-the-job training events, learning paths consisting of multiple courses, course completion certificate, course catalog and library, and many more. As a certificate management software, it allows training managers to customize and award certificates to learners upon completing their courses.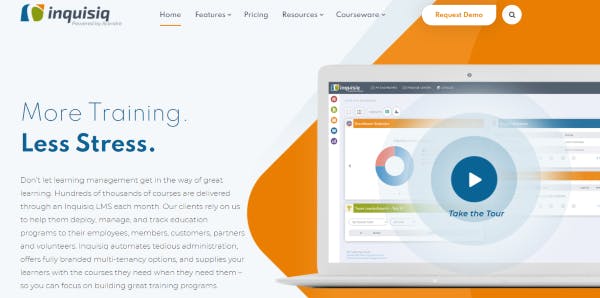 Highlights:
Personalized certificate and course completion certificate

Various learning paths

Course catalog and library
Cost: Paid subscription starts at ,128 USD (up to 100 users monthly) and ,256 USD up to 100 users annually)
6. Degreed
As a learning development tool and upskilling platform, Degreed is designed to help you run both small and large-scale employee training programs with ease. Before you begin training your team, you can access the tool's analytics data and determine whether your employees need upskilling or reskilling. After this process, you can then start creating custom content pathways for each employee and help them become more proficient in skills that they used to lack. To help learners feel more motivated as they try to learn new skills, certificates are provided after each course completion. 
Highlights: 
Skill certificates

Real-time analytics

Content pathways
Price: Price available through a quote request 
7. Violet LMS
Violet LMS is a full-service digital training provider that helps develop employees through a sustainable learning experience on employee training, onboarding, sales training, compliance training, distribution training, and even customer training. Employee knowledge is further strengthened with interactive courses and virtual classroom sessions. It also offers certificate management software that provides you with certificate templates. In addition, it allows you to manage, track, and assign certificates by course or curriculum.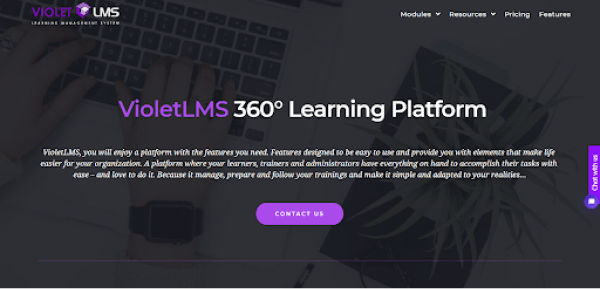 Highlights:
Cost: Price available through a quote request
8. Coassemble
Coassemble is a computer learning software designed to provide a user-friendly authoring tool that makes the creation of interactive learning materials easier for managers and more effective for your learners. This training software allows you to transform your old presentations as well as PDFs and documents into engaging online courses with its available screen templates that support various media forms and provide interactive elements. As a course management software, it can help recognize the learning progress of your learners through a course completion certificate, which they can access in their own Certificate Library. No need to worry about designing them from scratch as creating and issuing certificates is made easier with its intuitive certificate authoring tool.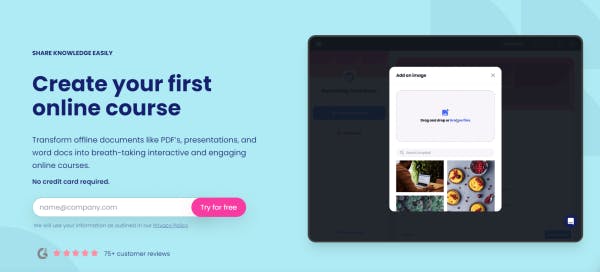 Highlights: 
Cost: Paid subscription starts at 99 USD (monthly)
9. Arlo
With Arlo, it's easy to run and manage face-to-face courses and e-learning training activities. In this training platform, you can create self-paced modules and quizzes that your team can complete anywhere and anytime at their convenience. It also helps you provide your team with a blended learning experience through live online sessions and activities, discussion forums, recorded videos, and more. To recognize their achievements or acknowledge their training attendance, you can generate automated certificates through its certification management service. Learners can access their certificates manually or automatically via email.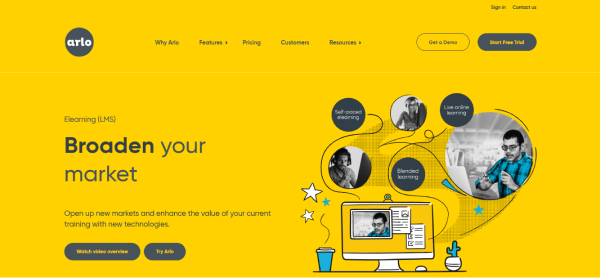 Highlights: 
Certificate management

Self-paced module and quiz design

Private course management

Blended learning
Cost: Price starts at 9 – 85 USD
10. 360Learning
360Learning is a training LMS and collaborative eLearning platform designed with an authoring tool, a content integration system, and an analytics dashboard. Their intuitive course authoring & learning suite requires no technical skills and enables anyone to create courses in just a few minutes. You can also include learning resources like videos, images, and blog articles into your course to keep training content up-to-date and engaging. It also offers certificate management software that enables the customization of certificates. However, learners are required to pass a minimum score to earn certificate.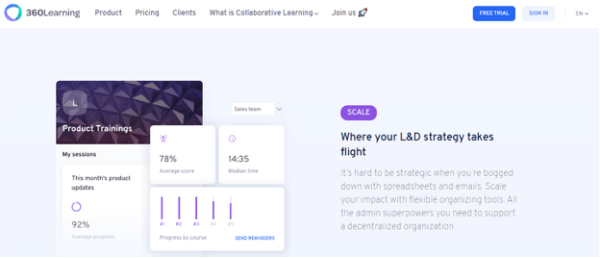 Highlights: 
Certificate management

Authoring tool

Analytics dashboard
Cost: 14-day free trial, paid subscription available through a quote request