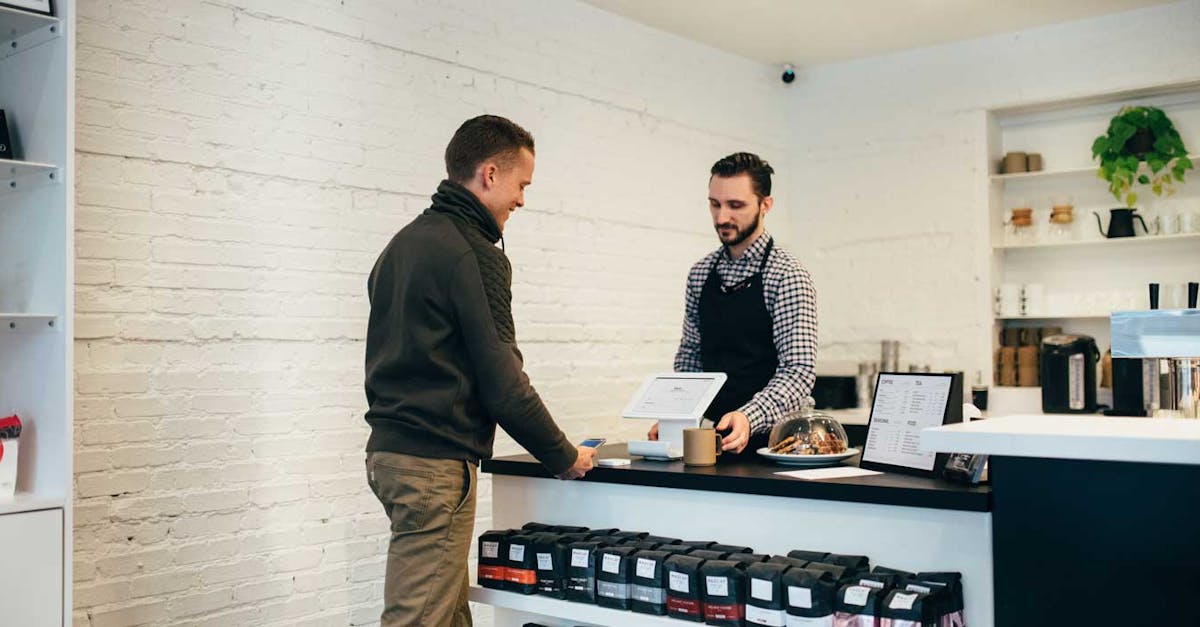 In the retail industry, it's important for workers to constantly upskill and adapt to changing customer needs. Making use of versatile online tools like LMS retail software is one of the best ways to train, monitor, and supervise your store-based employees and ensure that their performance remains at a high standard. To help you get started, check out our list of 10 LMS retail software below.
1. EdApp
EdApp is an award-winning LMS retail software that allows managers and team leaders to track the training progress and overall performance of their retail staff from any location in the world. It also functions as an effective microlearning platform and employee training tool that enables you to create, customize, manage, and deploy highly interactive elearning content for your workers through its multiple user-friendly features.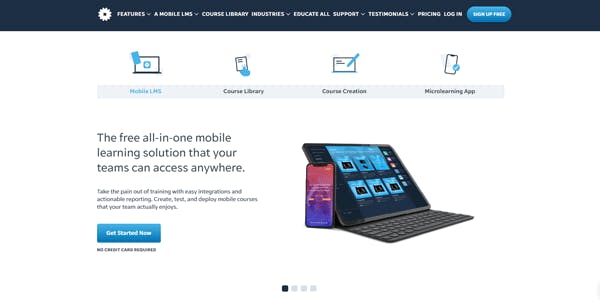 In just a few clicks, you can check their course completion statuses, success rates, and quiz scores through the actionable reports dashboard. This way, you'll be able to determine if they're retaining important retail concepts and skills like product knowledge, sales tips, and customer service techniques. You can also enable the custom push notification feature to remind learners to complete their retail training programs or alert them of any course updates and changes.
Another one of EdApp's notable features is its intuitive cloud-based authoring tool, which allows you to customize courses, even with no coding or design experience. With over 50 elearning templates to choose from, all you need to do is drag and drop your training content, and deploy them directly to your workers' devices. Through this feature, you can create your own retail employee training courses or import ready-made and customizable learning materials from EdApp's comprehensive course library. 
From retail ergonomics and stocking to crowd management and visual merchandising, their library has everything you might need. A huge perk is that these courses are compatible with both iOS and Android mobile devices, making them perfect for store-based teams with no desktop access.
Cost: Free

Highlights: Authoring tool, actionable reports, custom push notifications, course library, mobile accessibility, best LMS for retail
2. WorkRamp
Designed as an all-in-one learning platform, WorkRamp can be customized for different types of employee training, more specifically for retail, sales, and support. It can even be used to train your clients on product adoption, increase customer engagement, or drive more revenue to the business. This LMS for retail also allows you to create customized learning pathways for your personnel based on their role, teams, skills, or seniority. It provides a specialized onboarding process, advanced training content creation, learning progress tracking through dashboards and analytics, and a blended learning experience with support for virtual instructor-led sessions. Through its modern technological features, you're able to transform the learning experience in your organization. In return, your employees are able to perform their roles better,  improve relationships with customers, and deliver desired business outcomes.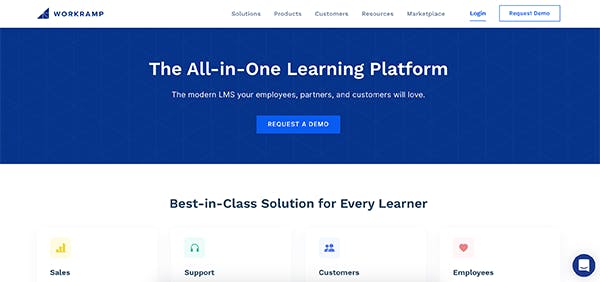 Highlights: Retail, sales, and support training, virtual instructor-led training, onboarding, customized learning pathways, dashboard analytics
3. Trainual
Trainual is an online learning system and LMS software that allows you to provide quicker and easier employee training and onboarding without location restrictions. You can easily customize learning materials like sales handbooks, hiring checklists, orientation outlines and many more by choosing from the platform's 150+ free pre-built templates. It also offers around 30+ free Standard Operating Procedure (SOP) templates that you can use to document your organization's policies and procedures. When creating courses, you'll even have the option of embedding images, videos, and multiple-choice questions. Once your training courses have been deployed, your employees can access them through multiple online platforms, including iOS, Android, Chrome extension, or other web browsers. Although to get access to the tool's basic features, you'll have to spend at least 9 USD per month.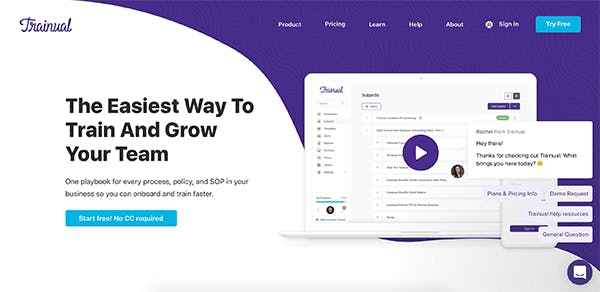 Cost: Starts at 9 USD per month

Highlights: 150+ pre-built templates, 30+ SOP templates, multi-platform access
4. 360Learning
360Learning is another top-performing retail LMS solution that you can use to manage your retail workforce. It's widely known for its collaborative training tool, which features an authoring suite, a content integration system, and an analytics dashboard. As managers and team leaders, you can develop and deploy content to your employees without having to meet in person and all the tools require no technical skills to use, enabling you to create courses in just a few minutes. You can also include learning resources like videos, images, blog articles, and research into your course to keep training content up-to-date and engaging. With 360Learning, workers also have access to collaborative learning features like discussion boards and group pages that allow them to participate in meetings with both managers and their fellow employees.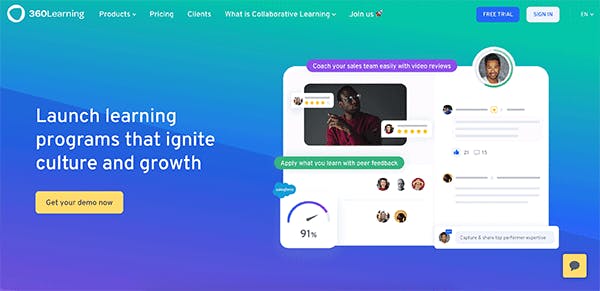 Cost: Free trial, Paid plans start at USD per month

Highlights: Collaborative learning, authoring suite, content integration, analytics dashboard, discussion boards
5. Learn Amp
Learn Amp is an all-in-one learning management system and engagement platform focused on helping businesses develop and retain their employees. It can also be used as an LMS retail software, allowing your employees to develop their retail skills through social learning and peer-to-peer features like in-app messaging, self-generated content, discussion threads, event management, and group assignments. You can access performance reports easily through Learn Amp's built-in visual dashboard and based on these stats, you can also design learning pathways to further each employee's growth. Do note that if you want to try out this free retail software, you'll have to get a price quote from their site.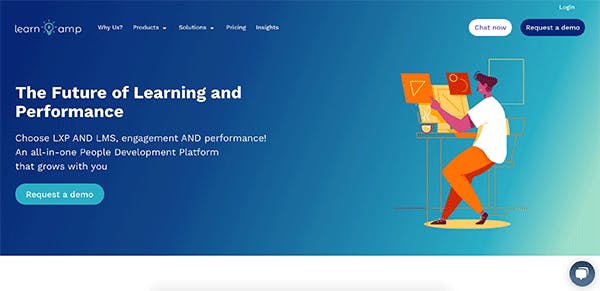 Highlights: Social learning, in-app messaging, discussion threads, learning pathways, visual dashboards
6. Arlo
Arlo is a cloud-based training management tool that allows you to manage all your training resources in one place online. It includes a course management software, integrations to deliver training using different retail LMS software platforms, and other business intelligence solutions. You can also create self-paced modules and quizzes that your team can access anywhere and anytime. This is especially advantageous for retail workers who can now easily complete their courses on the way to work, during breaks, or whenever convenient. The online learning tool also comes with a dashboard where you can see real-time activity to make sure you're always up to speed with your employees' performance data. If you're keen to provide your team with a blended learning experience, it also supports live online sessions and activities, discussion forums, recorded videos, and more.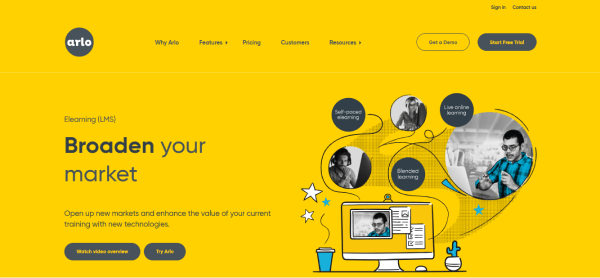 Cost: Free trial, Paid plans start at 9 USD per month

Highlights: Course management, self-paced modules and quizzes, live online sessions, recorded videos, discussion forums, performance dashboard
7. Inquisiq
Inquisiq stays true to their trademark – More Training, Less Stress. Through this interactive elearning tool, you can deploy, manage, and track hundreds of rich-content courses, even automate course enrollment and report generation without too much time or effort. This free computer learning software has a friendly, fully configurable, multilingual interface to ensure that employees in different locations across the world can use the tool and access their learning materials. It even allows easy interoperability with other elearning authoring tools, thanks to its SCORM compatibility. To incorporate blended learning and social learning into the elearning platform, they've added collaborative features like built-in messaging, user communities, discussion boards, on-the-job training, and task assignments.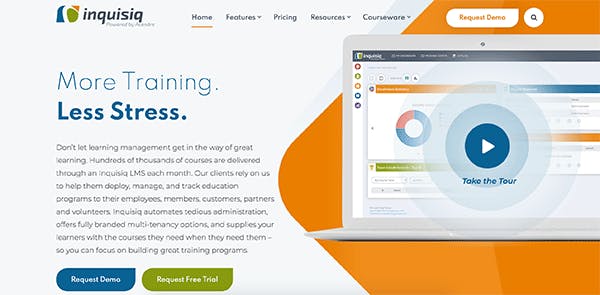 Cost: Free trial, Paid plans start at 50 USD per month

Highlights: Multilingual interface, SCORM compatibility, blended learning, social learning, user communities, in-app messaging
8. TalentSoft
Primarily focused on talent management and employee learning, TalentSoft is a mobile-friendly cloud-based eLearning software that allows you to train your workforce and boost employee performance at scale. Through its authoring tool, you can create SCORM-compliant learning programs and provide learners with highly engaging gamified content that they can access at their own convenience. There's also a built-in video conferencing feature available and your learners can use it to share knowledge, ask questions, collaborate on tasks, and interact with one another while learning. Additionally, TalentSoft's digital content platform gives employees access to training content created by their partners.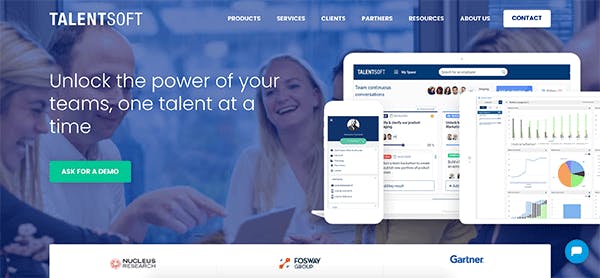 Highlights: Authoring tool, mobile access, SCORM-compliant content, gamification
9. GoToTraining
GoToTraining is an LMS retail software packed with reliable features that you can use to create and manage online training sessions and courses. It offers unique, built-in tools that enable organizations to conduct custom registration, manage training materials, and share and publish courses without any fuss. It also encourages better knowledge retention and engagement during live training sessions through tests and polls, small-group activities and collaborations, as well as discussions. This tool can also host a content library where you can upload, organize, store, and reuse your courses, tests, and recordings. These learning materials can then be accessed by your workers anytime and anywhere.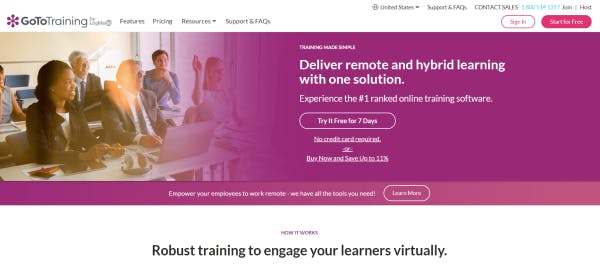 Cost: Free trial, Paid plans start at 09 USD per month

Highlights: Custom registration, small group activities and breakouts, tests and polls, content library
10. Code of Talent
Code of Talent is a SaaS LMS platform and online training solution that helps team managers build, customize, and launch microlearning courses for their workers. To promote self-paced training, social learning, and content engagement, Code of Talent's courses are designed to be mobile accessible, easy to digest, and interactive. Through its gamification feature, you can also create content or quizzes similar to mobile games, which can motivate learners to engage with the learning materials, complete their courses, and retain information in their long-term memory. These features are the perfect fit for retail workers, as they need a more mobile-accessible and self-paced learning experience.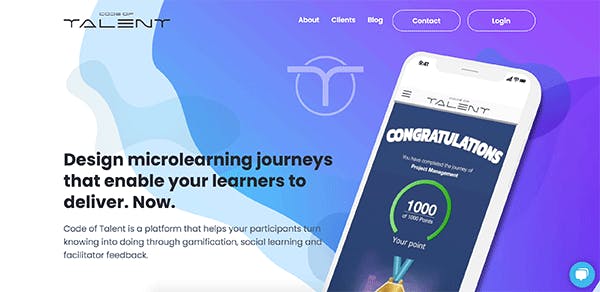 Highlights: Self-paced learning, microlearning, social learning, course customization, gamification, mobile accessibility
You may also want to check out: