An LMS is best when offered as a Software as a Service (SaaS) for a few reasons, such as it won't take up space on a company's servers if it is cloud-based, access to SaaS Learner Management Systems (LMS) is not as restricted as the downloaded versions, cloud-based LMS are always updated and more.
1. EdApp
EdApp is on our list of best SaaS LMS at the number one spot because this learning management system not only allows you to train your entire workforce from its extensive library of editable, world-class courses, but it also has a host of other useful features such as the inclusion of gamification in its microlearning courses, Canva integration, AI translation and many more.
What if you could get all of these features we spoke about at no charge? Well, you are in luck, because EdApp is completely free for you to train your teams – large and small at an unlimited capacity.
2. Knolyx
Knolyx's eLearning platform is one of the top SaaS LMS providers on the market. Knolyx's platform offers various learning types such as self-paced learning, instructor-led training, virtual classrooms, and blended learning. It also boasts a variety of administration and user management options.

Knolyx subscribers can browse user lists, manage profiles, permissions and many others. One of the main drawbacks to this SaaS LMS is the cost. Unfortunately, it is not available for free.
3. Dokeos
Dokeos LMS is one of the most user-friendly SaaS LMS systems on the market. It allows you to get a sixty-day demo, but the full program is not free. Dokeos can train employees in various industries such as manufacturing, healthcare, banking and others.

This LMS can be used to easily design personalized training modules by integrating your own training content into the modules. You will be able to follow the participant's progress of your course and assess their skills by using questionnaires or scenario-based quizzes. You can connect to Dokeos from anywhere on your computer, tablets, or smartphones.
4. Nimble
Nimble is another easy to use learning management system that takes minutes to set up. The Nimble LMS offers users efficient management systems that they can use to track and review their student's progress.
In addition to tracking learners' progress using Nimble, training managers will also have access to learner insights and comprehensive training analytics. Training managers are also allowed to create their courses using Nimble's free Author software. Do not be mistaken, even though the Nimble Author tool is free, the entire LMS is not.
5. Cortex
Cortex is an Learning Management System example that caters to small to medium organizations. This training system can be personalized in a variety of ways, which is good for you, the content creator. Cortex, like many other SaaS LMS systems, gives employees 24-hour access to learning resources.

With Cortex, you can track and monitor the progress of the employees and give managers the ability to see their team's progress. Unfortunately, Cortex may not be able to handle large business training and it is also not a free platform.
6. Looop
With this learning content management system, trainers can educate new employees with relative ease, educate new managers, and provide frontline workers with on-demand training. The resources used by Looop are rich with clear content and can also be created with no hassle by your subject matter experts. Looop users get access to resources at the right time.

As the trainer, you can see which resources were accessed by the trainees and which ones were received with a smile and which ones weren't. It would be great if this training management tool were being offered for free, but unfortunately, it isn't.
7. Gyrus
This easy-to-use cloud-based management system has many AI-driven intuitive features combined with its simple integration possibilities to provide a world-class learning experience. Even though it is an employee training platform, its main focus is on compliance and, as such, may not be the best for all aspects of workplace training.

With Gyrus, you can manage classrooms, mobile, and electronic learning in a way that meets the compliance needs of your company. Gyrus users can design training paths to improve their learner's skills, help them develop their careers, and to give them access to these resources from any device.
8. uQualio
uQualio is a video e-learning platform where users can create and publish channels from which they would then publish videos. After the training videos are published, persons can be invited to take the course.

Unfortunately, this SaaS LMS isn't free and is severely limited (only 10 persons can be invited to a course), so it is not a suitable option for companies looking to train a workforce. uQualio offers three subscription solutions from which course creators can choose the one that suits them.
9. Skillcast
Skillcast is an elearning LMS that caters to trainers who want to manage ethics and regulatory training compliance for their teams. Due to its focus on compliance, Skillcast is very limited when it comes to workforce training.
Skillcast has a course library that covers a wide range of topics such as bribery, health and safety, fraud, equality and more. One unique feature that this LMS SaaS has is its bespoke training content creation team.
10. GoSkills
To close our list, we have the Go Skills LMS. Go Skills has over 70 business courses that are always accessible to students on any device. From these 70 business courses, students can have more than two thousand bite-sized lessons that are taught by award-winning instructors.

Go skill as over 300 hours of video content in their library as well. This SaaS LMS utilizes customizable gamification to make learning fun and trackable. It is a good LMS, but it comes with a price.
11. Crowd Wisdom
Crowd Wisdom is a SaaS LMS for managers to foster employee growth and development and provide rich learning experiences for your team. There are a lot of things that you can accomplish from using this tool. First, you can build personalized courses based on your employee's objectives, competency goals, and certification paths. You can even deliver them in a variety of formats, including microlearning, live online, and webinars. To motivate them to complete their training, you can also issue them certifications that they can include in their microcredentials.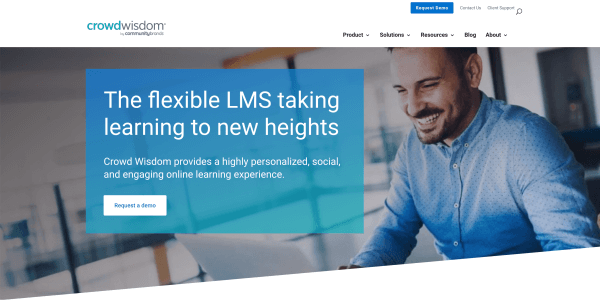 This tool has no free version, but it offers a free trial and personal demo so that you can first try their training solutions before committing to their paid plans.
12. WorkRamp
Designed as an all-in-one employee development software, WorkRamp can be customized for different types of employee training, more specifically for sales, support, retail, marketing, and HR. It can even be used to train your clients on product adoption, increase customer engagement, or drive more revenue to the business.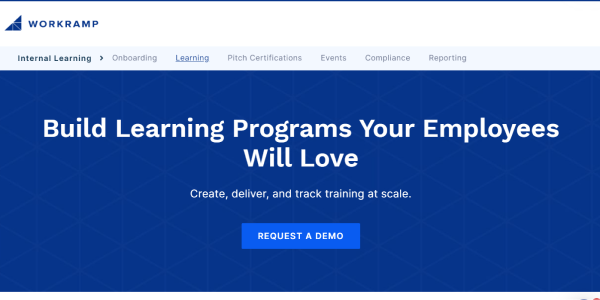 Some of the software's notable features include a specialized onboarding process, custom reports, virtual instructor-led training events, and compliance training. By combining all of these tools, WorkRamp SaaS LMS enables you to create a streamlined training experience for your employees.
13. LearnWorlds
Online video resources can also be used to stimulate and engage learners in their training topics. SaaS LMS like LearnWorlds can help you create and design interactive video training, securing an increased learning experience for your employees. You can also include interactive transcripts and subtitles, overlay images, questions, and pointers to strengthen your team's focus and understanding of the training content.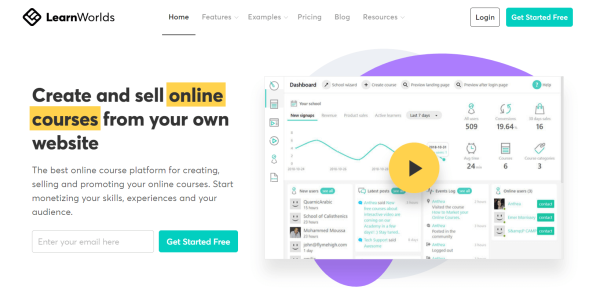 Another key feature to explore from this automated training tool is its drip feed, which makes it possible to schedule and automate the delivery of your video courses. It's all up to you whether you want your users to navigate them freely, sequentially, or you may also set restrictions if needed.
14. Qstream
Qstream is dedicated to delivering distance learning through microlearning programs that help combat the forgetting curve and improve knowledge retention among remote employees. This SaaS LMS reinforces knowledge, develops skills, and enhances productivity through a mobile-first approach.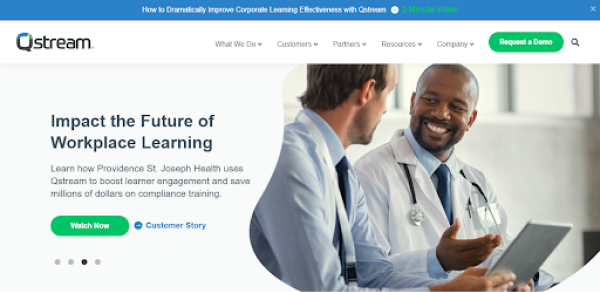 Its Content Hub feature enables training managers to create content using its template library and set of guide questions found on its online training website. It can also facilitate real-time practice through videos submitted by your learners, as well as track learning progress through an analytics dashboard and proficiency heatmaps.
15. Elearning Brothers
If you need training content fast, ELearning Brothers is the ultimate lifesaver. Regardless if you need to develop hard or soft skills or update your team on the recent compliance or safety regulations, they have you covered with their safety training software. Here, there are thousands of mobile-responsive microlearning courses put together by subject-matter experts and instructional designers. Most of these online lessons are already designed with interactive elements such as images and short videos, as well as knowledge checks and assessments, ensuring successful learning within your remote team even without the need for a face-to-face training session. You can purchase a course one at a time or the entire library to keep the costs down.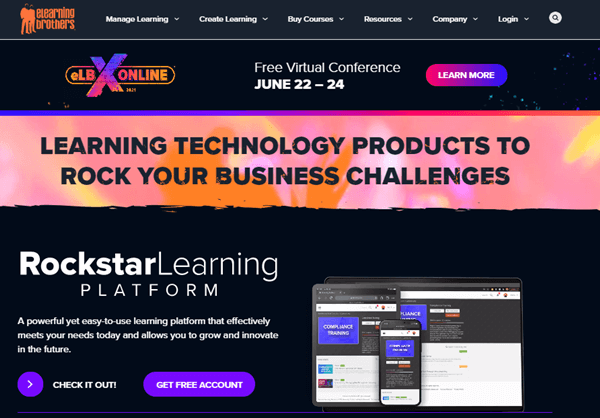 This Saas LMS can also lend a hand in developing custom training content with its advanced authoring tool. There are a variety of templates, frameworks, and interaction elements available, so you no longer have to spend hours designing the perfect course content for your team. If you like, you can also develop courses in a VR format and apply some real-life scenarios, ensuring a more fun, engaging, and satisfying learning experience for your employees.
Conclusion
There are quite a few good SaaS LMS on the list, but EdApp is the cream of the crop for us. Of all of the SaaS LMS providers that we covered today, EdApp was the only one that is free and capable of offering training solutions for workplaces of any size from anywhere in the world. To go along with its world-class editable library, the award-winning platform also has a powerful authoring tool that, when coupled with its built-in PowerPoint converter, makes it the best of the list.