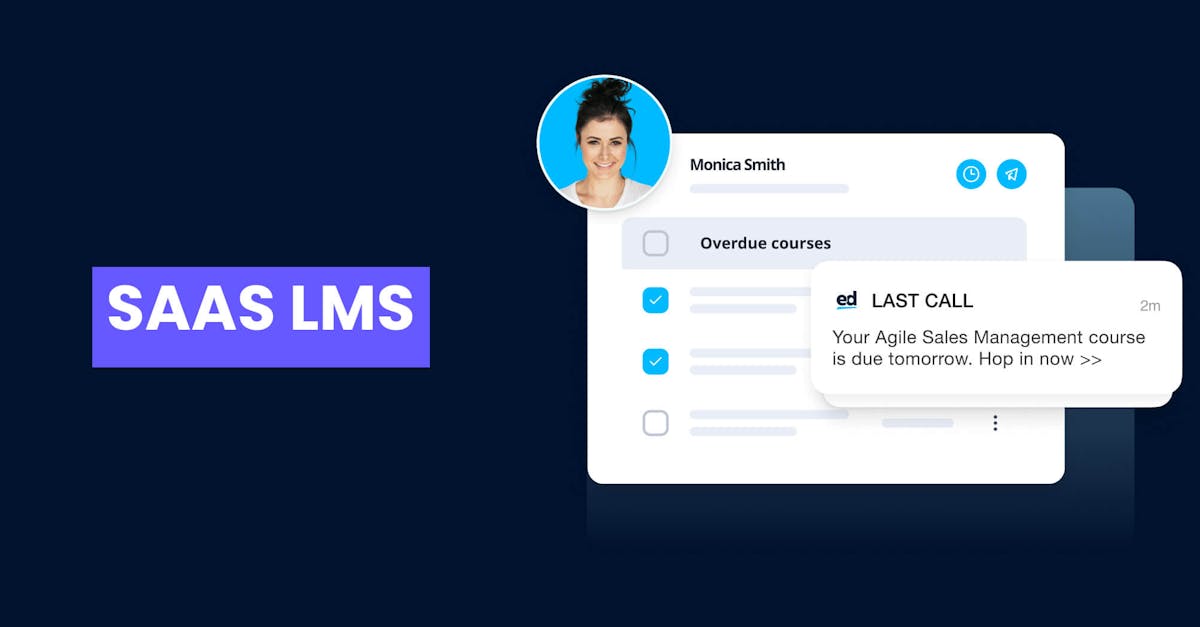 1. EdApp SaaS LMS
Why use EdApp?
EdApp is on our list of best SaaS LMS at the number one spot for three main reasons. One, this SaaS learning management system allows you to train your entire workforce from its extensive library of editable, dynamic courses. Two, it has an amazing AI-powered course creator tool that creates and designs interactive learning courses within minutes.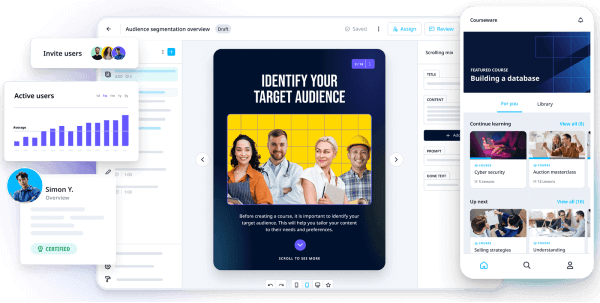 Three, it also has a host of other useful features such as the inclusion of gamification in its microlearning courses and templates, Canva integration, AI translation, and many more.
What if you could get all of these features we spoke about at no charge? Well, you're in luck, because EdApp is completely free for you to train your teams – large and small at an unlimited capacity.
Features
Unlock the power of AI and course creation with EdApp's AI Create

Make interactive training content with gamification and microlearning 
2. Knolyx SaaS LMS
Why use Knolyx?
Knolyx's eLearning platform is one of the top SaaS LMS providers on the market. Knolyx's platform offers various learning types such as self-paced learning, instructor-led training, virtual classrooms, and blended learning. It also boasts a variety of administration and user management options.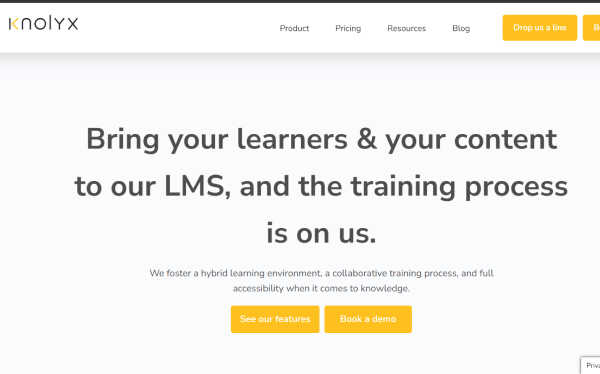 Knolyx subscribers can browse user lists, manage profiles, permissions, and many others. One of the main drawbacks to this SaaS LMS is the cost. Unfortunately, it isn't available for free.
Features
Deliver effective training programs that enhance learner knowledge and job performance

Use communities to create a social learning environment
Cost: Starts at 5940 GBP per year
Platforms Supported: Linux, Mac, Windows
3. Dokeos SaaS LMS
Why use Dokeos?
Dokeos is arguably one of the best online learning apps out there. It can be used to easily design personalized training modules by integrating your own training content into the modules. You'll be able to follow your learner's progress in your course and assess their skills by using questionnaires or scenario-based quizzes. You can connect to Dokeos from anywhere on your computer, tablet, or smartphone.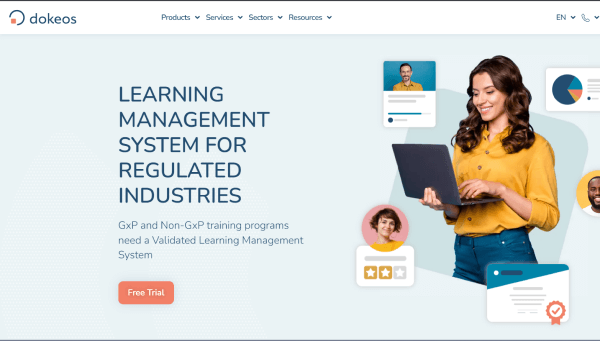 Features
Host your online webinars and video conferences with Dokeos Live

Collect extensive data on employees' skills, aspirations, and gaps
Cost: Request a quote
Platforms Supported: Windows
4. Nimble SaaS LMS
Why use Nimble?
Nimble is another easy-to-use learning management system that takes minutes to set up. The Nimble LMS offers you efficient management systems that you can use to track and review your learner's progress.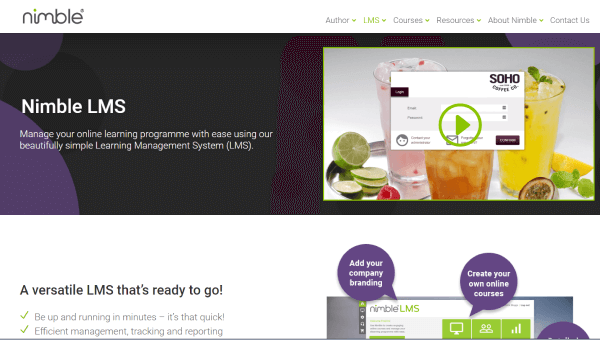 Apart from tracking learners' progress using Nimble, your training managers will also have access to learner insights and comprehensive training analytics. Training managers are also allowed to create their courses using Nimble's free Author software. Don't be mistaken, even though the Nimble Author tool is free, the entire LMS is not.
Features
Set up your SaaS LMS in a flash with Nimble

Tracks and reviews learner progress

Follow learner insights and comprehensive training analytics
Cost: Request a quote
Platforms Supported: Linux, Mac, Windows
5. Cortex SaaS LMS
Why use Cortex?
Cortex is one of the SaaS LMS systems that caters to small to medium organizations. This training system can be personalized in a variety of ways, which is good for you, the content creator. Cortex, like many other SaaS LMS systems, gives employees 24-hour access to learning resources.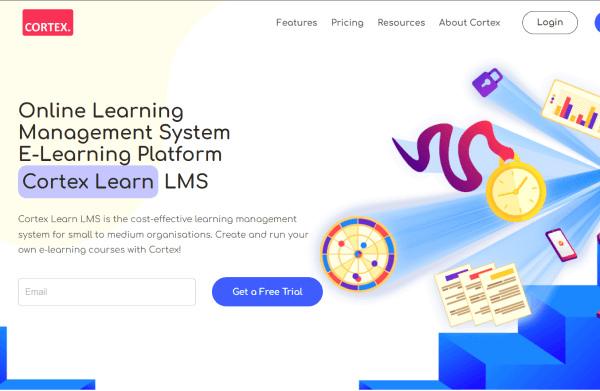 With Cortex, you can track and monitor the progress of the employees and give managers the ability to see their team's progress. Unfortunately, Cortex may not be able to handle large business training and it's also not a free platform.
Features
Designed for small to medium organizations

Offers content personalization

See your team's learning progress through the admin portal
Cost: 20.50 GBP per month per user
Platforms Supported: Mac, Windows
6. Looop SaaS LMS
Why use Looop?
With Looop's learning content management system, trainers can educate new employees with relative ease, educate new managers, and offer frontline workers with on-demand training.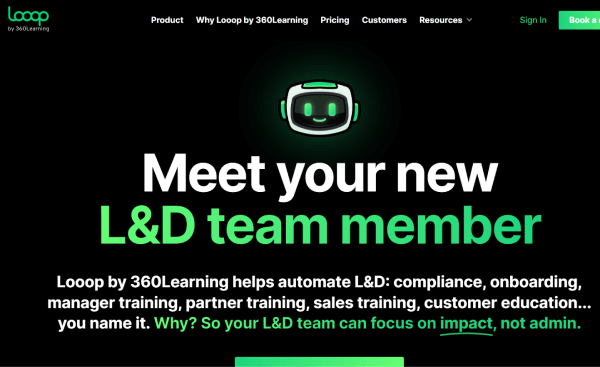 The resources used by Looop are rich with clear content and can also be created with no hassle by your subject matter experts. Looop users get access to resources at the right time.
As the trainer, you can see which resources were accessed by the trainees, which ones were received with a smile, and which ones weren't. It'd be great if this training management tool were being offered for free, but unfortunately, it isn't.
Features
Create rich and clear course content on the platform

Manage user management and interaction in the analytics
Cost: Request a quote
Platforms Supported: Linux, Mac, Windows
7. Gyrus SaaS LMS
Why use Gyrus?
With Gyrus, you can manage classrooms, mobile, and electronic learning in a way that meets the compliance needs of your company. Gyrus users can design training paths to improve their learner's skills, help them develop their careers, and to give them access to these resources from any device.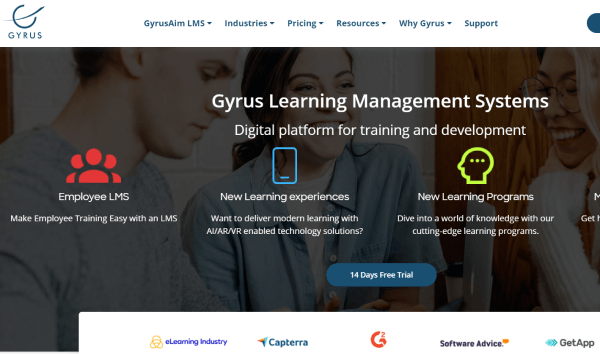 Features
Manage and deliver training that's legally compliant and results-oriented

Avail of personalized customer service when needed
Cost: Request a quote
Platforms Supported: Linux, Mac, Windows
8. uQualio SaaS LMS
Why use uQualio?
uQualio is a video e-learning platform where users can create and publish channels from which they would then publish videos. After the training videos are published, persons can be invited to take the course.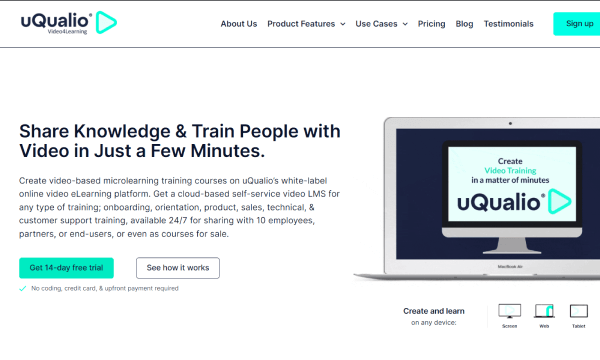 Unfortunately, this SaaS LMS isn't free and is severely limited (only 10 people can be invited to a course), so it isn't a suitable option for companies looking to train a workforce. uQualio offers three subscription solutions from which course creators can choose the one that suits them.
Features
Create and publish channels dedicated to training people

Send training invitations to your teams

Make big organizational projects and responsibilities 'edible' for new hires
Cost: Starts at 19.99 USD per month for 10 users
Platforms Supported: Mac, Windows
9. Skillcast SaaS LMS
Why use Skillcast?
Skillcast is an elearning LMS that caters to trainers who want to manage ethics and regulatory training compliance for their teams. Due to its focus on compliance, Skillcast is very limited when it comes to workforce training. Skillcast has a course library that covers a wide range of topics such as bribery, health and safety, fraud, equality, and more.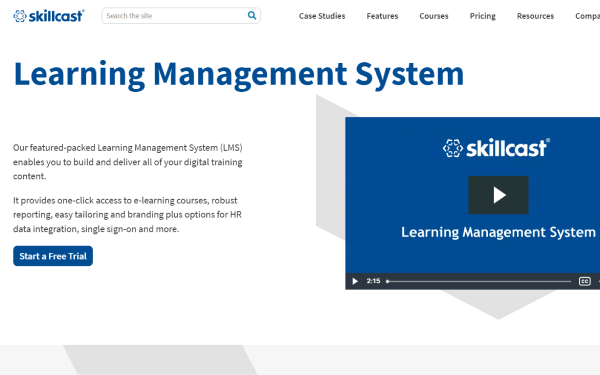 Features
Manage ethics and compliance training for teams

Deliver training materials for compliance and regulatory training
Cost: 80.30 GBP per month for each user
Platforms Supported: Linux, Mac, Windows
10. GoSkills SaaS LMS
Why use GoSkills?
Another software as a service (SaaS) LMS to consider is Go Skills LMS. Go Skills has over 70 business courses that are always accessible to learners on any device. From these 70 business courses, your learners can have more than two thousand bite-sized lessons that are taught by award-winning instructors.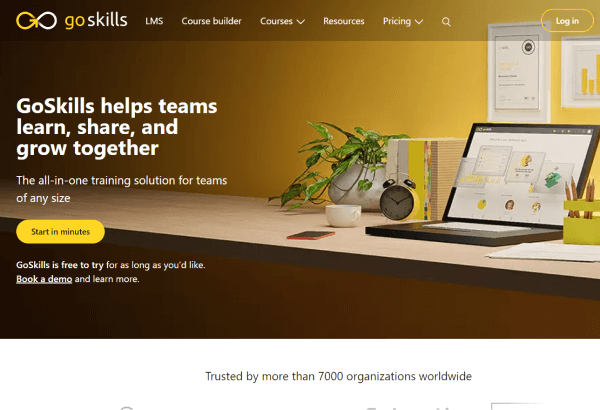 Go Skill has over 300 hours of video content in its library as well. This SaaS LMS uses customizable gamification to make learning fun and trackable. It may be a good LMS, but it comes with a price.
Features
Access the courses on any device (desktop, tablet, smartphone)

Focuses on delivering business courses to learners

Format training into bite-sized lessons
Cost: Starts at 9 USD per learner per month (billed yearly)
Platforms Supported: Linux, Mac, Windows
11. Crowd Wisdom SaaS LMS
Why use Crowd Wisdom?
Crowd Wisdom is a SaaS LMS for managers to foster employee growth and development and deliver rich learning experiences for your team. There are a lot of things that you can accomplish by using this tool.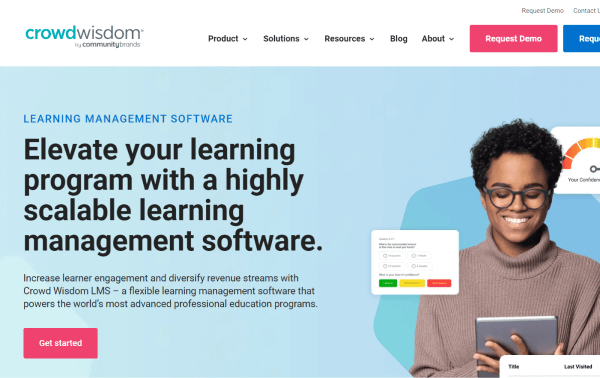 First, you can build personalized courses based on your employee's objectives, competency goals, and certificate paths. You can even deliver them in a variety of formats, including microlearning, live online, and webinars.
Features
Build personalized courses depending on learner needs and company objectives

Deliver certificates to learners after completing the course

Access live online videos and webinars on the platform
Cost: Request a quote
Platforms Supported: Windows, Mac, IOS
12. WorkRamp SaaS LMS
Why use WorkRamp?
Designed as an all-in-one employee development software, WorkRamp can be customized for different types of employee training. It's more specifically for sales, support, retail, marketing, and HR. It can even be used to train your clients on product adoption, increase customer engagement, or drive more revenue to the business.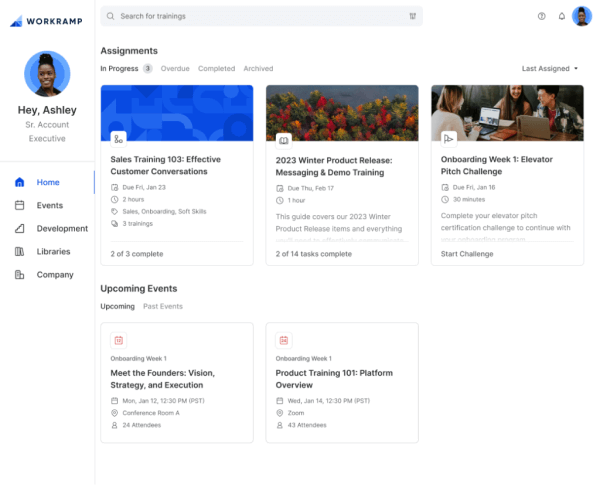 Features
Create a streamlined training experience for your employees

Deliver great training for clients on products and services
Cost: Request a quote
Platforms Supported: Linux, Mac, Windows
13. LearnWorlds SaaS LMS
Why use LearnWorlds?
Online video resources can also be used to stimulate and engage learners in their training topics. SaaS LMS like LearnWorlds can help you create and design interactive video training, securing an increased learning experience for your employees.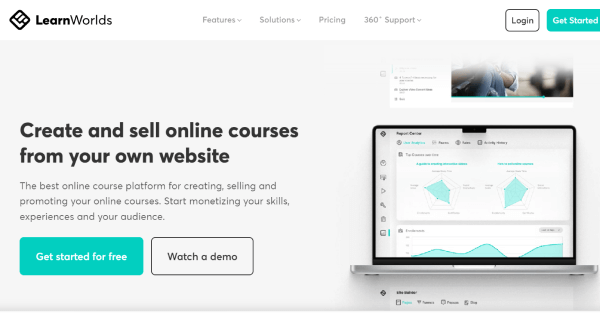 You can also include interactive transcripts and subtitles, overlay images, questions, and pointers to strengthen your team's focus and understanding of the training content.
Features
Schedule and automate the delivery of your video courses

Control user access through the admin panel

Design interactive video training for the workforce
Cost: Starts at 249 USD per month
Platforms Supported: Linux, Mac, Windows
14. Qstream SaaS LMS
Why use Qstream?
Qstream is a dedicated SaaS LMS to deliver distance learning through microlearning programs that help combat the forgetting curve and improve knowledge retention among remote employees. This SaaS learning management system reinforces knowledge, develops skills, and enhances productivity through a mobile-first approach.
Its Content Hub feature allows training managers to create content using its template library and set of guide questions found on its online training website. It can also facilitate real-time practice through videos.
Features
Develop microlearning programs for better knowledge retention

Great to use for remote employees

Training managers can create content with the template library
Cost: Request a quote
Platforms Supported: Linux, Mac, Windows
15. Elearning Brothers SaaS LMS
Why use Elearning Brothers?
Regardless if you need to develop hard or soft skills or update your team on the recent compliance or safety regulations, Elearning Brothers has you covered with their safety training software.
Here, there are thousands of mobile-responsive microlearning courses put together by subject-matter experts and instructional designers. Most of these online lessons are already designed with interactive elements such as images and short videos.
Features
Regularly check on learners through knowledge checks

Develop custom training content with its advanced authoring tool
Cost: Request a quote
Platforms Supported: Windows
Learn more about Elearning Brothers
An LMS is best when offered as a Software as a Service (SaaS) for a few reasons:
It won't take up space on a company's servers if it's cloud-based

Access to SaaS Learner Management Systems (LMS) is not as restricted as the downloaded versions

Cloud-based LMS are always updated with the latest learning trends
Because of this, it's no surprise that organizations around the world are constantly seeking a SaaS LMS. If you don't know what a SaaS LMS is, what it's good for, and what to get, we've compiled all the information you need in this article.
What is a Software as a Service (SaaS) LMS?
A SaaS LMS, which stands for Software as a Service Learning Management System, is an online platform used for creating, managing, and delivering educational content. Unlike traditional learning management systems, SaaS LMS operates on a subscription basis and is accessed via the Internet.
This cloud-based approach offers greater flexibility, accessibility, and scalability for both educators and learners. SaaS LMS platforms give a wide range of tools and features to facilitate interactive learning experiences, including content creation, assessments, progress tracking, and reporting.
It has revolutionized the way education and training are conducted by making learning more convenient and engaging through digital technology.
Advantages of SaaS LMS
Flexibility and Accessibility
SaaS LMS breaks down geographical barriers, allowing learners to access courses and training materials from anywhere, at any time. This flexibility accommodates diverse schedules and learning paces, making it an ideal solution for working professionals and students alike.
Cost-Efficiency and Scalability
Traditional LMS setups often involve significant upfront costs and ongoing maintenance expenses. In contrast, SaaS LMS operates on a subscription basis, eliminating the need for heavy initial investments. Additionally, the scalability of SaaS LMS means that organizations can seamlessly expand their e-learning initiatives without worrying about infrastructure limitations.
Continuous Updates and Upgrades
SaaS LMS providers regularly update their platforms with new features and enhancements. This makes sure that users have access to the latest tools, technologies, and instructional methods, enhancing the overall learning experience.
Key Features of SaaS LMS
User-Friendly Interface
SaaS LMS platforms prioritize user experience, offering intuitive interfaces that require minimal training. This user-friendliness encourages adoption and engagement among learners of all technical levels.
Content Management and Delivery
SaaS LMS empowers educators to create and manage various types of content, including videos, quizzes, assignments, and more. The seamless delivery of this content guarantees a dynamic and engaging learning process.
Interactive Assessments and Quizzes
Engagement is paramount in effective learning. SaaS LMS facilitates interactive assessments and quizzes that not only evaluate learners' understanding but also gamify the learning experience.
Progress Tracking and Reporting
Educators and administrators can monitor learners' progress in real time through comprehensive tracking and reporting tools. This data-driven strategy offers prompt interventions and enhancements.
EdApp is a mobile learning management system designed for today's digital habits, delivering more engaging and effective micro-learning directly to learners anytime and anywhere.
Sign up for this SaaS LMS today.