The best way to assess an employee's current knowledge on a subject is through administering quizzes as part of your effective training program. In this digital age, easy test makers are the way to go when building your quizzes as it has better presentation and it automates the delivery, making the whole process hassle-free.
Easy Test Maker # 1 – EdApp
EdApp, a multi-awarded LMS, has an easy test maker tool called Rapid Refresh. It's intended to make online quiz creation for busy trainers and supervisors easier, quicker, and more efficient. To make a quiz, simply encode your questions into a spreadsheet template, and it will automatically be transformed into a quiz, ready to be rolled out.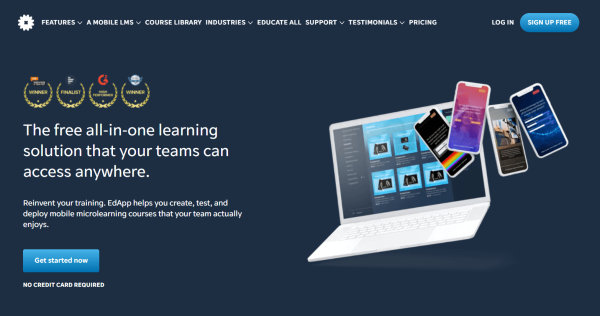 It also enables you to schedule the test delivery, whether it's on a daily or weekly basis, through their spaced repetition feature. All you have to do is set the interval and the app will take care of the rest. You can set up leaderboards and rewards with actual prizes for top scorers to engage your learners and push them to do their best. Also, you can see the learners' progress with EdApp's easy-to-use analytics.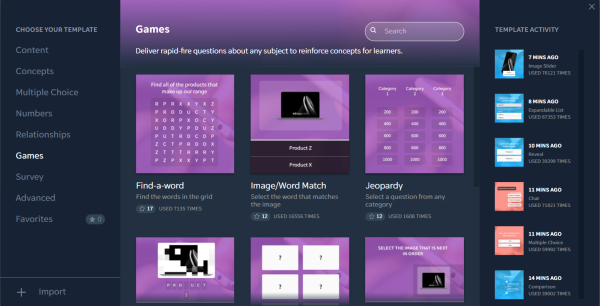 EdApp's Rapid Refresh is a perfect tool for conducting pre-tests to determine the working knowledge of your teams. It can also be used to identify knowledge gaps and then reinforce important information which are important factors in assessments for an effective training program
Features:
Online quiz maker

Easy-to-use quiz template

Automated quiz delivery

Rewards & leaderboards

Analytics
Cost: Free
Easy Test Maker # 2 – EasyTestMaker
EasyTestMaker is an online test maker that makes creating and managing a range of digital tests and quizzes a breeze. To make a quiz, you can utilize a variety of question types, such as multiple-choice, fill-in-the-blank, matching, and true/false. Simply add sections and questions, edit and revise, and let this scorm tool handle the rest.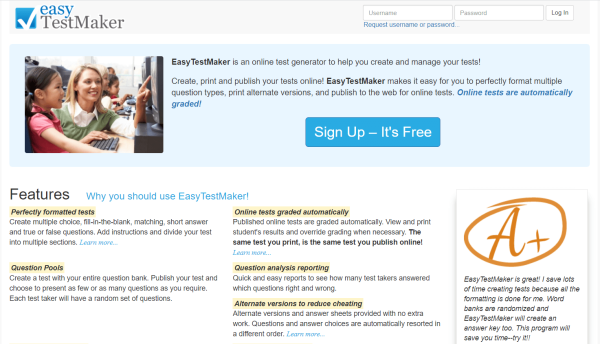 You can also export all of your quizzes and analytics to PDF or Word, which is ideal if you want to print your training content. The sole disadvantage of this online test maker tool is that, at least for the free plan, users can only post online assessments with 25 test results. If you want to send out a large number of quizzes in one go, you should check its subscription packages, which give users more flexibility.
Features:
Test creator

Multiple question formats

Export to PDF/Word
Cost: Free, paid plans
Easy Test Maker # 3 – Nearpod
If you're searching for an easy test maker, Nearpod might just be what you're looking for. To create a quiz, you can leverage numerous assessment questions such as multiple choice quizzes, polls, open-ended questions, fill-in-the-blank questions, and matching pairs, which can all be used to evaluate your employees' current skill level and measure their learning retention from previous online courses. You can also add various media like images, videos, or audio voice-overs alongside the quizzes to make them more engaging. As soon as learners complete their tests, real-time feedback and reports are provided so you can easily identify those who have retained their online course well and those who still need additional training.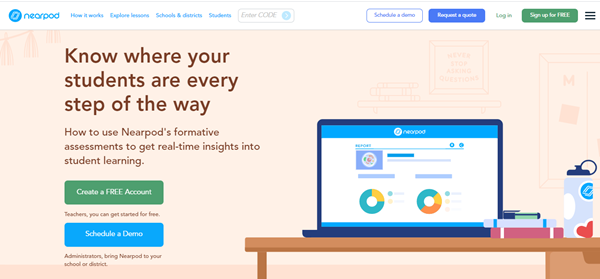 With Nearpod's free version, you'll only get around 100MB of storage space to create online courses and quizzes but you also can upgrade to their paid plans if you want to acquire more storage space.
Features: 
Flexible quiz customization

Creative themes and templates

Real-time reports
Cost: Free, paid plans
Easy Test Maker # 4 – Quizlet
Quizlet is a popular online exam generator recognized for its characteristic flashcard format. While this format is most commonly used in schools, you can create a quiz that you can use in your employee training program to assess employee knowledge and recall of training topics. You are also provided access to a large collection of pre-made flashcard decks on a variety of topics, making quiz production much easier.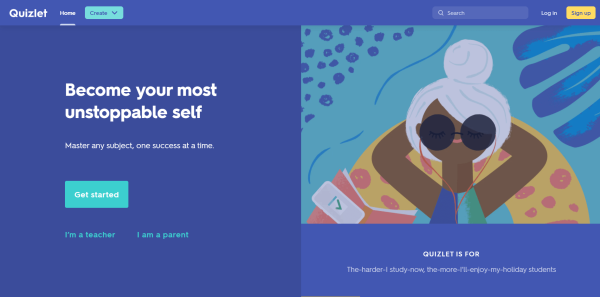 Quizlet, in addition to customizable flashcards, allows you to create game-show-style tournaments to encourage healthy competition among your employees. Timed games, adaptive questions, and practice quizzes are among the other significant features of Quizlet. This platform is free but you can only access analytics and advanced customization options if you subscribe to their paid service.
Features: 
Digital flashcard format

Pre-made flashcards templates

Multiple study modes

Gamification
Cost: Free, paid plans
Easy Test Maker # 5 – FlexiQuiz
Create, publish, and analyze online tests effortlessly with FlexiQuiz. This powerful training software is perfect for individuals, teachers, and businesses who want to provide their learners with a fun and engaging blended learning experience. All the features are easy to use and require no coding or design experience, so you won't need to worry about creating quiz content from scratch. To make a quiz, just choose from formatting options and nine question templates including multiple-choice, picture choice, essay, short answer, matching, or fill-in-the-blanks. You can also make your quizzes more engaging by adding media like GIFs, images, videos, and audio.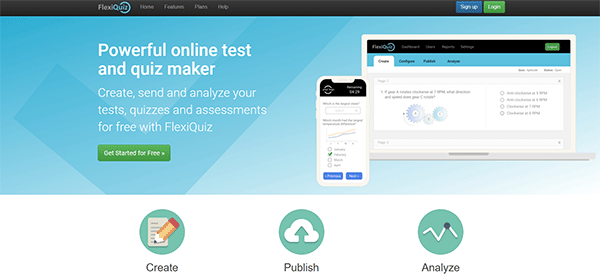 Something to keep in mind, especially if you want to try out this easy test maker, is that the free version doesn't allow you to remove the FlexiQuiz logo. The logo removal and branding features are only available once you upgrade to their paid subscription.
Features:
Multiple questions formats and templates

Ability to add GIFs, images, videos, and audio
Cost: Free plan, paid plans
Easy Test Maker # 6 – Fyrebox
Fyrebox is another quiz maker tool that can help you create interactive and well-designed quizzes. Evaluate your employees' training knowledge or generate leads for your website by deploying a presentation style quiz through the website, or a conversation quiz format through messaging apps like WhatsApp, Messenger, or WeChat.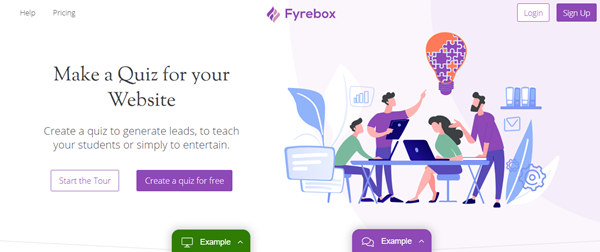 With this scorm tool, you can create a quiz and customize the look of your tests, change color themes, import background images, or choose your preferred font style. If you don't know where to start, Fyrebox also provides visually appealing themes and editable templates that you can use to create your first quiz. 
All plans allow you to create an unlimited number of quizzes but do note that with the free version, all test copies will be published with the Fyrebox logo. 
Features: 
Quiz customization

Themes and templates

Unlimited quiz creation and completion
Cost: Free, paid plans
Easy Test Maker # 7 – Typeform
Typeform is a blended learning software and an easy test maker that you can use to create engaging and interactive tests even with no coding background. This training software allows integrations with several applications such as Canva, Slack, and Google Drive, so there's no need to go back and forth with any existing apps that you use. Typeform uses one question at a time through a conversation-like format so you'll have to consider this when creating tests with many items.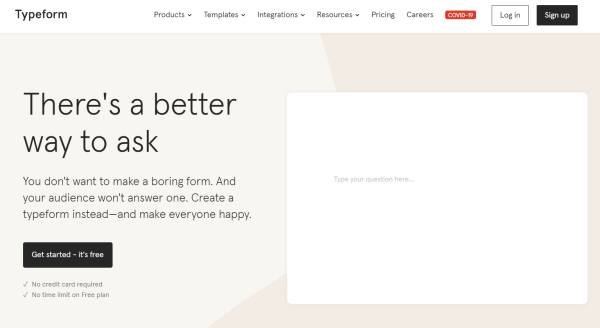 For the free version though, you're limited to 3 forms with 10 question items and up to 100 allowable responses per month. 
Features:
Customizable templates

Shareable reports & analytics
Cost: Free, paid plans
Easy Test Maker # 8 – Kahoot!
Kahoot! is a game-based online quiz maker that uses colorful visuals and gamification elements to boost engagement. It offers quizzes with multiple-choice questions, as well as "type answer" questions wherein participants will have to type in their answers to show a deeper understanding of a certain topic. Quizzes can be answered by a group of "players" all at the same time or can also be set as a self-paced challenge to be answered asynchronously.

The quizzes called "Kahoots" can be accessed via a web browser or through their app. Overall, this training software enables you to reinforce key concepts and engage your learners as groups or as individuals. 
Highlights: 
Interactive game-based format

Multiple game templates

Real-time group participation or self-paced 
Cost: Free, Paid
Easy Test Maker # 9 – Google Forms
Google Forms is a Google Suite tool that comes with Google Drive. Users may quickly develop quizzes and get the results instantly, thanks to its simple and easy design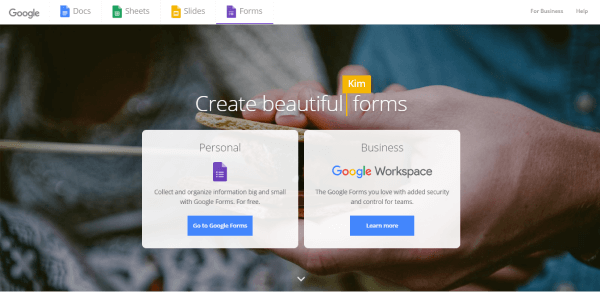 This learning software is ideal for providing trainees with timely feedback after they have submitted their work. It also allows you to recycle questions from previous forms, which is useful for tests on similar subjects. It has a variety of question options, including multiple-choice, checkboxes, dropdowns, as well as a file upload option for photos or PDF files for items that require more detailed replies or explanations.
Features:
Google Suite integration

Easy form distribution

Easy result collection
Cost: Free
Easy Test Maker # 10 – EdBase
Edbase is a blended learning software and intuitive scorm tool that allows you to create tests in a couple of minutes. You can easily drag and drop items from your set of questions to your quizzes and rearrange them in any order you prefer. It includes a question editor so you'll also be able to add images and videos for more advanced questions for a more effective training.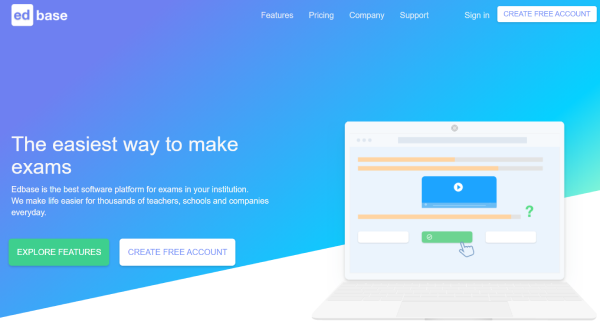 To ensure honesty, you can opt to set a time limit, randomize questions, and even lock learners' screens. Edbase offers a free plan, but it only allows 10 candidates and 20 test attempts each month.
Features:
Drag-and-drop question editor

Question bank

Question editor tool
Cost: Free, paid plans