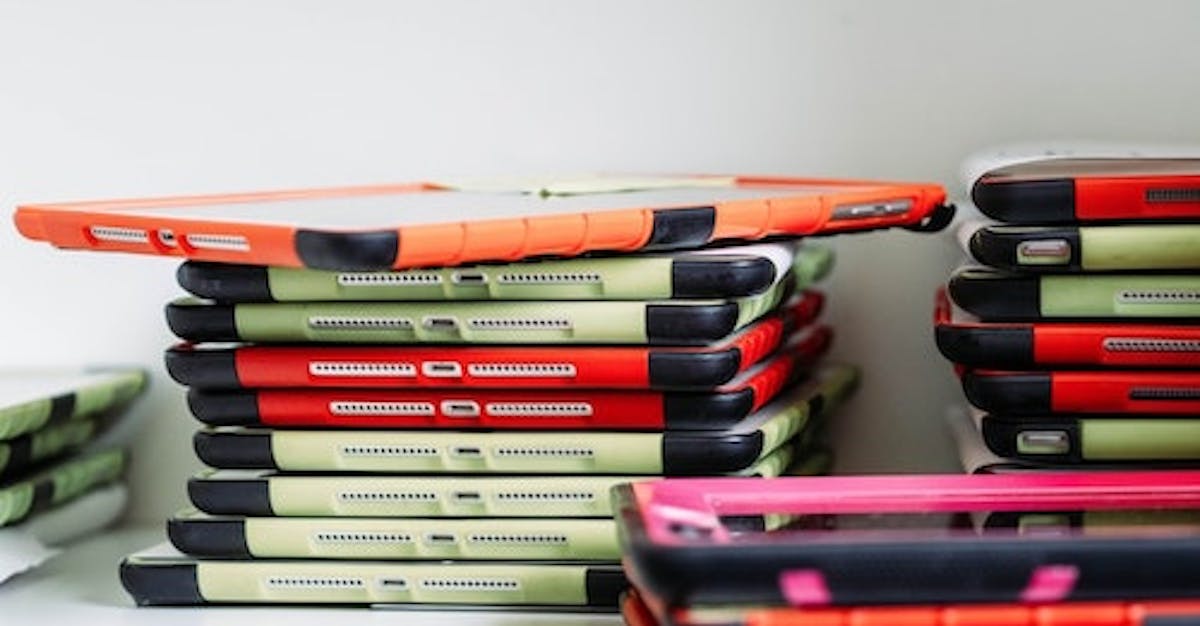 Let's take a closer look at 20 important e-learning templates used in learning management systems and online learning platforms.
1. Text Sequence
EdApp learning management system "Content" template collection is perfect for transferring knowledge and introducing new content to your learners for the first time through an online course. The Text Sequence template means that text is displayed one portion at a time. This interactive learning template helps learners digest information one piece at a time, which maximizes effectiveness without overwhelming your teams with too much information all at once.

The slide above is taken from a course in EdApp's cloud-based course library. The Cyber Security course includes a collection of eight comprehensive and fully-editable lessons designed to help you and your teams aware and safe from cyber attacks. The course provides the information you need to know about the different types of cyber attacks and the safety precautions that you can take to avoid them. EdApp also has personalized learning materials for different lessons for your team's elearning development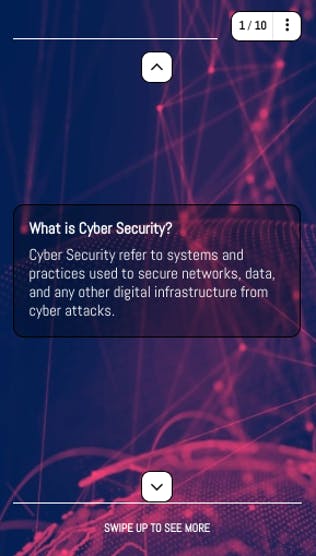 2. Word Construction Concept
EdApp's Word Construction Concept template is found under the "Concepts" category, which is designed to reinforce singular concepts. In order to achieve this, learners must filter and recreate statements through interactive lessons and learning activities. The Word Construction Concept template challenges your teams to spell keywords from your lesson content. With this template, learners are challenged to reproduce words they have just learned or reinforce the spelling of challenging words.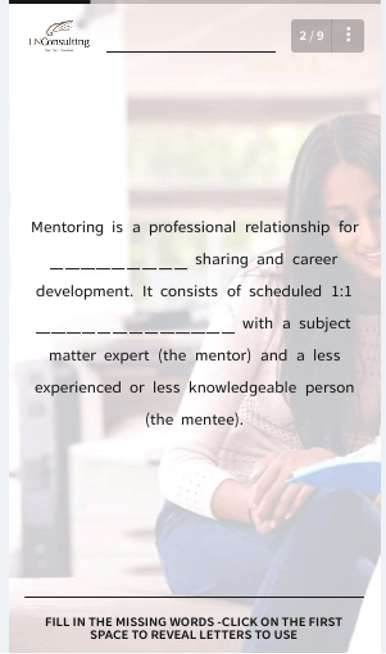 Contributed by LN Consulting, the course above is taken from the Mentoring course, which is also found in EdApp's course library and is completely editable. The practical course includes content designed specifically for aspiring mentors to learn effective mentorship and other pedagogical skills. On the other hand, mentees have the opportunity to learn how to get the most from their mentors.
3. List Slide
Also found under EdApp's "Content" category, the List Slide template is clear and simple, perfect for optional narration in instructional design. Acting as a table of contents, this practical template can provide an overview of your learning courses content (as the image below depicts). Similarly, it can be easily used to summarize learned content.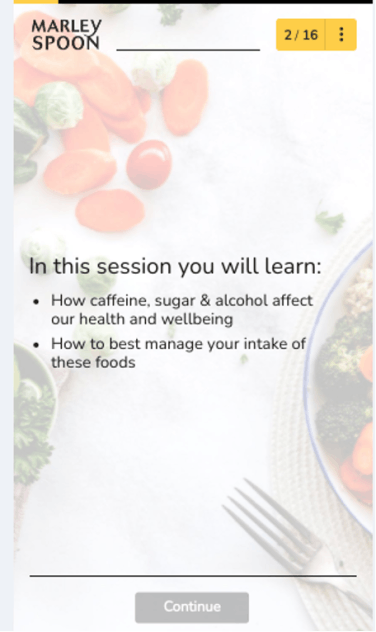 EdApp's Food & Mood course, contributed by Marley Spoon, explores the link between mindful eating and identifies which foods will bring the best in you and which 'trigger foods' have a more negative impact on you and your teams' moods. Here, the List Slide is setting up the contents of the lesson, which gives the learners an outline of what they're about to learn.
4. Drag to Match
It's important to provide a variety of different lesson templates and designs to keep your learners engaged. Another relationship-based gamification template found on EdApp includes Drag to Match.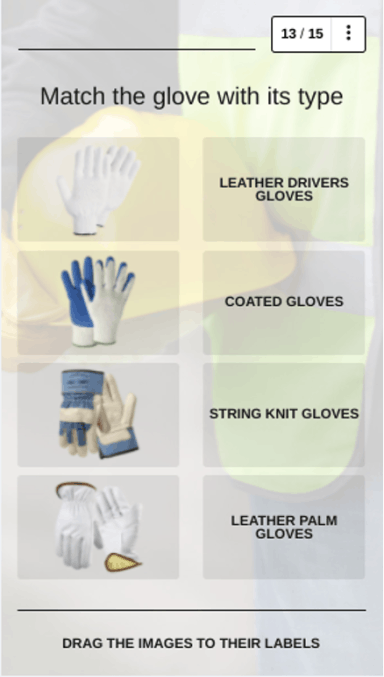 Found in EdApp's editable course, Personal Protective Equipment (PPE) for Construction, learners must align the type of glove with the correct name to illustrate that they've understood the previous content, which outlined each gloves' details and purpose in relation to PPE for Construction workers.
5. Expandable List
The Expandable List template is great for separating out larger points into smaller bits. As the learner taps on each section, it expands to reveal more information and exposes only one bit at a time. Learners can gain a better understanding of a bigger concept by approaching small chunks piece by piece. As the concept of microlearning has proven, this increases retention rates in the long run.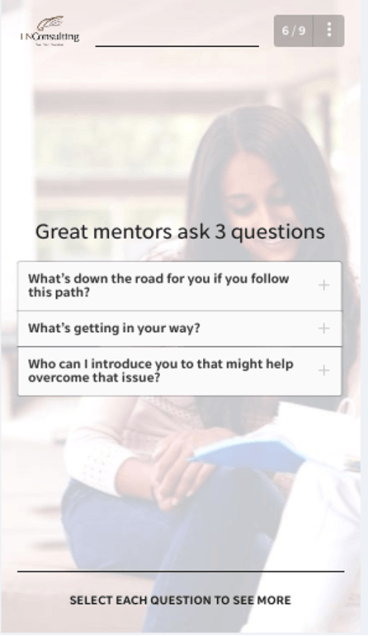 The Mentoring course, also found in EdApp's content library, is fully editable and was contributed by industry leaders, LN Consulting. The lesson (pictured above) outlines the different paths of mentorship and specifically, potential roadblocks to the accessibility of securing a valuable mentor.
6. Number Sentence
Found under EdApp's Numbers templates, Number Sentence is designed to reinforce concepts through numerical properties. Taken from the Let's Kick COVID-19! social learning courseware, which has been shared and completed by thousands of learners around the world, individuals must recall the amount of alcohol that your hand sanitizer should include for the effectiveness to fight COVID-19.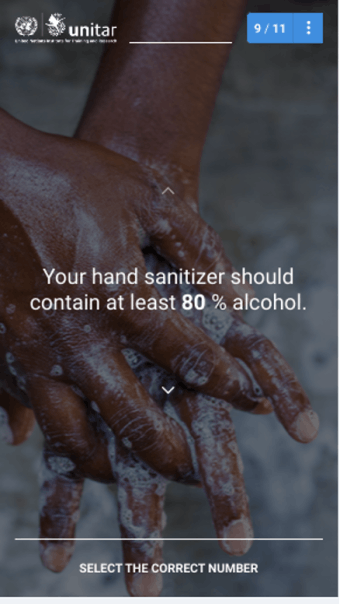 This particular template gives learners the option to browse up and down to select the correct number. In the Number Sentence template, the learner can seamlessly integrate the numerical value within a statement.
7. Categorize
The Categorize template is a versatile option, as it acts as a multiple-choice template that asks the learner to drag a statement to one of two available categories. This template can be asked to answer true or false questions (as illustrated below) or to reinforce separate categories. It's also useful for asking whether something is incorrect or correct; positive or negative, and so on.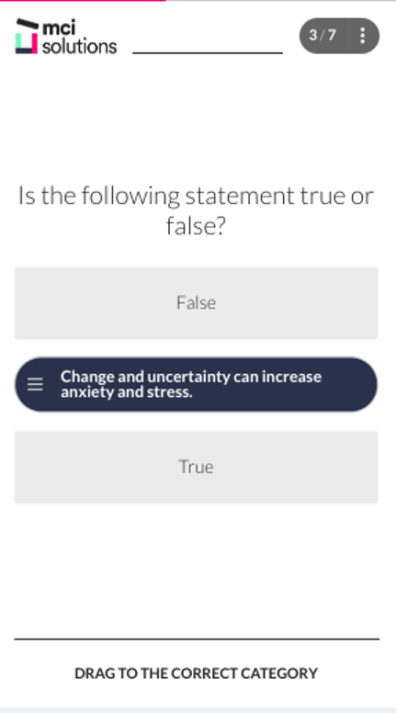 The mobile learning system template above can be found in EdApp's editable course library, within MCI Solutions' contributed courseware: Living a Resilient Life. This collection of lessons promotes positive mental health by teaching methods to enhance resilience and build strong mental health practices.
8. Video Collection
Found under EdApp's collection of Content templates, Video Collection displays a group of videos that learners can select and compare. This template allows learners to experience videos in a non-linear order, offering a more custom learning experience. EdApp also hosts a Video Slide template and supports both YouTube and Vimeo videos, which can be embedded in additional video templates.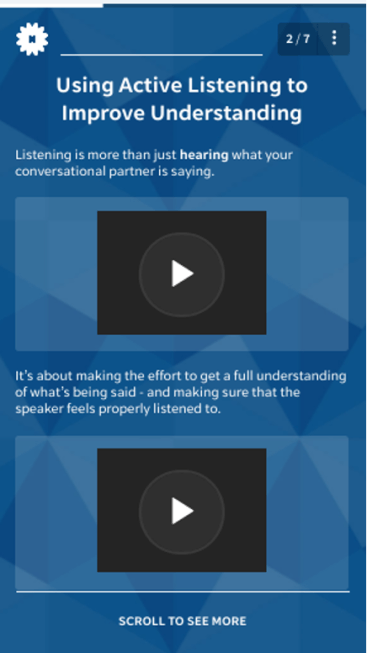 The Retail Services: Communication course (illustrated above) can also be found for free in EdApp's extensive course library. The SCORM elearning courses are fully editable and are designed for you to improve your communication in the workplace. Instructor-led training also uses this type of template for employed to understand the lesson more and to improve the learning environment.
9. Find-a-word Game Template
Found under EdApp's extensive collection of gamified templates, the Find-a-word Game Template gives you the opportunity to reinforce keywords from your lesson. Similarly, it gives learners the opportunity to find important words through a familiar learning design layout. This can be used to summarize key chunks of information or reinforce keywords for customer-facing conversations.
In the template above, the New Hire Safety Orientation course highlights safety introduction information, emergency action plans, and fire extinguishers, amongst others. Contributed by Risk Management Inc., this courseware quizzes learners to find "Oxygen", "Fuel", and "Heat", all of which feeds the fire.
10. Ratio Number Template
EdApp's Ratio Number Template is the most useful when a group of numbers relates to one another. The numbers can add up to a certain value or just apply to the same situation. Regardless, learners can set the value independently through this interactive template to reinforce their knowledge.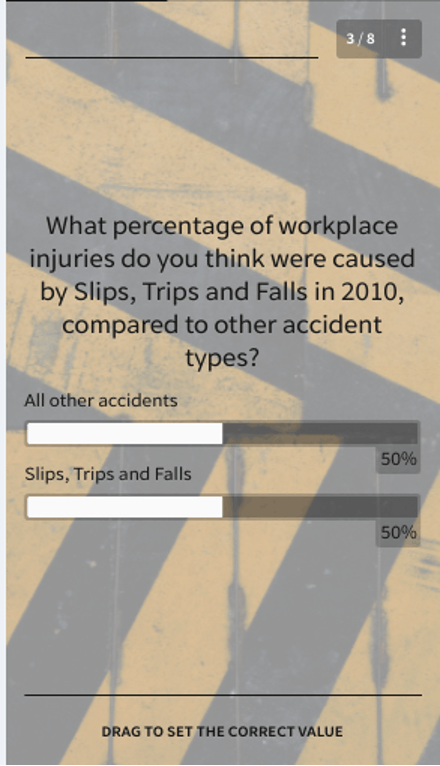 EdApp's Safety in the Workplace course (depicted above) covers safety compliance that you can use as a template for your organization, then customize, brand, and deploy to your teams.
11. Image Gallery
Image Gallery is an elearning template that allows you to view content in a sequence by swiping right to left. Content can be in a form of images, text, and even audio. 
12. Scratch to Reveal 
Scratch to Reveal is an interactive template that lets you reveal ideas or concepts by scratching the image. This serves as an engaging way for you to learn information.
13. Sentence Construction
Sentence Construction is designed to reinforce messages by engaging users to reorder words of a sentence. This enables you to recall key phrases which is beneficial, especially for industries that usually make use of catchphrases. 
14. Multiple Choice
Multiple Choice is a common template that gives you options to answer a question. It's a good eLearning template to test the knowledge of the learners. Edapp learning software has this template in a lot of their online courses that are carefully made by an instructional designer. 
15. Missing Word
In most learning solutions, Missing Word is a template that lets users drag a word from a pool of options to complete a phrase or sentence. This is an effective way to reinforce vital information. 
16. Connect
Connect is a relationships template that asks to determine two related words or concepts by connecting them with a line. In this template, you can match correct products, finish sentences, and more!
17. Select in Order
Select in Order is a template that allows you to reorganize a series of images according to their correct order. It can be used to reinforce the order of top-selling products or order of usage of products for specific services. 
18. Image Pairs
Image Pairs has a similar concept with Connect which lets you match similar concepts. But in Image Pairs, you'll be asked to identify the matching images instead. You can use this template to ask your learners which products are limited edition, or reinforce products that belong to a certain category or line, and more. 
19. Reorder
Similar concept with Select in Order, the Reorder template allows you to arrange words according to the correct order. You can use this to reinforce a timeline, the results of a survey, the best-selling products, and more.
20. True or False
Instead of simply selecting an option, EdApp's True or False template makes this engaging by asking you to swipe true statements to one side and false ones to the opposite side. A timer is also included to make it more challenging. The faster you respond, the more points you get. This is the most commonly used template in learning programs that are made by learning and development professionals.
Discover more EdApp e-learning templates
Through a powerful and intuitive authoring tool, EdApp enables training to teams large and small around the world. Courses and assignments can either be created from scratch, existing content can be imported to the learning platform, or ready-made courses can be edited and customized – the choice is up to you.
With a goal of enabling clients to provide simpler and smarter workplace learning, EdApp boasts more than 50 intuitively designed microlearning templates that can be used to present content, reinforce key concepts, as well as assess learning through a variety of options to cater to every type of learner. Some templates include multiple-choice, games, surveys, and relationships to boost engagement and maximize learning results.
These e-learning templates are only a small sampling of what EdApp has to offer. With an extensive template library, designing a course that meets your unique needs is well within your reach. You can easily cater to all your learners by presenting and reinforcing key concepts through interactive and varied ways.