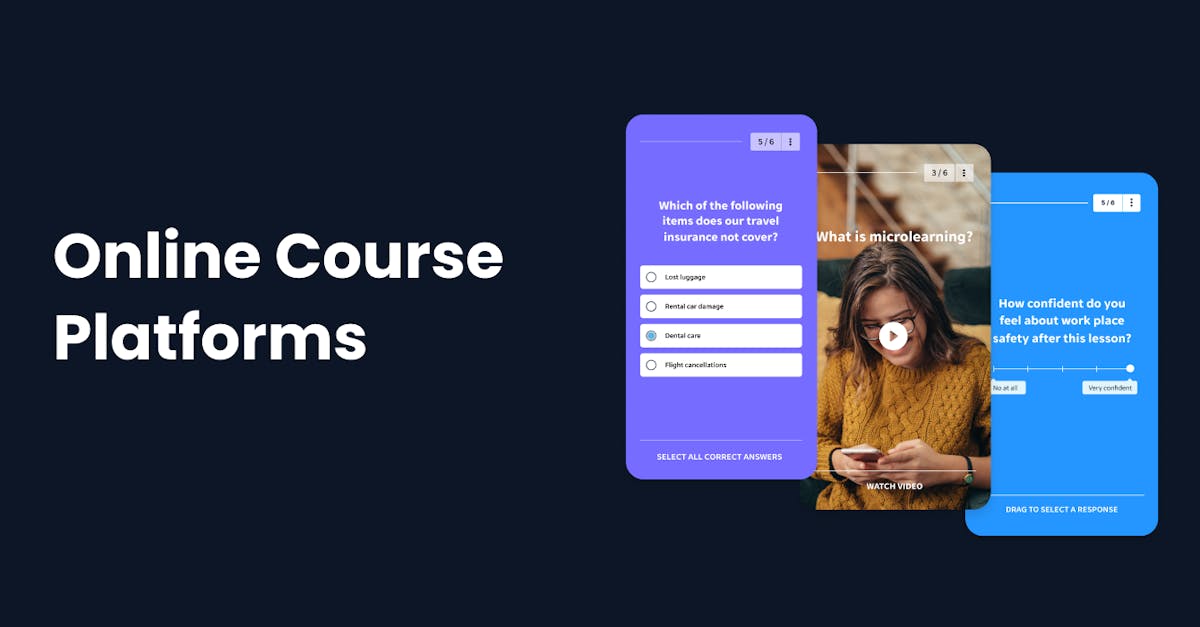 Here, we'll help you explore different online course platforms with a range of easily accessible learning resources that you can readily share with your team. These platforms also offer you intuitive tools for building your online courses from scratch and monitoring the learning progress of your employees.
1. EdApp LMS
Make online course with none other than EdApp LMS. It sets the standard for high-quality online course platforms with its comprehensive microlearning content library filled with expertly designed courses for various industries. Here, you'll get to explore free elearning resources like retail, construction, cybersecurity, leadership, and even OSHA training. They also have more niche courses like CNC training courses, preventive maintenance training courses, active listening courses, and the like. With more than 30 expansive categories to choose from, there's surely world-class content for every team.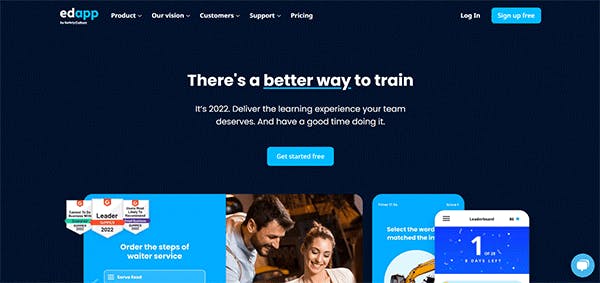 If you want to secure accredited, up-to-date, and good online courses, EdApp also offers a range of certified, sponsored online classes for free that are developed in collaboration with some of the most reputable brands and thought leaders in the world. This collection includes Leading Under Pressure by John Volanthen, the Great Climate System from Axa Climate, the Food & Mood course from Marley Spoon, and The Bar World of Tomorrow from the wine and spirits experts of Pernod Ricard. They are all ready for deployment, so all you need to do is import these courses, hit publish, and finally share the content with your team.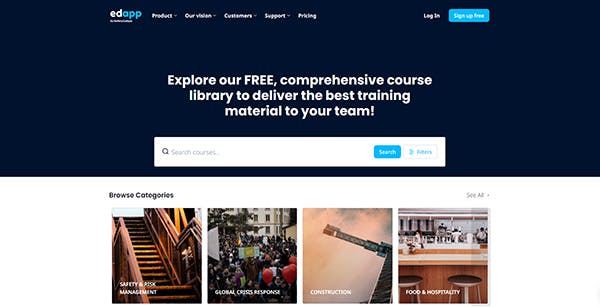 As the best online course platform, EdApp allows you to create online courses through its powerful course creation tool where you have the option to customize most of these courses to fit your branding specifications and your learners' training needs. You can upload your brand image and logo, add more lessons or edit the content, or even include slides of gamified quizzes to check their learning progress. For non-native English speakers, this LMS software has a built-in AI translation tool that can translate courses into a specific language that they're comfortable with. Additionally, EdApp has a group of expert instructional designers available to help you build online courses.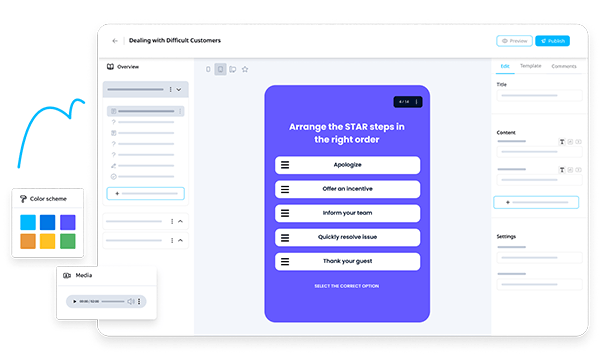 Cost: Free

Key features: Microlearning content library, editable courses, authoring tool, gamified quizzes, AI translation tool
Train your teams with readily available courses designed by experts and thought leaders–all at no cost forever. Join EdApp for free now. 
2. Coursera
Over the years, Coursera has gained increased popularity for its paid and free e learning courses that are mostly hosted by the best university professors and industry experts from around the world. The majority of their programs are aimed at virtually any professionals seeking to improve their skills and abilities, receive a promotion or raise, or start a new career. Whether your industry falls to information technology, business, or social sciences, Coursera definitely has something ready for your team.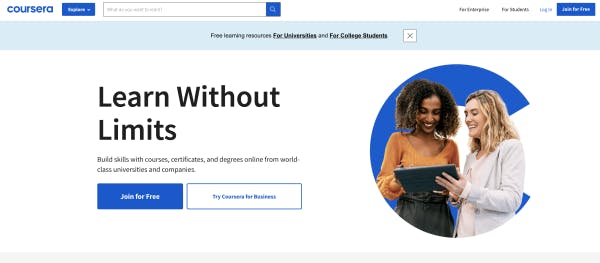 Most of the courses in this platform are delivered in online video lectures that your learners can take on their best availability. Some are also deployed with self-paced quizzes and hands-on projects, ensuring optimum engagement from your team. Coursera can provide a certificate of completion, although you may have to pay a small fee from 9-9 USD.
Cost: Free; paid courses with certificates

Key features: Expertly designed online courses, video lectures, self-paced quizzes, hands-on projects, certificate of completion
3. edX
edX is also a great place to find high-quality online courses that can help your team expand their skills and knowledge and drive them to deliver exceptional performance. There are over 3000+ courses on this platform, designed and hosted by some of the world's leading institutions such as Harvard, MIT, University of Oxford, the University of Tokyo, as well as Google, IBM, and Microsoft. They are delivered in video format, which your learners can take at their own pace. A download option is also available so they can stream the classes anytime and anywhere, whether they're grabbing a quick coffee or sitting on the bus on their way home. In addition, there are different types of corporate training and enterprise training courses available that can help your team learn new skills and better their performance.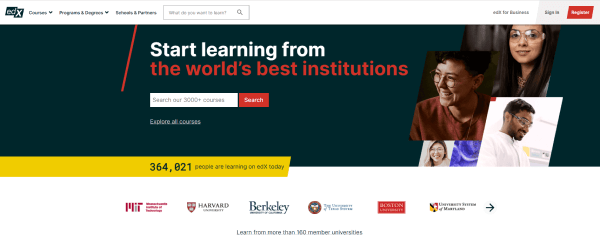 As a global non-profit organization, most of the courses here are free for everyone. The only downside with this platform is that it has no authoring tool that you can use to customize or edit training content. 
4. FutureLearn
Developing new skills and expertise can also be achieved with FutureLearn. This online course platform has more than 2,000 unique programs that deal with a variety of subjects, including healthcare and medicine, business and management, creative arts and media, and so many more. Similar to Coursera and edX, these courses are also prepared by world-class universities and industry experts and delivered through videos, articles, discussions, even quizzes, and other activities.

But what makes this platform special is that it offers unique microdentials and programs focused on providing in-depth courses in a specialized field. These are backed with independent certificate management software, some even with academic credit that they can use to earn a professional degree. They are also 100% online and can be taken within 10-15 weeks. 
Cost: Free

Key features: Unique online courses in videos, articles, discussions, and quizzes, microdentials and programs
5. MasterClass
MasterClass is not your usual online course platform. Here, your team will have access to 100+ online classes hosted by acclaimed and well-known experts and celebrities. They can learn how to cook restaurant-grade cuisines from Gordon Ramsay, build a brand and create a visual identity from Diane von Furstenberg, and develop their own fashion style from Marc Jacobs. Each course includes 15-20 well-produced and engaging videos that are mostly 10 minutes long. Supporting a self-paced learning experience, your learners can take and complete them anytime their schedule allows. They can also download the app on their phone and view the courses on the go.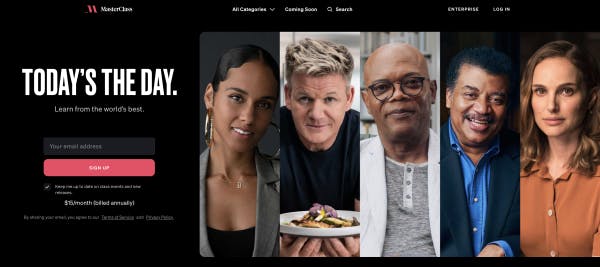 The con for this platform is that their course catalog is scarce and limited since they only invite the world's top best to discuss their topics. Plus, most courses target those at the beginner level, which doesn't sound enticing if you plan to retrain your existing and already seasoned employees. 
Cost: 5 USD per month

Key features: 100+ online classes hosted by acclaimed and well-known experts and celebrities, self-paced learning, mobile device accessibility
6. Skillshare
At Skillshare, you'll find hundreds of online video courses that delve into a wide array of different topics, including entrepreneurship, photography, film and video, leadership and management, marketing, and so much more. The video classes, which vary from recorded to live, are hosted and facilitated by experienced teachers, who are acclaimed reputable experts in their respective fields. They are also 100% online, allowing the learning to take place anywhere and anytime with their preferred gadgets, from desktop computers to tablets, even mobile devices.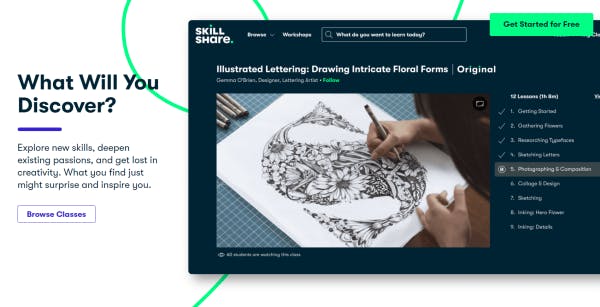 Perhaps the biggest downside of this platform is that the learning resources are limited only to educational videos. They usually last 30-40 minutes in length, which isn't exactly ideal for those with short attention spans. 
Cost: Pricing plans available upon request

Key features: online video courses (live and recorded), desktop and mobile accessibility
7. ELearning Brothers
If you need training content fast, ELearning Brothers is the ultimate lifesaver. Regardless if you need to develop hard or soft skills or update your team on the recent compliance or safety regulations, they have you covered with their safety training software. Here, there are thousands of mobile-responsive microlearning courses put together by subject-matter experts and instructional designers. Most of these online lessons are already designed with interactive elements such as images and short videos, as well as knowledge checks and assessments, ensuring successful learning within your remote team even without the need for a face-to-face training session. You can purchase a course one at a time or the entire library to keep the costs down.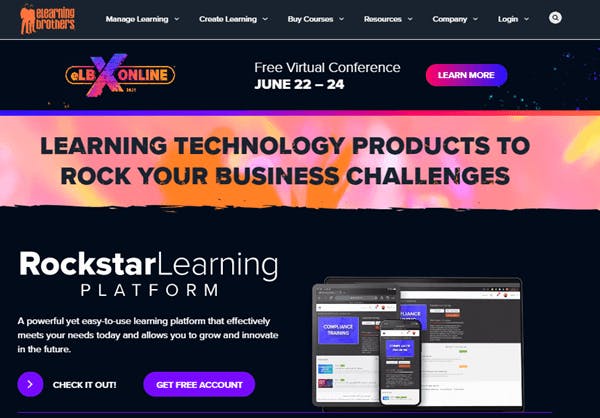 This platform can also lend a hand in developing custom training content with its advanced authoring tool. There are a variety of templates, frameworks, and interaction elements available, so you no longer have to spend hours designing the perfect course content for your team. If you like, you can also develop courses in a VR format and apply some real-life scenarios, ensuring a more fun, engaging, and satisfying learning experience for your employees. 
Cost: Pricing plans available upon request

Key features: Ready-made microlearning courses, content development with advanced authoring tool, VR training
8. Learnbook
The Learnbook platform is loaded with a range of interactive eLearning tools and features that can help you easily build and manage presentation slides, quizzes, and games, and also upload interactive videos, securing a higher learning success in your organization. You can also run live webinars and virtual conferences, allowing you to deliver your online courses and discuss the content with your team and colleagues in real-time. You can even record the discussion and publish them as courses so your team can still revisit them for their self-paced learning.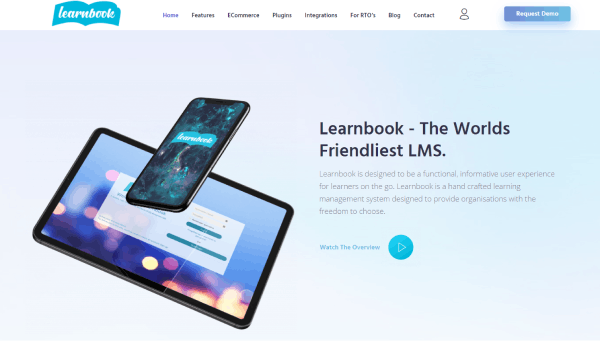 There are no ready-made courses available on this platform. Although a subscription will give you access to 10 off-the-shelf classes from GO1, which houses more than 50,000 programs covering diverse topics ranging from health and food services to digital marketing and finance. 
Cost: Pricing plans available upon request

Key features: Friendly content creation tools, webinars and virtual conferences, access to GO1 courses
9. CourseLab
CourseLab is a great place to build high-quality online courses that you can publish through the web or an LMS. Thanks to its e-training module creation tool, making slide-based courses is just as easy as drag and drop. You can even make it more interactive by adding images, videos, action-based animations, and quizzes to engage your learners into taking and completing the course.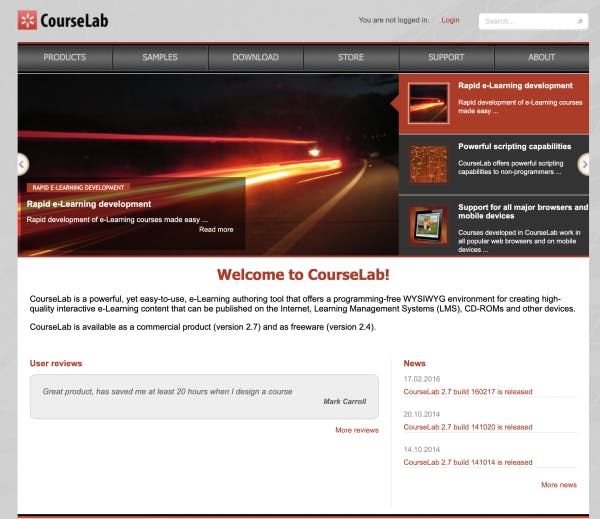 Unfortunately, this software has no ready-made courses for training consultants who urgently need to publish training content. But what makes it special is its built-in test creation capability, allowing users to create custom quizzes and exercises of virtually any type and format – single choice or multiple select, fill-in-blank, and even matching pairs. You can use it to monitor your team's learning progress and ensure that your training content is best understood. 
Cost: Pricing starts at 49 USD per year

Key features:  e-Learning content authoring tool, built-in test creation capability
10. isEazy
Another online course platform to consider is isEazy, which is tapped by many training consultants due to its cloud-based authoring tool. Here, you don't need technical design skills to create professional-looking online course materials. Just choose from their interactive slide templates and layout system to get started, and simply click, drag, and type to edit your courses. You can also make your training content more dynamic by adding personalized images, audio, and videos, even quizzes and flashcards. Backed by cloud technology, enjoy peace of mind that your work will never get lost in the process, ensuring maximum productivity.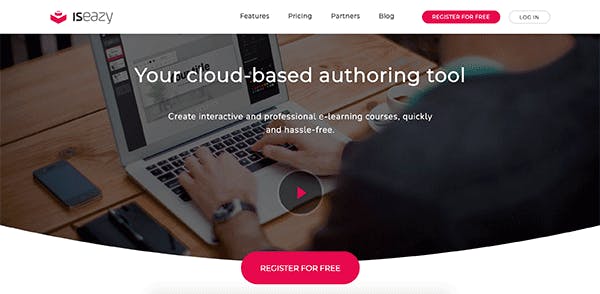 However, do take note that isEazy doesn't have a course library. You can only produce online courses from scratch, which is not exactly ideal if you're in a rush to produce training content. It also lacks a PowerPoint conversion, so you will have to manually copy and paste your content even if you have a PPT training material ready. 
Cost: Free (courses published with watermark); paid plans are also available

Key features:  e-Learning content authoring tool, built-in test creation capability
11. Khan Academy
Khan Academy is a free course platform with thousands of videos made by experts. The online learning website has a flexible selection of course materials from elementary school topics like basic maths and English up to college and professional courses like computer programming and calculus. Learners can choose from different topics to personalize their own learning journey and each subject matter has a handout and a practice exercise that they can take at their own pace.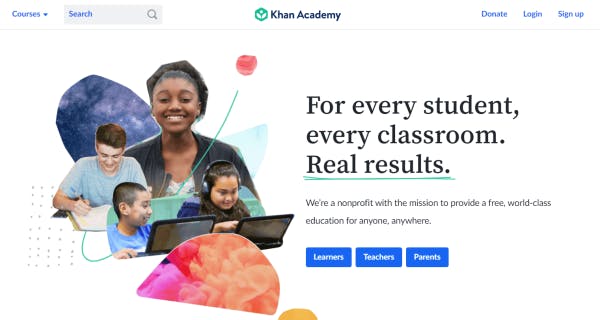 Some of the other topics that they can choose from include science, arts & humanities, reading & language arts, economics, and life skills. There are also quizzes in between each lesson that can help reinforce new knowledge among learners. 
Cost: Free

Key features: course library, personalized learning, supplementary documents, practice exercises, assessments for every course
12. Kajabi
If you are looking for an online course software that can help you develop training courses while also making money out of them, then Kajabi is a perfect choice. There are so many things that you can do with this platform. Thanks to its smart yet easy-to-use product generator, you can build polished, profitable digital courses and launch them out into the market in just a few easy steps. You can also create membership sites where you can provide more exclusive content for your target audience.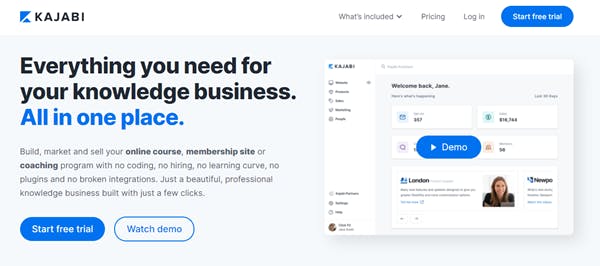 Forget about the hassles of worrying about coding or programming. All the tech issues are covered by Kajabi so that you can just focus on growing your business. This online e learning platform also hosts its very own Kajabi University where you can find a range of training courses, although they are intended mostly for digital entrepreneurs.
Cost: 09.00 USD per month

Key features: Self-paced content sharing, custom registration, online conferencing, detailed reporting, Kajabi University
13. LearnWorlds
LearnWorlds is another online course platform that allows you to create an engaging learning experience for your employees through a course player, templates, ebooks, and a social community. This virtual learning environment is especially adept with video learning, allowing you to synchronize transcripts, add quizzes, and other interactive elements. You can even customize your learning materials through the tool's branding and theme editor. With the help of LearnWorld's note-taking and highlighting functions, it's easier for learners to go through lesson readings and keep track of important concepts.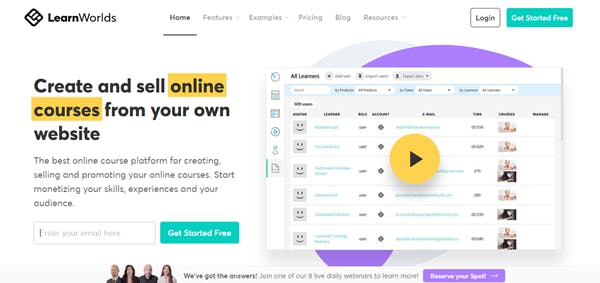 Do note, however, that you'll need to create an account on the platform to be able to access their library of course materials.
Cost: Starts at 4 USD per month

Key features: Course player with note taking and highlighting capabilities, interactive templates, video learning, built-in social community
14. WizIQ
WizIQ provides you with an all-in-one learning management system and online course platform that you can use to set up and manage your employees' overall training with ease. It supports multimodal learning, giving learners the option to use real-time audio, video, or textual communication. Through its virtual classroom and HD video conferencing features, learners can participate in synchronous online classes and collaborate with their peers on group assignments. To further boost engagement, you can also give learners access to interactive whiteboards, polls, and even quizzes.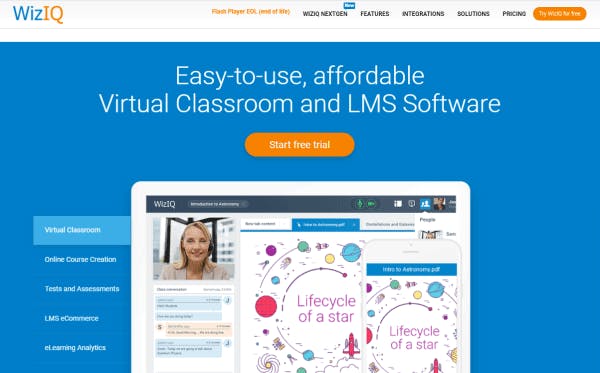 Accessible on both desktop and mobile devices, WizIQ makes it easy for you to design, customize, and deploy your training materials through their user-friendly course builder. All you have to do is set up your learning portal, upload your learning content, and you're good to go. You can even leverage the platform to sell your own courses as well. 
Cost: Starts at 5 per month

Key features: Virtual classroom, mobile app, customizable learning portal, course selling
15. Thinkific
With Thinkific, you can add and edit training content, quizzes, and upload your videos easily with their drag-and-drop software features. Through this online course platform, you can also schedule lessons, automate content, and even set pricing for the courses you want to sell. There are a number of features that make this platform favorable among course creators. You can take a look at this complete Thinkific review where they have tested all its features. There are over 50,000-course creators and over 100 million courses taken in more than 165 countries. Should you wish to find samples to guide you with the courses, there are available videos on the site and if you're looking for free training resources, they also have a limited selection that you can check out.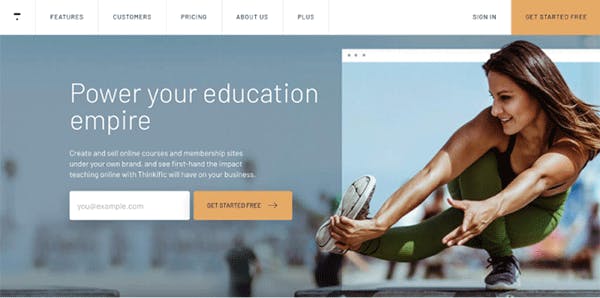 Cost: Free plan, Paid plans start at 9 per month

Key features: Drag and drop editor, course selling, course library
16. 360training
360training is a free online course platform designed for workers in the construction, manufacturing, food and beverage, and real estate industries. It offers a diverse range of specialized courses that learning and development professionals can buy and deploy to their employees in just a few quick clicks. For example, 360training's OSHA Campus course library is designed specifically to help construction workers meet their compliance requirements and adhere to specific safety regulations.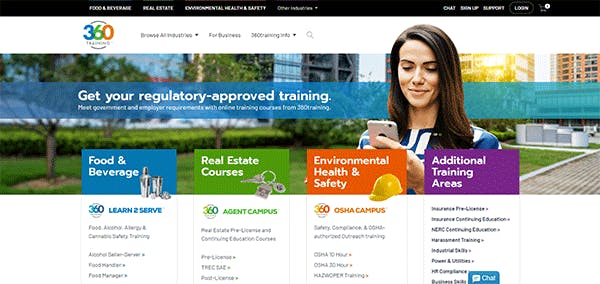 Some of their courses include HAZWOPER training, GHS communication training, aerial lift operator safety training, confined space entry training, and preventative maintenance training courses. Apart from offering a comprehensive list of self-paced technical courses, 360training also provides learners with 24/7 support and the option to save progress as they go.
Cost: Free and paid plans

Key features: Industry-specific compliance training, 24/7 support, save as you go self-paced learning
17. High Speed Training
Similar to 360training, High Speed Training is another online course platform that offers industry-specific training courses to help organizations empower their employees and allow them to earn accreditation. They have over 180 courses that talk about health and safety, education, food hygiene, safeguarding, HACCP, asbestos awareness, and more. Some of the more specialized topics include manual handling, workplace first aid, working at heights, PPE training, GDPR, fire safety, and many others.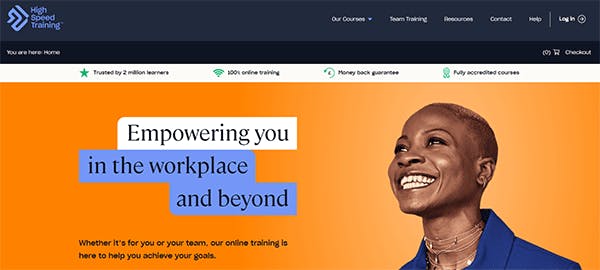 It's important to note that each of their courses meets Continuing Professional Development guidelines and is also accredited by the CPD certificate service so your learners can be sure they're receiving quality training. 
Cost: Free and paid plans

Key features: Industry-specific training courses, over 180 courses, CPD certificate
18. Ruzuku
Ruzuku is another online course platform built with a powerful and user-friendly interface. It allows you to create and run great online courses even without design experience or technical expertise. You can even customize the designs to fit your brand and incorporate content suited to your students' learning objectives. If needed, you can also add PDFs, Word, PPT, and other files to your course content and make them downloadable for self-paced learning.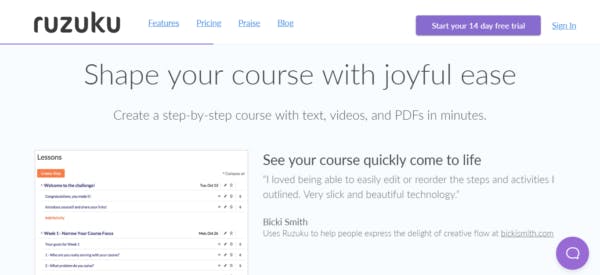 But it's not just limited to course creation and deployment. Ruzuku's course health feature also allows you to keep track of your team's learning progress, including activity completion and any queries or comments they may have about their courses. Any updates made by participants will be sent to you automatically via email.
Cost: Starts at 4.75 USD per month

Key features: Course authoring, self-paced content sharing, detailed reporting
19. Codecademy
Codeacademy is an all-in-one online course platform and training solution that provides learners with easy access to web development services and computer science courses, as well as coding language courses like Python, HTML, Javascript, SQL, C++, and many others. They also have a pool of resources for data science, cybersecurity, and other technology topics. Aside from offering their training programs for professionals, they also offer them to students at a discounted price.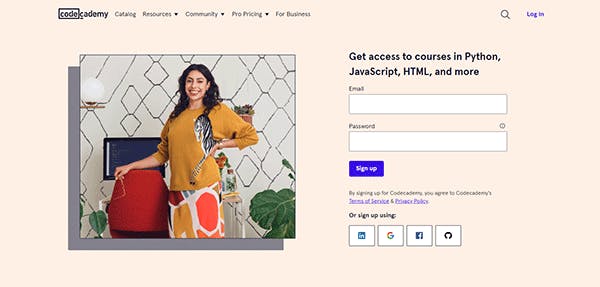 Similar to other online class platforms, users can also take advantage of some of the site's features, including the chats, forums, chapters, and events to meet up with and discuss coding and computer science-related topics with like-minded individuals on the platform. 
Cost: Free plan, Paid plans start at 5.99 USD per month

Key features: Coding related courses, chats, forums, chapters, events
20. CreativeLive
As an online course platform, CreativeLive provides learners with access to over 2000 courses related to creativity and self-improvement. Some of the topics you can choose from include photography, videography, drawing and illustration, graphic design, crafts, entrepreneurship, money, and finance. You can buy courses individually or try out their monthly subscription, which can give you access to thousands of classes and even additional features like course download, offline viewing, goal setting, and progress tracking.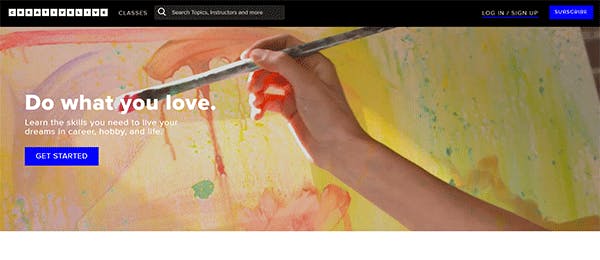 Cost: Subscription starts at 2.42 per month

Key features: 700+ instructors, 2000+ on-demand classes, 24/7 access to lessons, offline viewing, goal setting, and progress tracking
You may also be interested in:
Subscribe to our blog newsletter