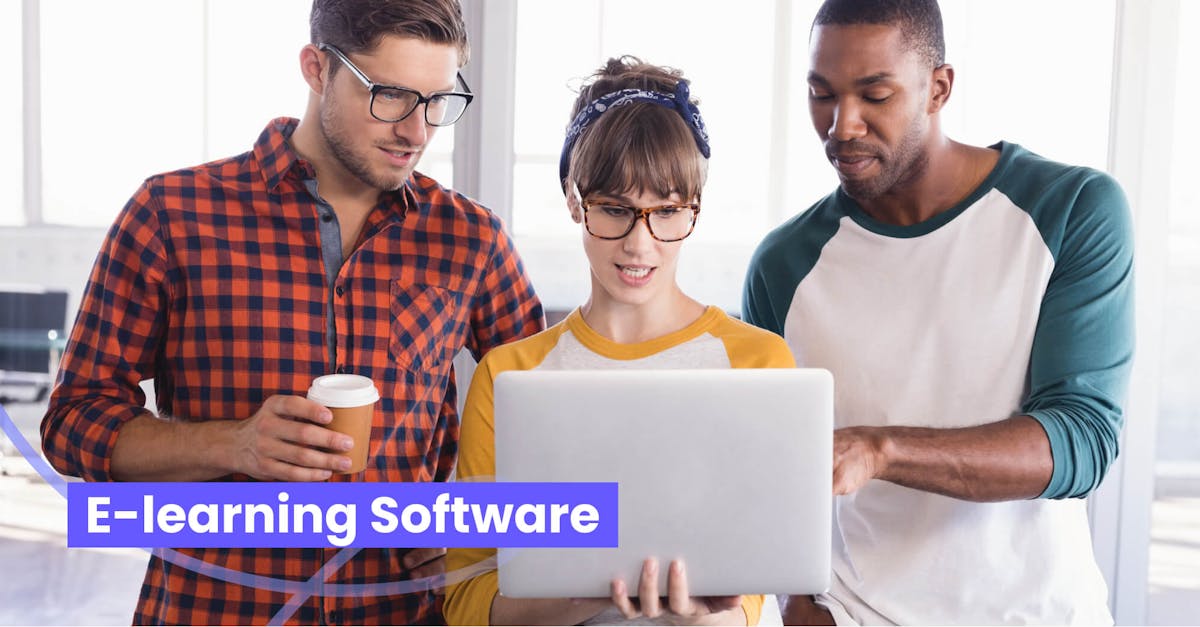 E Learning is a practical and time-efficient way of delivering training programs at a scale. Available for most devices, e Learning also gives employees a convenient way to access learning materials. But for training consultants, preparing effective and engaging e Learning content can be challenging and time-consuming without proper authoring tools or design skills. By using e Learning creator software, you can leverage features such as available templates, engagement elements, and multimedia content. As a result, you can easily develop relevant and timely e learning materials for your employees while reducing their learning time, yet still ensuring that your e Learning content is effective in increasing engagement and retention among your employees. 
To help you narrow down your options with the most relevant tools for your training needs, we've put together 10 e Learning creator software that will help you simplify and speed up your process in developing e Learning materials for any training objective.
1. EdApp
EdApp is a mobile-first microlearning platform that enables you to create, personalize, and deploy high-quality learning content through a user-friendly e Learning creator. It provides a library of 80+ fully interactive and immersive templates that are readily available for you. This allows you to easily create engaging microlearning courses which are proven to have an average of 80 percent completion rate. Its built-in AI translation tool even enables you to deploy courses in multiple languages at scale, in just a few clicks. With its intuitive authoring feature, creating and customizing courses only takes minutes or hours, instead of dreadful days or weeks!
If you don't want to start from scratch, you can simply import a course from EdApp's course library. Here, you'll find training programs like construction training courses, management training courses, safety training courses, online first aid courses, and so much more.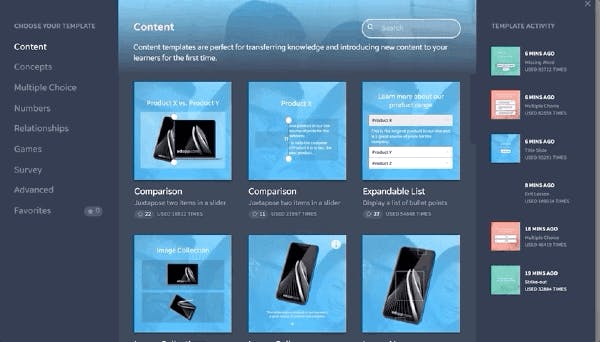 As a data-driven authoring tool, EdApp also provides insights on the most used templates by other authors, the most effective sequence of templates for maximum retention, and the best placements of multiple-choice questions within a lesson. Through these data, you'll have an in-depth view of how the structure of your courses impacts the average scores of your learners.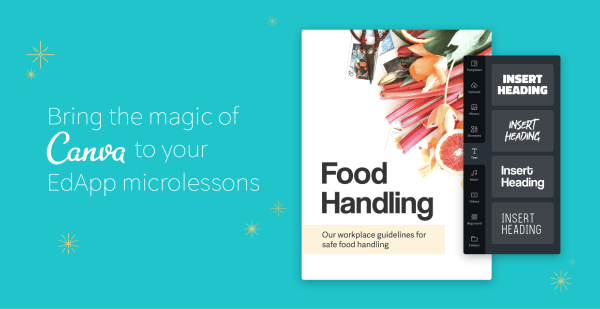 This e Learning creator software also integrates with Canva which is a designing platform that enables users to easily create any kind of visual content using a simple drag-and-drop tool. It provides free and paid stock photography, fonts, illustrations, and templates in just one platform, which helps users easily design visually engaging content – even with little to no knowledge of or experience in graphic design. With well-designed and visually informative lessons, your learners are able to have a better grasp and retention of your training content.
Highlights:
Cost: Free
2. Gyrus
Gyrus is a cloud-based learning management platform designed with AI-driven intuitive features helping you bring world-class training and development objectives for your employees. This LMS serves as an e Learning creator software and blended learning solution by allowing you to develop training materials delivered through various digital formats – such as e Learning videos, webinars, documents, and virtual classrooms – which provide support in traditional onboarding and training activities, as well as 24/7 accessibility across any device. Its smart learning features are optimized for building customized e Learning programs like healthcare training courses, leadership training courses, and hospitality training courses for various types of employees. This way, streamlining organizational compliance becomes easier for training managers.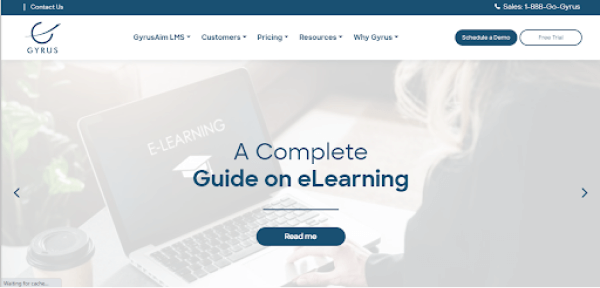 Highlights:
Various eLearning options, such as online, instructor-led, webinars, and file-based courses

Additional learning material for skills management, such as case studies, simulations, coaching sessions, and joint projects

Gamification

Real-time data visualization and reporting
Cost: Paid subscription starts at 00 USD (monthly) and 000 USD (annually)
3. Coassemble
As a remote training software, Coassemble can help you create and deploy interactive e Learning courses that fit your team's training needs. With its authoring tool, you can choose from a total of 35 content templates, customize lessons, and publish your course, all within a few clicks. There are also a number of preloaded quiz templates that you can use to incorporate skills assessments at the end of each course. If you're a first-time user on the platform, you won't have to worry about customer service availability since Coassemble's support team is available around the clock.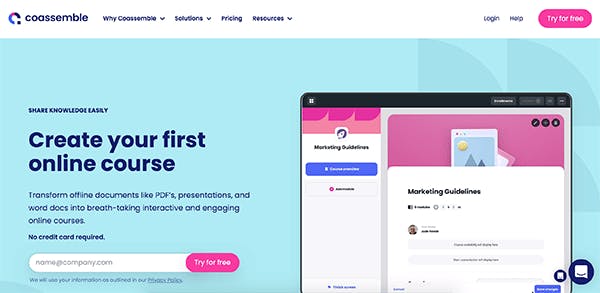 Highlights:
Cost: Paid subscription starts at 99 USD (monthly)
4. Mural
As a digital workspace and brainstorming tool, Mural allows team members to visually collaborate with one another. With its flexibility, teams can easily use the platform to share knowledge, plan projects, organize data, conduct workshops, outline content, and so much more. As an e Learning creator software, it allows project facilitators to create icebreakers and customize e Learning templates from the template library to enjoy a fun and interactive engagement activity with the team. While this is a great tool for remote collaboration, one disadvantage of this software is the difficulty in using its mobile version.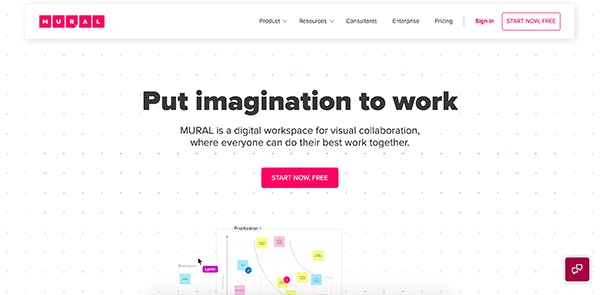 Highlights: 
Pre-built templates 

Visual collaboration

Remote collaboration
Cost: 2 USD per month for starter plan, 0 USD per month for the plus plan
5. isEazy
isEazy is another e Learning creator software equipped with a powerful and high-quality authoring tool. It allows simple, intuitive, and dynamic course designing even without any technical expertise. With its cloud training technology tools, you'll never lose your work and you'll have full control of your courses such as options to edit, delete, and move courses in real-time, even duplicate and reuse projects whenever applicable. You can also customize your course by adding interactive elements like quizzes, catalogs, and timelines. However, courses created with the free version are published with an isEazy watermark.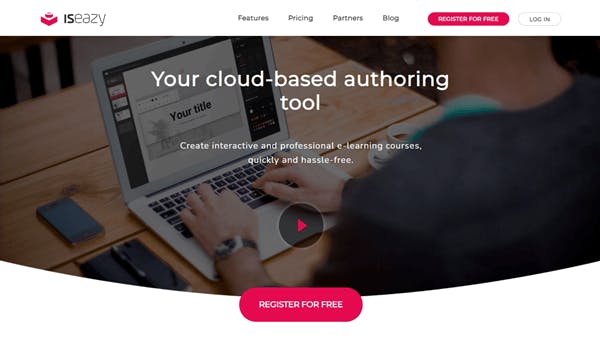 Highlights:
Powerful authoring tool

Cloud technology

Course management tool
Cost: Free
6. Accessplanit
Accessplanit is a training management software suitable for training providers and other L&D professionals that deliver hundreds or thousands of courses. This serves as an all-in-one learning platform that allows training providers to streamline and automate processes. With its e Learning creator, it also enables you to easily create high-quality training materials and provide exceptional learning experiences for employees or customers. With its course management feature, you can efficiently manage course and training events, may it be in-person learning sessions or e Learning, making it compatible with a blended learning strategy. As a platform designed to centralize all training operations, training providers are given flexible training solutions in planning courses which include face-to-face sessions, webinars, virtual learning, and short courses for in-house training, public sessions, and employee sessions.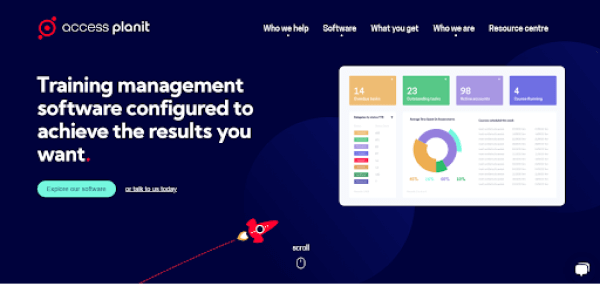 In addition, Accessplanit allows you to create courses such as healthcare training courses, business training courses, manufacturing training courses, and sales training courses that are designed to meet the specific needs of different professionals.
Highlights:
Course management for course and training events, such as face-to-face, web, eLearning, and blended learning 

Automation tools

Reports and analytics
Cost: Price upon quote request
7. VAIRKKO
VAIRKKO e-Learning Cloud is engineered to meet the demands of L&D leaders looking for an intelligent tool to manage their courses.  Perfect for businesses of all sizes, you can create and publish as many business training courses as you wish through its e Learning creator. This easy-to-use platform also enables you to automatically assign lessons, as well as monitor their completion and success rates through a streamlined process. Course lessons can be uploaded as PowerPoint, PDF, images, videos, and audio clips, and they can be taken from mobile devices, laptops, and desktop computers.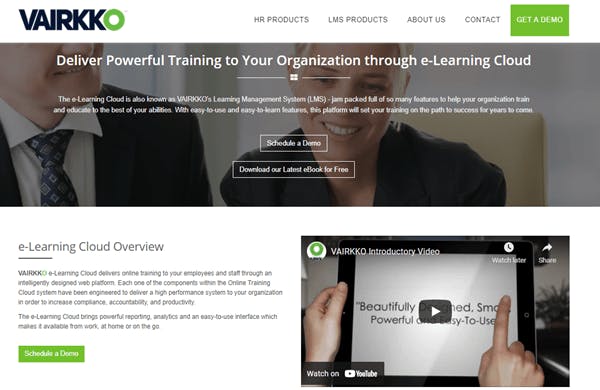 Highlights:
Intelligent e-learning cloud

Unlimited courses, smart assignments, robust reporting, and monitoring

Mobile- and desktop-friendly
Cost: Custom price available upon quote request
8. Raptivity
Raptivity is an e Learning creator software that you can use to design engaging and visually stimulating online learning experiences. The tool features a growing library of pre-made responsive interactions that include parallax displays, panning slides, and 360 interactions. Even with no design expertise, anyone can customize interactive quizzes, games, simulations, flashcards, and brainteasers through the tool's user-friendly interface. Whether you're a teacher or an instructional designer, you can maximize the tool's many capabilities to keep your learners engaged and motivated throughout their learning journey. But it is important to note that the tool has a few feature limitations and you might need to download additional tools to design a well-rounded eLearning course.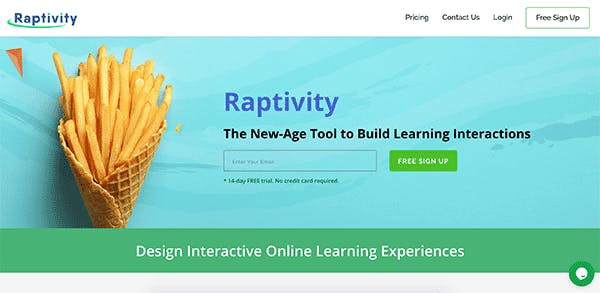 Highlights: 
Interactive displays

Quizzes

Games
Cost: 0 USD per user per month
9. Tovuti LMS
Generating, delivering, and managing course materials is quick and hassle-free with Tovuti's e Learning creator. There's no limit as to how many courses you can create. Additionally, you can use and reuse your own content. But if you don't have enough resources on hand, you can also purchase from an eLearning vendor or utilize the learning materials from Tovuti's very own content library. The courses can be assigned directly to learners, either individually or in bulk, saving you a significant amount of time when compared to doing everything manually. Feel free to turn on the rate and comment sections within courses to determine the success rate of your training program.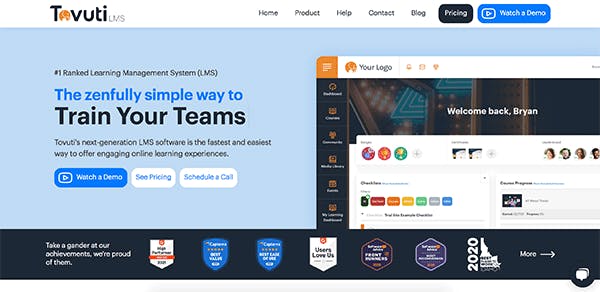 Highlights:
Cost: Custom price available upon quote request
10. Arlo
Arlo is an LMS specifically designed for training providers that focuses on delivering a learning journey to empower learners through self-paced learning, live online learning, and blended learning. This LMS provides a blended learning solution by extending training with digital learning incorporated on live and interactive webinars, eLearning modules, recorded videos, and assignments. Arlo is also a great option for businesses looking for managerial training programs. It also enables you to test employee knowledge through quizzes. These tasks are made easier and convenient through its e Learning creator. Its innovative training management system design streamlines processes and simplifies tasks, enabling training providers to save time while still effectively increasing course registrations.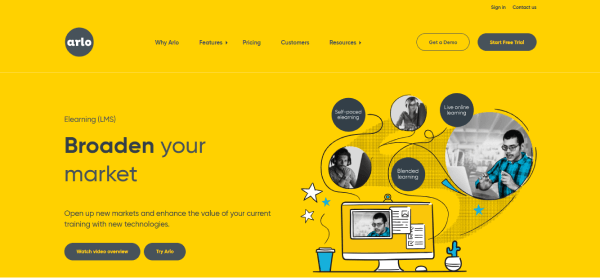 Highlights:
eLearning with self-paced modules, classroom sessions, discussions, assignments, and quizzes

Live online sessions such as web conferences and webinars

Course management
Cost: Custom price available upon quote request