Training has been an integral part of every company for onboarding new employees and for continuous learning as new information and developments come in almost every day. Since training employees is no small feat, a centralized system is beneficial to ensure that they get the necessary knowledge while having ease of access to the employee training plan template and their progress. Having a unified solution such as an intuitive training management tool to streamline your online training operation makes the process simple and efficient. Let's look into ten training management tools to learn what's best for your organization's needs.
1. EdApp
Packed with a lot of features, EdApp is the perfect training management tool for having a complete insight into your training. It's a free all-in-one elearning solution that helps you create, test, and roll out visually aesthetic, engaging, and scorm compliant microlearning courses which yield better comprehension and learner retention. It's made with mobile in mind so your learners can access and complete their lessons anywhere at their convenience.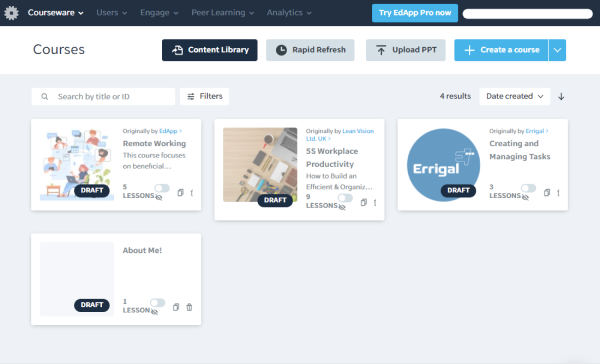 With EdApp, you'll get access to a growing course library, fully-customizable templates, gamification features, a no-coding needed authoring tool, and analytics for tracking progress and completion. You can also create user groups for your teams with different configurations and deploy training courses in an instant or through scheduling, which includes sending out notifications. It even includes Powerpoint conversion for your existing slides and a built-in AI translation tool so that global organizations can easily deploy courseware in multiple languages at scale.
Price: Free
Key features: Ready-to-deploy course library, intuitive authoring tool, user groups, analytics
2. Whale
Whale is another training management tool that focuses on process documentation and employee training. It comes with an easy-to-use editor and customization features, and a number of templates to create your training playbook, which can be automatically sent out to your teams. It makes use of a plug-and-play web extension to deliver training so it can be accessed on the apps they already use. To gain insight on employee performance, they have user skill profiles to determine employees who need additional training to reach their goals or get certain skills. However, to get all these features, you'll need to cough up $119 monthly which allows only 10 users. They have a 14-day trial for those who want to test the waters before fully jumping in.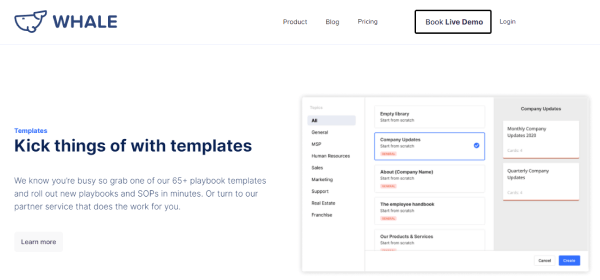 Price: US $119/month
Key features: Browser plugin, knowledge insights, custom integrations
3. Arlo
Arlo is a cloud-based training management tool that allows you to manage all your training resources in one place online. It includes a course management software, event management software and integrations to deliver training using different LMS platforms and other business intelligence solutions. It also comes with a dashboard where you can see real-time activity to make sure you're always up to speed with the information you need. Arlo also has a lead management feature allowing people to register their interest in a course or event where live conferences and webinars can be facilitated. Arlo's base price starts at $79 per month for the basic features and the price can go up to $185 to get all their premium features.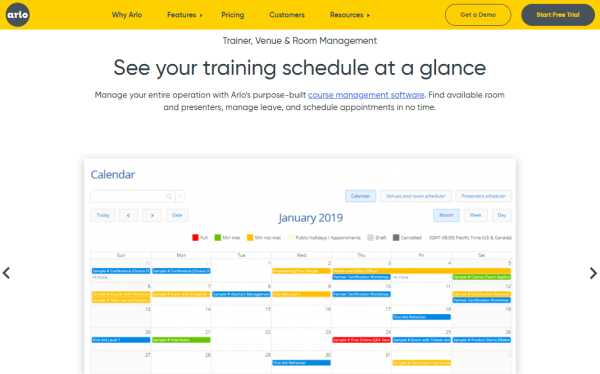 Price: US $79/month
Key features: Course management, event management, reporting and business intelligence
4. Administrate
Administrate is a training management tool that allows organizations to plan, organize, deliver, and scale training efforts to meet their business objectives. It includes features such as course templates, event management, integrations, and learner analytics. It has a unique feature called vILT Rapid Implementation which allows you to convert a face to face training program into a virtual instructor-led training session in as little as 5 business days. Their interface may come as intimidating at the beginning to first-time users and you'll have to do some tinkering to get the hang of things.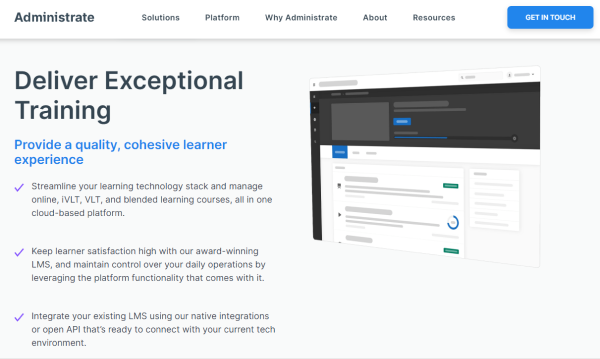 Price: Contact Administrate for pricing
Key features: vILT Rapid Implementation, integrations, customizable reporting engine
5. Tovuti
Another on the list of our training management tools is Tovuti, which includes a built-in course authoring tool, course management tool, and CMS wherein it allows lesson gating and course tracking. It also has a customizable learner portal which shows learners their achievements, such as certificates and badges. Tovuti utilizes microlearning and is mobile-friendly so training can be completed on smartphone devices. However, you'll need to pay extra to get access to more features such as, the ability to set up forums and communities and import SCORM files into your content library.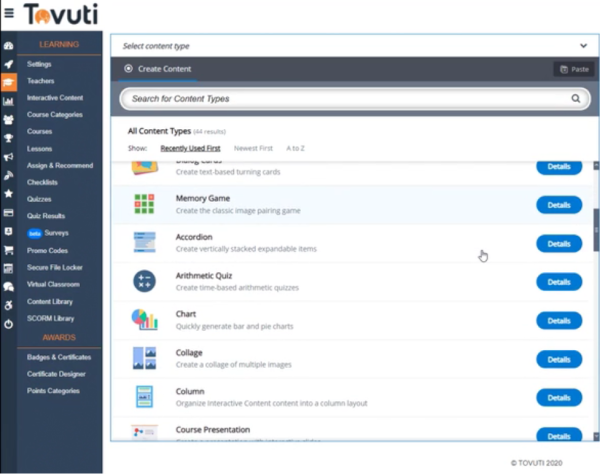 Price: Contact Tovuti for pricing
Key features: Learning Management System, reporting, user registrations
6. Coassemble
Coassemble is a training management tool that allows you to create engaging courses with their provided templates that can be stored in their library. You can check employee performance through checkpoints, quizzes, and assignments easily with their employee training tracker. To manage your teams, you can also assign user roles and permissions to deploy training to different departments. Additionally, you'll have access to granular reports which can be easily downloaded to assess and analyze the performance of your teams. While they have a free service, it only allows you to create one course and only includes 4 interactive templates. You'll need to pay for a subscription just to get the most basic features.
Price: $49/month
Key features: Content creation and storage, granular reports, user roles and permissions
7. Raven360
Raven360 is a training management tool and a sales learning platform. It helps ramp up your sales faster and increase customer retention by providing effective training for your teams. It's fully mobile and works with any browser or device making it highly accessible to your teams. Raven360 supports different blended-learning methods such as instructor-led training, virtual instructor-led training, and on-demand learning for a holistic experience. It also allows for the creation of Learner Paths so you can guide your employees to training content that's important and relevant to them. It also provides analytics to check on your sales team's performance. While it focuses on sales, it can also be used for any kind of employee training.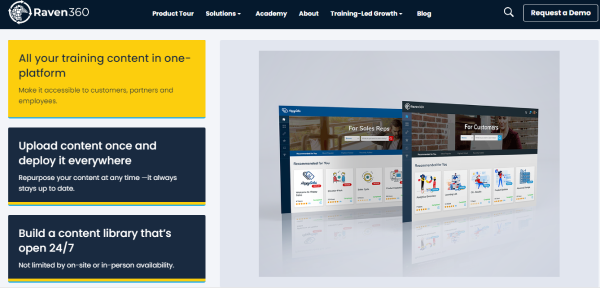 Price: Contact Raven360 for pricing
Key features: Flexible training methods, learning paths, integrations
8. GoToTraining
GoToTraining is a mobile-ready training management tool that helps trainers and other learning and development professionals create content and keep track of learner performance. Before starting your online training, you can gain an understanding of your audience through their custom registration where multiple fields can be added. To keep your learners engaged and drive collaboration, they have content sharing which supports different formats such as videos, Powerpoint slides and more. To check on knowledge retention, GoToTraining offers an online testing software with polls, in-session activities, and breakout sessions. It also includes detailed reporting on session attendance, test results and evaluations. You'll have to pay for a subscription to use this elearning software but you can try it for free for 7 days.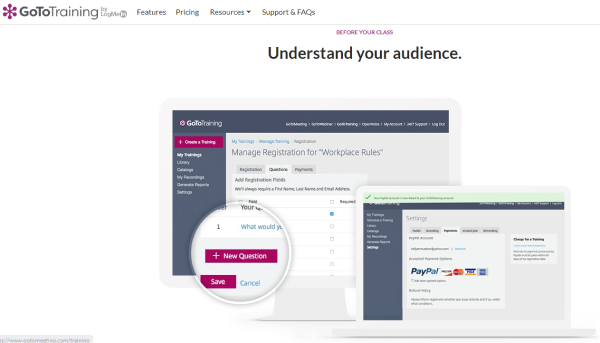 Price: US $109/month
Key features: Custom registration, reporting, mobile environment
9. FrontCore
FrontCore is a cloud-based training management tool that can help plan, implement, and follow up on your training operation. It's a feature-rich tool that includes customizable online registrations, a CMS to create and deploy your training content, and a dashboard that gives you real-time updates on key figures. FrontCore isn't free so you'll need a paid subscription to use their tool. However, they offer a generous 30-day free trial for those who want to find out more about their product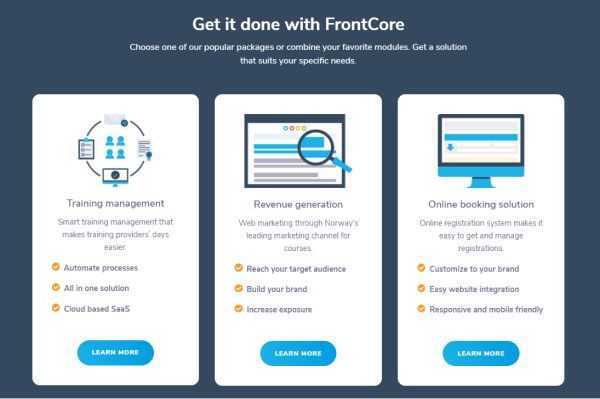 Price: £45/month
Key features: Online registrations, real-time dashboard, CMS
10. Trainual
Lastly, Trainual is another training management tool and SAAS platform that you can use for training, onboarding, and knowledge transfer. It allows you to create an account with your custom branding and provides free templates and playbooks to help guide you with your documentation. Accessing content has never been this easy through their free Google Chrome extension. To make your content engaging, you can embed videos and GIFs from over 700 available integrations. If you have existing content created elsewhere, they also have a content migration support feature to make the move to their platform easier. To get Trainual, you'll need to pay to access their basic features and shell out a bit more for their premium features.
Price: US $99/month
Key features: Integrations, browser extension, content migration