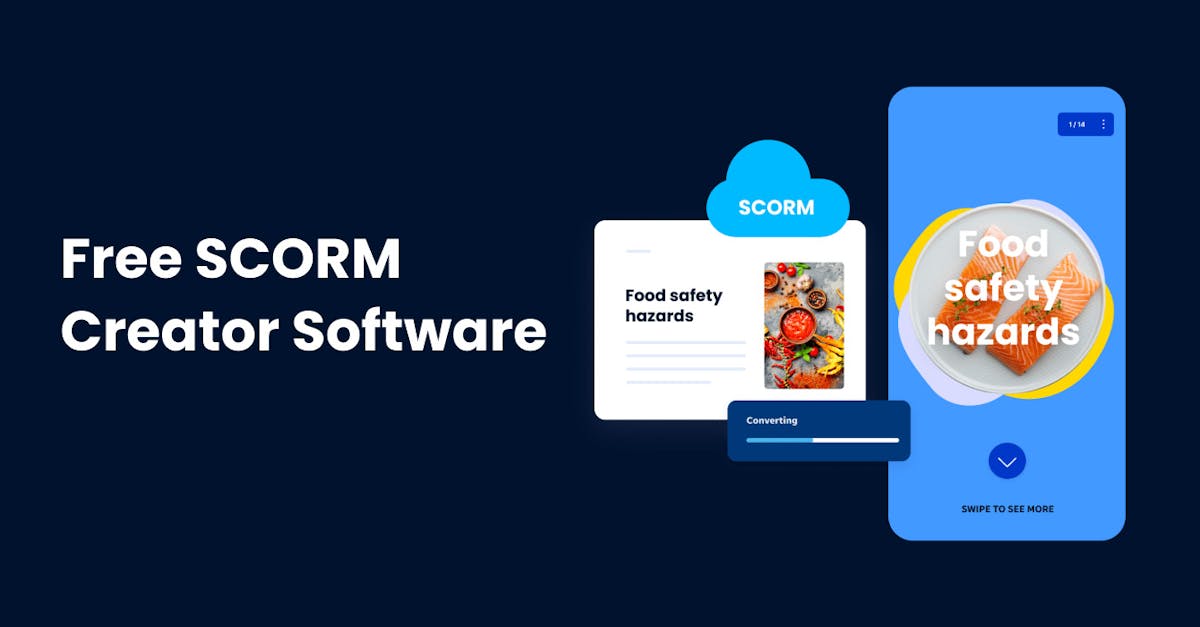 For years, SCORM creator software has continued to gain popularity from several L&D professionals, managers, and trainers due to its unique advantage of producing online courses that are compatible with multiple LMS platforms. It transforms an otherwise costly and time-consuming online training into something more efficient and effective, allowing corporations and businesses to save an incredible amount of time and money in improving their employees' performance. They are also easy to use and you no longer need to have coding or design expertise to produce highly interoperable and easily accessible training content. 
There are hundreds of different SCORM creator software on the market, each with its own share of features and benefits. To help you find the best tool that fits your training needs and objectives, we've done the research for you and selected the 10 best SCORM creator software to consider. Here are the tools we highly recommend: 
1. EdApp
EdApp shines as one of the best SCORM creator software on the market today. It's widely applauded for its powerful and highly intuitive SCORM-compliant authoring tool feature, allowing trainers like you to import any SCORM format content from different resources into EdApp LMS and rework them as needed. Likewise, you can also export beautifully-designed microlearning content from EdApp and use it on other SCORM LMS platforms.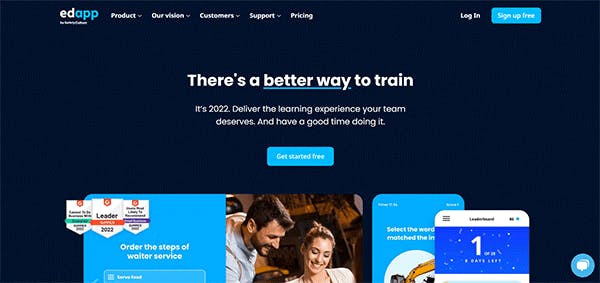 The authoring tool is also intuitive and data-driven, making the entire training creation process easier, faster, and more cost-effective. It attracts training managers and L&D professionals of all levels despite their course creation experience, especially those who need to build and deploy training content right away. Because – as EdApp promises – you will never start with a blank page; just choose a responsive template that fits perfectly with your learning needs, and add your content. You can even incorporate pictures, exercises, even games and quizzes within each course content (such as marketing courses for beginners) to make them more fun and exciting for your learners. You can even get an expert team to create the courses for you with their managed plan.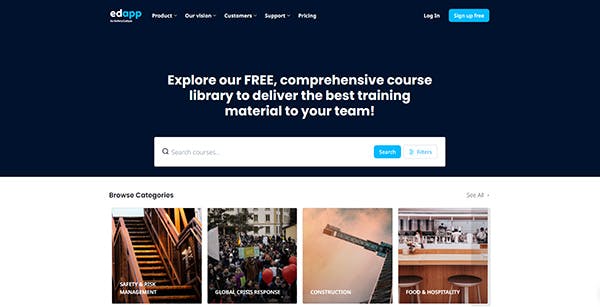 Currently, EdApp is seeing a spike in popularity among industry-leading brands such as Shell, Deloitte, Mars, Pandora, and Mizuno, leveraging this SCORM creator software to take their training initiatives to the next level. Pandora, who truly enjoyed EdApp's features, noted, "We enjoyed completion rates of over 80%, and 90% of learners prefer EdApp to the existing elearning system."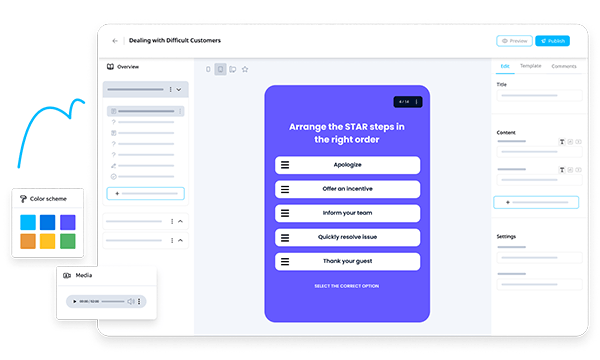 Cost: Free

Highlights: SCORM-compliant authoring tool, beautifully-designed microlearning content, responsive templates, games and quizzes
2. Fine Creator
Another SCORM creator software that you should consider checking and exploring is Fine Creator. This tool has gained an increased demand from training managers due to its SCORM-compliant course building tool, which – according to their clients – is so simple and easy to use. For one thing, it has a clean and user-friendly interface that anyone, regardless of their technical experience, can easily follow. Users can even add interactive elements like page timer, background audio, images and videos, and course assessments to achieve a higher engagement rate from learners.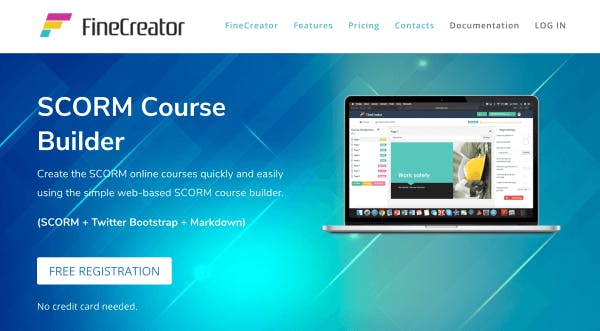 Fine Creator also uses Twitter Bootstrap web technology, which means that all SCORM-format courses will be displayed correctly on desktop computers, tablets, and mobile phones. This software isn't free, although their pricing plans are fairly affordable that they will only cost you at least two coffees per month. 
Cost: Starts at € 4.90/month

Highlights: SCORM-compliant course building tool, clean and user-friendly interface, interactive elements, Twitter Bootstrap web technology
3. Camtasia
Camtasia is your premium choice if you're looking for a tool that can help you produce training videos and recordings in SCORM format. While it lacks most of the key features of most traditional course authoring tools, you can rely on this software for creating SCORM-compliant multimedia training packages. Here, you can record anything on your computer screen, add a crisp video or audio straight from your webcam, include animations and captions, and so many more. They also offer a range of pre-built video templates and royalty-free assets like music and sound effects, so you don't have to spend too much time editing your video lessons.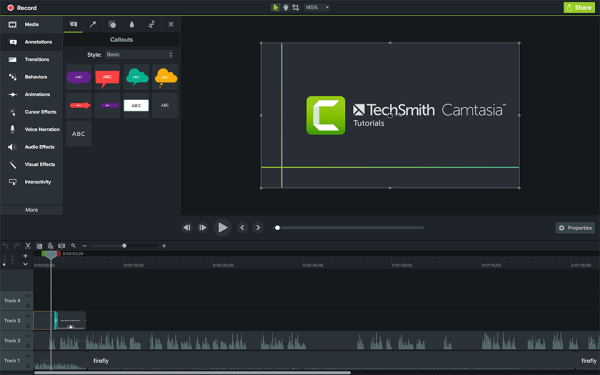 Cost: Starts at 99.99 USD per user

Highlights: SCORM-compliant video editing tool, screen recording tool, animations, pre-built video templates, royalty-free assets

4. Inquisiq
Inquisiq promises two things to its clients – more training and less stress. Sure enough, this training software makes it easier to deploy, manage, and track hundreds of rich-content courses. Plus, they can even automate course enrollment and report generation without demanding too much time or effort from its users.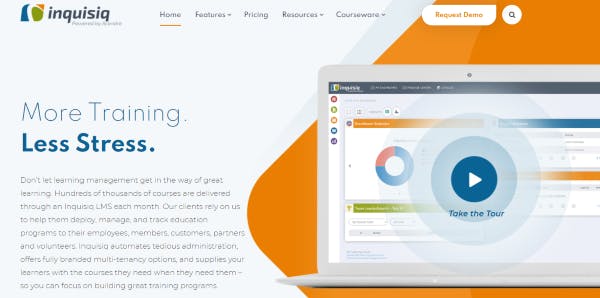 And the best part? Inquisiq allows easy interoperability with other content authoring tools, LMS platforms, and third-party course libraries, thanks to its SCORM software compatibility. In case you have non-SCORM training content in video, PPT, and PDF, there's no need to worry! This tool has you covered with its SCORM wrapper service. Essentially, they will adjust your files and convert them into SCORM format so that you can seamlessly export them to other elearning platforms.
Cost: Starts at 50 USD per month with a free trial available 

Highlights: Deploy, manage, and track courses, automated course enrollment and report generation, SCORM software compatibility, SCORM wrapper service
5. Prosperity by Ziiva
Prosperity by Ziiva is a robust learning management system where you can train your existing employees, onboard new team members, and track and document user interaction. As a fully SCORM conformant, you can import virtually any third-party training content from other sources and customize and rebrand them through this software. There are also several pre-made courses on this platform, like OSHA compliance and safety training, HR ethics and compliance basics, drug and alcohol awareness, and more. For a more personalized learning experience, you can even create unique portals where you can store, manage, and deploy learning data designed for a specific group of learners.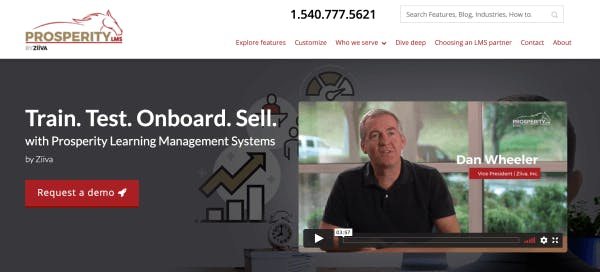 However, this tool comes at a cost when it comes to accessing its premium features and storing your SCORM courses. It also lacks engagement features like social learning and gamification, so your courses may end up looking dull and monotonous.
Cost: Pricing plans available upon request

Highlights: SCORM-compliant, course authoring, pre-made courses
6. CoreAchieve
You can always count on CoreAchieve for the creation, management, and delivery of SCORM training courses. When preparing your courses, you can either build SCORM compliant courses from scratch using their training development tool or import and edit your existing learning materials. This software also features an advanced and easy-to-use tool, which you can use to build quizzes, assessments, and surveys, and also check their results. This information can help you monitor your employees' learning progress and training effectiveness.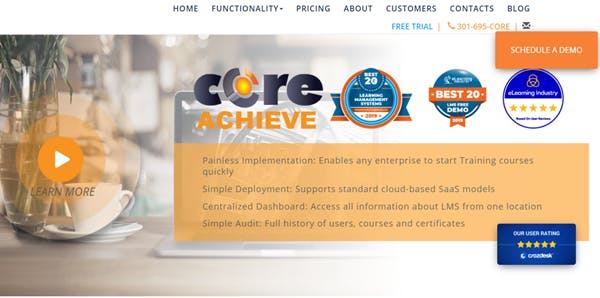 The only downside with this software is that it is limited in terms of how many users you have per month. It's not exactly practical if you need to train and manage hundreds to thousands of workers. 
Cost: Pricing plans available upon request

Highlights: Training development tool, import of SCORM-compliant courses, quizzes, assessments, and surveys
7. Itacit
If you're looking for an all-in-one software you can use for your skill and compliance training, then you don't have to look further than Itacit. This platform eliminates the hassles and costly expense of in-person training, allowing trainers like you to easily build SCORM-compliant online training in just a few easy steps. Just drag and drop your SCORM content, add text, links, or video content, format the design, and hit publish. You can even create a personalized learning path for specific user groups and then automatically enroll them in the training course that they need the most.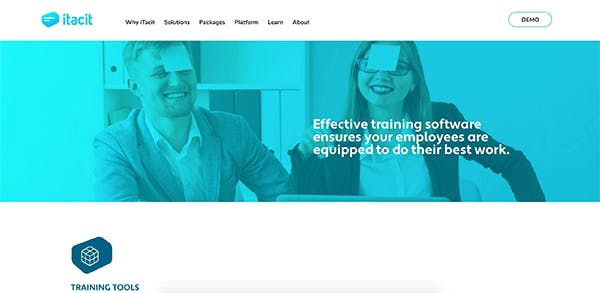 Unfortunately, this platform has no content library. You can only import courses from a third-party source or start from scratch, meaning, you might have to spend extra hours building your training program. 
Cost: Pricing plans available upon request

Highlights: All-in-one software, course builder, SCORM-compliance, unique learning paths for specific user groups
8. Bridge
Bridge is a SCORM creator software that focuses on upskilling employees through an individualized learning experience. Apart from being able to upload and edit SCORM content, you can also create your own courses, design onboarding programs, or deliver compliance training content, thanks to its native authoring tool. You can also incorporate social learning and peer engagement into your team's training through Bridge's video role-playing feature. In addition, the analytics dashboards give you insight into your employees' performance data into PDF files, allowing you to come up with strategies to address possible learning gaps and evaluate current knowledge levels.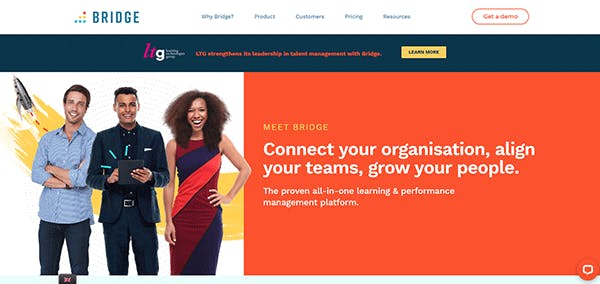 Cost: to 2 USD per month

Highlights: Learning paths, native authoring tool, video role-playing, analytics and insights
9. Evolve
Designing and managing your SCORM compliant training courses is also quick and easy with Evolve. Some of the popular SCORM courses that you can access through this platform include corporate compliance courses, healthcare compliance, OSHA safety training, and HIPAA privacy and security. Because of the tool's user-friendly graphical interface, both trainers and learners can easily navigate through the platform and access features like learner dashboards, course assignments, and reporting tools. Its advanced email features also allow trainers to automatically send emails to learners regarding course enrollment, training reminders, course status, and completion.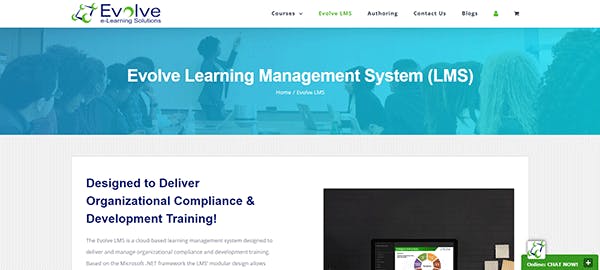 Cost: Pricing upon request

Highlights: SCORM courses, user-friendly graphical interface, advanced email features
10. BrainCert
BrainCert is one last more software in this list, which incorporates good SCORM functionality with a modern user interface. Here, you'll discover a range of powerful features including a virtual classroom, course creation wizard, and custom theme design, all geared at helping you deliver courses, perform assessments, and conduct live online classes without much fuss. It has even integrated social learning with e-commerce by allowing instructors to sell their online courses, tests, and live classes in the platform's global marketplace.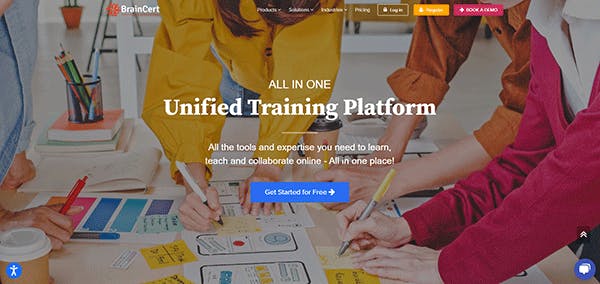 Braincert has a free version, although you may also opt for their paid plans if you want to maximize their tools and features. 
Cost: Free plan; Paid plans start at 9 USD per month

Highlights: Good SCORM functionality, modern user interface, virtual classroom, course creation wizard, and custom theme design, e-commerce
11. Visme
If you are looking for a platform to assist you in producing online courses then Visme is your easy-to-use content creation and collaboration platform.

With Visme, you can create tutorials, explainer videos, live training, orientation videos, presentations, or handbooks. This tool helps you stay organized by giving you more control over your content and projects.
Cost: Pricing plans available upon request

Highlights: Customizable Templates, Download to SCORM or HTML5 for Learning Management System, interactive pop-ups, hover effects, and animated icons.
You may also be interested in: