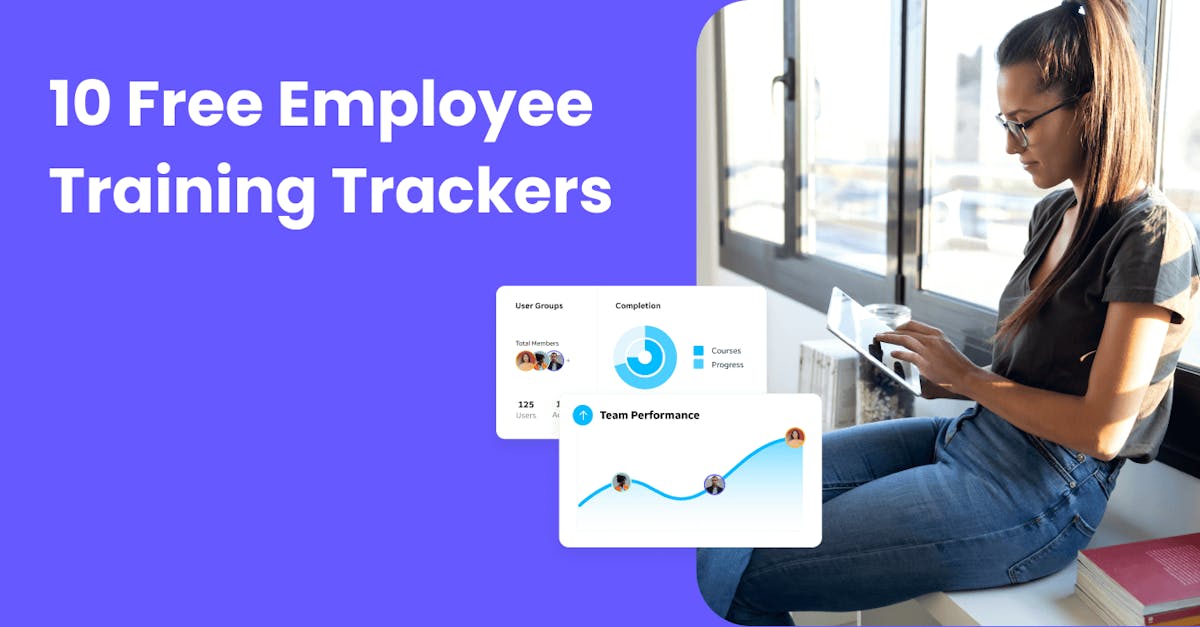 So you've already decided to invest in the best training courses to upskill your employees. But have you figured out how to keep track of your training progress and hit your team's training goals? 
In this article, we've put together some of the best-performing employee training trackers for you to consider for your next training program. 
1. EdApp
EdApp is by far the best LMS solution that can be used for creating online training courses, managing editable microlearning courses, and monitoring training engagement and performance. 
Through its Course Progress analytics tool, it's easy to determine how many have unlocked and completed your training. You can filter the results by Course Name or by User Group, and check the success rate of your microlessons based on your team's behavioral habits when taking the lessons.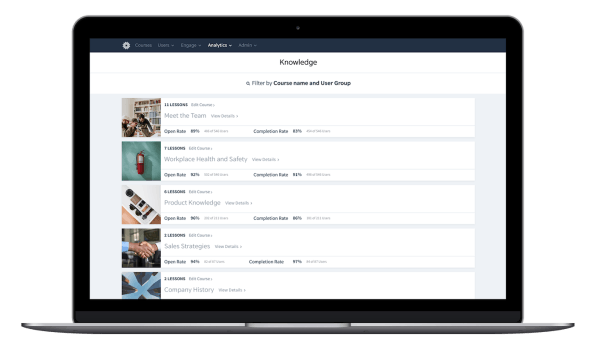 EdApp also features a Course Completion by User Group page where you can compare course completion rates between teams, organized by job titles or geographic location. Alternatively, you can go to the Course Completion by User page should you need to check each user's progress and completion date for each online training course.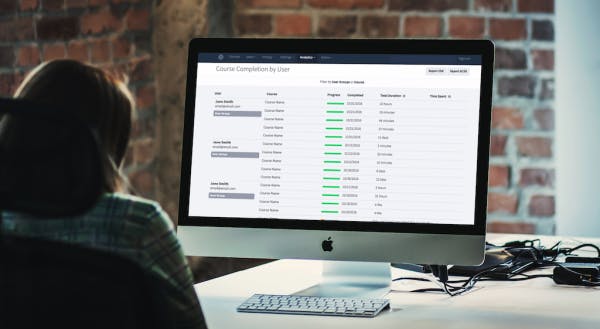 Knowing your corporate training program's engagement rate will help determine they're learning or not. EdApp's App Usage can also monitor other activities such as user behaviors and app interactions. There's also an Activity Feed page that shows the activities of each user when logging in like the courses visited and unlocked, and how long they've spent taking particular lessons. This type of data is crucial for a blended-learning environment since it gives you more insight into your team's learning journey. 
Maybe you're interested in gamifying your training materials and increase the employee engagement rate? Activate a Star Bar for your users and check their training performance on the Stars page. On top of that, the Leaderboard feature helps you to identify the weakest performers and what you can do to help them.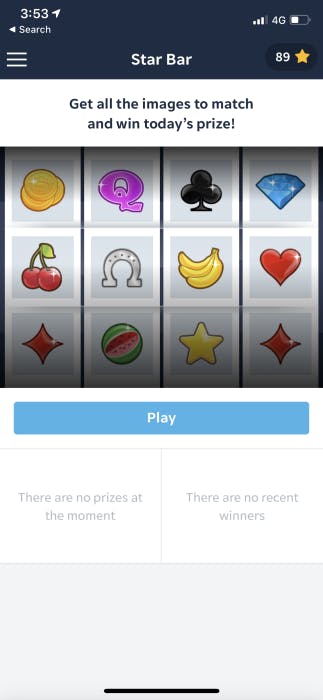 Key features: Track course progress and completion in real-time, compare course completion per team, identify engagement rate, activate Star Bar and Leaderboard for gamified training materials. 

Price: Free
Sign Up Free and Train your teams using the best employee training tracker
No credit card required.
2. AccuTraining by Engineerica
Does your company still believe in the power of in-person training? Then you may want to upgrade your tracking methods with AccuTraining.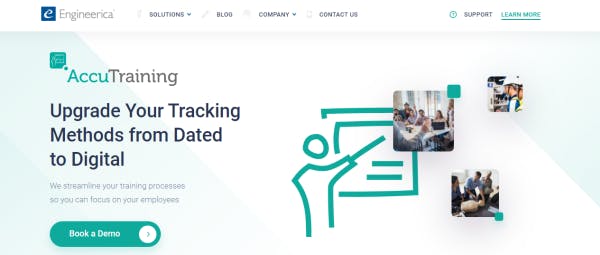 AccuTraining is a brainchild of Engineerica Systems, known for its attendance tracking systems designed for the academic market. Expanding their services to the corporate world, they have formed this training administration tool that can assist leaders in managing their employee training plan template, and monitoring training session registrations. It can be used to digitally track training progress and identify employees who have attended the workshops without having to go through your long, tedious paper checklist. 
Key features: Customized and trackable training plans, seamless sign-in and out process, import and export records to and from other systems, name badge and certificate distribution

Price: ,990 per year 
3. Training Tracker
Slowly gaining popularity among businesses and L&D leaders, Training Tracker can keep all training records in one place, preventing possible lapses and compliance headaches. Forget about clunky spreadsheets. In just a few clicks, you can assign training tasks to one or more employees and check their progress. Automated emails can be activated to alert trainees of any upcoming training, or even just to nudge them off their unfinished tasks.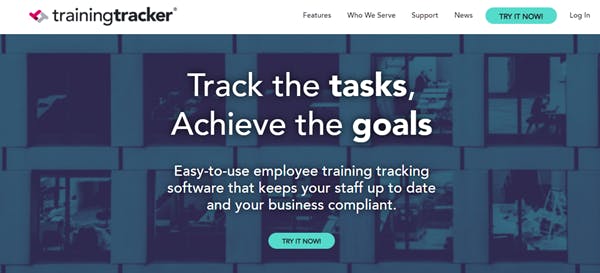 Key features: Task grouping and automated training reports, centralized data management, email reminders.

Price: 9.00 – 9.00 per month
4. Quickbase
Quickbase serves as your central secure location for easily accessing and managing training data, as well as storing employee information. It highlights a customizable dashboard where you can add new classes, specify course requirements, as well as monitor each progress to ensure that your team is on track with their training schedule. Alerts and reminders can be arranged to notify your team of any incomplete training modules or impending deadlines, as well as to keep them up to date on upcoming training classes.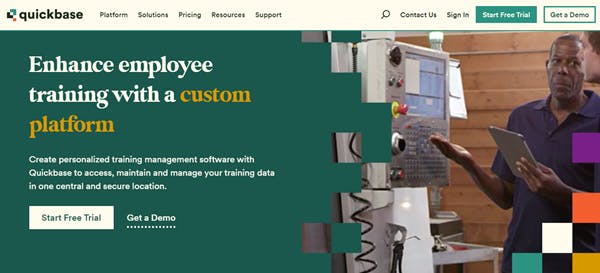 Admins are also allowed to provide granular permissions to the employees, team leaders, and assigned instructors, and decide what record they can view, access, and edit.
Key features: Centralized and secure location to store employee and training data, easily customizable dashboards, granular permissions for users

Price: Prices available upon request
5. Qualtrics EXM
Qualtrics EXM's Training Survey Software can launch training, gather assessment surveys from employees' experience, and right away deliver tangible results to the people who need them the most. This way, the company will have a sound understanding of how the training programs are influencing the team performance and the organization's most important KPI. Qualtrics can also produce intelligent analysis – statistical, predictive improvements, and test analysis – from data like open text comments and interactions.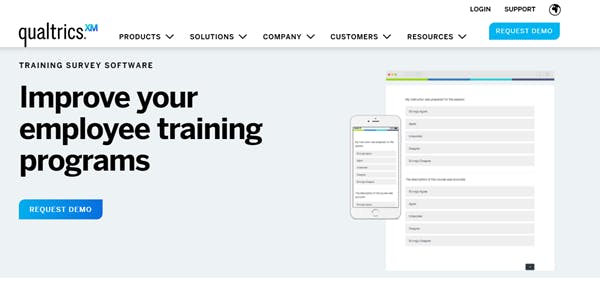 Key features: Real-time training assessment insights, automated feedback, and reporting, training improvement analysis from onboarding to employee exit, intelligent predictive analysis. 

Price: Prices available upon request
6. Conductor
Conductor makes it easier to to train, create and organize curricula, schedule and assign courses, and track the entire cycle of your training programs. It can also keep track of employee records such as licenses, certifications, and qualifications to ensure that their expertise and knowledge are in line with industry standards. No team is too big or too small – this training tracking software is designed to accommodate the needs of small to large businesses and organizations, including municipalities and hospitals.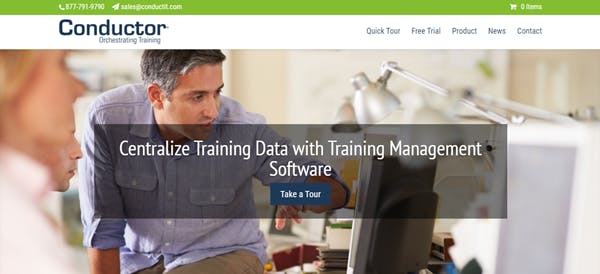 Key features: Create and schedule courses, track training, licensures, certifications, and qualifications, record test scores, and more reporting options.

Price: ,995 – ,995
7. VAIRKKO e-Learning Cloud
Bringing effective training results to organizations, VAIRKKO has been intelligently designed with easy-to-use features that can help guarantee the quality and effectiveness of learning training programs. Here, you can create learning courses with no limits, seamlessly distribute them to your workforce, and check the training progress with ease. It can help identify who has already completed and who has yet to unlock their courses, as well as how long it took them to complete all of the required lessons. You can also evaluate your staff by creating multiple choice quizzes or gamified training materials with custom badges and points.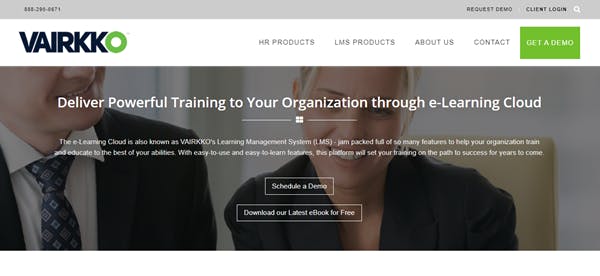 Key features: Unlimited courses and tests, robust reporting, smart assignments, gamification and badging, custom certification

Price: Prices available upon request
8. Employee Training Manager
Tracking the complete training history of your team, especially for big organizations, is no easy task. Your ultimate lifesaver? Employee Training Manager, an employee training tracker that records and stores training data in one central database. As a market leader in training records software, it hosts a range of powerful features that can better evaluate workplace competency and prioritize training activities. This software also lends a helping hand in ensuring that your workforce meets the compliance training requirements set by local to international regulatory agencies.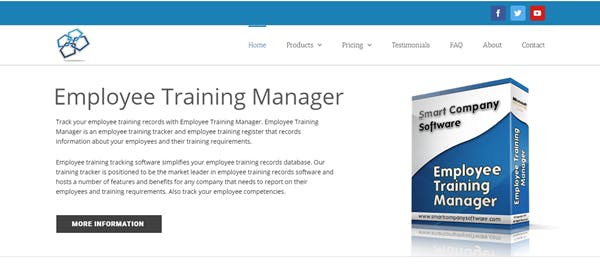 Key features: Extensive reporting system, powerful search engine, beautiful and user-friendly interface, centralized employee data

Price: 99 – 99
9. Easy Training Tracker
Easy Training Tracker offers a convenient and practical way to automate and simplify your training tracking and reduce the time that you'll likely spend managing your training program. There's no need to spend hours interrupting your employees to check their training progress or bore yourself with spreadsheet tracking. Thanks to Easy Training Tracker, you can now digitally monitor the attendance of all the training classes, run post-assessments, and also notify new employees about classes that must be taken, have expired, or are just about to expire. This tool is especially useful for those who require swift compliance for programs like CPR training courses, crisis management training courses, emergency response training courses, and the like.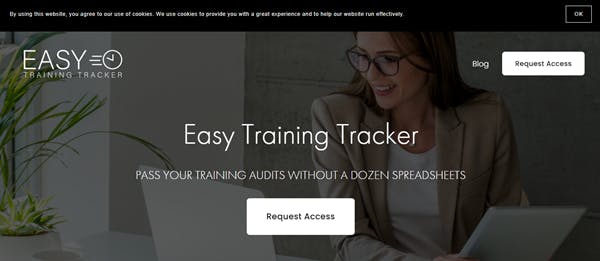 Key features: Cloud-based training tracking, uniquely designed training format types, laser-focused reporting, compliance alert system

Price: Prices available upon request
10. SharePoint Employee Training Management
With Sharepoint, anyone from training and development can manage employee training programs like a pro. From creating your courses and organizing events to gathering employee feedback, you'll discover a range of helpful templates that can make administrative tasks a breeze. It also serves as a friendly platform where you can customize training events and keep track of the dates, including course deadlines. After completing training courses, the expertise and skill level of the learner will be updated in the database, making it easier for leaders and administrators to find the most qualified person for a specific task.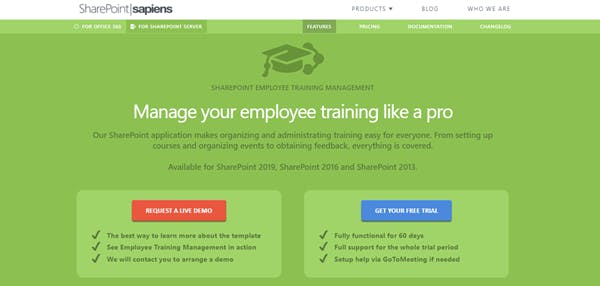 Key features: Training development and monitoring, feedback collection and analysis, accessible training history database

Pricing: ,799 – ,599 
Conclusion
Employee training tracker is an invaluable tool that will help you ensure the consistency, effectiveness, and success of your training program. Here, we've explored some of the best employee training trackers on the market – like EdApp, AccuTraining, Training Tracker, and Quickbase. While they all serve as a solution for monitoring your training initiatives, each tool is designed differently with its own features and pricing plans. Hopefully, this article will help you find an employee training tracker that will best fit your specific needs. 
You may also be interested in:
10 Strategies for Improving Employees Performance
How to use your LMS for onboarding training