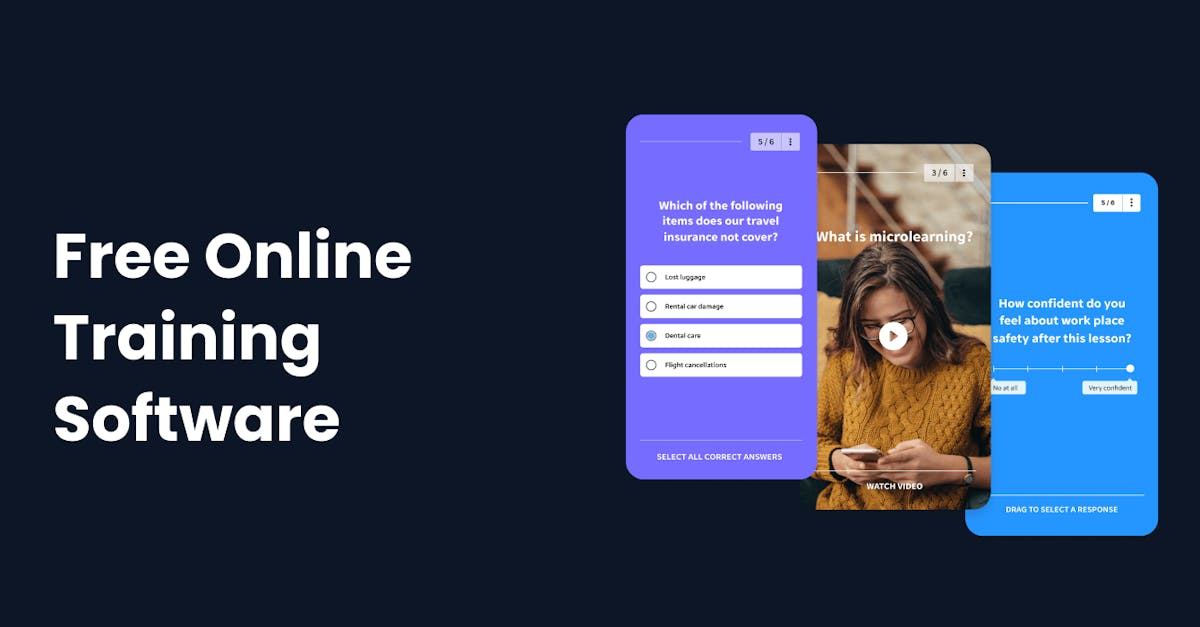 Since you're, we're going to assume you already know what micro/eLearning is, and you now want to know the best eLearning options out there.  We know it's essential for you to get the necessary information before making a training platform selection, so we have prepared a list of ten of the best free online training software. We believe EdApp is the cream of the crop, but let's review the other learning management systems we have on the list so you can understand why.
1. EdApp
EdApp is the industry standard in cloud-based eLearning. This online training software will provide you with complete control over the learning environment of your employees with prerequisites, scoring, spaced repetition, and micro-credentials. EdApp focuses on microlearning, which is the breaking down of information into small, digestible bites. Not only is this method easier for learners to absorb and complete as each microlesson only takes 5-7 minutes, but it's also more effective, proving to cement concepts into your teams' long-term memory.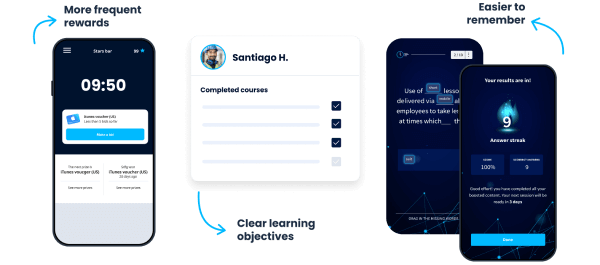 EdApp is also mobile-first so that learners can easily access courses whenever they like from the palm of their hands. Mobile learning with EdApp means that deskless workers have the freedom to complete online course content while they're on the go. The leading platform also hosts a plethora of built-in features to boost learning results like gamification and real rewards to incentivize learners.
You will also have access to editable content from its world-class library free of charge. This SCORM library is full of hundreds of ready-made courses ready for instructional designers to edit, brand, and deploy to your teams in record time. It includes courses on topics such as compliance training and many more. A quick and seamless rollout is possible when you can have access to a team of expert instructional designers who are ready to create beautiful courses for you. Yes, this multi-award-winning LMS software that is used by market leaders across the globe is an entirely free training software.
Join EdApp for free and deliver training with the top free online training software.
2. Podia
Podia allows you to offer eLearning courses, but they approach it from a different angle. Basically, this online training software enables users to pay for web hosting services, which they can use to provide digital downloads such as e-books, videos, and others to their clients.
Podia's learning platform helps with email marketing and real-time messaging services. Users of Podia can host unlimited files that can be sent to their customers as part of the eLearning process.
3. Skillshare
Skillshare is another online training software that users can sign up to take or teach classes on various topics. Unfortunately, skillshare is not free. Skillshare is good for individuals who want to learn new skills but may not be the best platform for companies looking for a computer-based training software.
Skillshare is suitable for teachers trying to find a platform from which they can share their skills and knowledge while earning and growing their online following. Skillshare classes are usually 30 to 40 minutes in length and are pre-recorded by professionals such as yourself.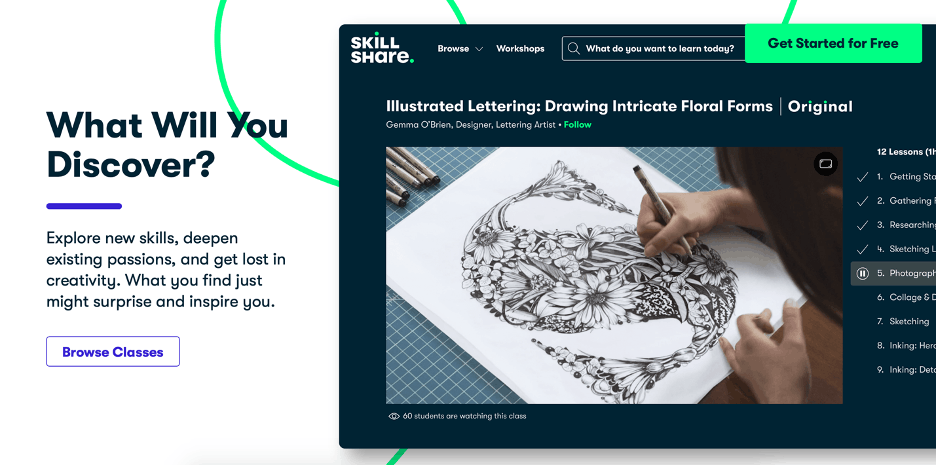 4. Ruzuku
This online training software caters to creators like yourself who want to connect in an inspiring way with their audience. With the student's user interface already in place, you would only need to focus on creating your content.
Speaking of creation, Ruzuku's courses can be customized to fit your brand even without technical knowledge. This ease of access and maneuverability will also extend to your students as Ruzuku made the platform completely user-friendly. Unlike some learning management software out there, Ruzuku does not take a percentage of your earnings after your courses are sold.
5. Teachable
Teachable is another online training software that requires a sign-up fee. With teachable, professional creators can build businesses from easy-to-use features offered on the teachable dashboard.
Teachable offers custom domains that content creators can use to link their existing websites. It also facilitates the creation and distribution of multimedia content, still, their website is better suited for individual learning and development and may not necessarily be the best option for corporations looking to train their teams.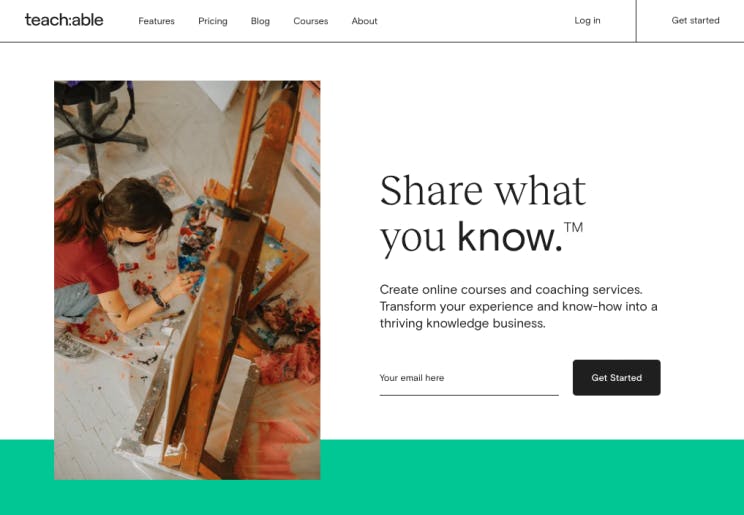 6. Mlevel
Mlevel is a data-driven platform that uses information that it gathers to combine knowledge transfer, knowledge reinforcement, and knowledge assessment into its eLearning solution.
Mlevel promotes sharing experience, intelligence, and foresight while using information-based strategies to bridge the gaps between employee performance and training. MLevel is a reasonably good employee training tool for businesses, but unfortunately, it isn't free.
7. Talentcards
Talentcards is a mobile-focused training software for small business that tries to provide practical training solutions. Users that utilize Talentcards can see tangible results, such as increased student engagement, lower training costs, and higher completion rates.
The mobile aspect of Talentcards allows users to provide training materials to students anywhere they are.
8. Thinkific
Thinkific is a training management system that allows educators to create courses easily with videos, quizzes, and other learning content by merely using their drag-and-drop builder. Thinkific courses cater to both small and large audiences, whether for self-paced learning or instructor-led training. You can also set prices, automate content, and schedule lessons for your corporate training programs.
It is a good platform that can automate onboarding, gamification, and messaging. With Thinkific, it's more about building your business rather than achieving an amazing training experience so some of the platform's features are lacking in this sense.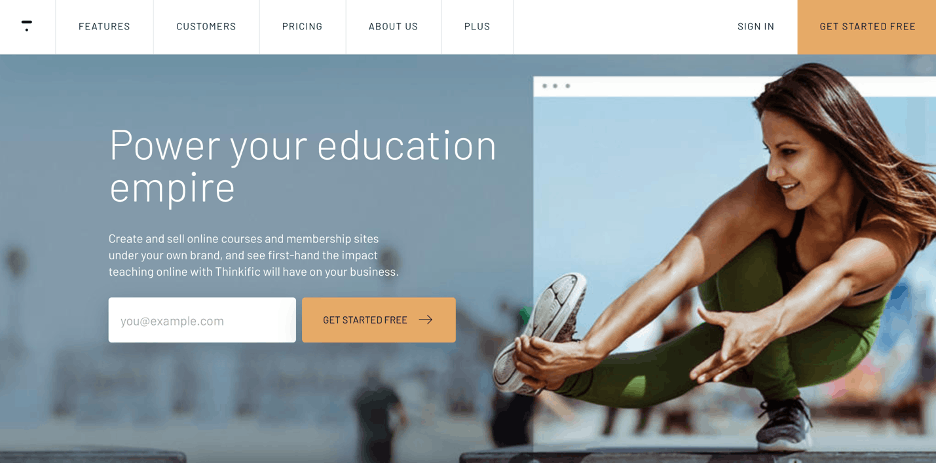 9. Learnworlds
Learnworlds is an eLearning platform that is used to create, promote, and sell online courses. Unfortunately, Learnworlds is not free. This platform is one that promotes learner interaction through interactive videos and e-books, note-taking, certificates, and more.
Learnworlds members can create various courses ranging from free to paid and easily create landing pages with an intuitive drag-and-drop block-based builder. Learnworlds provides marketing tools that can be used to promote your eLearning business.
10. Kajabi
Kajabi is a paid interactive training software that caters to educators and is not necessarily the best fit for companies that want to train their employees. It provides a simple to use web space for coaches to sell their courses with no need for coding knowledge. Kajabi is useful for people who want to promote products and services through eLearning content.
Kajabi users have the ability to view reports, track customer progress, and customer engagement with their businesses. This platform also has customizable subscriber emails with video, automation, and countdown timer options.
11. FreeOnlineSurvey
FreeOnlineSurvey is your go-to free online training software should you wish to assess your learners and monitor their learning progress. There's no limit to this platform – you can create as many quizzes as you like and customize them using their available templates, test samples, and test formats. You may also use it to poll your employees and get feedback on the training they've received. The result will help you identify whether or not your training programs are effective and apply changes and improvements as needed. All surveys and questionnaires have a responsive design, allowing your team to take their training anytime and anywhere using their mobile devices. 
12. Next Thought
Next Thought is also a good online training software that can help accelerate and improve your training initiatives, from onboarding to upskilling and reskilling. Through its training module creator tools, you have the power to create your training courses and customize them so that they match your branding. If you're feeling less confident with your training, their team of instructional designers can lend a hand and help you structure your courses using their proven, science-based techniques. As for monitoring and tracking, this platform is also proud to offer its meaningful analytics suite, providing you with relevant data and actionable insights to help improve your training. Their tools can help you check your training participation rate, as well as your team's learning habits and engagement with your programs. 
13. IsEazy
IsEazy has gained popularity among the L&D industry for its free course creation tools, engineered to help trainers and employers create interactive and professional elearning courses without spending a fortune. Thanks to its well-designed slide templates and course layouts, you can design your training materials with ease and get them running in no time. This free online training software also allows you to personalize your course images and even add interactive elements like quizzes, catalogs, and timelines, driving higher engagement from your learners. But do take note that the free version publishes courses with an isEazy watermark. You can, however, sign up for one of their monthly subscriptions to create courses that only contain your logo and branding. 
14. Atutor
Atutor is also on this list because of its Open Source Web-based Learning Management System (LMS) that trainers and educators can use for free. This online training software is notable for its robust content editor, which can be used to create HTML or plain text material. It can be imported from a local editor, although you can also create and edit it directly on the platform. Users with no technical expertise can also benefit from their JavaScript-based visual editor, allowing you to format your training materials without any knowledge of HTML. Atutor can also provide individual usage statistics to assess the performance of your training materials, as well as identify knowledge gaps and student learning preferences.
15. AdaptiveU
AdaptiveU is known for its user-friendly course creation tool used to design responsive courses even without advanced tech skills. All you need to do is drag and drop your lesson's content, edit and customize as needed, and hit publish. You can even attach images and videos for higher engagement and include quizzes to improve your learners' knowledge retention. Your team can also collaborate and share relevant learning content or even track each other's course progress. This platform offers a free plan, although you're only limited to 1 GB of storage space and you can only invite up to ten active learners.