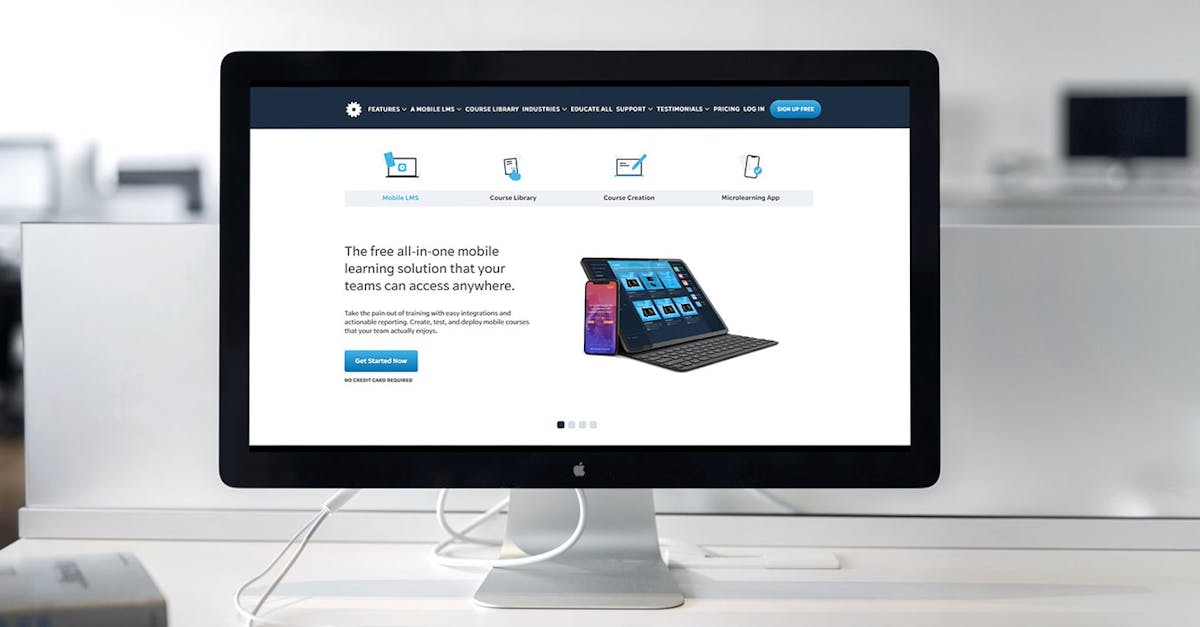 From healthcare and retail service to construction and manufacturing, robust SCORM software is a vital component of employee training for many industries. It allows training managers, trainers, and other L&D professionals to create, edit, and distribute their courses seamlessly across multiple learning management systems without worrying about interoperability, reusability, and affordability. With SCORM LMS like desktop or cloud-based authoring tools, they can even transform existing training documents like DOC files, PowerPoint presentations, or PDFs into SCORM compatible files, which can easily be stored and used for future employee training. 
Currently, there are hundreds of SCORM software available on the market but it's not always easy to sift through all the tools and find one that fits your training needs. To help you narrow down your options, we've created a comprehensive list of SCORM software that you can use to design highly interoperable and accessible training courses. Keep scrolling to learn more. 
1. EdApp
EdApp is a multi-award-winning SCORM software known for its SCORM-compliant authoring tool feature. It allows you to import, edit, and deploy courses from other LMSs or export them into new elearning platforms. But what makes EdApp stand out from other software is that you can take existing SCORM format courses and transform them into highly effective microlearning content. Using a simple drag and drop template, you can put together bite-sized lessons in a matter of minutes or hours and deliver them directly to your employees' mobile devices. Through the use of well-designed interactive elements and gamification features, you can also increase your team's engagement and completion rates.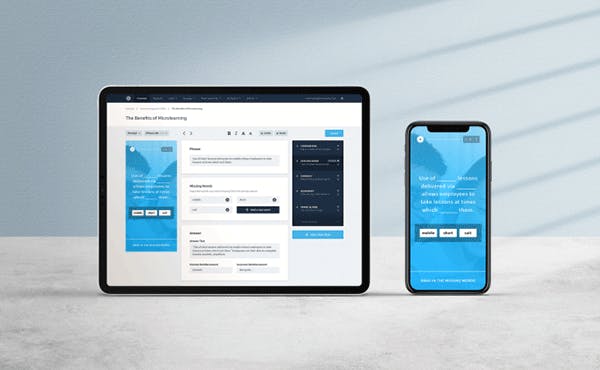 In addition, EdApp upgrades your employees' overall learning experience through a variety of built-in tools like; forums and discussions, which encourage both peer learning and social learning; an editable course library, filled with ready-to-use SCORM cloud testing courses that you can edit or deploy in just a few clicks; and an online quiz maker called Rapid Refresh that allows you reinforce learning concepts and gauge your employees' overall performance.
This SCORM creator software also offers other unique features like the cloud-based translation tool, custom push notifications, real rewards, spaced repetition, and an analytics dashboard, all designed to help you create the best SCORM-compatible training system for your employees. More importantly, with EdApp's AI Create feature, you can cut down the time you'll need to spend building courses from scratch. It allows you to transform your ideas into compelling and effective courses in just seconds.
Cost: Free
Highlights: Microlearning, course library, authoring tool, discussions, forums, quiz maker, analytics dashboard
2. Coassemble
Coassemble is a SCORM software and cloud-based LMS that allows training managers and trainers to develop interactive SCORM elearning courses. With its authoring tool, you can pick from more than 40 pre-built content templates, add content, customize lesson branding, and publish courses, all in just a few minutes. There is also a wide selection of interactive quiz templates that you can use to incorporate training assessments at the end of each course.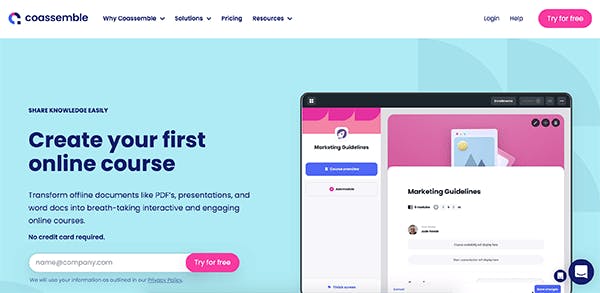 The software is equipped with an employee training tracker that ensures easy monitoring of workers' screen time, quiz and assignment results and feedback, and training progress stats. You can even download granular reports to assess your team's overall performance. First-time users won't have to worry about customer service availability since Coassemble's support team is available 24/7.
Cost: to 99 USD per month
Highlights: Authoring tool, customizable content and quiz templates, training tracker, granular reports, 24/7 support
3. Inquisiq
Inquisiq offers hassle-free interoperability with other learning management systems, all thanks to its SCORM compatibility. Through this SCORM software, you can deploy, manage, and track hundreds of courses and automate course enrollment, completion notifications, and report generation without hassle. The tool also incorporates blended learning key concepts through features such as on-the-job training and task assignments, which allow your workers to perform tasks in real-time and submit assignments for knowledge evaluation. Social learning is also integrated into the platform through collaborative features like user communities, user feeds, discussion boards, and a unique built-in messaging tool. You can also design personalized learning paths for your employees through multiple courses, homework, and course completion certificates.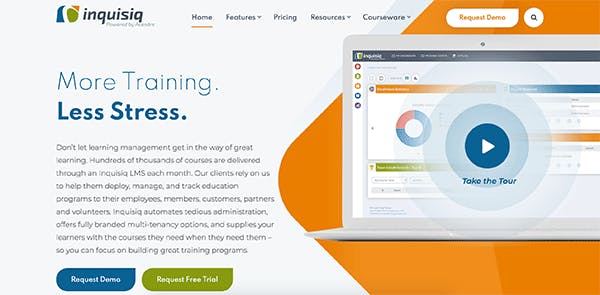 Cost: Starts at 50 USD per month with a free trial available 
Highlights: Task assignments, personalized learning paths, user communities, on-the-job training, built-in messaging
4. Auzmor Learn
Auzmor Learn is a SCORM-compliant LMS known for its course authoring and unique open-enrollment courses. With its simple user interface, you can create interactive learning content, deploy courses, and monitor employee performance even without advanced technical coding skills. This employee training tool features a course builder, which you can use to design your own learning materials or customize content from their vast lesson library. The real-time analytics dashboard is another cool feature that allows you to track your teams' training progress, identify learning gaps, and visualize knowledge trends. Although they don't advertise their rates on their website, you can still request a demo and obtain a custom quote by filling out their form.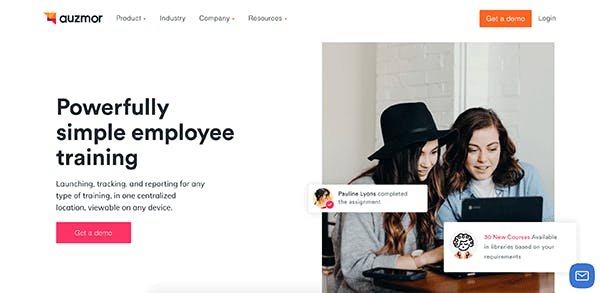 Different types of training programs, including coaching training courses, corporate training courses, retail training courses, and hospitality training courses can also be delivered through Auzmor Learn, which offers the complete package in terms of interactive content creation and real-time analytics.
Cost: Get a quote
Highlights: Course builder, lesson library, real-time analytics dashboard
5. BrainCert
BrainCert is an all-in-one social learning platform and LMS that incorporates good SCORM functionality with a modern user interface. It has powerful features including a virtual classroom, course creation wizard, custom theme design, testing platform, shareable tests, and many other tools to help you deliver courses, perform assessments, and conduct live online classes in just a few easy steps. It has even integrated social learning with e-commerce by allowing instructors to sell their online courses, tests, and live classes in the platform's global marketplace. Braincert has many paid plans you can choose from but with their free tier option, you can experiment with their features before buying the tool.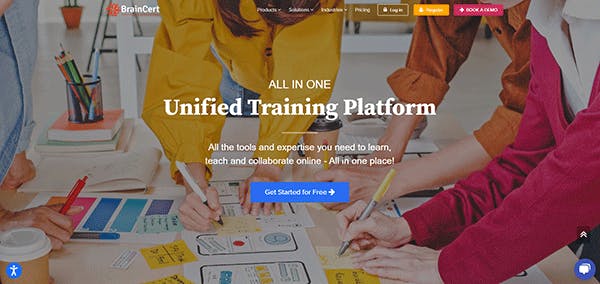 Cost: Free plan, Paid plans that start at 9 USD per month
Highlights: Social learning e-commerce, virtual classroom, course creation wizard, testing platform, custom theme design
6. dominKnow
dominKnow is a cloud-based SCORM software and elearning LMS that comes complete with a training module creator software and a content management system. For over a decade, both small and large companies have been using this platform to meet their training and collaboration needs. With its all-in-one system, your team can collaborate in real-time and create well-optimized SCORM compliant content. You can also design training materials on any device using a range of templates and digital assets and deploy courses directly to your learners' mobile devices. With its translation and localization features, dominKnow allows you to choose from over 50 languages to translate learning content for learners in specific regions.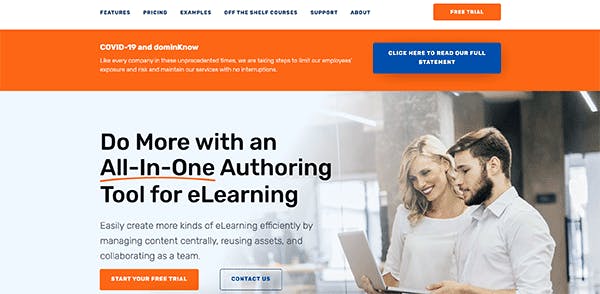 Cost: Starts at 97 USD per year for a solo plan
Highlights: All-in-one cloud-based learning, real-time collaboration, 50+ language translation and localization capabilities
7. Evolve
Designing and managing your SCORM compliant training courses is easy and simple with Evolve. This SCORM LMS is designed to help you deliver proper compliance and development training for your team. Some of the popular SCORM courses that you can access through this platform include corporate compliance courses, healthcare compliance, OSHA safety training, and HIPAA privacy and security. Because of the tool's user-friendly graphical interface, both trainers and learners can easily navigate through the platform and access features like learner dashboards, course assignments, and reporting tools. Its advanced email features allow trainers to automatically send emails to learners regarding course enrollment, training reminders, course status, and completion.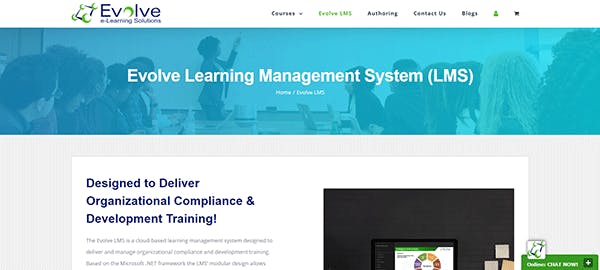 Cost: Get a quote
Highlights: Advanced reporting, email notifications, learner dashboard, SCORM courses
8. Knowbly
Knowbly is a SCORM and employee training software designed by Turning Technologies to help L&D professionals deliver effective learning solutions at scale. Through its highly responsive course authoring tool, you can easily create and customize interactive learning content that works seamlessly on desktop, tablet, and mobile devices. You can design dynamic and engaging digital learning materials with features like interactive quizzes, games, simulations, infographics, flashcards, and easy-to-use course templates. You can reuse most training materials or transfer them to other LMSs by publishing them as SCORM or xAPI format packages. Although its 95 USD starting price is quite steep, you'll have unlimited access to courses, quizzes, and even storage.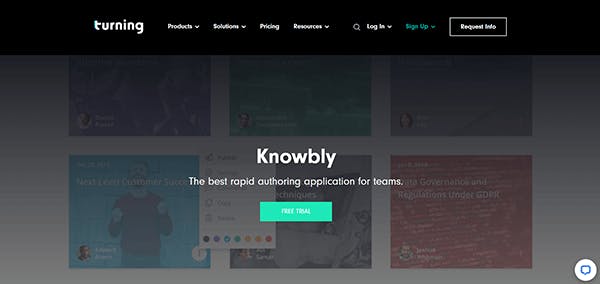 Cost: Starts at 95 USD per author per year
Highlights: Responsive course authoring, interactive templates, unlimited courses, quizzes, and storage
9. Bridge
Bridge is another SCORM-compliant LMS that focuses on upskilling employees through an individualized learning experience. Apart from being able to upload and edit SCORM content, you can also create your own courses, design onboarding programs, or deliver compliance training content in just a few clicks through the platform's native authoring tool. You can also incorporate social learning and peer engagement into your team's training through Bridge's video role-playing feature. In addition, the analytics dashboards give you insight into your employees' performance data into PDF files, allowing you to come up with strategies to address possible learning gaps and evaluate current knowledge levels.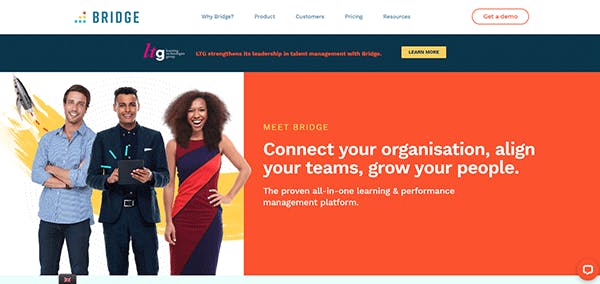 Cost: to 2 USD per month
Highlights: Learning paths, native authoring tool, video role-playing, analytics and insights
10. Tovuti LMS
Tovuti LMS is a SCORM compliant employee training software designed to help you streamline your employee training processes. It features a built-in authoring suite that you use to easily create, schedule, and deploy courses. With its gamification and leaderboards features, you can design highly engaging content and encourage employees to complete their assigned learning tasks. Workers also have direct access to a personalized learner portal that shows them all of their assigned courses, upcoming training sessions, leaderboard ranks, checklists, certificates, and badges. They also provide a live virtual classroom where learners can have one-on-one interactions with their managers or talk about lessons with their colleagues through intuitive third-party video software like GoToMeeting and Zoom.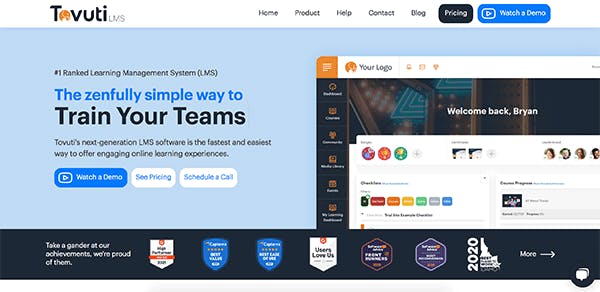 Cost: Get a quote 
Highlights:  Course authoring tool, analytics, virtual classroom, personalized learner portal
You might also want to check out: