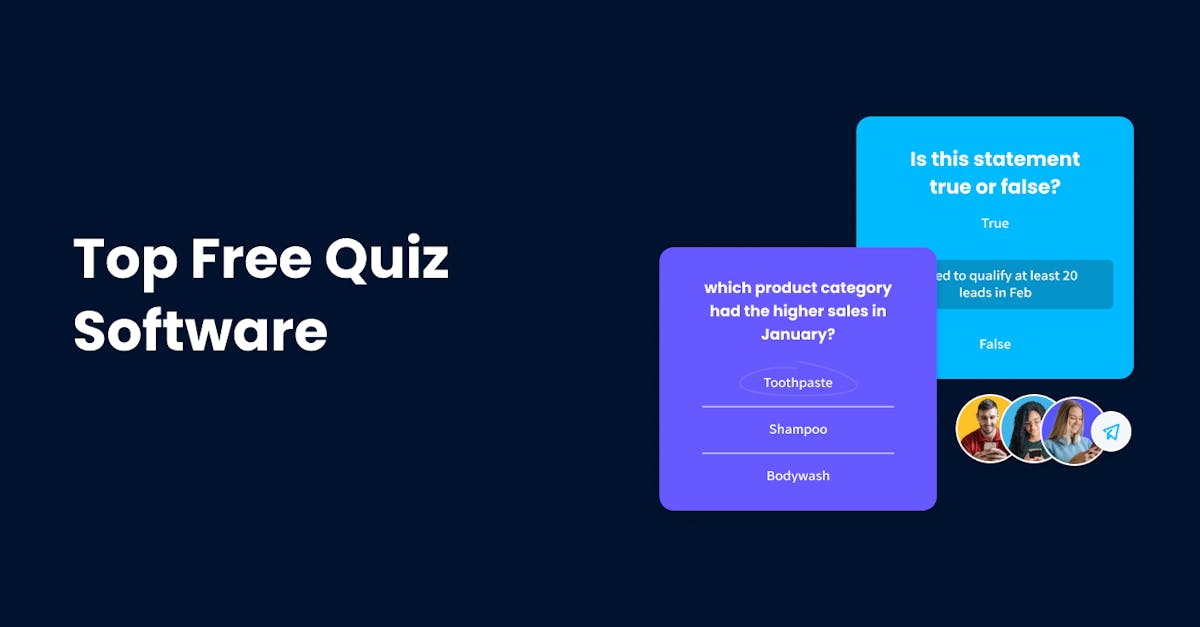 Administering quizzes enables instructional designers and L&D professionals to understand the employees' scope and level of knowledge and expertise so they can better address their employees' learning needs. It also allows them to evaluate the learning progress of the learners, determine the knowledge gaps, and obtain feedback that is helpful in improving training programs. This demonstrates the importance of quizzes in the process of building effective training programs for any organization. By leveraging supplemental learning tools such as quiz software, you can conveniently reach your teams and efficiently deliver assessments.
We've selected 15 quiz software that will help you seamlessly assess the level of understanding, test knowledge retention, and reinforce key information across a wide reach of learners. Read further to learn more about the tools that you can explore. 
1. EdApp
Rapid Refresh is EdApp's very own spreadsheet-based in-app quiz maker software, designed to help you engage your learners, reinforce training concepts, improve retention rates, and track their overall performance. It's the perfect tool to increase the success of your mandatory training like HR management training courses, cyber security training, and workplace safety training, among many others.
With its intuitive user interface, you can instantly create interactive and visually appealing training assessments and deploy them within a matter of minutes. To create a quiz, all you have to do is input your questions and answers through the training tool's user-friendly spreadsheet template. From there, Rapid Refresh will automatically transform your content into well-designed gamified tests, which you can then deploy directly to your learners' mobile devices on a daily or weekly basis. You can even choose to send all the quizzes in a single burst.
This quiz software is a convenient tool for you to conduct pre-tests that allow you to assess the level of knowledge of your teams on a certain topic. It can also be used for reinforcing key information such as company updates and recognizing gaps that are critical in evaluating the effectiveness of the training programs as well as other company initiatives. Its analytics tools enable you to efficiently track employee performance and respond to reports accordingly. For your employees, Rapid Refresh helps in improving knowledge retention and motivating better performance through its leaderboards feature.
Additionally, EdApp's AI Create tool helps cut out the time and resources spent on training. Watch courses made by you and designed for you come to life. No research or writing needed! Watch your course generate in real-time which also includes quizzes from EdApp's quiz templates.
Highlights: 
Spreadsheet-based quiz delivery

In-app branding and customization

Leaderboards

Reports and analytics
Cost: Free
Train your teams using the best quiz software
No credit card required.
2. Kahoot!
Kahoot! is game-based online quiz software that uses colorful visuals and gamification elements to boost engagement. It offers quizzes with multiple-choice free quiz questions and answers, as well as "type answer" questions wherein participants will have to type in their answers to show a deeper understanding of a certain topic. Quizzes can be answered by a group of "players" all at the same time or can also be set as a self-paced challenge to be answered asynchronously. The quizzes called "Kahoots" can be accessed via a web browser or through their app. This quiz software enables you to reinforce key concepts and engage your learners as groups or as individuals. 

Highlights: 
Interactive game-based format

Multiple game templates

Real-time group participation or self-paced 
Cost: Free, Paid
3. Outgrow
Outgrow's quiz maker is one of the best interactive quiz makers for marketers and businesses. This quiz application allows you to create interactive free quizzes in just a few minutes using fully customizable layouts and templates. Its no-code quiz maker will help you generate qualified leads, engage customers, increase traffic on your website, and enhance your brand loyalty. Outgrow's quizzes will help your customers evaluate their needs. In return, you'll receive relevant lead information for your upcoming marketing campaigns. This is the most optimal step between the first visit and the final purchase in the buyer's journey. You can use Outgrow's quiz maker to add interactive quizzes on training materials like HIPAA compliance training courses, retail training courses, sales training courses, information technology courses, and even emergency evacuation training courses. Try the quiz maker for 7 days free of cost and improve your conversion rates by over 40% by using 1000+ professionally designed pre-optimized templates!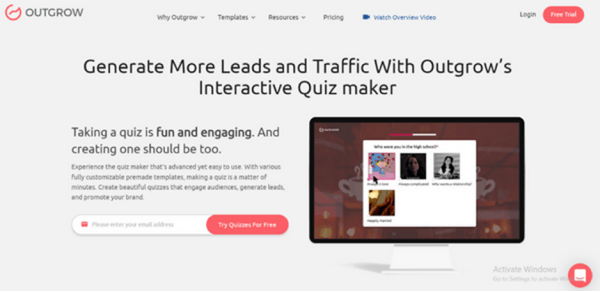 Highlights:
Multiple premade and customized layouts

Drag and drop elements to create professional quizzes

Powerful analytics

No coding required

Embedding and Integration

Get access to 1,000,000+ free stock images powered by Unsplash
Cost: 7 days free trial, Paid plan starts at 4 per month or get a custom plan
4. ProProfs
ProProfs's is an online platform that allows you to create and publish quizzes on various topics, including JavaScript quizzes and IT quizzes. It allows for complete customization by adding images, themes, and backgrounds to make your quizzes visually appealing. It offers hundreds of templates that you can copy, edit as needed, or use right away. It has two types of quizzes, namely Scored Quizzes and Personality Quizzes. Scored quizzes are those that have right and wrong answers, while Personality quizzes seek more of an opinion. Like other platforms, it also offers multiple question types like true or false, essays, and checkboxes. Once a user chooses an answer, they'll receive instant feedback. One cool feature is that learners can receive a certificate of completion, which can also be customized with your own branding. ProProfs is available for free but a paid subscription is needed to access advanced features like access to analytics and user communities.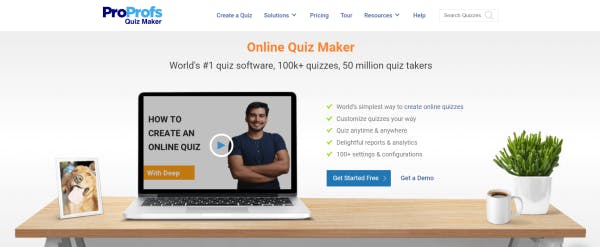 Highlights: 
Cost: Free, Paid
5. QuizGame
QuizGame is a training tool that uses gamification for improving post-training knowledge retention. You can use it to boost the success of your mandatory training courses like HR management training courses, crisis management training, OSHA training, and more. It offers various pre-made templates and quiz modes such as free online quiz games, stock-market-like structures, duels, and group trivia. It also provides access to data analytics for efficient tracking of learning progress and interaction. This quiz creator freeware effectively supports your employee training by helping you measure employee knowledge, create a competitive environment, and improve knowledge retention seamlessly. It also makes learning more appealing and motivating for your employees.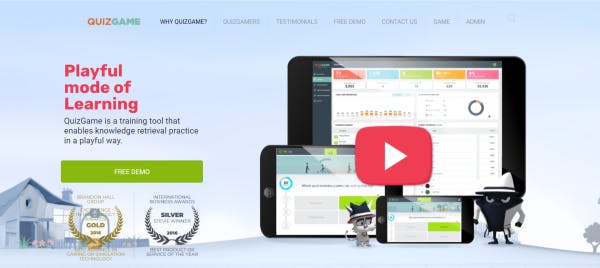 Highlights: 
Cost: Free demo
6. SurveyMonkey
SurveyMonkey is an online test maker that enables you to create free fun quizzes and tests that are automatically scored. The website is relatively easy to use, from building quizzes to using analytical tools for scoring. It also allows you to track employees who have completed the quizzes and send reminders for those who haven't yet. With this quiz software, you can make quizzes that can be used to assess your employee's skills, competency, knowledge, and more without too much hassle.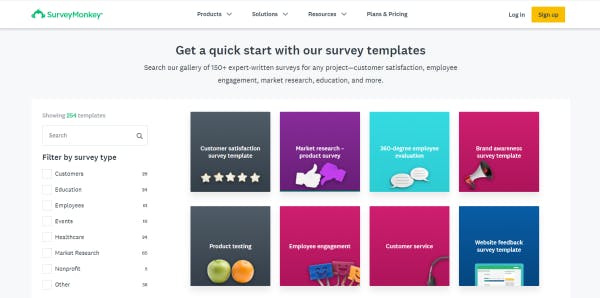 Highlights: 
Cost: Free, Paid
7. EasyTestMaker
Easytestmaker is an online quiz creator that lives up to its name because of its ease of use. It has different question types such as multiple-choice, fill-in-the-blank, and true or false questions.  It also has an exam builder feature that allows you to copy questions from other quizzes or your question pool without having to do the manual work. You can only publish online tests with up to 25 results stored at one time. Through this quiz software's approach anchored on creating formatted tests, creating quizzes is a breeze as it eliminates the time spent on customizing and editing. This tool is available for free but a paid subscription is needed for additional features such as the ability to upload images or graphics.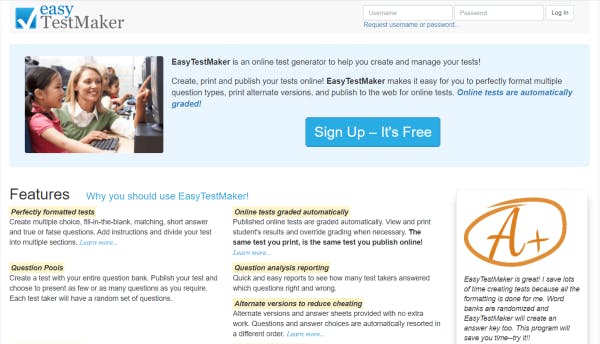 Highlights: 
Easy to use interface, 

Exam builder

Formatted tests
Cost: Free, Paid
8. Quizlet
Quizlet is quiz software that enables users to create quizzes in a flashcard format. It's mostly used by educators but can also be used by trainers. It gives you access to a library of pre-made flashcard stacks for easier authoring or you can create your own and even include audio and visual content. It offers standard multiple-choice quizzes and game-show-style competitions to foster healthy competition between learners. Its quizzing approach helps improve knowledge retention among your employees in a fun and engaging way. This software is available for free but features such as analytics and customization are only available through a paid subscription.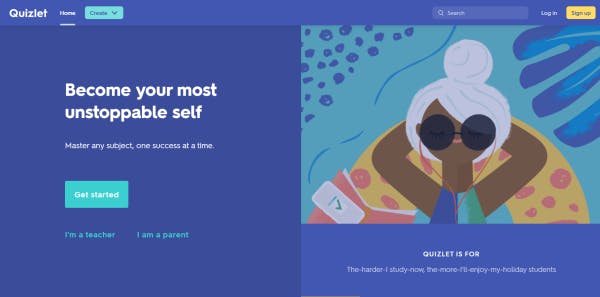 Highlights:
Digital flashcard format

Access pre-made flashcards for Professional & Careers and Standardized Tests

Utilize various study modes to support spaced repetition and gamify learning
Cost: Free, Paid
9. Quiz Makers
Quiz Maker is a free online test maker. It boasts a wide range of quiz options such as trivia, which are you quizzes, class quiz games, and polls. The free version of this poll quiz maker allows you to make quizzes with up to 20 questions. It also offers a bunch of templates that you can edit if you don't want to start from scratch. Leaderboards are also available for your employees to motivate them to perform well in posts-tests. Your quizzes can be deployed to your employees through a direct link or shared via a social media platform. It's another hassle-free option for you to create tests according to your preferred format. While this is an excellent online software for authoring tests and engaging employees, the free trial is only available for 14 days.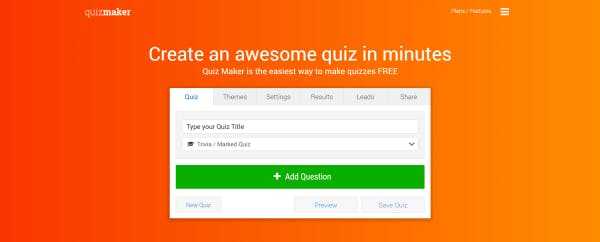 Highlights:
Different quiz types: Trivia, personality, graded, survey, polls

Multiple Default and customizable themes

Score results and leaderboards
Cost: Free basic plan, paid plans
10. Typeform
Typeform is a free quiz maker that uses a drag-and-drop tool to help you quickly build great-looking online quizzes. This quizmaker software allows you to make interactive quizzes through the use of images, GIFS, and videos. Your quizzes are fully customizable, so you can adjust the color schemes, add background images and change the text. This will provide your workforce with a completely unique quiz that promotes engagement. Using the Logic Jump feature on your quizzes will make them get progressively harder or easier. This quiz software will enable you to create well-designed quizzes quickly and easily while equally ensuring a fun experience for your employees.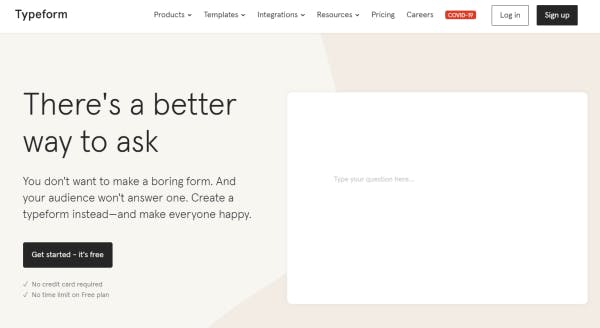 Highlights: 
Cost: Free, Paid
11. Google Forms
Google Forms is Google Suite's survey tool that allows administrators to collect and organize information seamlessly. Aside from creating surveys, this tool can also be used for making quizzes. It offers a mix of question types such as multiple-choice, checkboxes, dropdowns, and even a file upload option for images or PDF files for questions that need more comprehensive answers. Its straightforward and intuitive interface allows you to easily create quizzes and get instant results. With the various templates and question types, you can create quiz formats that are more suitable for your objectives. This Google quiz maker integrates with other Google apps and also enables you to conveniently organize data results into Google Sheets for an in-depth look at the learning progress of your employees.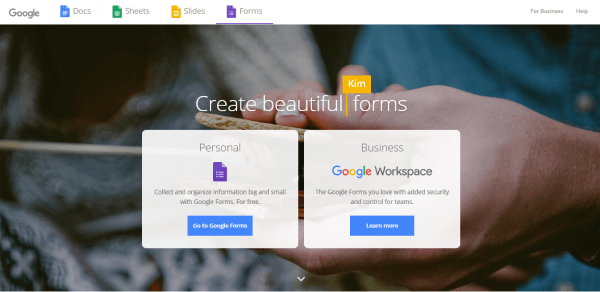 Respect in the workplace training courses are important to creating a positive and productive work environment. Google Forms is a great way to survey employees about these courses and measure the effectiveness of the training.
Highlights: 
Google suite integration

Template gallery

Instant result overview
Cost: Free
12. FlexiQuiz
Create, publish, and analyze online tests effortlessly with FlexiQuiz. This powerful quizmaker software is perfect for individuals, teachers, and businesses who want to provide their learners with a fun and engaging learning experience. All the features are easy to use and require no coding or design experience, so you won't need to worry about creating PC quiz content from scratch. Just choose from formatting options and nine question templates including multiple-choice, picture choice, essay, short answer, matching, or fill-in-the-blanks. You can also make your quizzes more engaging by adding media like GIFs, images, videos, and audio.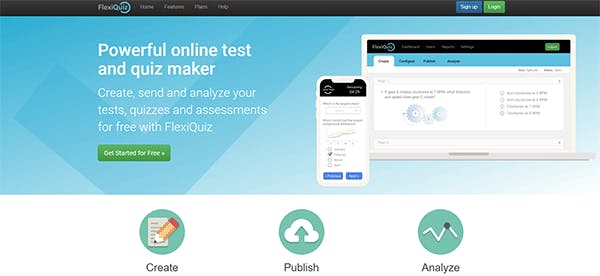 Something to keep in mind, especially if you want to try out this online test creator software, is that the free version doesn't allow you to remove the FlexiQuiz logo. The logo removal and branding features are only available once you upgrade to their paid subscription.
Highlights: 
Multiple questions formats and templates

Ability to add GIFs, images, videos, and audio
Cost: Free plan, Paid plan starts at 5 USD per month
13. GoConqr
GoConqr is an all-in-one learning management system, course builder, and quizmaker software that individuals, educators, and companies can use to create their own assessments and other learning content. Through this tech tool, you can easily build and deploy quizzes, provide immediate feedback, and securely track your learners' results and overall progress. GoConqr's online testing software gives you access to a variety of question types like fill-in-the-blanks, true or false, and multiple choice. To help reinforce information, you can also include pictures and quick explanations about the correct answers. Another awesome perk is that the platform offers a vast bank of learning resources that you can choose from and distribute to your own learners.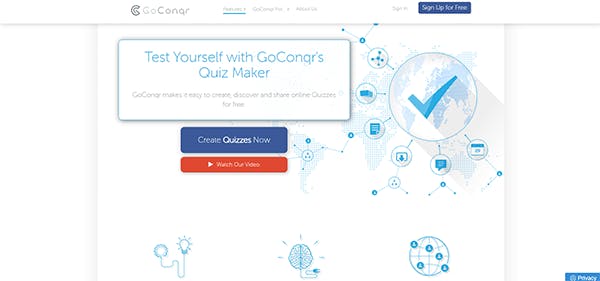 Highlights: 
Cost: Free plan, Paid plan starts at .75 USD per month
14. Nearpod
Nearpod is another quiz software that can help you create and customize learning content according to your team's training needs. It offers a variety of assessment templates like multiple choice quizzes, polls, fill-in-the-blank quizzes, open-ended questions, and matching pairs to help you evaluate your employees' current skill levels and keep track of their knowledge retention from previous training sessions. To spice up your quizzes and make them more interactive, you can also add various media such as images, videos, or even voiceovers. As soon as learners complete their tests, feedback and reports are instantly provided, helping you easily identify those who still need additional support. Unlike the tool's paid plans, which have an unlimited amount of storage, the free version only gives you a limit of 100MB to create lessons and quizzes.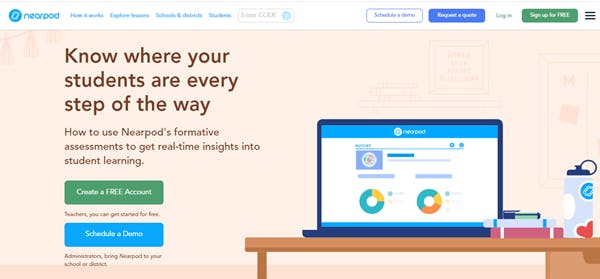 Highlights:
Quiz customization

Creative themes

Multiple templates

Real-time reports
Cost: Free plan, Paid plans start at 0 USD per month
15. PaperShala
PaperShala is a powerful test making software that gives you all-in-one access to different online examination features like a multifunctional question bank, learner registration system, exam schedule options, instant report cards, and the like. A huge perk of this tool is that learners don't need to worry about connectivity issues when taking their tests as answers are saved immediately and can be resumed anytime. Tests can also be accessed through any desktop or mobile device, making exams even more convenient to take. Through the tools' student dashboard feature, learners have easy access to their exam results, class ranking, and overall performance. On the other hand, teachers can manage all examination processes with PaperShala's comprehensive admin panel feature.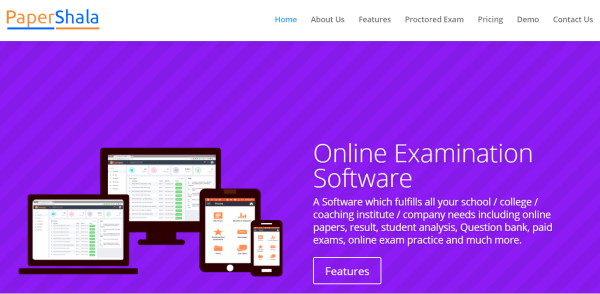 Highlights:
Cost: Free plan, Paid plans start at .5 USD per year per student
16. Qzzr
A quiz-making program called Qzzr is intended to help companies better understand their clients. Instead of spending time learning the software, you can spend more time generating your quizzes with an easy-to-use interface. Even better, you can incorporate your branding by creating unique components, graphics, and media to make your quizzes fit seamlessly into the design of your website or platform. You can utilize Qzzr's data and analytics tool to find out what your respondents are actually saying.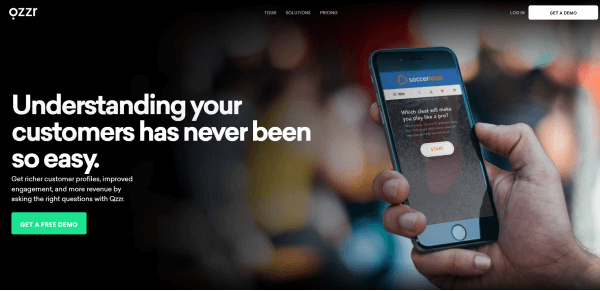 Highlights:
Simple interface

Branding

Custom elements

Data and analytics
Cost: Free trial, starts at US6.67 per month
17. Opinion Stage
Another user-friendly quiz maker that supports all of your devices is Opinion Stage. Based on what you think will best engage your staff, you can develop a range of assessments for your L&D programs. Here, picture queries can be used, and responses to inquiries can include photos of objects or occurrences. You can also ask your students to choose a word that has the same meaning as the one that is given in a set of synonym questions. You can also incorporate the more typical question categories, such multiple choice and fill in the blank trivia questions.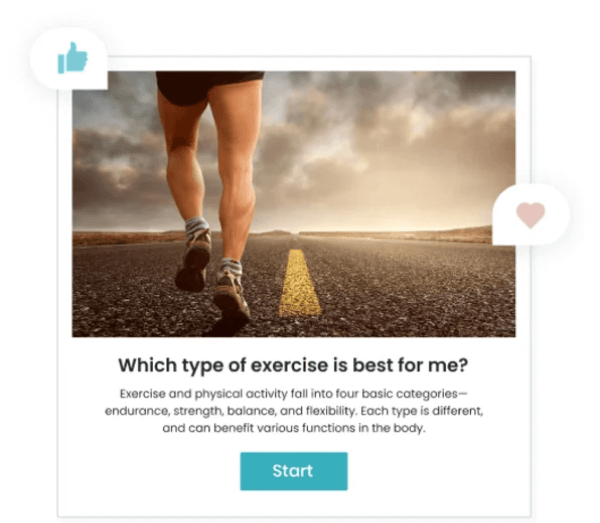 Highlights:
Cost: 99/month
Subscribe to our blog newsletter