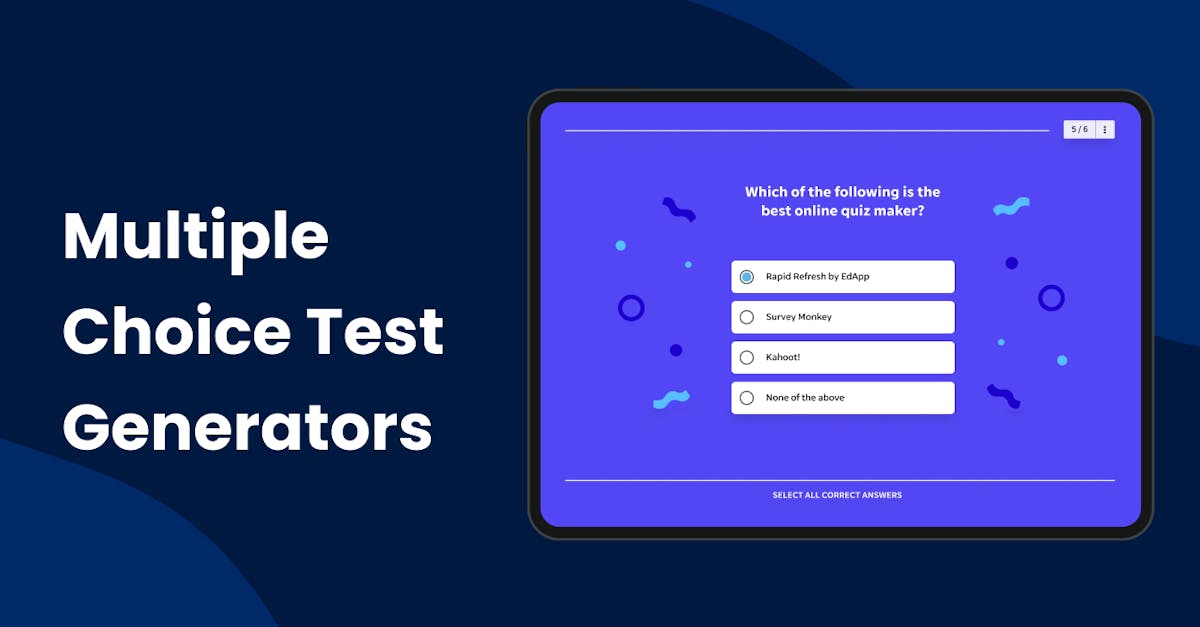 Thanks to multiple choice test generators, you can now easily test your team's knowledge and skills using interactive multiple-choice templates, image selections, and more. If you're looking for a sample multiple choice test, explore our recommended multiple choice test question generators below.
1. EdApp
Start building visually engaging and interactive multiple-choice quizzes for your team with EdApp's free multiple-choice test generator! No need to worry about technical aspects, there's no coding needed!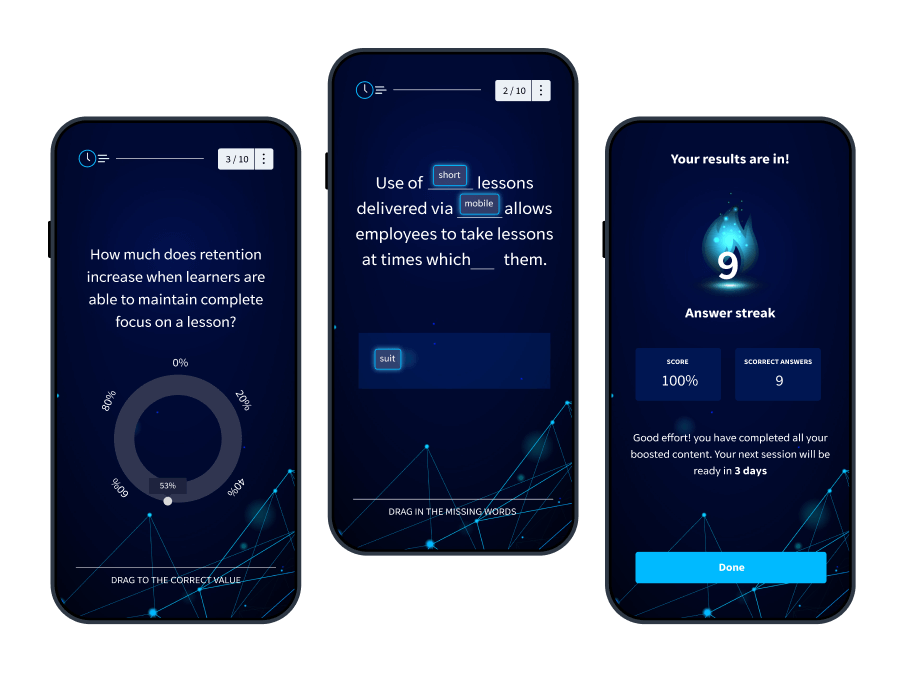 To create a multiple choice test within an EdApp course, you can use this mcq maker's user-friendly course creation tool that includes 80+ ready-to-use interactive templates. This includes 10 multiple choice questions samples and multiple choice questions made for mobile phones.
Its multiple choice question templates bank allows you to reinforce key concepts by having your team members identify correct answer/s from a pool of answer choices. Including this type of quiz template also serves as a way of making their learning experience more fun and engaging, by allowing them to interact with the course material.
You can also create multiple choice tests as a standalone quiz without any prior content in EdApp, thanks to its in-app quiz creation software called Rapid Refresh.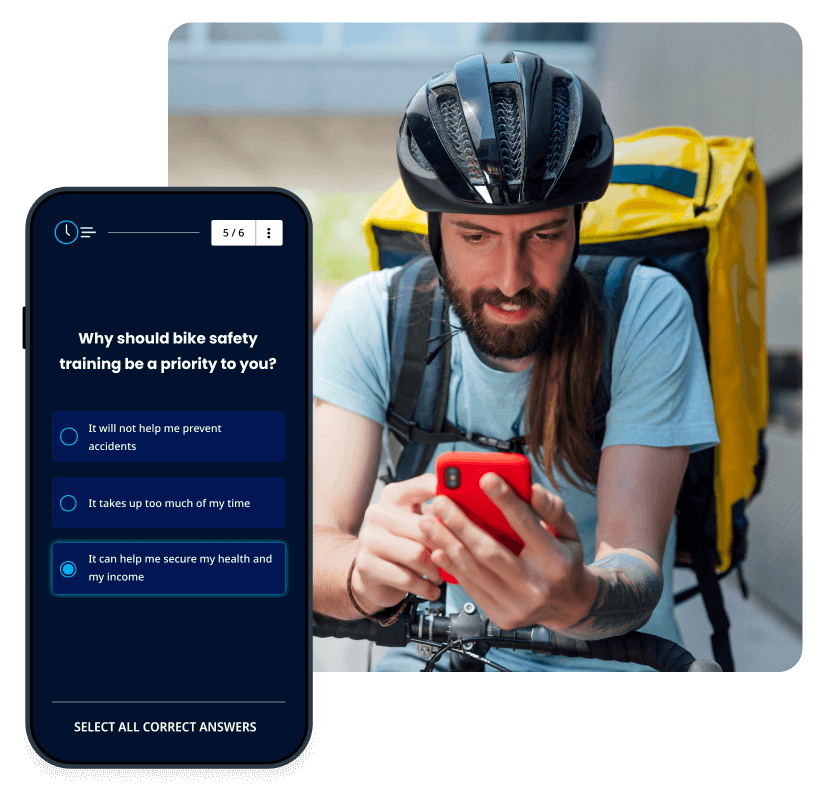 To create a multiple choice test, all you have to do is input your quiz question and answer through the training tool's user-friendly spreadsheet template. From there, Rapid Refresh will automatically transform your content into well-designed gamified tests.
The quizzes are automatically graded so there's no guessing how your learners performed. You can then deliver them directly to your team's mobile devices on a daily or weekly basis. You can even choose to send all the quizzes in a single burst.
Want to save a ton of time when it comes to building courses and tests? Well, look no further than AI create by EdApp! It's a total game-changer, letting you take your brilliant ideas and turn them into engaging, super effective courses and quizzes in a matter of seconds. How amazing is that?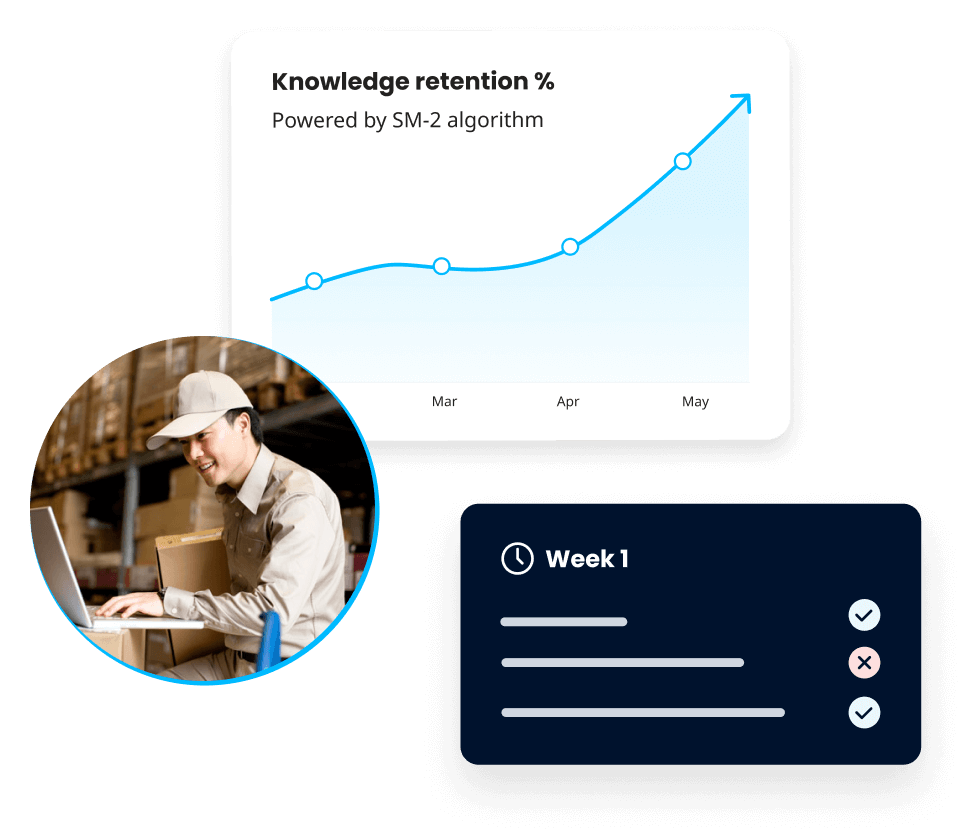 EdApp also gives you analytics tools so you can efficiently track employee performance and respond to reports accordingly. For example, if your team as a whole is scoring low on a particular quiz, this may mean that you need to tweak your course content for better knowledge retention.
Cost: Free
Key features: 
User-friendly authoring tool

Multiple choice test interactive templates

AI Create

Automated delivery

Analytics
Easily create standalone multiple choice tests or refresher quizzes within a course using EdApp's in-app multiple choice test generators. Join EdApp for free, forever!
2. Fyrebox
Fyrebox is another excellent multiple choice test generator for building interactive and colorful quizzes. It includes two sample multiple choice test types to choose from: the single correct answer and the multiple correct answers. You can also designate the points from the correct question that each answer is worth to the user. With Fyrebox, you can customize the appearance of your test, move buttons & change their color, choose your preferred font, and even upload your background image. Create a quiz using various customizable multiple choice exams and short quiz templates to give you a kickstart should you find yourself a little lost in the process.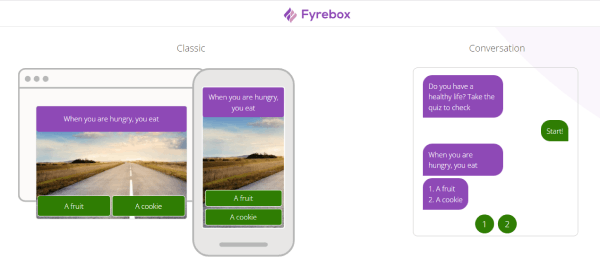 Key features: 
Interactive interface

Android multiple choice questions templates

Customizable answer sheet

Multi-scoring
Cost: Free and Paid plans
3. Kahoot!
Kahoot! is a game-based multiple choice test generator that uses colorful visuals and gamification elements to boost engagement. Its quizzes are called "Kahoots" where you can apply many different templates for every type of question like multiple choice trivia, true or false, open-ended question type answer, and many more. In quiz formats where there are multiple choices, participants can select multiple answers or all of the above and garner corresponding points for every correct answer. This is a great way to boost accuracy, validity, and knowledge retention. Accessed via a web browser or through an app, quizzes can be answered by a group of "players" all at the same time or can also be set as a self-paced challenge to be answered asynchronously. Overall, this software enables you to reinforce key concepts and engage your learners whether as groups or as individuals.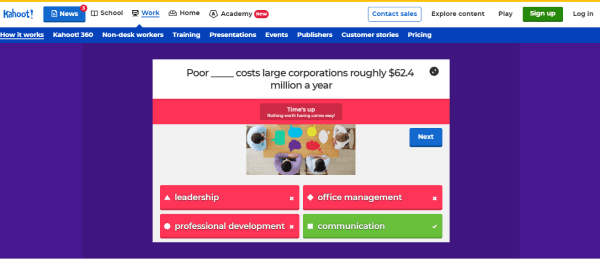 Key features:
Interactive game-based format

Multiple choice quiz templates

Real-time group participation or self-paced 
Cost: Free and Paid plans
4. ProProfs Quiz Maker
Like any other quiz creator, ProProfs Quiz Maker has Kahoot-like games that provide multiple choice questions. But what makes this multiple choice questionnaire platform cool is that it allows instant feedback for every answer. It also provides two quiz types: Scored Quizzes and Personality Quizzes. Scored quizzes are those that have right and wrong answers which is perfect for multiple-choice read the question tests that are intended for reinforcement. Meanwhile, Personality quizzes seek more an opinion which can be used for surveys. Proprofs also provides hundreds of other templates so you can add branding to your quizzes. It also allows you to make your quizzes more engaging by adding visual elements such as images, backgrounds, and the like.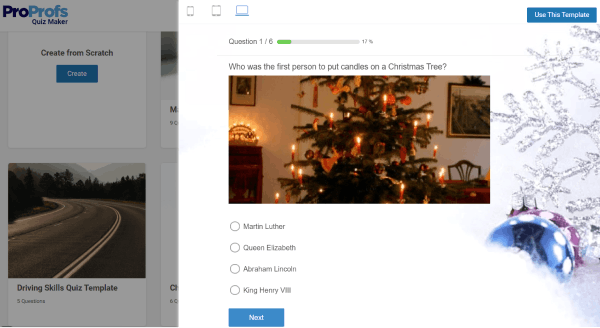 Key features: 
Cost: Free, Paid
5. Survey Monkey
Survey Monkey has been a popular choice for creating multiple choice questionnaire, tests, surveys, and polls all thanks to its freemium business model. It provides hundreds of ready-to-use templates to create your quiz in a few minutes quickly. While it's a great quiz maker tool that includes customizations, the free tier limits you to only 10 questions per quiz. The number of user groups is also limited, and there's less room for personalization when creating questions, as you cannot remove the Survey Monkey logo. Advanced features are only available within a paid plan.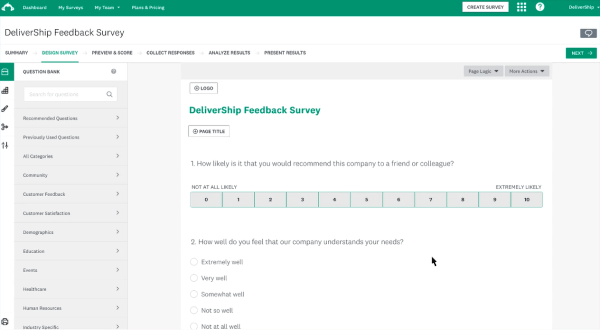 Key features: 
Cost: Free and Paid plans
6. Quizlet
Quizlet is a free multiple choice test generator mostly utilized by educators but can definitely be used in the workplace as well. It mainly offers standard multiple choice quizzes and game-show style competitions to foster healthy competition between learners. These quizzes are delivered in a digital flashcard format that aims to boost memorization and engagement. This software also allows you to choose from a wide selection of flashcard decks and edit it as you see fit or make one totally from scratch, where you can use a checkbox, include possible answers, and show the incorrect answer. You can even include audio and visual content on your flashcards or choice test to create a question to make them more appealing. Overall, it's a great tool for rote learning and development, and mastering certain concepts or terms fun and engaging.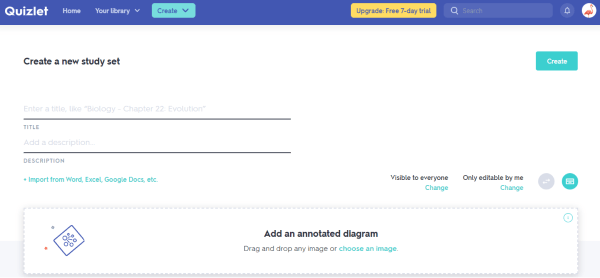 Key features: 
Digital flashcards format

Optimized for different devices

Interactive tools
Cost: Free and paid plans
7. EasyTestMaker
Easytestmaker is an online testing software that lives up to its name because of its ease of use. It has different question types for both long and short-answer questions, such as multiple choice, fill-in-the-blank, and true or false questions which makes creating quizzes a breeze as it eliminates the time spent on formatting. It also has an exam builder feature that allows you to copy questions from other exams, multiple choice quizzes, or your question pool without having to do the manual work and eliminating the need to input multiple choice answers, the wrong answer, negativers, or none of the above. Although it's an easy-to-use platform, it doesn't allow many customizations to make your quizzes visually appealing. Uploading images or any graphics are only allowed in the paid plan.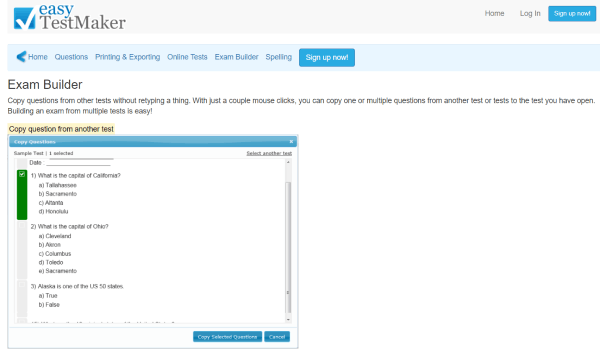 Key Features: 
Easy-to-use interface

Exam builder

Formatted tests
Cost: Free and Paid plans
8. Typeform
Typeform is a platform that provides a drag-and-drop tool to help you build interactive multiple choice tests and multiple choice exams by using images, GIFS, and videos. Your quizzes in this tool are fully customizable, so you can adjust the color schemes, add background images and change the text. This allows you to capture learner engagement more effectively with engaging quizzes. Using the Logic Jump feature on your quizzes can also make them progressively harder or easier. Ultimately, this software will enable you to create well-designed tests while equally ensuring a fun experience for your employees.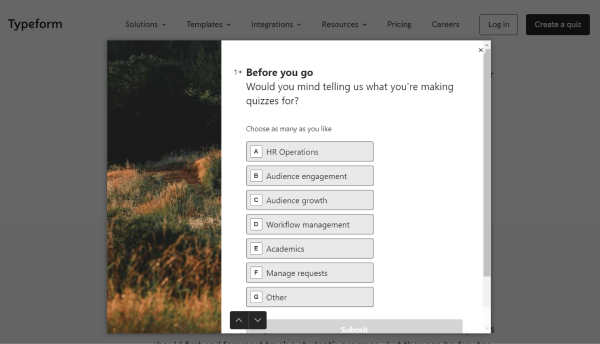 Key features: 
Drag-and-drop tool

Customizable templates

Logic Jump
Cost: Free and paid plans
9. Quiz Global
Quiz Global is one of the simplest multiple choice test creator software on the list and is completely free to use. You can create an unlimited number of tests with endless questions and include images, answer explanations, or hints. It also features a question bank where you can randomly generate quiz questions for your test. A unique feature of Quiz Global is that users can play or revise the test by using voice commands, which is perfect for test-takers who are visually impaired. You can then share the tests you create using a link that can be posted on forums and social media sites. However, you won't be able to embed your quizzes if you have your own website.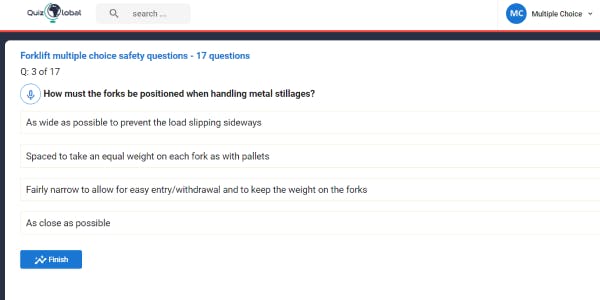 Key features: 
Countdown timer

Question bank

Voice commands
Cost: Free
10. 123 Form Builder
123 Form Builder is a test maker software developed to help you build multiple choice tests seamlessly and conveniently. It provides different examples of good multiple choice questions templates where you can simply incorporate your content and instantly turn them into quizzes. You can also edit and customize your quizzes with visual elements to further engage your learners. This platform also includes a conditional logic feature that allows a field to be triggered when a specific action is performed. For example, if a student selects the incorrect response, you can show the correct answer instead. To make tests more challenging, you can also add a countdown timer after a designated period for taking the test has passed.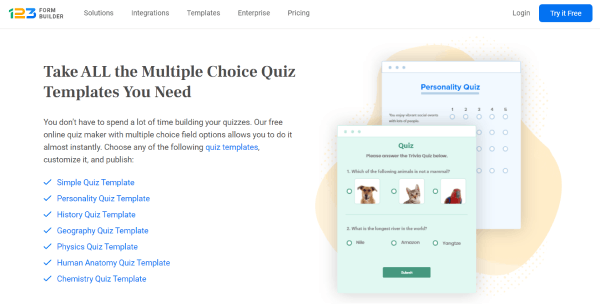 Key features: 
Countdown timer

Conditional logic

Easy-to-use interface
Cost: Free and Paid plans
Subscribe to our blog newsletter