Courses are widely used as a form of instruction in training programs to supplement the learning of employees. However, course building can get tedious and time-consuming when done manually. Fortunately, there are online course maker tools that can make course creation easier for trainers and instructional designers.
Course Maker Tool #1 – EdApp
EdApp is an award-winning free course maker tool that makes course creation for instructional designers a breeze. The learning platform prides itself on its intuitive and SCORM compliant authoring tool,  which will surely streamline the process of creating your training materials. To make things interesting, there are several microlearning and gamification templates that you can use to make your courseware interactive. Adding to that, EdApp LMS has an editable course library feature that houses hundreds of high-quality ready-to-deploy courses. Since it's fully editable, you're free to edit the content to satisfy your training needs. It also supports in-app branding to personalize your courseware and give them a more professional feel that matches your company's branding. As each elearning course comes in a microlearning format, EdApp's learning technology has got you covered with their bite-sized content for enhanced knowledge retention, perfect for learners with short attention spans.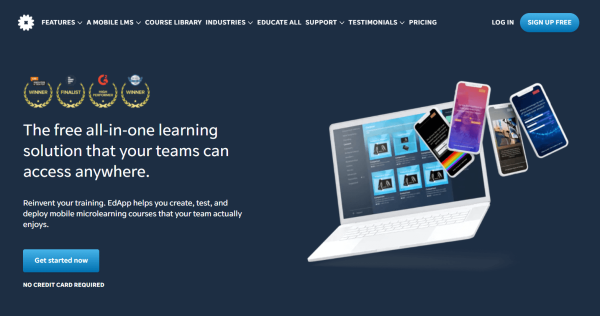 Their spaced repetition feature can help reinforce learning by distributing courses at increasing intervals to ensure that the information is remembered. Meanwhile, EdApp's quiz maker Rapid Refresh can be used to assess how effectively your team understands a topic. Knowledge gaps can be filled with the use of these learning technology tools, leading to better knowledge retention and comprehension.
Features:
Authoring tool

Editable course library

800+ high-quality courses

Microlearning & gamification templates

In-app branding

Quiz maker

Automated quiz delivery

Spaced repetition 
Cost: Free, paid plans
Course Maker Tool #2 – Auzmor Learn
Auzmor Learn is a user-friendly course maker tool that allows instructional designers to build elearning courses, deliver training content, and track employee performance without requiring coding experience or advanced technical knowledge. You may design your own teaching materials or edit courses from their extensive course library using their intuitive course creator. This learning platform's real-time analytics dashboard can also be used to monitor employee learning progress and discover social learning trends. To learn more, you can request a demo and get a quote directly from their website.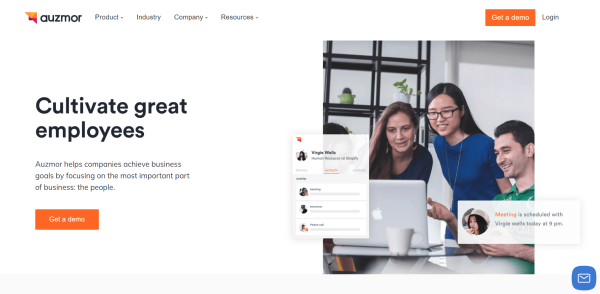 Features:
Course builder

Lesson library

Real-time reports
Cost: Paid plans
Course Maker Tool #3 – Learn on Demand Systems
Learn on Demand Systems is a course maker tool that allows you to develop unique courses including videos, labs, and evaluations. With this platform, you can create SCORM compliant and LIT-compliant courses. Learners can select from a variety of self-paced courses and even construct their blended and social learning routes.  It also features a custom URL and white labeling, allowing you to personalize your training materials to match your company's logo. Another feature includes API connectors, allowing you to effortlessly push and retrieve data from other software into your employee training content.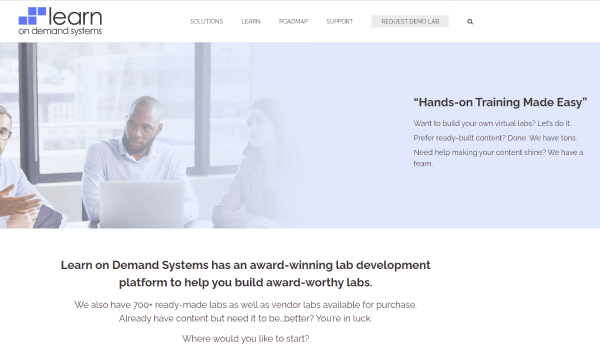 Features:
Course builder

SCORM compliant and LIT compliant courses

Custom URL

Branding

API connectors
Cost: Paid plans
Course Maker Tool #4 – Proprofs
With Proprofs, you can craft well-designed elearning courses in just minutes. To build a course, you can choose from over a hundred ready-made templates, add your chosen videos, images, or text, and customize social learning materials according to your company's competency and brand guidelines.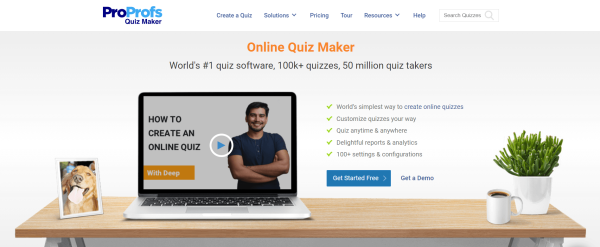 For seamless collaboration and knowledge sharing among your learners, this learning platform also provides additional features like a learning community, Q&A forum, and a centralized knowledge base for FAQs, how-to manuals, and other training materials. 
Features:
Course builder

Course Templates

Learning community

Q&A forum
Cost: Free trial, paid plans
Course Maker Tool #5 – 360Learning
360Learning is a learning management system with a course maker tool, content integration system, and analytics dashboard. Their intuitive course elearning authoring tool requires no technical skills or competency, and allows you to develop courses in just a few minutes. To keep training content relevant and entertaining, you can incorporate learning resources such as videos, photos, blog pieces, and research into your course. Your employees can also use 360Learning's collaborative learning capabilities, such as discussion boards and group pages, to participate in meetings with both their coworkers and you.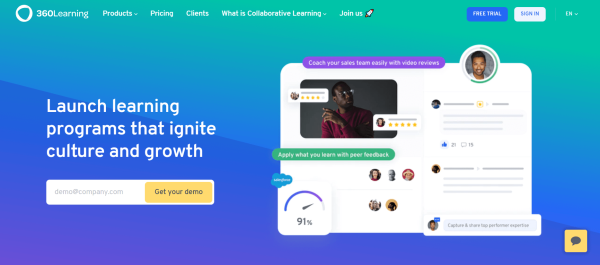 Features:
Elearning Authoring tool

Collaborative editing

Discussion board
Cost: Free trial, paid plans
Course Maker Tool #6 – CoreAchieve
Through CoreAchieve's platform, you can streamline content creation, compliance monitoring, as well as audio/video employee training. Developing professional training materials and managing online courses are two major purposes of this cloud-based LMS system. If you're looking for basic content, it can be easily tracked down by using filters, titles, categorization, tags, and descriptions. It also tries to make learning fun by awarding points and rewards to learners at the top of leaderboards.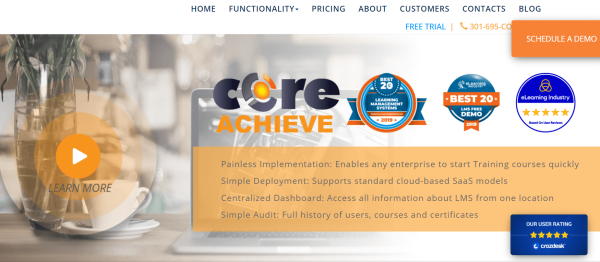 Although, unlike some of the other learning management systems on the market, Coreachieve isn't mobile-first, making accessibility to remote or retail workers quite challenging. Another disadvantage of this platform is its limit on the number of users per month, which can be highly unfavorable to large and/or growing organizations.
Features:
Course management

Content creation

Rewards

Leaderboard
Cost: Free trial, paid plans
Course Maker Tool #7 – AdaptiveU
AdaptiveU is a course maker software that lets you build simple lessons and then integrate them into courses that can help establish your employees' competency. Courses are created using a basic, easy-to-use editing tool that provides numerous media capabilities, such as files, documents, and pop quizzes. The start page can also be altered based on your training objectives. This learning platform also allows you to obtain reports and keep track of data.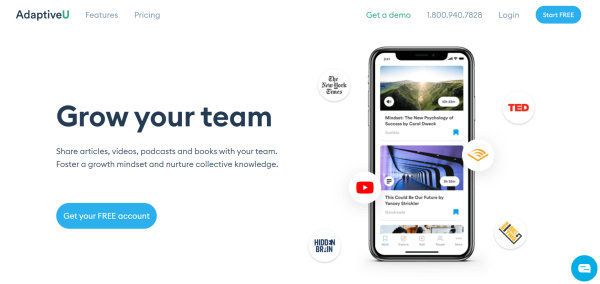 With the free plan, you can create up to ten challenges and invite up to ten active people to participate.
Features:
Course creator

Media options

Analytics
Cost: Free
Course Maker Tool #8 – Coassemble
Coassemble, as a course maker tool, can assist you in creating and deploying interactive online training courseware for your employees. You can choose from its 35 content templates, create lessons, and publish your instructional materials with only a few clicks using its elearning authoring tool. You also have the option to select one of the preloaded test templates to integrate learning assessments after each lesson. 
Since Coassemble's support team is available around the clock, there is always someone who can assist you with your concerns. 
Features:
Authoring tool

Content templates

Quiz templates
Cost: Starts at US $9/month
Course Maker Tool #9 – CourseLab
CourseLab is a free online course maker tool for creating interactive eLearning courses that can be shared via the web or learning management systems. Images, movies, multi-object interactions, and quizzes can all be included in slide-based lectures. Through this learning platform, users also have access to a range of eLearning templates.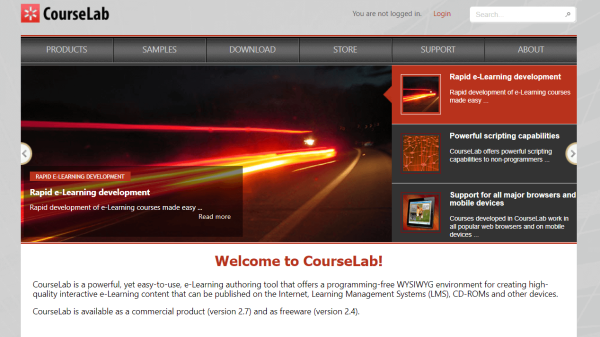 The only downside is that it can be quite difficult to use especially for those new to eLearning authoring as it isn't as straightforward as other LMS. This learning technology tool is better suited to more experienced course developers who have experience with other LMS authoring tools.
Features:
Authoring tool

Course templates

Multimedia tools
Cost: Starts at US $249/annually
Course Maker Tool #10 – EduMe
With EduMe, learners can access training anytime, thanks to its mobile-friendly, microlearning format. It also features a content creation tool where you can quickly create courses that capitalize on images and videos rather than long texts. It offers two lesson types: conversational for activities and slideshow for module slides.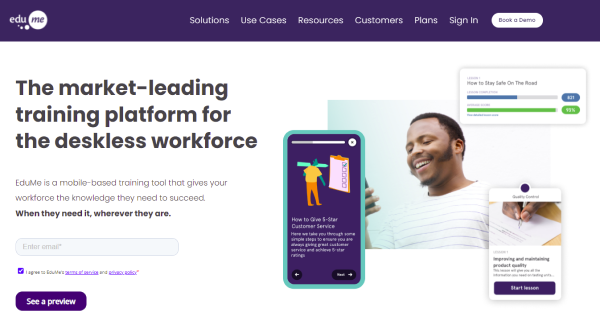 On top of that, EduMe offers the services of their in-house learning design team, bringing in years of experience and expertise. This collaboration ensures that the courses your learners will take are professionally designed, giving them an effective learning experience.
Features:
Content creation

Mobile learning

Image and video-driven
Cost: Paid plans