Online test makers are gaining popularity due to the convenience of delivery and ease of use. Not only do you save time and resources when compared to traditional pen and paper testing, but the reach is also much wider as it is conducted online.
Administering quizzes is a vital part of learning and it is a way of knowing if the learners actually picked up a thing or two from their training. Knowledge gaps can then be identified and appropriate actions can be taken to close the said gaps. Ultimately, testing your teams with these learning tools will increase knowledge retention and reinforce learning.
Here are 10 test making software you can try when creating tests for your teams:
1. EdApp
If you want to create quizzes effortlessly and still produce great content with good graphics and display then EdApp microlearning platform might interest you. EdApp's Rapid Refresh is the learning management system's feature that is solely dedicated to test-making. It is designed to make online test creation easier, faster, and more efficient for busy educators and instructors. With their easy-to-complete spreadsheet, you can transfer your questions and it will automatically be transformed into a test, ready to be delivered. It can also be deployed for big teams so it is a time saver for those in large organizations who want to create interactive quizzes digitally. Refresher training assessment is now made interesting and convenient for both instructors and learners alike.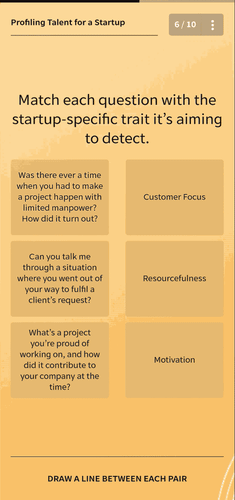 Gamification is a method that EdApp uses to make information absorption highly effective for learners. With its selection of interactive gamified templates, it makes learning and quiz assessments a lot more engaging than traditional learning content. It has a completion rate of over 90% due to its bite-sized reinforced content and interactive nature. Surely, when it comes to knowledge retention and microlearning, EdApp can cater to your learning needs.
Features:
Highly customizable 50+ microlearning templates

Diverse gamification question templates

In-app branding supported

Automated quiz delivery at regular intervals

100+ language translation with a cloud-based translation tool

Compatible with most devices with optimized display scaling

Rewards and leaderboards

Completion certificates

Analytics
Cost: Free
Train your teams using the best test making software
2. EasyTestMaker
EasyTestMaker is free quiz software that helps educators make their quizzes digitally. You can easily choose test items to present from the question pool.. But do note that there is a 25 test limit for the free version.
Features:
Test format: Multiple choice, fill in the blank, matching type, short answer, true or false

Shuffled questions option

Automatically graded tests

PDF and word export

Reports
Cost: Free, paid plans
3. FreeOnlineSurveys
FreeOnlineSurveys is a free test making software that offers unlimited test-making with up to 1000 responses accepted. There is a paid plan equivalent for upgraded features that you can find on KwikSurveys.
Features:
Question types: Multiple choice, date or time, open-ended, multi-factor, ranking order, picture choice, split testing

Customizable templates

Quiz samples

Automatic scoring 
Cost: Free
4. Proprofs
Proprofs is a training platform that has free online testing software. There are over 100,000 readily available questions you can use.
Features:
Test types: Multiple choice, matching, fill in the blank, essay

Customizable quiz templates

Quiz branding

Completion Certificate

Reports
Cost: Free basic plan, paid plans
5. Quizlet
Quizlet is a free test making software that is widely known for its signature flashcard format. Users continually contribute to the public library of the platform so several study sets for different topics are accessible.
Features:
Question types:

Identification, multiple choice, spelling

Several study sets readily available

Flashcard format

Gamified test mode

Audio function for auditory learners
Cost: Free
6. Riddle
Riddle is a free test making software that is promoted for marketing and generating leads. Saving collected data for quiz leads is made easy with their report and analytics option. 
Features:
15 quiz templates

Customizable, in-app branding

Can be published anywhere

GDPR-compliant 

Analytics
Cost: Free demo, paid plans
7. ClassMarker
ClassMarker is a free test making software that does not require software installation. You can save questions to your question bank, which you can reuse anytime.
Features:
Test types: Sur

veys, quizzes, forms

Test template customization

Quiz branding

Completion certificate

Analytics
Cost: Free basic plan, paid plans
8. Quiz Maker
Quiz Maker is a simple free online test maker with 19 question types available. The platform is easy to use with its basic features and interface.
Features:
Test t

ypes: Trivia, personality, graded, survey, polls

Customizable themed templates

Timed quizzes

Leaderboards

Completion Certificate
Cost: Free, paid plans
9. Kahoot!
Kahoot! is an interactive game-based test making software that is playable online with multiple users in real-time. This is usually used in synchronous learning where active participation of learners is highly encouraged. Self-paced asynchronous session is also available, albeit not often used.
Features:
Game format

50M+ public games available

Customizable template

Private rooms for assigned learners

Host games for 3-10 players

Reports
Cost:  Free, paid plans
10. Typeform
Typeform is an easy-to-use online quiz maker, with no coding background needed. For the free version, it is limited to 3 forms with 10 question items and up to 100 allowable responses per month. This platform can be integrated with several applications such as Canva, Slack, Google Drive, Hubspot, and many more.
Features:
Test templates: Surveys, lead generation, poll, marketing, HR, etc.

Customizable templates

Great color selection and themes

Shareable reports & analytics
Cost: Free, paid plans
You may also be interested in:
Online Quiz Maker
Online Test Maker
Online Quiz Creators