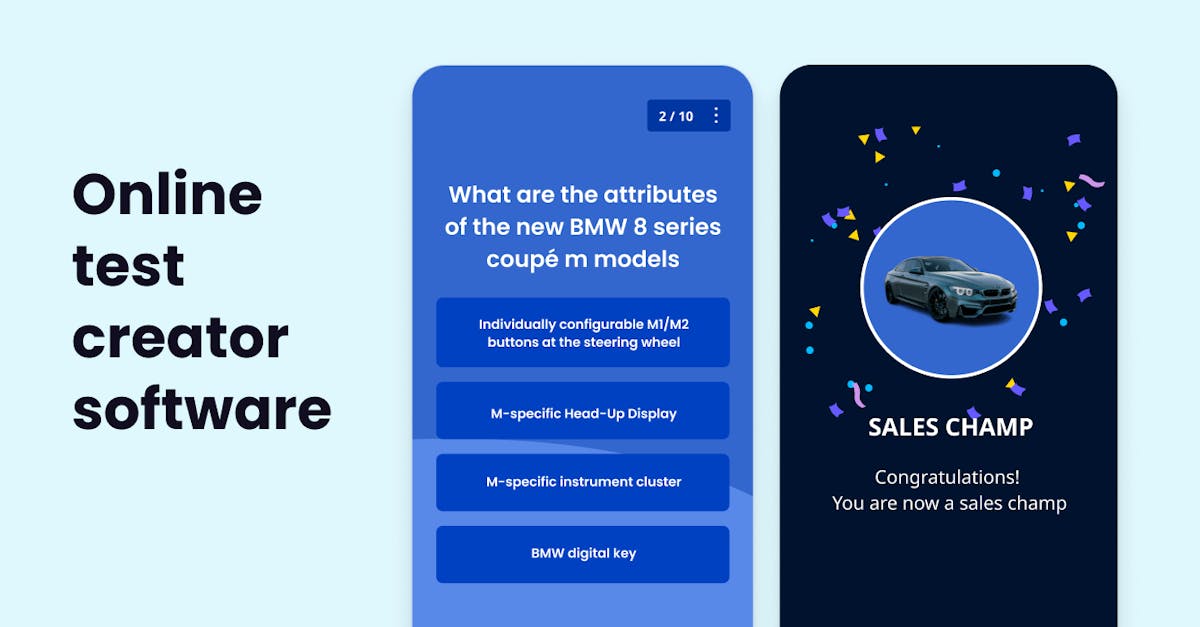 Conducting tests and quizzes has always been one of the best ways to evaluate learners' skills and knowledge. In previous years, trainers or teachers would usually require tests in face-to-face settings. But due to the global pandemic, organizations have shifted their skills assessment strategies to a more online-friendly approach, resulting in a bigger demand for online test creator software. These tools allow you to create interactive quizzes, streamline your assessment process, and measure learning effectiveness, which can save you an incredible amount of time and resources.
You don't need any design expertise or technical knowledge to create engaging quizzes. With these intuitive tools, you can easily design, modify, and deploy assessments in just a few clicks. In this article, we've curated a list of the top 10 online test creator software that you can use for your next online assessment. 
1. EdApp's Rapid Refresh
EdApp's Rapid Refresh is currently one of the best online SAAS and SCORM test creator software available on the market that can help you reinforce training concepts and increase knowledge retention rates among your workers. With this online platform, you can design visually appealing and interactive quizzes effortlessly, all in a matter of minutes rather than days or weeks. Simply input your quiz questions and answers through the easy-to-complete spreadsheet template and watch the tool automate your content into gamified tests, ready to be rolled out with a click of a button.  It also allows you to schedule the quiz delivery, whether it's daily or weekly intervals. You even have the option of deploying all the quizzes in a single burst.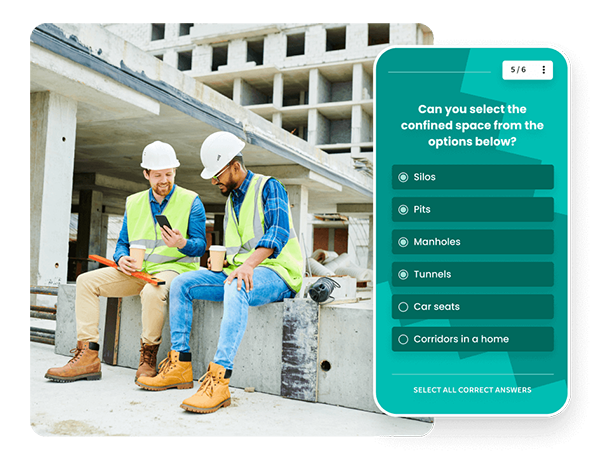 Through EdApp's Rapid Refresh tool, you can take advantage of notification and leaderboard features to motivate your workers to complete their online assessments. To identify knowledge gaps among your employees, it can also provide actionable insights through granular reports and analytics, which are delivered instantly to your dashboard whenever a quiz is completed. With all the results on hand, you can easily assess each worker's performance, address their training needs, and provide them with additional support.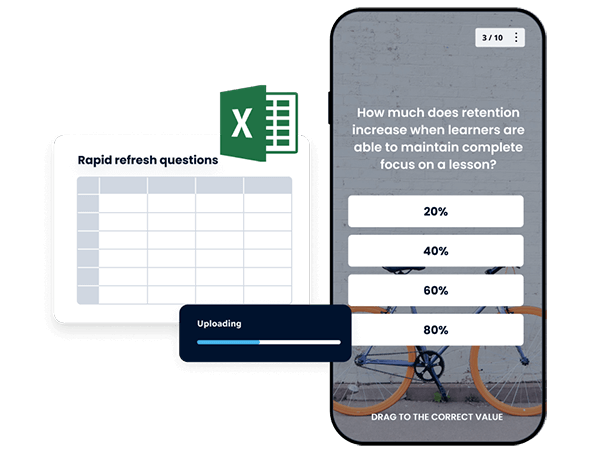 Apart from the test creator tool, EdApp also takes pride in its pre-made courses that you can customize and share with your team. There are leadership, marketing, diversity and inclusion, and free online medical laboratory courses, among many others. If you need assistance creating training materials and online assessments, EdApp's team of experts is available. They also offer additional onboarding and account support.
Cost: Free
Highlights:
In-app customization and branding

Spreadsheet-based quiz maker

Leaderboards

Reports and analytics

Mobile-friendly
Get started with our online test creator Rapid Refresh
2. Proprofs
With ProProfs' online quiz maker, you can get access to over 100,000 ready-to-use question templates that you can deploy instantly or customize according to your organization's content and branding requirements. You can also choose from different test formats, including multiple-choice, matching, fill in the blank, short answer questions, and even essays. The tool also features a report and analytics dashboard where you can track all your learners' responses and performance data. You don't have to worry about accessibility since quizzes are available online through desktop and mobile devices, allowing your employees to take them anytime and anywhere.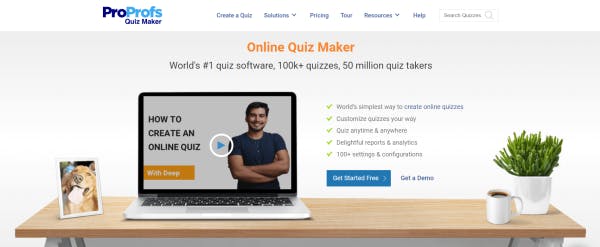 One big disadvantage of Proprofs is that the free basic plan only covers a maximum of 10 responses per month. If you need a higher number of responses, you can check out their paid plans, which start at 5 USD per month.
Cost: Free, Plans start at 5 USD
Highlights: 
Access to over 100,000 ready-to-use questions

Multiple test formats

Mobile and desktop-friendly

Report generation
3. SurveyMonkey
SurveyMonkey is another popular quiz software that can help you design simple surveys, quizzes, online tests, and polls. The user-friendly website provides hundreds of editable quiz templates that you can use to create free online tests, saving you time that would have otherwise been spent on planning and designing a quiz from scratch. It also allows you to track your learners' online training progress and overall test results through its analytics tools. You can even send automated email reminders to those who are yet to start their assessment.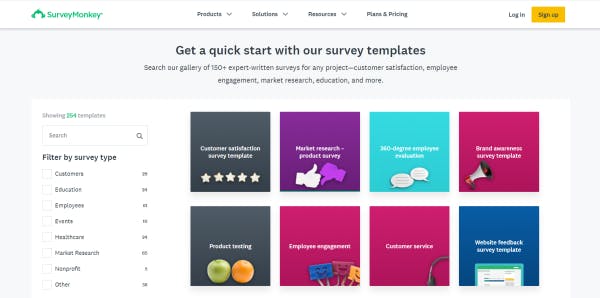 If you're looking to try SurveyMonkey's free plan, do keep in mind that it limits users to a maximum of 10 questions per survey. Although they do have paid plans that allow you to create more complex quizzes and give you a wider range of customization options.
Cost: Free, Plans start at 7.60 USD
Highlights: 
Hundreds of ready-to-use and editable quiz templates 

Training progress tracker

Automated email reminders
4. Typeform
Typeform is a free online test creator software that uses a drag-and-drop tool to help you efficiently build professional online quizzes, even with no coding background or design experience. To create your own test, you can choose from over 400 aesthetically pleasing templates, input your questions and answers, add engaging visual elements like images, GIFS, and videos, and deploy to your team, all in just a few easy clicks. Aside from quizzes, their customizable templates also include surveys, polls, feedback forms, and even request forms.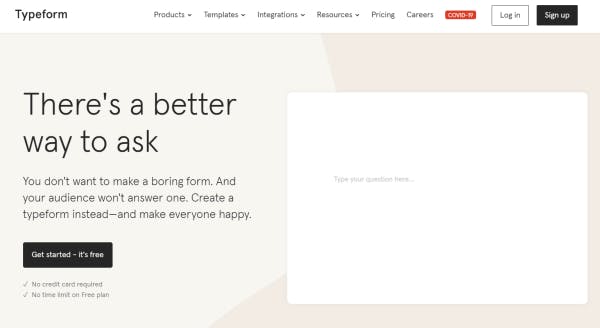 One thing to consider before trying out Typeform's free plan is the limit of 10 questions per form, with 10 responses per month. For a higher range of questions and responses, you'll need to get their paid plan.
Cost: Free, Paid plans
Highlights: 
5. Quizlet
Quizlet is an online test creator software that is well known for its signature flashcard format. While it's mostly used in schools, this tool can also be used in the workplace to test employees' understanding and retention of training concepts. It gives you access to a vast library of pre-made flashcard stacks across different topics for easier quiz creation. This tool is especially beneficial for visual learners as most information and key concepts are shown through images, resulting in better comprehension and easier recall. Aside from its customizable flashcards, Quizlet also allows you to set up game-show style contests to foster healthy competition among your workers. Some of its other notable features include timed games, adaptive questions, and practice tests. This learning platform is available for free but you can only unlock analytics and customization options through their paid subscription.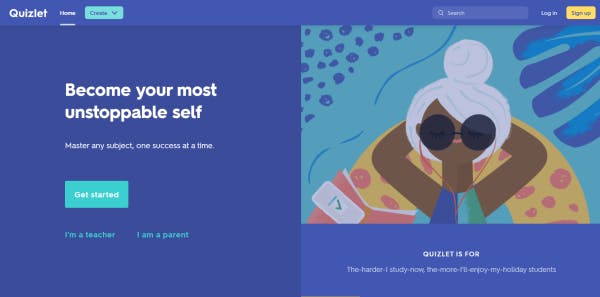 Cost: Free, Paid plans
Highlights: 
6. QuizGame
QuizGame is an online learning management system that uses gamification elements to create fun and interactive assessments that learners will enjoy. It offers a variety of pre-made templates and quiz modes like stock-market-like structures, duels, and group trivia to encourage learners to engage with their training and complete their tests. Other popular gamification examples that you can also use for your assessment include Tic, Toc, Prison Break, Do or Die, and The Big Escape. In addition, QuizGame provides trainers and managers access to analytics data, which are based on 85 metrics. These can be used to track workers' overall learning progress and address their training challenges.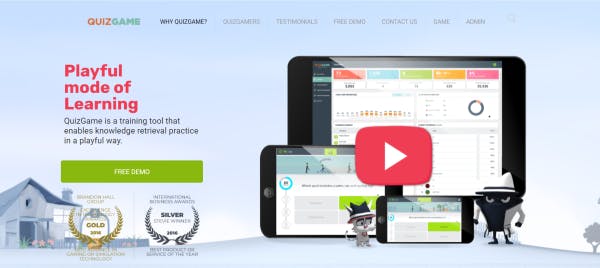 QuizGame has a free trial if you want to test the waters. If you're interested, you can book a demo with them to get a broader idea of how all the features work.
Cost: Paid plan but with free trial and demo; prices available upon request
Highlights: 
7. Nearpod
If you're searching for an elearning creator software to help you in authoring and customizing training quizzes, Nearpod might just be what you're looking for. This tool offers numerous assessment questions such as multiple choice quizzes, polls, open-ended questions, fill-in-the-blank questions, and matching pairs, which can all be used to evaluate your employees' current skill level and measure their learning retention from previous training lessons. You can also add various media like images, videos, or audio voiceovers alongside the quizzes to make them more engaging. As soon as learners complete their tests, real-time feedback and reports are provided so you can easily identify those who have retained the lessons in their learning courses well and those who still need additional training.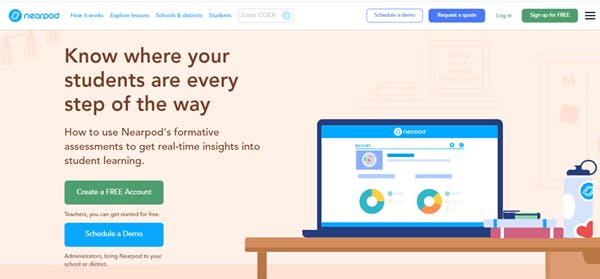 With Nearpod's free version, you'll only get around 100MB of storage space to create lessons and quizzes but can upgrade to their paid plans if you want to acquire more storage space.
Cost: Free, Paid plans start at 0 USD per month
Highlights: 
Flexible quiz customization

Creative themes and templates

Real-time reports
8. Interact
Interact is another online test creator and learning management system platform designed to help businesses generate leads for growth and drive traffic to their websites. It can also be used by individuals or educational institutions that are looking to create scored quizzes, personality quizzes, or assessment quizzes. Save time and effort by choosing from any of their pre-built quiz templates. The tool offers more than 800 ready-to-use quiz templates in over 40 categories including marketing, entertainment, education, history, health, lifestyle, and so much more. The drag and drop tool is another Interact feature that can help you create branching logic quizzes where you show learners different questions depending on their previous answers. With the tools' paid plan, you can even customize the quiz theme and branding according to your company's specifications, giving you control over colors, fonts, images, and logos.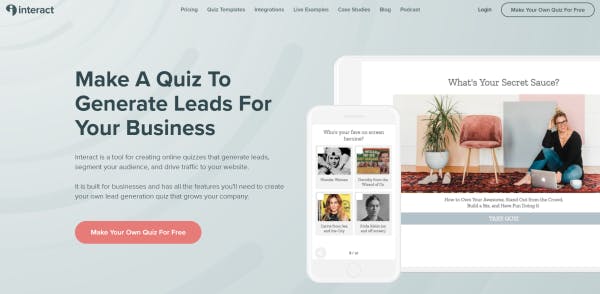 Cost: Free basic plan, paid plans start at 7 USD per month
Highlights:
800+ readily available templates

Includes branding customization

Drag and drop tool
9. Fyrebox
Fyrebox is a cloud-based quiz maker tool that can help you create interactive and well-designed quizzes. Check your employees' training progress or generate leads for your organization's website by deploying a presentation style quiz or try out a conversation quiz format through chat apps like Messenger, WhatsApp, or WeChat. With this tool, you can customize the look of your tests, change color themes, import background images, or choose your preferred font style. If you don't know where to start, Fyrebox also provides visually appealing themes and editable templates that you can use to create your first quiz.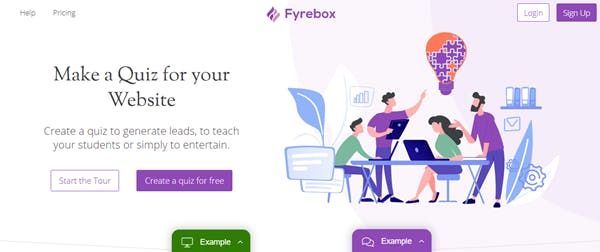 All plans allow you to create an unlimited number of quizzes but do note that with the free version, all test copies will be published with the Fyrebox logo. 
Cost: Free, Plans start at 6 USD
Highlights: 
10. Articulate Quizmaker 360
The Articulate Quizmaker 360 is a powerful employee training tool that you can use to author quizzes, surveys, and other assessments. With this tool, you can choose from 25 form-based question types including true or false, multiple-choice, fill in the blank, matching drag and drop, and freeform questions. Its content library features a wealth of characters and slide templates that can help you create ideal decision-making scenarios and tests. The quiz maker tool's responsive player adapts to different screen sizes and supports touch screen gestures like swiping and dragging, making it universally compatible with any desktop or mobile device. The feedback and annotation features keep everyone aligned regarding the quiz creation process, which makes it easier to spot errors and deploy tests quickly.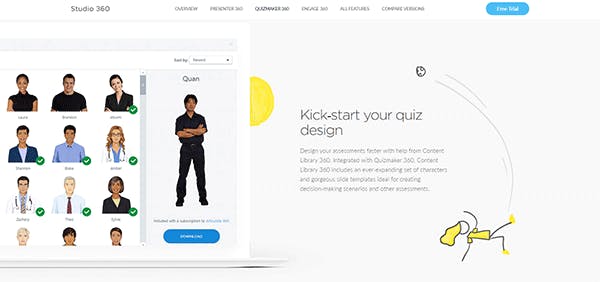 A huge drawback of this tool is that the plans are quite pricey, but students, teachers, and anyone in the academic field can get a 50% discount. 
Cost: Paid plans start at 99 USD per user per year
Highlights:
Content library

Responsive design that supports touch screen gestures

Review and annotation options
You might also want to check out: