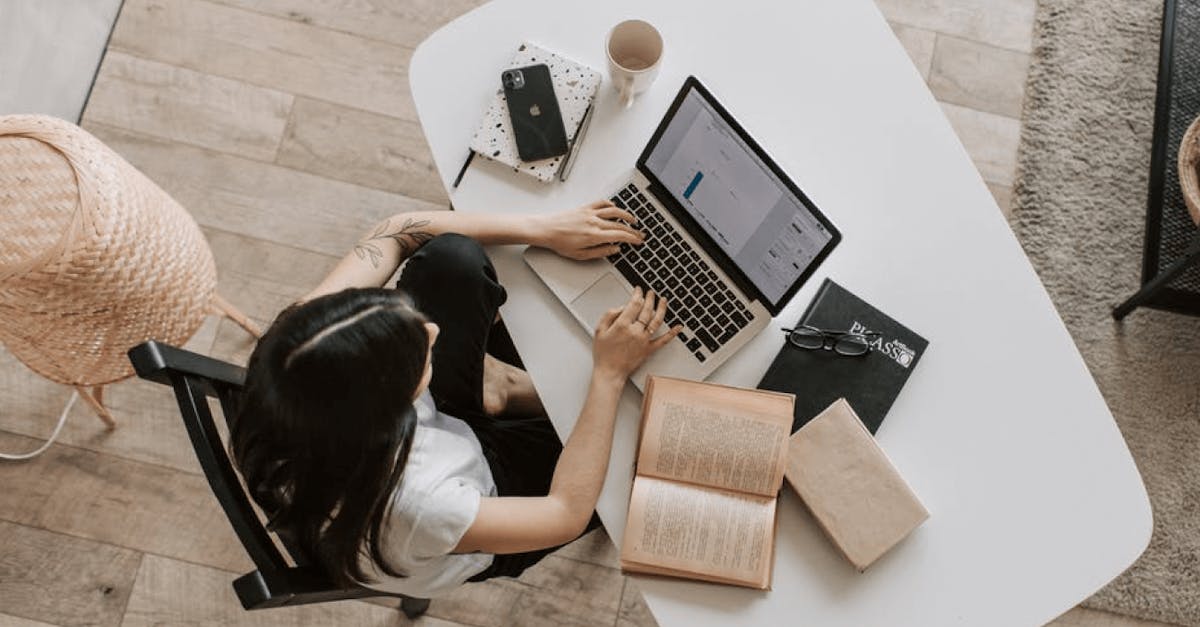 Through a blended learning LMS, training managers can streamline and simplify tasks while still delivering a targeted and flexible training program customized to the needs of different learners. As blended learning combines traditional instructor-led approach (through face-to-face or video conferencing) and online learning, using an LMS to get this job done enables both trainers and learners to have full control over their training. 
Choosing a blended learning LMS that caters to your needs and best complements and supports your training strategy is vital to the success of your training. As there are many options out there, we've curated 10 free blended learning LMS to guide you in choosing what works best for your blended learning approach.
1. EdApp
EdApp is an award-winning, free LMS that serves as a blended learning solution with its microlearning capabilities. Microlearning transforms abundant training materials into digestible courses which are proven to increase retention rate and course completion rate. This LMS enables you to supplement your in-person/video conference onboarding or training with engaging microlessons that enable self-paced learning for your employees.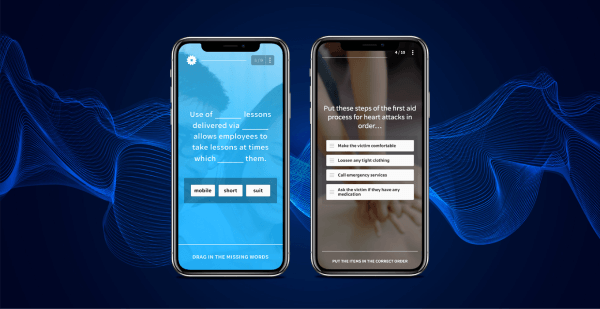 Blended learning strategies are incorporated into EdApp's overall design. Its gamification feature makes your microlessons more engaging and interactive so your training contents are also easier to understand. EdApp's tools also drive social learning with its built-in discussions and assignments feature which enables collaboration among peers and coaches within the app. To ensure that learners retain information, EdApp uses a Spaced Repetition feature which enhances memory through repeat learning. This method is demonstrated through a quiz software system called Brain Boost which tests their knowledge frequently. 
EdApp LMS is not only effective in the learning experience of your employees, but is also convenient for managers and L&D professionals in charge of planning your blended learning strategy, and designing instructional materials for the training and development of your employees. Its built-in authoring tool allows you to easily design microlessons using interactive templates. Or, you can easily customize and deploy premade courses designed by industry experts that are available in our free editable course library.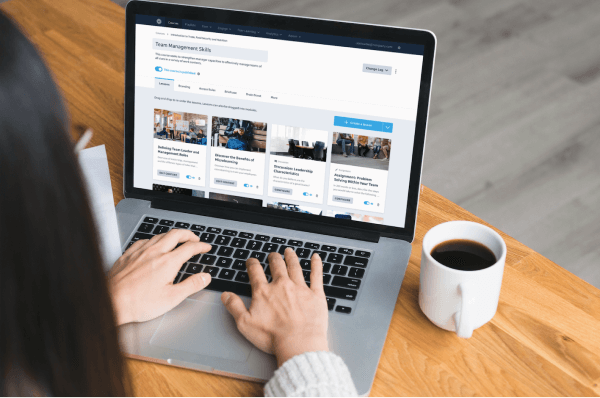 Features:
Microlearning 

Mobile-first approach

Free editable course library curated by thought leaders and industry experts

Built-in authoring tool that includes 50+ intuitively designed interactive templates, such as: Multiple-choice, in-app gamification, conceptual formats, surveys, etc.

Gamification & leaderboards

Social learning: Discussions, assignments, virtual classrooms, and peer learning

Brain Boost (spaced repetition tool) and Rapid Refresh (built-in quiz maker)

User and course management system

Learning metrics dashboard & reporting
Cost: Free
EdApp is a free LMS that takes pride in its microlearning approach and innovative features that support your blended learning strategy. Learn more about how you can use EdApp to create an effective and engaging learning and development experience for your employees by signing up for free!
2. Gyrus
Gyrus is a cloud-based LMS designed with AI-driven intuitive features helping you bring world-class training and development objectives for your employees. This LMS serves a blended learning solution by allowing you to develop training materials delivered through various digital formats – such as elearning videos, webinars and documents, and virtual classrooms – which provides support in traditional onboarding and training activities, as well as accessibility anytime and anywhere across any device. Its smart learning features are optimized for building customized learning programs for various groups of employees, and streamlining organizational compliance becomes easier for training managers.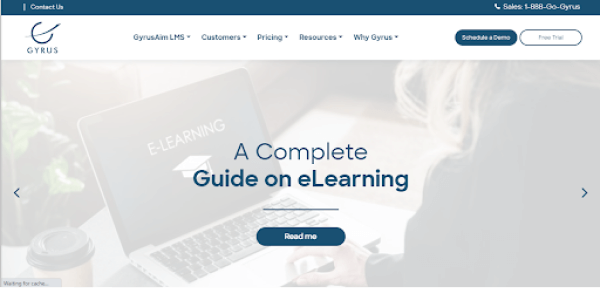 Features:
Various eLearning options: Online, instructor-led, webinars, and file-based courses

Assessment and feedback evaluation

Gamification

Certificates

Additional learning material for skills management, such as: Case studies, simulations, coaching sessions, and joint projects

Real-time data visualization and reporting

Individual Development Plan, gap analysis, and need analysis

Fully scalable
Cost: Paid subscription starts at 00 USD (monthly) and 000 USD (annually)
3. TopClass LMS
TopClass LMS is an award-winning learning platform that serves as a technology partner in providing a comprehensive and flexible learning experience for employees. It helps organizations provide skills development and career advancement for learners through a personalized learning experience, as well as a wide range of educational programs for employees (such as mini-courses, learning pathways, apprentice programs, certificate programs, discussion forums, interactive videos, and many more). With this robust learning platform, you can integrate a blended learning approach to your training program wherein they can access online learning materials prior to a conference event, and explore more content in the LMS after to extend their learning experience.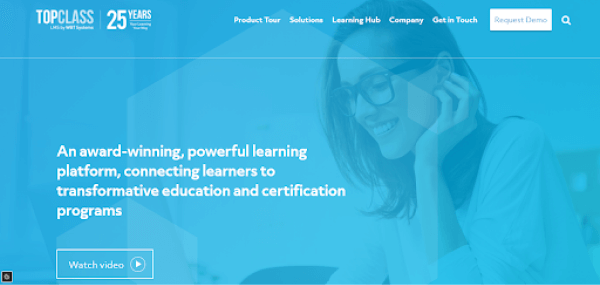 Features:
Intuitive user interface design responsive across all devices

Virtual conference and events, such as discussion forums and interactive videos

Online testing tools which include timed assessments, randomized question pools, proctored exams, quizzes, and surveys

Social learning through discussion forums, social sharing, and online communities

Content catalogs

Certificates

Advanced reporting
Cost: Price upon request
4. Arlo
Arlo is an LMS specifically for training providers that focus on delivering a learning journey to empower learners through self-paced learning, live online learning, and blended learning. This LMS provides a blended learning solution by extending training with digital learning incorporated on live and interactive webinars, eLearning modules discussion forums, recorded videos, and assignments, as well as test employee knowledge through quizzes. Its innovative training management system design streamlines processes and simplifies tasks enabling training providers to save time while still effectively increasing course registrations.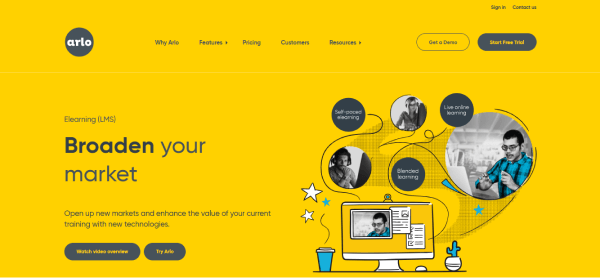 Features:
Website integration

eLearning with self-paced modules, classroom sessions, discussions, assignments, and quizzes

Live online sessions such as web conferences and webinars

Reporting and business intelligence

Course management

Event management

CRM and customer portal
Cost: Price upon request
5. Inquisiq
Inquisiq is an LMS that bridges offline learning and online learning to create a dynamic and collaborative learning platform managed by both the training managers and employees themselves. Similar to other blended learning platforms, it provides tools that support a blended learning environment, such as lessons that include task assignments, on-the-job training events, learning paths consisting of multiple courses, course completion certificate, course catalog and library, and many more. It also facilitates social learning through user communities and walls and feeds. Through this LMS blended learning programs become more efficient and seamless for training managers to implement.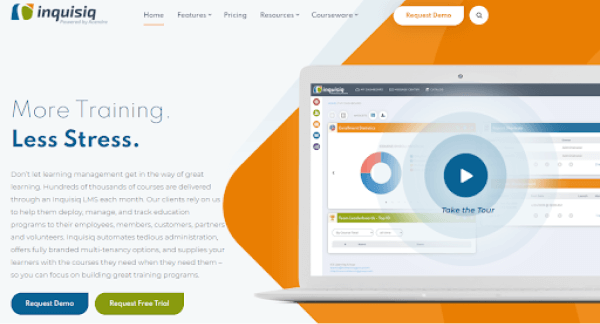 Features:
Remote access across all devices

Customizable user dashboards

Assignments

On-the-job training events and performance evaluations

Learning paths

Personalized certificate and course completion certificate

Course catalog and library
Cost: Paid subscription starts at ,128 USD (up to 100 users monthly) and ,256 USD up to 100 users annually)
6. Hurix Digital
Hurix Digital is an end-to-end digital content solution provider integrating different content creation and delivery platforms designed for modern-day learning. Among these platforms is a custom LMS that enables organizations to deliver training content through eLearning, classroom training, and blended learning accessible across multiple devices. With Hurix, you can customize your LMS according to your organization-specific training workflow. The custom LMS can support your blended learning strategy with customized training modules based on your business and training objectives, such as onboarding, sales enablement, compliance, and process training.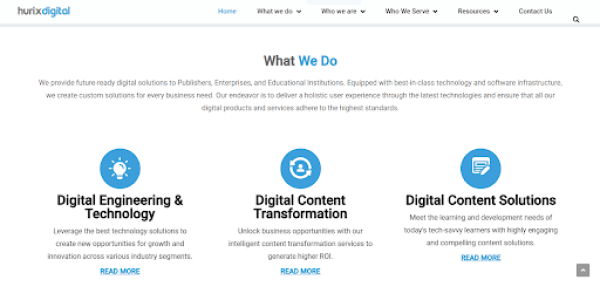 Features:
Custom LMS

Mobile-first approach

Immersive training modules using engaging videos, gamification, simulations, and scenario-based learning

Bite-sized learning

Game-based learning incorporating puzzles, problem-solving games, strategic games, challenge-based games, and many more

Hands-on training

Learning paths that combine niche courses and programs designed by SMEs
Cost: Price upon request
7. ProProfs
ProProfs LMS is an employee training software that easily combines online and offline training through its tools that provide a blended learning solution. This LMS enables training managers to provide new educational content made from scratch, or, existing courses from its online training course library. Using this blended learning software, learners have control of what, when, and how they want to learn. For training managers, this reduces time in conducting instructor-led learning sessions. Instead, employees are given the opportunity to learn at their own pace while still fostering collaborative learning through virtual classrooms.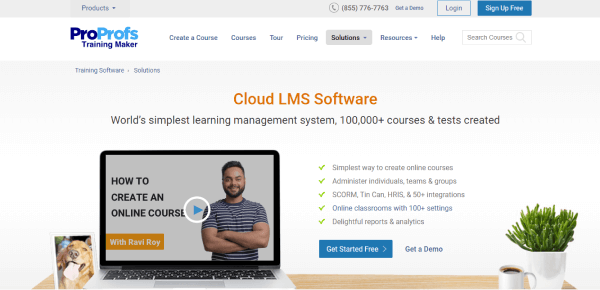 Features:
Premium course library with 100+ courses designed by experts

Easy online course authoring

Gamification elements which includes brain games, learning paths, and quizzes

Course completion certificates

Collaborative learning through virtual classroom

Forms and surveys

Learning management

Reports & analytics
Cost: Free (within a 15-day trial), paid subscription starts at 4.96 (per feature monthly) 
8. Violet LMS
Violet LMS is a full-service digital training provider that helps develop employees through a sustainable learning experience on employee training, onboarding, sales training, compliance training, distribution training, and even customer training. This blended learning LMS assists in offline training through features, such as an external trainer management system and a venue management system. Employee knowledge is further strengthened with interactive courses and virtual classroom sessions. With the adaptable training plan provided by this blended learning software, training managers have access to a visual calendar of priorities and tasks, as well as track and measure results for each individual through a powerful reporting tool. Through individualized learning plans tailored to the needs of the learners, employees are able to maximize their potential and improve their performance.
Features:
Mobile learning

Learning path which includes unlimited courses, assessments, and classroom training

Gamified microlearning

Certificate

Learner engagement features such as leaderboard, points and badges, gamified learning path, and customizable certificate

User management

Report management

Communication management
Cost: Price upon request
9. Kahoot!
Kahoot! is another blended learning lms you can use to gamify your quizzes and assessments and introduce new concepts to your employees. The quizzes are creatively called "kahoots", which can be accessed via a web browser or a mobile app. They can be presented on a shared screen and answered by a group of "players" all at the same time. Alternatively, you can also arrange them as a self-paced challenge to be completed by your team asynchronously. It also provides reporting and analytics so that knowledge gaps can be spotted and feedback can be provided for a more holistic training experience.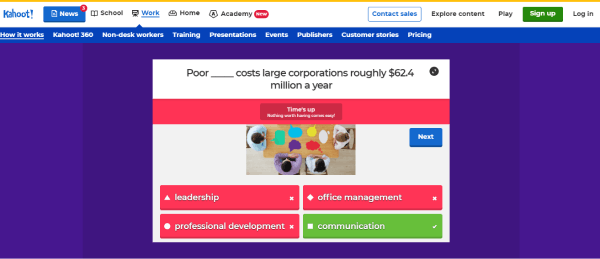 Features:
Cost: Free and paid plans
10. iSpring Learn
iSpring Learn is a cloud-based LMS that allows you to automate processes and deliver training conveniently. It serves as an ideal solution for blended learning with its ability to track the results of both instructor-led sessions (i.e., attendance and assignment results) and online learning (e.g., test completion rate, number of attempts, personal or group progress). This LMS also allows you to notify learners of new events or upcoming deadlines, enroll them into needed training programs, or assign new courses automatically.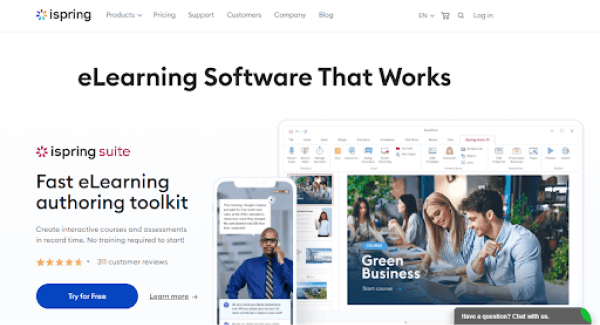 Features:
Cloud-based LMS, so no installation is required

Pay-per-active-user pricing model

Available on all devices

Learning paths for a consistent training experience

Built-in authoring tool for content creation

Branding and customization

Integration with Zoom

Event calendar to schedule and monitor in-class activities

Training analytics

Gamification and certificate

User-friendly interface
Cost: Paid subscription starts at .82 per user, per month (billed annually)
11. Accessplanit
Accessplanit is a blended learning platform suitable for training teams that deliver hundreds or thousands of courses. This serves as a one-stop learning platform delivering tools and support in achieving the best results for training companies. This remote training software allows training providers to streamline and automate processes while creating high-quality training materials and exceptional learning experiences for customers. With its course management feature, you can efficiently manage course and training events, may it be in-person learning sessions or eLearning, making it compatible with a blended learning strategy. As a platform designed to centralize all training operations, training providers are given flexible training solutions in planning courses which include face-to-face sessions, webinars, virtual learning, and short courses for in-house training, public sessions, and employee sessions.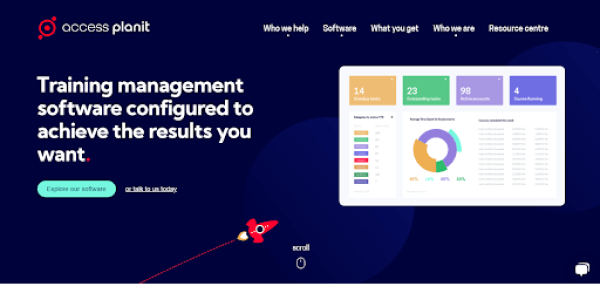 Features:
Course management for course and training events, such as face-to-face, web, eLearning, and blended learning 

Automation tools

Customer relationship management 

Reports and analytics
Cost: Price upon request