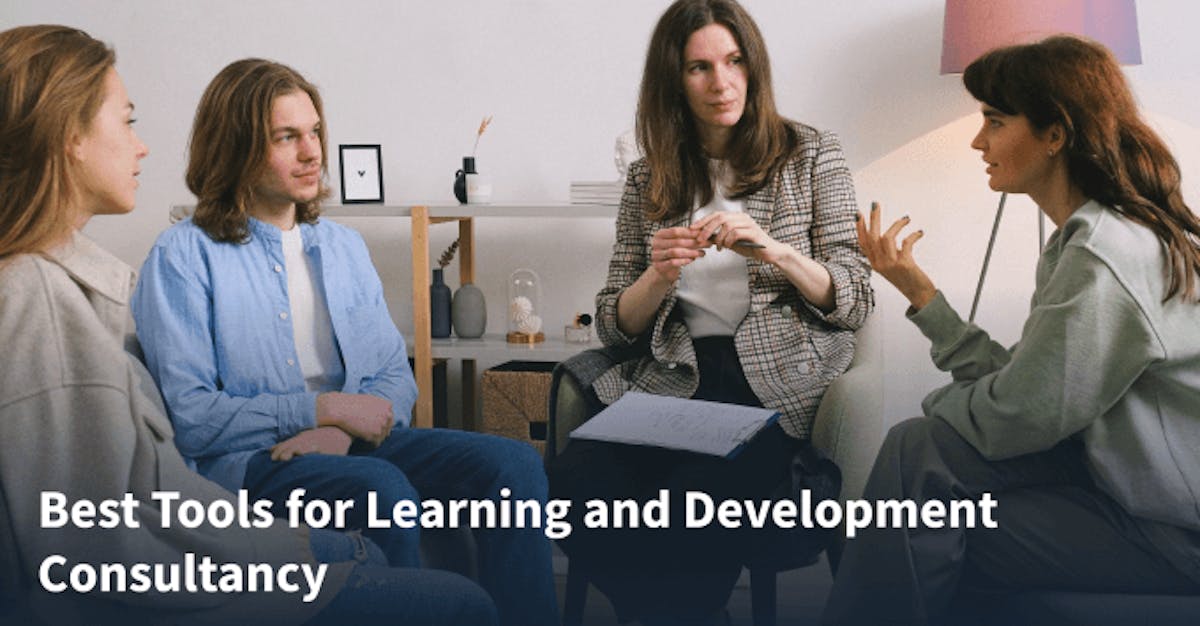 Learning and development consultants are responsible for analyzing the production of the workforce and identifying areas where improvements are necessary. With the help of tools for learning and development consultancy, coming up with learning strategies that will educate the workforce and boost production can be easily developed. In this article, we'll look into ten of the best tools for learning and development consultancy that will help you to continuously improve and expand your organization.
Learning and Development Consultancy Tool #1 – EdApp
EdApp is a great mobile-first tool for learning and development consultancy agents to use as a stand-alone LCMS. The platform has a lot of spectacular features that L&D consultants can use to make their jobs a lot easier. Some of these features are gamification, microlearning, and spaced repetition, among others. With gamification, L&D professionals can incorporate gamified features in their lessons to capture the attention of learners. On the other hand, microlearning allows for manageable bite-sized lessons to be delivered to learners, so they are not overwhelmed, and the Spaced Repetition feature provides lessons to learners at increasing intervals to foster retention. You will not need any technical knowledge to use the SCORM-compliant authoring tool or the vast editable library, which means that course creation will be an absolute breeze that will help you whip your team into tip-top shape in the shortest possible time.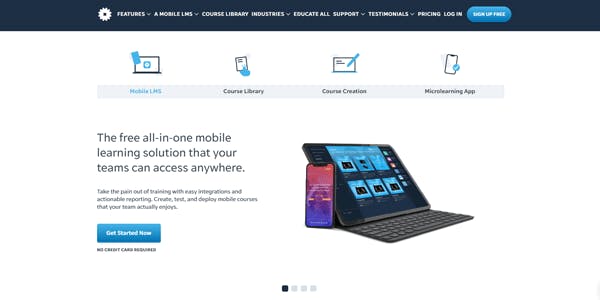 Price: Free
Features: Mobile-friendly, Gamification, Spaced Repetition, SCORM Authoring tool, Template library
Learning and Development Consultancy Tool #2 – mAuthor
mAuthor is a complete SaaS cloud-based tool that's suited for learning and development consultancy agents worldwide who need to create interactive versions of their printed text. All content created with this software is done per the current industry standards, and can then be distributed and used on both mobile devices and desktop computers. This essentially means that the material can be accessed at any time from anywhere. Authors can create highly engaging and useful content without any programming skills as it's pretty much a do-it-yourself kit. With 140 ready-made modules for you to take advantage of, the process is quite easy. In addition, the platform allows you to adjust your content based on your learner's skills with Adaptive learning features.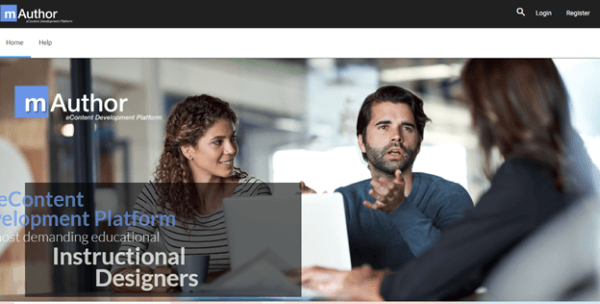 Price: USD 000+
Features: WCAG 2.1, Adaptive learning, Authoring, Ready-made content, Interactive eContent, Audio subtitles, Screen reading
Learning and Development Consultancy Tool #3 – Camtasia
Camtasia is helpful for individual learning and development consultancy agents or companies of any size that want to create effective professional training, sales, or marketing videos. These high-quality videos that are useful for both internal and external customers can be done without any formal training. With this software, you can do screen recordings or make videos that can serve as tutorials, webinars, demos, or other instructional pieces. Learning and development consultancy agents can record their Windows or Mac screens even while on video calls and use it as learning content. Camtasia then provides editing tools packed with effects, templates, annotations, zoom features, pans, transitions, animations, and more to add value to your courses. All of the created videos can then be exported and shared via Screencast, YouTube, Vimeo, and other online platforms and courses. Unfortunately, only video courses can be created.
Price: US99.99/user
Features: Customization, quizzes, export to video platforms, pre-built video templates, screen record
Learning and Development Consultancy Tool #4 – isEazy
For learning and development consultancy, isEazy's easy editing system and user-friendly interface are great features that will allow L&D consultants to create eLearning courses from a large offering of templates and ready-to-use resources. You won't need to install any software, and multiple people can work simultaneously on the same project when customizing courses, such as adding logos, colors, images, and more. Users also have access to over 20 types of multimedia elements to utilize in their lessons. This is good because these elements go a long way when it comes to motivating learners. After you've created your courses, you can download and publish to an LMS, import to your website, or share via direct link. isEazy can improve on its quiz maker by incorporating spaced repetition and other useful features to foster knowledge retention.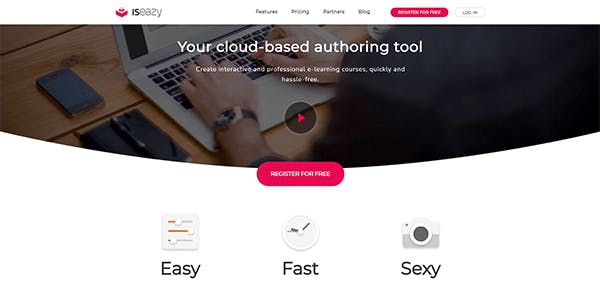 Price: Free and paid plans (starts at US 00)
Features: Course editor, Interactive platform, Slides, WYSIWYG editor, Personalized images, and more
Learning and Development Consultancy Tool #5 – DominKnow
DominKnow tries to offer learning and development consultancy professionals all they need in one place, including the Claro, Flow, and Capture authoring and creation tools. Once the courses are created, they can be exported as AICC, CM15, SCORM, and xAPI. If you need to do instructor-led training, the option to produce printed versions of the courses you create is also available. Because the software is web-based, learning and development consultancy teams can work together to create and review content in one place and also share access across multiple projects.
Price: Starts at 97/author/year
Features: Searchable Knowledge Base, web-based, CM15, SCORM, AICC, Flow, CLARO
Learning and Development Consultancy Tool #6 – Evolve
The powerful Evolve authoring tool can be used by learning and development consultancy teams and individuals to easily and quickly create professional, stylish, and responsive HTML5 content, courses, and simulations in Intellum. With Evolve, you can build courses from scratch or templates for use on multiple other platforms. Speaking of courses, the ones you create are completely customizable via theme control and over 60 ways to display content. All these are features that will ultimately foster learner focus and knowledge retention. One great feature of this platform is the live preview feature. This allows learning and development consultancy professionals to preview their courses exactly the way they will be presented to their learners, before making them go live. The platform is not a stand-alone LMS so you will have to export your content to one after you are done here.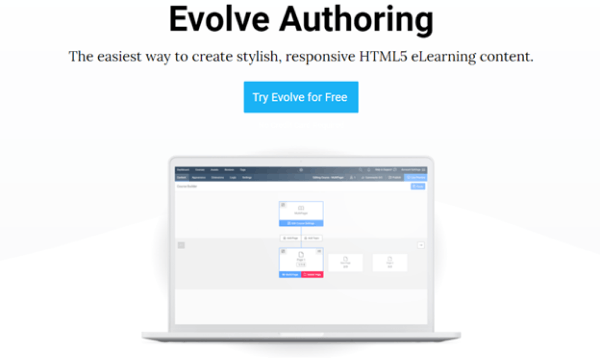 Price: USD0/author
Features: Templates, live preview, responsive content, customizable themes, and more.
Learning and Development Consultancy Tool #7 – Kineo
Kineo is a bit different from the other tools on this list. Kineo actually offers a service that provides your company with learning and development consultancy professionals that aim to provide you with good advice based on the relationship and understanding they built up of your company. Their team will get the very best grasp of the problems you are experiencing and work with you on a plan to overcome them. They are a strong believer in social learning, so they will try to get social and collaborative elements to work hand in hand with your current L&D solution. This solution is good for organizations looking to outsource their L&D but not for those that want it handled in-house.

Price: Contact for pricing
Features: Compliance eLearning, Onboarding, Induction, Audit, Bespoke eLearning, Learning Platforms, Learning Management System (LMS), L&D strategy
Learning and Development Consultancy Tool #8 – EY
Learning and development consultancy agents can use EY to whip their workforce in shape and have them keep up with the advances in technology, demographic changes, continuing globalization, and new regulations. This move will give them a competitive advantage in their respective fields. EY provides a tailored framework for identifying, evaluating, and rectifying learning issues within organizations. Your learning and development team can use this framework to develop a more comprehensive L&D strategy that actually works, such as a knowledge management strategy that focuses on getting the right information to the right people at the right time. However, course creation and disbursement would be good features to have to partner with their current services.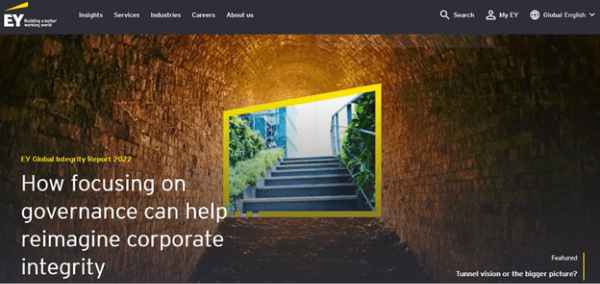 Price: Contact for pricing
Features: Organizational learning and knowledge management development, over 500 learning professionals in more than 130 countries, Strategy consulting, Technology transformation, Tax function operations, Managed services, Climate change and sustainability services, EY Private, Alliances and ecosystems
Learning and Development Consultancy Tool #9 – Branchtrack
Branchtrack is a feature-rich simulation tool that is also a useful way to collect actionable data. With this software, you can train your employees in very innovative ways that foster retention and promote learner focus. Mobile-ready, SCORM compliant, and HTML5-based simulations can be created with Branchtrack. These are all compatible with Lectora, Captivate, Storyline, basically all eLearning authoring tools. Don't worry if you don't have any coding or technical knowledge as the platform is easy to use as most tasks are streamlined and automated. Because the service is mobile compatible, you can edit your simulations at any time on any device.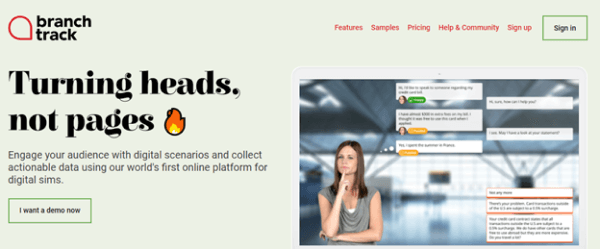 Price: USD/bin/sh-999/annual
Features: mobile-ready, SCORM, simulations, Browser‑based Editor, Built‑in Image Library, Review & Collaborate, Real‑time analytics, Attach files, images and videos, Versatile scoring, Free‑text replies, Voice‑over, xAPI / TinCan, Single Sign‑On
Learning and Development Consultancy Tool #10 – Clarity Consultants
Clarity Consultants is an organization that will provide learning and development consultancy professionals for your organization to aid in developing effective learning strategies, training your leadership team, managing changes, and improving the skills of your workforce. With this service, your learning system consultant can help transform your talent development plans into reality. Many global companies use the service to design, create, and distribute courses that are more engaging and effective.  The service is quite comprehensive as it offers professionals to help with and streamline eLearning development, learning strategy, instructional design, development needs assessments,  and more. However, this tool isn't a right fit for companies that want a more hands-on approach.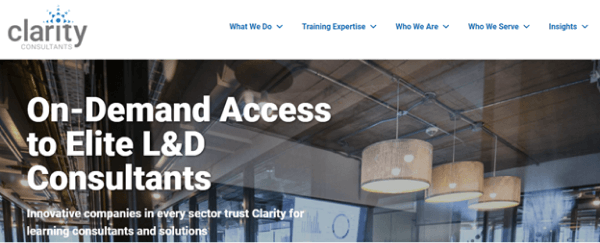 Price: Contact for pricing
Features: Instructional design, eLearning development, Learning technology, Learning delivery, Learning strategy, Organizational development