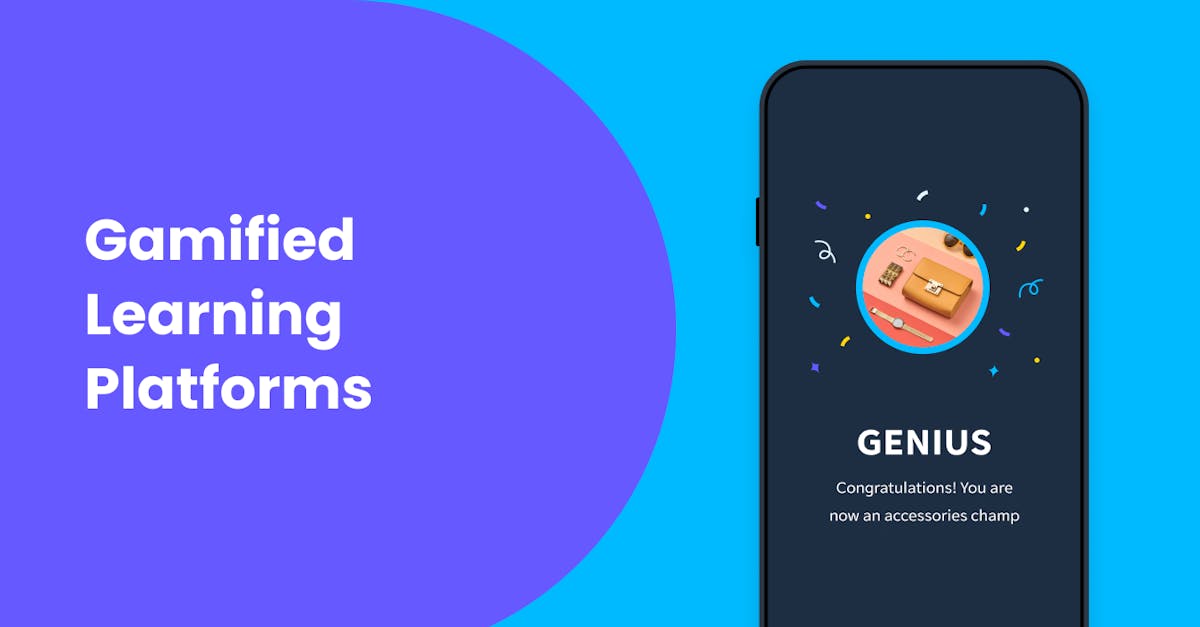 Boring and traditional lessons are out. It's now time to boost learning engagement so that you can make learning stick better. In this article, we'll help you find the most suitable gamified learning platform for you and your team. Check our recommendations below.
1. EdApp
EdApp is a mobile-first, gamified learning platform that offers you gamification concepts and features to make learning exciting. Its tools to gamify training include interactive templates, leaderboards, rewards, and scoring.
In this platform, a gamification strategy is applied to lessons that are presented in microlearning form. Microlearning is the strategy where bulks of overwhelming content are transformed into bite-sized modules to boost retention. Gamification and microlearning are combined to make learning materials easier to understand, more engaging, and less time-consuming.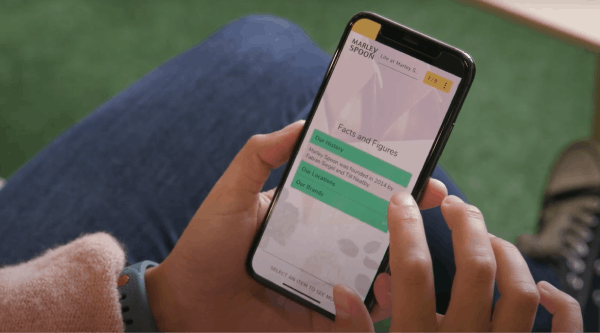 If you're starting from scratch, EdApp's course authoring tool gives you access to 80+ interactive templates, like multiple choice, games, relationships, etc. This makes learning more fun and interactive instead of simply absorbing knowledge from reading materials or watching videos. You can also use EdApp's editable course library, which includes hundreds of gamified microlearning courses. All you need to do is import a ready-made course, customize it, and share it with your team!
If you don't have the time to design courses from scratch, a team at EdApp is ready to do it for you. A quick and seamless course roll out is always possible when you have access to a team of talented instructional designers who can take the heavy lifting of creating the courses for you.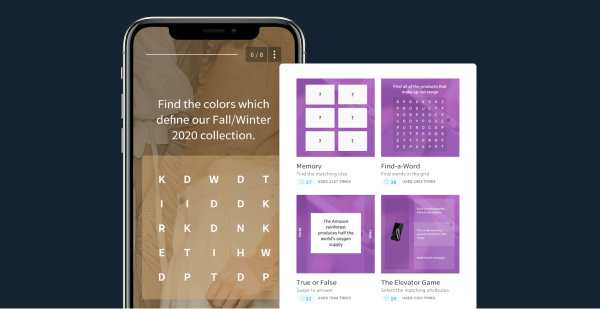 To simulate a game environment and encourage mobile learning, EdApp also uses a scoring system and a gamification-based reward system in their lessons. This allows learners to earn Stars (EdApp's virtual currency) from their social learning activities, and use them to play games on the Star Bar to win real prizes. You can also create a sense of community and friendly competition through the Leaderboards feature, where learners can rank on the board based on their learning performance. This strategy recognizes outstanding learners and also motivates underperforming learners to improve their performance.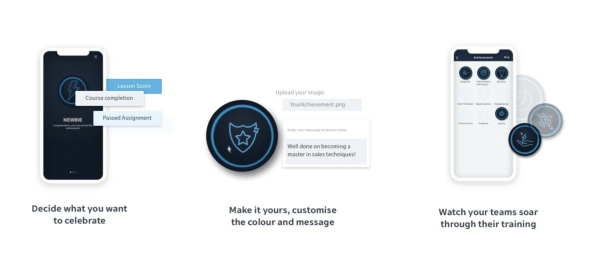 To further inspire learners and boost their motivation, you can acknowledge their time, effort, and hard work in completing their online courses through badges. With that, EdApp developed the world's first-ever customizable Achievements feature, which is a reward system to enable you to congratulate, motivate, and inspire learners with customizable banners and badges for every learning milestone. This adaptive learning strategy gives learners the opportunity to further step up their training and beat their own progress. It's a similar principle in a game context where players are encouraged to further improve their skills as they level up in their gaming progress to earn the highest level of achievement.
Key features:
Microlearning strategy

Gamification & leaderboards

Real prizing & rewards

Built-in authoring tool that includes 80+ intuitively designed interactive templates, such as multiple-choice, in-app gamification, conceptual formats, surveys, etc.

Custom Achievements

Mobile-first approach
Cost: Free
Let your employees learn while playing using the best gamified learning platform. Join EdApp for free and watch engagements soar!
2. Mambo.IO 
Mambo.IO is another gamified learning platform that allows you to customize gamification solutions based on your own key performance metrics and helps you boost the learning outcomes of your employees. This way, you can align your training strategy with your objectives. You can also assign rewards based on their learning progress or completion of an activity or business process. A behavior-and-point-based Leaderboards feature is also available to encourage friendly competition and inspire better performance among employees. To further increase engagement and motivation, you can reward learners with tangible benefits through its coupon system. This feature enables learners to redeem coupons from the points the learners have earned.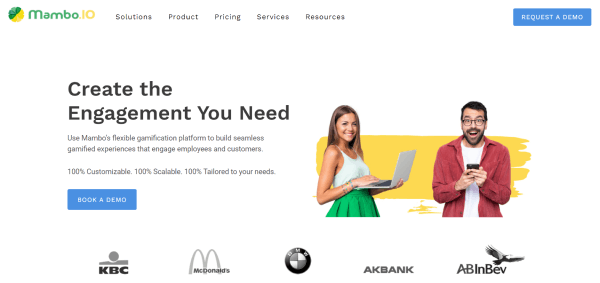 Key features:
Activity streams

Rewards system

Leaderboards

Coupon system
Cost: Price available upon quote request
3. Edgagement
Edgagement is a training tool that enables you to build gamified microlearning content, quizzes, and surveys through a simple drag and drop authoring tool. Even with little to no knowledge of graphic design, you can easily create interactive training materials with the help of over 15 game templates like Spin to Win, Fact or Fiction, Double Match, Connect the Dots, Jumble Pic, and many more. Edgagement also includes a data center that provides you with complete reports on game engagement, completion rates, and knowledge gains so that you can assess overall performance, address knowledge gaps, and optimize your training content for better results in the future.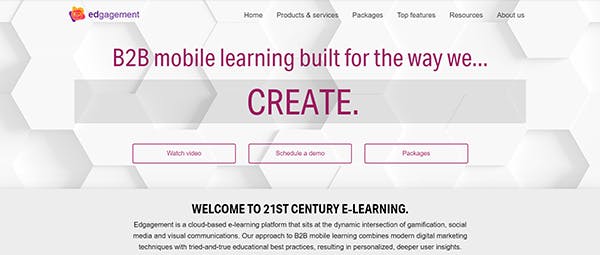 Key features: 
Cost: Price available upon quote request
4. Funifier 
Funifier is a gamified learning platform that incorporates game techniques in its features to increase engagement. It provides features like Quest lists, Leaderboards, Progress bar, and many more to boost your employees' learning performance. To further encourage learners to stay on top of their game, Funifier gives you the opportunity to create a custom incentive program so you can reward learners through its Rewards Catalogue. Aside from these, you'll also have access to a dashboard, which you can customize with KPIs that are relevant to your objectives. You can then use your data to enhance your gamification learning strategies.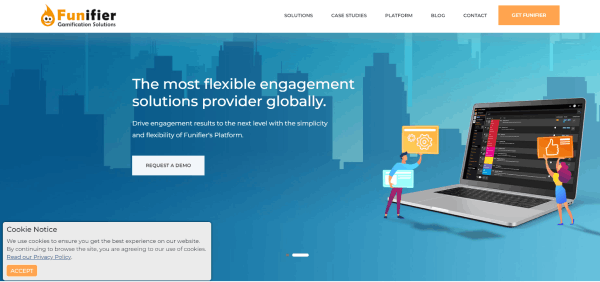 Key features:
Game techniques

Rewards Catalogue

Custom incentive program
Cost: Price available upon request
5. WizIQ 
WizIQ is a remote gamified learning platform that provides you with a virtual classroom and LMS all in one place. To increase learner engagement, you'll have access to polls, quizzes, and interactive whiteboards. This tool makes it easier to deploy training as all you have to do is set up your customizable learning portal and upload your training material using any format. WizIQ also supports multimodal learning, where you have the option to use real-time audio, video, and textual communication. Through its virtual classroom, learners can also attend live classes on the go through the WizIQ app available on iOS and Android.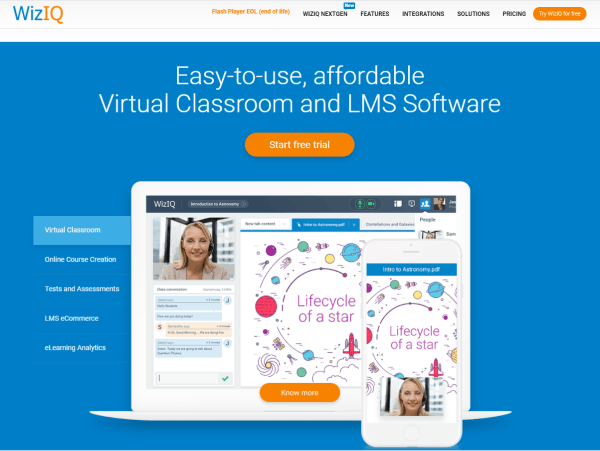 Key features:
Wide range of learning materials in different formats

Real-time data insights

Automatic deployment

Resources extended to external audiences
Cost: Pricing available upon quote request
6. Centrical
Centrical is a powerful gamification training software that allows you to design personalized microlearning content. This LMS platform delivers relevant and timely microlearning by assessing the knowledge level, engagement, and performance of your employees. It also makes learning a habit by integrating gamification into their learning experience. With its intuitive user interface, you'll be able to create polished game-based learning materials, even without any technical design skills. This platform also provides learners with a real-time performance management feature, which they can use to access their performance data and training feedback.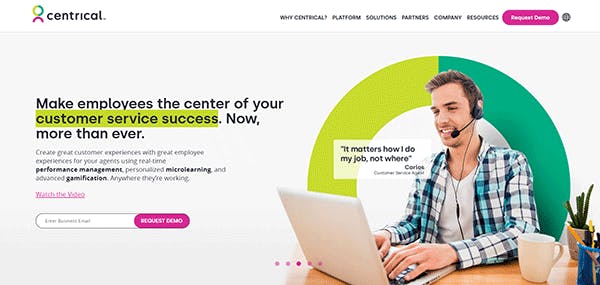 Key features: 
Personalized microlearning

Gamification

Real-time performance management
Cost: Price upon quote request
7. Hoopla
Hoopla is a sales gamification software and engagement solution specifically designed to motivate sales teams to increase performance through contests, leaderboards, and real-time recognition. With this eLearning mobile app, you can identify sales goals and create tournament-style or race-style contests to promote friendly competition between employees and accelerate overall team productivity. Team members can even track their individual performance through the tool's built-in leaderboards system. By fostering a competitive and encouraging atmosphere, your teams can have fun while hitting their targets.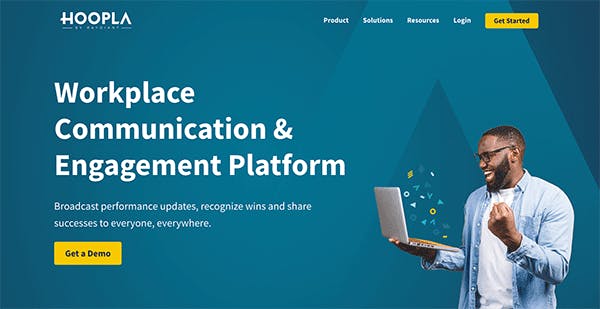 Key features:
Gamified sales content 

Contests 

Leaderboards

Real-time recognition
Cost: Free (within a 14-day trial), Custom price available upon quote request
8. Raptivity
Raptivity is an interactive eLearning solution that you can use to design visually engaging online learning materials. The tool features a growing library of pre-made responsive interactions that include parallax displays, panning slides, and 360 interactions. Even with no design expertise, anyone can customize interactive quizzes, games, simulations, flashcards, and brainteasers through the tool's user-friendly interface. Whether you're a teacher or an instructional designer, you can maximize the tool's many capabilities to keep your learners engaged and motivated throughout their learning journey. But it is important to note that it has a few feature limitations and you might need to download add-ons to design a well-rounded eLearning course.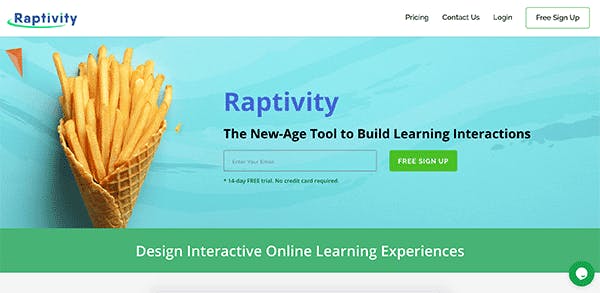 Key features:
Interactive displays

Quizzes

Games
Cost: Paid subscription starts at 0 USD/user (monthly)
9. Kahoot!
Kahoot! is primarily an online quiz maker that also works as a gamified learning platform. This elearning software uses visually appealing gamification elements to maximize engagement and ensure higher completion rates among learners. Learning content in this learning technology is presented with interactive template-based games and quizzes, which are uniquely called "Kahoots". Learners can also access these Kahoots via a mobile app or a web browser. The best part is that they can be presented on a shared screen and answered by a group of "players" all at the same time through any video conferencing platform. Alternatively, you can also set Kahoots as a self-paced challenge to be completed by each team member asynchronously. This platform also provides trainers with reporting and analytics so that knowledge gaps can be addressed and feedback can be provided.

Key features: 
Gamified quizzes

Live Kahoots

Asynchronous Kahoots

Multiple game templates
Cost: Free, Paid plans start at 7 USD (monthly)
10. ProProfs
ProProfs LMS is an employee training software that features gamification elements like brain games, learning paths, and quizzes. This LMS helps you create new educational content made from scratch through available templates. It also gives you access to existing courses from its online training course library. With this platform, learners have control of what, when, and how they want to learn. For corporate training managers, this reduces time in conducting instructor-led learning sessions. Instead, employees are given the opportunity to learn at their own pace while still fostering collaborative learning through virtual classrooms.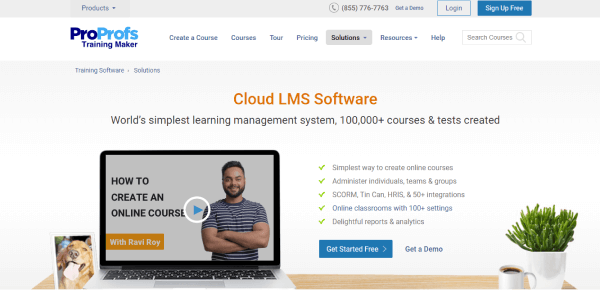 Key features:
Gamification elements

Premium course library

Easy online course authoring

Collaborative learning through virtual classroom
Cost: Free (within a 15-day trial), paid subscription starts at 4.96 (per feature monthly)