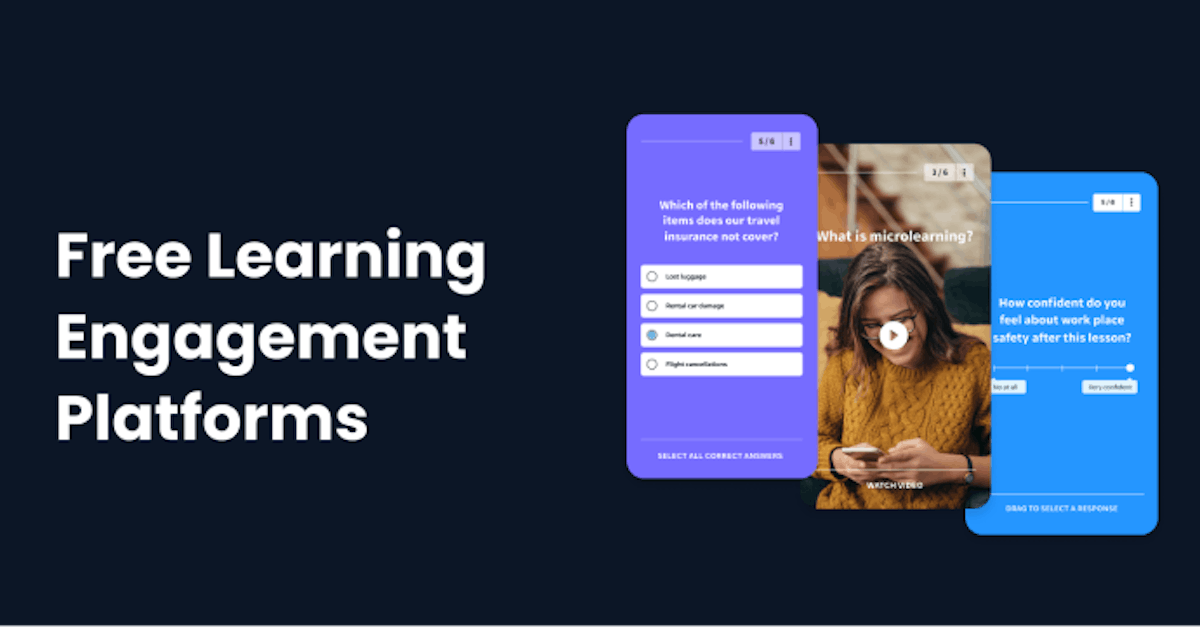 People are getting busier and attention spans getting shorter. Trainers are turning to free learning engagement platforms for their training needs. By making lessons short and digestible, knowledge retention is improved. Check out this list of the best learning engagement platforms you can try today.
1. EdApp
EdApp is a microlearning platform that specializes in learning engagement. Courses are delivered in a bite-sized format for better retention of knowledge, as well as an increased completion rate of lessons. EdApp changes the game with its innovative platform features and employee engagement tools that give learners a whole new learning and development experience. This mobile learner app is convenient for those who want to learn on the go.
EdApp is a flexible platform useful for instructional designers and learners. The creation of courses is made easier with their user-friendly authoring tool and editable course library. There are over a thousand readily available courses on different topics available in the course library for learners.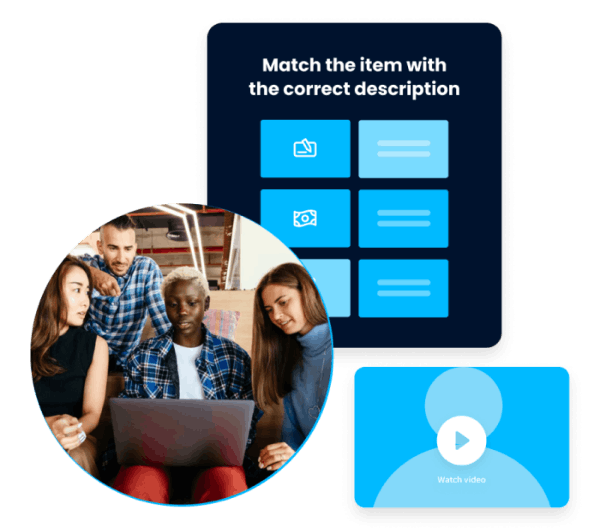 The use of rewards and leaderboards is also encouraged for better learning engagement amongst users. You can even set up custom achievements which allows you to personalize achievements to match your organization's tone of voice and branding. These are perfect for awarding and amplifying good learning behavior and habits.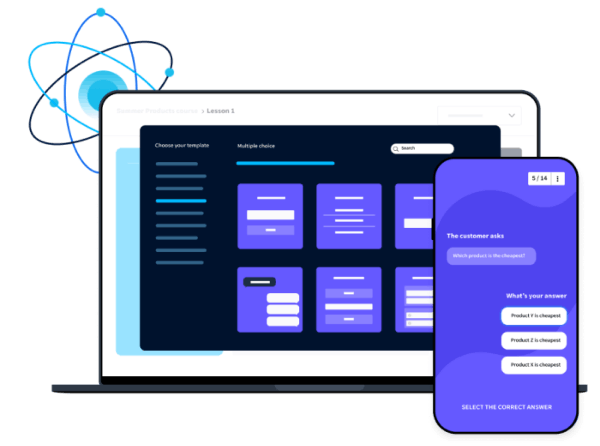 Cost: Free

Key features: authoring tool, editable course library, 50+ customizable templates, quiz-making tool, E-Learning gamification, 100+ language translations, analytics
Get started for free with EdApp to create engaging learning content today!
2. Degreed
Degreed is a web-based training platform and lms software for skill development and career growth. Their upskilling platform makes it possible for businesses to profile employees' skills and talent insights for a personalized training and learning experience.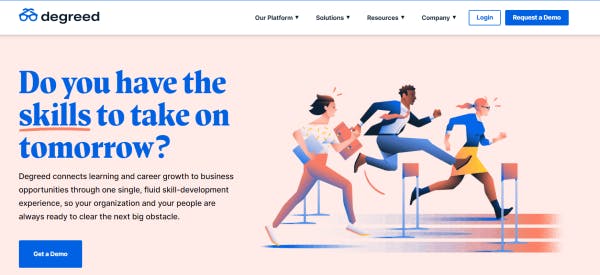 Do take note that there are no readily available materials free for everyone to use. Request a demo to know more about their pricing and services.
Features:
Instructional material for skill-building and development

Resource curation tool

Easy integration of internal and external resources

Analytics & learner's progress tracker
Cost: Demo, paid plans
3. GoSkills
GoSkills is a learning management system that delivers online courses with bite-sized information. Get a chance to pick up in-demand skills with their vast selection of engaging courses.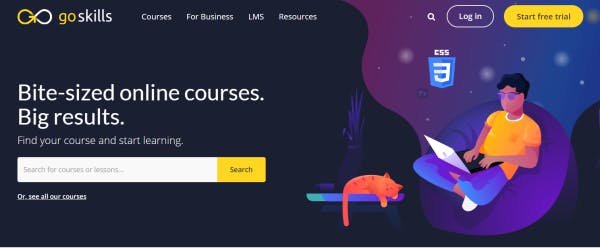 GoSkills have limited lessons for 10-course topics. Course topics include lean six sigma, finance, development, soft skills, design, data analysis, Microsoft Office, project management, office productivity, and Microsoft Excel. You can schedule a demo before purchasing monthly paid plans or yearly paid plans.
Features:
2000+ bite-sized lessons led by experts

Certificate of completion

Game-based and social learning

Mobile learning
Cost: Free trial, paid plans
4. 360Learning
360Learning is a collaborative learning platform for institutional training. With their collaborative training tool, the creation of courses is easier and faster, with an average development time of 11 minutes.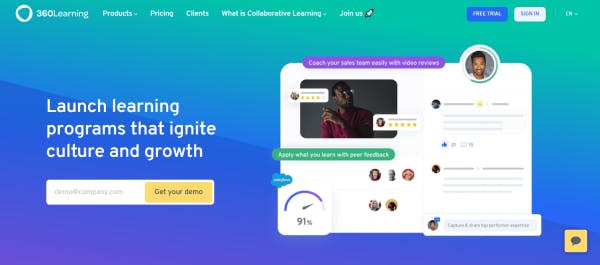 It's best used for organizations that are already using multiple existing solutions for better integration of tools. 360Learning has a free trial for 14 days and should you want to subscribe, there are three plans to choose from: team, business, and enterprise.
Features:
Authoring tools, content integrations, collaborative editing

Gamification

Collaborative hub

Mobile friendly, offline mode supported
Cost: Free trial, paid plans
5. Auzmor Learn
Auzmor Learn is a elearning software for simplified corporate training. Their course library supports the addition of custom and third-party courses, making it all accessible in one channel.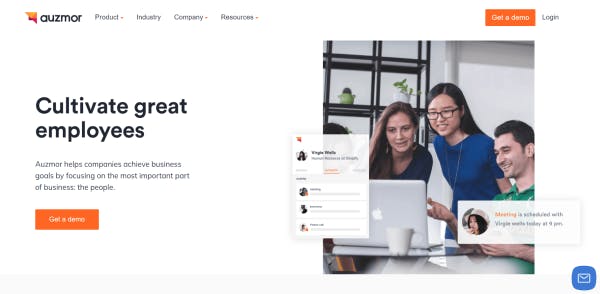 If you want to centralize the company's learning management platform with the launching, tracking, and reporting of employees' learning in one location then Auzmor Learn is for you! Request a demo to know more about the product and pricing!
Features:
Course creation tool

Course engagement analytics

Real-time results of data

Mobile friendly
Cost: Free demo, paid plans
6. Quizlet
Quizlet is a learning platform with quiz software suitable for delivering lessons to students or employees. Its signature flashcard format for learning is what it is famously known for. Quizlet is free for everyone to use.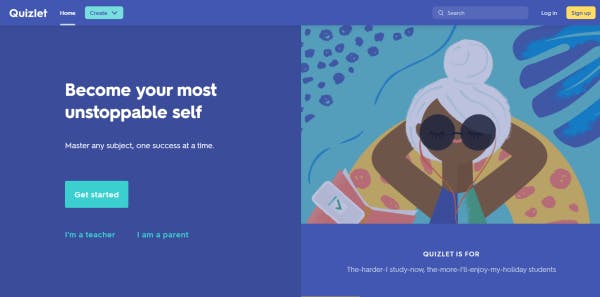 Features:
Flashcard learning format (pre-made or make-your-own)

Several study sets of different topics

Various study modes: Audio, identification, spelling, multiple-choice

Gamification
Cost: Free
7. Google Classroom
Google Classroom is a free learning engagement platform with a virtual classroom setup. Lessons are taught, with a teacher managing a classroom and learners enrolled in a class. Since it is a virtual classroom, there should be an administrator who's managing the classroom to organize synchronous or even asynchronous learning.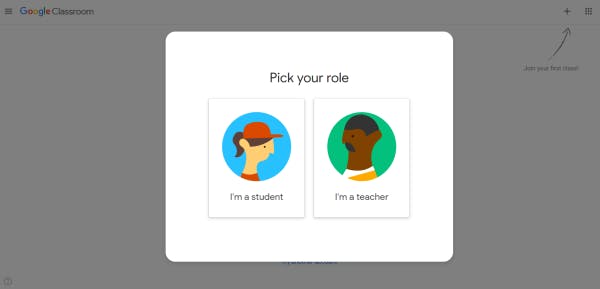 Features:
Cost: Free
8. Learn Amp
Learn Amp is a learner experience platform (LXP) and a learning management system (LMS) all in one. Decentralize learning through their suite with different permission levels for content sharing, to increase engagement and collaboration.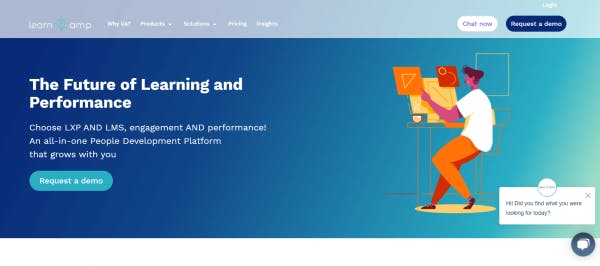 You need to subscribe to access the features of the engagement learning platform. You can request a demo to learn more about a product. 
Features:
Content creation and quiz creation tools

Automation tool (adding users, syncing content, setting tasks)

Peer-to-peer learning
Cost: Free demo, paid plans
9. Violet LMS
Violet LMS is a learning management suite that specializes in onboarding, employee, distribution, sales, and compliance training. Streamlining your digital learning is now easier, as Violet LMS integrates with over 30 software products.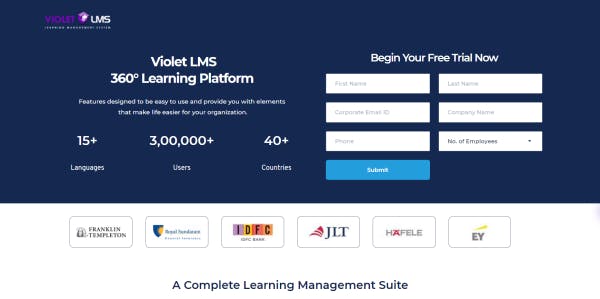 The learning engagement platform is best for big organizations that need a heavy LMS engagement platform with a lot of features. Smaller companies may be overwhelmed by the number of features listed and may not be able to utilize all.
Features:
eLearning instructional materials & assessments

Training library, catalog

Virtual classroom

Video materials

Gamification

AI-based recommendations

Analytics to track user engagement
Cost: Free trial, paid plans
10. Schoology
Schoology is a learning engagement platform for all students from different levels. You can bring your learning community together with the help of their distance learning feature.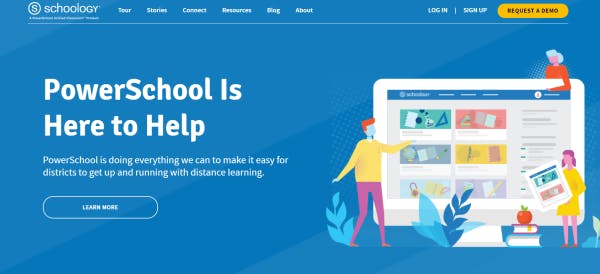 This platform is suitable for educational learning rather than business training. You can request a demo to know more about the services and pricing.
Features:
Virtual resource guide for distance learning

Videos, webinars, presentations

Virtual conferencing

ParentChannel for parent users

200+ educational tool and systems for integration
Cost: Free demo, paid plans
You may want to check out:
Learner Engagement
Instructional Design
LMS Solution