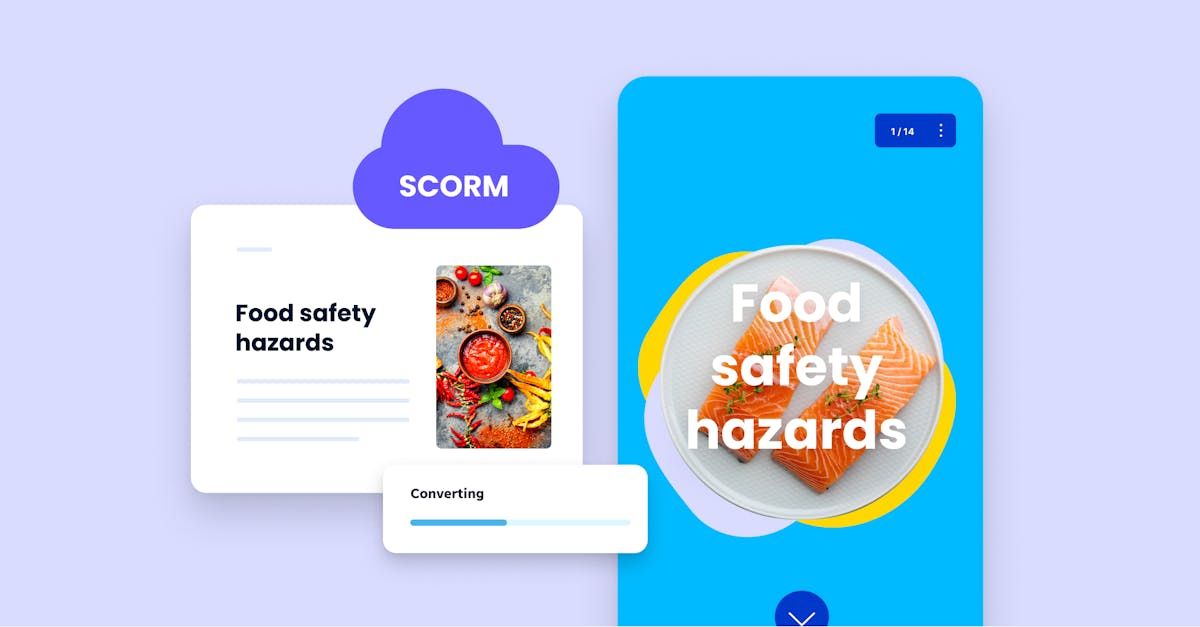 SCORM Cloud is a software that hosts eLearning content for easy training delivery and sharing. Although it's widely used, it lacks a lot of features that modern learning tools have. To help you find more powerful and affordable learning management software, we've created a list of the best SCORM Cloud alternatives available today.
SCORM Cloud Alternative #1 – EdApp
Our top choice for SCORM Cloud alternatives is EdApp. This SCORM-compatible learning management system (LMS) boasts an intuitive course creator tool, a simple reports system, customizable learner management, and a massive library of built-in microlearning courses. And the best part, it's completely free.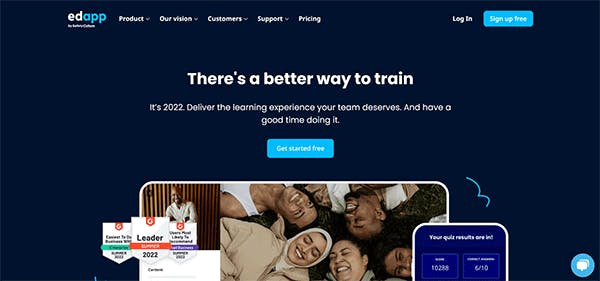 EdApp's course authoring tool is simple yet powerful. You don't need any coding experience because all it takes to create a course is to drag and drop content. The sky's the limit to customization and design because there's Canva integration and custom CSS. As mentioned, the tool is SCORM-compliant, so if you already have existing content from another LMS, you can just import it directly to EdApp.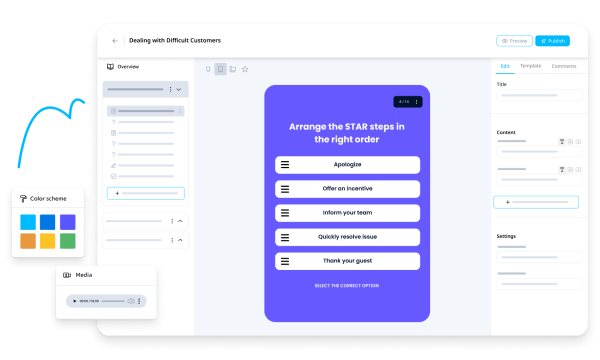 For those that lack the time and resources to create learning content from scratch, the elearning software has a growing course library for a variety of industry topics ready for deployment. From basic electrical training to diversity and inclusion topics, EdApp's got it. And if the library doesn't have what you're looking for, try out the platform's course creation service instead. A team of experienced instructional designers will help you design impactful learning content that you and your teams will love.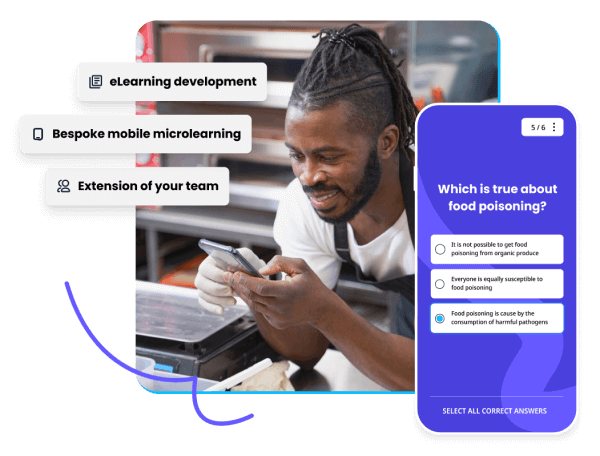 Cost: Free
Key features:
Join EdApp for free and deliver training with the top SCORM Cloud alternative today.
SCORM Cloud Alternative #2 – Evolve
Evolve is a SCORM-compliant LMS that makes designing and managing compliance training easy with its host of features. It's a great SCORM Cloud alternative because aside from SCORM courses, it has user-friendly learner management, reporting tools, and even course assignment features. It even has advanced email features that allow training managers to automatically send notifications regarding course enrollment and other reminders.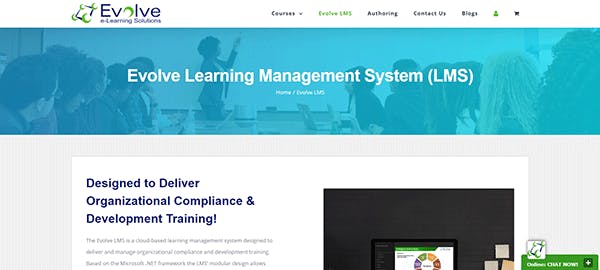 Cost: Request a quote
Key features:
SCORM Cloud Alternative #3 – Knowbly
If you're looking for a SCORM Cloud alternative that can help you deliver learning solutions at scale, Knowbly is the software for you. This training software was developed by Turning Technologies to create highly responsive learning content. This means that the content created on Knowbly's course authoring tool can seamlessly work on desktop, tablet, and mobile devices.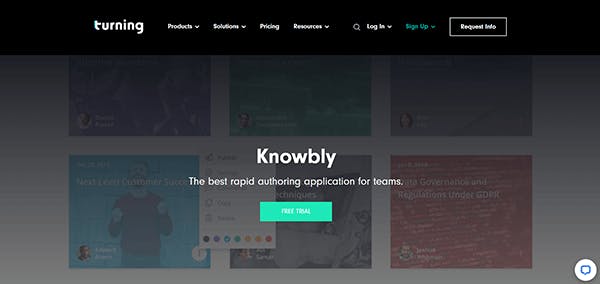 The creator tool includes interactive templates like quizzes, games, simulations, infographics, and other features to create a dynamic learning experience. SCORM or xAPI content format also works so you can easily transfer training materials. 
Cost: 395 USD per year
Key features:
Responsive design

Course authoring

Interactive templates
SCORM Cloud Alternative #4 – Tovuti
Another SCORM Cloud alternative is Tovuti, a learning software designed to streamline employee training processes. Trainers can create lessons, assign courses, and manage learner progress all in one place. Team members also have personalized learner portals that show all assigned courses and other viewable achievements like badges and certificates. Unlike SCORM Cloud, the tool also allows live virtual classrooms where learners and instructors can interact.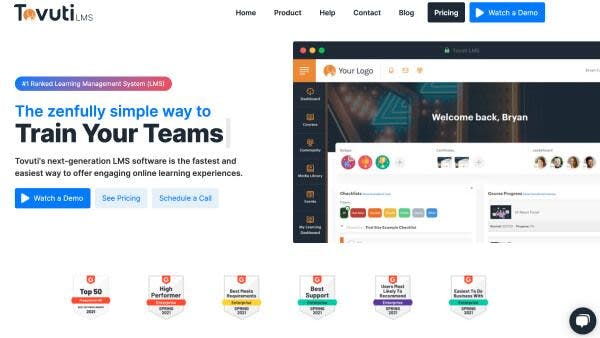 Cost: Request a quote
Key features:
SCORM Cloud Alternative #5 – Intellum
Intellum is a learning management system that aims to improve employee learning through rapid content authoring and engaging blog-like training content. If you're on the lookout for an all-in-one platform with access to live and on-demand training, look no further. Trainers can host virtual training, webinars, conferences, and even in-person instruction—things that SCORM Cloud doesn't have. The platform works across all browsers and is also available on iOS and Android app stores.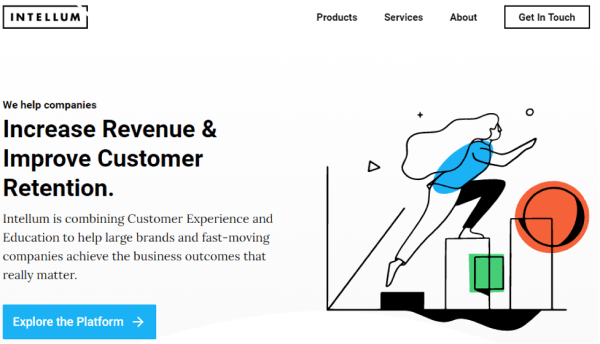 Cost: Request a quote
Key features:
SCORM Cloud Alternative #6 – CourseMill
CourseMill by ELB Learning is another fantastic SCORM Cloud alternative. It's an LMS that hosts a variety of powerful features and tools that simplify your training process. From course management tools to elearning authoring, it's got something to improve your team's learning outcomes. The platform supports SCORM, AICC, xAPI, and non-SCORM media like PDFs, audio, video, and slides so you can seamlessly integrate your existing training materials.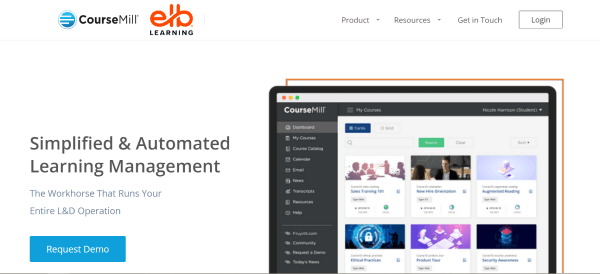 And just like other elearning systems, CourseMill has reporting solutions to help you monitor your online learning programs. You can choose over 50 pre-built reports or export your own data. It can be as simple or complex as you want it to be.
Cost: Request a quote
Key features:
Course management

ELearning Authoring

SCORM support

Advanced reporting
SCORM Cloud Alternative #7 – uQualio
Maybe you're searching for a SCORM Cloud alternative that works differently from other LMSs. Consider uQualio, it's a cloud-based video learning platform that turns all kinds of learning materials into easy-to-use online video training. The course builder tool can turn screen recordings, webinars, and even product training materials into videos your team can easily access. The tool also supports photos, documents, Vimeo, and YouTube links.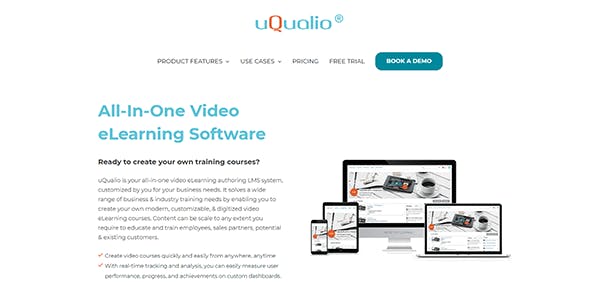 uQualio's reports feature can track data and help you identify learning patterns and key areas of improvement for learners. These are features that SCORM Cloud doesn't offer, so considering the SCORM Cloud pricing, this is a good alternative.
Cost: Request a quote
Key features:
Video-based course builder

Video converter

YouTube and Vimeo support
SCORM Cloud Alternative #8 – Trainual
Trainual is an LMS that's great for blended learning. Whether your team is working from home or reporting on-site, you can use this learning platform to create, distribute, and manage learning materials. The course creator has over 150 free templates, which you can customize with images, videos, and even multiple-choice questions. These courses can then be stored in a library so your team can search, access, and track them wherever they are.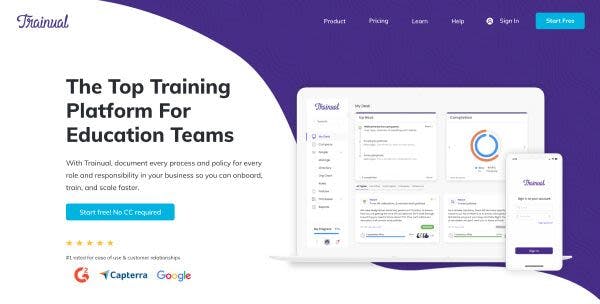 Trainual emphasizes the importance of process documentation so they provide playbook templates for training. This is to make sure the training materials you create are repeatable and scalable. Additionally, learners can access these materials through any online platform from Android and iOS to any web browser.
Cost: Starts at 99 USD per month
Key features:
150+ course templates

Multi-platform access

Playbook templates
SCORM Cloud Alternative #9 – Inquisiq
Inquisiq is a SCORM Cloud alternative that offers great integration with other learning management systems because of its SCORM compatibility. Here, you can deliver, manage, and track multiple courses and automate things like enrollment, notifications, and reports without hassle. Aside from these, trainers can use on-the-job training and task assignments, which allows learners to perform and submit tasks in real-time.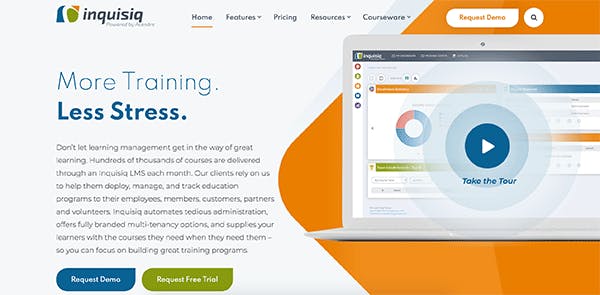 Other features include social learning like collaborative user communities, user feeds, discussion boards, and built-in messaging. Personalized learning paths are also available for you to create course assignments, homework, and completion certificates for your learners.
Cost: Starts at 350 USD per month
Key features:
SCORM integration

Course management

Learner management

Task assignments

Learning paths

Social learning
SCORM Cloud Alternative #10 – Auzmor Learn
Auzmor Learn is a learning management system known for its course creator and unique open-enrollment courses. The platform is SCORM-compliant so it's a great SCORM Cloud alternative. It has a simple user interface where you can create interactive learning content and even add third-party SCORM-compatible courses all without coding. If you're just looking for lesson templates, it also hosts a vast course library. Overall, it's a simple training tool that both trainers and learners can easily use.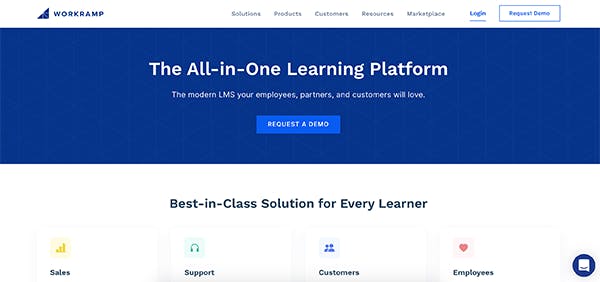 Cost: Request a quote
Key features:
Course builder

SCORM-compliance

Open-enrollment courses

Course library