Personnel training is a crucial element of success for any organization. It's used for onboarding new employees on operating procedures and standards, building their fullest potential by developing skill sets, and even reinforcing leadership and management skills among managers. Well-designed training programs reflect the business objectives and the needs of the learners. However, it's equally important to consider how your training programs are delivered to your employees to ensure a better learning journey. 
One way to improve the learning experience of your employees is to leverage personnel training software that is equipped with technological features designed to increase employee engagement and productivity. For training managers, training software allows you to reach employees easily and manage your training programs seamlessly. We compiled a list of personnel training software that includes features allowing you to deploy an effective training program efficiently while equally creating a better learning experience for your employees.
Best Personnel Training Software – EdApp
EdApp is a free learning management system (LMS) designed to serve as an all-in-one learning solution for your organization. This remote training software offers features that allow training managers and training personnel to easily develop training materials as well as efficiently manage and track employee learning performance. Course authoring is made easier through EdApp's built-in authoring tool that contains ready-to-use interactive templates, PowerPoint conversion, and Canva integration. But, you don't always have to start from scratch. With EdApp's course library, you can choose from a variety of free and ready-to-deploy courses, such as lab safety training courses, that you can tailor with your own expertise and standards specific to your organization.
Train your teams using the best free LMS
As a learner app, this training software equally ensures an effective learning experience for your teams of all sizes, whether they are office-based or always on the go. EdApp's microlearning feature allows you to convert your training content into bite-sized modules. Microlessons can even be combined with EdApp's gamification elements to help you transform dull lessons into interactive games. You can also reinforce key points through a system-automated quiz called Brain Boost or test knowledge through a quiz maker called Rapid refresh.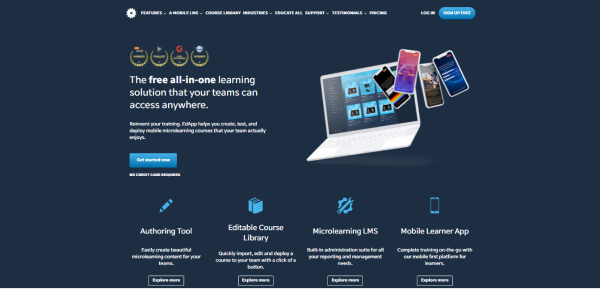 Highlights: Built-in authoring tool, free editable course library, microlearning, gamification, mobile learning
Cost: Free
Training Personnel Software #1 – Degreed
Degreed is a personnel training software that's focused on upskilling or reskilling your employees – whether small or large-scale. It integrates skill analytics that gives you a holistic and measurable view of your employees' strengths and weaknesses. It also enables you to develop a strategy that aligns with their needs and career goals. Data-driven insights on skills and growth opportunities allow you to efficiently curate custom learning journeys for your employees delivered through courses, videos, books, articles, podcasts, and projects. Degreed also goes beyond supporting you in developing training programs but also creates a dynamic opportunity marketplace that connects your workforce to projects, gigs, assignments, and jobs that equally matter for your business.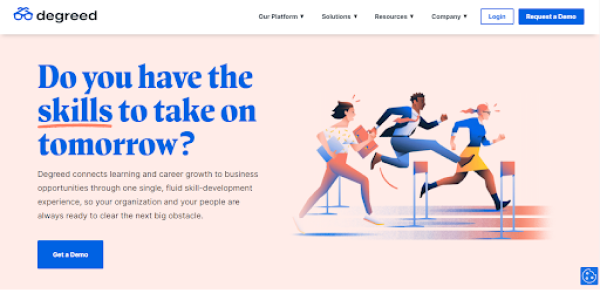 Highlights: Real-time skills analytics, custom content pathway, career mobility
Cost: Price available through a quote request
Training Plan Software #2 – ProProfs
As a SaaS LMS platform, ProProfs is designed to help training personnel and managers ease up the process of creating training content. This LMS allows you to create courses and quizzes with hundreds of available templates and media content. It provides a premium course library available with pre-made courses such as compliance, customer service, lab safety training courses, and many more that you can easily deploy to your personnel. A collaborative learning environment is also promoted through features like discussion forums and virtual classrooms. Through its training management system, you're able to efficiently streamline processes in developing training materials as well as track the progress of each employee.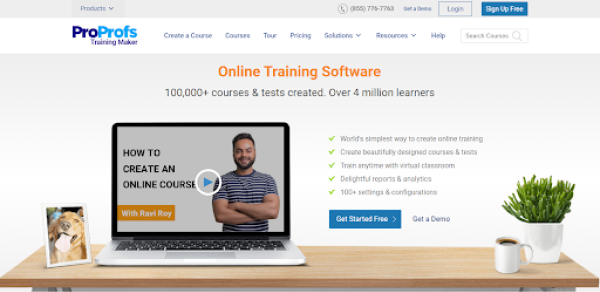 Highlights: Authoring templates, premium course library, virtual classroom, learning management
Cost: Free (within a 15-day trial), paid subscription starts at $74.96 (per feature monthly) 
Personnel Training Software #3 – WorkRamp
WorkRamp is an award-winning LMS that serves as an all-in-one corporate learning platform for your personnel, especially those in sales, support, retail, marketing, and HR. This centralized training LMS gives you a streamlined process in creating customized learning pathways for your personnel based on their role, teams, skills, or seniority. It provides a specialized onboarding software process, advanced personnel training content creation, learning progress tracking through dashboards and analytics, and a blended learning experience with support for virtual instructor-led sessions. Through its modern technological features, you're able to transform the learning experience in your organization. In return, your employees are able to perform their roles better,  improve relationships with customers, and deliver desired business outcomes.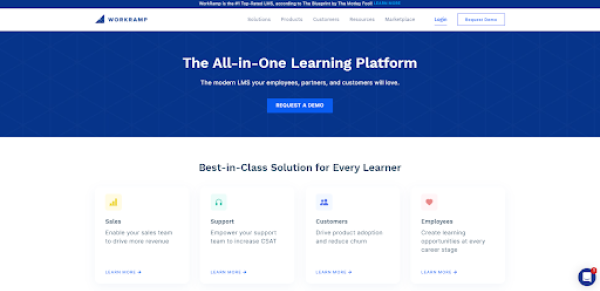 Highlights: Streamlined onboarding software, authoring tool. virtual instructor-led training, and robust analytics, 
Cost: Price available through a quote request
Training Plan Software #4 – Gyrus
Built as a cloud-based training plan software, Gyrus assists training managers in effectively meeting their personnel's learning needs and equally creating a meaningful learning experience for their employees. Its AI-driven smart learning features are designed for developing personalized learning programs for various groups of employees. In Gyrus, training content can be delivered through file-based courses, videos, webinars, simulations, documents, and virtual classrooms, which give you more flexibility in planning an adaptable training strategy. You're also able to instantly monitor the effectiveness of your training plan software with its real-time data visualization and reporting.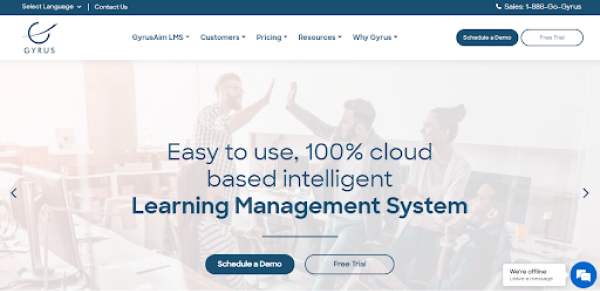 Highlights: Seamless training management, various eLearning formats, and real-time analytics and insights  
Cost: Paid subscription starts at $300 USD (monthly) and $3000 USD (annually)
5. Auzmor Learn
Auzmor Learn is an employee training software dedicated to simplifying the process of planning and implementing employee training programs. With its simple-user-friendly interface, you can easily create courses that help you reinforce important concepts and skill sets, or you can access and customize existing courses from its library. This LMS's reporting dashboard also gives you a real-time view of your personnel's learning progress to help you identify effective strategies and remedy the gaps.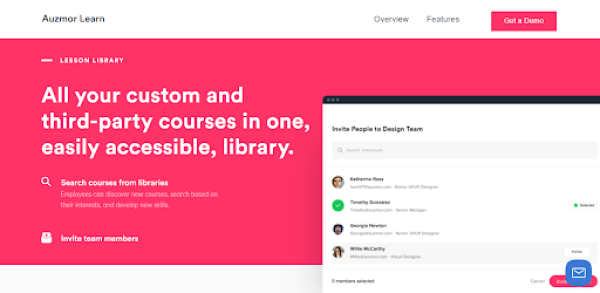 Highlights: Course builder, lesson library, and real-time analytics dashboard
Cost: Price available through a quote request
6. Tovuti LMS
Tovuti LMS is an employee training software that incorporates features dedicated to an efficient training process for managers and an effective learning experience for your personnel. It integrates a course management tool that enables you to build and deploy interactive courses, as well as track interactions with your course content. This LMS supports a blended learning strategy through its virtual classroom features that allow you to set up synchronous training sessions where your personnel can discuss with groups or have one-on-one interaction with an instructor. Learners also have access to a personalized portal that shows their badges, certificates, leaderboard rank, checklists, assigned courses, and upcoming training sessions.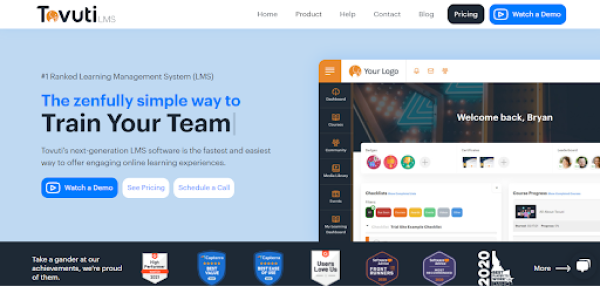 Highlights: Course authoring tool, analytics tool, virtual classroom, and personalized learner portal
Cost: Price available through a quote request
7. Violet LMS
As a full-service training solution, Violet LMS serves as a strategic partner by ensuring your personnel are equipped with sustainable knowledge on onboarding, employee training, sales training, and compliance training. In this LMS, learning materials are delivered through interactive courses and enable collaboration through virtual classrooms which are adapted into a mobile learning environment. Its course management system streamlines the process for training managers for more convenient learning content creation. It also promotes a blended learning approach by supporting your offline training through features such as an external trainer management system and venue management system.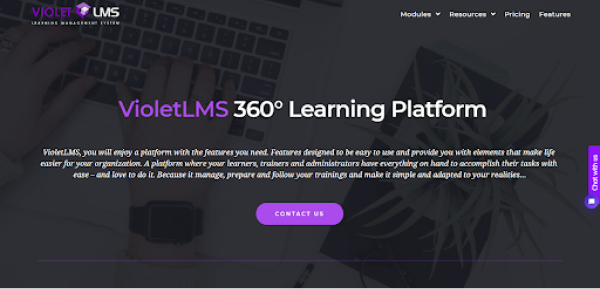 Highlights: Course management system, interactive courses, virtual classrooms, and blended learning
Cost: Price available through a quote request
8. Coassemble
Coassemble is an eLearning software designed to provide a user-friendly authoring tool that makes the creation of interactive learning materials easier for managers and effective for your personnel. This employee training software allows you to transform your old presentations as well as PDFs and documents into engaging online courses with its available screen templates that support various media forms and provide interactive elements. You can assess your personnel's knowledge retention through pop quizzes or activity-based challenges. A certificate is also given to your employees upon course completion.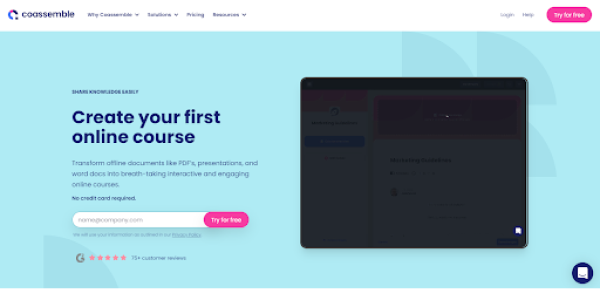 Highlights: Course builder, interactive quizzes, and course completion certificate
Cost: Paid subscription starts at $299 USD (monthly)
9. Qstream
Qstream is a microlearning platform dedicated to delivering learning programs that combat the forgetting curve and improve knowledge retention among employees. Delivered through a mobile-first approach, Qstream reinforces knowledge, develops skills, and enhances productivity through its feature called Content Hub that enables training managers to create content with a template library and a set of guide questions, as well as the ability to facilitate real-time practice through videos submitted by your personnel. You can also track learning progress through an analytics dashboard and proficiency heatmaps.
Highlights: Microlearning, content hub, and analytics dashboard
Cost: Price available through a quote request