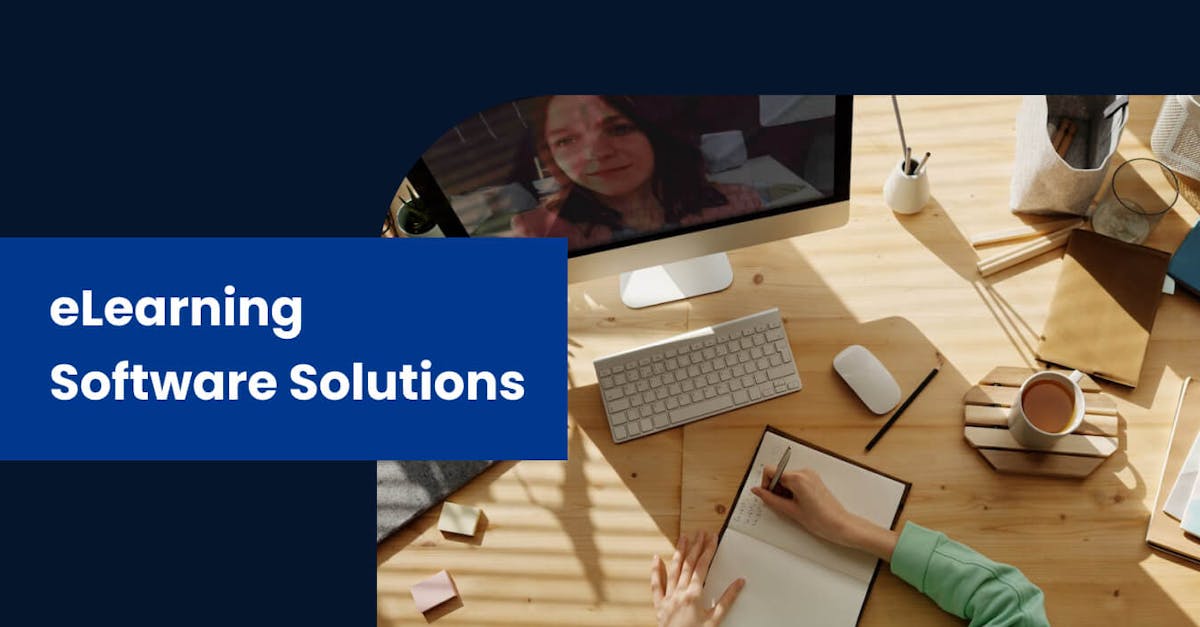 eLearning software solutions play a vital role in delivering a good learning experience to employees training. This is especially useful for hybrid and remote work setups where most training happens online. If you're looking for options, here are 10 eLearning software solutions for your training needs.
eLearning Software Solution #1 – EdApp
EdApp is a free eLearning software solution that helps trainers and managers create courses quickly and easily. This mobile-first training platform takes pride in its user-friendly authoring tool, speeding up your course creation in the process. You can save hours and days of your time, thanks to EdApp's authoring tools.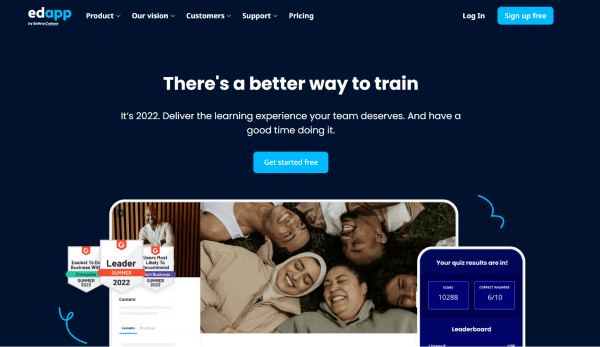 Not only that, EdApp LMS has an editable course library with hundreds of high-quality, ready-to-deploy courses. These courses are all designed with the latest learning and development trends in mind. Did we mention they're all for free?  
There are several courses available on the library, including corporate compliance training courses, business training courses, and training performance management programs. You can alter the content to meet your training needs because it's entirely customizable.
With EdApp's microlearning format, trainers can deploy bite-sized content that helps increase information retention, which is great for learners with short attention spans. This is especially effective when paired with the mobile-game-like appeal of EdApp's gamification features, resulting in higher completion rates in comparison to traditional online courses.
Creating courses doesn't have to be troublesome. Tell EdApp what you need, and they'll be able to deliver your first course that looks and feels like it was built by your brand.
Build the best learning experience by signing up for EdApp today.
Features:
Authoring tool

Editable course library

Microlearning

Gamification

Mobile-friendly
Cost: Free
eLearning Software Solution #2 – EduMe
Learners can access training at any time using the EduMe mobile app, which uses a microlearning style. A great feature of this software is the ability to swiftly construct courses based on graphics and videos rather than long text. It also has two types of lessons: conversational activities and slideshows.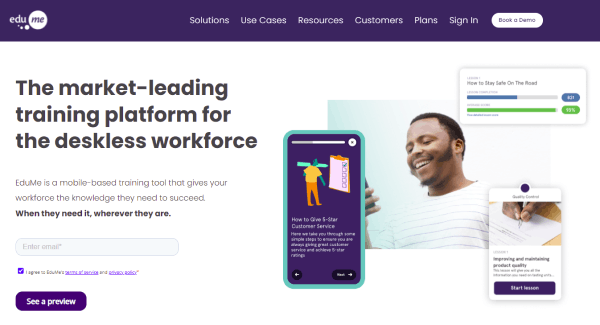 In addition, this eLearning software solution has an in-house learning design team that has years of experience and expertise. Because of this partnership, rest assured that the modules your students will take are properly prepared to guarantee a positive learning experience.
Features:
Content creation tool

In-house design team

Mobile-friendly design
Cost: Paid plans
eLearning Software Solution #3 – Skillpill
Skillpill focuses on creating courses on topics such as management, sales, as well as other topics related to corporate learning. Higher learner engagement and knowledge retention are ensured by the inclusion of a variety of interactive components such as videos, tests, worksheets, and work-based feedback mechanisms in these training resources.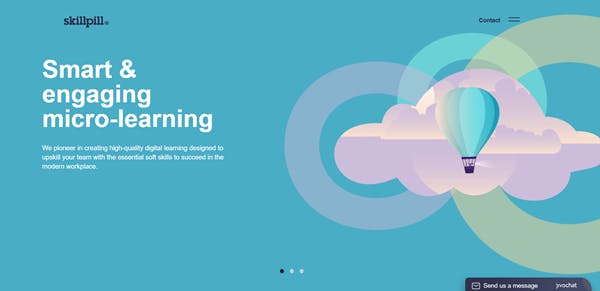 You can also request animation services for videos suited to your brand image or certain topics that aren't covered in their ready-made courses. They also offer course translation into over 20 languages, removing linguistic hurdles in your international instruction. Lastly, this eLearning software solution is downloadable on both iOS and Android.
Features:
iOS and Android compatibility

Corporate learning courses

Interactive tools like videos, games, and quizzes

Bespoke animation services 

Course translation
Cost: Paid plans
eLearning Software Solution #4 – uQualio
uQualio is a cloud-based video training tool that you can use to implement quality online training for your employees. It allows you to design a variety of learning materials, including corporate training programs, compliance courses, bite-sized webinars, as well as marketing, onboarding, and product training materials. Using their course builder tool, you can turn screen recordings into videos, upload pre-recorded videos, or add YouTube and Vimeo links and include them in your courses. uQualio also allows you to add supporting pictures and documents to your data entry training courses before publishing.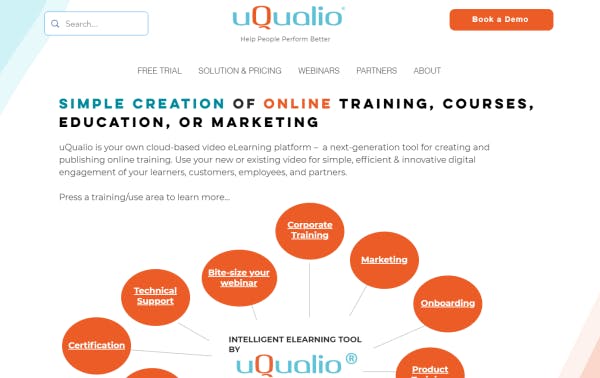 If you want to get a complete overview of your learners' performance and completion rates, you can use the reports feature to track data, pinpoint learning patterns, and identify possible areas for improvement. This eLearning software solution is also available on mobile devices, making it convenient for learners who want to access their training materials on the go.
Features:
Video-based course builder

course progress and user activity reports

Youtube & Vimeo support

Mobile accessibility, 
Cost: Starts at 9 USD/month
eLearning Software Solution #5 – CoreAchieve
Through CoreAchieve's platform, you can streamline content creation, compliance monitoring, as well as audio/video employee training. Developing professional training materials and managing online courses are two major purposes of this cloud-based LMS system. If you're looking for basic content, it can be easily tracked down by using filters, titles, categorization, tags, and descriptions. It also tries to make learning fun by awarding points and rewards to learners at the top of leaderboards.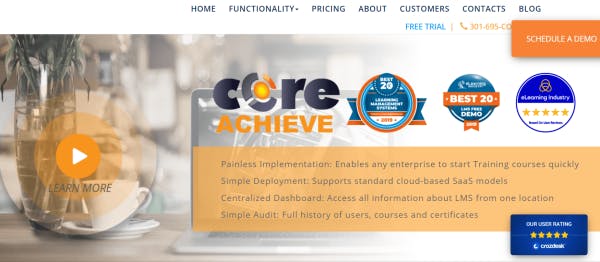 Although, unlike some of the other learning management systems on the market, Coreachieve isn't mobile-first, making accessibility to remote or retail workers more challenging. Another disadvantage of this platform is its limit on the number of users per month, which can be highly disadvantageous to large and/or growing organizations.
Features:
Course management

Content creation

Rewards

Leaderboard 
Cost: Starts at 99 USD/month
eLearning Software Solution #6 – Crowd Wisdom
Crowd Wisdom's eLearning software solution uses the best online learning features to help chief learning officers foster employee growth and knowledge development, and provide rich learning experiences for their team. There are a lot of things that you can accomplish from using this tool. First, you can build personalized learning resources based on your employee's objectives, competency goals, and certificate paths. You can even deliver them in a variety of formats, including microlearning, live online, and webinars. To motivate them to finish their learning materials, you can also issue them certificates that they can include in their microcredentials.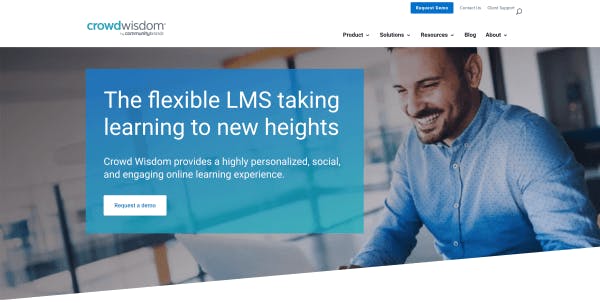 This tool has no free version, but it offers a free trial and personal demo so that you can first try their training solutions before committing to their paid plans.
Features:
Personalized courses

Microlearning

Live online and webinars

Certificates 
Cost: Paid plans
eLearning Software Solution #7 – Create LMS
Create LMS is another excellent employee training software that can help you onboard new staff more quickly and teach them effectively without spending too much. You can easily develop and manage eLearning courses, exams, webinars, and blended training with its powerful course builder tool.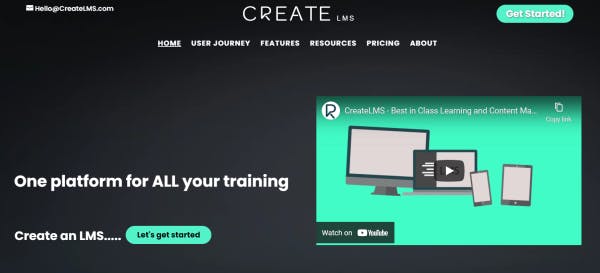 To spare yourself the effort of creating your training programs, you can take some of their readily available courses created by their content partners and deliver them directly to your team members. To add to that, If you have troubles with your internet connection, their Network Attached Storage (NAS) solution can store, archive, and access all training content in one centralized location even without the use of an internet gateway.
Features:
Course maker

Ready-made courses

NAS solution
Cost: 2 USD/user annually
eLearning Software Solution #8 – Yarno
Yarno's mobile training app is designed to train employees wherever they're located. It features a learning library where your learners can easily access your training content whenever needed.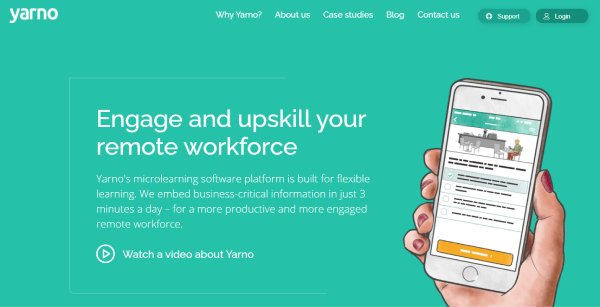 It also includes a quiz feature called Embed, which you can deploy to your team to identify any knowledge gaps and reinforce information. In this platform, training is delivered through interactive questions to further strengthen the recall of information. Learners are then supported with informative answers and explanations. You can also work with a team at Yarno to help you create custom-made videos to level up your training.
Features:
Cost: Paid plans
eLearning Software Solution #9 – Inquisiq
Inquisiq is an online course creation platform designed to create, manage, and track hundreds of high-quality courses. If you want to make your course, Inquisiq has an integrated content creation solution from their partner, Vidversity. On the other hand, if you're interested in pre-built courseware, existing content is also readily available made by their partner content providers.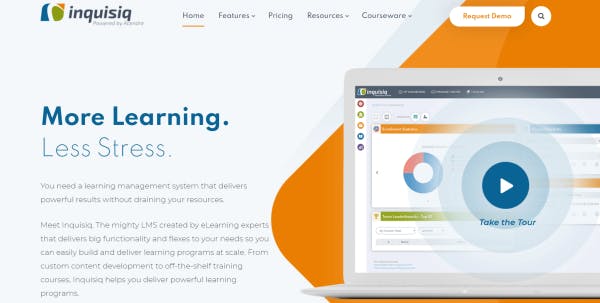 Additionally, this automated training tool includes features that allow you to automate course enrollment and produce reports quickly. To ensure the best possible user experience, this software has a fully customizable and multilingual interface. Because of its SCORM software compatibility, it can also be used with other training module creator software.
Features:
Course creator

Multilingual interface

SCORM compatibility
Cost: 50 USD/monthly
eLearning Software Solution #10 – LearnWorlds
LearnWorlds is an eLearning platform that allows you to develop and even sell courses. This eLearning software solution not only provides an easy-to-use authoring tool and templates, but it also provides mLearning expertise to assist businesses in developing their mobile training programs and making them more accessible to learners.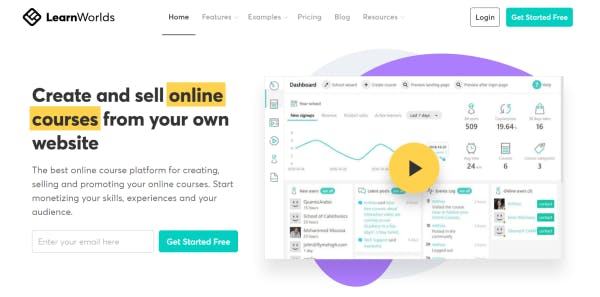 You can modify the aesthetic appeal of your training courses and insert in-app branding with the Mobile App Builder. To engage, alert, and remind your students about their courses, you can also use a push notification system. No coding skills are necessary to complete the training procedure on LearnWorld.
Features:
Cost: 19 USD