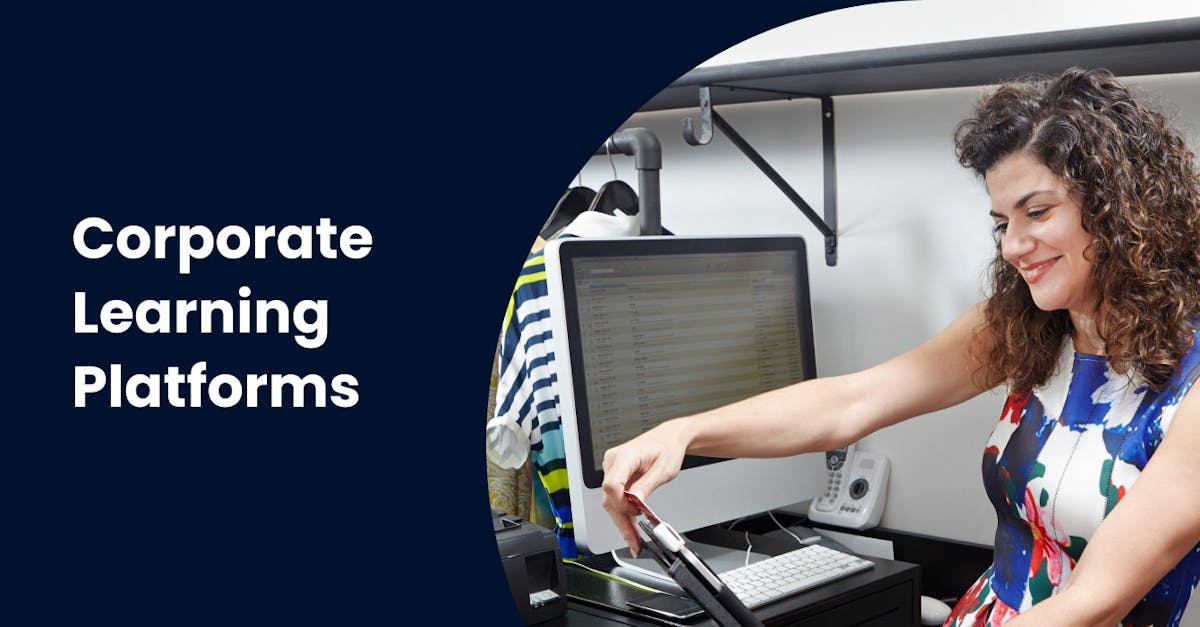 Many corporate learning sites provide free and paid online training courses to assist you in reinforcing key concepts, developing skills, and ensuring a convenient learning experience among your learners. These sites also feature employee engagement tools to help you drive better learning outcomes. Aside from helping increase learner engagement, it also supports training managers in streamlining tasks and deploying training programs more efficiently through their authoring, course management, and analytics tools. With the help of these learning sites, you can produce well-trained employees who can maximize their capabilities in performing their tasks, driving the best outcomes for the business. 
To help you explore your options, we've compiled a list of corporate learning sites including their features so you can determine the platform that best aligns with your training objectives.
1. EdApp
EdApp is a corporate learning site that integrates strategies and engagement elements to help you increase course completion rates while ensuring an effective learning experience for your learners. Microlearning is one of EdApp's core strategies, which transforms overwhelming training information into bite-sized modules, allowing your learners to complete courses in just a couple of minutes. This strategy is combined with gamification elements that make microlessons not only effective but also engaging, resulting in 90% (or higher) completion rates as compared to typical eLearning courses.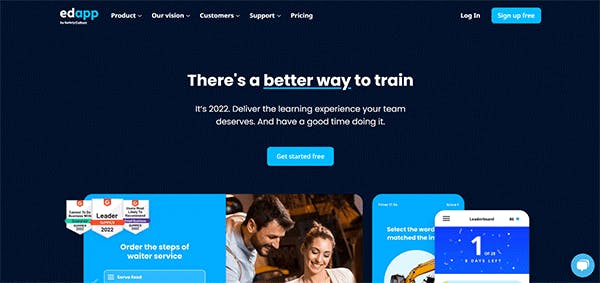 As a mobile learning solution and one of the best corporate learning platforms, EdApp also allows learners to access their mandatory courses, or further develop their knowledge and skills through their smartphones. You can even enable a custom notification feature to remind learners of necessary actions to take upon deploying courses or quizzes. 
This LMS also streamlines the training process for managers and L&D professionals with its built-in administration suite. It provides you flexible, customizable, and adaptive tools for easier management. Its free editable course library gives you access to hundreds of readily deployable courses that you can edit and customize with your own expertise or with company-specific information. Some of these courses include safety training courses, construction programs, leadership training courses, healthcare training courses, and radiation safety training courses. You can also create your own courses with EdApp's user-friendly authoring tool that contains ready-to-use interactive templates, PowerPoint conversion, and Canva integration. It also includes an advanced analytics learning suite that allows you to track the learning progress of your employees as individuals or as groups. 
Highlights:
Microlearning strategy

Mobile-first approach

Free editable course library curated by thought leaders and industry experts

Built-in authoring tool that includes 50+ intuitively designed interactive templates, such as multiple-choice, in-app gamification, conceptual formats, surveys, etc.

Gamification & leaderboards

PowerPoint conversion

Canva integration

User and course management system

Push notifications

Learning metrics dashboard & reporting
Cost: Free
2. WizIQ
WizIQ is a remote learning site that provides you with a virtual classroom and LMS all in one place. To increase learner engagement, you'll have access to polls, quizzes, and interactive whiteboards. This tool makes it easier to deploy training as all you have to do is set up your customizable learning portal and upload your training material using any format. WizIQ also supports multimodal learning, where you have the option to use real-time audio, video, and textual communication. Through its virtual classroom, learners can also attend live classes on the go through the WizIQ app available on iOS and Android.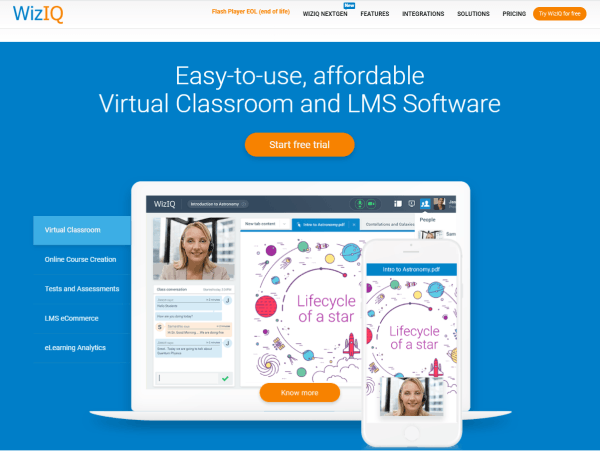 Highlights:
Cost: Starts at 5 USD (monthly)
3. Degreed
Another versatile online learning site is Degreed, which provides a fluid skill-development experience for small and large-scale organizations. It integrates all learning materials that your workforce needs to grow and upskill – online courses, videos, podcasts, news, and blog articles. And by using its real-time data on each employee's unique strengths and interests, these resources will automatically find the right team who needs them the most.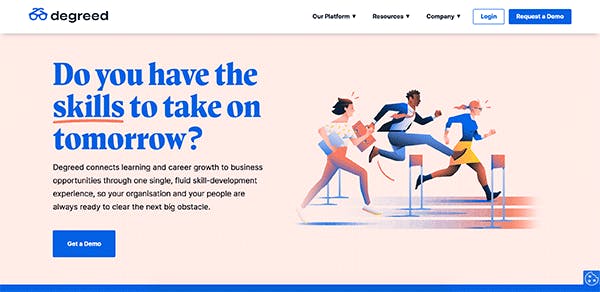 Another bonus feature is that you can also use this platform to reach your channel partners and external audiences to deliver your learning materials. This way, you can rest at ease knowing that their knowledge and skills are also in sync with your company's vision and objectives.  
Highlights:
Wide range of learning materials in different formats

Real-time data insights

Automatic deployment

Resources extended to external audiences
Cost: Pricing available upon quote request
4. Ruzuku
Ruzuku is another corporate learning site built with a powerful yet clean and user-friendly interface. It allows you to create and run great online courses without overwhelming designing tools and options. You can even customize the designs to fit your brand and incorporate content suited to your students' learning objectives. If needed, you can also add PDFs, Word, PPT, and other files to your course content and make them downloadable for self-paced learning.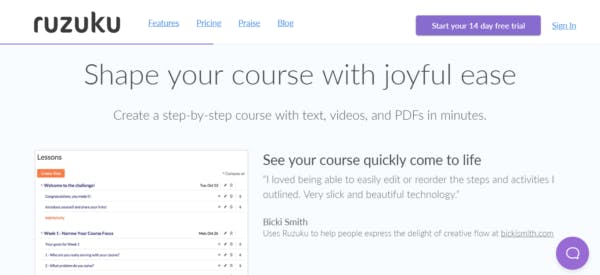 But it's not just limited to course creation and deployment. Ruzuku's course health feature also allows you to keep track of your team's learning progress, including activity completion and any queries or comments they may have about their courses. Any updates made by participants will be sent to you automatically via email.
Highlights:
Cost: Starts at 4.75 USD (monthly)
5. Trainual
Trainual is a remote training software that you can use to onboard new employees or train current team members without location restrictions. You can easily customize learning materials by choosing from their 150+ free templates. When creating courses, you'll have the option of embedding images, videos, and multiple-choice questions. However, it doesn't support SCORM files or other eLearning formats, which can be a deal-breaker for those with existing content on other platforms. Trainual highlights the importance of process and procedure documentation so they also provide playbook templates for training to become infinitely repeatable and scalable. Your employees can access training courses through multiple devices, including iOS, Android, Chrome extension, and any web browser.
Highlights:
Cost: Starts at 9 USD (monthly)
6. Cloud Academy
Cloud Academy is an online training site that allows businesses to create highly comprehensive and targeted tech learning content for their employees. Some of the ways you can maximize this web-based training platform include customizing exams using pre-built questions and giving users access to a vast content library on technology fundamentals. This training tool allows your employees to access learning resources even while offline. It also comes with a Cloud Roster feature, which encourages users to learn the most vital skills needed for their job roles.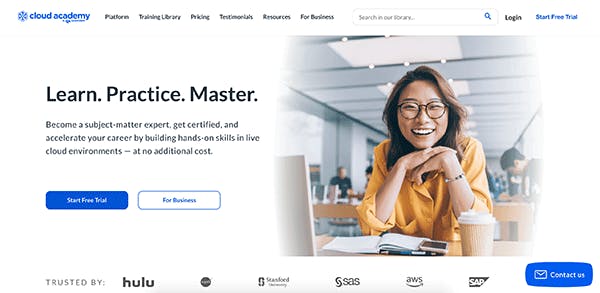 While this platform offers great features, you can only try limited features for free within 7 days. A paid subscription is needed to access all their best features.
Highlights:
Customizable exams

Training content library

Offline mode 
Cost: 7-day free trial, subscription starts at 9 USD/individual (monthly)
7. Arlo
Arlo is a remote training software created for training providers whose focus is on empowering learners through self-paced learning, live online learning, and remote learning. It extends training outside the four walls of the classroom through live and interactive webinars, eLearning modules, discussion forums, and recorded videos. With Arlo, you can create modules that your learners can complete in their own time, online, from anywhere. You'll also be able to assign quizzes, record scores, and track progress. Its innovative training management system design streamlines processes and simplifies tasks, enabling training providers to save time while still effectively increasing course registrations.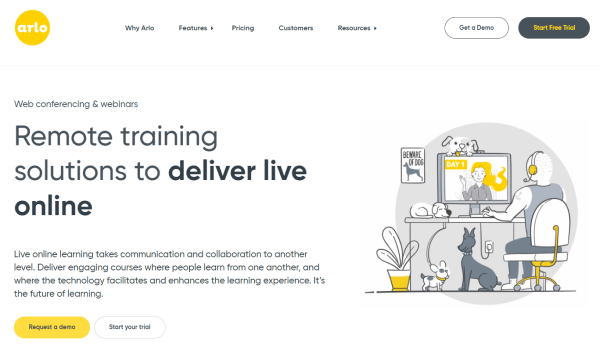 Highlights:
Self-paced eLearning

Live webinars
Cost: Starts at 9 USD (monthly)
8. Inquisiq
Inquisiq incorporates the key concepts of blended learning and social learning into their powerful corporate learning platform. With this LMS, you can deploy features like on-the-job training and task assignments, allowing your employees to perform tasks in real-time and submit lesson homework for knowledge evaluation. Also, to integrate social learning into the platform, they've added collaborative features like built-in messaging, user communities, and discussion boards.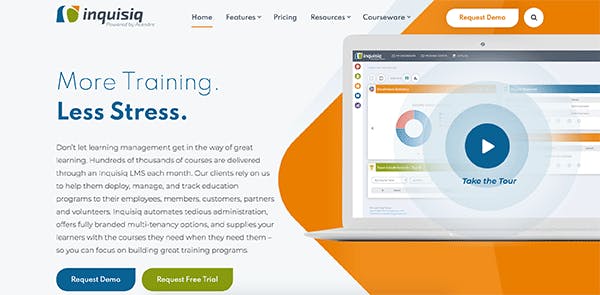 Highlights:
Cost: Starts at ,128 USD/ 100 users (monthly)
9. V360E
As a virtual-reality-based online training platform, V360E was originally created for training in the aviation industry. It has now evolved into a highly interactive eLearning software for other manual and labor-intensive industries like healthcare, construction, and transportation. To create a VR-based training program, you can add a 360 panoramic photo or video, audio elements, and additional text to enhance learning. Your learners can practice their skills by accessing online testing software through V360E's desktop and elearning mobile apps. Although due to its limited features, you might need to find additional tools for more well-rounded training.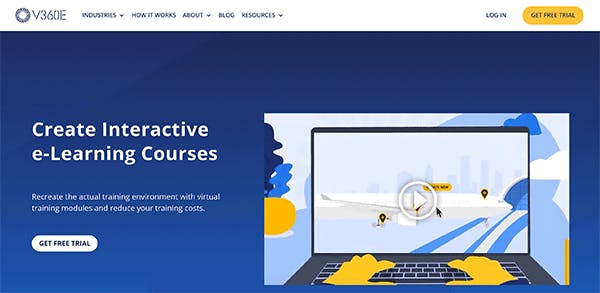 Highlights:
VR-based online training

Mobile access

Interactive test
Cost:  30-day free trial, Pricing available upon quote request
10. GoToTraining
GoToTraining is known for its unique and engaging tools that transform an otherwise boring and demotivating experience. From registration to content sharing, tests and polls, it has the simplest solutions guiding you before, during, and after training sessions. Before you start to build your training, you can use this platform to create custom registrations with tailored questions. From there, you can use the data to understand your learners' needs and preferences and then decide and create the best training courses that will work best for them. As for the content sharing, you may opt to send your course catalogs for self-paced learning, or you may also host an online conferencing to ensure direct communication with your team. After each session, detailed reporting on attendance and training progress will be available to help you check the effectiveness of your program and the knowledge retention of your participants.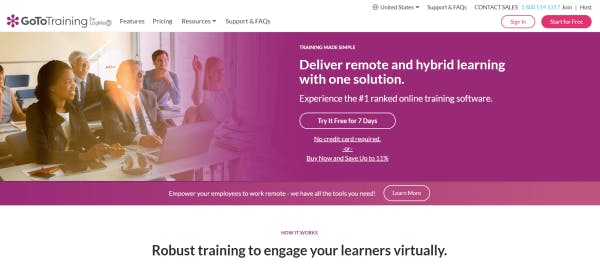 Highlights:
Cost: Starts at 09.00 USD (monthly)