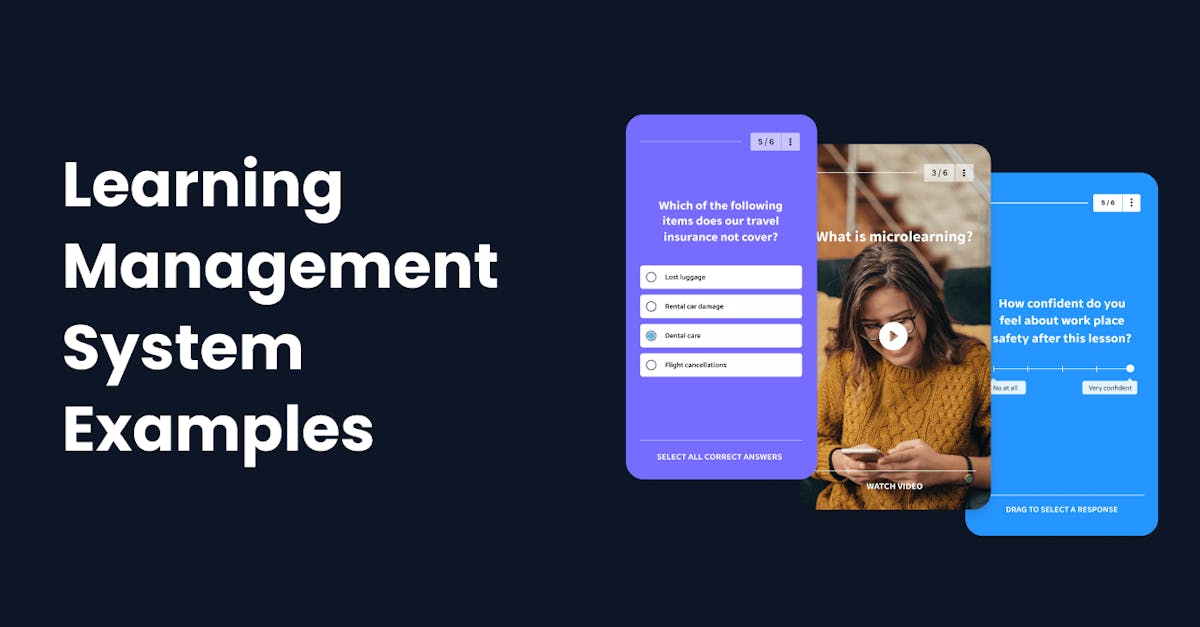 Organizations around the world have been adopting learning management systems (LMS) examples left and right. This is all thanks to their seamless processes of delivering training and customizing it according to learners' wants and needs. In this article, we'll take a deep dive into what exactly an LMS is and how one can help your organization.
What are learning management systems examples?
Learning management systems examples (LMS) help create better online learning experiences for your learners. They allow you to develop, design, and deliver your training programs faster and more effectively. Most LMS do this by offering a course library, content management system, user management, and authoring tools. They also automate most of the manual work that's normally done when planning and executing training programs, such as user enrollment and training trackers. That's why, with learning management system examples, you'll be able to better focus on what really matters: optimizing training for your learners.
Here are some learning management systems examples for you to check out:
Learning Management Systems Examples # 1 - EdApp
EdApp has raised the bar for training and development, thanks to its advanced mobile learning solutions. Features like SCORM-compliant authoring tools, intuitive lesson templates, built-in AI translation, microlearning, and Canva integration all contribute to this LMS' massive success. You can even import and edit courses directly from their editable course library, which touches on topics from different industries, such as retail training, construction training, food and hospitality training, and so much more. The best thing about EdApp is that it's all free.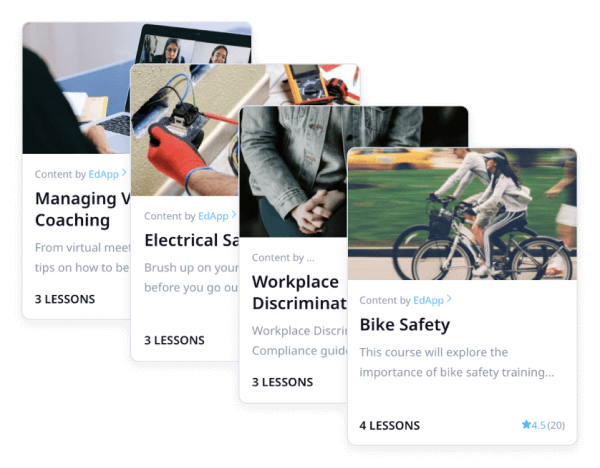 If you want a more customized experience, EdApp crafts custom-made courses designed for your learners. All you have to do is send over your training requirements, and their expert instructional designers will do the rest for you. They'll even let you take all the credit for it.
You can also take advantage of EdApp's very own Rapid Refresh quiz maker to reinforce concepts and increase knowledge retention among your learners. They can collaborate and benefit from social learning through their discussions feature and a built-in virtual classroom, where virtual training sessions can easily be carried out with the whole team.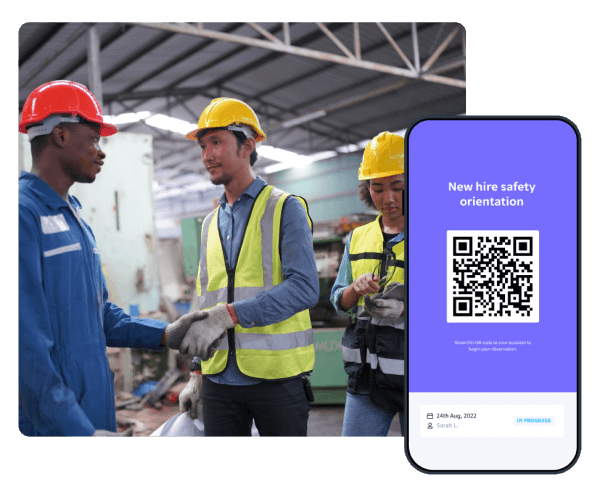 There's also an assortment of administrative tools like analytics, practical assessments, and actionable reports. These features make it easier for you to track your team's performance, identify knowledge gaps, and address learning challenges.
All these features combined make EdApp one of the most recommended learning management system examples out there. Industry-leading brands like UNITAR, Deloitte, Mizuno, Dunhill, and Bayer love the platform.
Train your teams using the best learning management system
No credit card required.
2. Schoology Education Platform
Another example of an LMS is Schoology. Since most learning has shifted online and adopted a remote learning model, Schoology offers support to school districts, focusing on K-12 schools with tips for parents and teachers alike. The Schoology environment is similar to Facebook, but it provides more educational functions, such as online class tests, tests, quizzes, and homework. 
Schoology education platform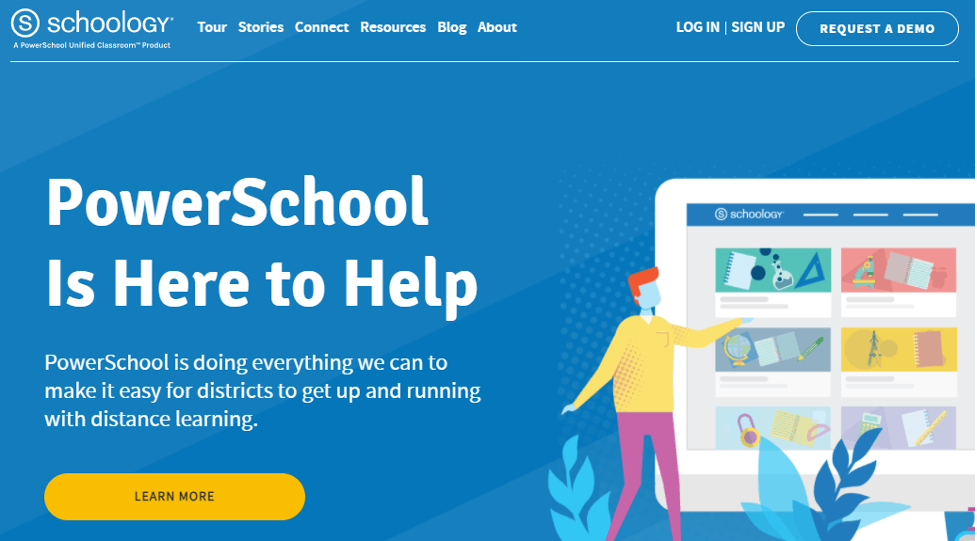 This learning engagement platform offers built-in tools to help engage and encourage students with a wide variety of content like videos, text, games, and more. With Schoology, educators can create their own lessons and also post daily reminders and assignments to students. The assignments can include quizzes and discussion sessions. There are also numerous assessment options, including timed tests. Rubrics can also be attached to assignments and assessments so learners know what they are scored upon. 
Other tools it offers include advanced analytics and make it easy to see how learners are doing on training assessments. With an open-access integration, self-paced courses allow for flexible completion, and varying instructional tools give teachers or content creators the freedom to create personalized learning experiences.
3. Its Learning LMS Example
Its Learning is another LMS with lots of useful features. It's meant for K-12 and also higher education, so it isn't as focused on corporate training as EdApp is.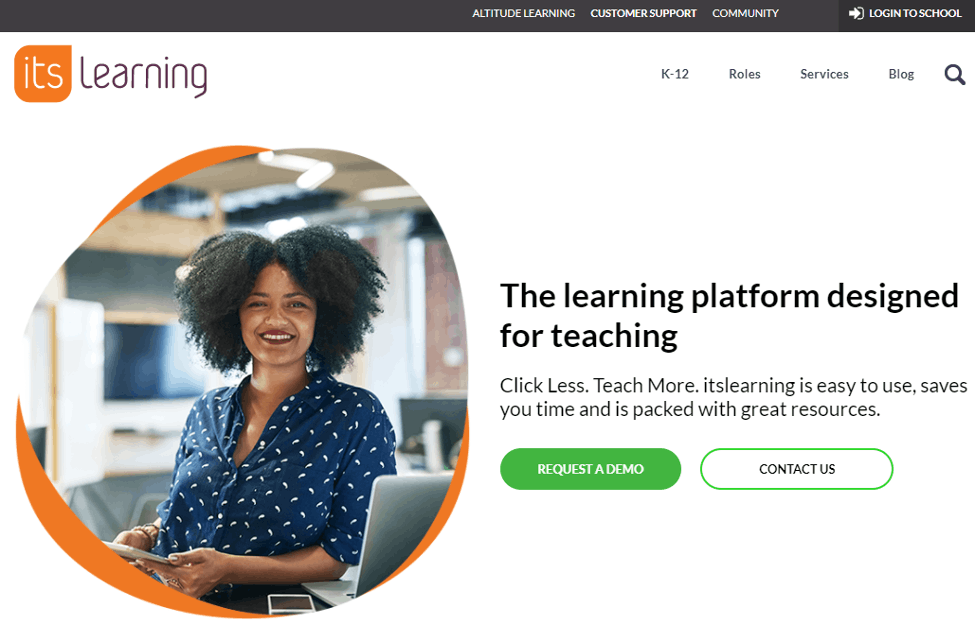 Its Learning features a large content library for help in creating courses. That can make it easy for an educator because they don't have to make everything from scratch. It also has advanced reporting and analytics for course management, as well as the ability to do group projects which can allow for evaluation of students in team settings.
4. Kadenze
Kadenze is an LMS that has many partner educational institutions and organizations that come together under one learning management software. Some of these partners include Princeton University, Seoul Institute of Arts, Stanford University, California Institute of Arts, and many more. Unlike the other LMSs in this list, this one targets college-level education for music technology, coding, digital arts, and many more.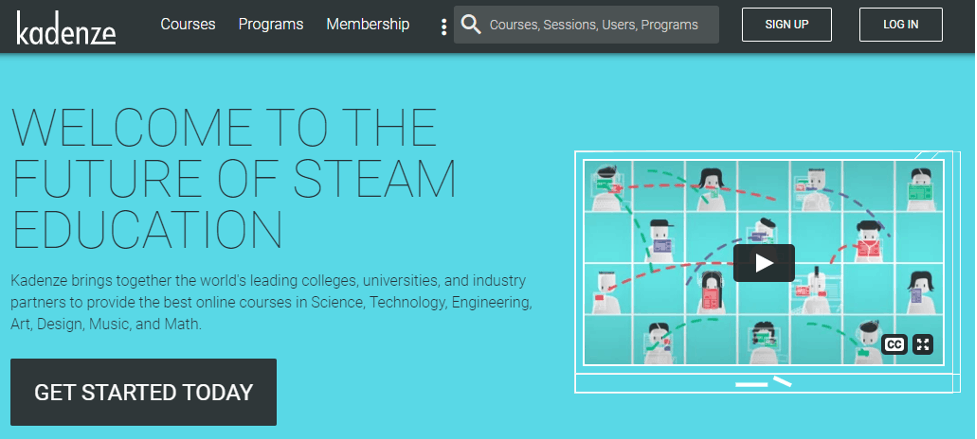 Here, course designers can create lessons that are often video-based lectures. They can be either scheduled or adaptive. Scheduled courses are live and have stricter due dates, while adaptive courses let students work through the curriculum on their own terms.
Kadenze also allows educators to award certificates when students complete courses. However, there is a tier-shaped membership model that can affect how students receive feedback on their work. What's even more interesting is that selected college-level courses in Kadenze will give learners actual college credit. It can be recognized by their partner institutions offering these courses.
5. ATutor
Another example of an LMS is ATutor. This LMS is especially interesting because it is a free and open-source LMS.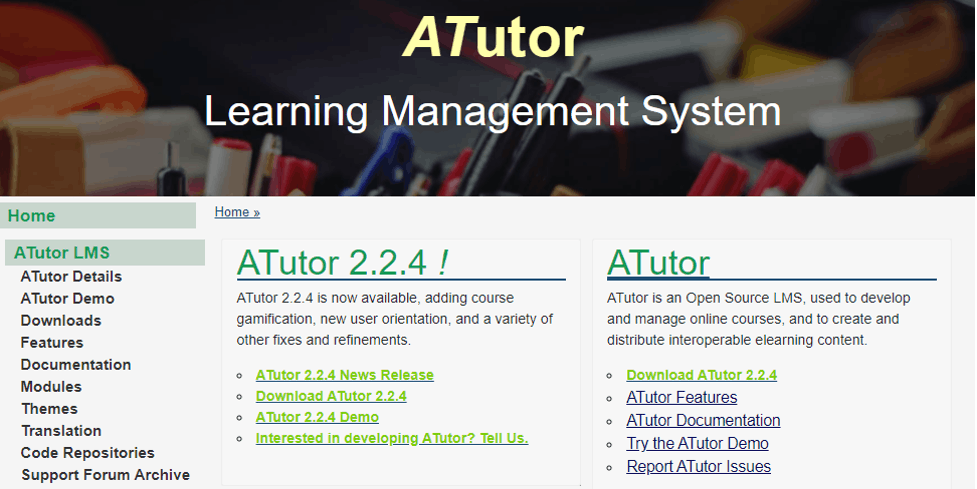 This LMS lets educators create learning materials available to all because of its accessibility features. It also allows for adaptability in that it allows teachers to distribute administrative tasks to others.
6. EthosCE
EthosCE is another learning content management system but is unique in that it is targeted towards medical associations. In that sense, it doesn't offer all the creative options as other LMSs.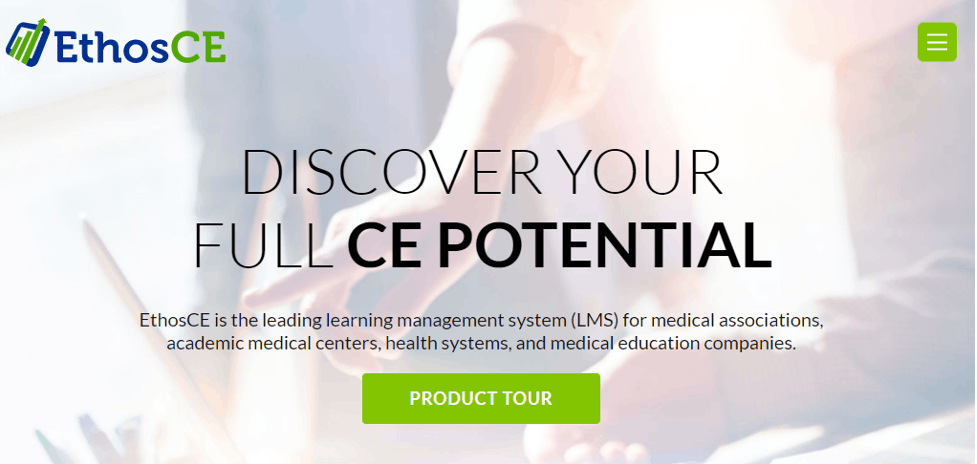 For healthcare professionals, though, it is a very streamlined LMS that offers transcripts, professional certificates, and integrates with accreditation programs.
7. WizIQ
WizIQ is an LMS that allows educators to create, market, and sell their courses to a large audience.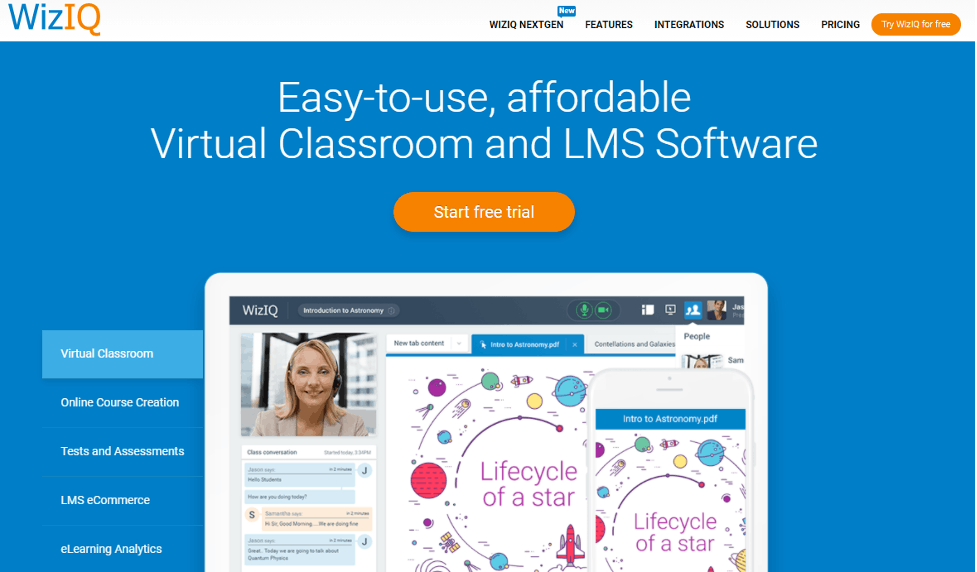 Educators can create beautifully themed courses that attract learners with multi-media lessons. Numerous assessment types also help educators understand how well their learners are taking in the content. It's an LMS system that works well for educators who are entrepreneurs as well as corporations looking to train their employees.
8. Spongelab
Another LMS is Spongelab. This LMS is focused on science education.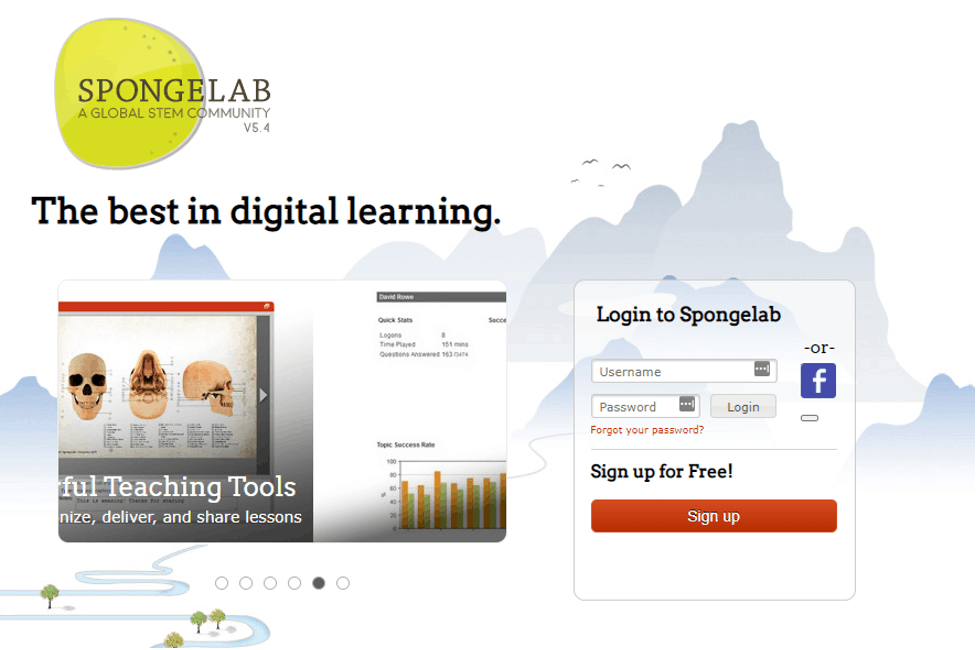 It has a large collection of lessons as well as other media like videos, images, and games. Teachers can join the site and make lessons from its content.
There is also analytics so that teachers can track their students' work.
9. Sakai
Another LMS is Sakai. Like ATutor, this LMS is free and open-source.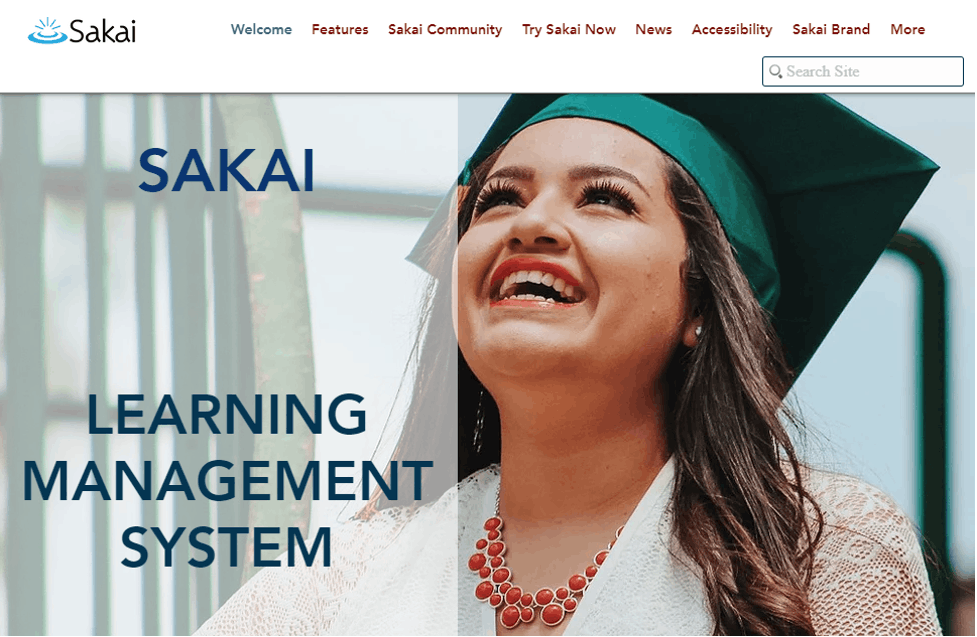 Sakai allows course building through modules where you can store text, quizzes, videos, and other resources. It also focuses on facilitating communication and collaboration between teachers and students. Grading and assessments are also taken into account, and Sakai allows educators to make rich feedback on assignments.
10. Edmodo
One more LMS to write about is Edmodo. This is another K-12 LMS and focuses on satisfying teacher needs for classes that have turned remote.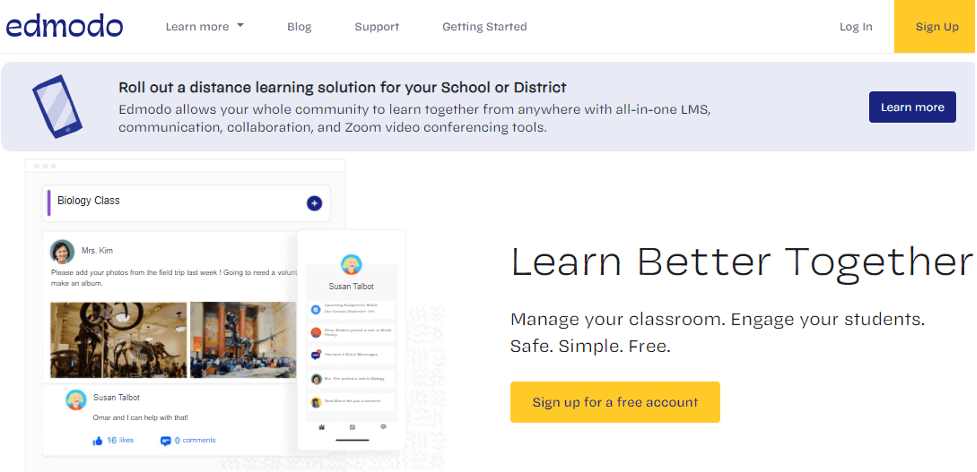 Courses can be created that focus on empowering students to participate by giving them great communication tools. Evaluations are also made accessible to parents, whose point of view is given a lot of consideration.
11. Omnify (Scheduling Software for Classes)
Omnify is a comprehensive software solution designed to streamline and simplify the management of classes and class packs for businesses and professionals in the fitness, wellness, and education industries. With its user-friendly interface and powerful features, Omnify offers a range of tools to automate and optimize class scheduling, registration, payment processing, customer communication, and more!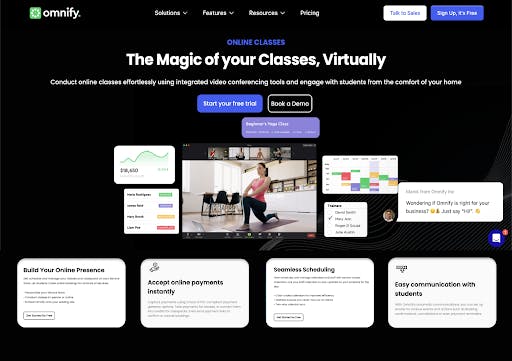 One of the key features of Omnify is its class scheduling functionality. The platform allows businesses to create and customize class schedules, set capacities, and manage reservations with ease, be it for online classes or on-site classes. With Omnify, teachers and educators can easily build an online presence that lets them create a personalized storefront via which clients or students can view the available classes, select their preferred time slots, and make bookings through a seamless online booking system.
12. Violet LMS
Violet LMS is a full-service LMS provider that supports diverse training like employee training, onboarding, sales training, compliance training, distribution training, and even customer training. Their strategy involves course creation with interactive elements and virtual training sessions. It also provides certificate management and certificate templates. Equipped with a number of powerful features, this learning management system is ideal for large organizations that require a robust LMS. Smaller businesses, however, may be overwhelmed by the tools listed and may be unable to use all of them.
13. Looop
Looop claimed itself to be the future of LMS because of its unique enterprise learning solutions and advanced UX design. Among the many things you can do in this platform include creating engaging learning materials, automating training delivery, and managing campaigns. It also features powerful user insights and analytics dashboards that will help you get a good picture of your team's learning progress and identify areas for improvement. Through these enhanced reporting features, you'll be able to gauge the effectiveness of your training and address your employees' learning challenges. 
14. Learnbook
If you're looking for a friendly LMS platform with no learning curve, Learnbook is a good place to go. The great thing about this LMS is that it's loaded with interactive tools and features that will help bring life to otherwise boring and monotonous learning materials and quizzes. It also supports video conferencing should you wish to host synchronous training sessions. Feel free to record the classes and publish them as offline courses that your team can revisit anytime they need them. 
Subscription with Learnbook will give you access to 10 off-the-shelf classes from external source GO1. This elearning library has over 50,000 training programs covering diverse topics like healthcare compliance, food services, digital marketing, and finance. 
15. EduBrite
EduBrite is a good LMS choice if you're planning to provide professional training and support not only for your employees but also for customers and partners. Here, you can create self-paced courses and certificate programs, and even attach interactive elements such as Youtube videos and audios for higher engagement. It also supports multiple software integrations, which is perfect if you are already working with beloved learning platforms like Google Suite and Zoom. 
16. Forma LMS
Forma LMS is a good learning management system example with a modern and responsive layout, designed to provide an easy and engaging experience for its learners. This LMS comes with a range of powerful tools that can help you create training courses without taking too much time and resources. Focusing on supporting corporate training, it also supports important functions like video conferencing, a certificate system, and a variety of calendars and event managers. They even produce custom reports, helping you quickly spot skill and knowledge gaps within your team.
17. ProProfs
ProProfs take user-friendly authoring capabilities that allows trainers to create instructional content in just a few easy steps. All they need to do is choose from over a hundred ready-made templates, add interactivities, and customize the branding. It also houses a vast range of pre-made courses that cover topics like compliance, sales, leadership, and customer service training. After their training, you can also use its gamification features like brain games and quizzes to test and monitor your employees' knowledge levels.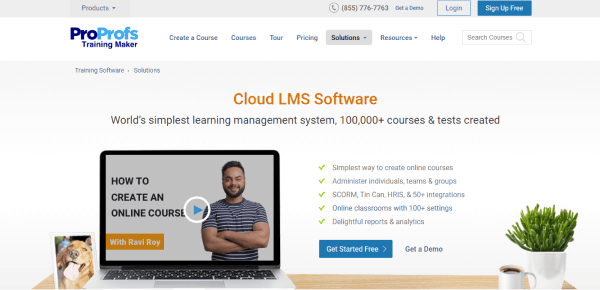 18. LearnAmp
LearnAmp also makes an excellent learning management system example. Among its best features is its customized learning pathway, which you can use to plan your employees' growth and assign them training materials even before they officially start their roles. You can even set future learning goals for them. This tool also offers out of the box compliance content that will save you from the hassle of creating your content from scratch. It also allows the automation of training deployment, ensuring that you and your team are meeting any specific compliance requirements.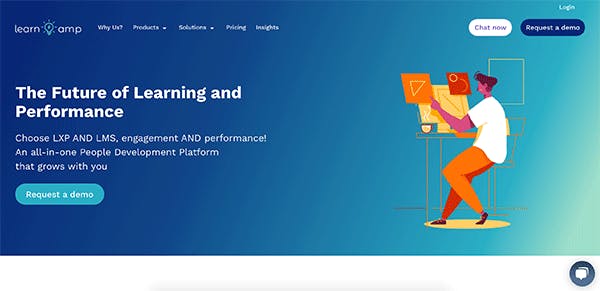 19. Abara LMS
Abara LMS supports tracking user performance on compliance training exams and assessments, as well as the generation of standard and personalized reports. It also has an integrated assessment/survey builder with a variety of question formats, including short answers, multiple-choice, open-ended, and more. You can also impose time constraints to guarantee that workers complete their courses within the timeframe you specify. If you want to engage learners with your courses, you can even construct simulation-based courses using animations, graphics, or actual people acting out scenarios for greater learning.
What Makes an LMS?
For something to be considered an LMS, it needs some key functionality. We can say that an LMS needs to allow the creation, management, and evaluation. Therefore, If you want to develop a learning management system you can always contact InvoZone.
The first thing it needs is for an educator to be able to create a course. This can be either directly in the LMS through an authoring tool, or the ability to upload courses created in a third-party environment. With advancements in technology, platforms like EssayPro could be integrated to assist in the creation of engaging and informative course content. The created courses should support not only text, but also rich media like images, audio, video, and interactive components.
In addition to being able to create courses, an LMS needs to allow an educator to manage the course. This means that the educator can make changes like adding new lessons, organizing courses, or managing users. This can be accomplished because an LMS includes an administration interface.
One more thing for an LMS to be able to do is to allow for student evaluation. There need to be ways to test a learner's knowledge during and after lessons. Ideally, there should be a wide array of doing this, such as free-response questions, multiple-choice, or submission of creative projects like videos.
Conclusion
In this article, we saw several SaaS LMS examples. There are all sorts of LMSs out there, but you will find that this list is a good start when you are looking for an example of an LMS for corporate training, K-12, or college. What are some other examples of LMS sites that you like?
Trade in your training with EdApp!
Bored of your old training materials but don't know where to get started? Don't worry, EdApp has got you covered with their Trade In Your Training initiative. It's the ultimate shortcut of converting your standard training materials into a visually appealing microlearning course – all free of charge. 
We'll transform your training materials into a gamified bite-sized format to increase learners' engagement. All you have to do is to upload your standard training materials and our expert team of instructional designers will do their magic. A representative will keep in touch with you throughout the process for a seamless training roll-out. 
What are you waiting for? Improve your training experience with EdApp today.
Subscribe to our blog newsletter