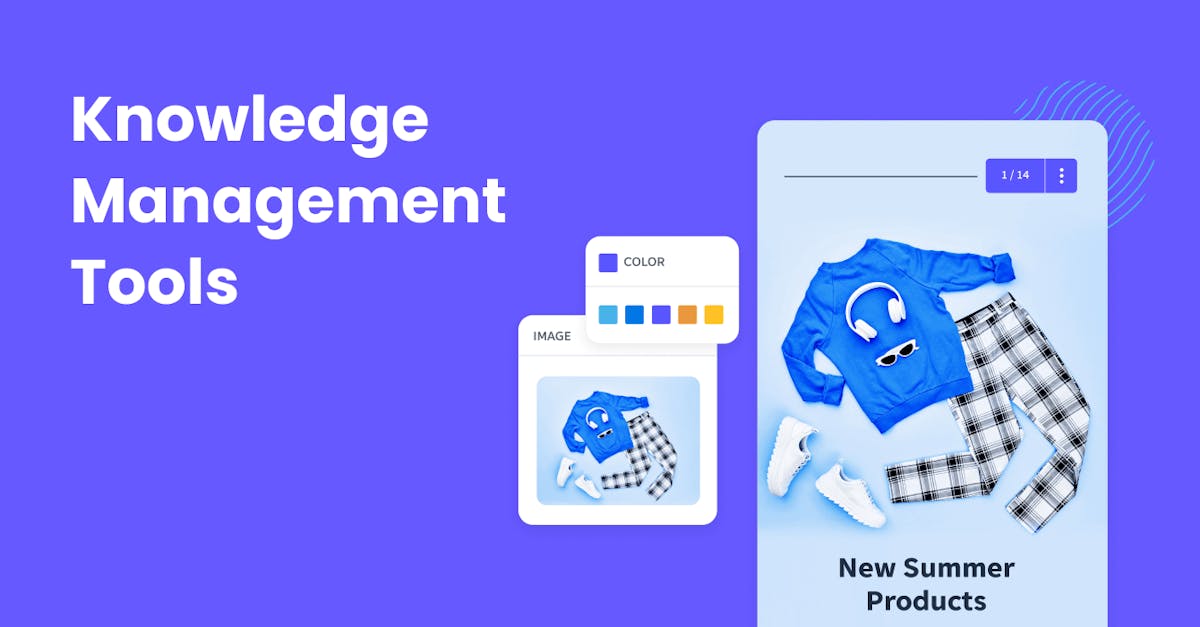 As a result of the quick expansion of knowledge management (km) tools on the market, sharing and transferring organizational knowledge is now simpler than ever. If you're trying to figure out what platform could work best for your team, we've compiled a list of knowledge management tools, including their features and advantages, to help you get started.
Tools for Knowledge Management #1 – EdApp
Being the frontrunner in this list of knowledge management tools, EdApp boasts a range of nifty features that simplify knowledge transfer inside your organization. It also lets you handle everything from content creation and course management to learning reinforcement and peer discussions for high impact learning.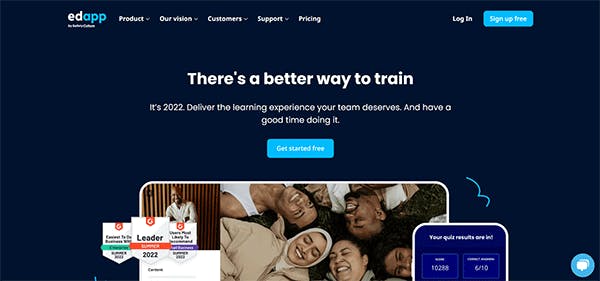 Creating and storing business policies, documentation, and training materials is a piece of cake with this platform. No technical expertise is needed. All you have to do is choose from EdApp's library of customizable templates, drag and drop your learning materials (such as management development courses or skill based training courses), add branding elements, and publish. You can even import courses from the course library to grow your organization's library of training resource materials. And since EdApp is a cloud-based platform, your team's organizational knowledge can be accessed anytime, anywhere, and on any device. 
If you don't have the time to get into the technicalities of creating courses, EdApp has a team ready to lend a hand. Just let them know what you need, and watch them build custom courses that function as though they were created by your company.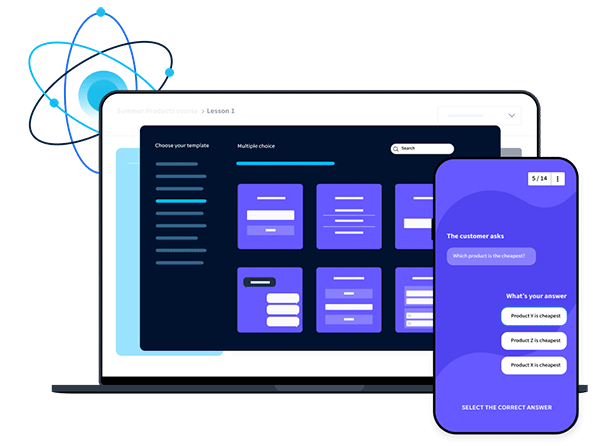 Compared to conventional knowledge management tools, EdApp has comprehensive social and peer learning features like Discussions and Virtual Classroom that allow your employees to exchange ideas and discuss business knowledge with one another. These tools also let them engage in real-time interaction, delve deeply into training topics, offer comments on lessons, and work together on various projects. 
Additionally, EdApp offers an analytics dashboard that allows you to track the learning progress of your employees more easily. More specifically, you can use the tool to compare course completion rates amongst team members, see how many people have unlocked your instructional learning materials, and see how frequently users are opening the app. All this information can be used to identify knowledge and skill gaps among your team members and address them more effectively.
Cost: Free
Key features: 
Cloud-based authoring tool

80+ interactive templates

Course library

Discussions

Virtual Classroom

Analytics dashboard
Join EdApp for free and start using one of the most recommended knowledge management tools on the market!
Knowledge Management Tool #2 – Bit.ai
Share your business knowledge and digital content intelligently with this knowledge management tool, Bit.ai. Perhaps one of its key hallmarks is its smart document editor, which makes it incredibly easy to create, publish, and share your documents. Bit.ai takes care of the design and formatting, so you can just focus on the content of your learning materials. Documents will be stored and categorized in smart and personalized workspaces, which are only visible to the team you determined, or the person who created them. This gives you complete control over who has access to the business' resources, ensuring that only the right documents will be shared with the right people. 
Bit.ai also takes pride in its smart search function, which significantly eliminates all the hassles in finding the documents you and your employees are looking for. Just search for the keyword, titles, descriptions, and source, and let this platform locate these files for you. 
This knowledge management tool offers a free plan for up to five members, but keep in mind that you can only store 50 documents. Alternatively, you can upgrade to their pro plan, which gives you access to more features and a larger storage capacity.
Cost: Free; Paid plans start at USD per member per month
Key features: 
Knowledge Management Tool #3 – Bridge
Bridge is an all-in-one km tool equipped with a range of robust features that you can use to drive your employees' growth while keeping them aligned and connected to your company's vision and strategy. What impresses its customers the most is its native course authoring tool, which harnesses the power of simplicity. Everything is in drag and drop function, and the customization of content works like your usual Microsoft Word. What's more is that this platform will also store all your company documents and learning materials in their platform, giving your employees quick access to all the resources whenever needed.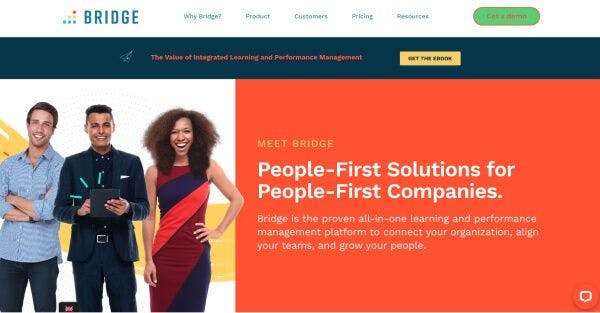 But apart from its course authoring, Bridge can also help you track your employees, conduct performance reviews, and implement a pulse survey, all in one place. You can even export all the data from Bridge to your own business intelligence platform to take your knowledge management strategy to the next level.
Cost to 2 USD per month
Key features: 
Native course authoring tool

Analytics dashboard

Performance reviews

Pulse survey

Easy export of data to other business intelligence platforms
Knowledge Management Tool #4 – TallyFox Tallium
Not your ordinary knowledge management tool, TallyFox Tallium offers unique solutions that can help you facilitate effective knowledge sharing, content management, and communication within your organization. In this platform, you can build your own business knowledge ecosystem, foster and share fresh ideas, and allow them to flow freely to your team, whenever they need it. Business knowledge information will be housed and kept in a secure private cloud with several levels of access rights, making collaboration seamless and straightforward.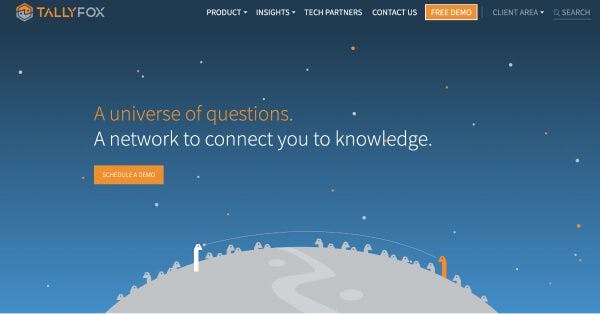 On the other hand, employees within your business can also use TallyFox Tallium to connect with experts all over the world and find answers to their questions as quickly as possible. With the help of its peer-ranked content and taxonomy filters, they can easily find and select the most relevant content and information that other members have shared, even years from now.
TallyFox Tallium, however, only offers paid subscriptions. Engineered with its clients in mind, this tool can be set up in just minutes, with no technical support or expertise required. 
Cost  Starts at USD per user per month
Key features: 
Unique knowledge sharing and content management

Business knowledge ecosystem

Secure private cloud with multiple levels of access rights

Collaboration with experts

Peer-ranked content and taxonomy filters
Knowledge Management Tool #5 – Confluence by Atlassian
Over the past couple of years, Confluence has been gaining popularity across the corporate world, deemed as one of the most preferred knowledge management tools. This is primarily due to its remote-friendly workspace, which makes knowledge management and project collaboration easy and hassle-free, regardless of time and location. What's noteworthy about this knowledge management tool is the intuitive structure of its pages and spaces, allowing teams to easily collaborate on creating and editing documents and product requirements and discussing their work. If needed, administrators can also enable email or in-page notifications for every change made to a page, so learners will never miss out on any updates on content, additional documents, or important mentions.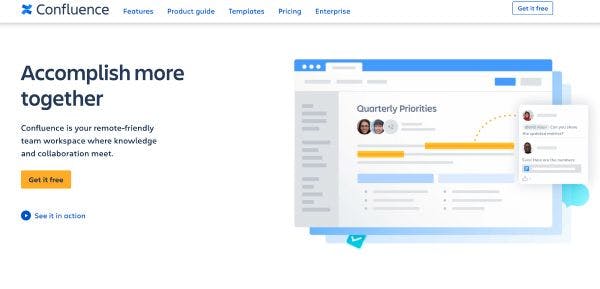 If you're already using Jira, you're in luck as Confluence is designed to work in sync with this platform. Collect your team's thoughts and collaborate on projects in Confluence and track your progress in your Jira software for seamless workflow and great time-saving benefits.
Cost  Free for 10 users; Upgrade options start at .50 USD per month
Key features: 
Remote-friendly workspace

 Intuitive pages and spaces

Email or in-page notifications

Jira integration
Knowledge Management Tool #6 – 360learning
You can also use the 360learning knowledge management tool to manage your knowledge base and ensure that everyone on your team has easy access to important information. Among the must-have tools include its easy-to-use authoring tool, which takes your content creation time from months to just minutes. You can craft and format text documents and even add images and video clips to make your learning materials more engaging and interactive. If needed, you can also include quizzes and enable feedback to improve learning comprehension among your team.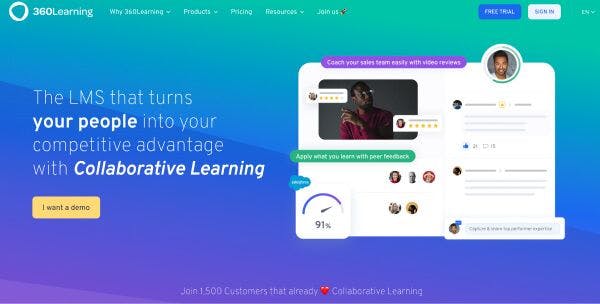 360learning allows further collaboration functionality with its discussion boards and group pages where your employees can directly interact and share knowledge with their managers and colleagues. 
Cost: Starts at USD per user per month
Key features:
Easy-to-use authoring tool

Documents with text, images, and video clips

Quizzes

Feedback

Discussion boards

Group pages
Knowledge Management Tool #7 – Tovuti
Generating, delivering, and managing knowledge resources is quick and hassle-free with this knowledge management tool, Tovuti. There's no limit as to how many learning materials you can create, plus, you can use and reuse your own content. In case you don't have enough resources on hand, you can also purchase from an eLearning vendor or utilize them using Tovuti's very own content library.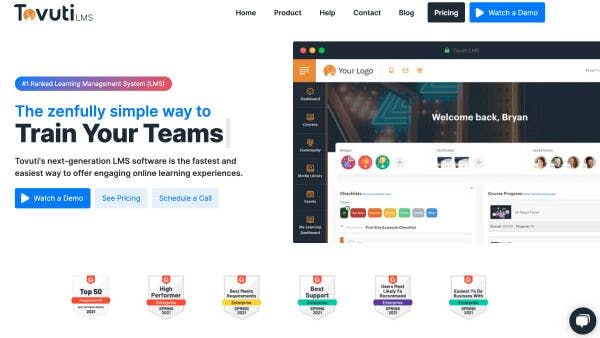 The content materials can be assigned directly to learners, either individually or in bulk, saving you a significant amount of time when compared to doing everything manually. Feel free to open the rate and comment sections open within courses for a more collaborative knowledge sharing. 
Cost: Custom pricing available upon request
Key Features:
Limitless content creation

Use and reuse of own content

Content library

Rate and comment sections
Knowledge Management Tool #8 – Trainual
Trainual is an excellent knowledge management tool and lms software that you can use to onboard or refresh your current employees' knowledge without location restrictions. Tasks like content authoring and building learning materials, like sales handbooks, hiring checklists, and orientation outlines, is easy and hassle-free, thanks to its 150+ free pre-built templates. While it does not support SCORM or other eLearning formats, there is the option of embedding images, videos, and multiple-choice questions. If you want to document your organization's policies and procedures, this employee training tool also offers around 30+ free Standard Operating Procedure (SOP) templates that you can use, so you no longer have to start from scratch.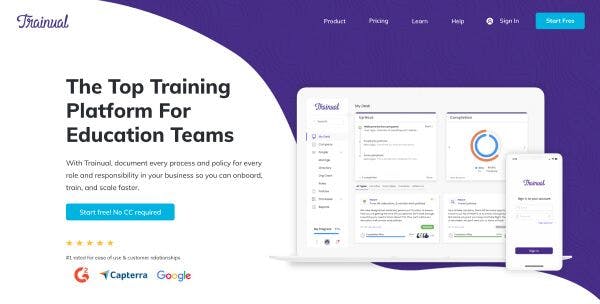 Starting with Trainual is free, but after that, you'll have to pay at least 9 USD per month.
Cost: Free for 2 months; upgrade options start at 9 USD per month
Key Features:
Content creation

150+ pre-built templates for online training courses

30+ free Standard Operating Procedure (SOP) templates for policies and procedures

Images, videos, and multiple-choice questions
Knowledge Management Tool #9 – Crowd Wisdom
Crowd Wisdom knowledge management tool uses the best online learning technology to help chief learning officers foster employee growth and knowledge development, and provide rich learning experiences for your team. There are a lot of things that you can accomplish from using this tool. First, you can build personalized learning resources based on your employee's objectives, competency goals, and certification paths. You can even deliver them in a variety of formats, including microlearning, live online, and webinars. To motivate them to finish their learning materials, you can also issue them certifications that they can include in their microcredentials.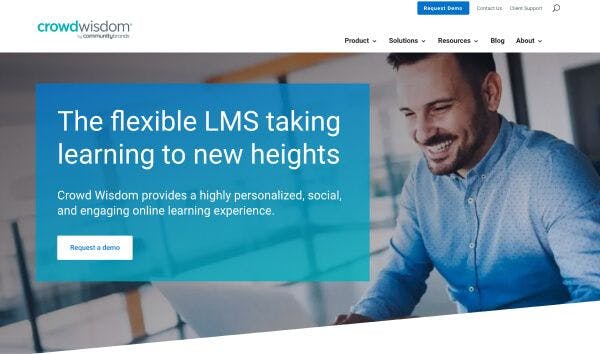 This tool has no free version, but it offers a free trial and personal demo so that you can first try their training solutions before committing to their paid plans.
Cost: Custom pricing available upon request
Key Features:
Personalized courses

Microlearning

Live online and webinars

Certifications 
Knowledge Management Tool #10 – Slack 
In case you're not aware of it yet, Slack knowledge management tool is deemed as a secret sauce of successful knowledge management. It features a combined functionality of email and messaging applications, where users can instantly connect with others either via chat or call and, at the same time, attach files or even record a video or audio clip to relay critical information. It's also a fun place to collaborate with colleagues without the formality of email, write and share notes as if you're using a word processor, and keep everyone up to date with the policy or process changes in your company.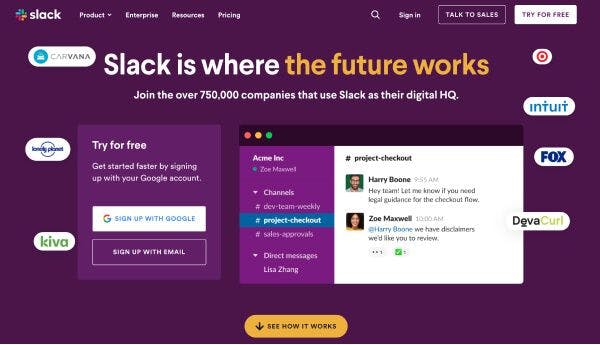 If you want to keep your knowledge sharing within the bounds of a certain group of people, you can create public or private channels, and from there, store relevant information and documents for easy access. Slack also supports integration with 3rd party applications like Google Drive, Office 365, and even Zoom.
Cost: Free; upgrade options start at .67 USD per month
Key features:
Direct messaging

File attachment

Video and audio clip recording

Public or private channels
You may also be interested in: