Using a multiple-choice test creator can aid your L&D and training teams by automating the process of creating tests to check how well a material is understood. To find the perfect tool to use, we've done the homework for you and listed ten multiple-choice test creator software to gauge your team's knowledge and understanding. Scroll down to learn more.
1. EdApp
EdApp is an award-winning LMS, which features a built-in multiple choice test creator called Rapid Refresh. All you need to do is enter your set of questions in an easy-to-complete spreadsheet, and it will be transformed into a visually engaging test, ready to be rolled out in an instant. Through the concept of spaced repetition, tests can be delivered daily or weekly, so all you have to do is set it to your preferred interval and let the app do the rest. To engage your learners and motivate them to do their best, you can also set up a leaderboard and provide prizes and real rewards for top-performing learners. You'll also have visibility to real-time analytics to see the individual or overall performance once a test is completed.
Aside from standalone tests, you can also include quizzes in your courses. There are several gamification templates you can use to make your quizzes engaging and entertaining. Aside from multiple-choice types of questions, EdApp also has true/false, next in order, memory, jeopardy, letter jumble, image/word match, and many more. By inserting a gamification element in your quizzes, learners won't feel that they're taking a typical quiz and this approach will also increase their knowledge retention. You can also keep track of the learners' progress using analytics.
Reminding users every now and then to complete their tests takes a lot of effort and can be time-consuming. But with EdApp automated training tool, you can automate push notifications and email reminders to be sent out with just a click of a button. As EdApp is also compatible with mobile devices, users can take their tests at their own convenience, which leads to higher completion rates.

Features:
Rapid quiz maker

Mobile-friendly

Easy-to-complete spreadsheet

Gamification

Automated delivery

Analytics

Leaderboards

Push notifications
Cost: Free
Sign Up For Free and create your quiz with EdApp's multiple-choice test creator software for free!
2. EasyTestMaker
EasyTestMaker makes it easy to author and manage a variety of digital multiple choice tests and quizzes. Just add new questions & sections, modify them as needed, and let this software do the rest of the hard work for you. You can also create tests using your existing questions from your question pool. A test will then be generated, which will contain a random set of questions if you need to mix it up. EasyTestMaker can also export all your test questionnaires, analytics, and students' results to PDF or Word, which is perfect if you also want to have a printed copy of your training materials.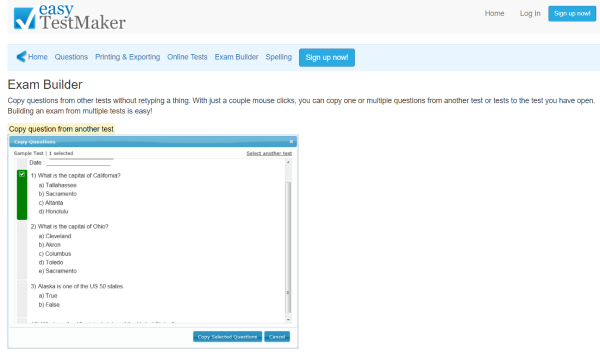 Cost: Free and paid plans
Key features: User-friendly interface, question pool, shuffled questions
3. Typeform
Typeform has a drag-and-drop tool to help you quickly build great-looking online tests. It allows you to make interactive multiple choice tests by using images, GIFS, and videos. Your quizzes are fully customizable, so you can adjust the color schemes, add background images and change the text. This will provide your workforce with a unique test that captures learner engagement. Using the Logic Jump feature on your quizzes can also make them progressively harder or easier. Ultimately, this software will enable you to create well-designed tests while equally ensuring a fun experience for your employees.
Cost: Free and paid plans
Key features: Drag-and-drop tool, customizable templates, Logic Jump
4. ClassMarker
ClassMarker is another online testing software that allows you to easily create multiple choice tests and save questions to your question bank, which you can reuse anytime. Quizzes are highly customizable, and you can set a question to have more than one correct answer. ClassMarker also allows you to indicate time & date availability, the number of allowed attempts, the passing score, and many more. To make it visually appealing, you can add a theme to apply branding and logo to your test pages. Tests are automatically graded, providing you the results immediately. You can also view whether they've been completed or still in progress, so you'll always have visibility on how your team is getting along.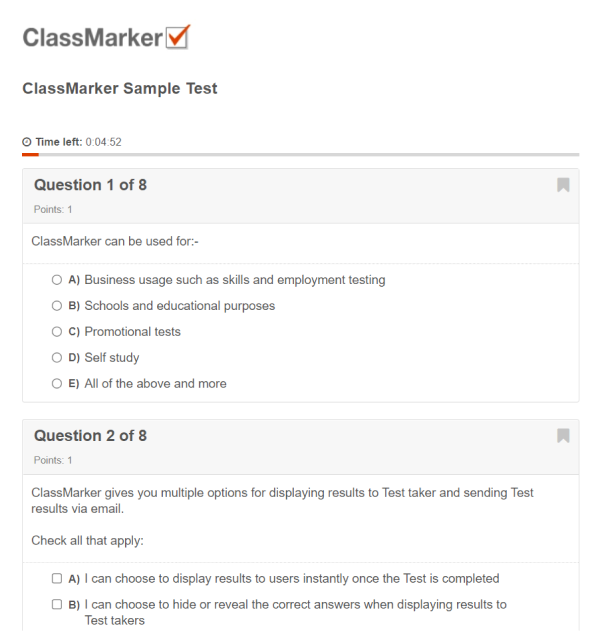 Cost: Free and paid plans
Key features: Question bank, automatic grading, reporting & analytics
5. ProProfs
With ProProfs, you have access to over 100,000 ready-to-use questions that you can deploy immediately or customize with your theme and branding. You can also add your own images, select from their image library, or import online. ProProfs also gives the ability to provide an explanation after the user attempts to answer a question to help reinforce content better. If you want, you can also create a multiple choice cloze test, which is a combination of multiple choice and fill in the blanks question types.
Cost: Free and paid plans
Key features: Question bank, reporting & tracking, customizable templates 
6. Fyrebox
Fyrebox is yet another excellent multiple choice test creator software for building interactive and colorful quizzes. There are two types to choose from, which are the single correct answer and multiple correct answers. You can also designate the points that each answer is worth to the user. With Fyrebox, you can customize the appearance of your test, move buttons & change their color, choose your preferred font, and even upload your background image. There are also various customizable templates to give you a kickstart should you find yourself a little lost in the process.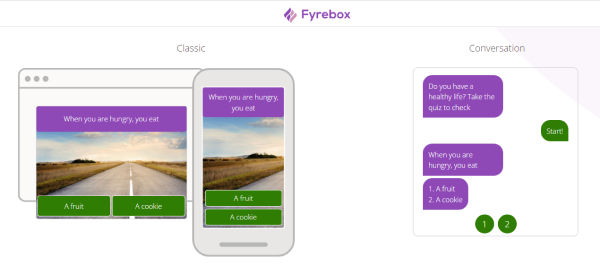 Cost: Free and paid plans
Key features: Interactive interface, quiz templates, multi-scoring
7. 123 Form Builder
123 Form Builder aims to make creating multiple choice tests painless and easy. Living up to its name, you can create quizzes in just three steps: choosing a template, adding content, and publishing your test. To engage your test-takers, you can also add images, graphics, and branding. You'll also have the option to set up a countdown timer that automatically submits the quiz after the elapsed time. Another cool feature is conditional logic, where a field can be triggered when a certain action is done. For example, if a learner chooses the wrong answer, you can show the correct one instead.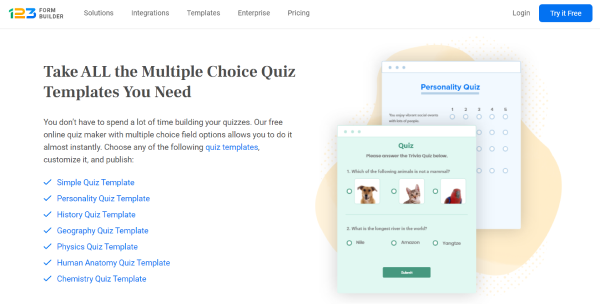 Cost: Free and paid plans
Key features: Countdown timer, conditional logic, easy to use interface
8. Opinion Stage
Opinion Stage promises engagement with users through its visual and interactive multiple choice tests. If you don't want to start making a test from scratch, you can choose from over 100 templates that they offer, which you can fully customize. You can edit the text, images, colors, and many more. Tests created in Opinion Stage also perform well in any kind of platform, whether it be on mobile or PC, and it even optimizes images depending on the device being used. On the other hand, if you're concerned about privacy and security, you need not worry as all tests you create are safely stored in the cloud. 
Cost: Free and paid plans
Key features: Quiz templates, cloud storage, image optimization
9. Quiz Global
Quiz Global is one of the simplest multiple choice test creator software on the list and is completely free to use. You can create an unlimited number of tests with endless questions and include images, answer explanations, or hints. It also features a question bank where you can randomly generate quiz questions for your test. A unique feature of Quiz Global is that users can play or revise the test by using voice commands, which is perfect for test-takers who are visually impaired. You can then share the tests you create using a link that can be posted on forums and social media sites. However, you won't be able to embed your quizzes if you have your own website.
Cost: Free
Key features: Countdown timer, question bank, voice commands
10. Testmoz
Testmoz boasts of a simple interface but with powerful features. You can customize the look and feel of your tests with its drag and drop feature. It also has an option to show one question per page or all questions at once. If you want to reuse your old tests, it just takes a few clicks to import them into your new examination or you can also draw ones from your question pool. Testmoz is mobile-friendly and can be accessed on any device even with a low bandwidth connection. On the free version though, you won't be able to upload images and can only choose from the ones available online. There's also a limit of 50 questions and 100 results per test.
Cost: Free and paid plans
Key features: Question pool, mobile-friendly, drag & drop tool
11. Flexiquiz
Flexiquiz is a multiple choice test creator that enables you to make custom quizzes, tests, and assessments. With this no-frills tool, all you have to do is to add your questions, which are not limited to text and can also include images, video, tables, or audio. Add your answers to each question then choose how you'd like to score the test. Flexiquiz provides three scoring options: all or nothing, per points, and plus & minus. The FlexiQuiz system will automatically score submitted quizzes and the results are available immediately.
Cost: Starts at US $15/month
Key features: Media-rich questions, automatic scoring, scoring options
12. Quiz Maker
Quiz Maker is another multiple choice test creator that allows you to create a quiz in minutes. Creating a quiz can be done in just three easy steps: choose your quiz type, add in your questions & answers, and send out your quiz. To make your quizzes more engaging, you can select different themes to change the look and feel of your quiz. Quizzes can then be shared via a direct link, or you can also embed them on your website or share them on social media platforms. Tests are automatically graded and you can also send certificates to reward learners for their hard work. While it has a free plan, you're only limited to 25 responses and you'll also see ads on your quizzes.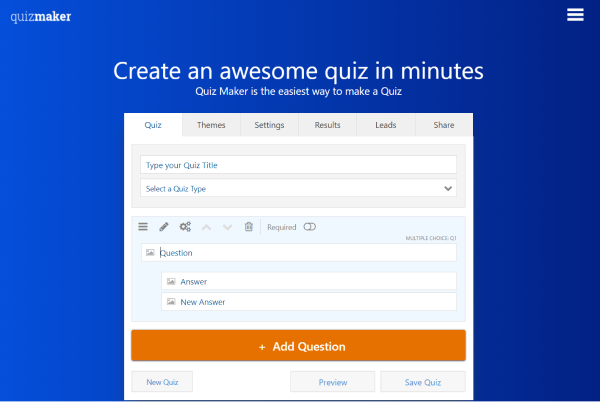 Cost: Free and paid plans (starts at US $12/month)
Key features: Media-rich questions, automatic scoring, scoring options