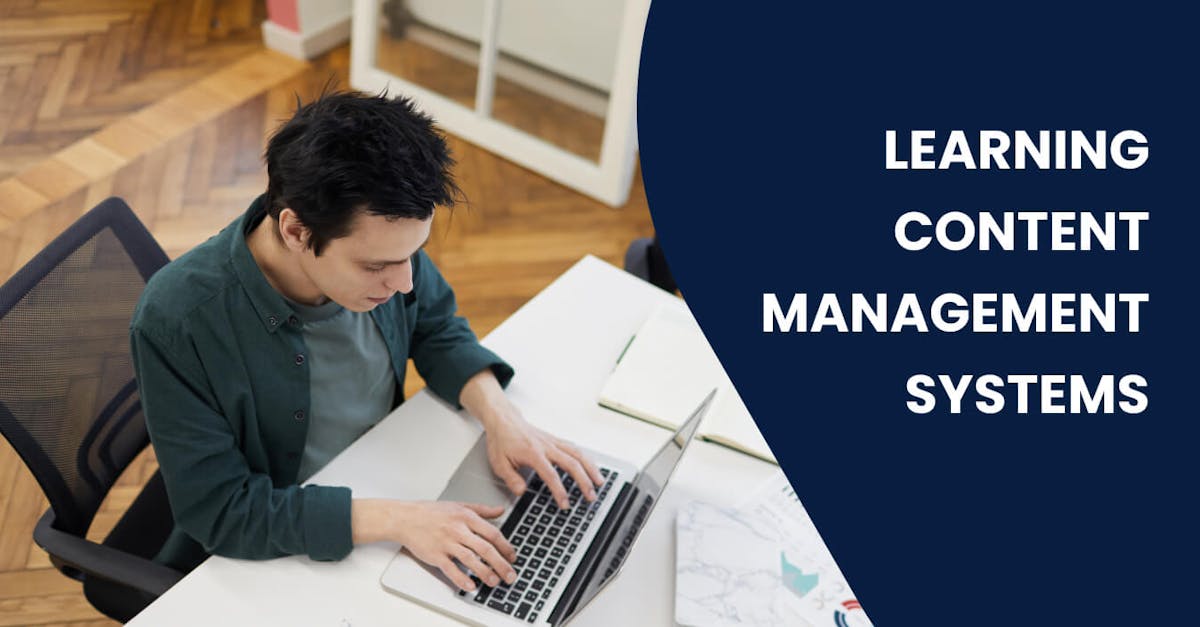 A learning content management system, or LCMS, is a multi-purpose platform that allows you to create, host, schedule, and track learning content and activities for your employees. It's an all-in-one solution for your training program that can be managed and accessed in one central location. In this article, we'll look into the top 10 learning content management systems to make training creation, management, and delivery easy and convenient.
1. EdApp
EdApp is a mobile-first workplace training solution that offers microlearning and spaced repetition learning techniques that are guaranteed to improve retention amongst your employees.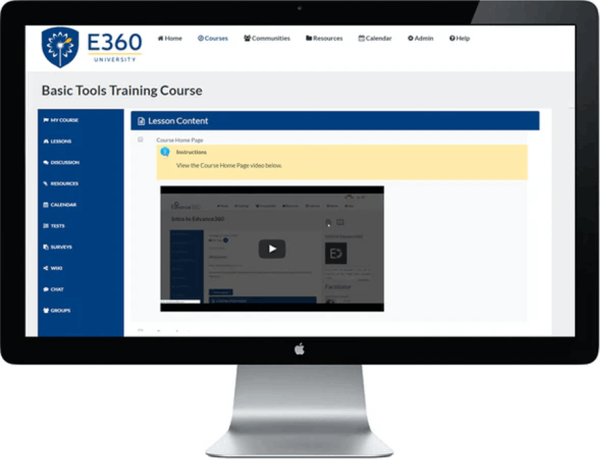 This LCMS platform also has a SCORM-compliant authoring tool that is so easy to use, meaning anyone can create interactive and effective elearning courses without any coding/design knowledge. Be sure to utilize its quizzes and gamification features in your courses, as they are great ways to promote engagement from your workforce. But doesn't stop there, as EdApp has a uniquely large amount of built-in features that are free for you to use, which includes everything from a completely free, editable course library, where you'll find hundreds of ready-made coursewares to customize and deploy to your teams within minutes. If you've never made training content before, then you can rest easy as EdApp can create the first course for you.
If you need to test your learners' knowledge, you'll find the Rapid Refresh quiz maker a fine addition to your learning resources. All that's needed for you to do is fill out the easy-to-complete spreadsheet provided with questions and answers, then it'll be automatically transformed into a beautifully-designed quiz. Quizzes can be sent daily or weekly depending on your need. It also comes with reporting and analytics so you can easily measure performance and identify skill gaps.
Train your teams using the best learning content management system today!
2. Itacit
Itacit's learning management system content is not as vast as some other platforms out there. For example, it lacks a world-class editable library (or any content library). What Itacit does offer, however, is a basic learning management system that supports SCORM 1.2, SCORM 2004, AICC PowerPoint, HTML, audio, video, and PDF.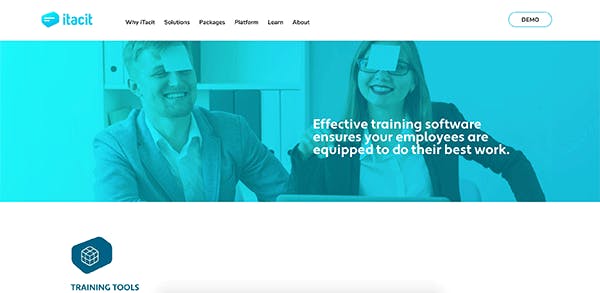 With this corporate e learning solution, trainers can create elearning authoring content with a drag-and-drop content editor. Users can also set up learning paths for students. Itacit is particularly useful for content creators who are focused on compliance and training.
3. Next Thought
The Next Thought learning software is designed with a team-based approach. This free learning management system delivers course materials to your teams that need to be upskilled or reskilled. Next Thought can be used to accelerate the employee onboarding process, optimize sales and customer support training, and also work on employee compliance.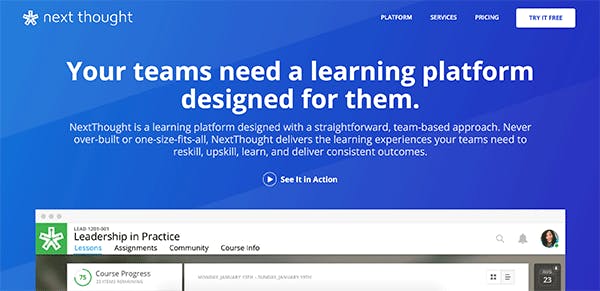 In addition to training your employees, the Next Thought LCMS Learning Content Management System is also useful for training your partners so that your brand will be accurately and consistently represented. Unfortunately, the platform isn't free and it includes a limited amount of features to help drive optimal training results.
4. Auzmor
Auzmor is a Learning Content Management System that is designed to simplify employee training so that leaders can launch, track, and report any training in one place on any of their devices. On the Auzmor platform, companies can upskill their workforce through mobile learning, training, and course management.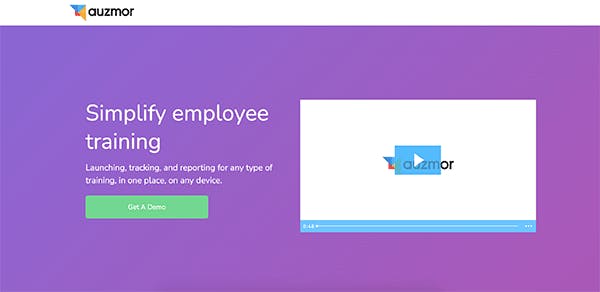 While Auzmor is designed to help train multiple departments and sectors such as sales, L&D, education, healthcare, compliance, and customer service, it isn't suitable for all industries and will come at a cost – only offering a free trial. While the platform has a course builder that is easy to use and has a library of courses that can quickly teach teams, the content is limited and it isn't editable, which means you can't customize and brand your own lessons.
5. Edvance360
If you are looking for a learning content management system that is versatile enough to be applied for learning at the K-12, higher education, and corporate levels, Edvance360 is the one for you.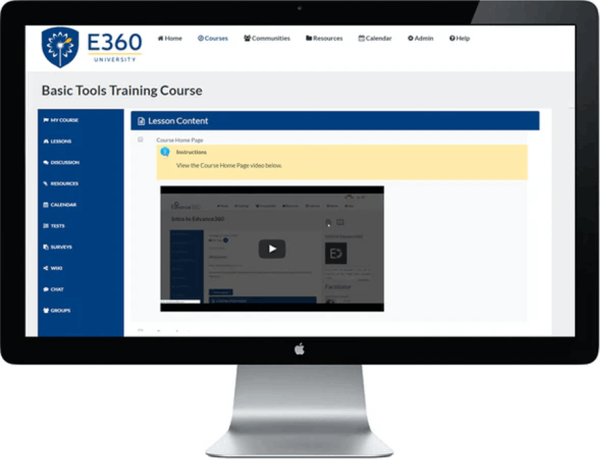 If you are looking for a budget or free option, Edvance360 is a paid platform, so you will have to look elsewhere. This LCMS emphasizes a personal approach to learning through the use of interactive technology. Edvance360 can also help develop professional learners' skills but isn't the best workforce training LCMS available, unfortunately.
6. Coassemble
If you are trying to train an international workforce, Coassemble does not have an AI translator, so it may be difficult to train a global staff. Coassemble is an LCMS (Learning Content Management System) that offers engaging bite-sized training for teams that can be assessed on one platform.
It is an easy training platform for teams to use, and it also has many course creation templates that allow content creators to create bite-size training content. Coassemble also has a basic custom branding feature that companies can use to customize their workspace.
7. Syberworks
Syberworks is a learning management system example that offers a broad product suite that is useful for accelerating employee training and services that can help managers to set up their training effectively. Its product suite supports courses from many commercial authoring tools and loads content and it provides tracking on most aspects of a company's training programs, including operating procedures and policies.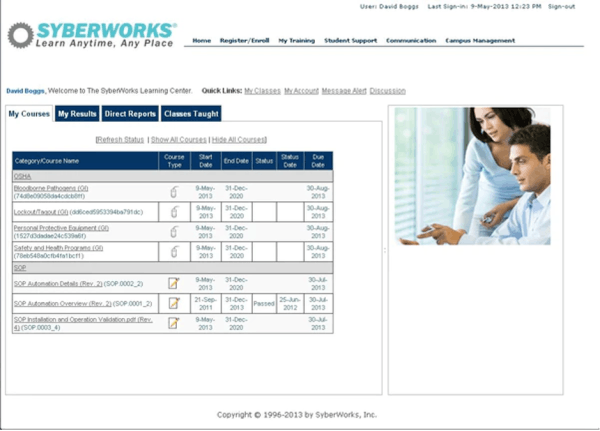 While the platform has a professional staff of experts who will help users to be on top of their game at all times, the platform interface is rather clunky and dated. Their staff offers assistance for course creation, deployment, and use. This LCMS isn't free either.
8. Freestone
Freestone is an LCMS that is a bit different in its approach to delivering content. Freestone users are able to use the platform to create learning video content like webinars and webcasts that are specifically designed for the professional development of your employees. Creators and managers can also do live on-demand courses with Freestone.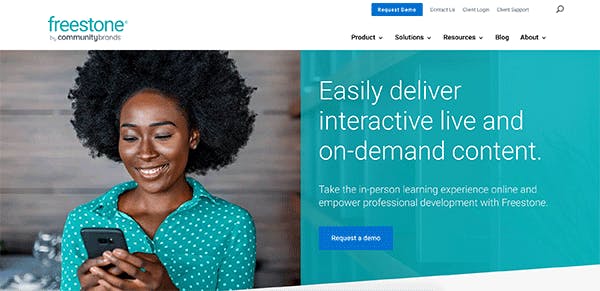 Pre-recorded presentations can be hosted on the platform in addition to the other traditional and blended webinar presentations. This LCMS platform prides itself on high-quality, interactive video presentations that can be paired with PowerPoint presentations and other forms of content. Don't let the name fool you, though, Freestone isn't free. Furthermore, the features that it does include are useful – but limited.
9. Tovuti
Tovuti is a Learning Content Management System and Course Management Tool that offers fast and easy ways to create online courses. This LCMS platform allows content creators to create an unlimited amount of courses. It has a tutorial Library and other professional services to help creators get started. On the administrative end, managers can also create reports and track learner progress in addition to assessing KPI dashboards.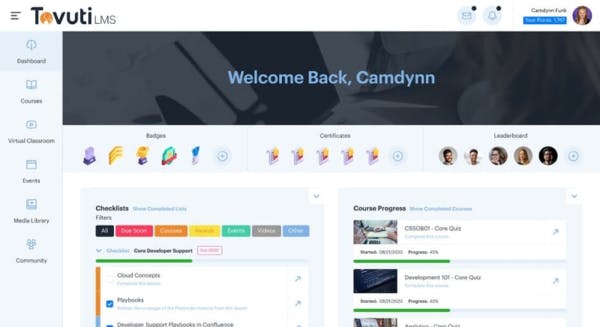 Tovuti does make communication with other platforms possible through a Zapier integration – but its integration capabilities stop there. Branding is also customizable with this learning engagement platform in a variety of ways by changing logos and colors. This system lacks a few useful features, however, such as ready-made content, gamification, and built-in rewards, as well as templates to build effective courses through proven guidance.
10. CoreAchieve
This is a workplace training LCMS that quickly gets an organization's employees into their training courses. It focuses on simple deployment around standard cloud-based SaaS models. All of the resources offered by this LCMS are available in one location, so audits of users, courses, and certifications can be quickly done.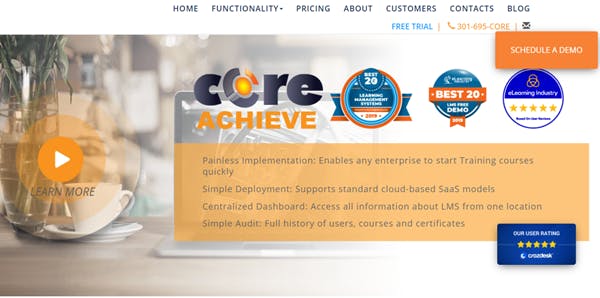 Coreachieve tries to make learning fun by awarding points and rewards to learners at the top of leaderboards. Unlike some of the top LCMS platforms on the market, however, Coreachieve isn't mobile-first, so accessibility to learners can be challenging at times, especially if your workforce is remote or deskless.
What are learning content management systems?
Learning content management systems are platforms that make training materials available through free and paid online training courses to assist you in reinforcing key concepts, developing skills, and ensuring a convenient learning experience among your learners. These systems also feature employee engagement tools to help you drive better learning outcomes. Aside from helping increase learner engagement, it supports training managers in streamlining tasks and deploying training programs more efficiently through their authoring, course management, and analytics tools. By leveraging learning content management systems, you can produce well-trained employees who can maximize their capabilities in performing their tasks, driving the best outcomes for the business. 
Conclusion
We believe that the best LCMS for us is one that is world-class in every way. We think it should have a world-class editable library that is already filled with courses suitable for any industry. The tools available to users should also be top of the line like its authoring tool, its PowerPoint converter, and its translation tool. We find that EdApp is the only one on our list that has all these features and more.