As a small business owner or someone who coordinates L&D for a small business, you understand the need to get and maintain a competitive advantage. With tight budgets, time constraints, and the continuous pressure to evolve to today's changing world, using a Learning Management System (LMS) can assist in training employees to be effective members of your small business team.
In brief, an LMS is a way to deliver and track employee training. Through personalized training modules, businesses can maximise learning retention and ultimately support your business with the information and growth needed to succeed. Finding the best LMS for your small business can be a challenge, so we've compiled a list of the top 10 cloud-based LMS systems for small businesses below.
Best LMS for small business – EdApp
EdApp is a completely free LMS for small business, bursting with features to help take your training to the next level. The mobile-first training solution allows your employees to complete their training via smartphone whether they're on-site, at home, or anywhere in between. In the platform's editable course library, you can find ready-made content to support your small business on everything from onboarding to product knowledge and much more. Using the easy-to-navigate authoring tool, you have the option to build content from scratch with the support of an extensive template library, to help create the most effective and interactive lessons that even the least tech-savvy can create.
The microlearning platform also includes a collection of built-in tools designed to boost interaction, lesson completion, and ultimately result in better learning. Since EdApp offers a uniquely free platform in an unlimited capacity, it really makes for the most affordable LMS for small business meaning you don't need to compromise the quality of training if you have a small (or non-existent) budget.
1. Coassemble
Coassemble, formerly known as eCoach, offers packages for $29/month, making it affordable for most small businesses. Users can create their own small business training programs, conduct simultaneous courses, and view training progress which means there is no need for third-party software.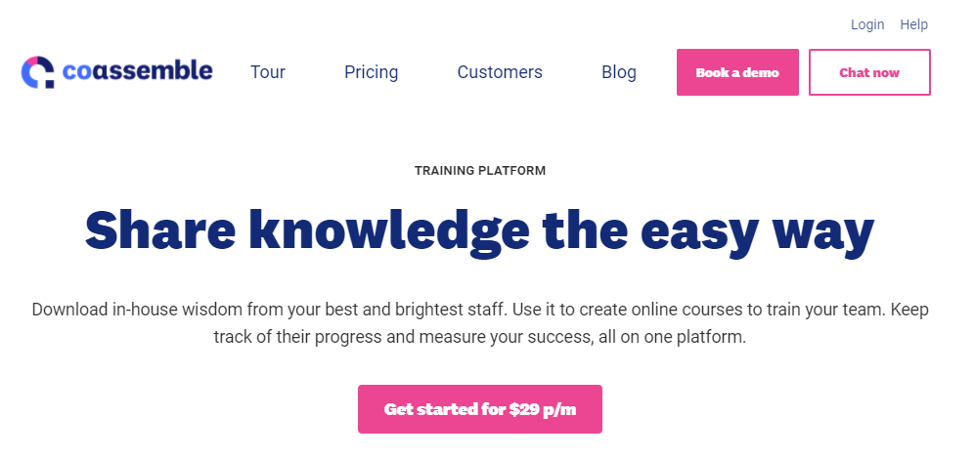 Coassemble includes customizable templates and some choice in the way the user interface appears.  A variety of learning options supports virtual, traditional, blended, and microlearning. There are also some limited built-in features to get assistance if needed; these include live chat, local support, and onboarding help. Tracking learner progress is also built-in allowing for data-driven decisions. If more features are needed, however, you must integrate with a third party system to reach all your training needs.
2. Tovuti
This scalable LMS offers virtual, mobile, traditional, blended, and microlearning.  There is also a drag and drop course builder feature that makes it possible to design courses that align with your small business. When it comes to tracking your employees' progress, Tovuti includes built-in features to assess and make decisions about what needs to be done to improve the course training. While the learning engagement platform does include a course library that has ready-made courses, but it comes at an additional cost and you cannot edit the content once purchased. Learners can earn badges and certifications through Tovuti which can help your employees to participate and complete courseware but there are no built-in prizing options.
In terms of cost, there are two subscription options depending on what matches your small business' needs. Each package provides specific LMS features, so coordinating what exactly you need to be able to do is important before making a subscription choice. You must discuss this with a vendor before purchasing but unfortunately, the support stops there. Users have noted that their support channels "usually take a long time to respond."
3. WorkWize
WorkWize is a good option for small businesses needing a multilingual LMS, however, it should be noted that only a free trial is offered and using the platform to its full capacity will come at a cost.  The platform does allow for small business users to easily add users, send reminders, create courses, and modify existing courses.
WorkWize is designed to work at scale, so that's something to keep in mind for your consideration. Specifically, this LMS works best with a minimum of 100 employees. With a heavy focus on compliance, some of the platform's key features include non-compliance reporting, HR system integration, automated user enrollment, and email integration. The quality closed-loop compliance also allows for HR and/or L& D professionals to quickly pinpoint training issues but beyond this, features are limited. A design support team is available to assist with any technical issues you may run into with WorkWize and they offer annual pricing plans.
4. Schoology
Noted to connect people to content and systems that facilitate learning, Schoology is another LMS option for your small business. As the name might suggest, the platform is designed specifically for classroom learning to support students and teachers. Schoology does offer both a free and enterprise option which can cost $10 per student and is free for educators in K-12 schools, colleges, and universities. Keeping this in mind, it's somewhat costly for a small business but those who use Schoology praise its easy-to-use platform and suite of tools available.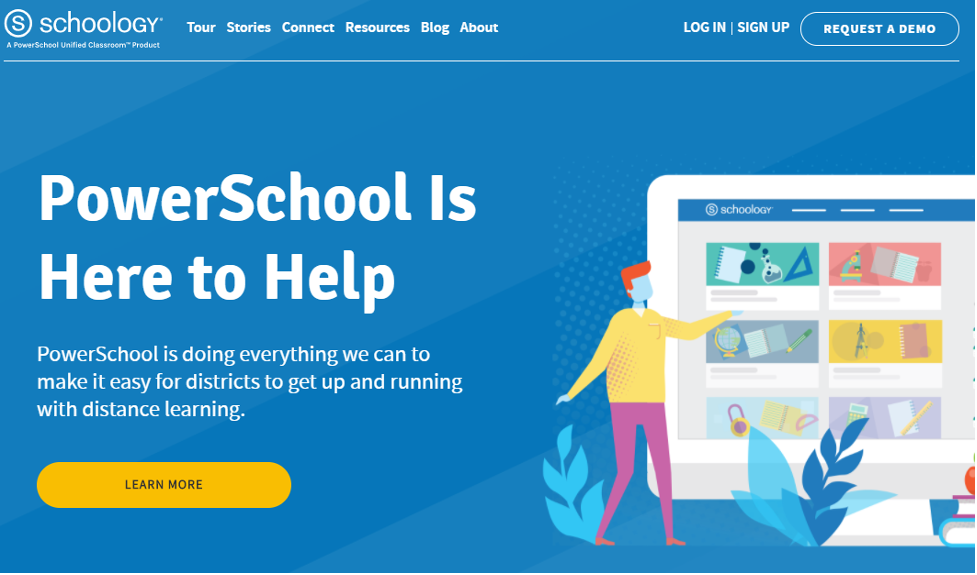 Some of the tools include advanced analytics also make it easy to see how learners are doing on training assessments. With an open-access integration, self-paced courses allow for flexible completion and varying instructional tools give teachers or content creators the freedom to create personalized learning experiences.
5. Blackboard
This LMS provides course management, scalable design, and an intuitive online learning environment. While it's geared primarily towards formal classroom education, Blackboard is a convenient platform that includes comprehensive learning management tools to boost things like engagement and social learning. It's not a free platform, which means your small business must have a budget to use Blackboard. The LMS has a somewhat complicated pricing system which means you must contact the vendor directly to get an accurate estimate for your small business.
Once you're registered for a paid package, HR or L&D professionals can track users' progress through Blackboard's analytics tools. Mass notifications are also built-in to the platform, which are designed to keep users up to date with the right content. The platform focuses on elements to boost learning results like social learning and collaboration tools to connect learners. Professional development can be disseminated to all employees and certification can be provided following completion.
6. Firmwater
Firmwater has monthly payment options but does offer a 14-day free trial to test out the LMS before purchasing. With straightforward content delivery, Firmwater reduces the need for administrative overhead since users will be able to navigate the program with minimal guidance.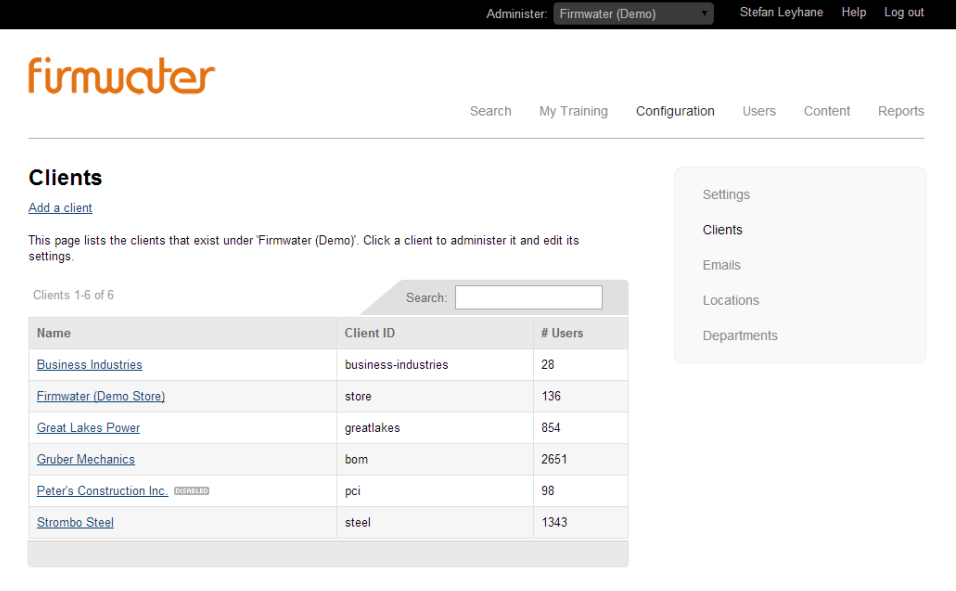 The courses can be launched on different platforms, so if you already have training courses on another LMS platform, this can be switched over. SCORM compliant, the automated training program will supplement face-to-face training. Users can also use their own domain to access this LMS and Firmwater also offers a unique option to sell your courses online. Similarly, courses can be bought individually, in bundles, or subscriptions. As such, Firmwater ends up being a costly option, starting at $495 per month.
7. Skillshare
This online learning community was created for small to medium-sized businesses wanting to get learning into their hands. Using Skillshare will help employees learn new skills, gain new insights, and acquire instant feedback. The platform's accessibility makes it easy for learners to keep learning on the go from their preferred platform (mobile, desktop, or tablet).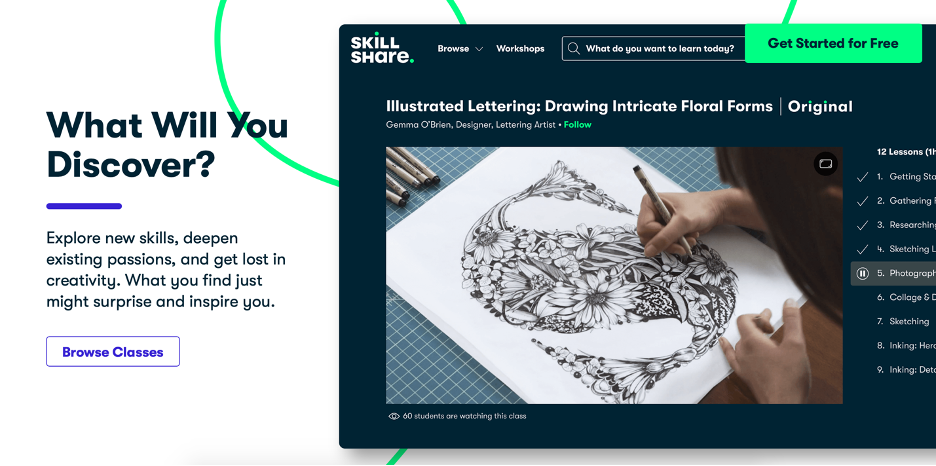 Skillshare includes some free features, but a premium version will increase the options available to your small business. Step-by-step course publications are made easier with guidelines on course creation, class lists, publishing lessons, and promoting courses. While there are thousands of courses available, they come at a cost and quotes can only be obtained by contacting customer support.
8. Minitab
This LMS has a focus on statistical software, so if your small business' needs are solely around statistics, Minitab could be the platform for you. Within the platform, process improvement solutions are paired with quality training courses and these courses are focused on boosting operations and streamlining workflow.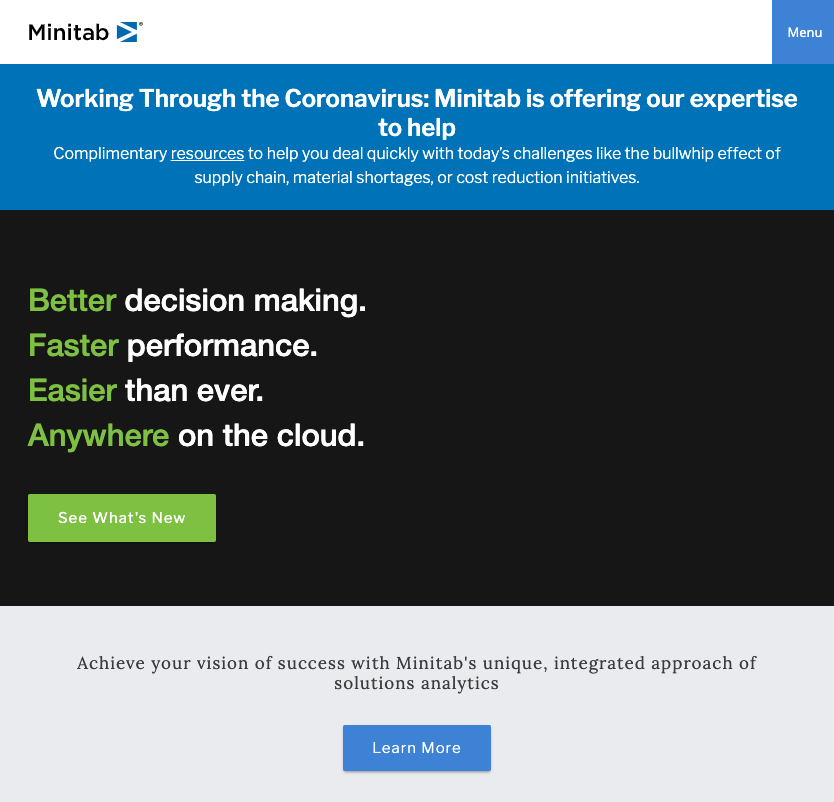 Minitab offers data importing, real-time insights, process mapping, and project roadmap plotting, all of which round out as some of the platform's key features. There are different modules available, so finding the one that is right for your small business is an option, as long as you have a clear vision of what your business requires. Minitab can be integrated with a training module that covers different topics, and it includes ready-made training materials prepared for you to deploy to your teams. Like most LMS, Minitab works both on desktop and mobile, so users have some choice in how they access and complete their training. The platform operates as a 'store', where you must purchase a license option to use, which is broken down by single-user and multi-user licenses.
9. Agylia
Lastly, Agylia is another option to train team member within your small business. Noted to be flexible, mobile, and globally inclusive, Agylia offers a training solution within a modern LMS, where content can be accessed online, but there is also an offline feature that meets the training and does not have to stop just because someone loses connectivity.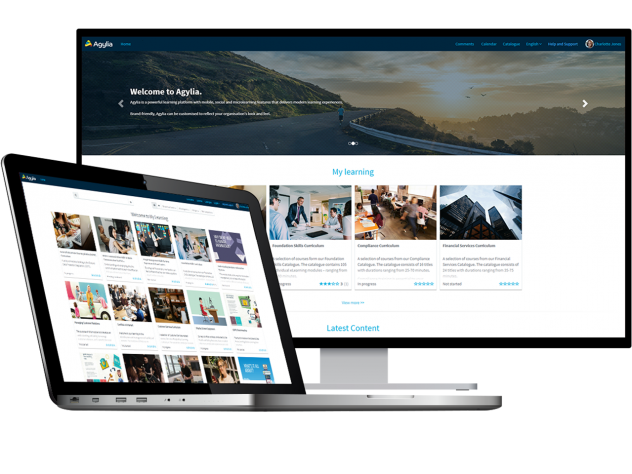 Agylia includes a native mobile learning app available for Android and iOS with push notifications, meaning your employees can receive reminders of training they need to complete. Offline tracking is also available should you need it and while the LMS offers different languages, it's limited compared to other learning platforms. In terms of pricing, Agylia's is based on the number of active users and it operates at a sliding pricing scale. To get a quote, you must contact Agylia directly.