It is said, that a chief marker of a good company is how it treats its employees. Adequate financial compensation, equity, inclusiveness, and accessibility should be a global standard. However, it seems that another factor is at play when it comes to employee retention rates: possibilities of professional and personal development. In this article, we are going to take a closer look at the Learning and Development strategy framework – the nuts and bolts of implementing continuous learning within the company structures.
The dynamics of the new job market
The times when employees spent their entire careers in one company are long gone. Today's job market is characterized by dynamism, interchange, and rotation on a scale never seen before. On the one hand, it is a reflection of the contemporary business strategies and the rapid acceleration of global markets and their digitalization. On the other, dynamic work markets offer possibilities of change and variety, and thus personal and professional growth. Certainly, reaching business goals requires, first and foremost, a talented and competent workforce.
In reality of ever-changing business priorities, knowledge-based working environment, and short-term project-based workflow, this requirement becomes even more pressing. It simply does not pay off to recruit a new team of specialists every so often. In such a case, all the long-term processes are stalled, continuity of competence transition is interrupted and no clear picture of employee skills and competencies exists, therefore no knowledge gaps can be identified. Better outcomes can be achieved through adequate training and educational opportunities offered to existing teams. That's why more and more companies started to invest considerable resources into their learning and development strategy frameworks.
Core elements of the L&D strategy framework
Drafting a functioning and effective learning and development strategy (one that answers to the business goals of the company, takes in the existing capabilities of the teams, and aligns with other strategies) is not easy. It must tackle multiple goals and priorities, remain structured, and at the same time flexible enough to adapt to unexpected challenges. In another article, we explained in detail, how the ADDIE model represents useful methods, tools, and processes for building an effective training program. Guidelines offered by the instructional design certainly help but Learning & Development strategy framework has several other points to consider.
In their 2019 article, Brassey, Christensen, and van Dam outlined 9 key framework components essential for conceptualizing a functioning learning strategy. Their ACADEMIES framework offering support to L&D departments, developed within the McKinsey market research institute, proposes that: to get the most out of investments in training programs and curriculum development, L&D leaders must embrace a broader role within the organization and formulate an ambitious vision for the function. An essential component of this effort is a comprehensive, coordinated strategy that engages the organization and encourages collaboration" (Brassey et al., 2019)
The competence enhancement program
The nine elements of the ACADEMIES framework incorporate both business and HR sectors, aiming to create an intersectional competence program. On the business side, the alignment with the business strategy and measuring the impact of the learning program was taken into consideration. On the HR side, the program is based on measuring accessibility gaps, designing viable learning journeys, and enablement of the learning framework on a 70:20:10 scale. Such a scale assumes, that 70% of learning happens on the job, 20% thanks to peer learning and collaboration, and 10% via online and in-person courses.
Identifying and addressing the knowledge gap
Let's concentrate on the HR side of the strategy. To begin with, it's crucial to assess the existing core competencies of the employees. Can they, with their current know-how, achieve the predetermined business goals? If not, a systematic analysis of the gap between the present and the desired capabilities is necessary. Once the gap has been identified, the design of the learning journey can begin. Presently, most corporate learning is delivered via online and in-person sessions. Online learning platforms are becoming a standard for delivering high-quality learning content efficiently, especially in an era of hybrid training and remote working model. One of the leading free LMS (Learning Management Systems) is EdApp. 
Benefits of LMS and online learning
EdApp supplies its clients with state-of-the-art online and micro learning tools and educational technologies thus offering continuous learning solutions for businesses on every scale – from local to global. The platform is focused on facilitating the delivery and intake of new information. At EdApp, designing learning journeys and optimization of the learning tools happens almost automatically. HR and L&D departments can benefit from a comprehensive ready-made course library, delivering content spanning from retail to welding to food safety. Courses are fully customizable and thanks to a powerful authoring and PowerPoint conversion tool, creating new courses takes minutes, not days.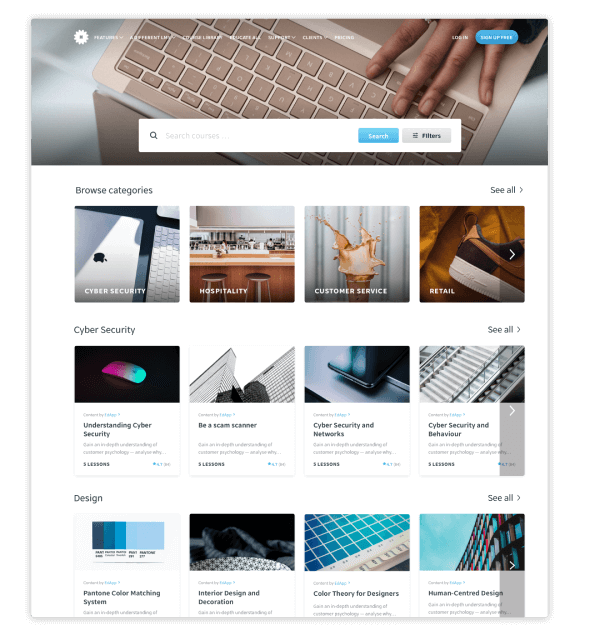 Additionally, EdApp has a SCORM authoring tool to deliver the information quickly and seamlessly. At EdApp content, visuals and methods are equally important: thanks to a Canva template and graphic library, creating beautiful courses has never been easier. Learning is not easy nor straightforward – at EdApp facilitation of this process stands at the core of learning content delivery. EdApp is fully available for mobile devices – learners can choose a time and place where they feel safe and ready to go through the new materials. Microlearning and gamification further facilitate the intake, repetition, and retention of information. Microlearning methods divide the learning material into digestible chunks and various gamification tools, such as performance management, quizzes, and score charts keep the motivation of the participants high.
Summary
To sum up, the Learning and Development strategy framework incorporates a variety of drivers that shape the goals, objectives, and methods involved in transitioning from one stage of business development to the next. It standardizes, enables, and motivates creating efficient learning strategies which align with particular business and HR goals. Such strategies respect the current competencies and capabilities of the employees and design achievable learning goals, thus offering exciting possibilities for professional growth. Seeing how personal development stands at the top of factors that keep the retention rates high, investing considerable resources in enabling smooth knowledge transition seems the most viable option for small and large enterprises.
Brassey, J., Christensen, L., & van Dam, N. (2019, February 13). The essential components of a successful L&D strategy. McKinsey. https://www.mckinsey.com/business-functions/people-and-organizational-performance/our-insights/the-essential-components-of-a-successful-l-and-d-strategy