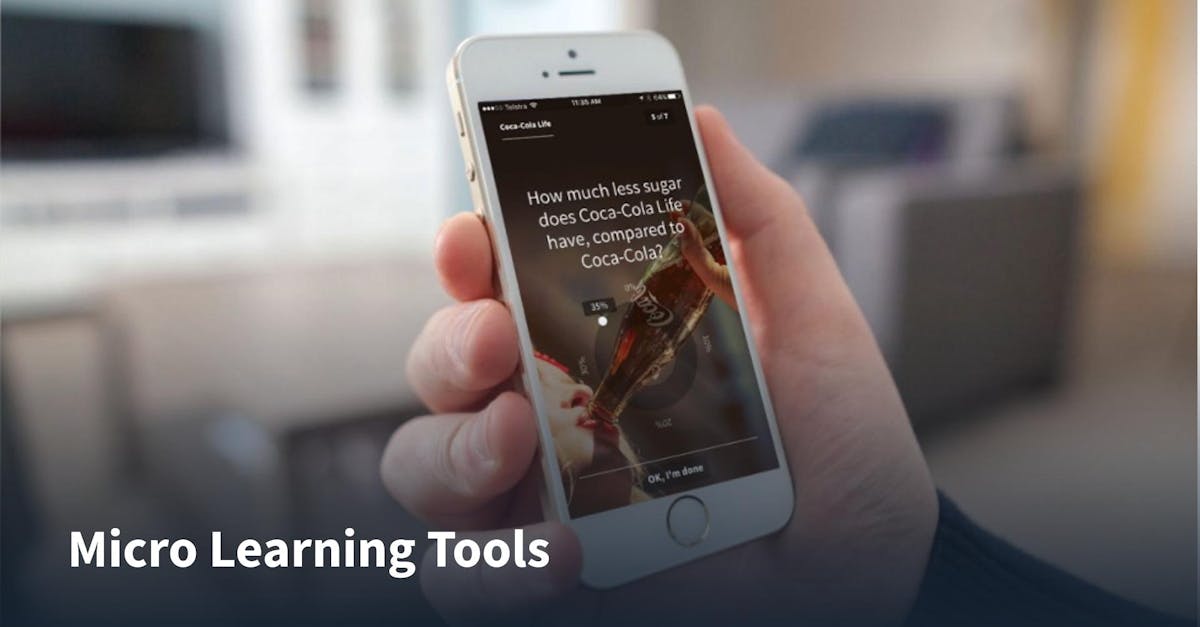 The global market is now saturated with a wide range of micro learning tools. How would you know which one would give you the best bang for your buck? To help you out, we've done the research for you and compiled a list of the best micro learning tools for your future training initiatives.
Micro Learning Tool #1 – EdApp
EdApp ranks as the best micro learning tool on this list because it's incredibly easy to use. You can quickly curate and deploy practical microlearning courses aligned with your objectives. In fact, industry-leading brands like Deloitte, Dunhill, Shell, and Pandora have already tapped EdApp's microlearning solutions to make their training programs more meaningful and engaging.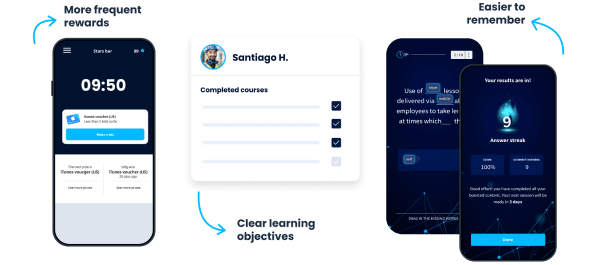 The standout feature of EdApp is its SCORM authoring tool. There's no learning curve. Creating your content is as simple as making PowerPoint slides, except EdApp's templates are more interactive, intuitive, and grounded in a microlearning strategy. 
Taking microlearning a step further, this learning management system also offers an array of game templates that you can use to gamify your courses and make them even more fun and engaging, and M learning focused. Thousands of daily learners have already tried and tested these templates, and they've seen enhanced completion rates by 80-90%.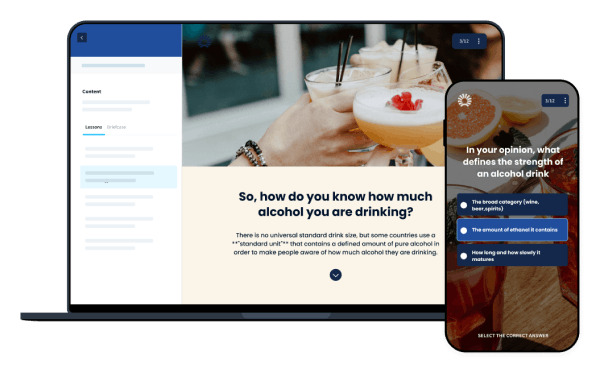 If you have old PowerPoint slide decks on hand, you can take advantage of the rapid PPT converter tool. It transforms dull slides into shiny, new, SCORM-compliant microlessons. In case you don't already have lessons, EdApp also has you covered with its 800+ courses, ready to be deployed anytime needed. Plus, they have a team of instructional designers that are ready to design your courses for you.
EdApp wants to democratize workplace learning, so these courses are offered for free. And not just free but accessible as well with a mobile learning strategy. EdApp can be downloaded straight to your learners' smartphones, allowing them to learn anytime and anywhere.
Cost: Free

Key features: SCORM microlearning authoring tool, game templates, PPT converter tool, free microlearning course, mobile accessibility
Create meaningful and fun learning experiences with EdApp. Try it for free today.
Micro Learning Tool #2 – Axonify
Axonify comes with a perfect mix of micro learning tools designed to put the busy frontline workers up to speed on what they need to know to perform their tasks quickly and efficiently. From onboarding new hires to upskilling existing employees, this platform and its learning technology can lend a hand to make sure your training is curated, delivered, and managed as smoothly as possible. There are three ways to get your training content onto this platform: bring over your existing libraries, import from their content library of online courses, or even build your custom microlearning content through their built-in authoring tools. Axonify also offers lathe training courses to help businesses improve your operations. You can also reinforce bite-sized gamified quizzes to improve their knowledge retention and identify areas that need further development. The points they've earned can be exchanged for rewards to ensure a higher engagement and completion rate.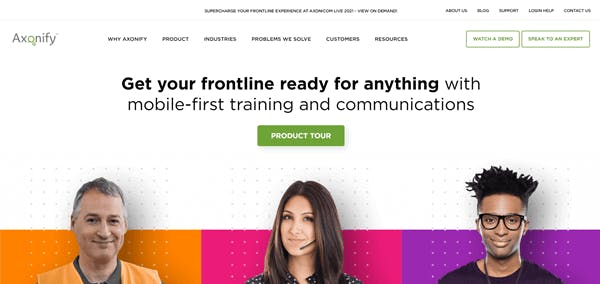 Axonify made sure that all training materials published on this platform were securely stored in a single location. They are conveniently accessible through mobile devices, making it easier for your employees to solve problems and learn new things without the hassle of leaving their rooms or meeting their supervisors. 
Cost: Available upon request
Key features:
Micro Learning Tool #3 – Yarno 
Yarno is a micro learning tool geared towards providing trainers and managers an easy way to deliver learning materials for corporate training that are short and easy to digest. Among their microlearning and elearning solutions are Embed campaigns, a quiz-maker tool that uses the idea of spaced repetition. Basically, it delivers quizzes over a number of weeks to introduce learners to new information and reinforce previously learned knowledge. They also feature Burst campaigns, which roll out time-critical training information all at once. Meanwhile, learners who aren't engaged in a campaign can still access these microlearning materials in Yarno's learning library.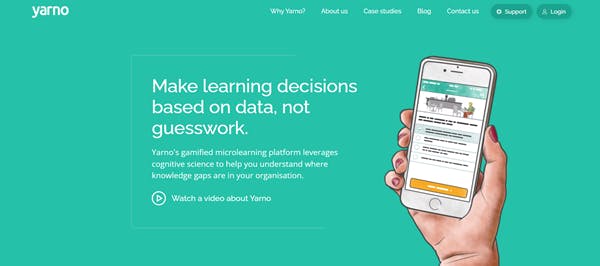 Cost: Available upon request
Key features:
Embed campaigns (spaced repetition tool)

Burst campaigns

Accessible learning library
Micro Learning Tool #4 – Learner Mobile 
Learner Mobile is an adaptable micro learning tool engineered to meet the work and lifestyle of a modern learner. This type of learner is deemed to be more passionate about learning if it can happen according to their own timing and unique learning styles. If your employees fall under the criteria of modern learners, you can use this tool to build and serve up training that they can take at their best convenience, like microlearning. There's little to no learning curve with this learning software – their built-in authoring tool makes it easy to create and update your microlearning content. As the best tool for modern learners, Learner Mobile also guarantees the mobile accessibility of all your training materials. This ensures that learning remains easily accessible whenever and wherever they need it.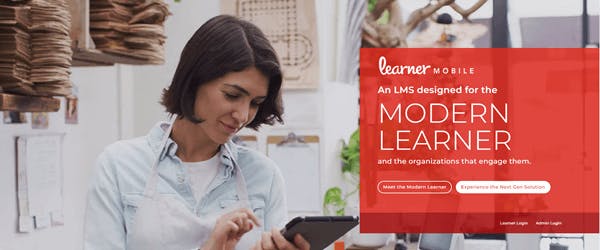 Cost: Available upon request
Key features:
Micro Learning Tool #5 – Oplift 
You can also use Oplift's micro learning tools to provide your employees with learning materials, learning programs, and learning technologies that fit into their regular routines. Among the key things to try with this software is their content creation tool, which is equipped with a visual editor to help you build beautiful microlearning content or guide. To test your learners' understanding of specific topics and embed knowledge in their long-term memory, you can also take advantage of its quiz-like microlearning strategy. Instead of deploying long quizzes, it structures your assessments in a microlearning format, like multiple-choice questions.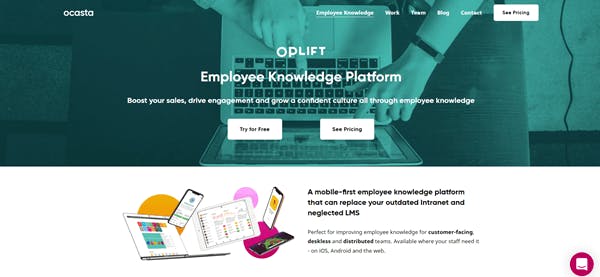 All your learning materials and quizzes are stored on this platform, ensuring that your team can easily retrieve company news, product information, procedures, how-tos, and videos whenever needed. As a mobile-first learning system, learners are also given the convenience to access information via smartphones, tablets, or desktops. 
Cost: Starts at USD per person a month
Key features:
Microlearning content creation tool

Micro quizzes

Single repository of content

Mobile accessibility
Micro Learning Tool #6 – Shotclasses
Shotclasses is a mobile-first micro learning tool built with powerful instructional design and features that can help your employees gain the skills and information they need to outperform their competitors. Among its key hallmarks is its quick content generator that allows you to build and deliver bursts of bite-sized modules. To make your micro learning materials more engaging, you can add content from local sources, such as Youtube and SlideShare. You can also reinforce game-like mechanics to further improve your learners' attention and motivation to learn. Shotclasses is made accessible across all devices, including Android, iOS, and Windows OS.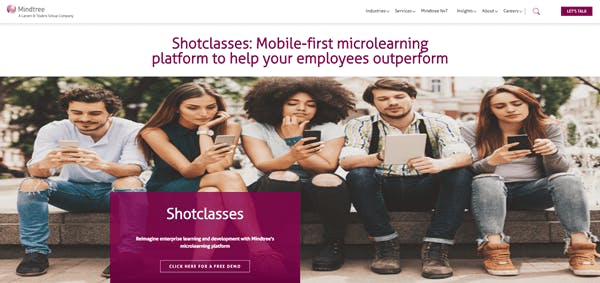 Cost: Available upon request
Key features:
Micro Learning Tool #7 – Code of Talent
Code of Talent is an excellent micro learning tool that can help you set up agile courses and training programs for employees in fast and dynamic business environments. Here, you can flexibly design your instructional courses in bite-size for greater retention, add gamified elements for higher engagement, and set microlearning missions for organized self-paced learning. It also supports collaborative and social learning features to broaden your employees' viewpoints and further accelerate their learning progress. Code of Talent's learning management software is easily accessible through mobile devices, which means training can be delivered anytime and anywhere needed.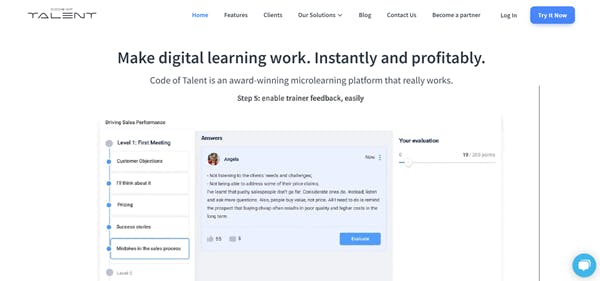 Cost: Available upon request
Key features: 
Bite-sized courses

Gamified content

Microlearning missions

Social learning features

Mobile accessibility
Micro Learning Tool #8 – Skill Pill
Skill Pill specializes in producing microlearning and adaptive learning courses about corporate learning, like leadership, management, sales, and more. These learning materials are jam-packed with a range of interactive elements, such as videos, quizzes, worksheets, and work-based feedback tools, securing higher learner engagement and content retention. For certain topics that aren't covered in their ready-made courses, you can also approach them for bespoke animation services to produce videos tailored to your own brand identity. If needed, they can also translate your courses into over 20 different languages, eliminating language barriers in your global training.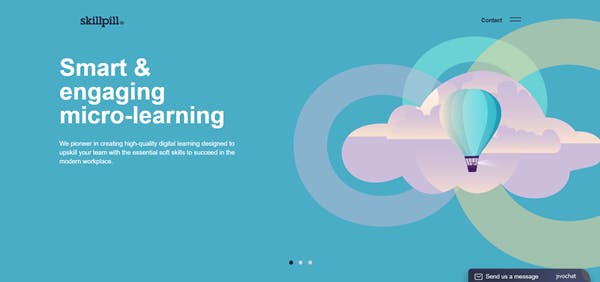 Offering ultimate convenience and accessibility for learners, all published materials in Skill Pill are made available through their mobile training app, which is downloadable on both iOS and Android. 
Cost: Available upon request
Key features:
Microlearning courses

Interactive tools like videos, games, and quizzes

Bespoke animation services 

Course translation

iOS and Android compatibility
Micro Learning Tool #9 – Learnie
Learnie is a SAAS micro learning tool that enables you to deliver training materials in a fast-paced but still engaging approach, just like TikTok. This is done by allowing an instructional designer or you to create a sequence of microlearning bursts where learners can also discuss lessons. Training managers and even the learners themselves can create user-generated videos to facilitate a collaborative learning experience. This way, anyone in the organization, especially the experienced ones, can easily share unique and relevant knowledge or skills in a seamless and quick process. Learnie is essentially a free app for everyone, but if you're an enterprise, you can have access to private spaces, analytics, and more upon subscription to a paid version. 
training courses to motivate employees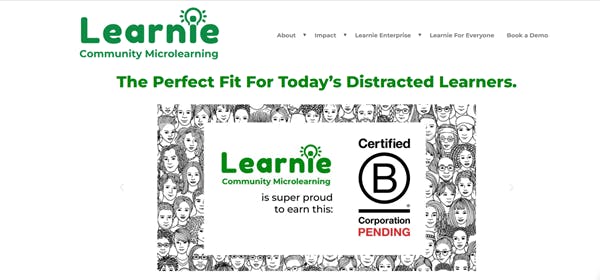 Cost: Free
Key features: 
Microlearning lessons

User-generated videos
Micro Learning Tool #10 – Qstream
Qstream is another microlearning app used to train and deliver short programs that help combat the forgetting curve and improve knowledge retention among remote employees. This training software reinforces knowledge, develops skills, and enhances productivity with microlearning content delivered on mobile devices. It even allows off-cycle microlearning where learners who missed a program can self-enroll and catch up on their training. Its Content Hub feature also enables training managers to create blended learning content and tutorials with its template library and set of guide questions found on its elearning website. This platform can also help you track learning progress through an analytics dashboard and proficiency heatmaps.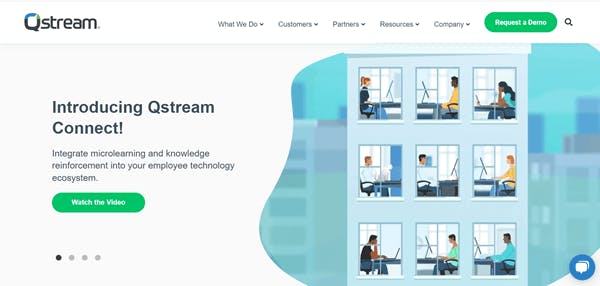 Cost: Available upon request
Key features: 
Microlearning lessons

Off-cycle learning

Content hub
Micro Learning Tool #11 – GoSkills
GoSkills is a dynamic LMS and microlearning platform that helps small businesses in increasing engagement rates. They accomplish this by dividing courses into short-form chunks and employing gamification approaches. It includes a free authoring tool that allows you to effortlessly build and personalize the branding of your courses. This platform also has a collection of pre-made courses. While entry to GoSkills is free, courses must be purchased.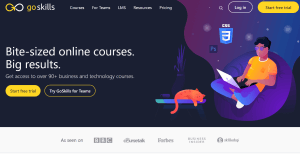 Cost: Paid plans
Features: 
Microlearning

Gamification

Content library
Micro Learning Tool #12 – 7taps
7taps is a browser-based microlearning solution that enables you to provide mobile-first training sessions in as few as seven taps. You can easily develop courses on their platform by using templates. You can also enhance interaction by using GIFs, soundbites, and assessments. The lessons can then be easily shared by links, SMS, QR-codes, or emails. Learners don't even need to download an app or sign up to begin their course. Even if you don't take these steps, you can still manage and assess your workers' learning progress. While this isn't strictly a microlearning app, the courses are mobile-friendly while still adaptable to a desktop setting.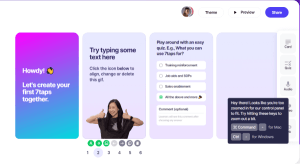 Cost: Free
Features: