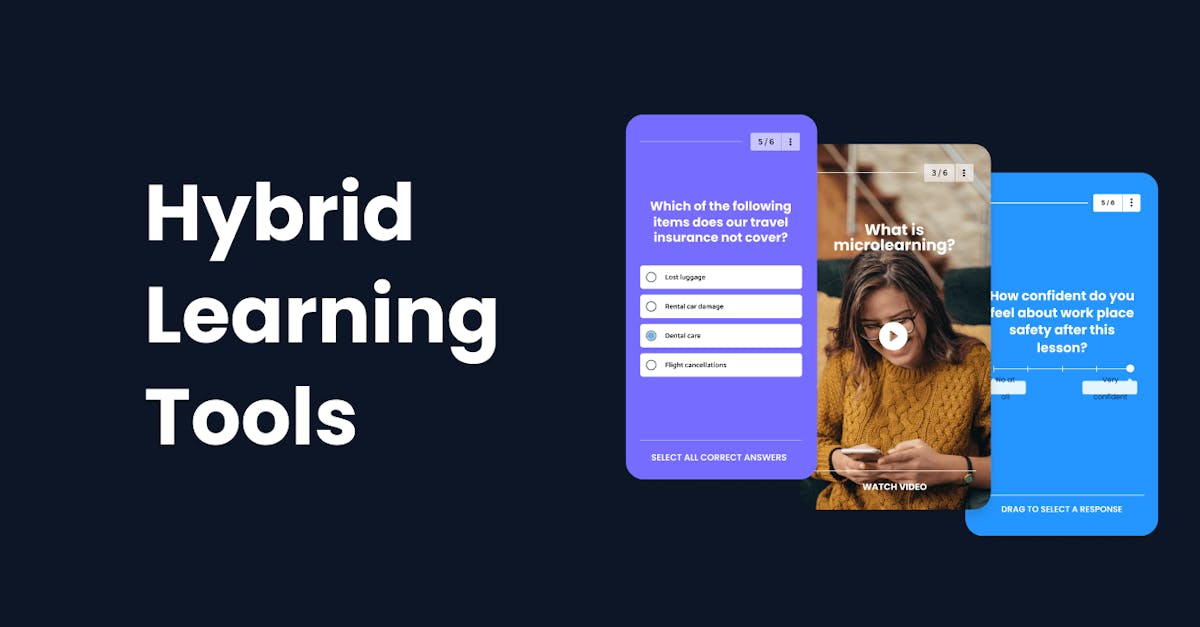 Facilitate a successful in-person and online learning with the help of hybrid learning tools. In this article, we'll take a look at some of the best hybrid learning tools that can help you run your training smoothly and hassle-free, whether it's in-person or online.
Hybrid Learning Tool #1 – EdApp
Ranked as the hybrid learning tool on the market today, EdApp takes pride in its powerful features designed for managing instructor-led and self-paced online courses. Among the best ones are the intuitive authoring tool and interactive templates, which can help you make interactive courses. Even better, you can combine microlearning with gamification with these tools, and offer your courses in the form of smartphone games.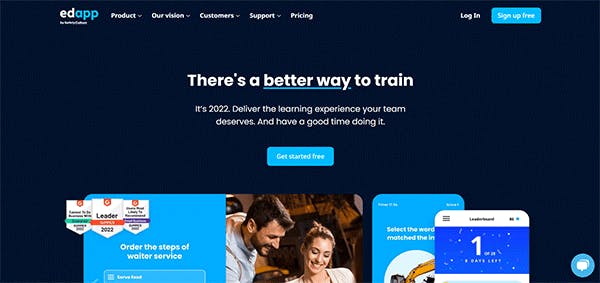 For a self-paced learning experience, EdApp applies a mobile learning strategy, making your courses adaptable to any device, like smartphones. This allows your learners to take their training at the most convenient time and place, especially when their schedules are already hectic enough for long training sessions. As for instructor-led training sessions, it's still made possible even in distance with EdApp's Virtual Classroom feature. It enables you to organize in-app video conferencing through Zoom or Microsoft Teams, where your learners can join live virtual training sessions.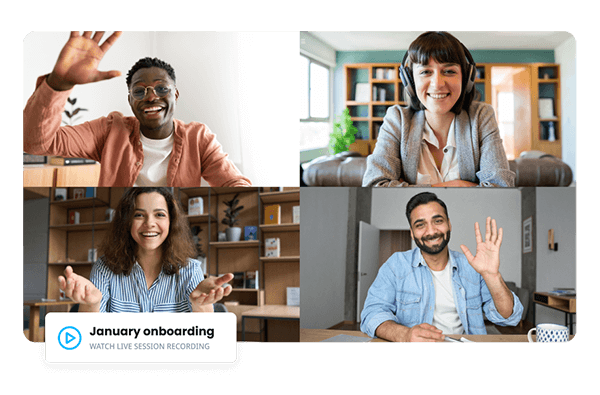 In a hybrid learning environment, EdApp acknowledges that there are training sessions that are better done in a face-to-face setup. So, they developed the Practical Assessments tool, which is a checklist-style assessment feature designed for in-person training. You can use this tool to observe and assess your learners' practical knowledge before or after completing their online lessons. This feature can be created as a lesson within a course, giving you the opportunity to develop a full hybrid learning experience for your learners.  
Key features:
Microlearning

Gamification

Mobile learning

Virtual classroom

Practical assessments
Cost: Free
Sign Up for Free and use EdApp as your hybrid learning tool for free–forever!
Hybrid Learning Tool #2 – ProProfs
ProProfs LMS is a gamified hybrid learning tool that enables you to foster an interactive and collaborative learning environment. This LMS software allows you to create new educational content made from scratch or customize existing courses from its online training course library. To increase engagement, you can also add gamification elements including brain games, learning paths, and quizzes. While giving your employees the opportunity to learn at their own pace, you can still foster collaborative learning through virtual classrooms and discussion forums. 
Key features:
Cost: Free (within a 15-day trial), paid subscription starts at 4.96 (per feature monthly) 
Hybrid Learning Tool #3 – Code of Talent
Code of Talent is an excellent hybrid learning tool that can help you set up agile courses and training programs for employees in fast and dynamic business environments. Here, you can flexibly design your instructional courses in bite-size for greater retention, add gamified elements for higher engagement, and set microlearning missions for organized self-paced learning. It also supports collaborative and social learning features to broaden your employees' viewpoints and further accelerate their learning progress. Code of Talent is easily accessible through mobile devices, which means training can be delivered anytime and anywhere needed.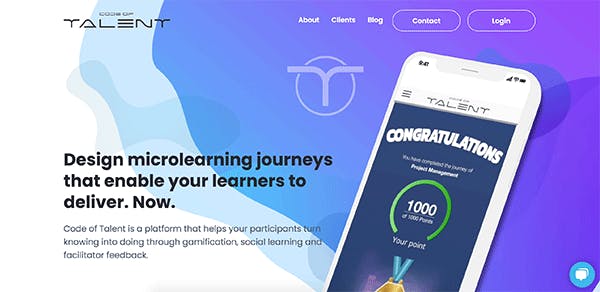 Key features:
Bite-sized courses

Gamified content

Microlearning missions

Social learning features

Mobile accessibility
Cost: Available upon request
Hybrid Learning Tool #4 – Accessplanit
Accessplanit is a one-stop business training platform that allows you to streamline and automate training processes while creating high-quality training materials and exceptional learning experiences for customers. With its course management feature, you can efficiently manage course and training events, whether online or in-person, making it compatible with a blended learning strategy. It also offers flexible training solutions, which include face-to-face training sessions, webinars, virtual learning, as well as short courses for in-house training, public sessions, and employee sessions.
Key features:
Course management for the course and training events, such as face-to-face, web, eLearning, and blended learning 

Automation tools

Short courses
Cost: Price available upon quote request
Hybrid Learning Tool #5 – HireRoad
HireRoad is an LMS that bridges offline learning and online learning to create a dynamic and collaborative learning platform managed by both the training managers and employees themselves. To support a hybrid learning environment, it provides different tools and features such as lessons with task assignments, on-the-job training events, and learning paths consisting of multiple courses. It also facilitates social learning through user communities and walls and feeds.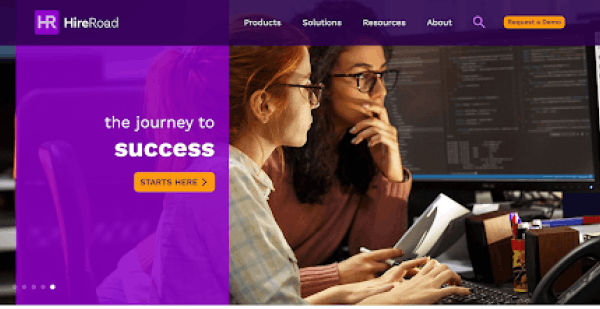 Key features:
Lessons with task assignments

On-the-job training events and performance evaluations

Learning paths

Community walls and feeds
Cost: Paid subscription starts at ,128 USD (up to 100 users monthly) 
Hybrid Learning Tool #6 – Violet LMS
Violet LMS is a full-service digital training provider that helps you organize different training programs, like employee training, onboarding, sales training, compliance training, distribution training, and even customer training. This LMS enables blended learning through features like an external trainer management system and a venue management system. To strengthen employee knowledge, you can take advantage of interactive courses and virtual classroom sessions. With the adaptable training plan this platform provides, you'll also have access to a visual calendar of priorities and tasks. You can also track and measure results for each individual through a powerful reporting tool.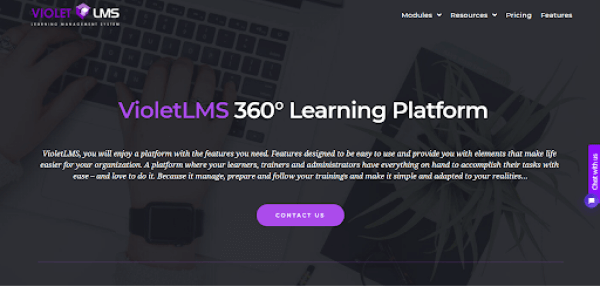 Key features:
Cost: Price upon request
Hybrid Learning Tool #7 – Zoho Showtime
Zoho Showtime is a comprehensive training solution that can help you run and manage your employee training programs more efficiently. Using this platform, you can provide your employees with self-paced courses and facilitate collaborative learning through peer interaction. If you're planning to include synchronous online training sessions, one awesome feature of this platform that you can use is its virtual classroom. Within this feature, your employees can access additional tools like whiteboards, polls, and in-app messaging that allow them to discuss learning and share knowledge among colleagues.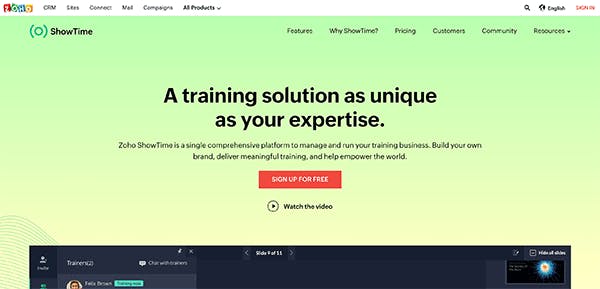 Key features:
Whiteboards

Virtual classroom

In-app messaging

Polls
Cost: 15-day free trial, Single user basic plan starts at .83 USD/month 
Hybrid Learning Tool #8 – Tovuti LMS
Tovuti LMS is an employee training software that incorporates features dedicated to providing an efficient training process for managers and an effective learning experience for your learners. It integrates a course authoring tool that enables you to build and deploy interactive courses, as well as track interactions with your course content. To support your hybrid learning strategy, you can use its virtual classroom feature so you can set up synchronous training sessions. It also gives learners the opportunity to discuss with groups or have one-on-one interactions with an instructor. Your learners will also have access to a personalized portal that shows their badges, certificates, leaderboard rank, checklists, assigned courses, and upcoming training sessions.
Key features:
Cost: Price available through a quote request
Hybrid Learning Tool #9 – Gyrus
Gyrus is a cloud-based LMS designed with AI-driven intuitive features, helping you bring world-class training and development to your employees. As a hybrid learning solution, you can develop training materials delivered through various digital formats, including e-learning videos, webinars and documents, and virtual classrooms. Additionally, they provide support in traditional onboarding and training activities, as well as accessibility anytime and anywhere across any device. Its smart learning features are also optimized for building customized learning programs for various groups of employees and streamlining organizational compliance training.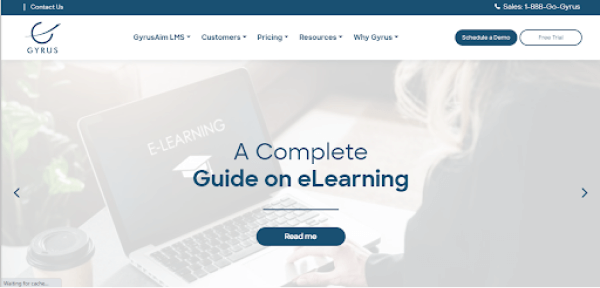 Key features:
Cost: Paid subscription starts at 00 USD (monthly) and 000 USD (annually)
Hybrid Learning Tool #10 – Blackboard
Blackboard is a digital learning platform that is equipped with a powerful range of teaching tools and solutions that revolutionizes online teaching and learning. Here, you can create online courses, organize tasks, and even monitor your learners' progress. You can also host live training and connect with your learners in real-time using its virtual classroom solution. But unlike your usual video conferencing software, it also offers interactive whiteboards, hand-raise notifications, breakout groups, and chat features. These tools make the collaboration among your teams more fun and exciting.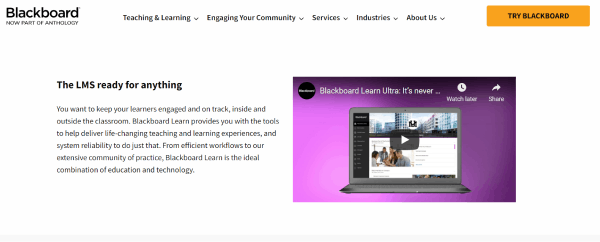 Key features:
Course authoring

Virtual classroom

Interactive whiteboards
Cost: Available upon request