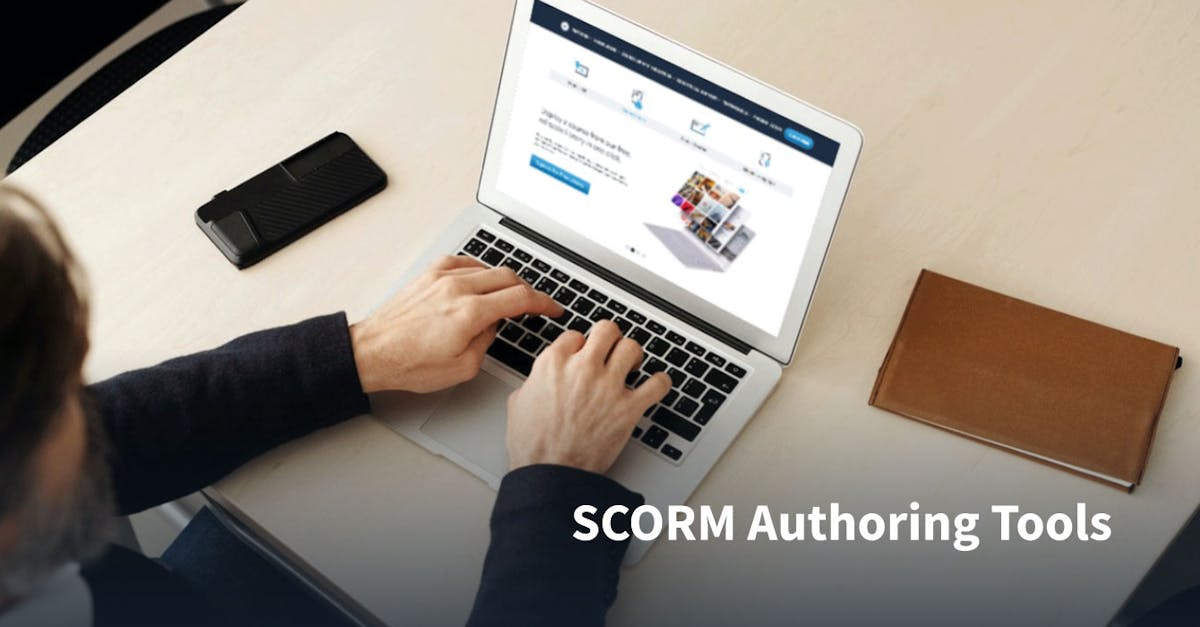 SCORM authoring tools allow you to easily craft interactive courses that can be uploaded and managed on any SCORM compliant LMS. Nowadays, there are tons of these tools available online, each with its own distinct features and perks. To help you choose one that's easily interoperable and compatible with your team's training needs, we've handpicked 10 SCORM authoring tools for you to consider.
SCORM Authoring Tool #1 – EdApp
Standing out amongst other cloud-based SCORM authoring tools that are currently on the market is EdApp. This award-winning LMS platform prides itself on its robust authoring tool feature that allows you to import and customize SCORM compliant elearning content from other  LMS products or export them to other SCORM compatible training platforms.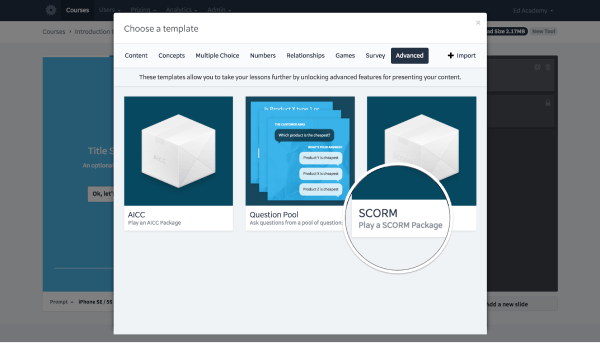 Whatever your level of expertise, creating engaging and mobile-friendly training courses is easy through EdApp's simple drag and drop feature as well as its wide range of elearning templates. You can even add additional gamification elements like real rewards, leaderboards, exercises, and quizzes to make your learning content more fun and interactive. This can help increase completion rates and knowledge retention among employees. Apart from its authoring tool, EdApp also offers a course library, which you can use to import and customize courses like hospitality training courses, retail training courses, management training courses, and safety certification courses.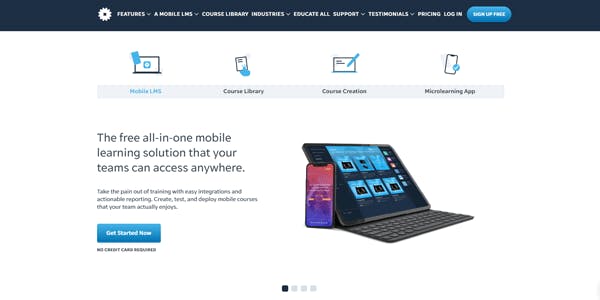 This training software also offers other built-in features like an actionable reports dashboard, a course library, a cloud-based translator, an online quiz maker, and a discussions tool. All these distinctive features are helping companies like Unitar, Mizuno, Dunhill, and Pernod Ricard to improve their employees' overall training experience.
Cost: Free

Key features: SCORM authoring tool, drag and drop, real rewards, leaderboards, actionable reports dashboard, course library, cloud-translation, online quiz maker, discussion tool
Sign up for Free and Start Using The Leading SCORM Authoring Tool
SCORM Authoring Tool #2 – dominKnow
dominKnow is a SCORM authoring tool that offers both a training module creator software and a content management system in one package. Over the past 10 years, it's been used by numerous organizations to meet all their team collaboration and employee training needs. You can use the tool to design engaging SCORM-compliant courses. All you have to do is choose from a range of SCORM authoring templates and digital assets and distribute them directly to your employees' learning devices. Learners can also discuss training content with their trainers and fellow team members in real-time. One of dominKnow's best assets is its translation and localization features, which allow companies to translate their training materials into over 50 languages, perfect for companies with team members in different parts of the world.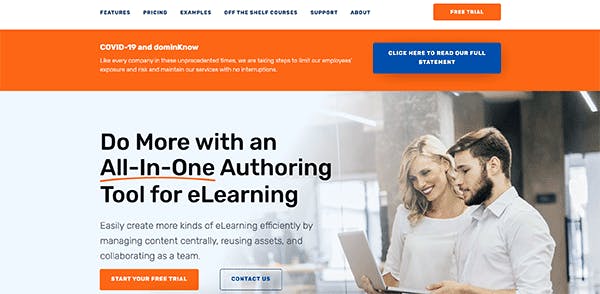 Key features: Cloud-based authoring tool, real-time collaboration, 50+ language translation and localization capabilities
SCORM Authoring Tool #3 – BrainCert
BrainCert is a learning management system that features its very own SCORM authoring tool. Its modern and user-friendly UI makes it easy for anyone to navigate different features such as the course creation wizard, testing platform, custom theme design, and virtual classroom. The course creation wizard allows you to import, customize, and deliver courses with ease. On the other hand, you can use the virtual classroom capability to conduct live online training sessions, which is perfect for your remote workers. Other notable BrainCert features include video streaming & chat, analytics, reporting, and e-commerce integration, which allows instructors to sell their online courses, quizzes, and even live classes through the platform's built-in global marketplace. Try out some of these features through BrainCert's free plan or capitalize on all their unique business training tools by opting for any of the paid plans.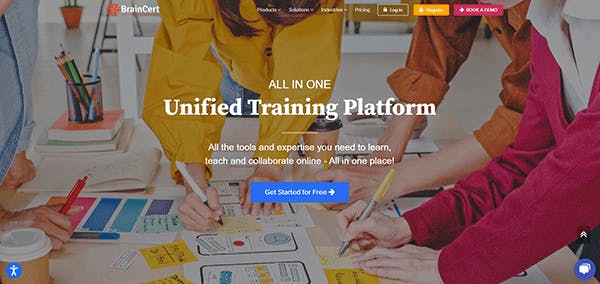 Cost: Free plan, paid plans that start at 9 USD per month

Key features: Course creation wizard, testing platform, custom theme design, virtual classroom, video streaming & chat, e-commerce integration
SCORM Authoring Tool #4 – Whatfix
Another user-friendly SCORM authoring tool on this list is Whatfix. It combines personalized content authoring with scalability, making it easier for trainers to design training programs that their learners can enjoy. When learners first log in to the platform, they'll be greeted with a personalized message and an application tour that introduces them to the different features. To further personalize the learning experience, you can even create condition-based walkthroughs that fit each employee's role, location, and competency level. Its authoring tool requires no coding knowledge and allows you to create interactive training materials at scale. They also provide advanced real-time analytics to help you measure the effectiveness of your training program.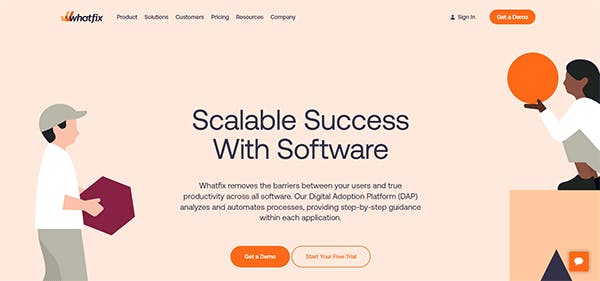 Key features: No code authoring tool, SCORM-compliant, real-time analytics, condition-based walkthroughs
SCORM Authoring Tool #5 – Auzmor Learn
As a SCORM authoring tool, Auzmor Learn comes fully equipped with a course builder that allows you to create and deploy training courses and monitor learners' completion rates. Using templates from their comprehensive lesson library, you can quickly customize training materials even without coding or technical design skills. A huge advantage of this software is that it automatically adjusts lessons for any screen size, so your employees can complete their training courses on any device. Auzmor Learn's real-time reporting dashboard and customized analytics are other great features that can help you keep track of your workers' assessment scores and completion rates, identify their learning needs, and address any knowledge gaps.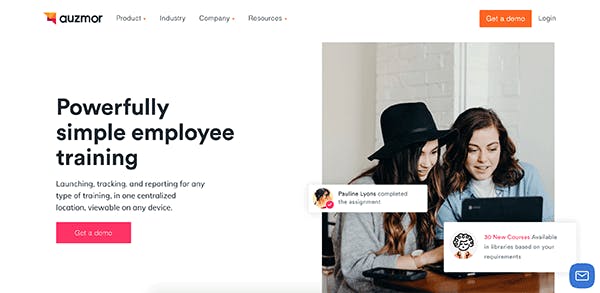 SCORM Authoring Tool #6 – iTacit
iTacit is a SCORM authoring tool that promises to eliminate the inconvenience and huge expense of in-person employee training. Through the platform's course builder, you can build SCORM-compliant online training courses in just a few clicks. All you have to do is drag and drop your learning content, add text, links, images, or videos, customize the design, hit publish, and deploy to your team. The tool also gives you the option to create a personalized learning path for specific user groups and automatically enroll them in any required training courses. However, it's important to highlight that the platform has no content library of its own. This means that you can only import a course from other SCORM-compatible platforms or build them from scratch.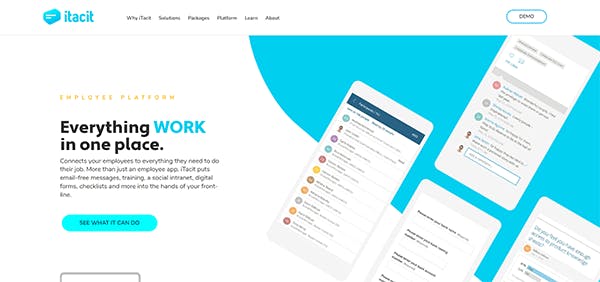 Key features: Course builder, SCORM-compliant training, personalized learning paths for specific user groups
SCORM Authoring Tool #7 – Evolve
Building and managing your SCORM-compliant training courses has never been easier with Evolve's SCORM authoring tool. Here, you can implement compliance and development training programs without hassle. Unlike other educational platforms, this tool gives you access to corporate compliance courses, healthcare compliance training, OSHA training, and HIPAA training materials. Its well-designed UI allows both trainers and learners alike to easily navigate through the platform and take advantage of features like reporting tools, learner dashboards, and course assignments. The tool even offers an advanced email feature that trainers can use to automatically schedule and send emails to their learners. This is perfect for sending out training reminders, course enrollment deadlines, course completion statuses, and assessment grades.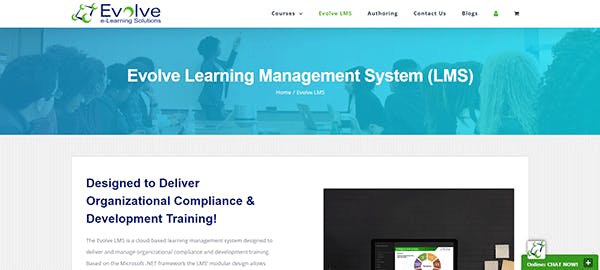 Key features: SCORM-compatible training courses, advanced reporting tools, learner dashboard, course assignments, email notifications
SCORM Authoring Tool #8 – Fine Creator
Another high-quality SCORM authoring tool on this list is Fine Creator. Designed to help you streamline your employee training programs, it features a user-friendly SCORM-compliant course building tool that anyone, regardless of design experience, can use to customize, schedule, and distribute online training courses. If you want to spice up your training and increase learner engagement, the tool allows you to add interactive elements like background audio, images, videos, page timers, and course assessments. Compared to other corporate training platforms, Fine Creator uses Twitter Bootstrap web technology, which gives any device the capability to display all SCORM-format courses. Although it isn't free, their pricing tiers are budget-friendly, costing you only € 4.90 per month.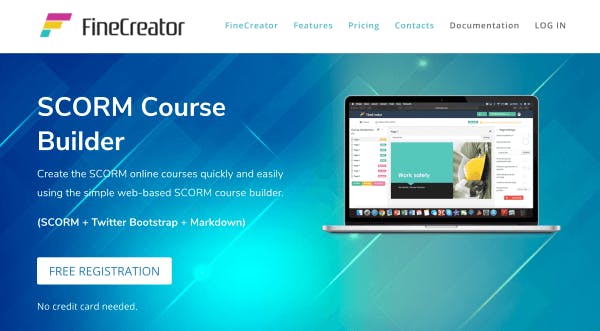 Cost: Starts at € 4.90 per month

Key features: SCORM-compliant course building tool, clean and user-friendly interface, interactive elements, Twitter Bootstrap web technology
SCORM Authoring Tool #9 – Bridge
Bridge is an all-in-one SCORM authoring tool that focuses on upskilling employees through personalized training experiences. It's equipped with a native authoring tool that you can use to upload and edit SCORM content, design your own elearning courses from scratch, or deliver compliance training programs. With a simple drag and drop function, you can customize any content like you would through a Microsoft PowerPoint program. It also allows you to store learning materials and company documents, giving all employees convenient access to resources whenever needed. You can even incorporate peer engagement and social learning into your team's training through the platform's innovative role-playing feature. In addition, the analytics dashboards can give you insight into your employees' performance data, allowing you to identify learning gaps within your teams and boost each worker's skill level.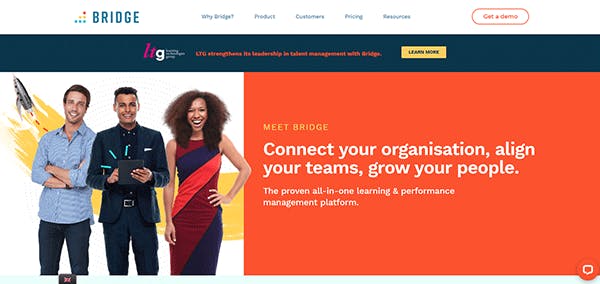 Cost: Starts at USD per month

Key features: Learning paths, native authoring tool, video role-playing, analytics and insights
SCORM Authoring Tool #10 – Coassemble
Coassemble is a renowned SCORM authoring tool that enables trainers to design SCORM-compliant elearning materials without fuss. It features a powerful authoring tool, where you can choose from more than 40 pre-made content templates, customize lesson branding, and publish courses, all in just a few steps. To incorporate training assessments at the end of your courses, all you need to do is select a quiz template from their extensive library. Similar to other SCORM compliant authoring tools, this platform is also equipped with an employee training tracker, ensuring you can quickly monitor your employees' quiz and assignment results and their training progress stats. Through their deep analytics, you can supercharge your teams' training experience and boost their overall productivity. If you're a first-time user, you won't have to worry about customer service availability since Coassemble's support team is available around the clock.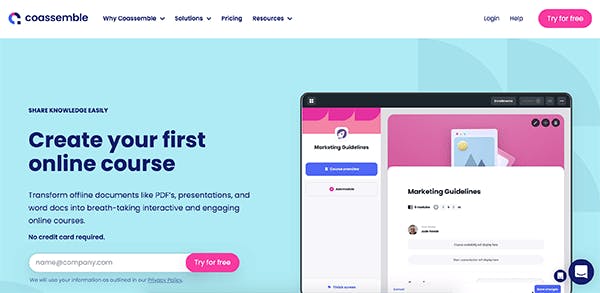 Cost: Starts at 0 USD per month

Key features: Authoring tool, customizable content and quiz templates, employee training tracker, deep analytics, 24/7 support