Automation has a pivotal role in increasing productivity in any task. When talking about training, L&D professionals lean on using automated training management systems to help them scale their training, without having to do it manually. Some tasks include automatic deployment, learning tracking, and course management. To help you with your search, here are 10 automated training management systems to make building training easier for you and your employees.
Automated Training Management System #1 – EdApp
If you're looking for a simple and easy-to-use mobile-first automated training management system, EdApp is a platform you should check out. EdApp is a microlearning platform that uses cloud-based LMS features to assist you to build high-quality training content for your learners. With its user-friendly authoring tool and microlearning content templates, these intuitive training platform features are great for instructors and managers looking to create interactive course content quickly. Not to mention, there is also an editable course library with hundreds of high-quality courses that you can quickly adapt and deploy to your teams.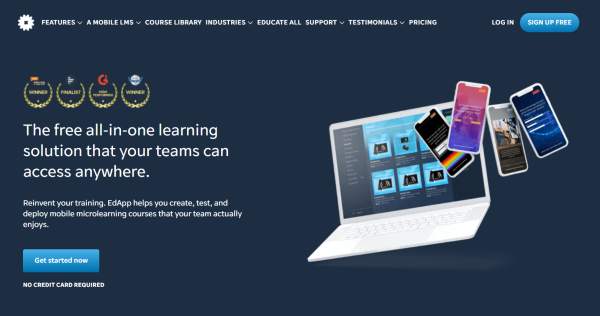 EdApp's automation tool, spaced repetition, is a feature that repeats key learning concepts to enhance long-term memory retention and combat the forgetting curve. It is a highly effective learning method that results in higher retention rates, where lesson content or lesson exercises are retaken by the learner at increasing intervals until the material is fully embedded in the learner's long-term memory. All you have to do is to set the spaced repetition schedule and you're good to go. EdApp incorporates this element into its learning platform through Brain Boost; a powerful, algorithm-based feature that automatically feeds concepts to learners if they haven't yet completed the concept successfully.
Features:
Intuitive authoring tool

Editable course library

Microlearning templates

Spaced repetition

Automated course deployment

Brain boost

Mobile compatibility
Cost: Free
Automated Training Management System #2 – Knowbly
Knowbly is an automated training management system designed by Turning Technologies to help L&D professionals deliver effective learning solutions at scale. The platform can produce automated insights, allowing managers to easily analyze activity streams that can help with their data-driven decision-making. Through its highly responsive course authoring tool, you can also create and customize interactive learning content that works seamlessly on desktop, tablet, and mobile devices. You can design dynamic and engaging digital learning materials with features like interactive quizzes, games, simulations, infographics, and easy-to-use course templates. 
Features:
Automated insights

Responsive course authoring

Interactive templates

Unlimited courses, quizzes, and storage
Cost: Starts at $395 USD/year
Automated Training Management System #3 – Training Tracker
Slowly gaining popularity among managers and HR professionals, Training Tracker can keep all training records in one place, preventing possible lapses and compliance headaches. Forget about clunky spreadsheets. In just a few clicks, you can assign training tasks to one or more employees and check their progress. Automated emails can be activated to alert trainees of any upcoming training, or even just to nudge them off their unfinished tasks.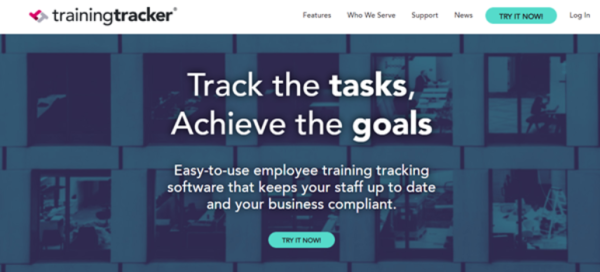 Features:
Task grouping

Automated training reports

Centralized data management

Email reminders
Cost: Starts at $29 USD/month
Automated Training Management System #4 – Arlo
Arlo is a cloud-based training tool that allows you to manage all your training resources in one place. The platform is best known for its automated training management system which helps automate simple tasks and manage your training from start to end. It also has event management software and integrations to deliver training from other business intelligence platforms. Its features include a dashboard where you can view real-time activity to ensure accessibility with the information you need.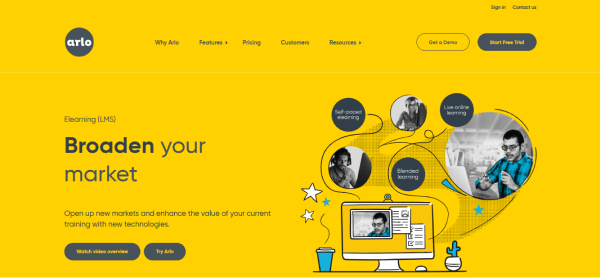 Features:
Course management automated tool

Event management

Integrations
Cost: Starts at $29 USD/month
Automated Training Management System #5 – Tovuti
Generating, delivering, and managing knowledge resources is quick and hassle-free with this automated training management system, Tovuti. There's no limit as to how many learning materials you can create, plus, you can use and reuse your content. The content materials can be assigned directly to learners, either individually or in bulk, saving you a significant amount of time when compared to doing everything manually. Feel free to open the rate and comment sections open within courses for more collaborative knowledge sharing.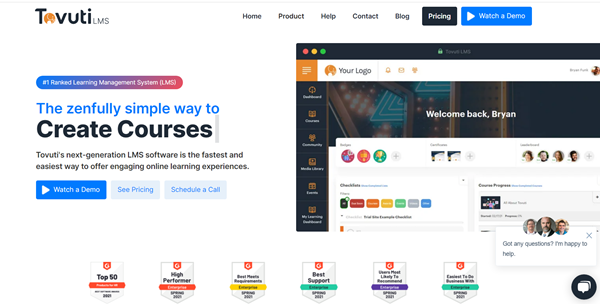 Features:
Limitless content creation

Use and reuse of own content

Content library

Automated training delivery

Rate and comment sections
Cost: Paid plans
Automated Training Management System #6 – Inquisiq
Through Inquisiq's automated training tool, you can deploy, manage, and track hundreds of courses and automate course enrollment, completion notifications, and report generation without hassle. The tool also supports blended learning through features such as on-the-job training and task assignments, which allow your workers to perform tasks in real-time and submit assignments for knowledge evaluation. Social learning is also integrated into the platform through collaborative features like user communities, user feeds, discussion boards, and a unique built-in messaging tool. You can also design personalized learning paths for your employees through multiple courses, homework, and course completion certificates.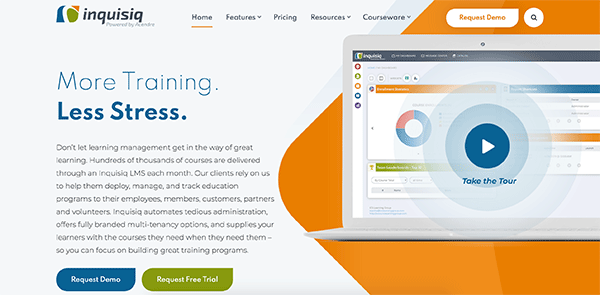 Features:
Automated course enrollment

Automated report generation

Completion notification

On-the-job training and task assignments

User communities

Built-in messaging

Personalized learning paths
Cost: Free trial, paid plans
Automated Training Management System #7 – Forma LMS
Forma LMS functions as an open-source automated training management system engineered around the specific needs of corporate training. It specifically takes pride in its modern and responsive authoring tool that can help you develop and manage training content in different formats: SCORM multimedia, HTML pages, videos, and powerful assessments. It also offers massive edit actions and lots of configuration and automation options, giving you no restrictions when it comes to designing and managing your online courses.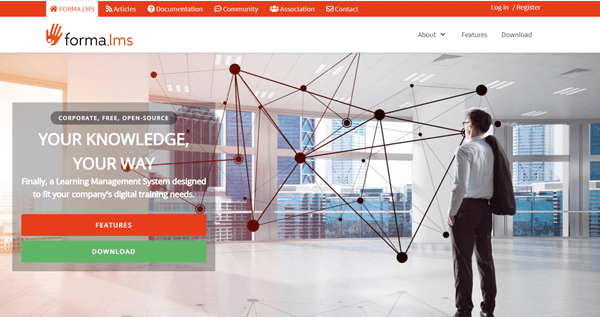 But what makes it even more special is that this tool can also integrate with virtually any video conferencing system, allowing you to host webinars or virtual classrooms all in one platform. Forma LMS can also be combined with your existing intranet software, which is another less headache for you. 
Features:
Authoring tool

Massive editing actions

Configuration & automation options

Video conferencing

Intranet integration
Cost: Paid plans
Automated Training Management System #8 – Coassemble
Coassemble LMS offers 30 different screen layout types to populate your content and present them in an engaging manner. Here, you can customize the content according to your brand's image by changing the font, theme, and color schemes. This automated LMS also offers automation to simplify tasks, such as automatically enrolling learners in courses and awarding certificates upon completion. Learning management is made easy with Coassemble's powerful data analytics that allows you to check real-time insights on course progression, whether it be by learner or group. 

Features:
Screen layout templates

White labeling

Automation

Data analytics
Cost: Starts at US $49/month
Automated Training Management System #9 – Learn Amp
Learn Amp is a learner experience platform (LXP) and a learning management system (LMS) all in one. Decentralize learning through their suite with different permission levels for content sharing, to increase engagement and collaboration. It is an automated training tool that offers multiple user sharing, content syncing, and tasks setting for optimized peer-to-peer learning.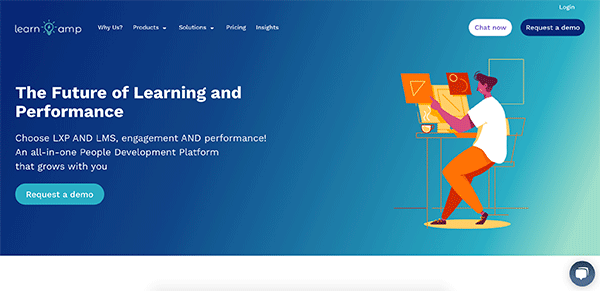 The only downside is that you need to subscribe to access the full features of the automated training management system. You can request a demo to learn more about a product. 
Features:
Content creation and quiz creation tools

Automation features

Peer-to-peer learning
Cost: Free demo, paid plans
Automated Training Management System #10 – Easy Training Tracker
Easy Training Tracker offers a convenient and practical way to automate and simplify your training tracking and reduce the time that you'll likely spend managing your training program. There's no need to spend hours interrupting your employees to check their training progress or bore yourself with spreadsheet tracking. Thanks to Easy Training Tracker, you can now digitally monitor the attendance of all the training classes, run post-assessments, and also notify new employees about classes that must be taken, have expired, or are just about to expire.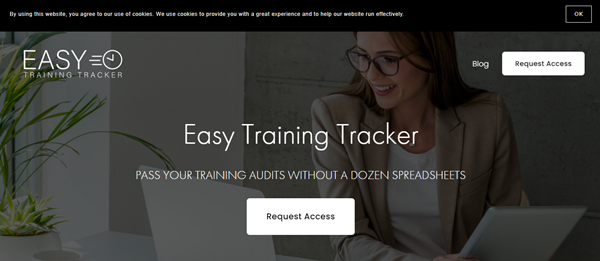 Features:
Cloud-based training tracking

Unique training format

Laser-focused reporting

Compliance alert system
Cost: Paid plans