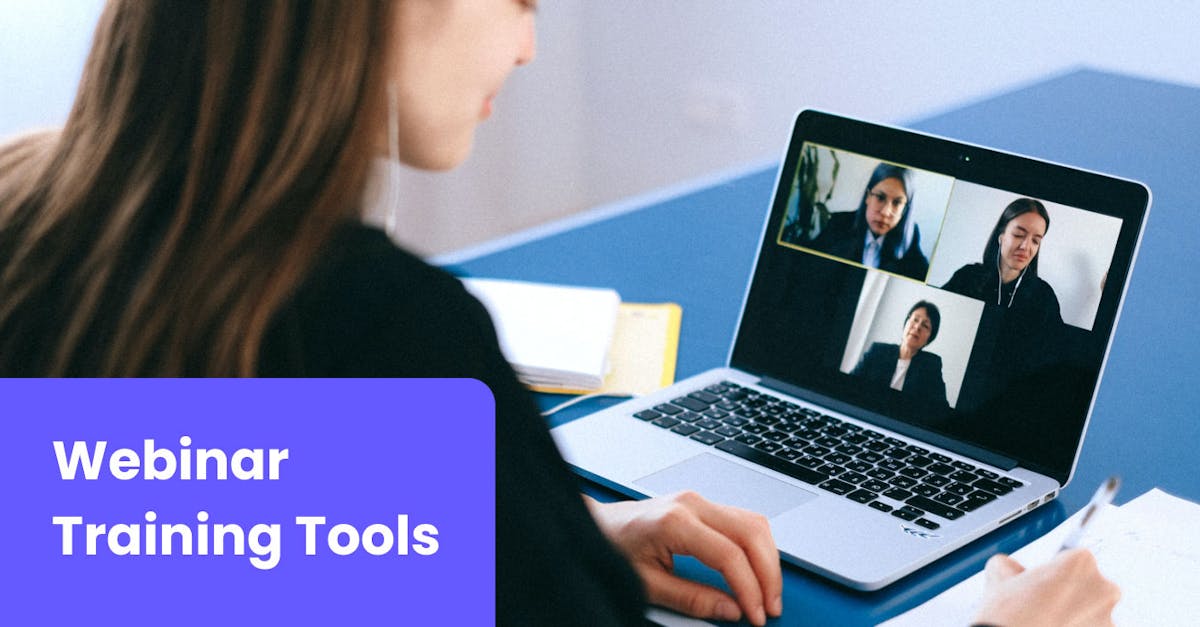 Webinar training tools have been utilized more than ever due to the rise of remote working. These web-conferencing tools allow you to efficiently deliver training at scale to your dispersed workforce that replicates face-to-face or a traditional classroom setting. To help you find the right platform that works for your training needs, we've come up with a list of 10 webinar training tools to conduct your webinar-based training.
1. EdApp
EdApp is an award-winning, easy-to-use learning solution with a built-in webinar training tool. Known as the Virtual Classroom feature, this enables you to create an online meeting directly in your lessons. A meeting can be directly linked to a course using your favorite third-party video conferencing systems, such as Zoom and Google Meet. Learners will be made aware of any upcoming events through push notifications and they'll be able to add them to their calendars. If learners need to view the webinar after its launch, you can opt to allow them to view the recording after the event finishes.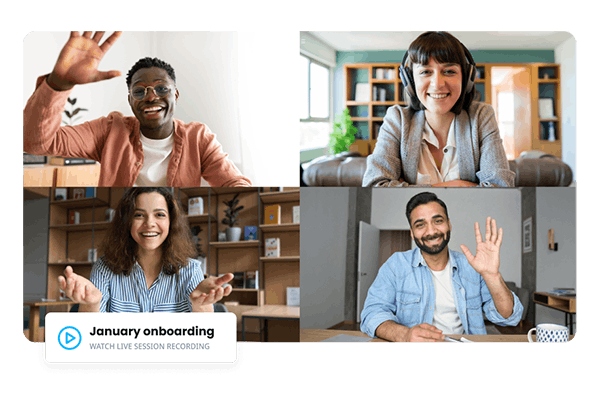 Another notable feature is Discussions and Assignments where learners can collaborate on ideas and insights about the webinar with their presenters. They'll receive a push notification when they receive a reply so they never miss out on engaging with the training content. Since EdApp is a mobile-first learning solution, learners don't need to be tied up to their desks all the time just to access webinars and can do so conveniently right through their mobile devices. With how easy this tool is to navigate, you won't need to ask yourself questions like what is webinar training or how to start webinar training.
Cost: Free
Features: Mobile compatibility, third-party platform compatibility, push notifications, calendar event, webinar recording
Sign up for free and Start Using the Best Webinar Training Tool
2. uQualio
uQualio is a cloud-based webinar training tool that you can use for your audio and video-based training needs. Their innovative digital eLearning tool can be used for corporate training, bite-sized webcasts for marketing, onboarding, product training, and many more. You can turn recordings into videos, upload pre-recorded online conference calls fr0m your teleconferencing or VOIP platforms, or link to YouTube and Vimeo and also include them in your training programs or webinar courses. It works on all devices, including mobile, making it convenient for learners to access their training materials on the go.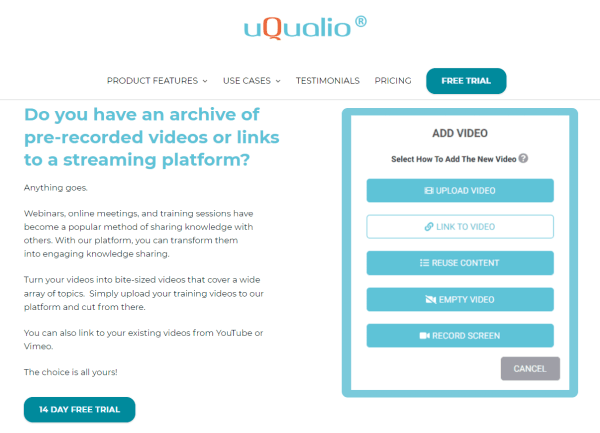 Cost: Starts at US 9/month
Features: YouTube & Vimeo support, mobile accessibility, screen recording
3. Demio
Joining a webinar through Demio can be done in just one click as there's no need to download any webinar software. It offers different types of webinar classes, such as live, automated, and series. With Demio, you'll get to showcase your branding and logo with its customizability options and you can even host your webinar on a custom domain if you want. For an uninterrupted experience when presenting content, you can upload presentation slides or share videos right from Demio so you never have to leave the room while presenting. You can turn attendees into participants with interactive features, such as private/public chats, interactive polls, and gestures.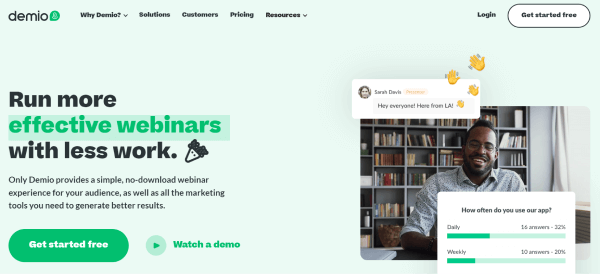 Cost: Starts at 4/month
Features: Multiple webinar types, content repository, interactive features, white labeling
4. GoToWebinar
Hosting your webinars can be a tedious process, but GoToWebinar aims to deliver seamless conferencing services for its users. It gives you the ability to pre-record your webinars so you don't have to think about any connectivity issues or pre-presentation jitters. If you really want to go for a hassle-free experience, you can even book an event producer to do all the heavy lifting for you. GoToWebinar provides attendees multiple options to join an event. They can download the GoTo app or simply tune in using their browsers. To keep audiences interested and so that you can share meaningful content, GoToWebinar has polls, customizable Q&A settings, surveys, and handouts. 

Cost: Starts at 9/organizer/month
Features:  Pre-recorded events, dedicated app, device versatility, audience interactions, event manager booking
5. Cvent
Are you looking to give your webinars a broadcast-grade look? Look no further as Cvent's webinar presentation software promises pro-grade video content and world-class attendee engagement tools. With its professional video production tool, you can customize your webinar with your organization's assets and easily pre-build each segment before going live. Cvent also allows you to share your screens and for participants to access private video rooms, view their webcams, and session attachments, and you can even create an on-demand library for your content. To measure your event's success, you'll be provided with benchmark analytics and a detailed reporting of attendance, feedback, and other activity data. If you're interested to know more, you can schedule a free demo through their website.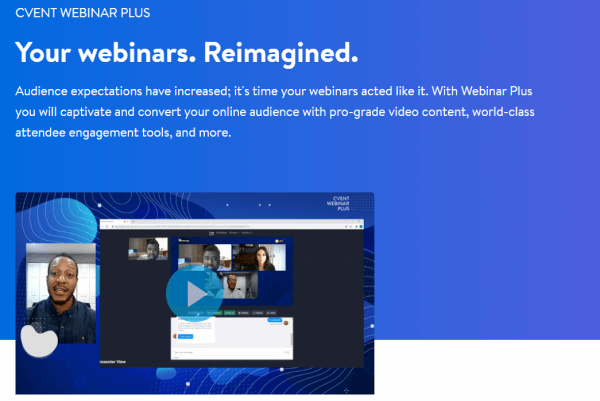 Cost: Available upon request
Features: Video production tool, private video rooms, on-demand library, analytics
6. Webex
Webex is a webinar training tool that gives you peace of mind when conducting your presentations. This web conferencing software features attendance security with Single Sign-On (SSO) options by tagging participants or providing invitation-only access. Using Webex means that you can present content with high-quality audio and HD videos up to 720p. With its custom staging options, you're in charge of how you want the content to be presented or have the view adjust automatically based on the content. To prepare you for the real thing, Webex even has a pre-event practice session which is a private virtual meeting room where you can rehearse before going live. To engage your audience, it offers various types of live polling, such as word clouds, multiple-choice, open text, ranking, quizzes, and rating polls. To add to the fun aspect, you can also enable gestures and animated reactions.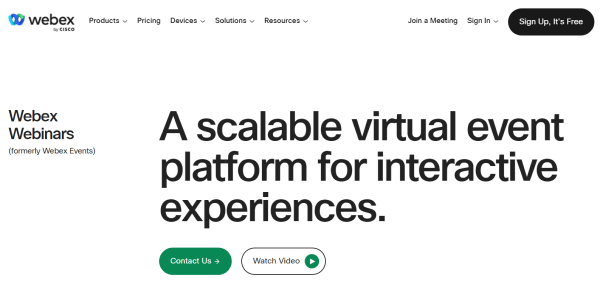 Cost: Available upon request
Features: Attendance security invitation, high-quality audio & high-definition videos, custom staging, audience engagement tools
7. Livestorm
Livestorm prides itself on its capability to create interactive learning environments through the power of webinars. This webinar training tool is browser-based so you don't have to worry about any downloads or setup. Livestorm can be used for on-demand, live, or pre-recorded online events, and is accessible on both mobile and desktop. To spark interaction, you can activate polls, chats, Q&As, and more. You can host as many webinars as you want, even on their free plan, and replays are automatically stored forever. Livestorm also provides a detailed analytics report so you can track the number of attendees in your video conference, webinar replays, and registration sources.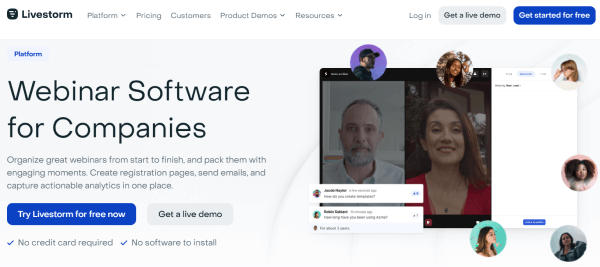 Cost: Free and paid plans (starts at 09/month)
Features: Device versatility, on-demand webinars, automated webinars, webinar replays, analytics
8. WebinarNinja
WebinarNinja touts itself as a webinar training tool that's built for teaching and not simply for holding meetings. Aside from your standard live webinar, this tool offers other types, such as Automated & Evergreen for pre-recorded content, Series Webinars for hosting multiple webinars on a single topic, and Hybrid Webinars for both live and recorded content. It also automatically detects the preferred microphone on your computer so you won't have to worry about audio issues.
To encourage audience participation, you'll have the option to enable segmented chat, interactive questions, polls, and offers & handouts. While WebinarNinja has a free tier, you're only limited to 10 live attendees and 20 minutes of airtime.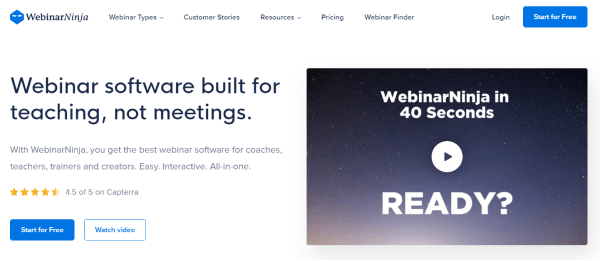 Cost: Free and paid plans (starts at 9)
Features:  Multiple webinar types, live engagement tools, unlimited webinars
9. Microsoft Teams
Microsoft Teams is a webinar training tool that provides an engaging, end-to-end digital experience for learners. Thanks to its Presenter mode combining immersive views of content, speakers, and more, it's sure to delight and engage learners even in a virtual setup. It's perfect for managing telepresence of a large audience as you'll have the ability to disable attendee audio, video, and chat, and use lobby controls to manage access. You can even enable polls during the webinar for audience participation and for providing information for the presenter. All these great features come with a hefty price tag as the webinar hosting feature is only available on the Microsoft 365 Business Standard plan which is one of the pricier ones. You can, however, test the waters and see if it's a right fit for you with their free 1-month trial.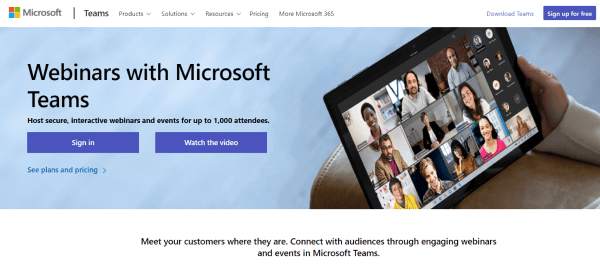 Cost: 2.50 user/month
Features: Attendee registration pages, email confirmations, reporting
10. EverWebinar
EverWebinar is a webinar training tool that promises to deliver the perfect webinar presentation without the participants having to be in the same room. It's built to be a marketing tool to capture prospects, but can be used one and the same as any ordinary webinar training tool. Its automated scheduling feature allows you to flexibly schedule webinars based on what works best for your audiences' time zones. On top of this, you'll also have an option to do just-in-time webinars which gives attendees the impression that they've come at the right time. If you need information from your webinar, such as the number of registrations and attendees, EverWebinar provides a detailed report for each webinar campaign you have. EverWebinar isn't free but they offer a 14-day free trial and have reduced prices for those who pay annually and biennially.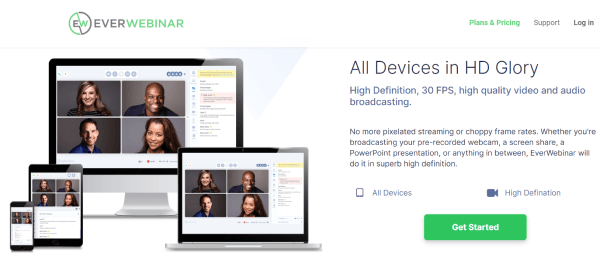 Cost: 9/month
Features: Flexible scheduling, just-in-time webinars, automated events, detailed analytics