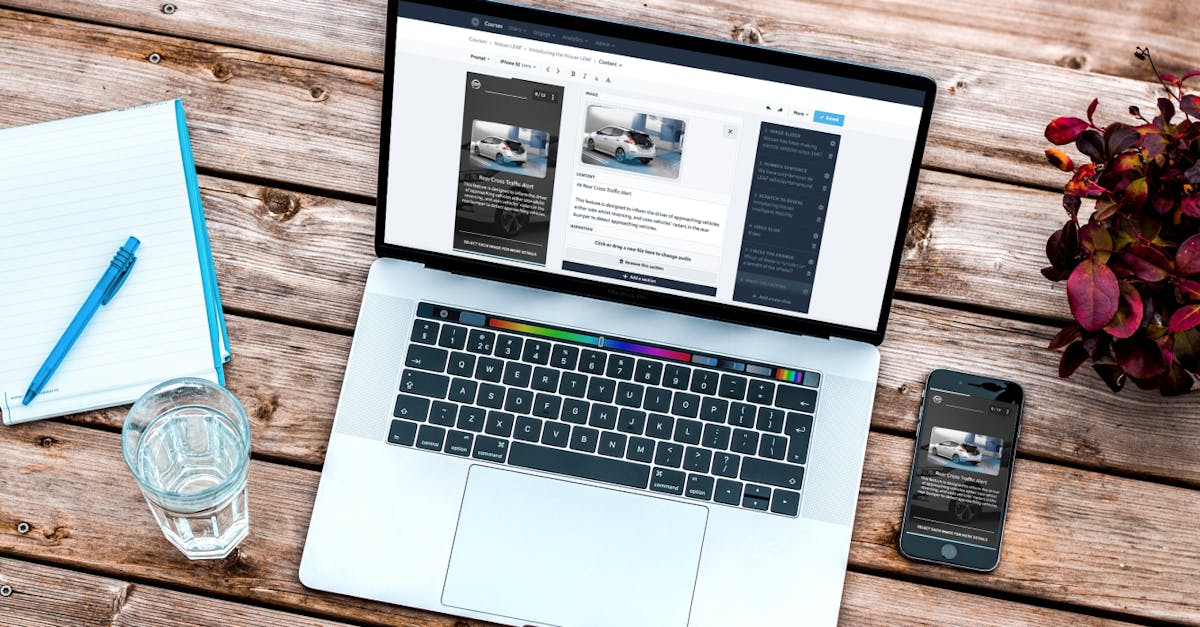 Managing your online course materials is a lot easier now than it ever has been, thanks to the continuous advancement of course management tools. They have everything covered – from building and arranging your course materials to deploying them and monitoring your learner's progress. And the best part? Most are web-supported and cloud-based, so all you need is a working desktop and a stable internet connection to get started.
Here, we've handpicked some of the best course management tools to consider for your next employee training. Read on to find out what solution best fits your training needs.
Best Course Management Tool – EdApp
EdApp LMS currently ranks as the best course management tool on the market, acclaimed for its powerful features that allow anyone, even those with no programming skills, to expertly create and manage courseware in just a matter of minutes. It's efficient, easy to use, and most of all, free of charge to all.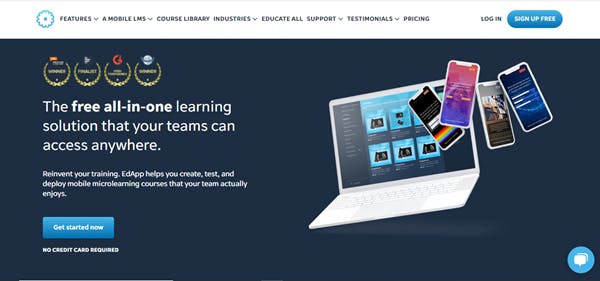 One of EdApp's standout attributes is its SCORM authoring tool, which makes the entire course designing process a breeze. When creating your course, simply choose any of their free responsive templates and add your content. If you don't have a lot of spare time to prepare your learning materials, feel free to import premade courses from its course library. Everything is editable – you can rebrand and edit the lessons, incorporate pictures, exercises, even games, and quizzes within each course content.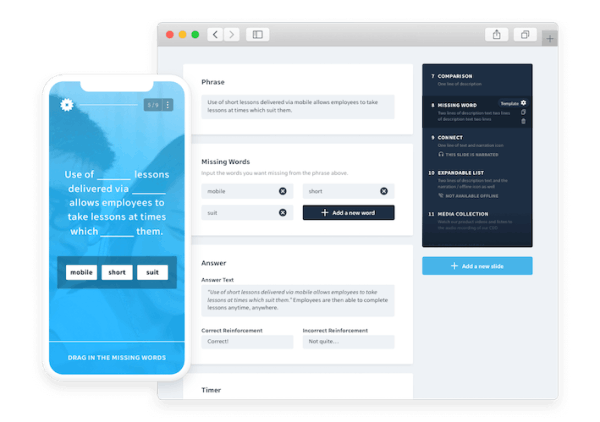 There are also many ways to track your employee's progress with EdApp. You can use its Course Progress analytics tool to find out how many have unlocked and completed your training, or the App Usage tool to monitor how frequently the users are opening the applications. If you want to check and compare course completion rates, there's also a Course Completion page that can provide you with data.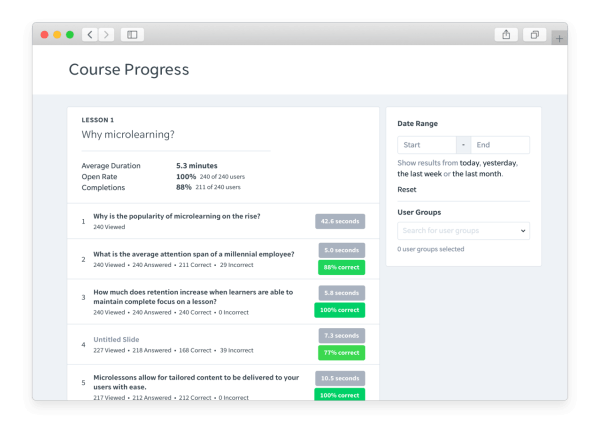 Highlights: SCORM authoring tool with responsive templates, fully editable course library, Course Progress Analytics, App Usage, Course Completion page.

Price: Free
1. Arlo
With Arlo, it's easy to run and manage face-to-face courses and e-learning training activities. Here, you can create self-paced modules and quizzes that your team can complete anywhere and anytime at their convenience. Do you have specialized training plans for a specific group? Look no further, you can also organize and manage them all with Arlo. If you're keen to provide your team with a blended learning experience, it also supports live online sessions and activities, discussion forums, recorded videos, and more. This tool will take care of the rest, even your feedback surveys, certificates, and follow-up offers.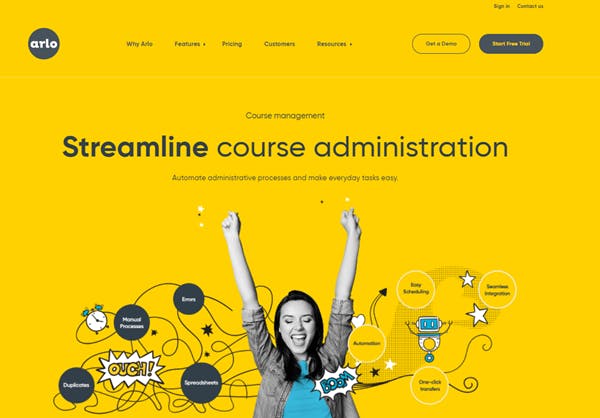 Highlights: Self-paced module and quiz design, private course management, live online sessions and activities, discussion forums, recorded videos, automated feedback surveys, certificates, and follow-up offers

Price: 9 USD – 85 USD
2. Tovuti
Generating, delivering, and managing course materials is quick and hassle-free with Tovuti's course management feature. There's no limit as to how many courses you can create. Additionally, you can use and reuse your own content. But if you don't have enough resources on hand, you can also purchase from an eLearning vendor or utilize the learning materials from Tovuti's very own content library.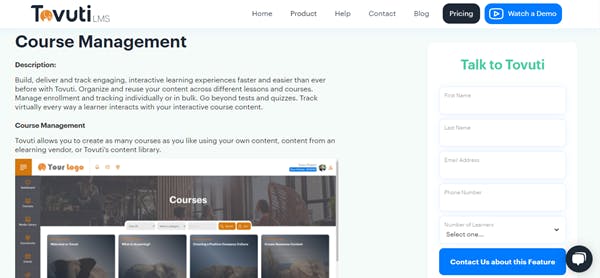 The courses can be assigned directly to learners, either individually or in bulk, saving you a significant amount of time when compared to doing everything manually. Feel free to turn on the rate and comment sections within courses to determine the success rate of your training program.
Highlights: Easy building and delivering of courses, use and reuse of own content, comprehensive Tovuti content library, individual or bulk assigning of lessons, course tracking

Price: Custom price available upon request
3. Administrate
Administrate makes it possible to organize, deliver, and track all your course resources in a single-centralized system. With this LMS, you can schedule an instructor, take command of your essential course documents, and automate email communications with ease. Built with maximum flexibility, it can manage virtually any form of training delivery, from online to blending learning, even face-to-face, and virtual instructor-led training. It also features a unique vILT Rapid Implementation should you need to transform your instructor-led training into online training. If you want to start implementing courses like cultural intelligence training courses, DEI training courses, or even leadership training courses, you can use the platform to manage everything.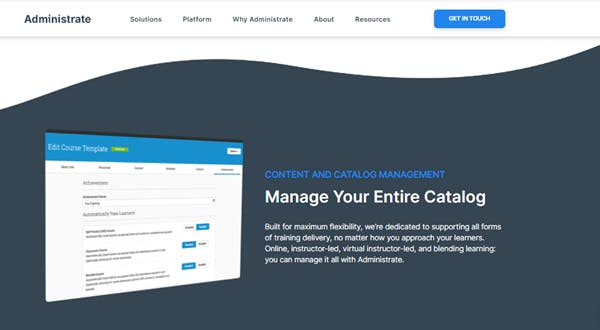 Highlights: Training course management in the single-centralized system, easy scheduling of instructor, automated email alerts, unique vILT Rapid Implementation 

Price: Custom price available upon request
4. VAIRKKO
VAIRKKO e-Learning Cloud is engineered to meet the demands of L&D leaders looking for an intelligent tool to manage their courses. Perfect for businesses of all sizes, you can create and publish as many business training courses as you wish, automatically assign lessons, and also monitor their completion and success rate, all using this easy-to-use platform. Course lessons can be uploaded in PowerPoint, PDF, images, videos, and audio clips, and they can be taken from mobile devices, laptops, and desktop computers.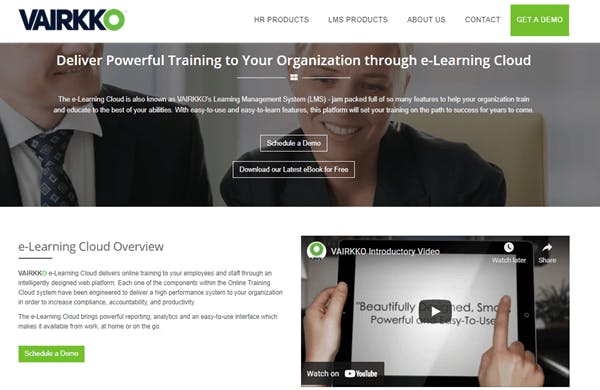 Highlights: Intelligent e-learning cloud, unlimited courses, smart assignments, robust reporting and monitoring, mobile- and desktop-friendly

Price: Custom price available upon request
5. AdaptiveU
Grow your team and foster a culture of growth with AdaptiveU. There are so many things that you can accomplish with this course management tool. Here, you can tailor onboarding training courses for new employees, and host regular compliance training for existing team members to ensure that their skills and knowledge remain compliant with the professional standards. Encouraging an open and collaborative environment, it also allows learners to track their peer's performance, and share any learning content that they may find relevant and helpful.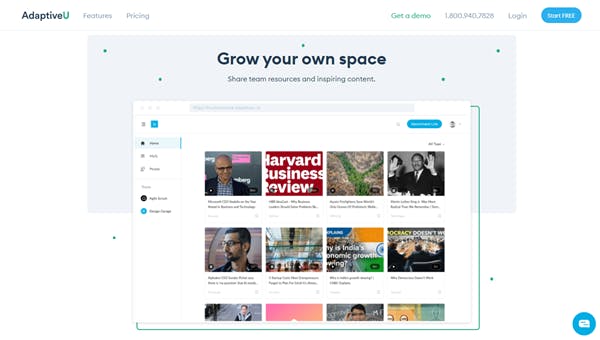 Whenever you need a course progress report, this tool also has powerful analytics and learning management functionality that will produce the statistics you need. 
Highlights: Custom courses for onboarding and compliance training, content sharing, powerful analytics, learning management functionality

Price: Free. Premium prices are also available. 
6. isEazy
isEazy is among the few course e-learning solutions equipped with a powerful and high-quality authoring tool. It allows simple, intuitive, and dynamic course designing even without any technical expertise, and thanks to their cloud training technology tools, you can enjoy peace of mind knowing that you'll never lose your work. You're in full control of your courses – meaning, you can edit, delete, and move courses in real-time, even duplicate and reuse projects whenever needed.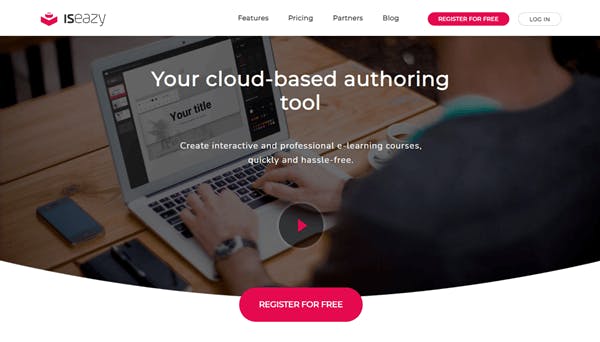 Highlights: Powerful authoring tool, easy course designing, cloud technology, real-time course editing, deleting, and moving

Price: Free (Courses will be published with isEazy logo and watermark). Premium prices are also available.
7. Coassemble
Designing and managing your training courses is easy and beautifully simple with Coassemble. There's no pressure with coding or software downloads. All you need to do is choose from their pre-built template, transfer your course content, and share them with your employees. You can also track who among them has read their requisite training materials, engaged, or even revisited them. Granular reports can be downloaded to assess your team's performance and behavior.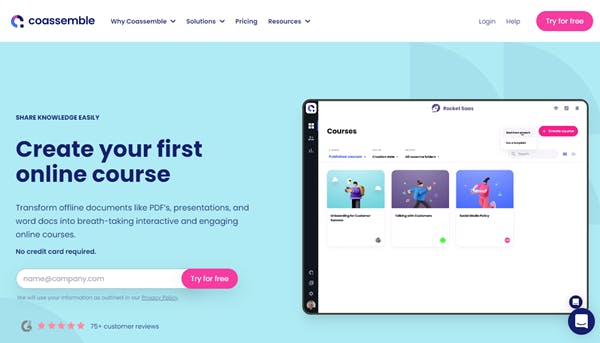 To foster a collaborative learning environment, you can also use this tool to build a shareable training hub where you can store your course materials and playbooks, giving your team easy access to everything they'll need.
Highlights: Pre-built templates, course tracking, granular reports, training hub of courses

Price: USD – 99 USD per month
8. GoToTraining
GoToTraining is packed with reliable features that you can use to create and manage online training sessions and courses. For starters, this tool will help you understand your audience before training through custom registrations. From there, you can decide what type of training courses will work best for them. You can incorporate in-session activities and breakouts to boost knowledge retention, as well as tests, polls, and evaluation, everything up to you.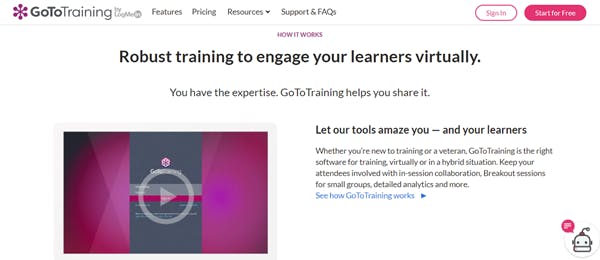 After class, a detailed reporting on session attendance, test results, and evaluations will be available. This tool can also host a content library where you can organize and store your course materials, tests, and recordings, and reuse them whenever is convenient. 
Highlight

: Understanding audience through custom registration, in-session activities,

online test software

, detailed reporting after sessions, content library

Price: 19 USD per month
9. aNewSpring
Create more impact and make your training courses awesome with none other than aNewSpring. Whether you're running blended training, adaptive learning, or social learning, you can facilitate various types of training programs within the platform, without any hassle.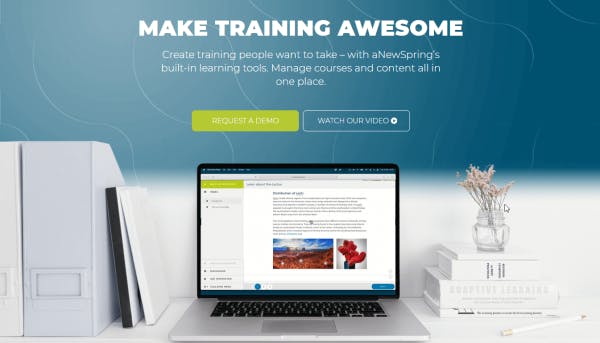 Thanks to its easy online authoring editor and course templates, you have the freedom to build online lessons just the way you like. Plus, you can mix your course content with videos, images, blogs, even external content from Youtube or Prezi. The course you create is all yours, stored and secured in top-tier data centers in Europe. 
Highlights: Easy online authoring editor, interactive course templates, secured training courses

Price: 7 for trainers, license bundle available for organizations
All in all:
We've taken a look into some of the highly sought-after course management tools on the market, including EdApp, Arlo, Tovuti, Administrate, and more. Most of them support a swift course designing and management even without any technical know-how, as well as reliable tracking to verify the success of your training initiative. We hope that this article has helped you in your search for the most suitable course management tool for your team. 
You may also be interested in: