One of the biggest considerations for choosing a learning management system (LMS) is whether or not it is SCORM-compliant and contains SCORM creator software. In this lesson, we will be looking at some of the top SCORM-compliant software on the internet. But not everyone is familiar with what that means. So, let's first take a look at what SCORM is and why we should use it together with our elearning solutions.
What is SCORM?
SCORM stands for Sharable Content Object Reference Model. It is a protocol for learning management systems that allow one system to communicate with another. That means that a developer creating one LMS has a blueprint for exporting the data so that another LMS can also utilize it.
Create your first course in minutes with EdApp LMS
No credit card required.
Why use SCORM?
One of the main reasons to use SCORM is so that when you make your custom eLearning course, you can easily distribute them on multiple LMS platforms. And from the perspective of an LMS, it means that you can accept content from many different sources, even for those LMS who use mobile online-learning.
Now that you see what SCORM is and why it is good to use for digital learning, let's take a look at some of the SCORM-compliant systems out there.
Best Scorm LMS – EdApp
EdApp is not only one of the top LMS out there, but it also shines in its SCORM compliance. Because it is both an LMS and an authoring tool, you can both import and export in SCORM. That means you can take your beautifully designed instructional design courses out of EdApp's content-management and course elearning development feature, if you choose. Likewise, you can import courses made elsewhere (like Powerpoint) into EdApp so you can improve upon them and also take advantage of all of EdApp's amazing features as an LMS.
EdApp is unique in that it can take SCORM-format courseware and turn them into a more effective microlearning format. It's often the case that the interactive elearning materials are created in a time-intensive manner in which an instructional designer creates a course without seeing how effective it is. Because the elearning authoring tool for EdApp is so simple, it allows for easy reiterations on the microlearning course that wouldn't happen if it were on a different LMS.
In addition, EdApp incorporates a lot of peer learning. So, a SCORM-based course that is uploaded to EdApp can benefit from its functionalities such as Forums and Discussions in a way that the designer of the SCORM package could not have realized beforehand.
1. Tovuti
Another SCORM-compliant learning system is Tovuti. This cloud-based learning solutions has most of the features you need from an LMS, including support for content-creation, interactive content, live video conferencing, assessments, and reports. Additionally, it has a CMS that lets you host sites with your own branding. It has a complicated pricing system, however, that can make it hard to know where to start.
2. Intertek Alchemy
Intertek Alchemy is another SCORM-compliant LMS. It focuses on training for food manufacturers, packagers, distributors, and hospitality. Its LMS includes learning courses in compliance and safety. While it is highly focused on specific industries, it might not appeal to those from other industries for learning and development.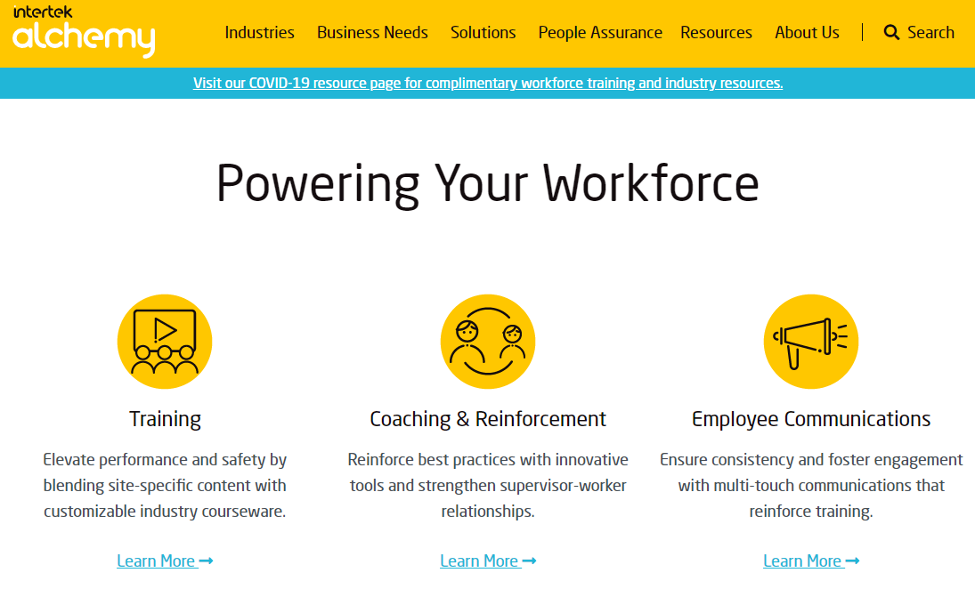 3. Coassemble
Coassemble is a WYSIWYG LMS website that works with SCORM and focuses on having an easy-to-use course creation process. You can upload SCORM-compliant content and use their system to improve on it. This LMS platform uses a subscription-based model, but doesn't have an easy and free way to get started with testing out the elearning authoirng software.
4. Bridge
Bridge is SCORM-compliant LMS with a few unique features. Bridge uses learning paths that give each learner an individualized experience. It not only accepts uploading of SCORM content but also has elearning authoring tools that lets you create your own courses featuring a responsive design, although not as fully featured as some other LMSs.
5. Inquisiq
Inquisiq is an LMS that not only lets companies create their learning experiences for in-house employees, but also allows eCommerce so that creators can profit from their educational materials. It's also well-known for its reporting capabilities. Trying out the software requires filling out a demo request so you can get a free trial.
6. Prosperity LMS
Another employee training tool and LMS that is designed to get employees up and running is Prosperity LMS. It has many of the features that you need from an LMS, along with giving the option of cloud-based online training or on-premise training. You can not only use their authoring tool, but also you can find a lot of pre-made courses on essential topics like OSHA safety and other workplace-related issues, although not as many on some other platforms like EdApp.
7. Auzmor Learn
Auzmore Learn is another LMS for small business with HTML5 and SCORM-compliance that is worth taking a look at. It has course authoring tools and is unique for its open-enrollment courseware. That way, learners can customize their own learning experience. As an educator, you will appreciate the ease with which you can track and report on students' progress. You can request a demo by filling out their form, although they don't advertise their rates on their website.
8. BrainCert
Another LMS that has good SCORM functionality is BrainCert. It has powerful features with a modern and responsive UI. With its elearning tools, it also allows content creators to sell their online courses, tests, quizzes, and live classes. There are a lot of options for pricing, including a free tier that allows you to experiment with their features before buying. One notable thing missing in this product is gamification, however.
9. CoreAchieve
Lastly, CoreAchieve is one more LMS that has SCORM compliance. This LMS has many of the essential features for a business to successfully train and monitor the learning of its employees perfect for blended-learning environments. It also integrates well with customer relationship management solutions. For pricing, you have to make a request for that separately, however.
In this article, we first considered what SCORM was and why it was important. We then looked at several different training management tools that offered SCORM-compliance and discussed their features and limitations.
Being SCORM-compliant, we can more easily try out all these different platforms because we can freely move our content around without much hassle. So, if you're looking to try any of these out, it won't be too hard to see what your work looks like running on each platform. What has your experience been with moving SCORM content around to various LMSs?
Ready to train your teams on the world's favorite learning platform? Sign up to EdApp for free!