2. Tovuti
Another SCORM-compliant learning system is Tovuti. This cloud-based learning solution has most of the features you need from an LMS, including support for content-creation, interactive content, live video conferencing, assessments, and reports. Additionally, it has a CMS that lets you host sites with your own branding. It has a complicated pricing system, however, that can make it hard to know where to start.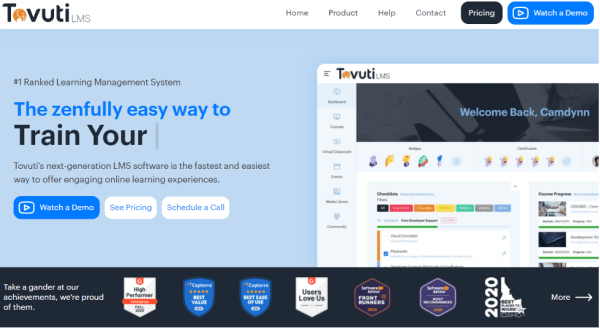 3. Intertek Alchemy
Intertek Alchemy LMS is also SCORM-compliant. It focuses on training for food manufacturers, packagers, distributors, and hospitality. Its LMS includes learning courses in compliance and safety. While it is highly focused on specific industries, it might not appeal to those from other industries for learning and development.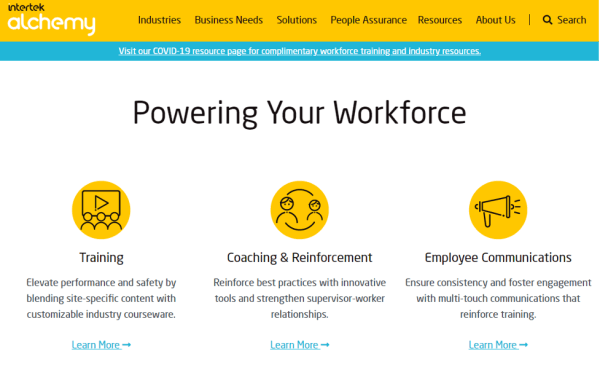 4. Coassemble
Coassemble is a WYSIWYG LMS website that works with SCORM and focuses on having an easy-to-use course creation process. You can upload SCORM-compliant content and use their system to improve it. This LMS platform uses a subscription-based model, but doesn't have an easy and free way to get started with testing out the elearning authoring software.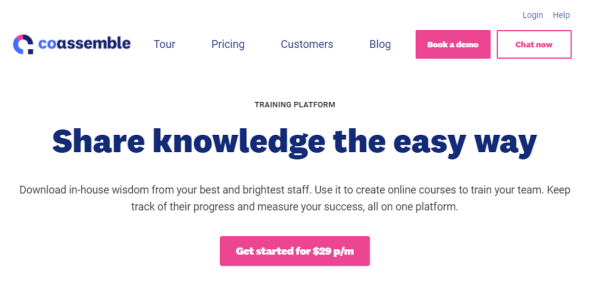 5. Bridge
For SCORM-compliant training with unique features, Bridge is the tool for you . Bridge uses learning paths that give each learner an individualized experience. It not only accepts uploading of SCORM content but also has elearning authoring tools that let you create your own courses featuring a responsive design, although not as fully featured as some other LMSs.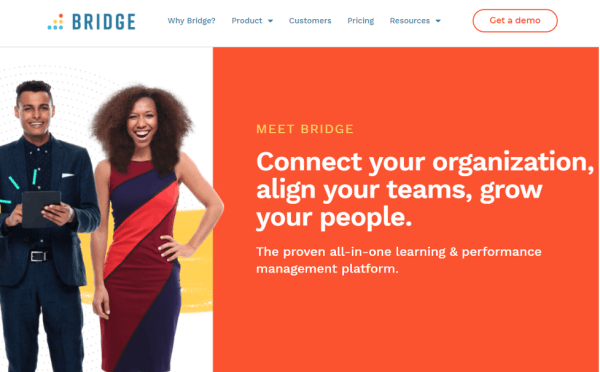 6. Inquisiq
Inquisiq is an LMS that not only lets companies create their learning experiences for in-house employees, but also allows eCommerce so that creators can profit from their educational materials. It's also well-known for its reporting capabilities including training dashboard tools. Trying out the software requires filling out a demo request so you can get a free trial.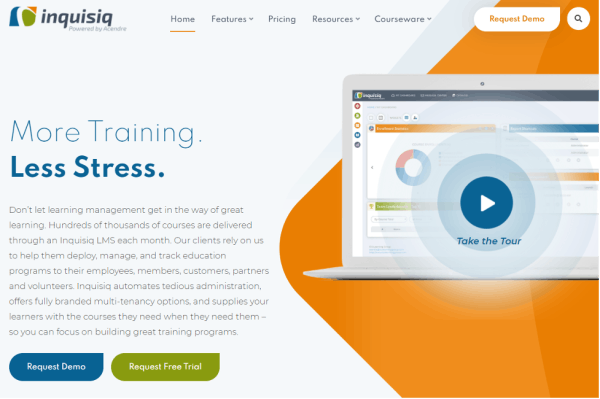 7. Prosperity LMS
Another employee training tool and LMS that is designed to get employees up and running is Prosperity LMS. It has many of the features that you need from an LMS, along with giving the option of cloud-based online training or on-premise training. You can not only use their course maker tools, but also you can find a lot of pre-made courses on essential topics like OSHA safety and other workplace-related issues, although not as many on some other platforms like EdApp.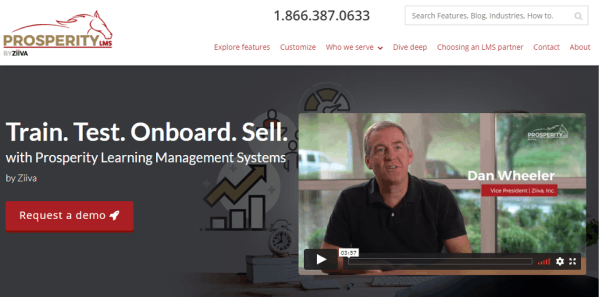 8. Auzmor Learn
Auzmore Learn is another LMS for small businesses with HTML5 and SCORM-compliance that is worth looking at. It has course authoring tools and is unique for its open-enrollment courseware. That way, learners can customize their own learning experience. As an educator, you will appreciate the ease with which you can track and report on students' progress. You can request a demo by filling out their form, although they don't advertise their rates on their website.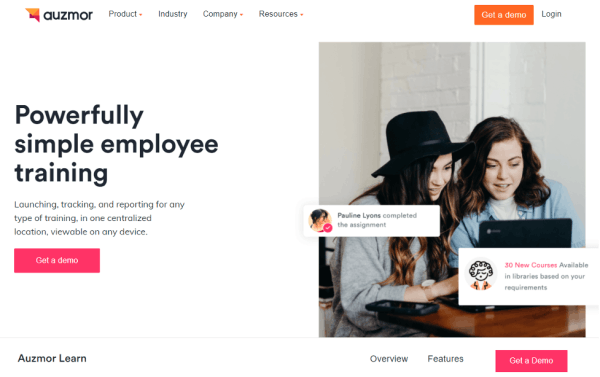 9. BrainCert
Another SCORM compliant elearning tool that has good SCORM functionality is BrainCert. It has powerful features with a modern and responsive UI. With its elearning tools, it also allows content creators to sell their online courses, tests, quizzes, and live classes. There are a lot of options for pricing, including a free tier that allows you to experiment with their features before buying. One notable thing missing in this product is gamification, however.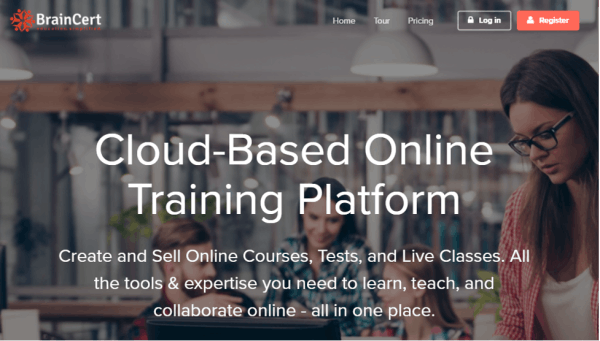 10. CoreAchieve
Lastly, CoreAchieve is one more LMS that has SCORM compliance. This LMS has many of the essential features for a business to successfully train and monitor the learning of its employees perfect for blended-learning environments. It also integrates well with customer relationship management solutions. For pricing, you have to make a request for that separately, however.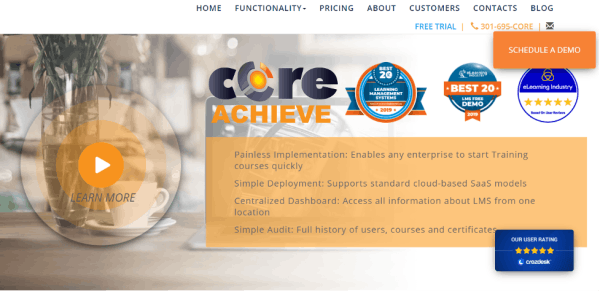 11. dominKnow
dominKnow is a cloud-based SCORM player and elearning LMS that comes complete with a training module creator software and a content management system. For over a decade, both small and large companies have been using this platform to meet their training and collaboration needs.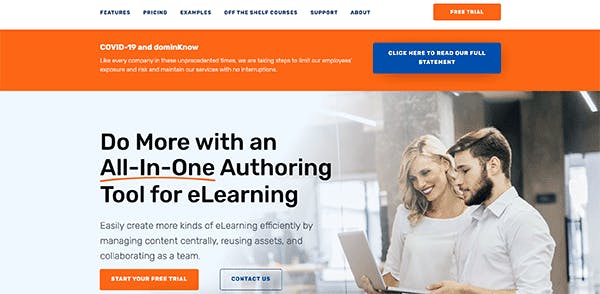 With its all-in-one system, your team can collaborate in real-time and create well-optimized SCORM compliant content. You can also design training materials on any device using a range of templates and digital assets and deploy courses directly to your learners' mobile devices. With its translation and localization features, dominKnow allows you to choose from over 50 languages to translate learning content for learners in specific regions.
In this article, we first considered what SCORM learning is and why it's important. We then looked at several different training management tools that offered SCORM-compliance and discussed their features and limitations.
Being SCORM-compliant, we can more easily try out all these different platforms because we can freely move our content around without much hassle. So, if you're looking to try any of these out, it won't be too hard to see what your work looks like running on each platform. It's also great to check out SCORM LMS that are open-source for wider functionality and customization.
What has your experience been with moving SCORM content around to various LMSs?