When new hires are properly onboarded and employees are well-trained, they are able to maximize their capabilities and perform their respective roles in the organization. That's why it's crucial for training managers to deliver training programs that are relevant and timely for the learners. But, with factors like the size of an organization, location of employees, and nature of work, it can be a challenge for training managers to develop and deploy training programs for each team, especially at a time when they need it most. By investing in tools for training managers, you're able to streamline the process of administering and managing training programs, and equally ensure that the training approach is effective for the learners. 
To assist you in assessing your options, we've listed 10 tools for training managers to help you understand how features like authoring tools, engagement elements, and dashboards can help you be more efficient and effective in creating training programs for different teams. Keep reading to discover the tool that perfectly aligns with your objectives and the needs of your learners. 
1. EdApp
EdApp is an all-in-one training LMS with a built-in administration suite that provides you with flexible, customizable, and adaptive tools for easier management. Its free editable course library gives you access to hundreds of readily deployable courses that you can edit and customize with your own expertise or with company-specific information. Or, you can easily create your own courses with EdApp's built-in authoring tool that contains ready-to-use interactive templates. With its intuitive authoring feature, creating and customizing courses only takes hours or days, instead of long weeks or months! It also provides an AI translation tool that allows you to deploy courses in multiple languages at scale, in just a few clicks.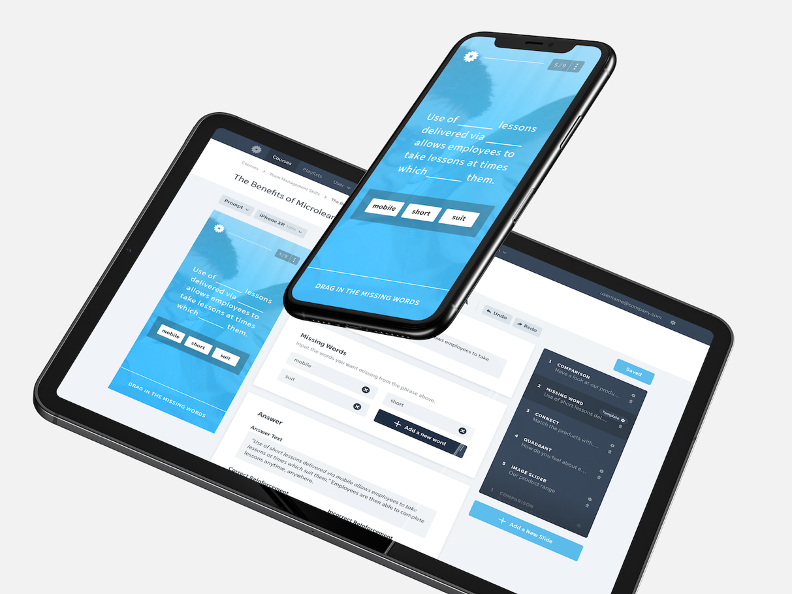 This LMS also integrates strategies and engagement elements to help you increase course completion rates while ensuring an effective learning experience for your learners. Microlearning is one of EdApp's core strategies which transforms overwhelming training information into bite-sized modules that focus only on key elements of a topic, allowing your learners to complete courses in just a couple of minutes. This strategy is combined with gamification elements that make microlessons not only effective but also engaging, resulting in 90% (or higher) completion rates compared to typical eLearning courses. This feature also makes training feel like simply playing smartphone games instead of doing another work task.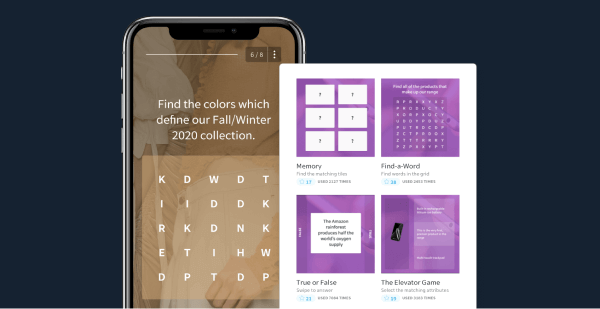 Through EdApp's analytics dashboard, actionable reports, and push notification features, you can have full control over user and course management and get a comprehensive overview of the learning progress and outcomes of your training. Overall, it serves as a catalytic training tool that helps you streamline processes in building and deploying onboarding training and employee training programs. 
Highlights:
Microlearning strategy

Mobile-first approach

Free editable course library curated by thought leaders and industry experts

Built-in authoring tool that includes 50+ intuitively designed interactive templates, such as multiple-choice, in-app gamification, conceptual formats, surveys, etc.

Gamification & leaderboards

AI translation

User and course management system

Push notifications

Learning metrics dashboard & reporting
Cost: Free
2. Degreed
Degreed is an online learning platform that's focused on upskilling or reskilling your employees – whether small or large-scale. It integrates skill analytics that gives you a holistic and measurable view of your employees' strengths and weaknesses. This tool for training managers also enables you to develop a strategy that aligns with the needs and career goals of your employees. Its data-driven insights on skills and growth opportunities allow you to efficiently curate custom learning journeys for your employees delivered through courses, videos, books, articles, podcasts, and projects. Degreed not only goes beyond supporting you in developing training programs but also creates a dynamic opportunity marketplace that connects your workforce to projects, gigs, assignments, and jobs that equally matter for your business.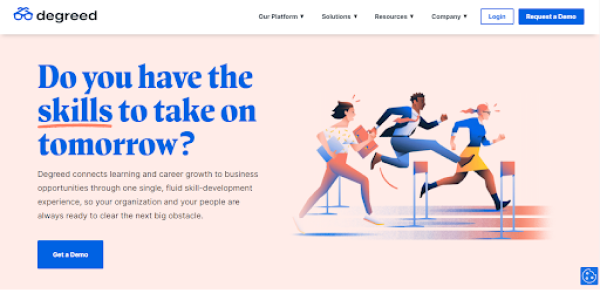 Highlights: 
Real-time skills analytics

Custom content pathway

Career mobility
Cost: Price available through a quote request
3. Hurix Digital
Hurix Digital is an end-to-end digital content solution provider integrating different content creation and delivery platforms designed for modern-day learning. Among these platforms is a custom LMS that enables organizations to deliver training content through eLearning, classroom training, and blended learning accessible across multiple devices. With this tool for training managers, you can customize your LMS according to your organization-specific training workflow. The custom LMS can support your blended learning strategy with customized training modules based on your business and training objectives, such as onboarding, sales enablement, compliance, and process training.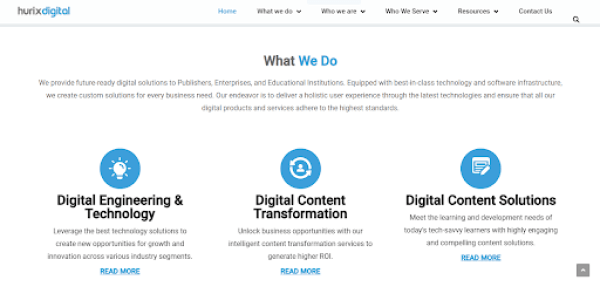 Features:
Custom LMS

Immersive training modules using engaging videos, gamification, simulations, and scenario-based learning

Bite-sized learning

Game-based learning incorporating puzzles, problem-solving games, strategic games, challenge-based games, and many more
Cost: Price available through a quote request
4. WorkRamp
WorkRamp is an award-winning LMS that serves as an all-in-one corporate learning platform for employees, especially those in sales, support, retail, marketing, and HR. This tool for training managers gives you a streamlined process in creating customized learning pathways for your personnel based on their role, teams, skills, or seniority. It provides a specialized onboarding process, advanced training content creation, learning progress tracking through dashboards and analytics, and a blended learning experience with support for virtual instructor-led sessions. Through its modern technological features, you're able to transform the learning experience in your organization. In return, your employees are able to perform their roles better,  improve relationships with customers, and deliver desired business outcomes.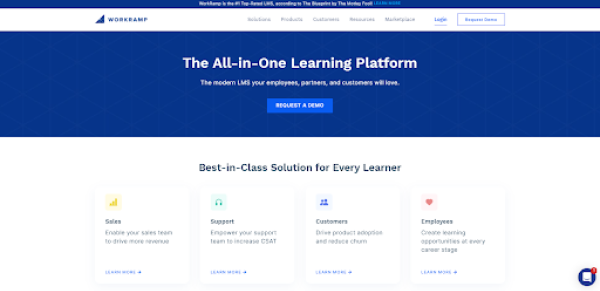 Highlights: 
Streamlined onboarding

Authoring tool

Virtual instructor-led training

Robust analytics
Cost: Price available through a quote request
5. Raptivity
Raptivity is a course creator software that you can use to design engaging and visually stimulating online learning experiences, perfect as a tool for training managers. It features a growing library of pre-made responsive interactions that include parallax displays, panning slides, and 360 interactions. Even with no design expertise, anyone can customize interactive quizzes, games, simulations, flashcards, and brainteasers through the tool's user-friendly interface. Whether you're a teacher or an instructional designer, you can maximize the tool's many capabilities to keep your learners engaged and motivated throughout their learning journey. But, it's important to note that the tool has a few feature limitations and you might need to download additional tools to design a well-rounded eLearning course.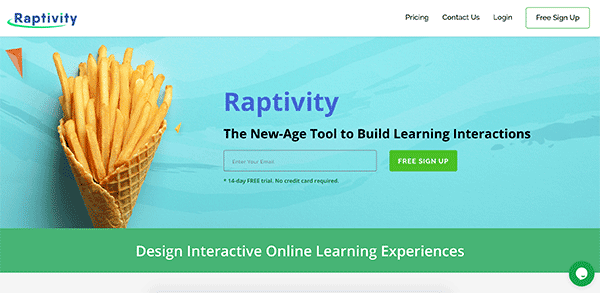 Highlights: 
Interactive displays

Quizzes

Games
Cost: $30 USD/user (monthly)
6. VAIRKKO
VAIRKKO is another tool for training managers that's built to meet the demands of L&D leaders looking for an intelligent training platform to manage their courses. Perfect for businesses of all sizes, you can create and publish as many training courses as you wish, automatically assign lessons, and also monitor their completion and success rate, all using this easy-to-use platform. Course lessons can be uploaded as PowerPoints, PDFs, images, videos, and audio clips, and they can be taken by learners from mobile devices, laptops, and desktop computers.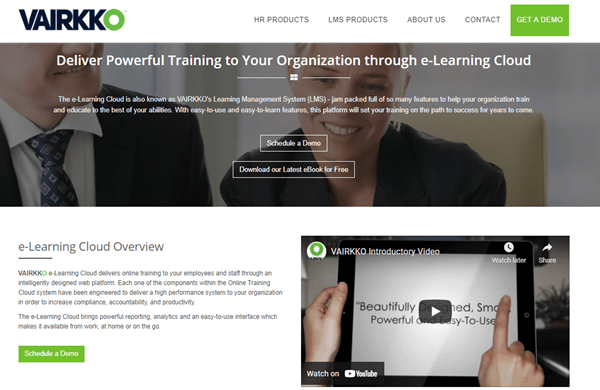 Highlights:
Intelligent e-learning cloud

Unlimited courses

Smart assignments

Robust reporting and monitoring
Cost: Price available through a quote request
7. Gyrus
Built as a cloud-based LMS, Gyrus assists training managers in effectively meeting their personnel's learning needs and equally creating a meaningful learning experience for their employees. Its AI-driven smart learning features are designed for developing personalized learning programs for various groups of employees. In this tool for training managers, training content can be delivered through file-based courses, videos, webinars, simulations, documents, and virtual classrooms, which give you more flexibility in planning an adaptable training strategy. You're also able to instantly monitor the effectiveness of your training programs with its real-time data visualization and reporting.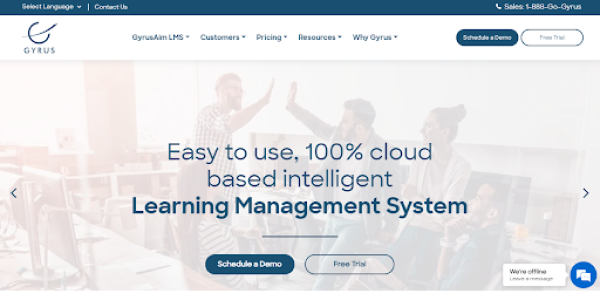 Highlights: 
Seamless training management

Various eLearning formats

Real-time analytics and insights  
Cost: Paid subscription starts at $300 USD (monthly) and $3000 USD (annually)
8. Accessplanit
Accessplanit is a training management software suitable for training teams that deliver hundreds or thousands of courses. This serves as a one-stop learning platform, delivering tools and helping companies achieve the best training results. This tool for training managers allows training providers to streamline and automate processes while creating high-quality training materials and exceptional learning experiences for customers. With its course management feature, you can efficiently manage course and training events, may it be in-person learning sessions or eLearning, making it compatible with a blended learning strategy. As a platform designed to centralize all training operations, training providers are given flexible training solutions in planning courses which include face-to-face sessions, webinars, virtual learning, and short courses for in-house training, public sessions, and employee sessions.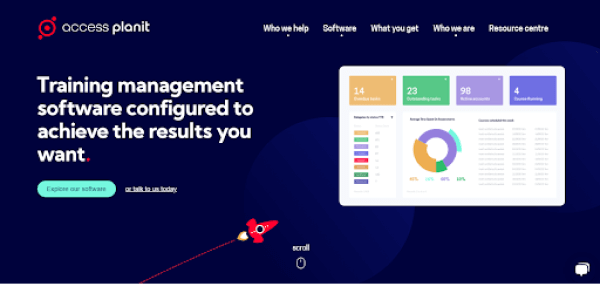 Features:
Course management for the course and training events, such as face-to-face, web, eLearning, and blended learning 

Automation tools

Customer relationship management 

Reports and analytics
Cost: Price available through a quote request
9. ProProfs
As a tool for training managers, ProProfs is designed to help training managers ease up the process of creating training content. Its authoring tool allows you to create courses and quizzes with hundreds of available templates and media content. It provides a premium course library available with pre-made courses on topics such as compliance, customer service, and many more that you can easily deploy to your personnel. Through its training management system, you're able to efficiently streamline processes in developing training materials as well as track the progress of each employee.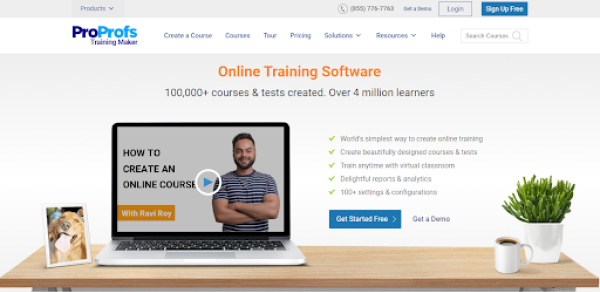 Highlights:
Authoring templates

Premium course library

Learning management
Cost: Free (within a 15-day trial), Paid subscription starts at $74.96/feature (monthly) 
10. Tovuti LMS
Tovuti LMS is an employee training tool that incorporates features dedicated to an efficient training process for managers and an effective learning experience for your personnel. It integrates a course management tool that enables you to build and deploy interactive courses, as well as track interactions with your course content. This tool for training managers supports a blended learning strategy through its virtual classroom that allows you to set up synchronous training sessions where your personnel can discuss with groups or have one-on-one interaction with an instructor. Learners also have access to a personalized portal that shows their badges, certificates, leaderboard rank, checklists, assigned courses, and upcoming training sessions.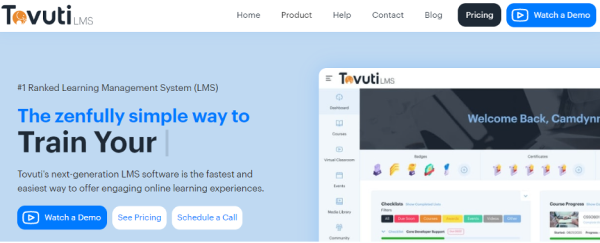 Highlights:
Course authoring tool

Analytics tool

Virtual classroom

Personalized learner portal
Cost: Price available through a quote request