Companies have to constantly ensure that their employees are always up to date with new information to perform their jobs well. While training is key in making this happen, quizzes are a great way in checking if knowledge is retained, understood, and transferred from theory to real-world practice.
Since most companies are operating remotely due to the pandemic, a virtual learning environment has become the norm. That being said, many organizations are turning from traditional to online quizzes in assessing their employees.
Fortunately, making online quizzes is an easy task thanks to a wide array of online quiz creators. Let's look into ten tools to help you find what suits you and your learners best.
1. Rapid Refresh by EdApp
If you're looking for a scorm compliant and cloud-based online quiz creator that's really easy to use, look no further as EdApp's Rapid Refresh can do the trick. It's the perfect authoring tool for testing your team's knowledge and ensuring learner retention.
You start by uploading your set of questions and their corresponding answers in an easy-to-use spreadsheet. If you'd like to randomize and personalize so it's branded, these are all possible with EdApp. One great feature to note is that it includes a follow up text in the template to reinforce the correct answer. This is a great way to support your core message and help your learners better retain information.
Then, you can set a  schedule of when your quiz will be automatically deployed and the number of questions that will be delivered at a given time. Rapid Refresh even gives recommendations for the optimal number of questions needed based on your chosen schedule, which is very convenient as there's no computation to do on your end. These settings can also be changed later on if you have to.
Once you've set those, you now have a professional looking quiz right out of the box! The best part of it all is that it's absolutely free with all those available features. It even includes analytics so you can monitor your learners performance and easily identify knowledge gaps and take action on them.
Price:

Free

Key features:

Automated quiz delivery, in-app branding and customization, reports and analytics
2. Survey Monkey
Survey Monkey has been a popular choice for creating basic surveys, short quizzes, and polls all thanks to its freemium business model. It provides hundreds of ready-to-use templates to quickly create your quiz in a few minutes.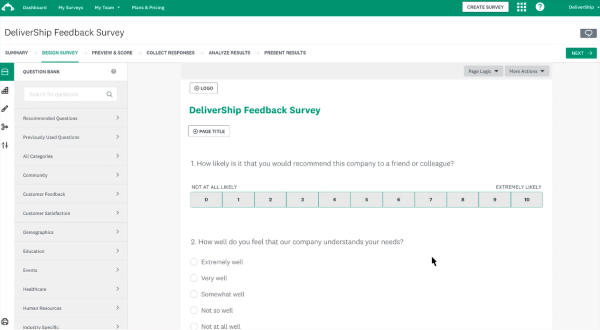 With the free tier, you'll be able to make any number of quizzes as long as they don't exceed 10 questions. It also provides some customization options and analytics for tracking and reviewing responses.
The free version can get the job done although it has its drawbacks, such as having a 10-question limit, user group-limit and the inability to remove the Survey Monkey logo on your quizzes.
If you're a business looking to conduct more complex quizzes that are fully customizable, they offer paid plans which provide more advanced features.
Price:

Free, Paid

Key features:

Multiple editable templates, website hosting, analytics
3. Kahoot!
Kahoot! is a game-based online quiz creator that uses colorful visuals and gamification elements to boost engagement. The quizzes called "kahoots" can be accessed via a web browser or through their app.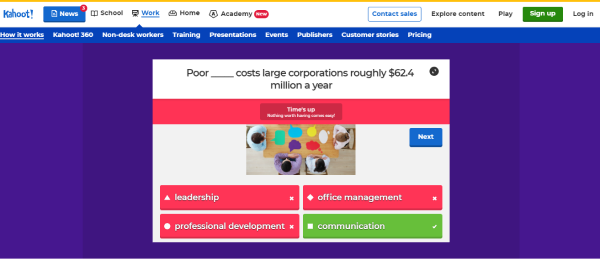 Aside from having quizzes with the standard multiple choices to choose from, Kahoot! also has different question types such as the "type answer" wherein participants will have to type in their answers to test for a deeper understanding of a certain topic.
Quizzes can be answered by a group of "players" all at the same time, or can be set as a self-paced challenge to be answered asynchronously. 
With the free tier, you can create kahoots and assign them as self-paced challenges for up to 10 players, and can only host kahoots that you've created with up to 3 players. The only downside is to have access to more additional features and to increase the number of participants for your quizzes, you will have to invest in a paid plan. Also, the way quizzes are delivered may seem too informal in some professional settings. Learn a tutorial on how to use this platform by visiting them here. 
Price:

Free, Paid

Key features:

Colorful visuals and attractive interface, interactive game-based format, multiple game templates
4. Quizlet
Quizlet is a free online quiz creator mostly utilized by educators but can definitely be used in the workplace as well. Its popular digital flashcard format has helped to make the mundane task of memorizing and retaining information inviting and engaging. It also offers standard multiple choice quizzes and game-show style competitions to foster healthy competition between learners.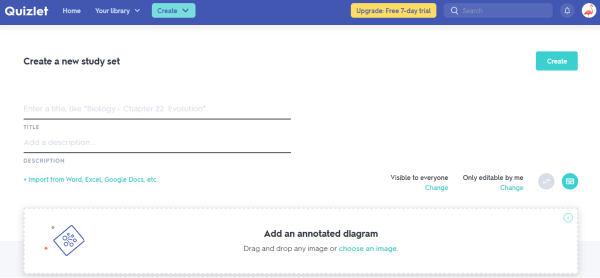 You can choose from a wide selection of flashcard decks and edit it as you see fit or make one totally from scratch. You can even include audio and visual content on your flashcards to make them more appealing.
A drawback to Quizlet is that you'll need the paid version to access reporting and further customize study materials and activities, Also, there are ads on every page of the website which can be distracting for learners if you're using the free version.
Overall, it's a great tool to use for rote learning and development, and mastering certain concepts or terms in a fun and engaging way.
Price:

Free, Paid

Key features:

Digital flashcards format, optimized for different devices, interactive tools
5. Google Forms
Google Forms is a free tool which is part of the Google Drive suite. Its straightforward and intuitive interface allows users to easily create quizzes and get instant results. This is great for  providing timely feedback to learners after submission.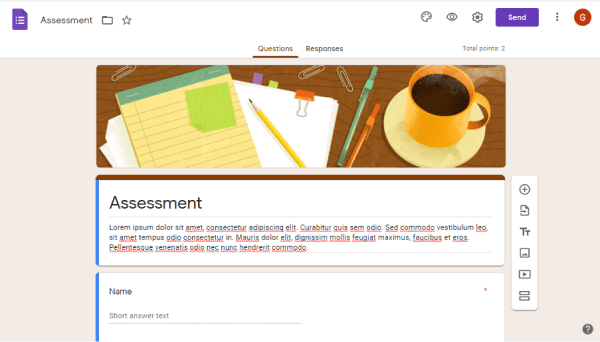 It also gives the option to reuse questions you have in your previous forms which is great for quizzes with similar topics. It offers a mix of question types such as multiple choice, checkboxes, dropdowns, and even a file upload option for images or PDF files for questions that need more comprehensive explanations or answers.
As it's part of the Google Suite, it can be integrated with other G Suite applications like Google Sheets and Google Classrooms which make it convenient for companies that are already using the G Suite platform.
Compared to other tools though, Google Forms has limited options in customizing the look and feel of your quiz. Also, the available templates are very basic and you'll most likely find yourself just creating your quizzes from scratch.
Price:

Free

Key features:

Google Suite integration, easy distribution, easy result collection
6. ProProfs
ProProfs's free quiz maker allows for complete customization by adding images, themes, and backgrounds to make a quiz visually appealing. You can also choose from hundreds of their templates that you can copy, edit as needed, or use right away.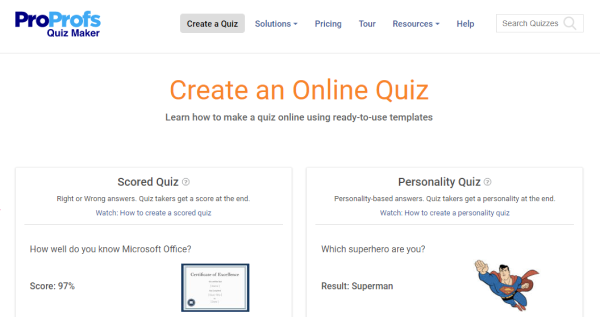 It has two types of quizzes which are Scored Quizzes and Personality Quizzes. Scored quizzes are those that have right and wrong answers, while Personality quizzes seek more of an opinion. Like other platforms, it also offers multiple question types like true or false, essays, and checkboxes. Once a user chooses an answer, they'll receive instant feedback.
One cool feature is that learners can receive a certificate of completion, which can also be customized to put in your own branding. However, you'll need the paid version of ProProfs to have access to reporting and other advanced features. 
Price:

Free, Paid

Key features:

custom completion certificates, huge selection of templates, drag and drop interface
7. Typeform
Typeform is an online quiz creator for making clean and professional quizzes. This learning software has a wide selection of templates that can be used to get you started. Like other test making software, it also offers various question types to choose from and even allows you to edit them directly in the preview. Typeform makes editing your quiz test easy as well with its drag and drop tool.
The free version allows for only 3 forms up to 10 questions and 100 responses per month so you'll need a paid plan  to go further than that. Filling out one question at a time which can be tedious for some users is one of its downsides. Also, reports can only be exported using an Excel file which is very limiting when reviewing results.
Price:

Free, Paid

Key features:

Drag and drop editing tool, intuitive interface, great customization
8. Riddle
Riddle is an online quiz creator best utilized for lead generation but can be used by any organization for their online quiz needs. It has 15 different types of quizzes to choose from and has a template library to select from as guidance when making your quizzes.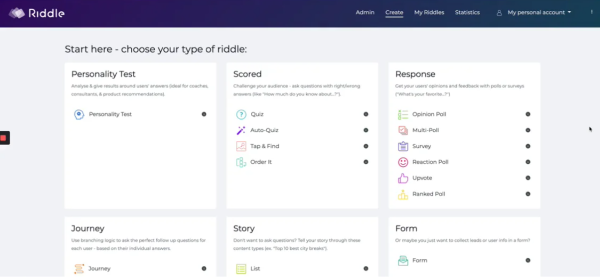 A downside is that the templates on Riddle look a bit outdated when it comes to its designs and can look old-fashioned. To get the most out of it, you'll need to subscribe to their paid plans to fully style your quizzes to make them more visually appealing.
Price:

Free, Paid

Key features:

GDPR-compliant, wide selection of quiz types
9. Interact
With Interact's online free elearning creator software, you can create an unlimited number of quizzes. You can choose among Personality, Scored, and Assessment quiz types, with over 800 pre-made quizzes that you can edit and customize to your liking.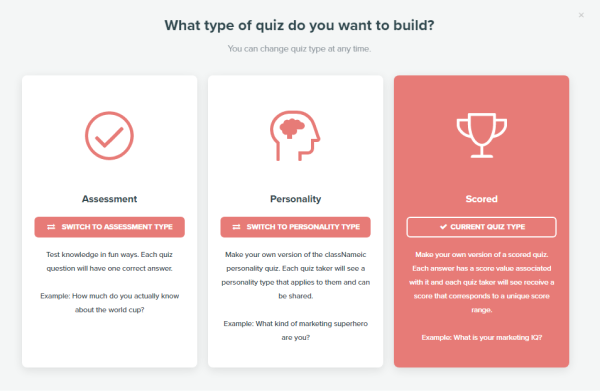 As it's mostly targeted for lead generation, Interact can be limiting since there are only a number of quiz types. Also, advanced analytics and integrations are only available in the paid tiers. But if you're simply looking for an online quiz maker which allows you to create as many quizzes to deploy to any number of users, Interact will suffice in meeting those needs.
Price

: Free, Paid

Key features:

unlimited quiz creation and completion, GDPR-compliant, customizable templates
10. EasyTestMaker
Easytestmaker is an online quiz creator and online testing software that lives up to its name because of its ease of use. It has different question types such as multiple choice, fill-in-the-blank, and true or false questions which makes creating quizzes a breeze as it eliminates the time spent on formatting. It also has an exam builder feature which allows you to copy questions from other quizzes or your question pool without having to do the manual work.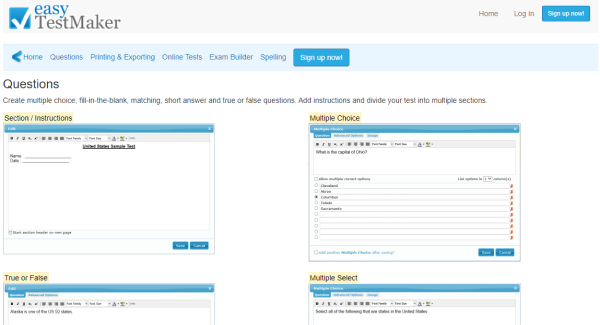 As it's pretty straightforward and anchored on easily creating formatted quizzes, there's not much room for customization and aesthetics. To upload images or any graphics, you'd even need to subscribe to the paid version. Also, with this online test creator software, you can only publish online tests with up to 25 results stored at one time.
Price

: Free, Paid

Key Features:

Easy to use interface, exam builder, formatted tests
11. Outgrow
If you're on the market for a quiz creator that will generate traffic and leads for your business, Outgrow is one of the best options out there. Outgrow will help you create interactive quizzes such as BuzzFeed-style quizzes and personality quizzes. These quizzes are engaging and immersive. You will not need any design or coding experience to use this software. A lot of templates are already provided for you to choose from, so you don't have to worry about how your final quiz will look. Unfortunately, the Outgrow platform is not free.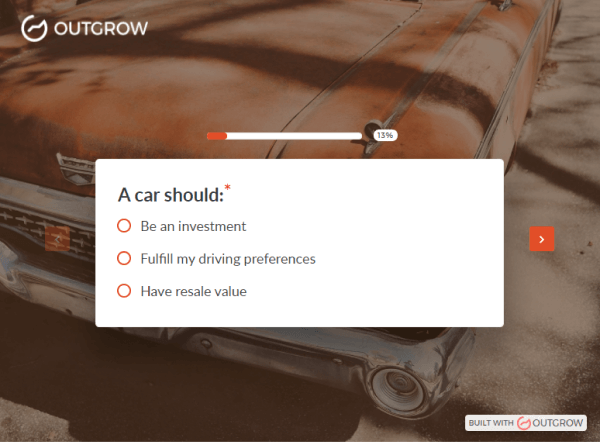 12. Quiz Maker
Quiz Maker is a free option that is easy to use to make quizzes. It boasts a wide range of quiz options such as trivia, personality tests, surveys, and polls. The free version of this quiz creator allows you to make quizzes with up to 20 questions. After you create your questions, you'll be given an option to add answers. When you're finished creating a quiz you are satisfied with, you can share it with your workforce through a direct link or share it via a social media platform. One good thing that the Quiz Maker platform offers, is a bunch of templates that you can edit if you don't want to start from scratch. The free trial lasts for 14 days, and you'll have to pay for the service thereafter.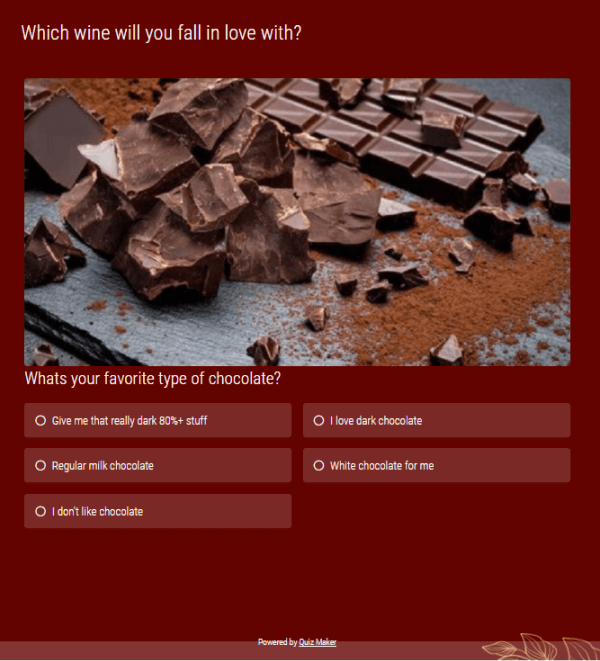 13. SurveyMonkey
SurveyMonkey is one of the most popular quiz creator options on our list today. With SurveyMonkey online test maker, you can create quizzes that are automatically scored. These quizzes can be used to assess your employee's skills, competency, knowledge, and more. The website is relatively easy to use, from building quizzes to using analytical tools for scoring. With the Survey Monkey software, you will be able to track who has taken the quiz and who hasn't. If you have employees who haven't done your quiz after you share it, you will be able to send reminders. Unfortunately, you will have to use another learning content management system (LCMS) to do the rest of your training program as SurveyMonkey is not an LCMS.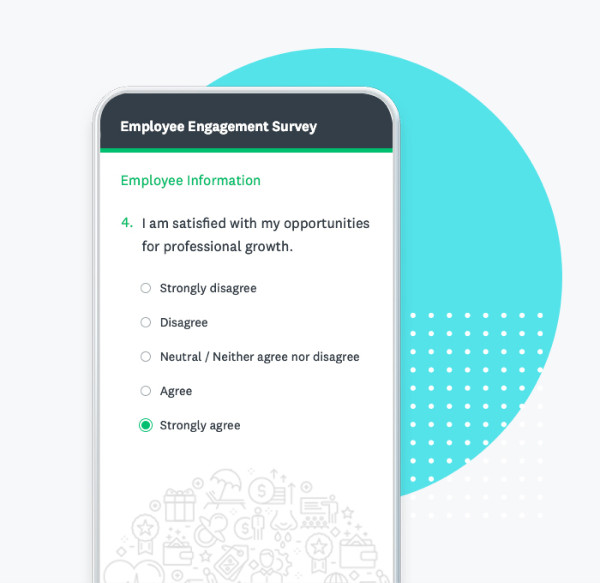 14. Survey Anyplace
Looking to build a quiz that can keep the attention of your workers?  Looking to build a quiz that will boost interactivity and increase knowledge retention by asking short questions over long periods of time? Looking to build a quiz that can be taken anywhere on any device? If your answer to any of these questions is yes, then Survey Anyplace is a good choice for you. Although the Survey Anyplace platform has a very wide selection of quizzes, it's unfortunately not capable of offering a full microlearning solution.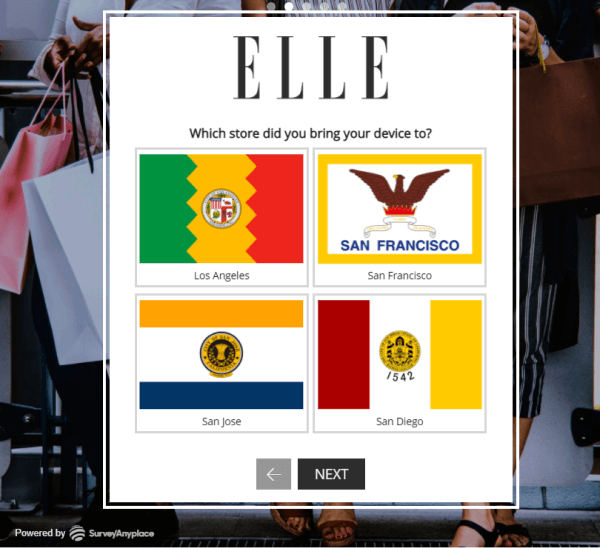 15. FreeOnlineSurveys.com
FreeOnlineSurveys.com, as the name suggests, offers a free way of creating online quizzes. This free online quiz creator has automated scoring, time limit options, A/B testing, show or hide score options, filter and segment options, and more. You can use the free quiz maker to make a test on any device. However, we do not mean taking a test from any device but making/creating a test from any device. It even has customization options.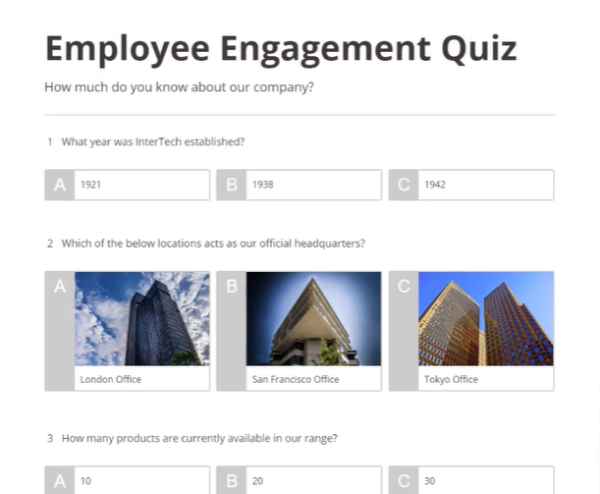 16. Qzzr
Qzzr is a quiz creator and test making software designed to help businesses understand their customers. The platform works to improve engagement and revenues by creating quizzes with the right questions. Quizzes can be customized to capture your audience's attention and interests. This is a good thing for your company. This is also a good feature because it fits into any website's layout. You can easily create quizzes by adding text, videos, images, and animations. It has a few drawbacks though. In addition to the limitation of its niche, Qzzr is not a free platform.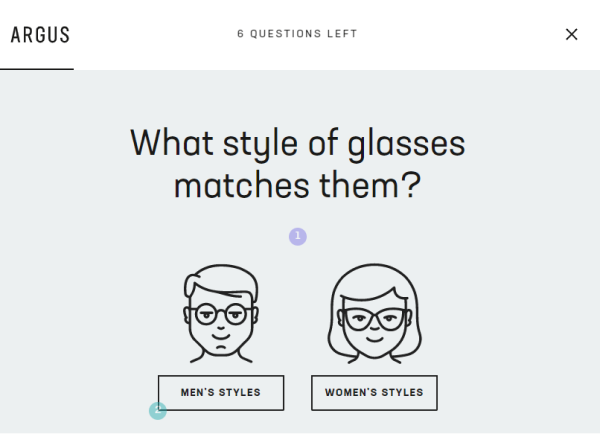 You may also want to check out: