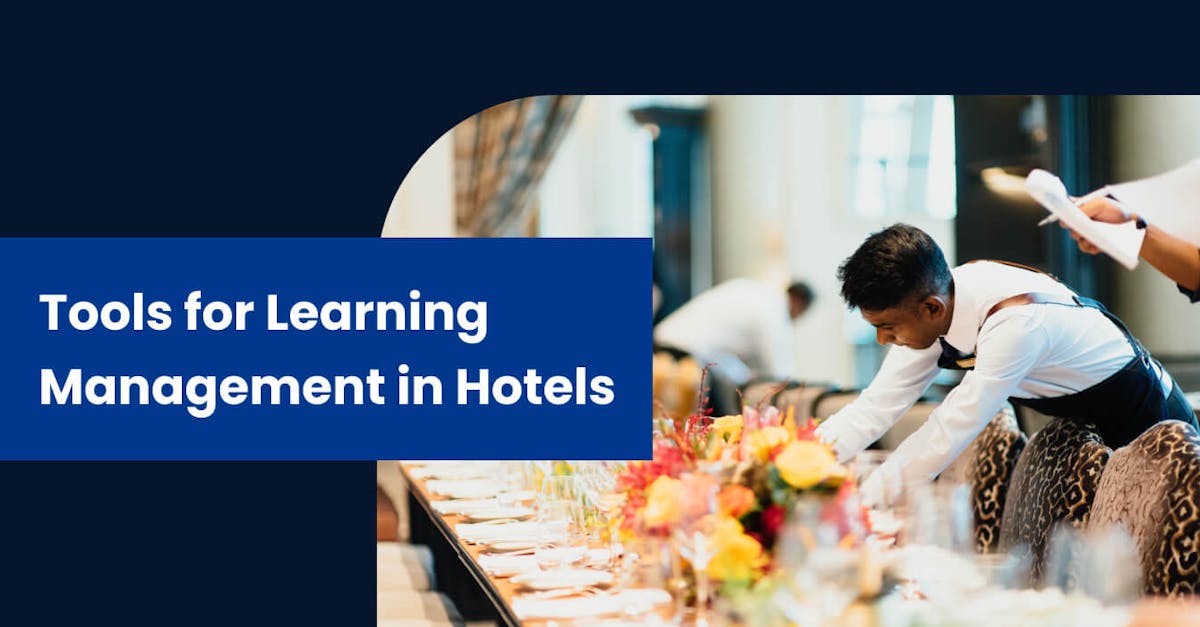 Proper hotel management and hospitality training are essential in making sure hotel staff comply with hospitality standards and give guests the best customer service experience. In this article, we'll take a look at different tools for learning management in hotels so that you can create hospitality onboarding and training programs with ease.
Tool for Learning Management in Hotels #1 – EdApp
EdApp is a highly recommended tool for learning management in hotels as it makes it easier for hotel managers and supervisors to streamline their teams' hospitality training programs. Packed with loads of versatile and user-friendly features like its powerful creator tool, it gives you the ability to develop, customize, and distribute interactive training materials, including hospitality courses and quizzes.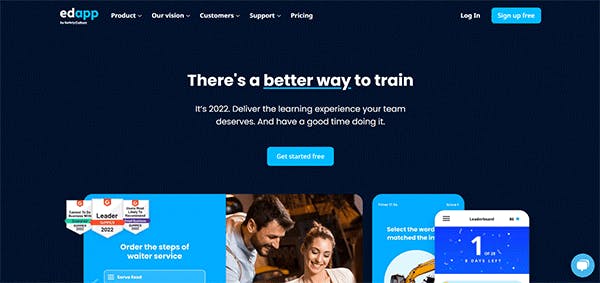 The platform also boasts its own course library that allows you to import ready-made, fully customizable hospitality training courses like Guest Service in Hospitality and Tourism, Hotel Housekeeping Inspection, and Cleaning and Sanitizing in Hospitality. These courses cover fundamental knowledge that your team will need to operate your hotel as effectively and as safely as possible. Additionally, since EdApp is readily available on the Google Play Store and the App Store, your hotel staff can easily complete their assigned training at their own convenience.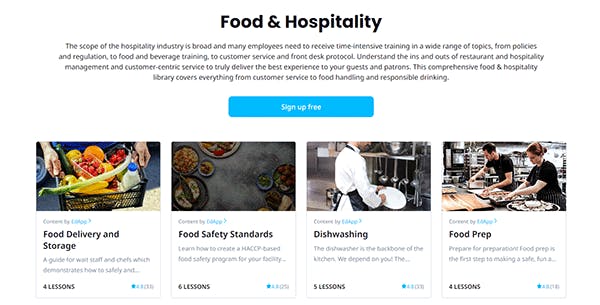 If you prefer a more bespoke training program, you can take advantage of EdApp's course creation services. Through this unique feature, EdApp's team of expert instructional designers can take your content and turn it into powerful microlessons. And at no additional cost, you can review the course content and make the changes you need.
You can also track each employee's course completion rates and assessment results using the platform's actionable reports dashboard. This feature gives you a clearer picture of their training progress and more insight into whether your employees are absorbing important hospitality and customer service knowledge. 
Cost: Free
Key features:
Creator tool

Course library

Course creation services

Actionable reports
Join EdApp for free and start using one of the best tools for learning management in hotels!
Tool for Learning Management in Hotels #2 – edX
edX is another great tool for learning management in hotels as it offers tons of hospitality training courses that can help your staff learn how to deliver top-notch services. Most of these courses are free and designed by some of the top universities in the world, including Kyoto University, The Hong Kong Polytechnic University, and The University of Queensland Australia.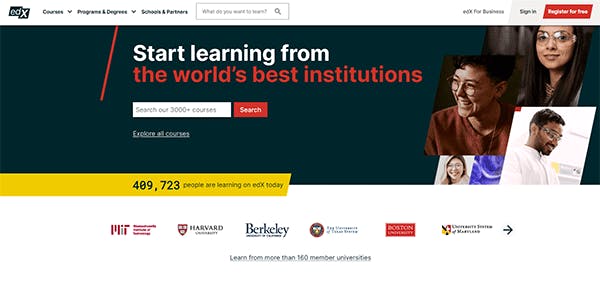 Through the platform, your team can download the courses for offline use. This is especially helpful for self-paced learning as it allows them to complete their lessons anytime and anywhere. edX also has powerful administrative and learner dashboards that let you track your team's progress.
Cost: Free
Key features:
Hospitality courses

Self-paced and offline learning

Admin and learner dashboards
Tool for Learning Management in Hotels #3 – Alison
Alison gives you a comprehensive tool for learning management in hotels. With its publicly available course library, you can easily roll out hotel management training courses like Hospitality Management, Restaurant Profitability, and Food and Beverage Services to your staff without a hitch. And since Alison is mobile accessible, your employees can quickly access assigned courses at their own convenience. Once they've finished and passed their training program, your workers can receive their own official certificate of completion. 
As one of the biggest free learning tools in the world, Alison is the perfect platform to help employees upgrade their skills and learn on their own without having to formally enroll in academic institutions.
Cost: Free and Paid plans
Key features:
Tool for Learning Management in Hotels #4 – Typsy
Typsy, which is intended to be an all-in-one training platform, can easily be tailored for learning management in hotels. It's a platform that can be used to train employees on different hospitality topics such as hotel management, hotel housekeeping, and culinary and hospitality service. It can also be used to train staff in the beverage and liquor businesses. With this elearning development software, you can design customized learning pathways for your team members based on their job duties, talents, or seniority.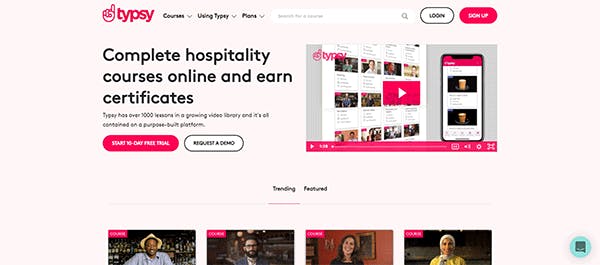 It offers specific onboarding capabilities, sophisticated hybrid training tools, and analytics dashboards for measuring training progress. Through its virtual instructor-led sessions, you can also use the tool to create a blended learning experience for your employees. 
Cost: Free trial, Paid plans start at 99.99 USD
Key features:
Customized learning pathways

Onboarding and advanced content creation capabilities

Analytics dashboards

Virtual instructor-led sessions
Tool for Learning Management in Hotels #5 – Looop
Looop is an advanced elearning platform that can be used as a tool for learning management in hotels. With its user-friendly learning management system, not only can you streamline your team's training process but also create online learning resources specific to your hospitality training needs. One of its most notable features is campaigns, which you can use to automate the delivery of training materials through different communication channels such as Teams, Slack, and even SMS.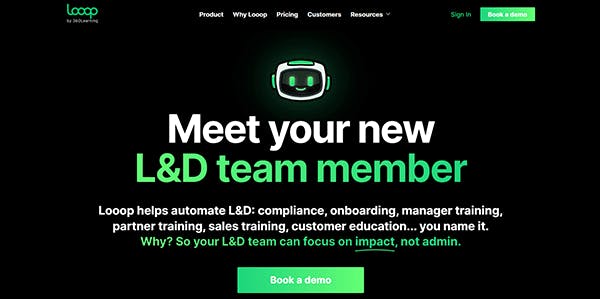 The platform also allows you to check out the completion rates, learning gaps, and general progress of your teams using its user insights and analytics dashboards. You'll be able to assess the success of your training more effectively and address the elearning challenges of your hotel staff, thanks to all of these built-in reporting features.
Cost: Starts at 299 USD per month
Key features:
Tool for Learning Management in Hotels #6 – Hotelogix
Hotelogix is an enterprise-grade property management system (PMS) that also works well as a tool for learning management in hotels. Through its AI-powered automated coaching engine, you can easily train your hotel staff on the proper usage of hotel booking and reservation systems.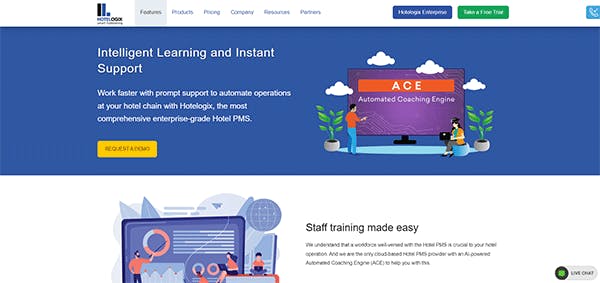 This hotel management software also comes with a number of reporting features that give you an overview of your staff's reservation rates and housekeeping performance. This lets you know whether any knowledge gaps need to be addressed with additional training. Your team can also take advantage of the platform's on-screen manuals and module-wise learning features to improve their performance. 
Cost: Free
Key features:
Tool for Learning Management in Hotels #7 – Coursera
Coursera is a top-of-the-line training platform that offers various courses across different subjects, including business, digital marketing, software development, sales, and hospitality. These courses are developed by over 200 reputable organizations and educational institutions such as Stanford University, Yonsei University, University of Copenhagen, Google, and IBM just to name a few.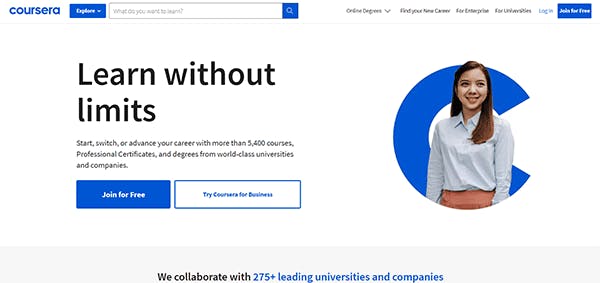 Through the platform, you can distribute self-paced courses like Sustainable Tourism, Food and Beverage Management, and Intercultural Management directly to your team members. The majority of the courses on Coursera are offered through online video lectures, which your staff can access at their convenience. Some are even equipped with interactive projects and self-paced tests to ensure maximum team participation. Once they complete their online training, they can earn industry-recognized course certifications or degrees.
Cost: Free and Paid plans
Key features:
Courses by 200+ leading universities and companies

5,100+ courses and specializations

Course certificates and degrees
Tool for Learning Management in Hotels #8 – Proprofs
ProProfs is known for its powerful LMS, designed to help businesses comply with training requirements and develop a better work experience for their teams. You can create hospitality training programs and assessments through its easy-to-use course maker that features a library full of templates and audiovisual assets. The tool also offers pre-made courses on compliance, customer service, and management-related topics, all of which can be imported and distributed with just a few clicks.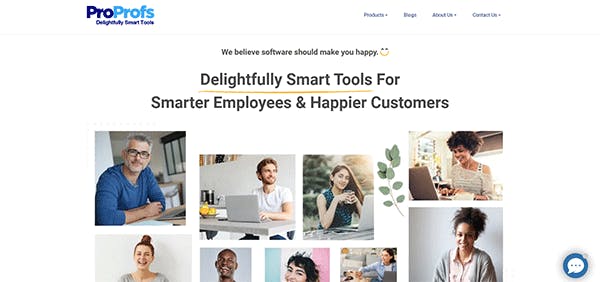 Additionally, you can build collaborative learning environments for your hotel staff using the discussion forum and online classroom features. The platform also allows you to create a centralized knowledge base for your team, complete with FAQs, how-to manuals, and other hotel management training materials.
Cost: Available upon request
Key features:
Editable course templates

AI-powered reporting

Discussion forum and online classroom

Centralized knowledge base
Tool for Learning Management in Hotels #9 – Ananas Academy
Ananas Academy is a versatile tool for learning management in hotels with an emphasis on helping hotel management automate their onboarding and training processes. Through its in-depth learning programs, hotel workers are given the opportunity to improve their hospitality and customer service skills. Cocktail service, customer service, and the fundamentals of spirits, wine, and beer are just some of the topics discussed in their training courses, which are all featured in their learning module library.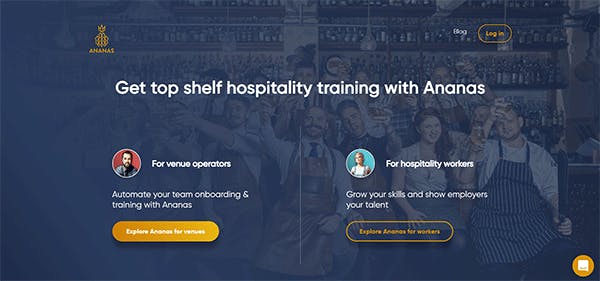 The courses offered on this software for hotel management are accessible on any mobile device and are delivered in video format. A huge benefit of using Ananas Academy is that employees can select from a wide range of courses taught by renowned professionals in the hospitality industry.
Cost: Free
Key features:
Learning module library

Video lessons 

Mobile accessible
Tool for Learning Management in Hotels #10 – AdaptiveU
Make sure that all your hotel staff, from interns to veterans, are aligned with the goals and objectives of your business by using AdaptiveU. Compared to other tools for learning management in hotels, this platform lets you design personalized hospitality training courses and learning paths for each member of your team. Simply copy and paste your content and upload any necessary images or videos to complete your employee development program.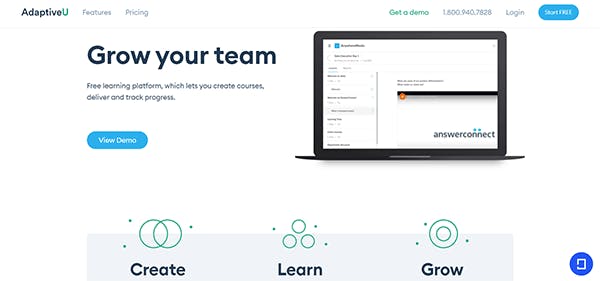 To train any new staff in the business, you can optionally add pre-recorded video classes with top instructors, saving you the trouble of setting up in-person training sessions. With the help of cloud technology, your employees can access all of their courses whenever they want using their own devices. They can also save their progress and pick up where they left off if they are unable to complete their training session in one sitting.
Cost: Free plan, Paid plans start at 25 USD per month
Key features:
Personalized courses and learning paths

Pre-recorded video classes

Mobile accessibility

Course progress saving