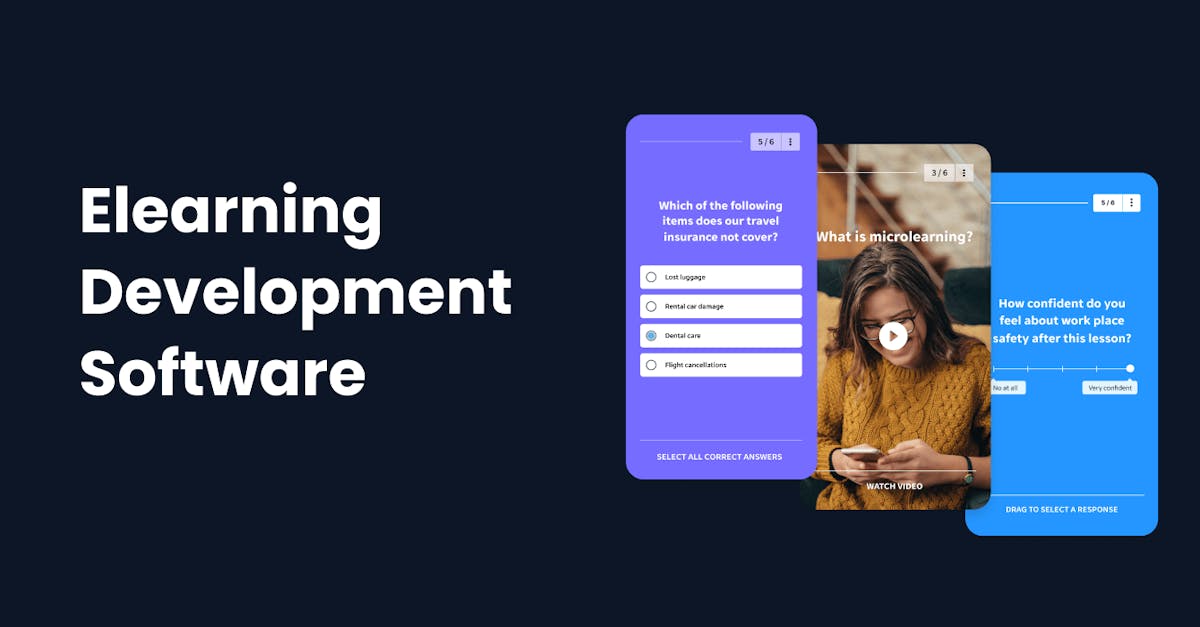 Elearning development software makes the lives of L&D professionals easier by providing them with the tools to create and roll out training content. These tools were designed to provide a solution to help continuously improve learning experiences through the different features they offer. In this article, let's look into the best elearning development software to help create meaningful learning experiences.
Elearning Development Software #1 – EdApp
EdApp is an all-in-one learning solution that's perfect for elearning development. Here, creating learning content is a breeze, thanks to its template-based authoring tool. There's no need to start from scratch as you'll have the option to choose from over 80 microlearning templates to present your content. If you're pressed for time and need a framework for your course, you can edit and customize a number of free elearning resources from EdApp's content library and turn them into your own.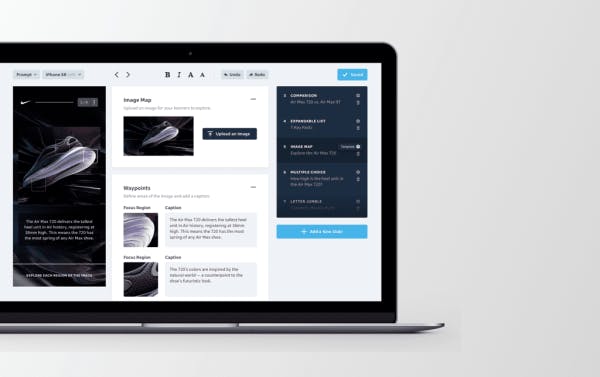 To check how well your training program is doing, EdApp provides advanced analytics and reporting so you're always updated with how your team is performing. Easily view and export engagement and performance insights to out-of-the-box reports. This allows you to build agile training in real-time and be assured that everyone is compliant.
Cost: Free
Key features:
Template library

Course library

Authoring tool

Analytics
Sign up to EdApp for free and start using the best elearning development software today!
Elearning Development Software #2 – Intellum
Intellum is a great elearning development software to improve the learning experience of your learners. With its Evolve authoring tool, you can create blog post-like training content, free elearning resources, surveys, and quizzes that can be presented live and on-demand. You'll also have the option to host webinars, conferences, as well as in-person training if you're currently working in a hybrid setup. Intellum can be accessed on most browsers and also has mobile applications that can be downloaded on both iOS and Android.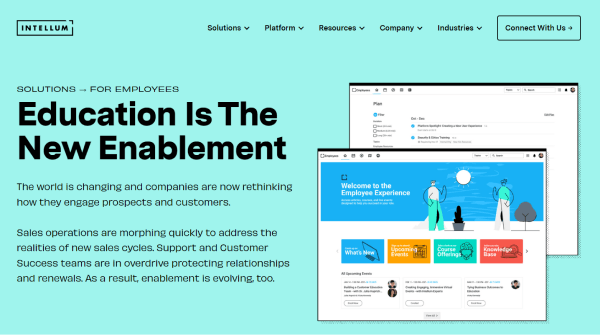 Cost: Available upon request
Key features:
Elearning Development Software #3 – Code of Talent
Code of Talent is another elearning development software where you can build, personalize, and roll out free elearning resources. They're designed to be responsive to any mobile device so your teams can learn on the go at their own pace. Code of Talent also allows you to add gamification elements to your courses by adding interactive game-like quizzes to boost the interest of your learners and engage them in their training material.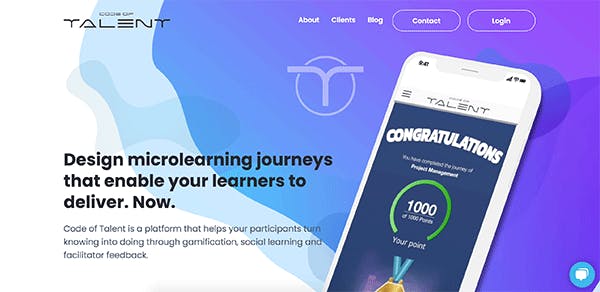 Cost: Starts at € 3.99 /per user
Key features:
Elearning Development Software #4 – Tovuti
Tovuti's built-in authoring tool allows you to build and roll out engaging and interactive free elearning resources. You'll be happy to know that it also has gamification features, such as leaderboards to encourage learners to climb up that board and do well with their learning tasks. Courses can easily integrate with Tovuti's live virtual classroom so you can conduct synchronous classes with ease and discuss your learning material. It can be hosted on popular third-party video conferencing platforms, such as Zoom and GoTo Meeting.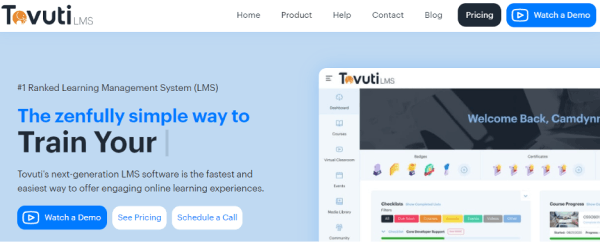 Cost: Available upon request
Key features:
Virtual classroom

Gamification

Course creation
Elearning Development Software #5 – Raptivity
Raptivity is a nifty elearning development software if you're looking to create visually-aesthetic training content. You won't run out of options to creatively present your content as you can use features, such as panning slides, parallax motion, and 360-degree imagery. You can also create standard learning content using Raptivity's easy-to-use authoring tool for creating quizzes, simulations, flashcards, and more. Even without any design background, this software has got you covered with its low learning curve.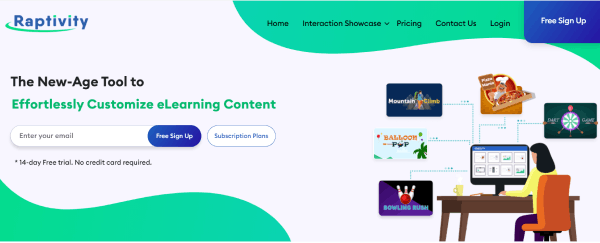 Cost: Free (14 days), paid plans (starts at 30 USD/month)
Key features:
Elearning Development Software #6 – uQualio
uQualio is a cloud-based elearning development software that allows you to create training programs, short courses, webinars, and more. You'll also have the option of turning screen recordings into videos or using pre-existing videos to add to your lessons. It also supports uploading images and other files to supplement your training content. uQualio is mobile-friendly and works well on any mobile device.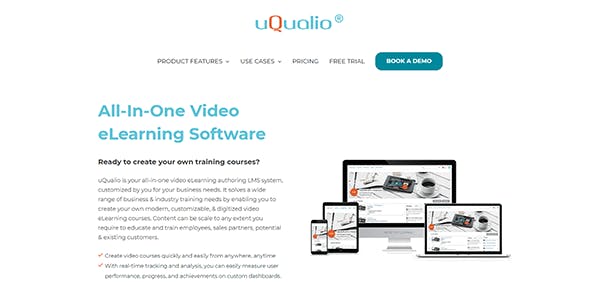 Cost: Starts at 89 USD/month
Key features:
Elearning Development Software #7 – Auzmor Learn
Auzmor Learn allows you to build and customized courses, thanks to its user-friendly course builder. No coding knowledge or design skills are required as you can just simply choose from their wide selection of templates to create visually-appealing lessons. Its lesson library does not just allow you to house the courses you create, but you can also import third-party courses and have them all in one place. Like most software on this list, Auzmor Learn offers all types of courses such as electrical fire training courses and business development training courses that can be accessed on any device and respond to any screen size.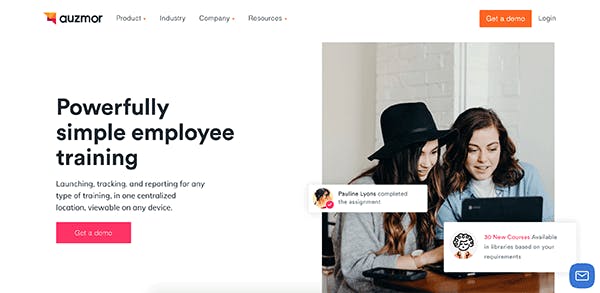 Cost: Available upon request
Key features:
Elearning Development Software #8 – Degreed
Learners can even get in touch with peers with the same skills and interests to foster social and collaborative learning.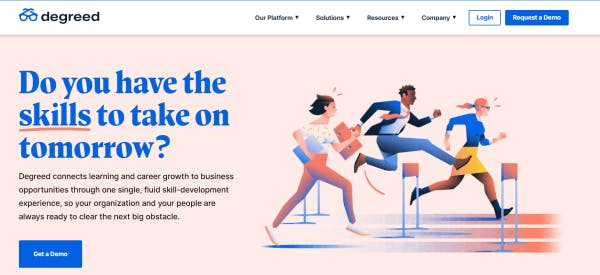 Cost: Available upon request
Key features:
Learner pathways

Skill analytics

Social learning
Elearning Development Software #9 – BrainCert
BrainCert is a SCORM-compliant elearning development software that has everything you'll need. It has a course creation wizard allowing you to fully customize your lessons to make them your own. Here, you can build a variety of elearning courses including mental health training programs.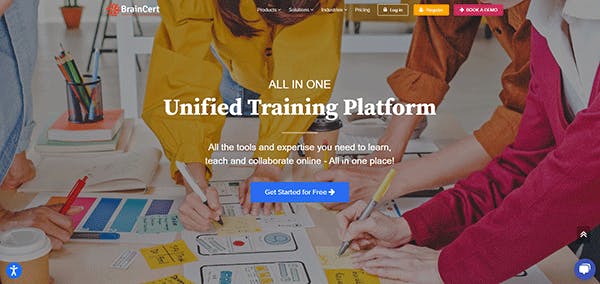 With this software, you can also create virtual classrooms for conducting live online training sessions and even do real-time assessments. To keep learners engaged, you can also take advantage of Braincert's gamification features, such as its point system, rewards, leaderboards, and digital certificates and badges.
Cost: Available upon request
Key features:
SCORM-compliant

Virtual classrooms

Gamification
Elearning Development Software #10 – Coassemble
Coassemble is another SCORM elearning development software that you can use to build great learning content. Its authoring tool, along with over 40 ready-made templates will help make learning development a breeze. It also allows you to customize and personalize your courses to reflect your organization's branding. Aside from course templates, Coassemble also has a wide variety of quiz templates that you can use to test your learners' knowledge.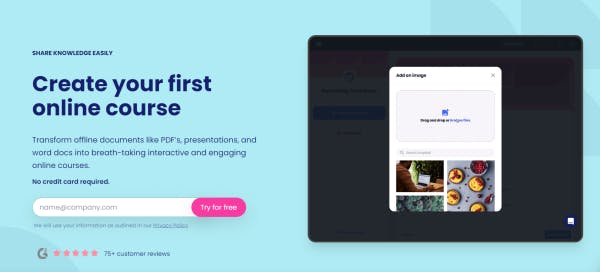 Cost: Starts at 49 USD/month
Key features: